You get a ton done when you're at your computer, speeding away on the day's social media strategy.
Might there be a way to wring some productivity when you're away from your desk?
Mobile apps and tools can make it so a marketer's entire day is filled with opportunities to connect, engage, and share. You can get more done while commuting, lounging, waiting, and any time when you're not tethered to a desktop or laptop.
Which apps are best for social media marketers?
I gave a huge number of them a test run and came up with 45 amazingly useful apps that can help you accomplish social media marketing tasks with a tap, swipe, or touch.
I'd love to hear which ones are your favorites, and if I missed any that you love to use.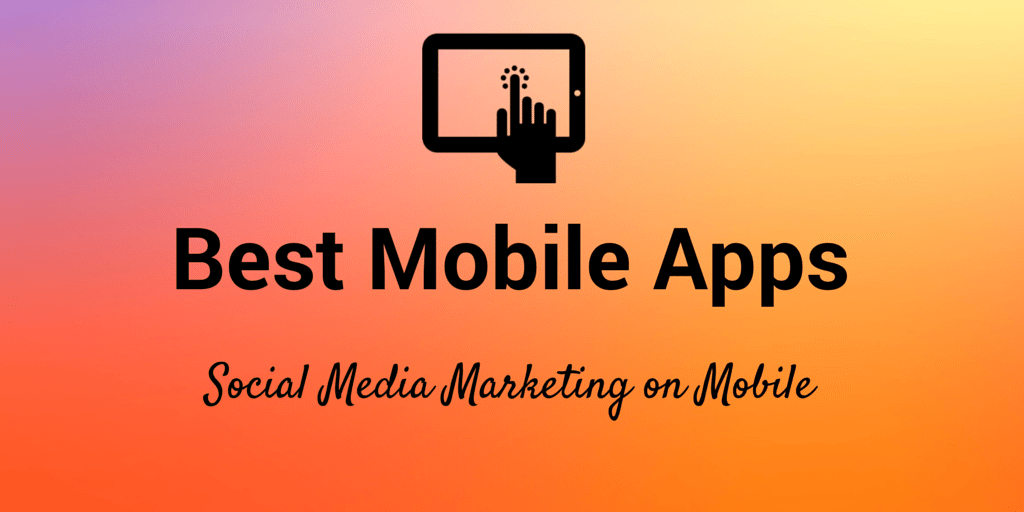 45 best mobile apps for your social media marketing
Dashboards and clients for social media management
1. Buffer
You can schedule updates to multiple accounts on Twitter, Facebook, LinkedIn, and Google+, as well as follow-up with statistics on how each post performed. The newest version of the iOS app allows for sharing and scheduling from inside other popular apps like Safari. Find an awesome link in your browser? Share it to Buffer without ever leaving the app.
> Download for iOS and Android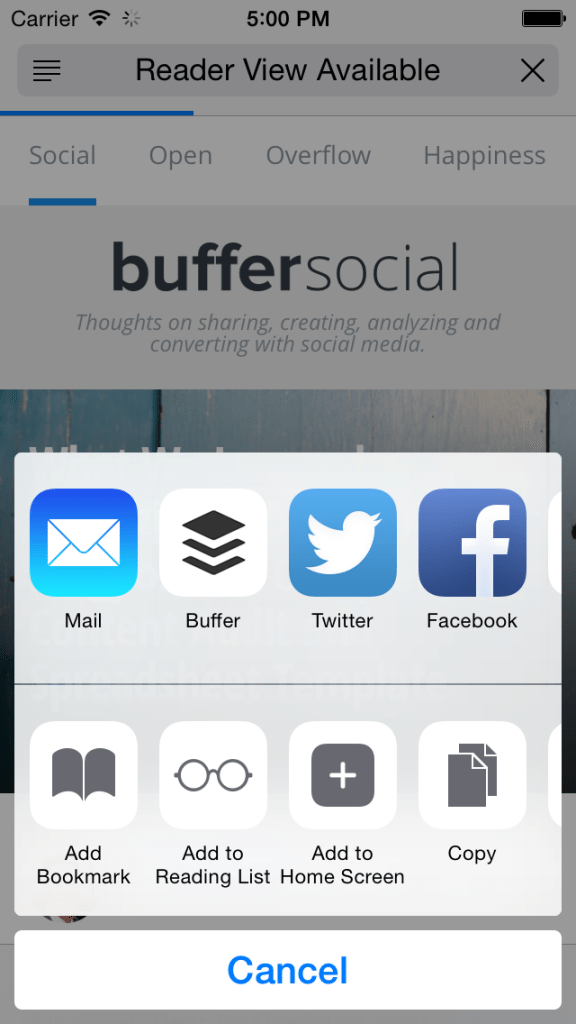 Other options –
2. Tweetbot
One of the most popular Twitter clients out there, Tweetbot lets you organize and interact with your Twitter stream in whichever way is most productive for you. Separate the stream into lists or channels, and tweet, respond, and reply directly from within the app.
> Download for iOS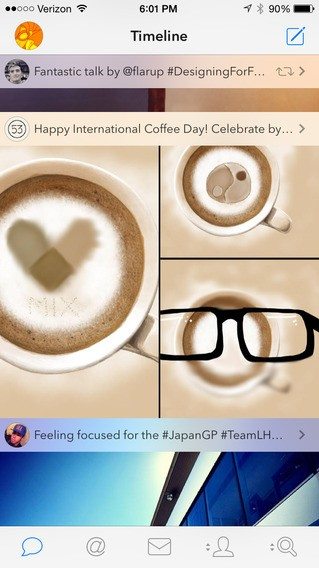 Other options –
3. Facebook Pages Manager
You can enjoy complete page management controls via this Facebook app, making life super easy for admins who need to make changes on the fly, while you're on the go.
> Download for iOS and Android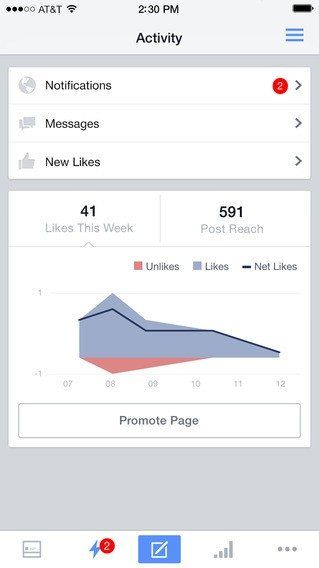 4. Flow for Instagram
Have you ever tried to view Instagram from an iPad? It can be a bit tough. The official app isn't universal, so everything that's made for iPhone gets stretched to fit iPad. Flow for Instagram solves some of these quibbles with an iPad-specific display of your Instagram feed. You can browse, like, comment, and follow, all from right within the app.
> Download for iPad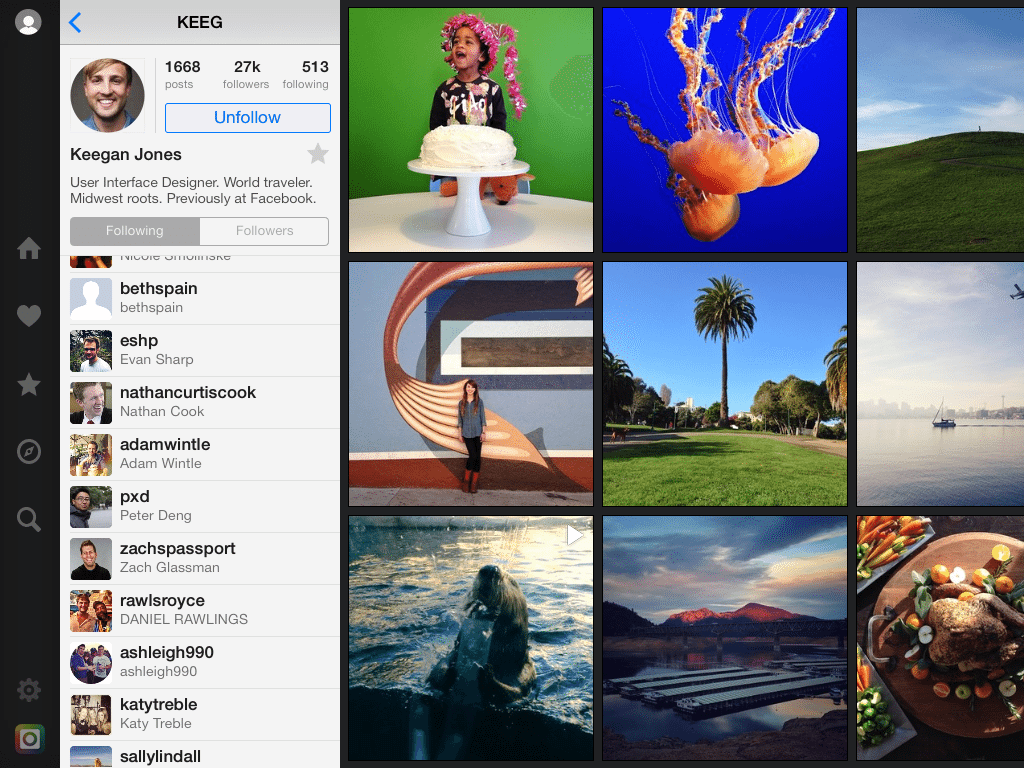 Useful tools for social media marketing tasks
5. Dropbox
Access important files from anywhere, and share with your team members whether you're at your desk or out and about. The app is great for previewing shared files like images, perhaps in advance of an upcoming social media campaign.
> Download for iOS and Android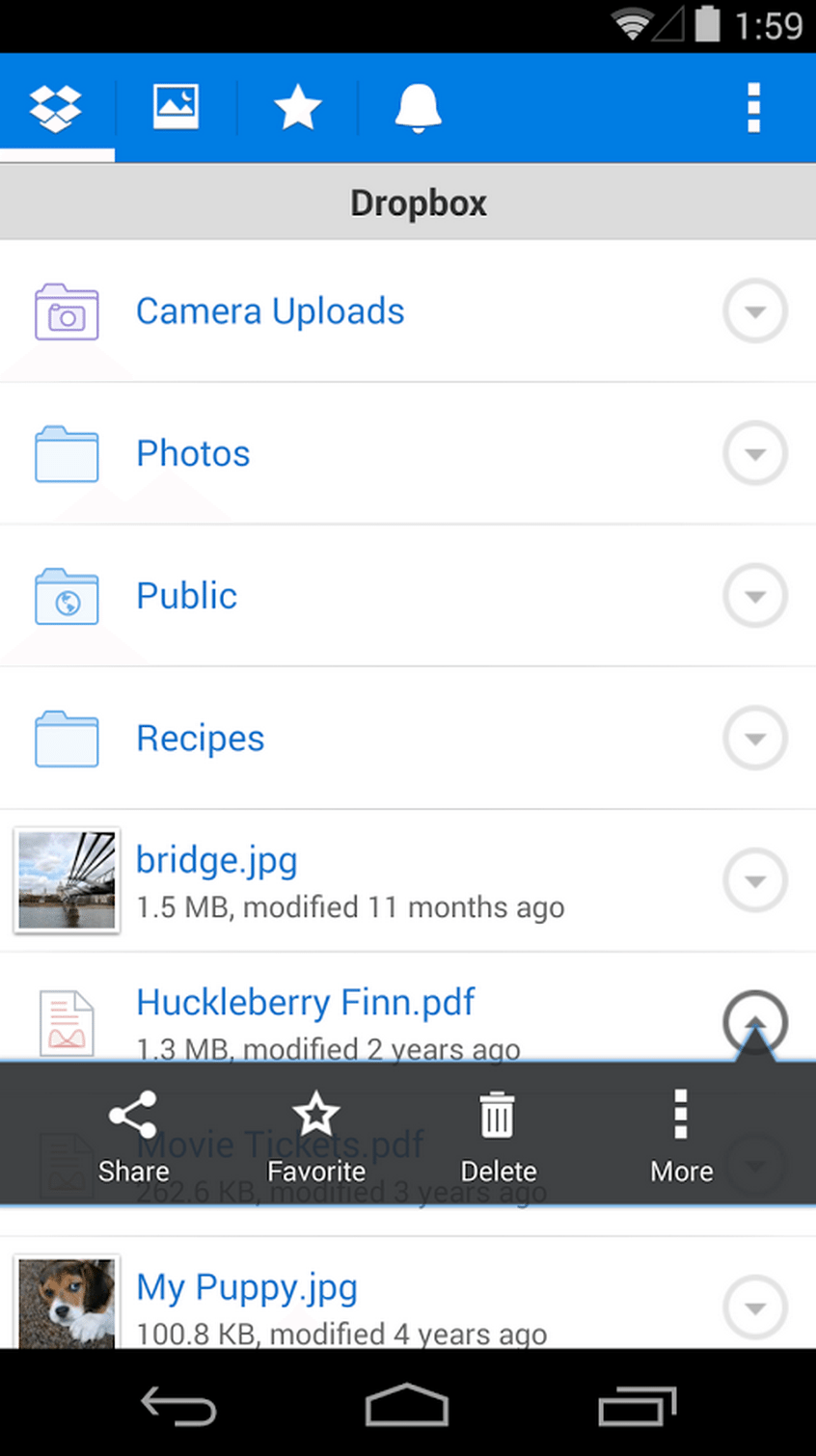 6. Evernote
For note-taking and remembering, it's tough to beat Evernote. In addition to being an all-encompassing to-do list and swipe file, the mobile app lets you snap a picture of something you wish to remember, and Evernote can pull out text and context from inside the image.
> Download for iOS and Android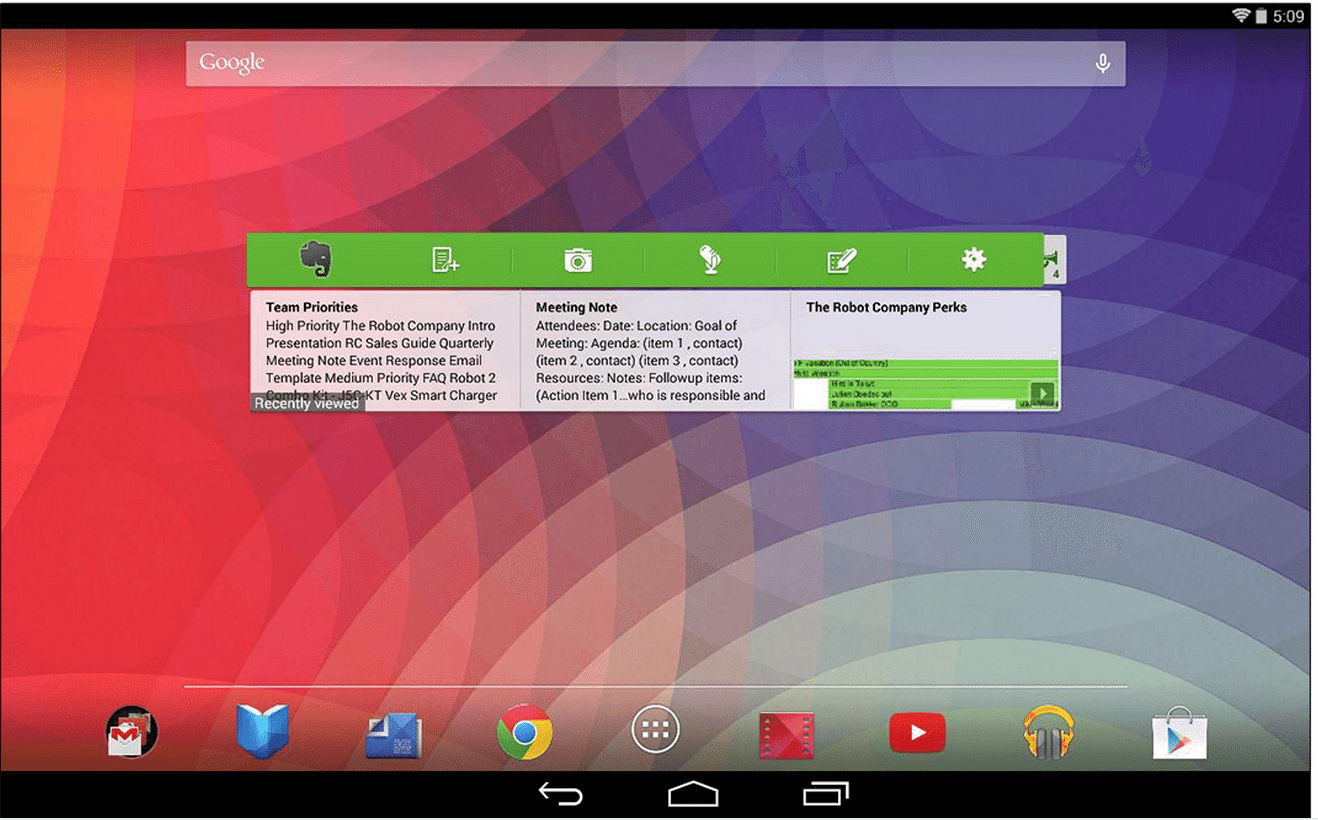 7. Asana
Asana is one of the most popular project management services, and their mobile app brings tasks, to-dos, and organization to your phone or tablet, too. Their mobile versions—iPad especially—are useful, intuitive, and beautiful.
> Download for iOS and Android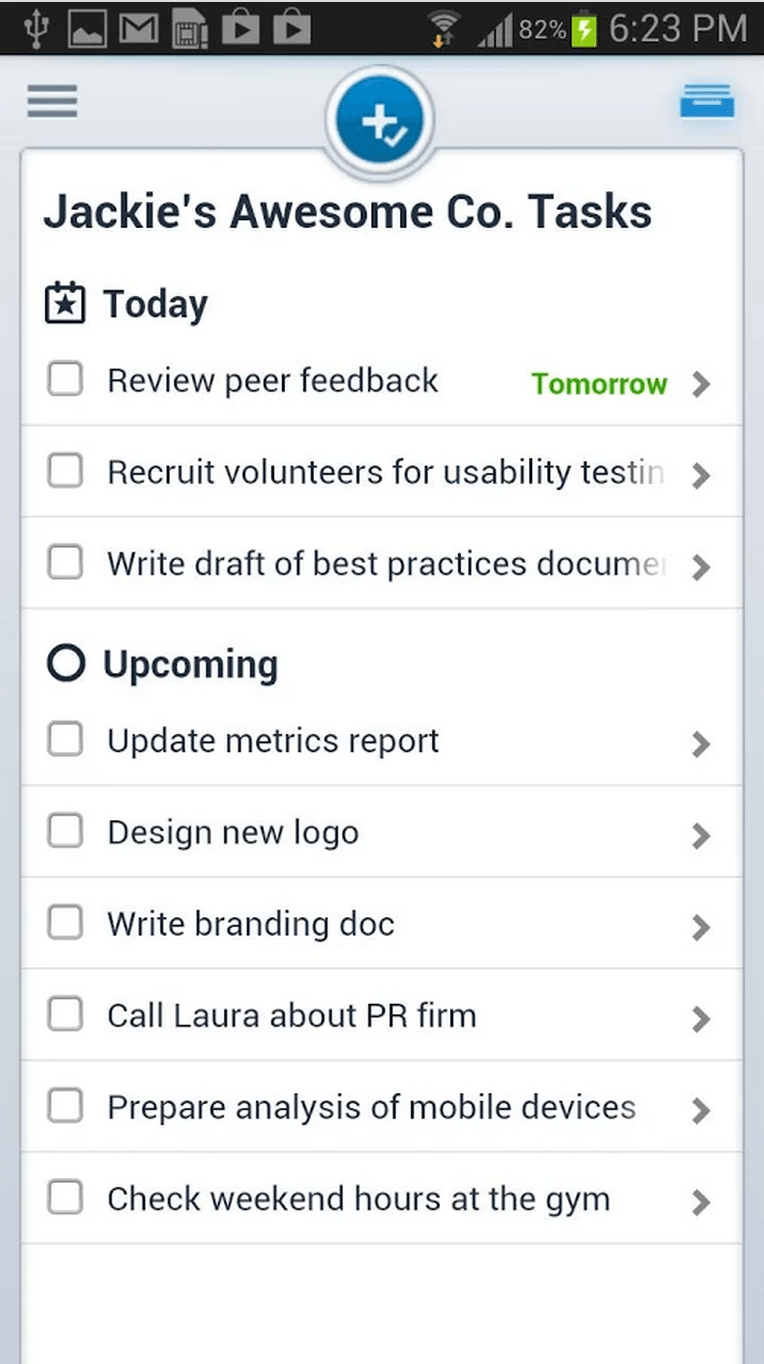 Other options –
8. Trello
At Buffer, we rely on Trello for a huge number of organizational jobs. It helps us track bugs in our Buffer product, and it's how we arrange our content calendar each week. Being able to edit, rearrange, and add from a mobile device is a huge benefit when you're suddenly onto a new idea.
> Download for iOS and Android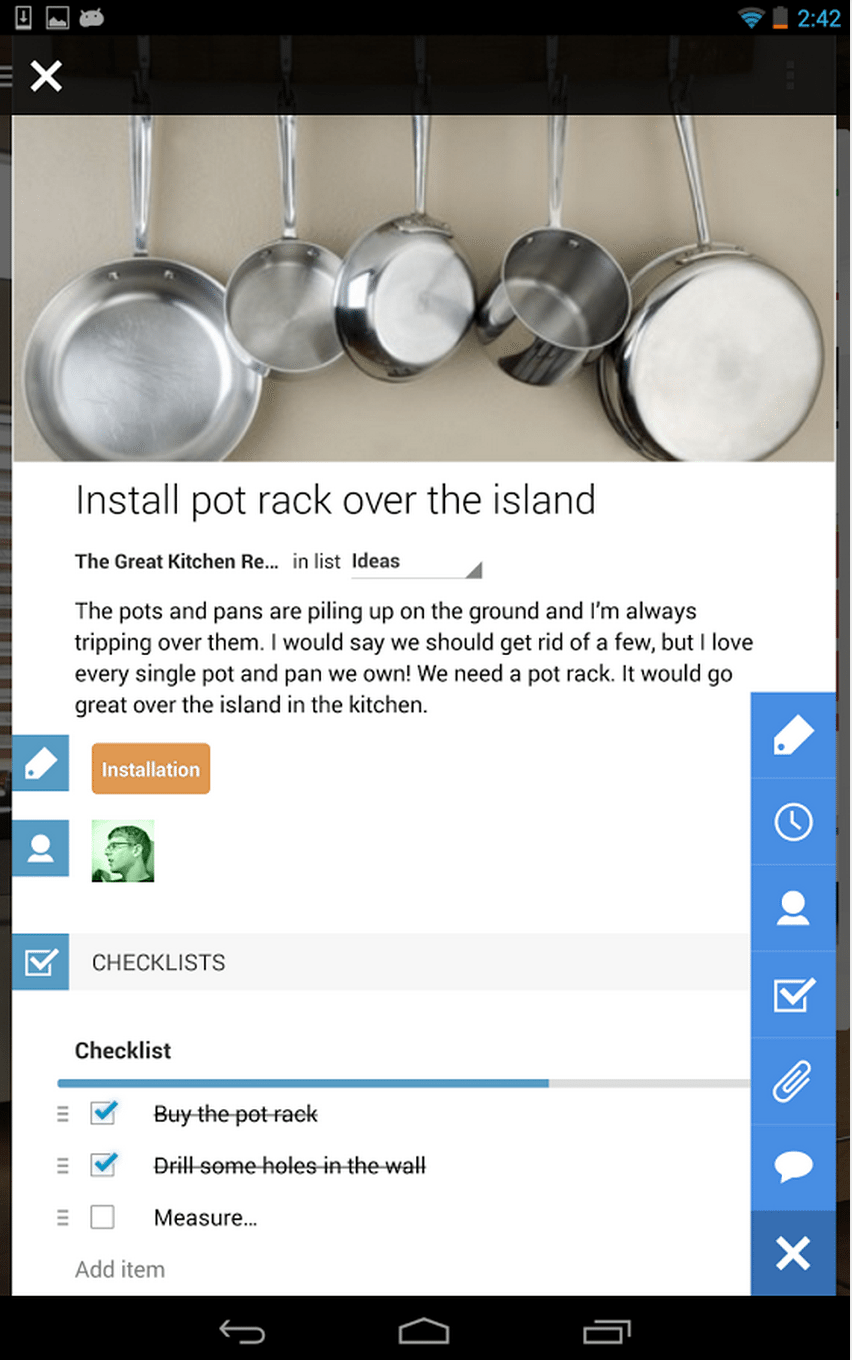 9. HipChat
Distributed teams can get a ton of use out of HipChat for team communication (traditional offices, too). And if you happen to be away from your desk, you can still stay in touch with the conversation, even receiving notifications when someone mentions you directly.
> Download for iOS and Android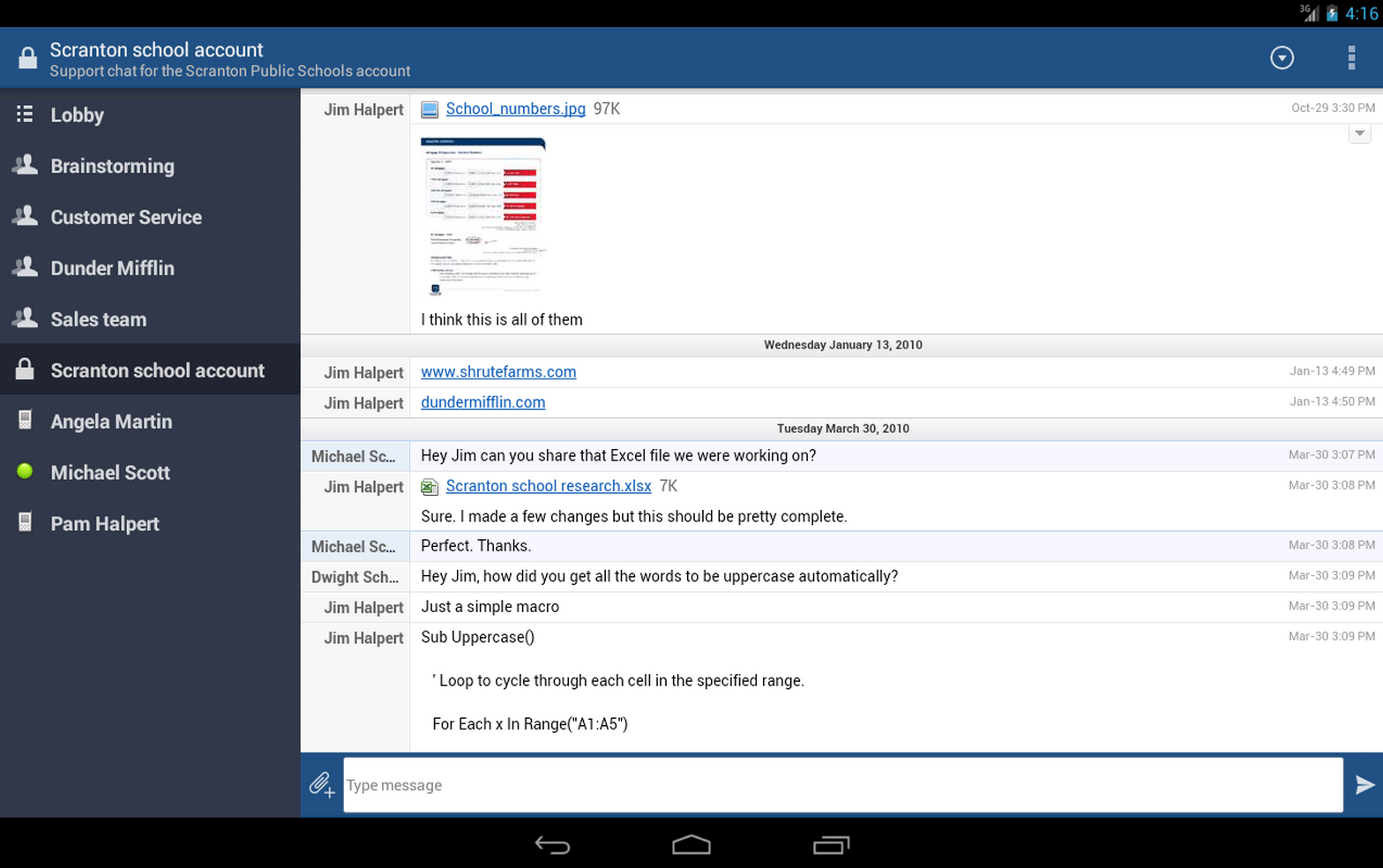 Other options –
10. Nimble
Nimble is a super-powerful contacts manager that integrates seamlessly with the social profiles of each of your contacts. Stay connected to your network, and grow your following on your social accounts by syncing your contacts with Nimble.
> Download for iOS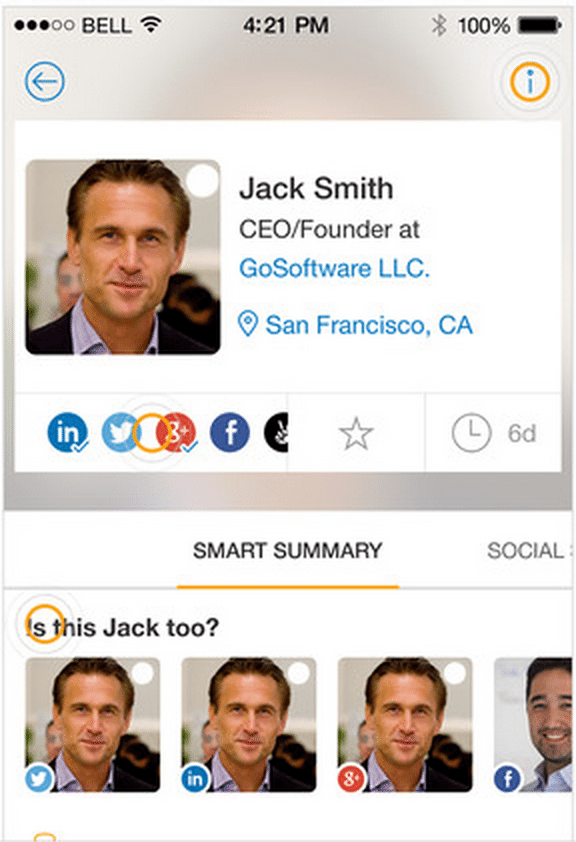 11. Mention
One of our favorite social listening tools, Mention helps you find and follow up with brand mentions all over the web—blogposts, social media updates, and anywhere else your keywords come up.
> Download for iOS and Android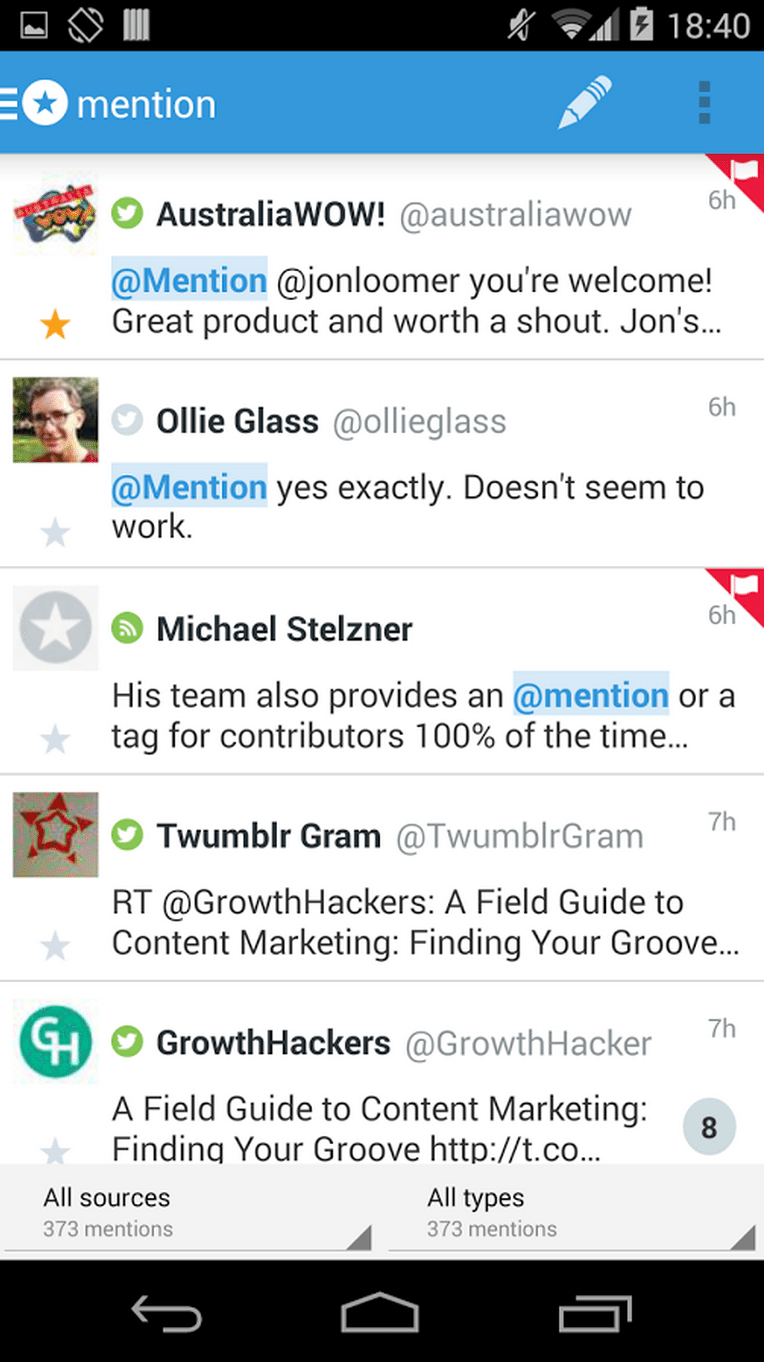 Other options –
12. IFTTT
There are hundreds of IFTTT recipes you can try to supercharger your social media sharing. The IFTTT app makes it easy to connect services, including the biggest social media sites and your most-used services.
> Download for iOS and Android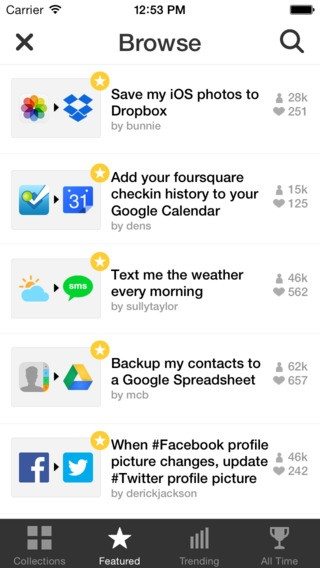 Amazing image creation tools for on-the-go graphics
13. Over
Add stunning text to beautiful images. The result: a super shareable piece of visual content that will engage your audience.
> Download for iOS and Android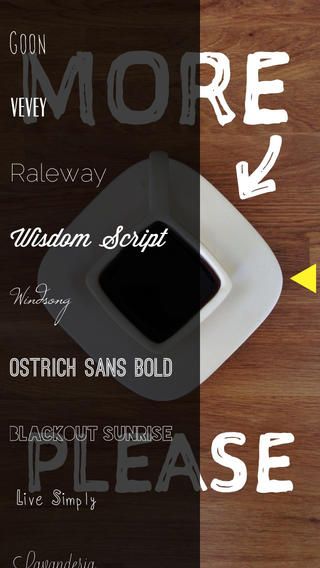 Other options –
14. Photo Editor by Aviary
To quickly create awesome images—either from the shots you take from your phone or from existing images you've uploaded to your camera roll—you can use Aviary's rich suite of editing tools.
> Download for iOS and Android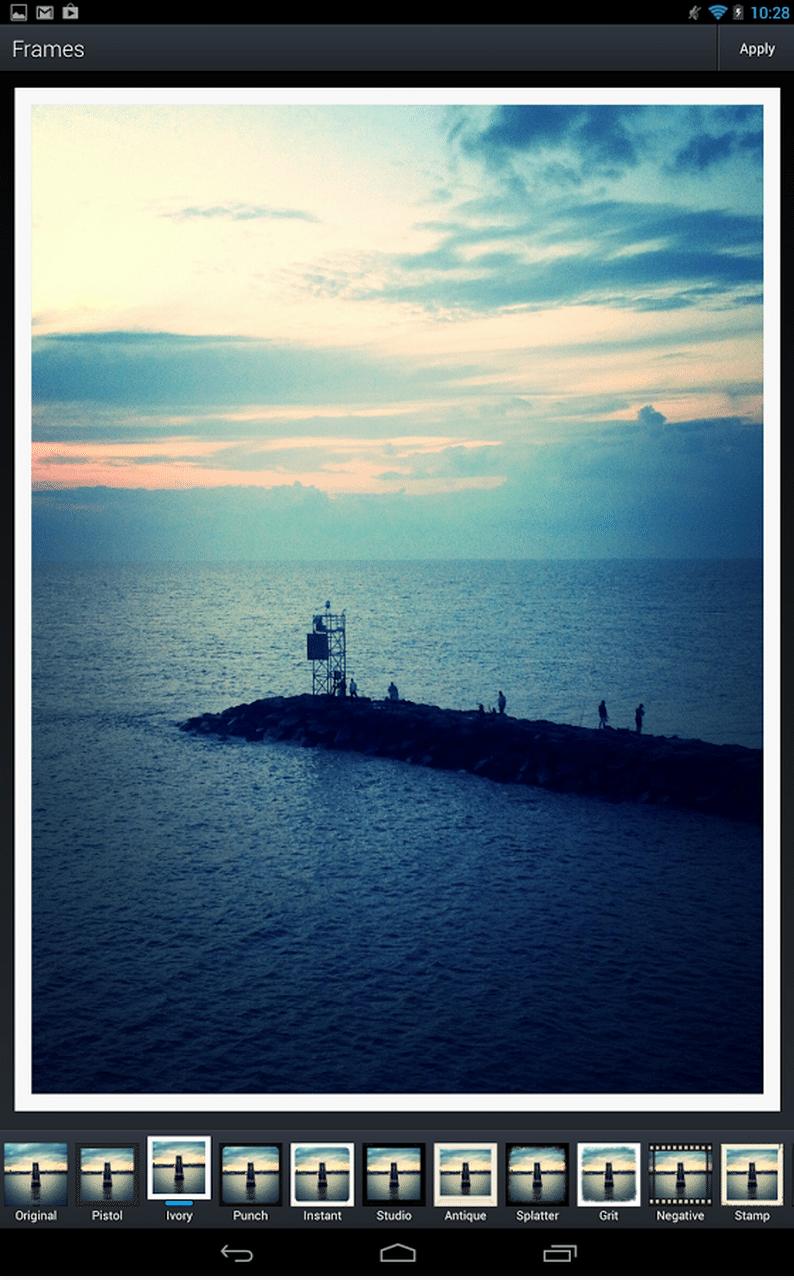 Other options –
15. Canva
One of our go-to resources for creating images for social media, Canva's new app brings all the features from the web right onto your iPad. Tap on templates, and drag elements into place to create a cool image to share—and share directly when you're done thanks to Canva's integrated social sharing.
> Download for iPad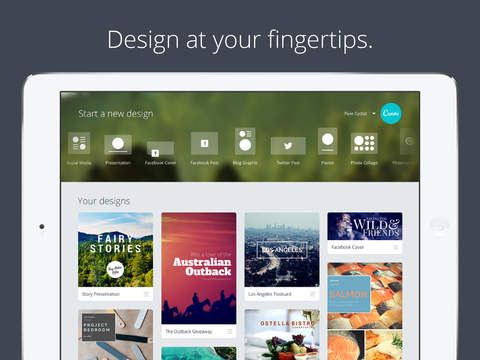 Content apps for finding and sharing the latest news and links
16. Feedly
Feedly is our go-to app for subscribing to RSS feeds and discovering new content to share on social media. It integrates with all the same great apps as the web version (like Pocket and Buffer), and the forward-thinking gestures on iOS are something to behold—e.g., double-tap to close stories, swipe down to go to the next page.
> Download for iOS and Android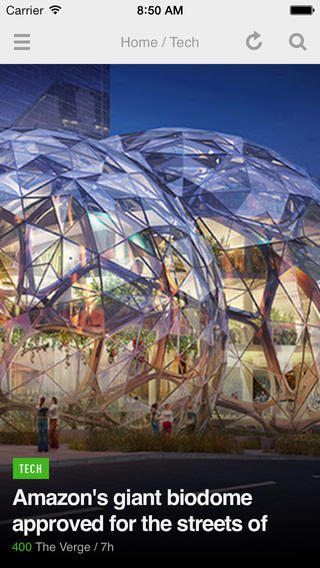 17. Flipboard
Flipboard takes content from an RSS feed, Twitter list, or category and displays it in a beautiful, flippable magazine format. It's a great resource for discovering new content and for staying on top of a category or topic.
> Download for iOS and Android
18. Daily
A fun app we built here at Buffer, Daily provides a hand-picked stack of articles that you can share or skip with a simple swipe. It's like Tinder for content, and it connects straight to your Buffer queue for easy scheduling.
> Download for iOS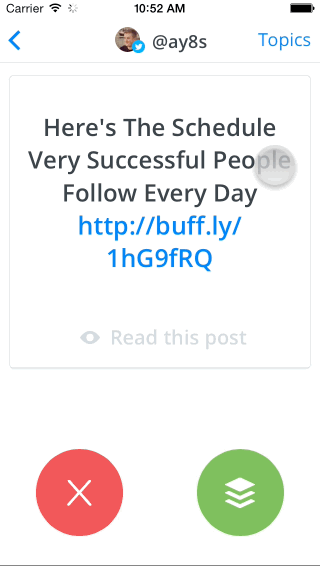 19. Mashable
Stay on top of the latest news and trends that are happening in social media by keeping tabs on the Mashable app. All the breaking stories and interesting reads that show up on Mashable can also be viewed here.
> Download for iOS and Android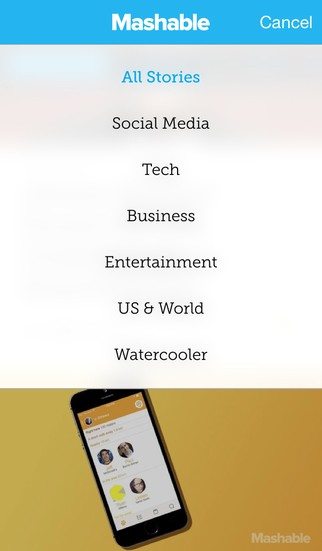 20. TED
Needing some inspiration from one of the world's best presentations? Pull up a TED talk on your phone or tablet. The TED app contains all the best presentations from their archives, and after watching, you can easily share the ones you most enjoy.
> Download for iOS and Android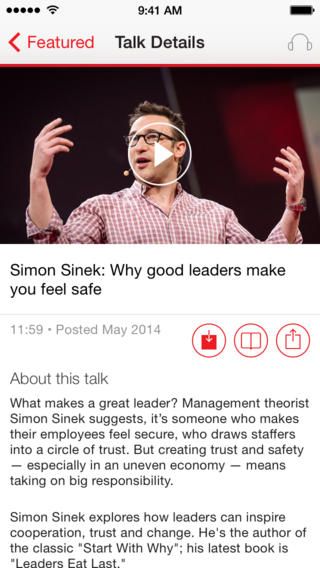 21. Prismatic
The Prismatic app learns from your content tastes and ends up finding and delivering content that is catered to you. It gets smarter the more you use it.
> Download for iOS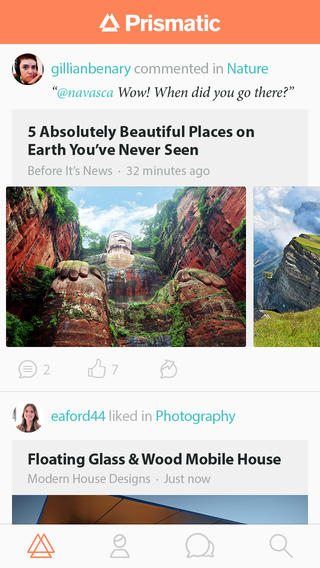 Nice-to-have tools to fill out your social media apps toolbox
22. Dashboard for Google Analytics
Check in on your traffic stats and campaign results from your phone. Dashboard for Google Analytics shows an easy-to-understand display of your analytics, great for seeing how your social media campaigns are faring.
> Download for iOS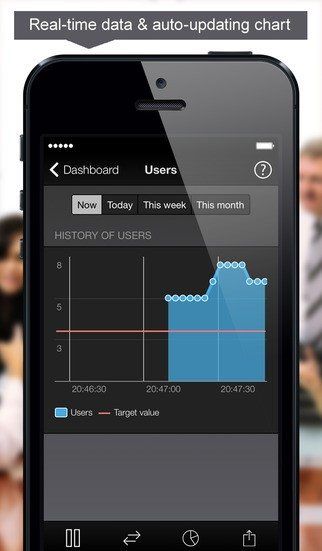 Other options –
23. Google Drive
All your files are here—completely editable and shareable. Even when you're offline, you can access and view all your files and documents.
> Download for iOS and Android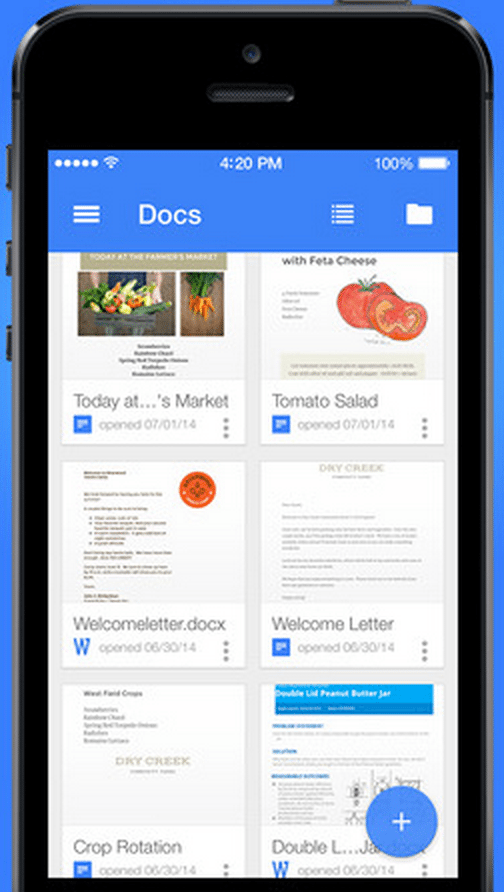 Other options –
24. MailChimp
If you use MailChimp for your email management, their mobile app is a super helpful way to manage your list and your campaigns on the go. Send campaigns (and edit via a companion iPad app), view stats, and manage your list, all from your phone or tablet.
> Download for iOS and Android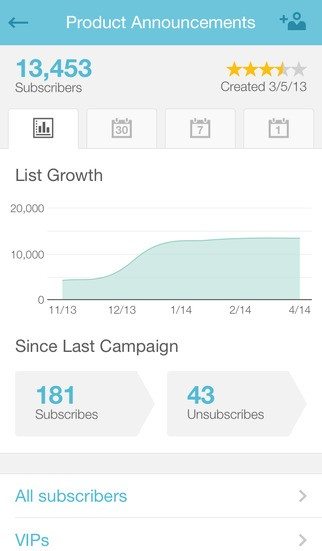 Other options –
25. Gather
Another useful app from the MailChimp team, Gather lets you send text messages to your subscribers to keep them updated at events.
> Download for iOS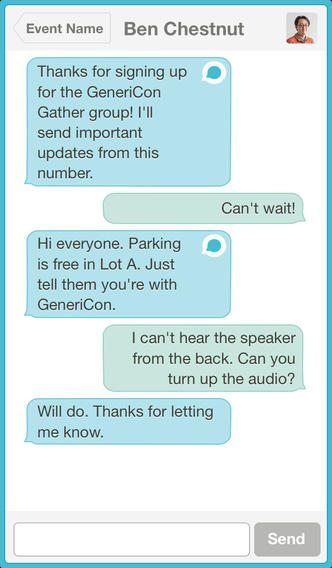 26. Chimpadeedo
MailChimp's email capture app, Chimpadeedo is super useful for conferences and merch tables. Turn the app on, and people can sign themselves up for your list in seconds.
> Download for iOS and Android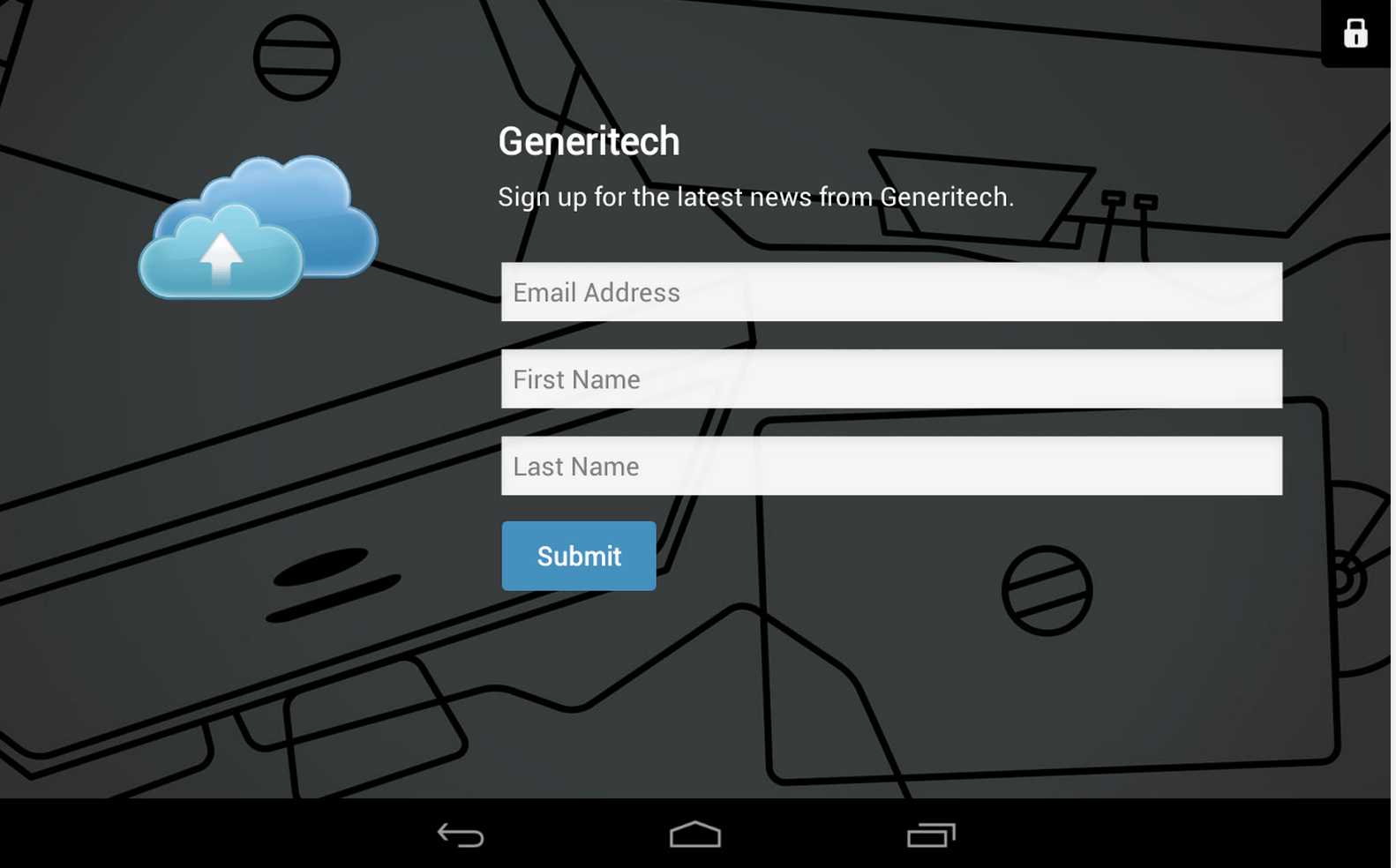 27. Mailchimp Snap
And finally (last MailChimp app – I swear!), with Snap you can send an email based on an image you take on your mobile phone. The app syncs with your existing lists, and it grabs your new photo or a photo from your camera roll to place into an email with your chosen text and template.
> Download for iOS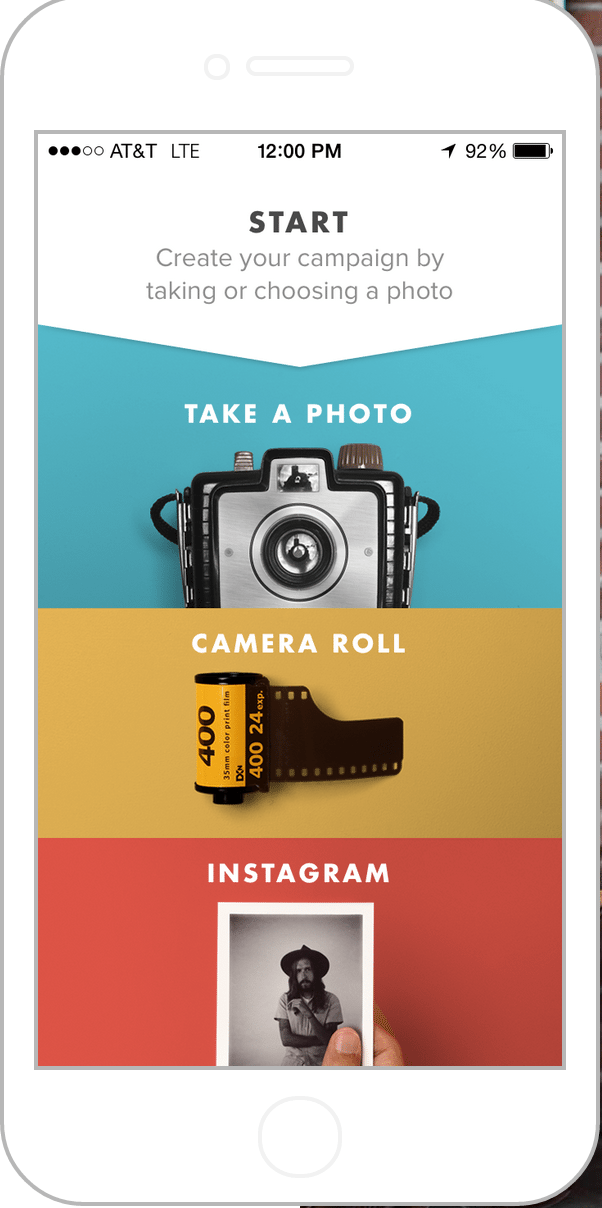 28. Hangouts
Need to connect quickly with a coworker when you're away from the office? Google Hangouts on mobile can come in super handy in a pinch. Connect and chat with your friends or coworkers, regardless of what device they're using.
> Download for iOS and Android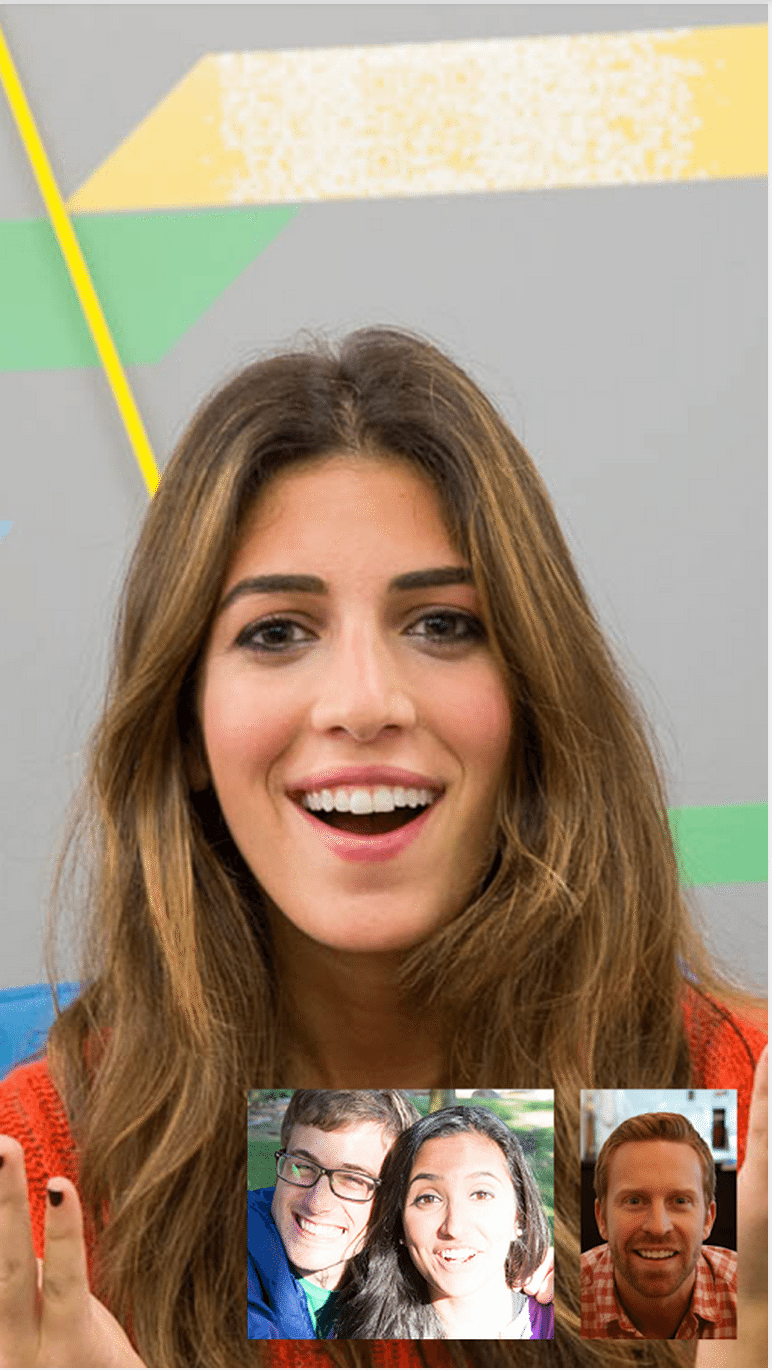 Other options –
29. Overcast
If you're into podcasts for learning or sharing, there are a handful of great apps to try, starting with Overcast. Find podcasts via search, then build a playlist and listen from the app—offline or online.
> Download for iOS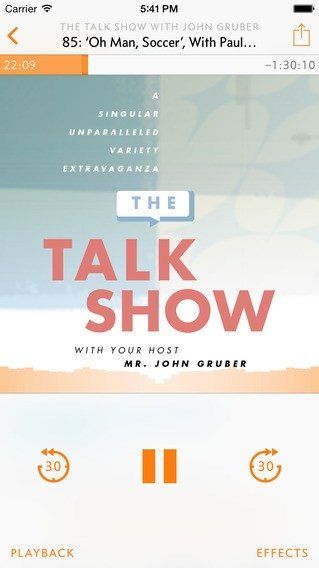 Other options –
30. TapTalk
Tap a friend's profile picture to send them a photo or video. This popular social messaging app can be useful for remote teams, conferences, retreats, and more.
> Download for iOS and Android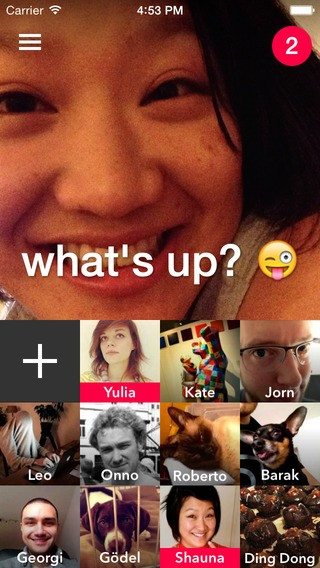 31. Paper
The content app from Facebook takes the vital links and information from your News Feed and delivers it in a nicely-dressed package, perfect for on-the-go consumption.
> Download for iOS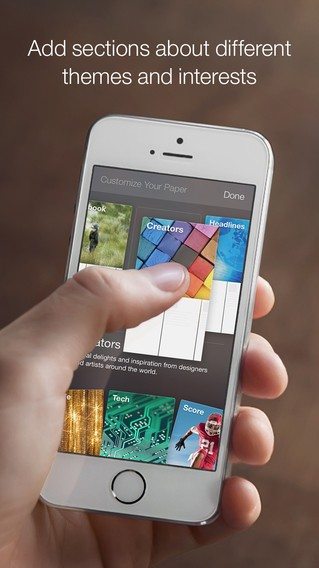 32. WiFi Finder
If you're in need of a wifi spot to get work done, pull up this app to see which networks are available in your vicinity.
> Download for iOS and Android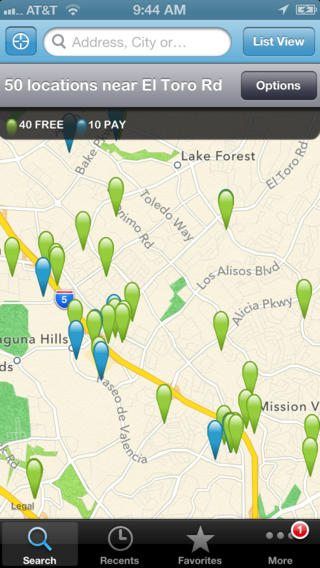 33. WordPress
Our Buffer blog runs on WordPress, and so do tens of thousands of others. The WordPress mobile app makes it easy to manage everything about your site, and it works both for WordPress.com sites and for self-hosted sites.
> Download for iOS and Android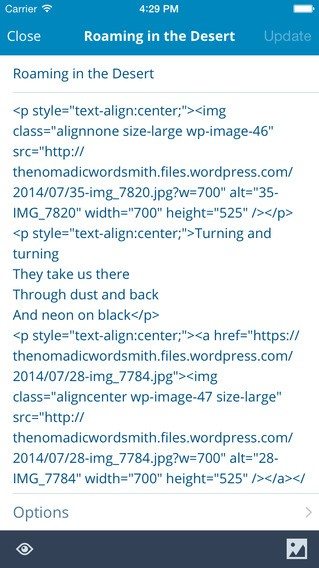 Other options –
34. SlideShare
View and organize all your favorite SlideShare presentations from your mobile device. The app even lets you store presentations for offline viewing when you're not connected to the Internet.
> Download for iOS and Android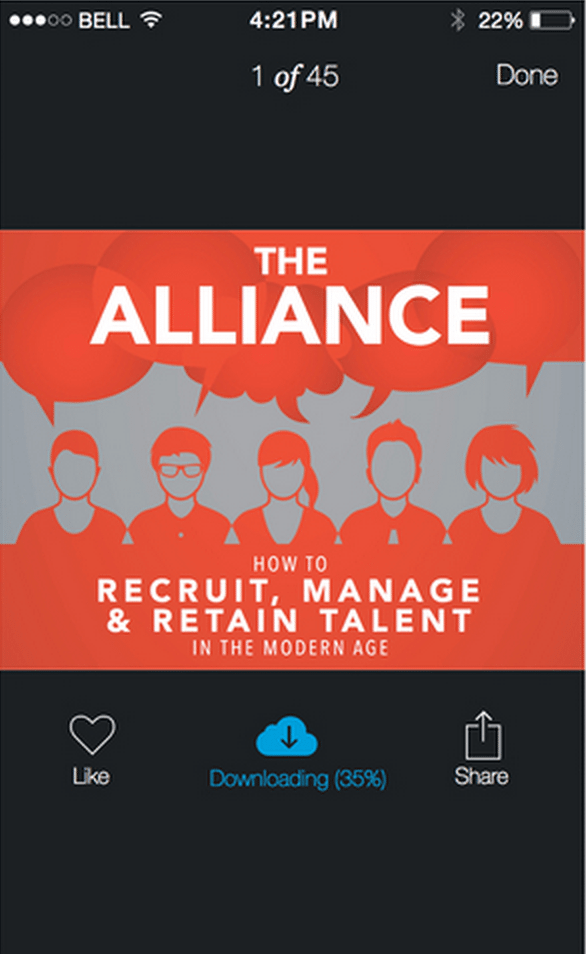 All the official apps of the major social media channels
35. Facebook
All the features you've come to know and love form the web version of Facebook. And when you log in to the Facebook app, you can then quickly and easily manage Facebook logins at other sites and apps, too.
> Download for iOS and Android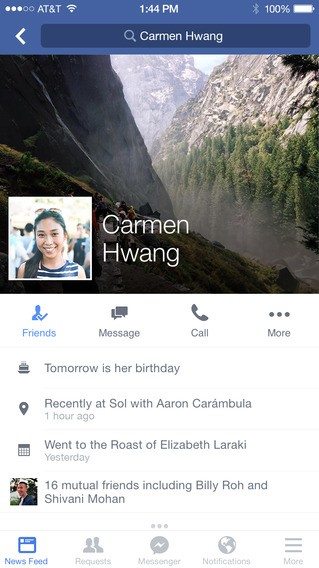 36. Twitter
A really wonderful interpretation of the Twitter stream and profiles, with easy links to lists, direct messages, and notifications.
> Download for iOS and Android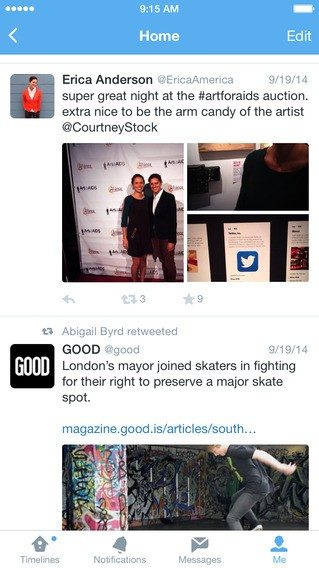 37. LinkedIn
The best way to manage your professional contacts on-the-go. You can check out your connections, post updates, and even discover, save, and apply to recommended jobs:
> Download for iOS and Android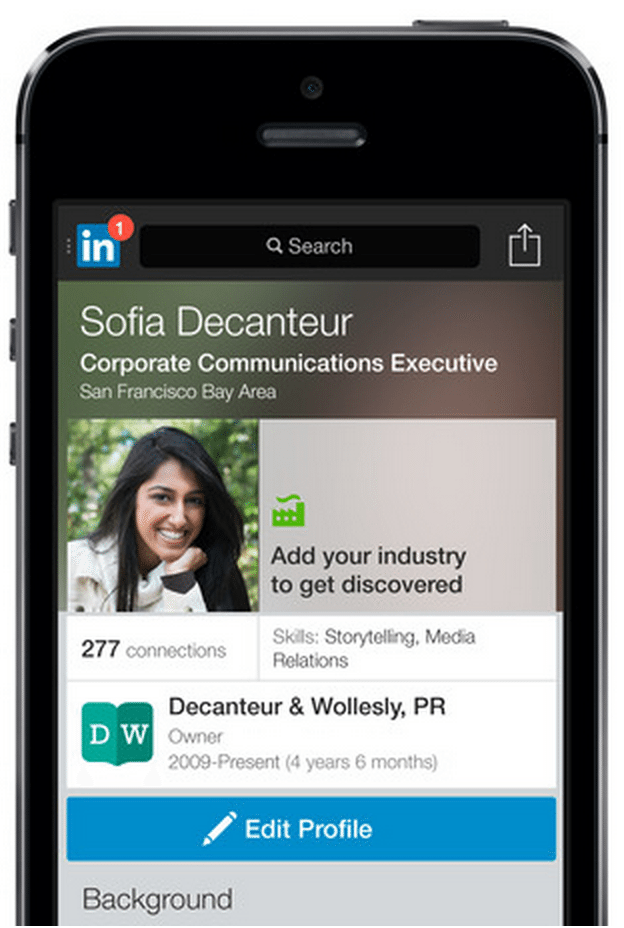 38. Google+
An intuitive and fast way to browse through your Google+ feed and manage your profile and page.
> Download for iOS and Android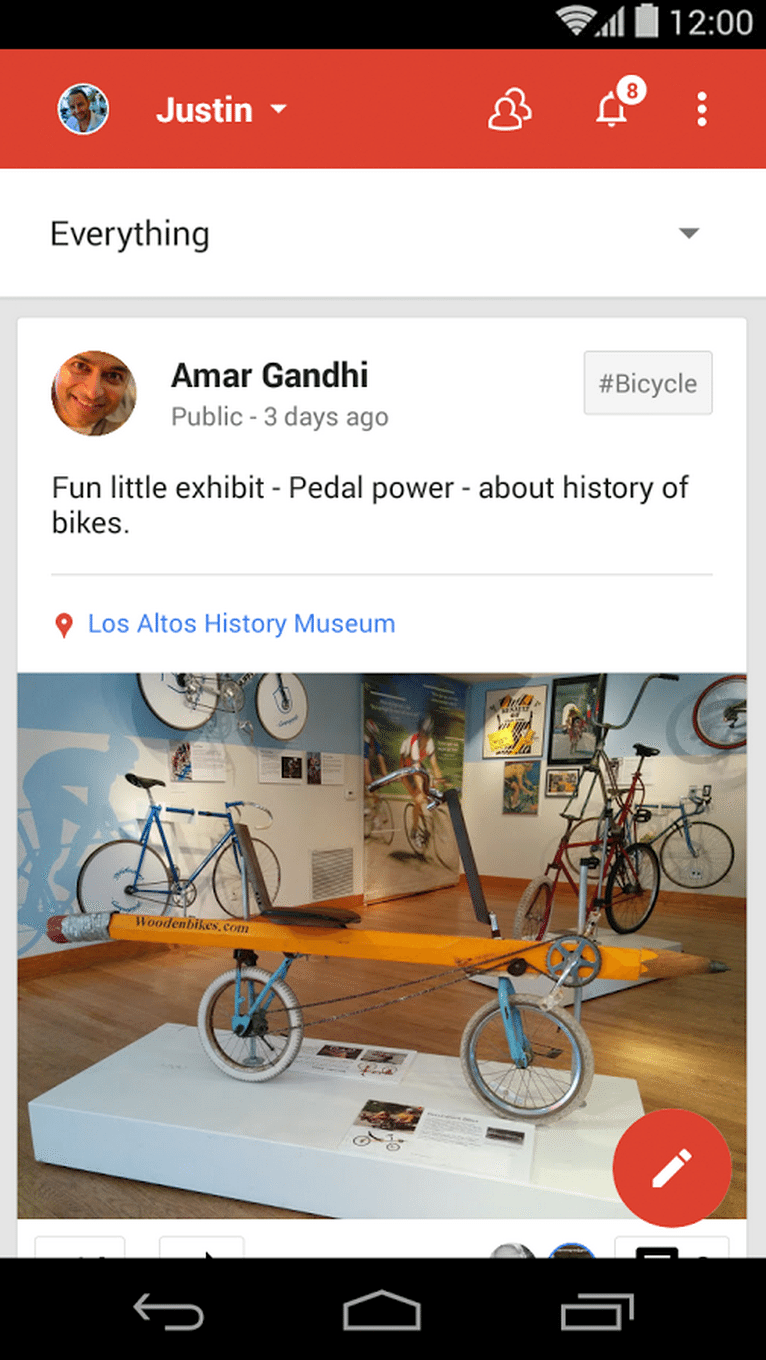 39. Instagram
One of the fastest-growing social networks, the photo app is the biggest one on this list that remains app-only. If you want to run a visual marketing strategy through Instagram, you'll need the app.
The app has taken lots of strides in the past few months, including the release of Hyperlapse video. See below for an example.
> Download for iOS and Android
40. Pinterest
Simple and intuitive to view, like, and repin. The Pinterest app is ideal for idle browsing, and it supports sharing to Pinterest from browsers and other apps. > Download for iOS and Android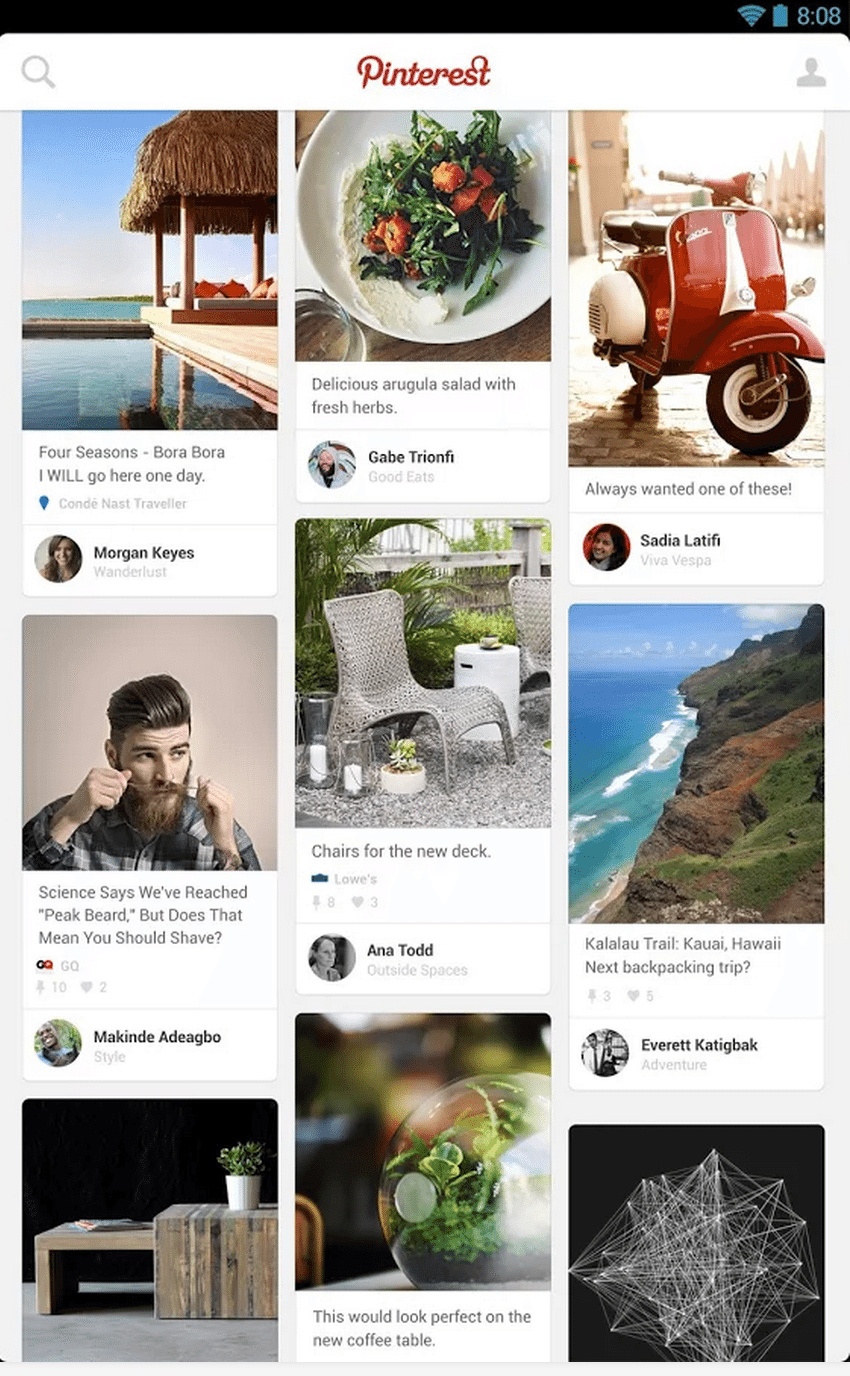 New and fringe social media channels to try
41. Snapchat
With Snapchat, you can take a photo and share a photo, then the photo disappears after your friend views it. Marketers are still figuring out how best to take advantage of this. Some early pioneers include McDonald's, Taco Bell, and General Electric.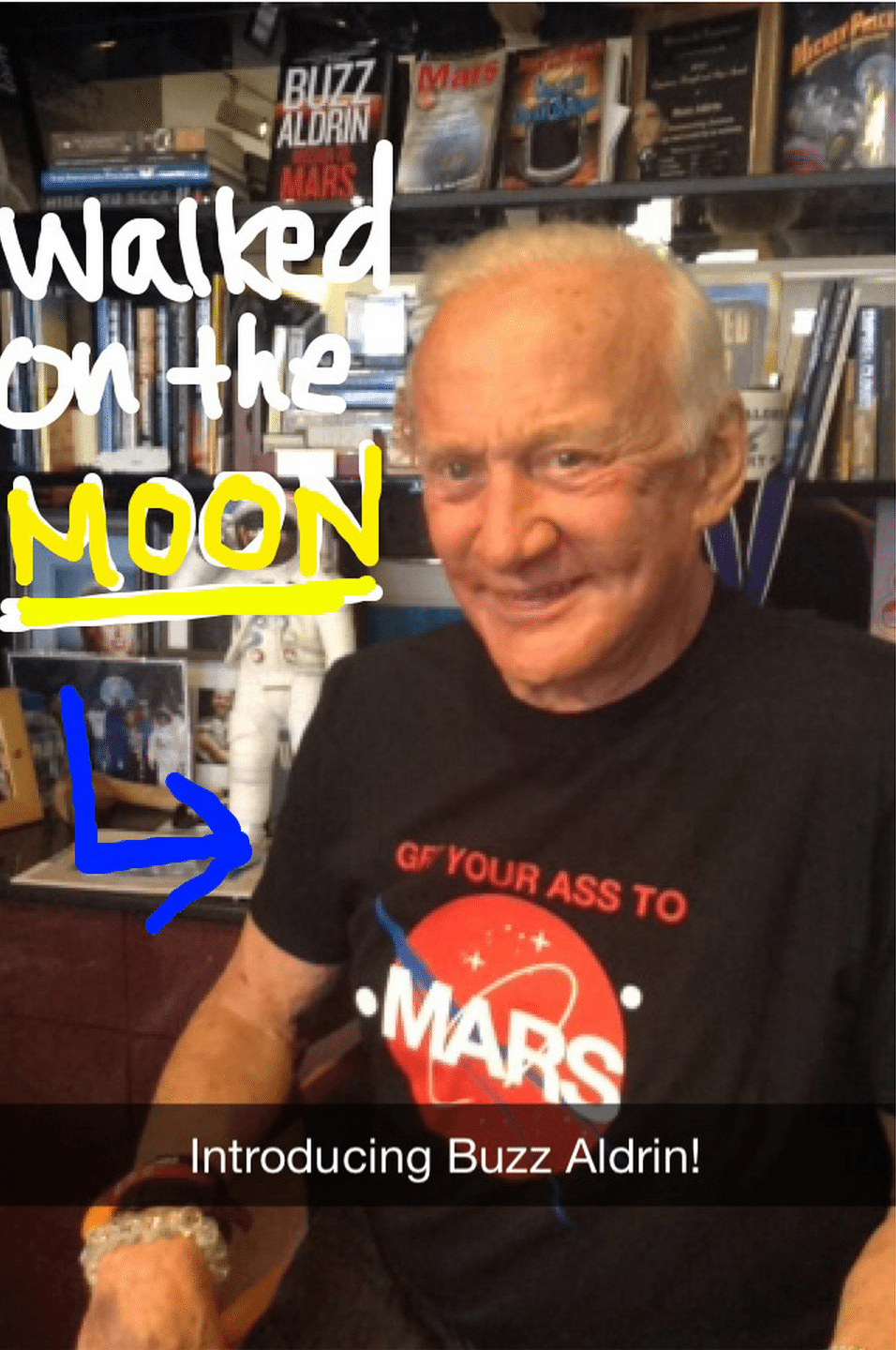 > Download for iOS and Android
42. WhatsApp
The mobile messaging app (that is now owned by Facebook) lets you send text messages to friends and colleagues. Like Snapchat, this is one that marketers are still feeling out. There have been lots of articles written on how marketers might take advantage of WhatsApp. > Download for iOS and Android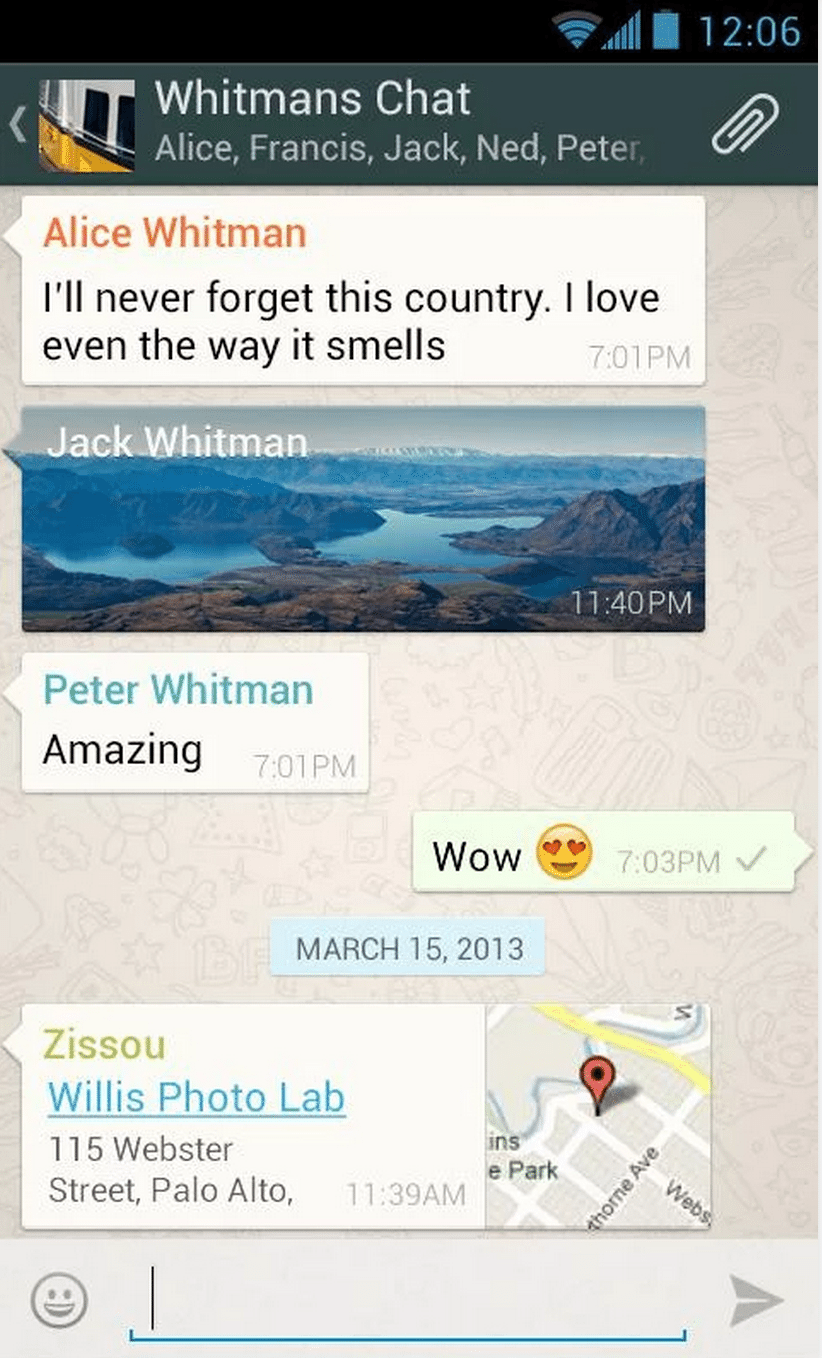 43. Vine
The microvideo app from Twitter lets you record six-second videos that play on a loop. The integration with Twitter is seamless, so your videos will appear and play with ease. Some great use cases so far have been brands using it for how-to videos, like this one from Lowe's.
> Download for iOS and Android
44. Tumblr
For brands on Tumblr, you'll find the same great features and tools from the web version here in the mobile app, including a powerful hashtag search and easy profile edits.
> Download for iOS and Android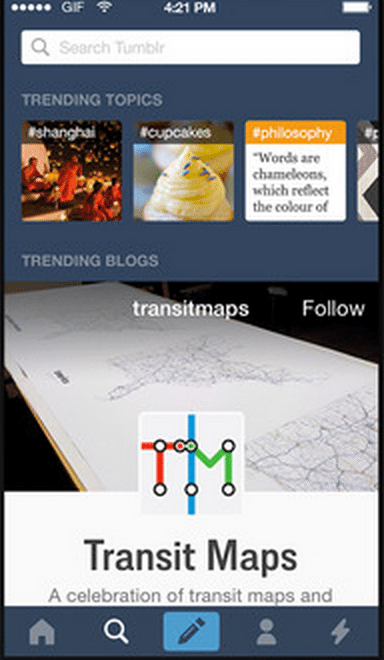 45. Quora
The crowdsourced answers website has a lot of neat uses for marketers, especially as a source for information and content ideas. You can check in on the latest questions and topics from the app.
> Download for iOS and Android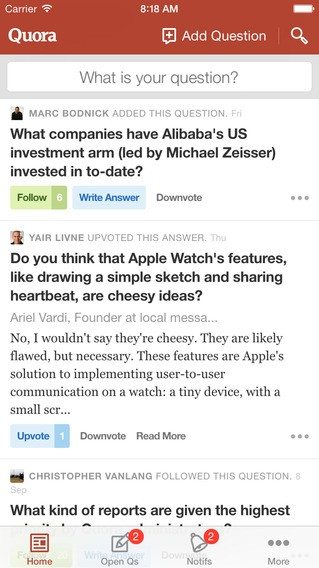 Conclusion
As you can see, there are a huge number of helpful apps for marketers to try. You probably don't need all 45 on your phone, but hopefully you identified a few that can help make your marketing efforts all the more efficient.
Which mobile marketing apps do you use? I'd love to hear your favorites in the comments.
Image sources: Blurgrounds, Icon Finder, Death to the Stock Photo