Summary
As social media platforms evolve to reward authentic social interactions, social media engagement has become a vital part of any marketing strategy. Here's a look into why we think social media engagement is so important and how you can overcome roadblocks to develop a successful strategy.
You will learn
Why you should care about social media engagement
How social media engagement can impact your business
Tactics for boosting engagement and winning lifelong fans
Without engagement, social media is just media.
People don't use social networks for a one-way experience. They're seeking connections — with people and with brands.
What started out as a way for people to hang out with their friends online has turned into a place where brands can engage in meaningful conversations and turn those conversations into followers and customers. And social media engagement has a major impact on small businesses, affecting everything from brand awareness to customer loyalty.
Here, you can learn how to improve your social media engagement strategy, so you can make sure that impact is positive.
What is social media engagement?
Social media engagement is a measure of how people are interacting with your social media accounts and content. The term can cover a broad range of actions acoss all social platforms. For example, engagement might include:
Likes and Favorites
Comments, DMs, Replies
Shares and Retweets
Saves
Clicks
Mentions
Engagement is a great way to measure whether the content you're creating is actually resonating with your audience, but that's not all it's good for, which brings me onto our next topic...
Why social media engagement is so important
Why is engagement so crucial? In short, because social media platforms say so.
Organic reach has dropped on almost every social media platform in recent years. However, accounts with higher social media engagement are the least affected. In fact, Facebook uses "meaningful engagement" as an important signal that a post should be prioritized.
In other words, social media posts with more active and thoughtful interactions will get more reach. As Facebook explains:
"Interacting with people is associated with a greater sense of well-being… On the other hand, just scrolling through your Facebook feed, passively reading or watching without interacting with others, tends to make people feel worse."

Your customers expect you to engage, as well, particularly when it comes to providing support. Social media is the number one choice for customer care —  every month, people and businesses exchange 8 billion Facebook messages. Customers rely on you to not only respond but to do it quickly. According to research commissioned by Twitter in 2016, 71% of their users expect brands to respond within an hour.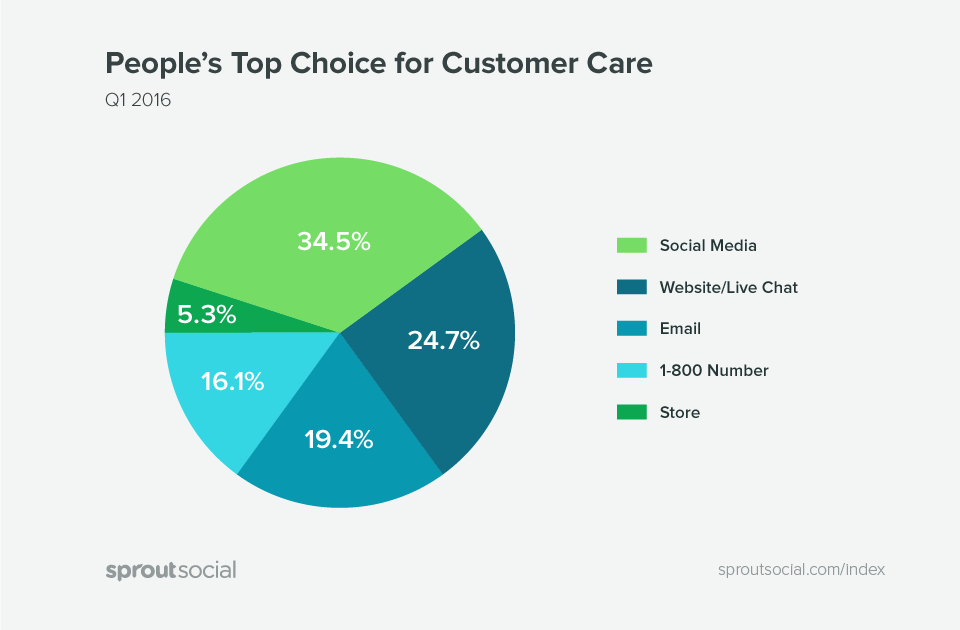 People love seeing (and sharing) positive interactions between brands and real people. Answering a complaint on social media can increase customer advocacy by as much as 25%.
It may be a bit intimidating to respond publicly, but if you provide great service, your customers will love you for it. An average of 66% of people between the ages of 18-54 view brands more favorably if they respond to customer service requests on social media. Plus, every public back-and-forth counts as further engagement, which feeds back into your overall reach.
Lastly, engagement builds relationships. We use social media to learn from our customers and community about how we can improve their experience.
Having this direct line to our target audience enables us to build relationships, develop empathy, and, ultimately, build a better product for our users.
How to boost social media engagement
Here's how to keep your social media engagement rate on the rise.
1. Actually be social
You probably wouldn't go to a party just to launch into a speech and refuse to have any conversations, would you? To be engaging, you have to actually socialize, which means interacting with the people around you.
This is something we try to do all the time on social, aiming to respond to the majority of comments and mentions we recieve.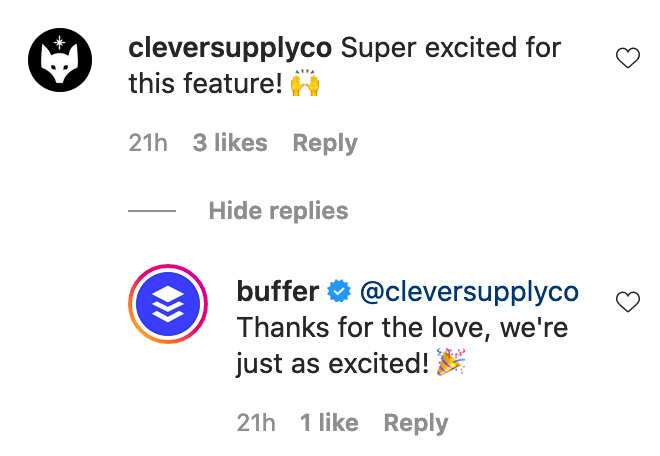 Not only is responding a good practice to get into, it can also impact your revenue as Southern Elegance Candle Co. founder and CEO D'Shawn Russell told us:
"Our social media makes us a lot of money… We went from doing maybe $20,000-30,000 a month just posting pretty images to well over a $100,000 a month now simply by engaging people more."
Got a bit of social (media) anxiety? Use social media engagement tools to track mentions, comments, and conversations in a central place. (There are a number of social media monitoring tools out there to help you with these. Here's a list we put together with some of our favorites.)
And here at Buffer we've just rolled out our new engagement tool to help you stay on top of important interactions on Instagram and Facebook, and turn followers into fans.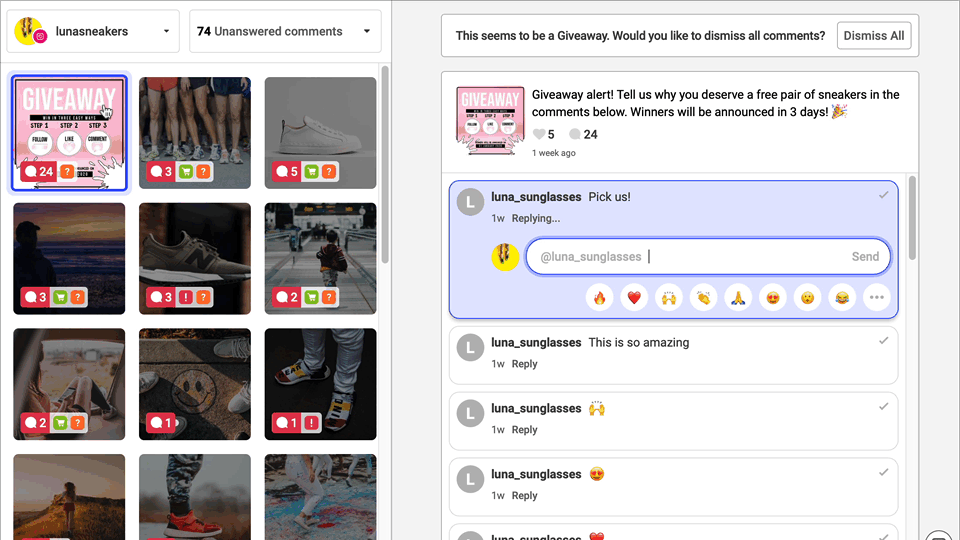 Retail business Sass & Belle uses this tool to respond to its comments in a timely manner:

"We use Buffer on a daily basis to ensure we never miss a comment or question from our community," says Sass & Belle's social media manager, Stephanie Kaluza. "I really like how it flags out comments that may be an issue or that is potentially an important question that we may have missed."
(If you are not a Buffer customer yet, you can get started at just $15 per month.)
2. Have a consistent, authentic voice
Putting yourself out there on social media can be scary. Will people like what you have to say? Are you putting your brand in its best light?
Having an authentic voice on social media is important but not as easy as it sounds. It's essential because it humanizes your brand and encourages people to respond and talk about you positively.
It's difficult because things like "voice" and "tone" are quite subjective. Here's how Kevan Lee described the challenge in a previous blog post:

"We don't want brands talking at us as if we are dollar signs. We want authentic communication. Finding a voice for your social media marketing can be difficult because the concept is somewhat unlike other optimization strategies online. Voice is not a statistic you can track or a design element you can tweak. Voice goes deeper than that."

As an example of how to develop your social media voice, here's a four-part formula suggested by Stephanie Schwab, writing for Social Media Explorer. She breaks voice down into tone, character, language, and purpose.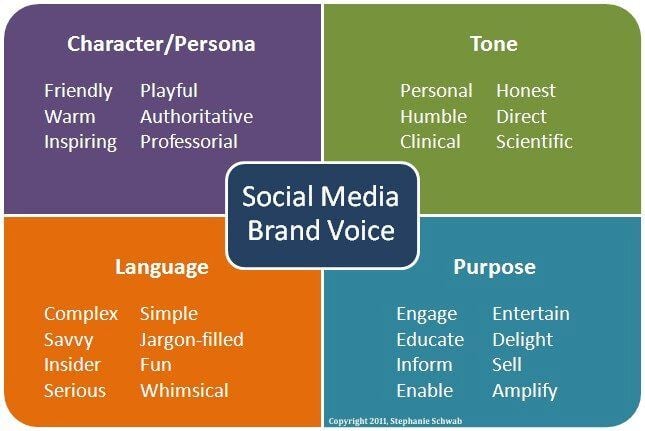 But what does that look like in practice?
At Buffer, we have a tone guide (which you can read about here, along with some other guides that we think are quite inspirational). We use this guide to help empower our team.
Establishing a brand voice is especially important if multiple people manage your social media accounts. Here, at Buffer, our Customer Advocates can refer to our guidelines for guidance on overall tone and style but still add their own personal touch by signing off with a signature.
Keep in mind that different styles work for different audiences. For instance, D.C. area bookstore, Capitol Hill Books, embraces dark humor on its social networks.
You can also liven up your feed with GIFs and emojis. Both have become a massive part of the language of social media. Internet linguist Gretchen McCulloch says emojis allow us to add gestures and emotional nuances into our online communication. When you share content with GIFs and emojis, you add a bit of personality to your social media channels.
3. Know your algorithms
Not all platforms measure social media engagement in the same way. Familiarize yourself with the unique algorithms, so you know how to boost engagement.

Start with timing — does it matter when engagement happens, or are midnight likes weighted the same as midday interactions?
LinkedIn, for example, cares when people engage with your posts and factors it into your reach. In our LinkedIn Strategy guide, we discuss the "Golden Hour" concept — posts that get engagement within the first 60 minutes have greater reach. Instagram, on the other hand, doesn't factor engagement timing into its algorithm.
Consider your post timing as well. While there is no "best" time to post for everyone, you can dig into your audience insights to strategically post when your followers are most active.
Check into how other actions influence your chances of social media engagement, as well. For example, Instagram likes when you use Instagram Stories and will show your posts more often to regular story viewers. On Facebook, posts with videos receive 400% more engagement than text-only posts. For Twitter, hashtags are everything — adding hashtags to tweets can increase engagement as much as 1,065%.
Measure the impact of your social media engagement
Engagement is great for an ego boost, but it's also important to monitor how that engagement impacts your business.
In my opinion, being able to quantify the return-on-investment is the biggest thing that holds brands back from investing in social media engagement.
It's often not quite as straightforward as measuring clicks on an ad campaign, or sales from an email promotion.
At Buffer, we measure success through a couple of lenses:
1. Customer support impact
How many messages are we responding to on social media? Are we responding (and resolving issues) faster? Is it reducing the number of support requests we receive through other channels, like email?
2. Brand impact
The impact social media engagement has on your brand is more difficult to measure because someone's journey with your brand is nonlinear and attribution is murky. Brand perceptions are built up over time and through multiple channels.
At Buffer, the brand metric that we focus on is impressions – the number of people who are coming into contact with Buffer each week. We have an annual goal for reach, and we track weekly progress against it.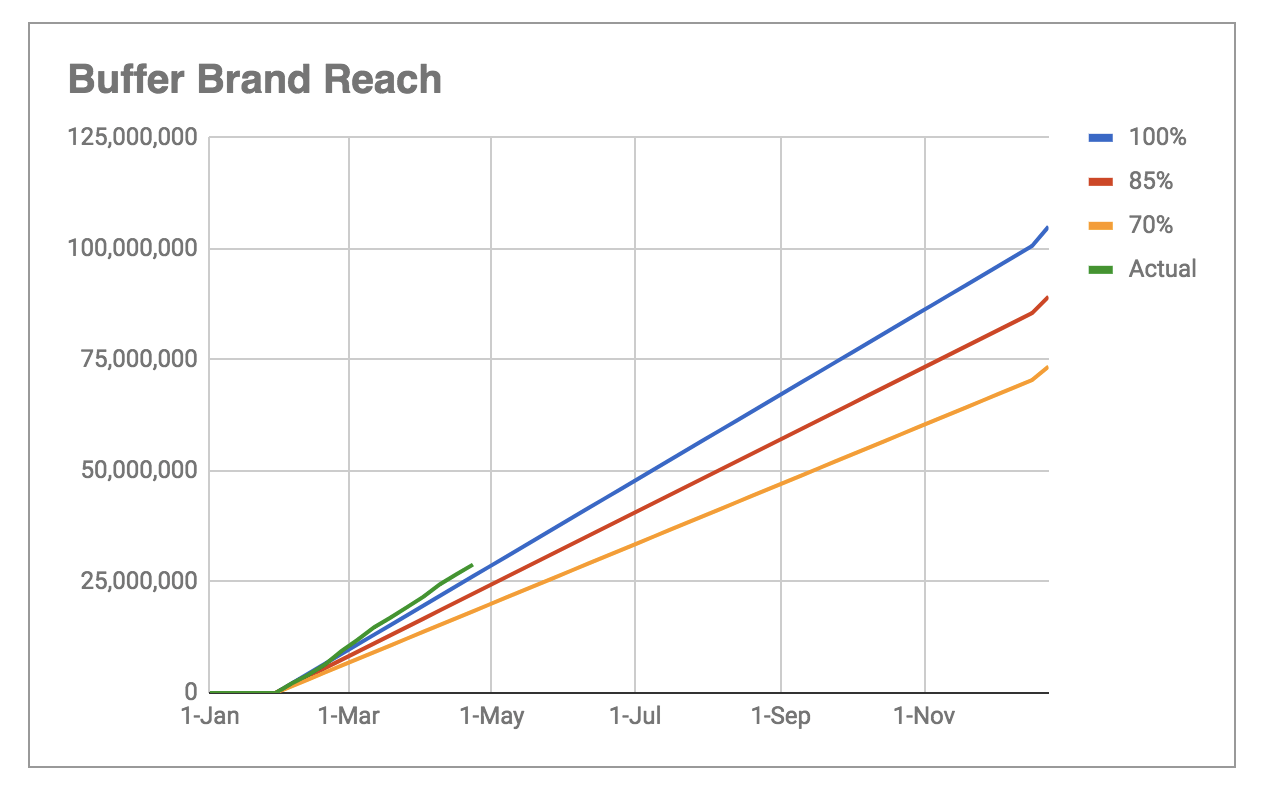 We treat social media as a component of total reach, and it is a big contributor for us to our total reach number.
In the table below, Social Reach is the total number of people who see our content within a social media feed and Social Engagement is the cumulative total of likes, comments, shares and clicks, etc.
We include Social Engagement because it helps us measure the quality of our reach. By engaging with our audience on social media ourselves, we try to drive both of these numbers up!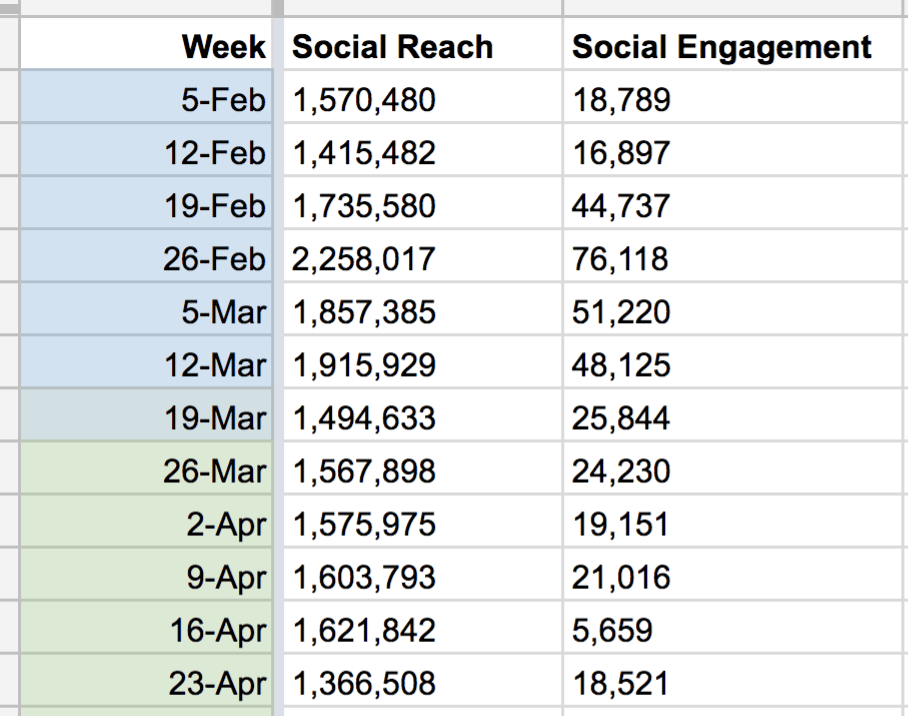 To improve social media engagement, you have to monitor it
You can't boost something without knowing your starting point. With Buffer's analytics and engagement tools, keep a close eye on your engagement efforts.
With our analytics you can easily surface your best performing content to better understand what your audience is engaging with the most: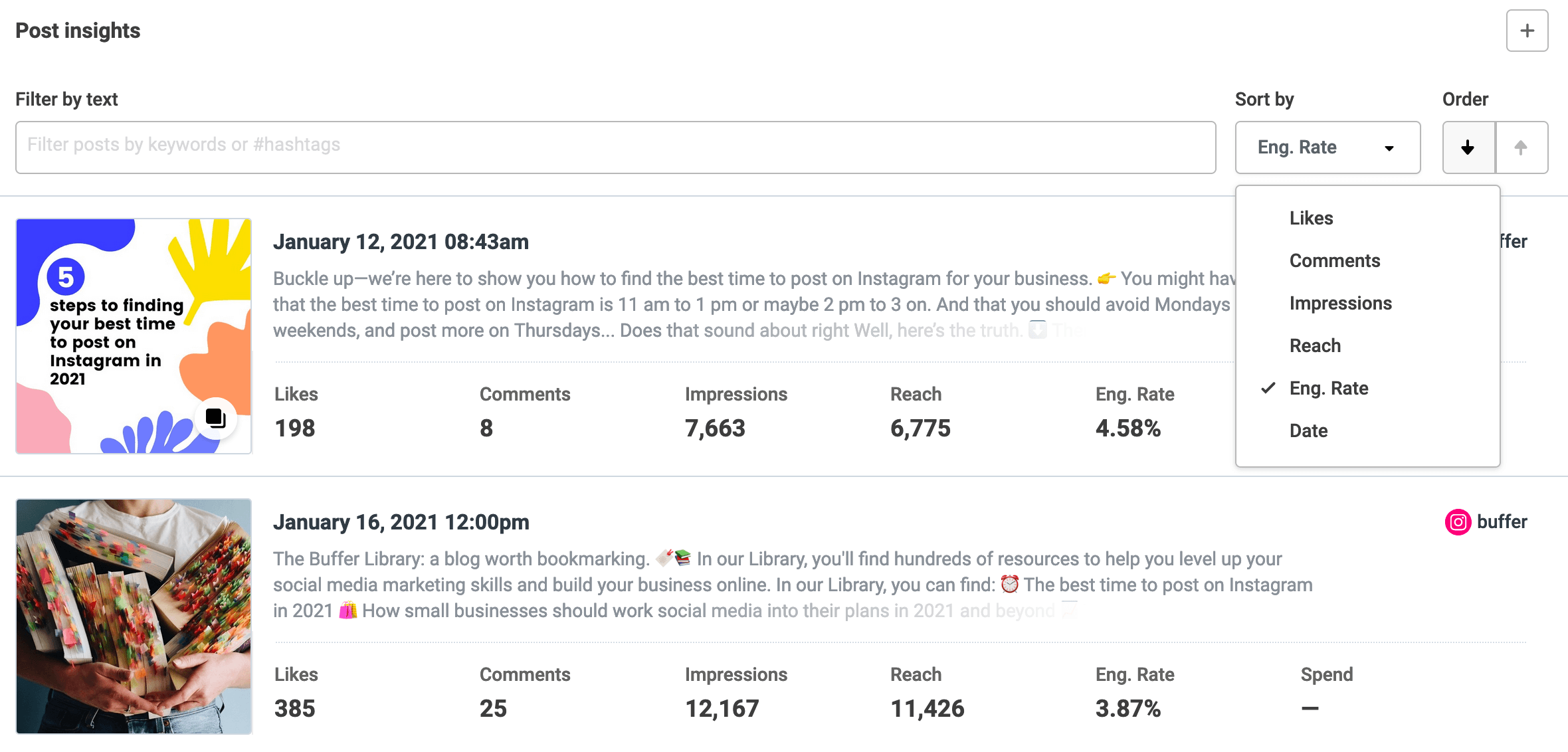 And with our engagement tools you can reply to more comments, stay on top of important interactions, and turn your followers into fans. All from the comfort of your Buffer dashboard.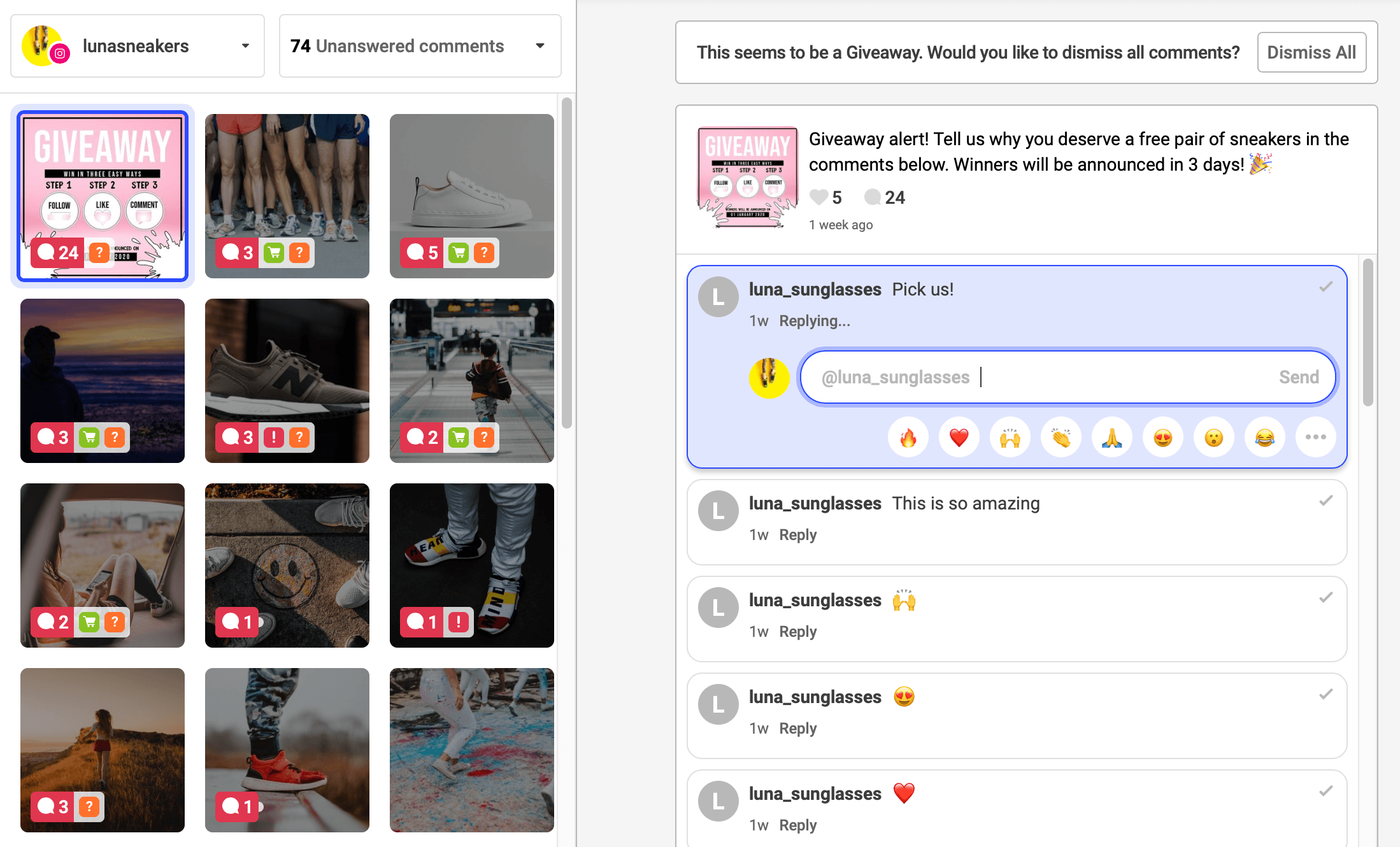 Start making the most of your social media efforts by interacting with your followers consistently and authentically. Sign up for a 14-day trial to give engagement and analytics tools a try!

Brought to you by
Did you find this article helpful? You might also like our all-you-need social media toolkit.
Get started for free now