Engagement with fans.
Engagement with your audience.
And engagement with your customers.
One of the primary components to engagement is customer support, working with your team to answer questions and serve customers on social.
We'll give you a toolbox filled to the brim with ideas, tips, and tools that you can put into practice today. With this knowledge, you can be on the crest of the wave of social media support and make a meaningful impression on your customers.
Let's dive in.
---
Why social media customer support is so important
Why does social media engagement matter?
Why should you make it a priority to reply to everyone on social media?
Your customers long to be close to you on social media. They want to engage directly with you to get help, to get questions answered, and to participate in conversations. A Forrester study claimed that four out of every five consumers use social media to engage with brands.
So why is social media customer care so important? Well, first and foremost, it's because your customers are turning to social media to get in touch with you.
And today's top brands know that engagement is key to winning trust and love on social media. All you really have to do is show up. Simply by responding, you set yourself apart from the competition. Eighty-eight percent of brands don't respond to messages that need a reply. Really! You can be among that elite 12 percent; this is a competitive advantage sitting at your fingertips.
Not only that, but there seems to be a disconnect between brands and customers. For instance, 80% of brands are under the impression that they are doing social media customer service exceptionally well. Only 8% of their customers agree.
Yikes.
There are worlds of opportunity here!
---
Tip #1: Choose the right social media customer support tools
There are a ton of great social media support tools out there, whether it's an all-in-one solution or a product tailor-made for social media.
For us at Buffer, we use Zendesk to manage our email support and all our conversations on social media. In fact, the whole Buffer company spent one day last week answering questions in our inboxes. I'd never seen so many faces in the inbox at one time!
Beyond Zendesk, we've also come across a handful of other tools that are useful for social media support, in case you want to shop around.
For multichannel support — this would be things like email, phone, live chat, social media, and knowledge bases — there are tools like:
And for social customer care, there are also social tools within products like Spark Central and Sprout Social.
For live chat, we've heard great things about
Oh and while we're on the topic of tools, I'd love to add a couple of my favorite productivity hacks. I spend my days answering tweets and messages from the Buffer audience — I may have been in touch with some of you who are listening even — so these tools make a big difference for me.
You can use Text Expander to create shortcuts for messages that you type over and over
CloudApp is amazing for quickly making screenshots, GIFs and screencasts that you can share with customers, and
Statuspage.io lets you easily share your app's status with your customers whenever there's downtime.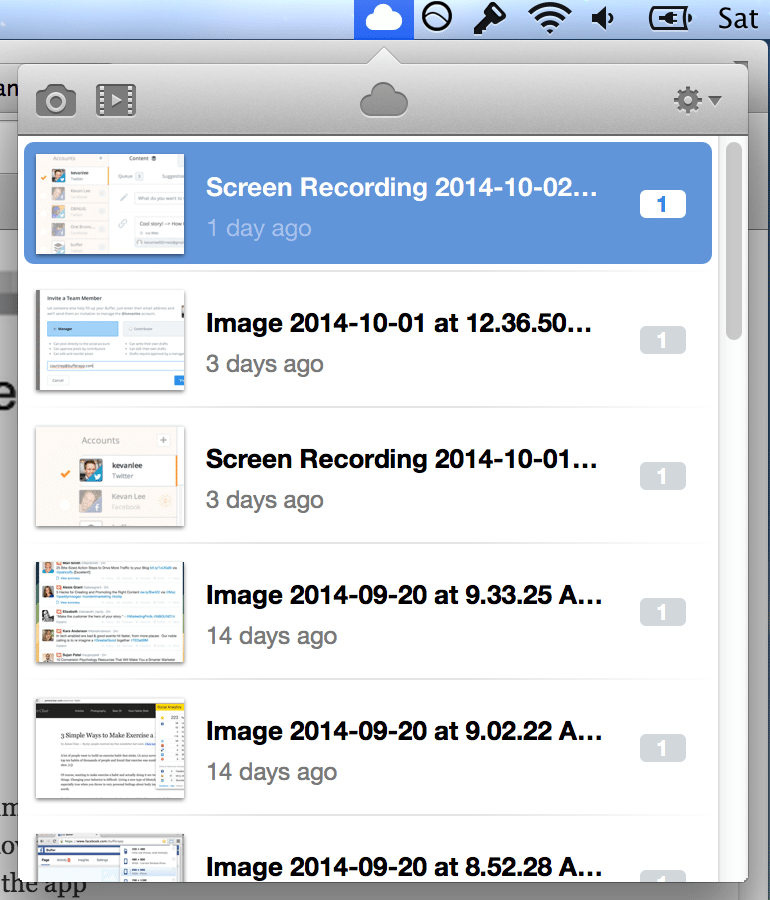 Tip #2: Convey empathy in your replies
In person, we naturally display empathy and active listening through gestures, facial expressions, and through our general energy. So how do we convey this online without that face-to-face interaction?
Well, the very best way we've found is to: Demonstrate active listening.
In person, we communicate "active listening" with body language such as leaning closer, nodding our heads, having an open posture, or making steady eye contact.
When we can't use body language on social media, we have to use words instead. Fortunately, the same phrases that show empathy face-to-face can also be used to show support when we're typing on social media.
A few of our favorite phrases at Buffer are:
"Wow! That must be so …"
"I understand how you feel …"
"It sounds like…"
"I've felt that way too."
"I can sense that you're feeling…"
"Let me see if I understand correctly…"
"What I hear you saying is…"
Beyond the words, there are also a few things you can add to really take communication to the next level. A few of our favorites are:
Lean forward while typing.
Be honest, and use simple phrases like "I hear you" and "I'm sorry"
Use people's first names.
Add a personal touch by including your first name as a signoff.
Re-read your message out loud before you hit send.
And don't forget to say "thank you" whenever you can.
Tip #3: Words to avoid saying to customers.
1. Actually
One of the big ones is "actually."
You might be wondering, What's the problem with "actually"?
It's a subtle one, but what we've found is that it almost doesn't matter how good the news is. If it comes after "actually," we feel like we were somehow wrong about something.
Consider these two sentences:
Actually, you can do this under "Settings."
Sure thing, you can do this under "Settings!"
Do those feel any different to you?
We don't ever want customers to feel stupid, or wrong, or corrected. The word "actually" can imply some of these feelings. Our team's writing and speaking gets so much brighter when we lose the "actuallys"
2. But
Again, consider these two sentences:
I really appreciate you writing in, but unfortunately we don't have this feature available.
I really appreciate you writing in! Unfortunately, we don't have this feature available.
The word "but" renders whatever you said right before it to be completely obsolete. What we try to do instead is to substitute the word "but" for an exclamation point or semi-colon.
Tip #4: Respond fast with a Slack integration
We've found Slack to be most useful as a customer support tool when your social media response volume is low or if you filter the types of messages you send into Slack. With tools like Help Scout or Groove or Intercom, you can integrate them right into Slack so that you're alerted whenever a new conversations happen.
If your team spends a lot of time in Slack anyway, these notifications can let you know when something timely needs addressed on social media or in the inbox.
When first building a support team, start by funneling notifications right into the General channel, where most of the day-to-day chatter happens. This is a great starting place because it makes sure you see each message from your customers. And it allows you to jump onto urgent issues at the same speed you can reply to a message from a teammate.
As the volume of notifications increases, it's important to set up a dedicated channel for these notifications — otherwise you'll likely find yourself swimming in Slack notifications. You can set up a #notifications channel in Slack to funnel them all through. Just remember to keep an eye on it throughout the day.
Note: you can set up a Do Not Disturb schedule where Slack won't notify you between specific hours. This is great for when you might want to mute notifications after business hours.
Tip #5: Choose the right customer support metrics
One of the best ways to provide an exceptional support experience is to understand what's working in your current process and where you might have room to improve.
Of course, this raises the question:
How do you measure the performance of your support on social media?
1. Contact volume by channel
What you're trying to find out here is how many customer requests, issues and problems are you replying to on each channel in a given reporting period?
This total volume by channel can tell you a couple of things, like how big the workload is and how many people you need on the team to make sure you're keeping customers happy.
You can also see how things change over time, which will help you discover trends in the popularity of certain support channels as well as the time of day when you get the most social media conversations.
2. Resolution rate
This one is pretty straightforward to calculate: Out of all the support requests you receive, how many did your team resolve?
Knowing this number will help you see how effective your support is, not just how fast.
3. Time to first reply & time to resolution
It does help to know how fast you're responding on social media.You can look at the time to the first reply. This measures how long, on average, does it take the team to reply to a support request.
Another way to look at speed is to look at the time to resolution. What you're looking for here is the answer to how long it takes to resolve an issue for a customer — starting from the moment they first reach out to the final, conclusive answer.
---
How to say hello to us
We would all love to say hello to you on social media – especially Twitter!
Thanks for listening! Feel free to connect with our team at Buffer on Twitter, Buffer on Facebook, our Podcast homepage, or with the hashtag #bufferpodcast.
—
About The Science of Social Media podcast
The Science of Social Media is your weekly sandbox for social media stories, insights, experimentation, and inspiration. Every Monday (and sometimes more) we share the most cutting-edge social media marketing tactics from brands and influencers in every industry. If you're a social media team of one, business owner, marketer, or someone simply interested in social media marketing, you're sure to find something useful in each and every episode.  It's our hope that you'll join our 27,000+ weekly iTunes listeners and rock your social media channels as a result!
The Science of Social Media is proudly made by the Buffer team. Feel free to get in touch with us for any thoughts, ideas, or feedback.