When 50 fashion influencers on Instagram posted a picture of themselves in the same Lord & Taylor dress, it sent out signals that this dress was a must have fashion piece. The following weekend the dress was completely sold out.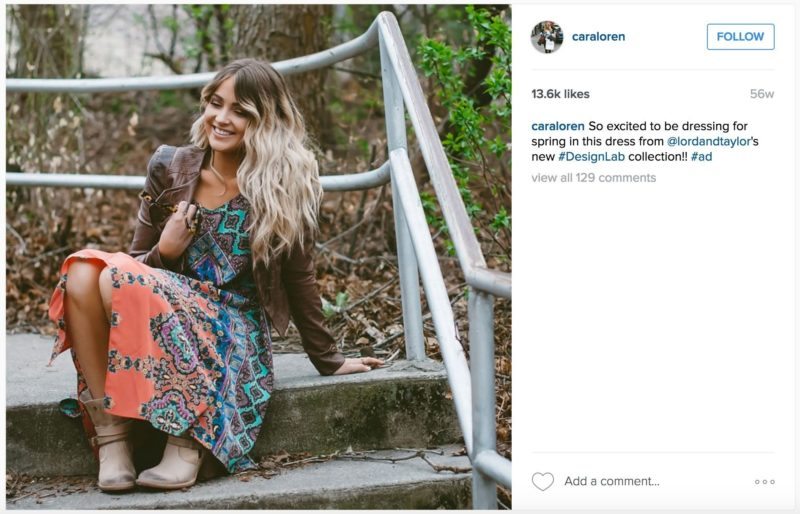 This Lord & Taylor campaign is a perfect example of the power of influencer marketing.
65% of brands now run influencer campaigns and according to an infographic by The Shelf, 92% of consumers trust recommendations from other people—even if they don't know them personally—over promotional content that comes directly from brands.
We're more likely to buy a product if it's recommended by a friend than pushed at us by an advert and an eMarketer study found that advertisers who implemented an influencer marketing campaign earned $6.85 in media value on average for every $1 they spent on paid media for influencer programs.
Influencer marketing opens up endless opportunities for brands to amplify their content, connect with consumers and build relationships more organically, and more directly.
But how do you get started with influencer marketing? What makes an influencer? And how can you build relationships with influencers?
In this post, I'd love to give you the lowdown on influencer marketing and some actionable tips to help you find the best influencers for your business.
Let's dig in.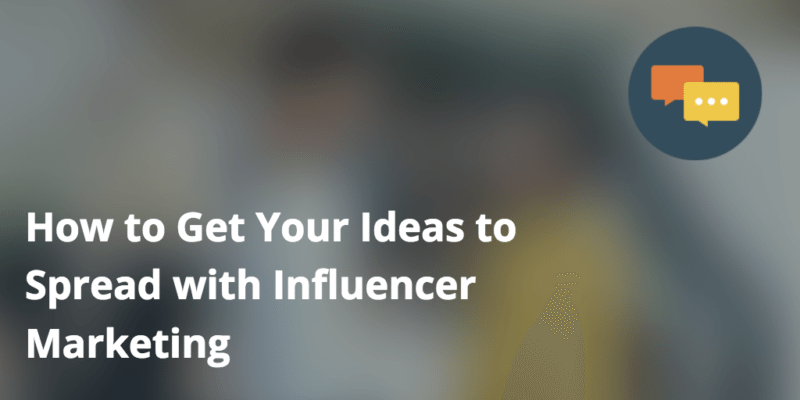 How to get ideas to spread
Success in marketing often comes down to one simple concept: getting your ideas to spread.
Traditionally, mass-media adverting is the go-to way to spread ideas. Here's how it works (in theory): you buy some ads, put those ads in front of your audience, and that's how your idea spreads. In turn, these ads drive sales and then you can buy some more ads, to reach some more people. And so on…
The problem with this approach is that we live in a time where choice is abundant and time is sparse.
Consumers are spoiled for choice when it comes to what to spend their money on and have too little time to consume content and engage with adverts. What this means is that most advertising is just ignored.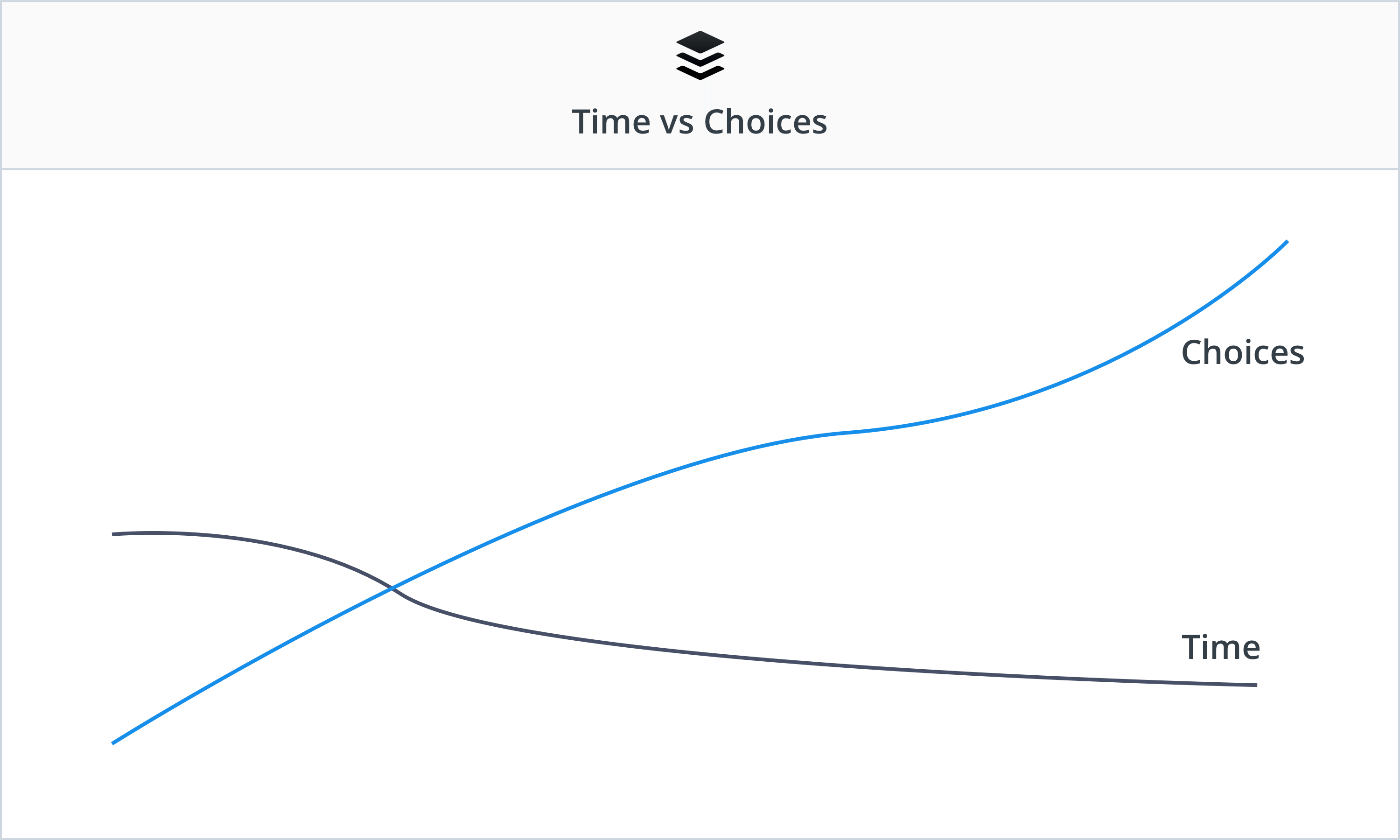 As technology advances, traditional marketing techniques have become less and less effective. This is where influencer marketing can help.
What is influencer marketing?
Consumers have always looked to fellow consumers to inform their purchasing decisions, and with the rise of social media, it's becoming easier for brands to discover and partner with influencers to get people talking about their company and products.
To help us give you the best tips and advice on influencer marketing we spoke with social media agency, SocialChain:
"Influencer marketing is a marketing style that focuses on using influential people to share a brand's message with their chosen audience," explained SocialChain's Anna-Marie Odubote and Nick Crompton.

"Influencer marketing is beneficial to businesses because it arguably creates more meaningful engagement than traditional advertising."

"Influencers have very trusted voices. They are real people that appear to be unbiased; a traditional advert or a post directly from a brand will often be ignored. But an endorsement from an influencer is like your friend, brother, sister or parent 'having your back' and telling you about something you need to check out. And regular social media ads are a little bit like strangers shouting random things at you – after a while you just tune them out."
Primarily, influencers act as a mutual friend connecting your brand with your target consumers. An endorsement from an influencer has the power to drive traffic to your site, amplify your message across social media platforms, and even directly sell your product through their recommendation.
Marketing and The Diffusion of Innovation
The Diffusion of Innovation is a theory that seeks to explain how, why, and at what rate new ideas and technology spread through cultures.
What the Diffusion of Innovation shows is that adoption of new technologies doesn't happen simultaneously for everyone. Facebook, for example, was first adopted by college students and only now has it started to be used by the late majority and mass market.
The Diffusion of Innovation is broken down into five adopter categories:
Innovators: These are people who want to be the first to try the innovation. These people are very interested in new ideas, very willing to take risks, and are often the first to develop new products and technologies.
Early Adopters: These are people like to adopt new ideas and enjoy being amongst some of the first people to try new technologies and spread the word about them. Often these people are leaders and share their experiences with the people around them.
Early Majority: These people are rarely leaders, but they do adopt new ideas before the average person. Typically they like to see that an innovation will work before they're willing to use it.
Late Majority: These people are skeptical of change, and will only adopt an innovation after it has been tried by the majority.
Laggards: These people are bound by tradition and very conservative. They are very skeptical of change and are the hardest group to bring on board.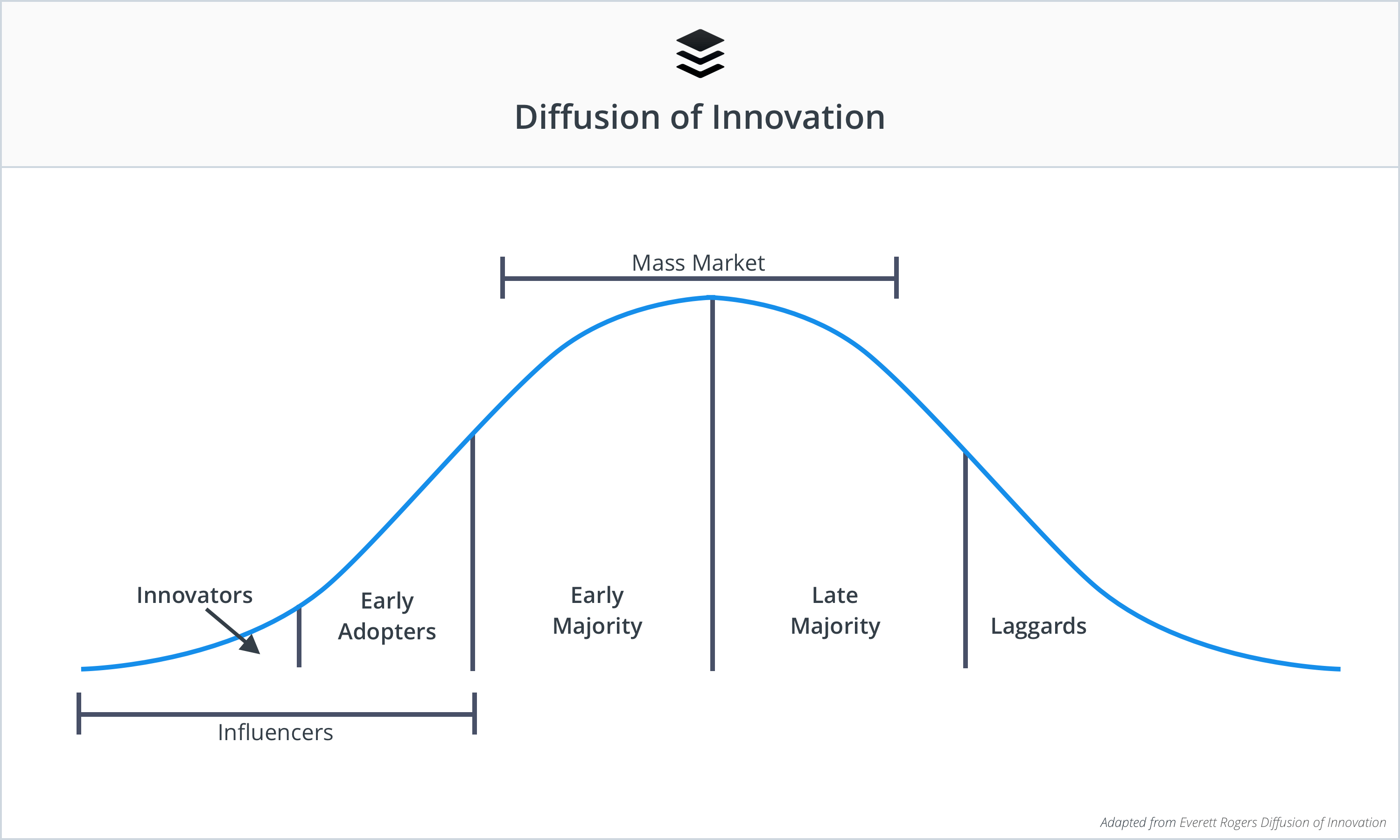 Editor's note: for more on the Diffusion of Innovation and marketing, check out this great talk by Simon Sinek.
Most marketing is traditionally aimed at the mass market (Early Majority and Late Majority in the above graphic). The problem with this approach is that it's much harder to get these people to care about your product.
Innovators and early adopters, however, care deeply about new products and technologies. For example, a tech product reviewer on YouTube will be extremely interested in using the latest smartphone technology, whereas someone in the early majority will likely only care when their old phone is outdated.
If you'd like to get your ideas to spread, reaching the innovators and early adopters within your niche can be a great way to go. This is something Apple has mastered over the years…
Influencer marketing on the grandest stage
When Apple have new products to launch, the first people they talk to are those who want to listen. The people who actively opt-in to hear Apple's message.
When Tim Cook gets up on stage at the WWDC conference, he's not talking to the mass market; he's talking to innovators and early adopters in the hope that what he says will inspire them enough to pass the information on to their audience.
These innovators and early adopters care deeply enough about Apple to give up their time and watch a whole keynote presentation purely focused on Apple products. For Apple, it makes much more sense to talk directly to influencers who care, rather than push a message out to the mass market directly.
After the WWDC conference has finished, Apple knows their message and news about their new products will reach the masses through content produced by journalists and social influencers.
When you think about marketing your business, try to think about the innovators and early adopters within your target audience: Who sincerely cares about the problem your product or services solves? Who can you speak to that will really listen?
What makes an influencer?
SocialChain describes an influencer as, "an individual that has a significant audience, who listens and makes decisions based on his/her opinions." And influencers come in various shapes and sizes:
Journalists
Industry experts
Celebrities
Academics
Editors of highly read blogs can be influencers as can highly viewed YouTuber's like MKBHD, and influence isn't just based on follower counts and audience size.
A celebrity may have a large following purely because they're famous, or someone may have acquired hundreds of thousands of followers on Twitter because they're great a curating content. But a large following doesn't necessarily dictate influence.
Measuring influence
SocialChain has developed a simple method for measuring influence across the main platforms; T-Score (Twitter) F-Score (Facebook) Y-Score (Youtube) I-Score (Instagram).
The scoring system is aimed to decipher exactly how much of the meaningful engagement you're actually paying for and how cost-effective an influencer is, as Steve Bartlett, SocialChain's founder explains on his blog.
Here's an example of the T-Score in action:
– Tom is a real YouTube influencer who we've worked with [SocialChain] on a number of influencer marketing campaigns

– Influencer Tom's last 50 tweets have 17,600 engagements combined (replies, likes, retweets).

– He has 210,409 followers on Twitter

– He charges £100 per tweet

17,600 (combined engagements from last 50 tweets) / 50 = 352 (Average engagement per tweet)

352 (Average engagements per tweet) / £100 (total following) = 3.52

Tom's T-score = 3.52 and you're effectively paying £1 per 3.52 engagements that Tom is generating for himself.

(This doesn't mean you'll get 3.52 engagements per £1 on your sponsored content, but it gives you a good idea of how much engagement you will hope to see per £1 spent.)
How to find influencers
The type of influencer you're looking for will depend on the goals of your campaign.
"To find influencers that fit your business, you need to have an in-depth understanding of your own brand and how you want to be perceived," Anna-Marie Odubote explained.

"There are many influencer discovery tools online that you can use to search for influencers in certain categories and countries. If you want to find more bespoke influencers, the best way would be to manually search social media."
Here are a couple of tools to help you discover influencers in your niche: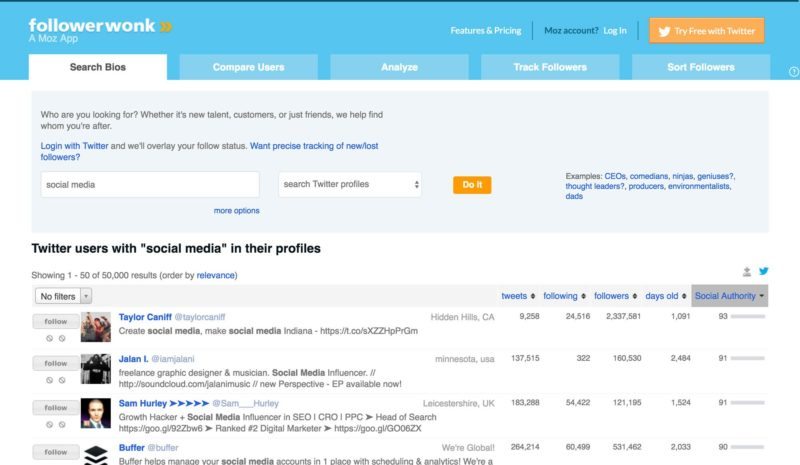 Followerwonk is a brilliant tool from Moz. It allows you to search for keywords in Twitter user bios to find those with the most authority and largest reach.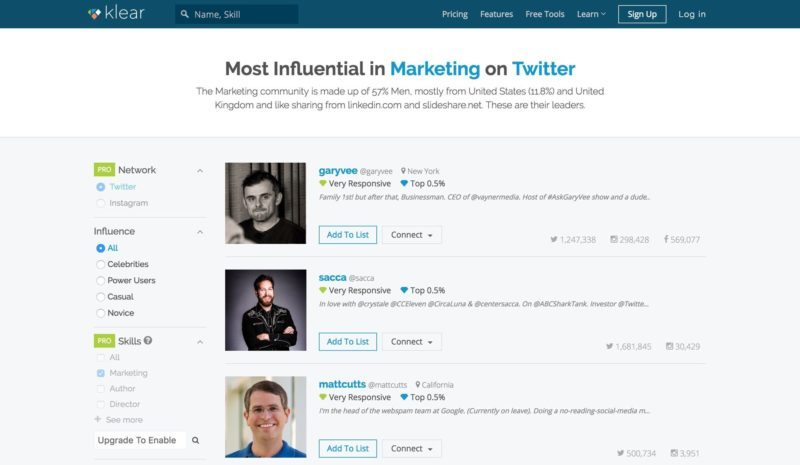 Klear allows you to search for keywords and discover relevant influencers on both Twitter and Instagram. You can also filter users by skills and location as well as add all your selected influencers to a list.
Content + Distribution: The perfect mix
When you're looking for an influencer to partner with, the ideal influencer tends to have two key abilities:
The ability to create content
The ability to distribute content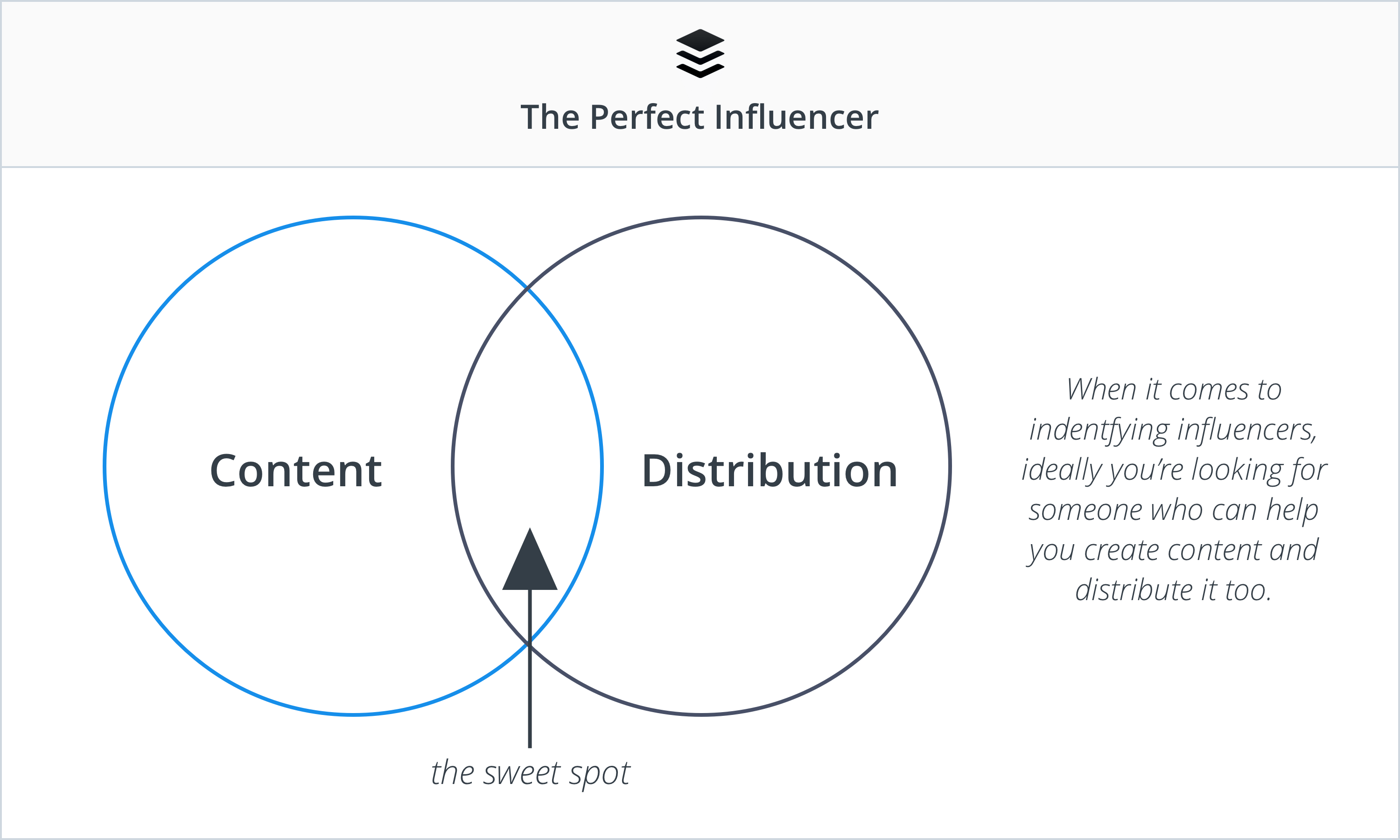 Content
Great content is the heart and soul of any influencer marketing campaign.
Most influencers have managed to build their audience through creating their own, unique brand of content, and if you're simply asking them to share a piece of content you've created, it can feel a little inauthentic and stand out as an advert or sponsored posts.
Ideally, you're looking to partner with influencers who can create content alongside your business. Rather than only sharing content, you've already created.
Distribution
I like to look at distribution as a combination or reach (audience size) and engagement. Sometimes it can be easy to feel that someone with say 100,000 followers on Twitter or 10,000 subscribers on their email list is an influencer. But really, it doesn't matter how many people follow someone. What's important is how many people engagement with them. And how many people click the links they share.
The SocialChain scoring system mentioned above can be a great way to measure engagement various influencers receive on their content.
How to build relationships with influencers
Once you've identified your influencers, the next step is to start building relationships with them.
"If an influencer manages themselves and all of their enquires, you always need to be personable and make the influencer feel valued and unique. Although influencers are their own business, the majority aren't businesspeople. Too much corporate talk can scare them away, and it's best to arrange a face to face meeting/ Skype call as soon as you can," said Odubote.

"Depending on the influencer's reach, [some larger influencers have management teams] you'll often speak to their management (the influencer will see the initial enquiry and forward it to their management if it's something they're interested in)."
Over to you
Thanks for reading! I'd love to continue the conversation about influencer marketing in the comments below. Have you tried any influencer marketing campaigns? Any tips on building relationships with influencers?