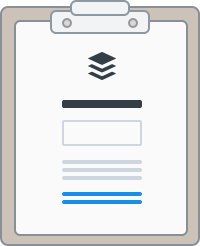 Buffer Marketing Report
December 2016
Buffer signups
14,943 +5%
Buffer for Business trials
1,497 +63%*
Social blog sessions
1,041,679 -16%
Email subscribers
93,232 -2%
NPS
41 -4%
* Trial starts in December were up in such an enormous way because of a change our growth team made to the upgrade flow.
One of the things I enjoy most about working at a startup is that I'll often have the chance to take on new projects … that I have no idea how to do.
Our latest adventure: branding.
The Buffer brand has developed somewhat organically over the past several years, helped in large part by our 10 Buffer values. As we mature as a product and a company, we feel the time is right to be more explicit about our brand.
Now, the tricky part: How do you do that exactly?
I'm very happy to share the research I've done so far and the path we're headed down (and next month, I'll hope to have an actual brand strategy to show off). Plus, I'll share some more marketing happenings like our Q1 goals and strategy. Hope you enjoy! Feel free to AMA (ask me anything) in the comments.
The branding playbook
Let me start by sharing the 11 articles and resources that I'm using as the basis for our Buffer brand exploration. These links are the result of a lot of Googling and vetting; if you might have other resources you love, I'd be thrilled to see them!
Articles:
Examples: What Do Great Brand Identity Guidelines Look Like?
A Basic Guide to Branding: The Brand Evolution Process
Building Your Brand: A Guide for B2B SaaS Companies
Examples:
Ubuntu Design Audiences
University of Cal Berkeley's Brand Story
Brand Guidelines for Santa (it's a parody brand book, but I find it quite helpful to wrap my head around the format of brand guidelines)
(HT to my friends Aaron and Ashley for their advice, too!)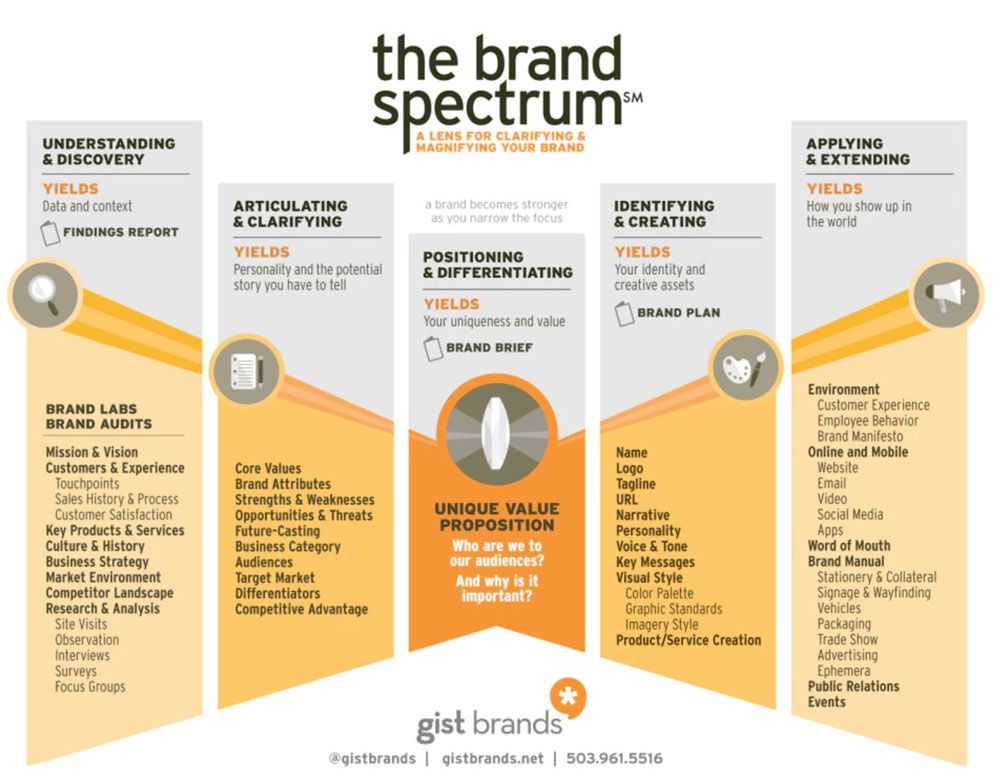 This image from Gist Brands is likely to be the format that guides our branding process at Buffer. It breaks the process into five stages:
Stage 1: Understanding & Discovery (yields data and context)
Stage 2: Articulating & Clarifying (yields your personality and the potential story you have to tell)
Stage 3: Positioning & Differentiating (yields your uniqueness and value)
Stage 4: Identifying & Creating (yields your identity and creative assets)
Stage 5: Applying & Extending (yields how you show up in the world)
We're currently at stage one. I'm digging into the data and context with all things Buffer product and Buffer history, as well as the competitive landscape of social media tools. For a specific example, this is what my checklist looks like at the moment:
Get the Buffer mission
Get Buffer's customer personas (we use the Jobs to Be Done personas)
Talk to Roy, one of our lead customer researchers at Buffer
See the brand positioning of other social media tools
Get the Buffer culture and values
Much of this stuff we already have in place, like a mission statement, personas, and culture/values. In this first stage, the key is to collect it all and to use it to inform the rest of the process.
Stages 2 and 3 will be about synthesizing this data with our aspirational goals of what we want Buffer to be.
Stage 4 and 5 will be about articulating that brand vision, creating the docs, sharing it, and educating everyone (teammates, media, etc) about the Buffer brand.
The deliverables happen in stages 4 and 5, and I'm particularly excited to think about what our brand guidelines will become. I love this example from the Skype brand book: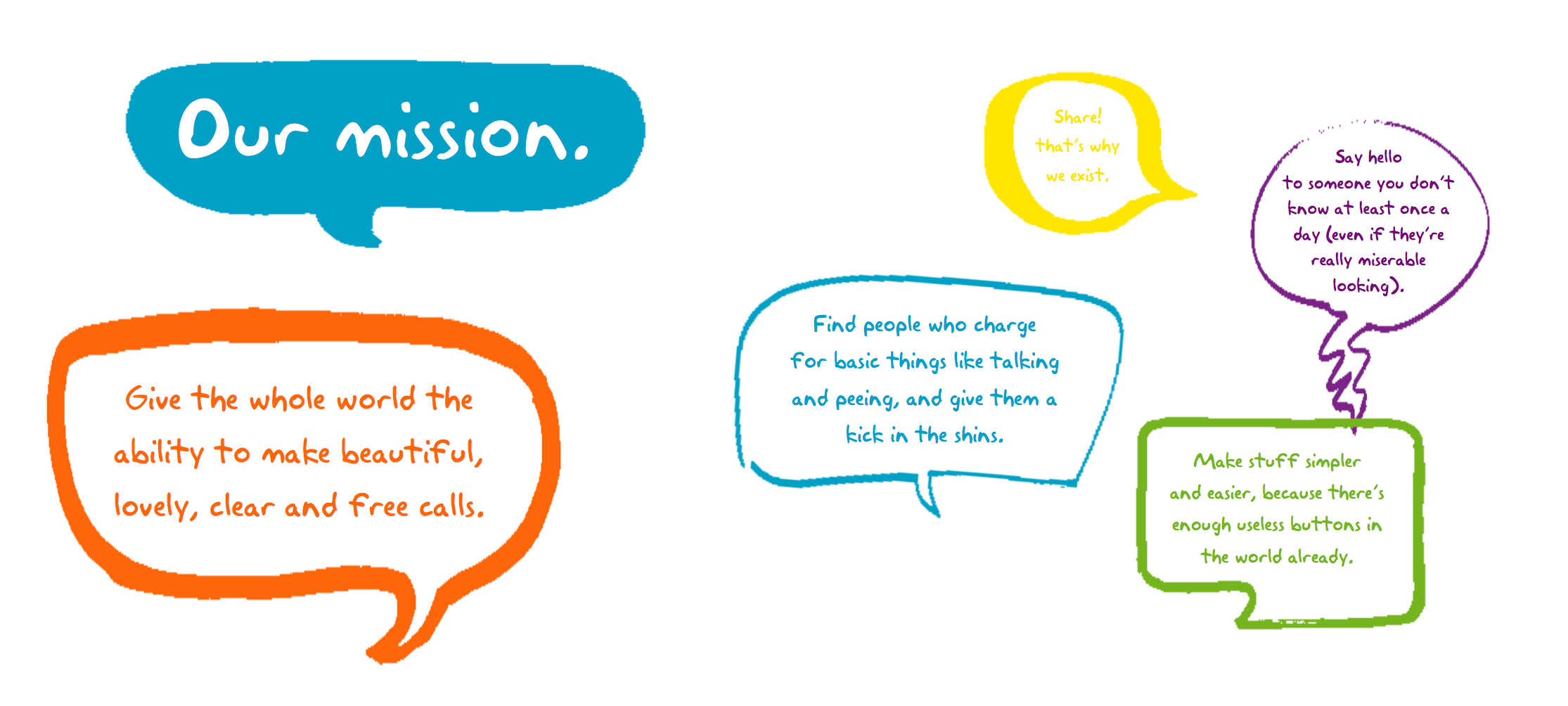 MailChimp goes deep into the specifics of content, language, and grammar in its content guide.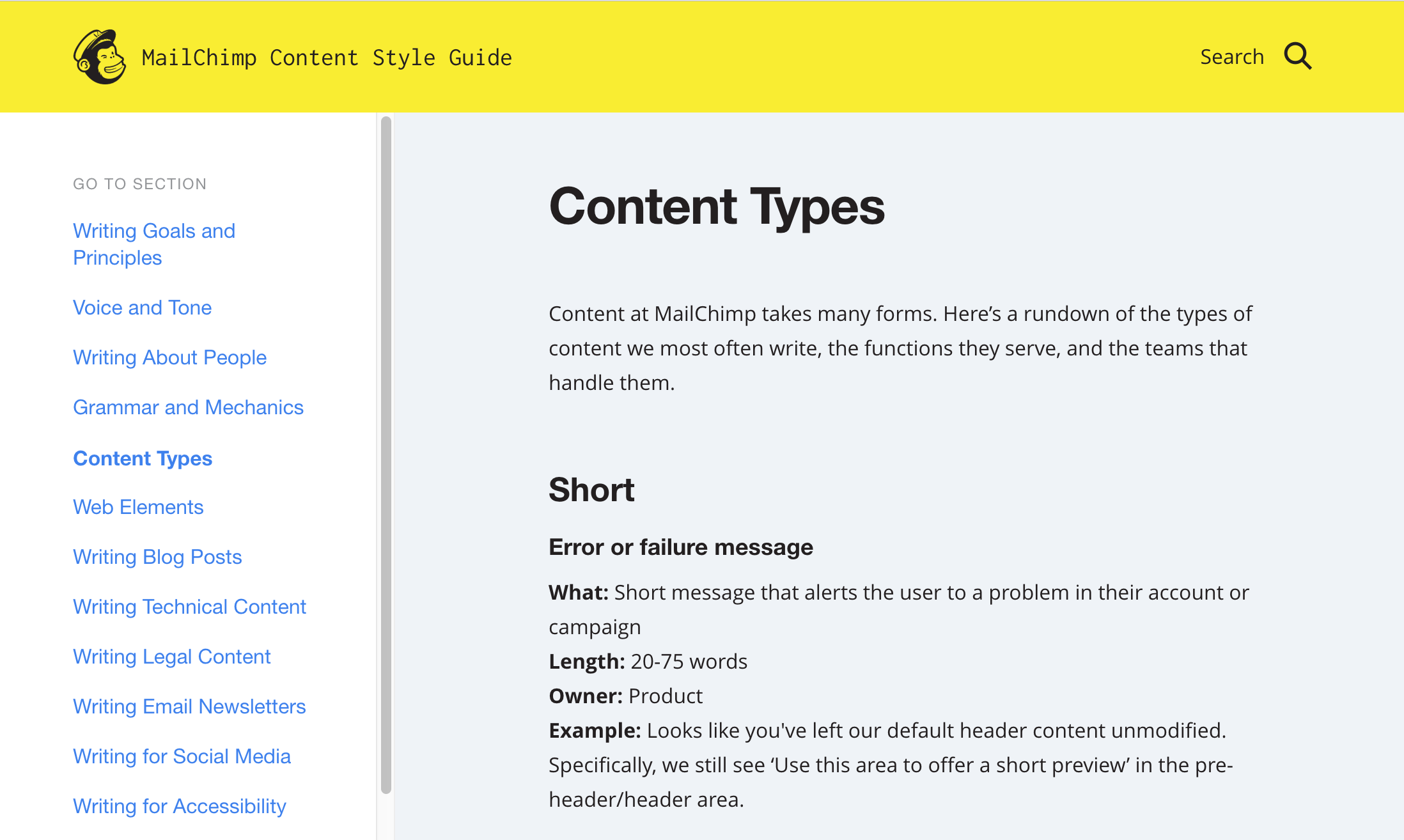 This example from Berkeley is really inspirational for how to suggest ways of writing about a brand or as the brand: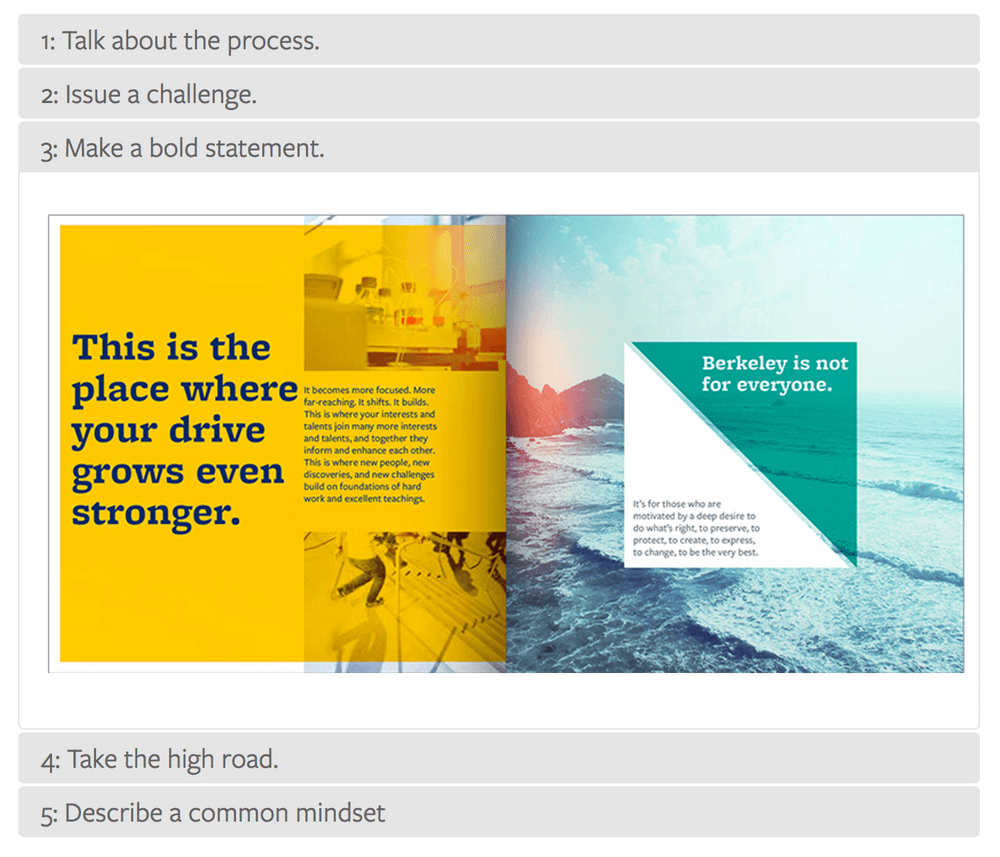 And this example from the Santa guidebook, while completely a joke, definitely got my wheels turning for how we could come up with something similar for Buffer (with less "Odour of Nostalgia" of course).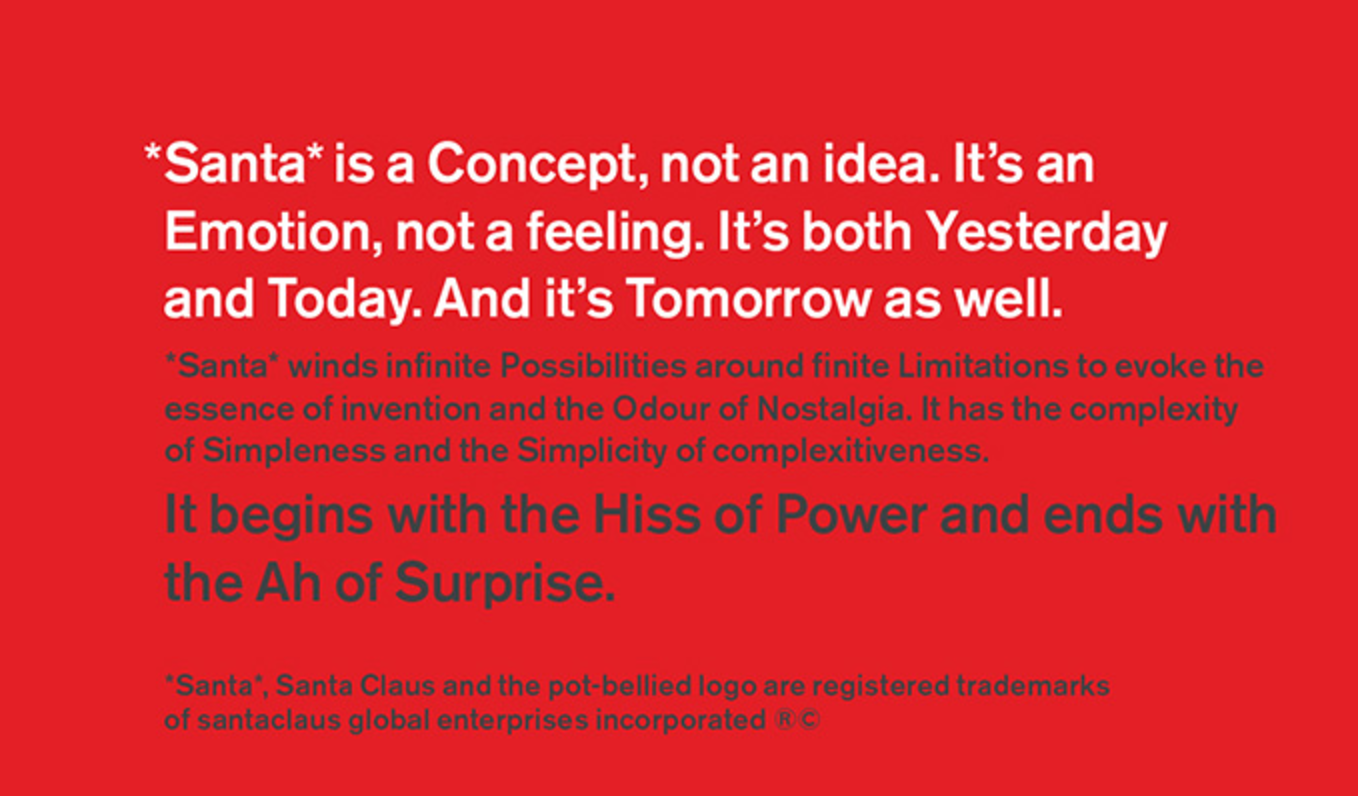 What I imagine our Buffer brand guidelines will end up looking like is some sort of amalgam of all these favorite examples. Here's the brief outline for now:
Our story
Brand purpose
Brand pillars
Positioning
Mission
Visual identity
Language
Brand assets
In theory, it will encompass everything from the tagline to the downloadable logos, images, and assets.
I've often been a bit turned around when it comes to what a set of brand guidelines truly is. From what I can tell, it's everything: what your brand is (brand identity), what you want your brand to be known as (brand image), how your team should speak about your brand, how your team should speak as your brand, all the correct images and usages, voice and tone, etc.
It's shaping up to be quite the project!
The one thought that has stuck with me through all this is how I personally felt a bit unsettled by the notion of branding at first. This explanation from Aaron Beashel cleared everything up for me:
In the startup world, you tend to focus on activities that will directly drive your revenue (like SEO, blogging, etc) as opposed to the more intangible things like building the brand.
(Yes, that's exactly why I found it hard to prioritize branding!)
And this is why we're doing brand guidelines at Buffer:
I've come to see branding in a new light: as a differentiator and as a way to increase likeability (which is important considering 3 key pillars of B2B customer acquisition are know, like, trust). If you can spend some time getting your branding right, it becomes a foundation which filters through all your customer-facing marketing & sales activities and presents a cohesive image to the market that aligns market perception with your desired identity.
What's been your experience with branding? Any tips for us? We'd love to learn from you and your experiences if you're up for sharing in the comments.
Buffer's marketing strategy and goals for Q1
The start of a new year means the start of a new series of OKRs, and I couldn't be more excited for what we have on tap for marketing in Q1 at Buffer.
Here's a quick peek at the four main objectives (and all the key results) that we're aiming for between January and March:

This one speaks directly to the branding efforts that we want to achieve this year. As a marketing team, we're focused on trial starts for our Business plan, NPS of our Business customers, and overall positioning. If all works out, we'll have the full brand strategy in place by the end of the quarter.

Last quarter, we put together a marketing vision and career paths (we'll be sharing this on the Open blog soon). In Q1 of 2017, we're excited to keep iterating and growing closer as a team — in particular during our time in Madrid at the Buffer retreat!

Over the holiday break, I read the book Winning With Data, which has been hugely inspirational for this focus in Q1.

We're still working out the details of this last set of OKRs, but one way it could look like is that we might be able to commit more resources to the Open blog and Buffer culture, starting this quarter.
What can we share that would be helpful for you?
If you have any questions at all about our marketing plans or projects, I'd be so happy to chat with you here in the comments. Feel free to share any thoughts or questions, and I'll jump right in!
Image sources: Unsplash, Gist Brand
Check out other reports from December: