How many goals have you achieved today?
Setting goals is key to making progress in any area. We know that those who write down their goals are 95% more likely to achieve them and that two best practices for goal-setting include making them measurable and giving them a deadline.
We've even explored a variety of formats for setting goals on the blog before. One format that has particularly intrigued us at Buffer is the practice of OKRs, which stands for Objectives and Key Results.
A system that originated at Intel and was later popularized by Google, OKRs are now the way many companies like LinkedIn, Twitter and more set and achieve goals.
We've been experimenting with OKRs throughout 2016 at Buffer, and we'd love to share our story so far!
Here's a bit about how OKRs work, what we've learned in the past six months in exploring them, and how we're continuing to experiment with ways to set and meet goals.
The basics on OKRs
OKRs stands for "objectives and key results."
Objectives are your desired outcomes, and the key results are the measurable ways to know you're on track to reach them.
An objective helps answer the question, "Where do I want to go?"
A key result helps answer, "How will I know I'm getting there?"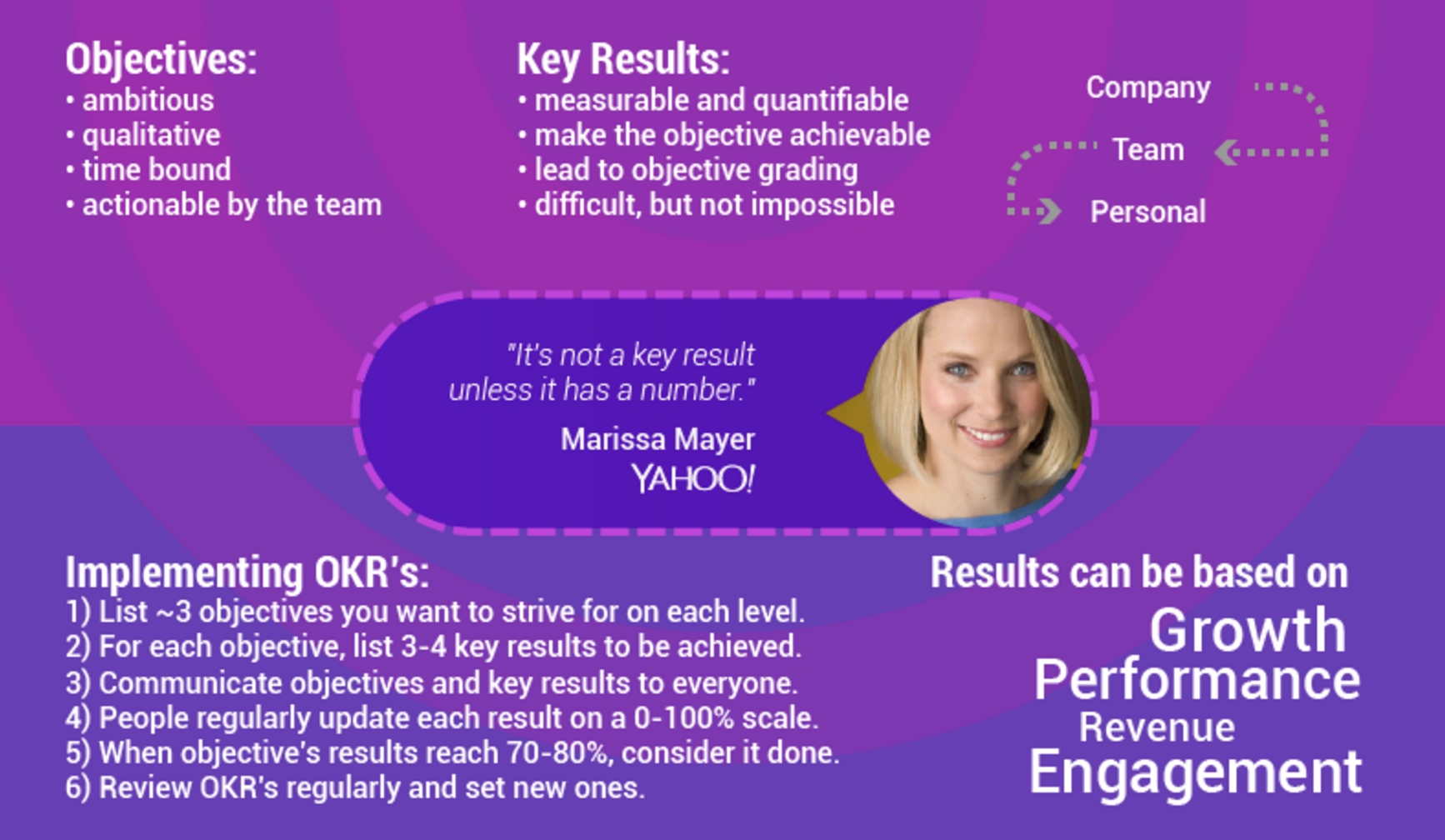 Source: Weekdone
Each person and team has been setting OKRs every quarter using these guidelines:
Start with 3–5 objectives. Make them big, tough-to-achieve goals!
Follow each objective with 3-5 key results—measurable steps that feed the larger goal
Grade OKRs at the end of each quarter. 70% is a great score to shoot for!
OKRs are shared with the entire team. This provides context on what everyone is working on.
In this video (watched by many of us at Buffer as we started out on OKRs!), Rick Klau of Google Ventures Startup Lab describes how Google thinks about setting and tracking OKRs:
Why we chose to give OKRs a try
We've gone through lots of different work styles at Buffer, experimenting to find the way we all work best and happiest.
Teal (based on the book Reinventing Organizations)
No managers, very flat structure
No goals
Lots of goals
OKRs (now!)
After our self-management experiment, we wanted a bit more structure and accountability. We've also grown a lot—there are 80+ of us now, and we've been craving a system to help us all stay on the same page with the big goals we were working toward for the company.
With the idea that OKRs might help us with some of these challenges, we started our experiment in January 2016. Here's an initial email Leo sent to the marketing team explaining the plan: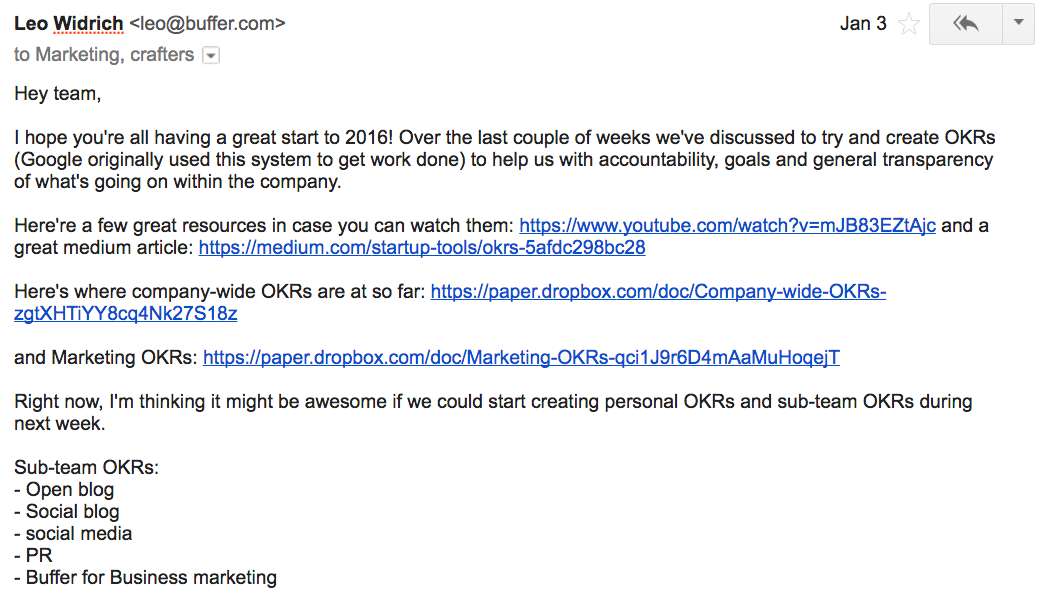 By the end of that initial round, we ended up with many different layers of OKRs: Company-wide ones set by our co-founders. Area-specific ones for each team – Marketing, Product, Happiness, Engineering, Data, Systems, Community, Customer Development, People, Ops, etc. Beyond those, each individual has their own OKRs.
It looks a bit like this diagram from BetterWorks: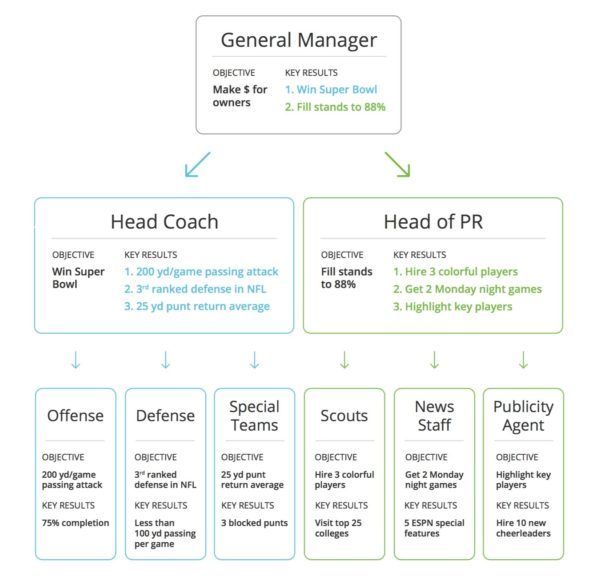 A real-life example from Buffer's OKRs
I didn't quite "get" OKRs until we'd gone through the whole process from start to grading. Hopefully the deeper dive below will help clarify the process in case you decide to give it a try.
Objectives:
Objectives are the dream-big-no-matter-what ambitions. In fact, they can be so big that they're never quite reachable. Here are some examples from our objectives:
– "Take our customer support to the next level…"
– "Buffer should be the #1 name people think of when…"
– "Make the Open blog the #1 publication people go to for advice on company culture…"
Key Results:
Key results, on the other hand, should always be specific and measurable. They can be quantifiable a few different ways:
Binary: "Launch Buffer for Instagram"
Incremental: "Grow blog traffic from 100,000 views to 160,000 views"
Volume results: "Respond to 1,575 customer emails"
Volume events: "Run 5 new experiments to pick up growth rate"
Here's a real examples of our marketing team's Q3 OKRs: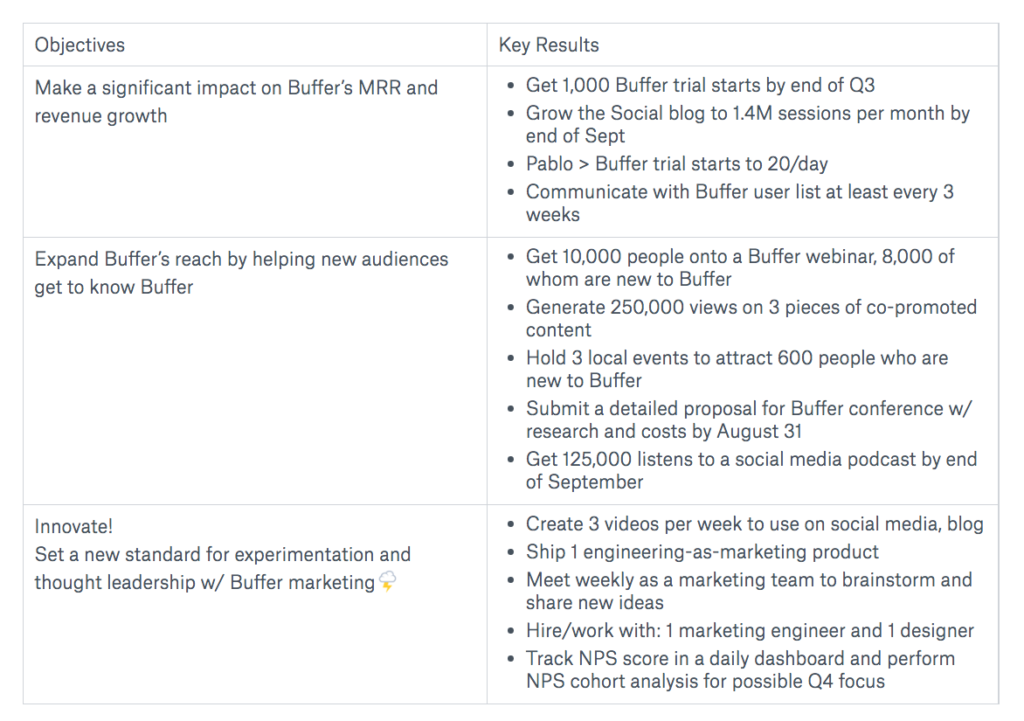 The idea is that every time you sit down to do a task, you can look at this list and make sure what you're about to work on is in line with the objectives we've agreed will take us the furthest.
It's also handy to see what others on the team are working on. In each card of our "Meet the Team"  Trello board (more or less our org chart), we include links to our company-wide, team-wide and personal OKRs.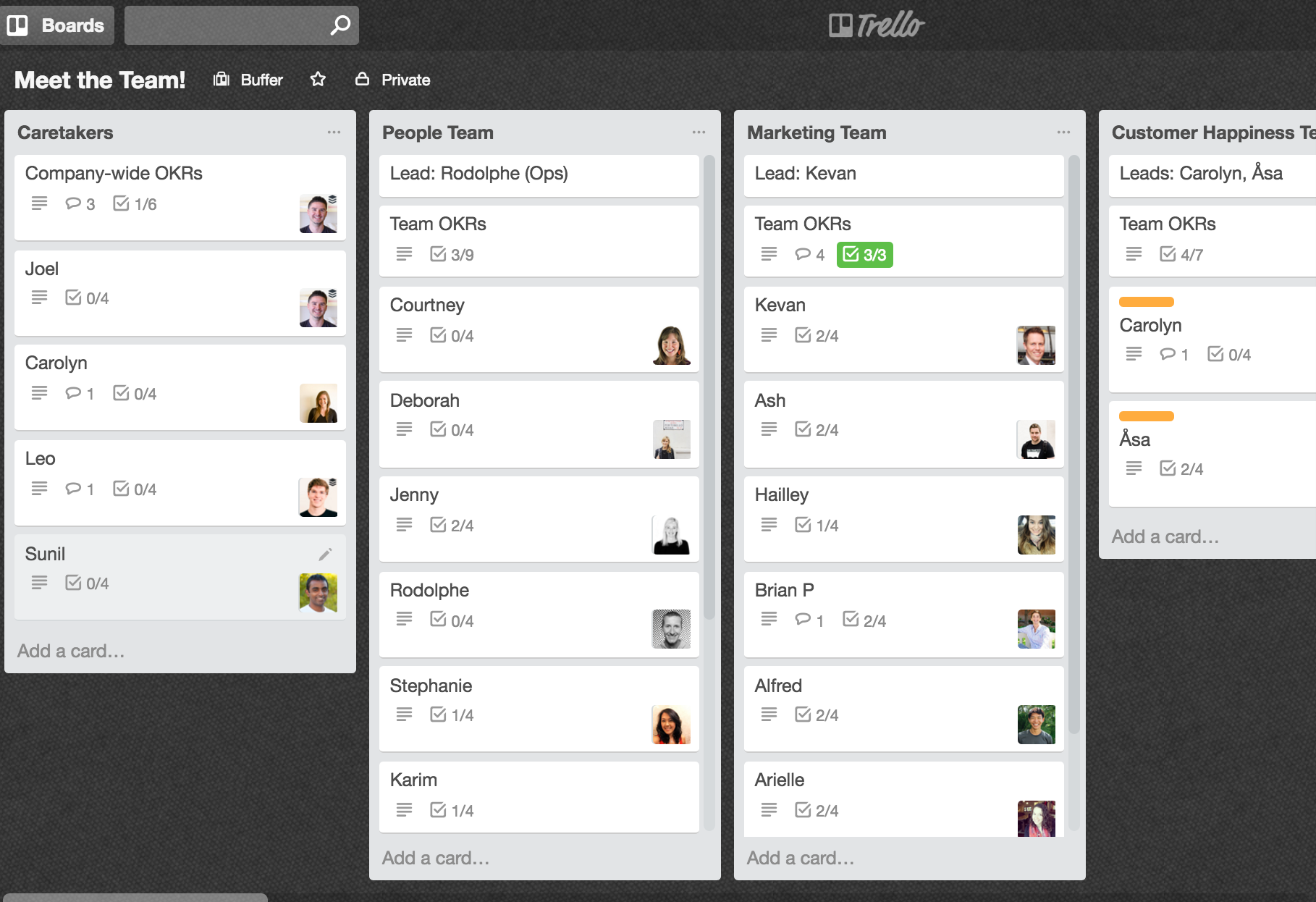 Grading OKRs: When 70% is an A+
Every quarter we review the past 3 months before starting a brand-new batch of OKRs.
Each teammate generally spending 15–30 minutes grading each key result, which then get averaged together to create objective and overall grades.
Every team and goal is different, but we've generally focused on .7 as the area to shoot for—too high, and your objectives might not have been big enough; too low, and perhaps the objectives were a bit too ambitious.
Here are tips/guidelines we used and discovered while grading our personal OKRs:
The scale is from 0-1.
If yes/no key result, 1 = it was done, 0 = it wasn't.
If the key result is incremental, divide the increase by the goal.

For example, if your key result is to grow blog traffic from 100 views to 110 views and you ended with 107 views, calculate 7/10 = [0.7] as the result

If the key result is number- or volume-based, calculate the percent that was done.

For example, if your goal is to send 1,575 emails total and a personal Happiness Score of 95+ and you send 1,001 emails and have a Happiness score of 94, you'd calculate the percentage of 1,001 to 1,575 for a [.6].

Only one decimal place, and we round up on when needed (e.g. a [.65] becomes [.7])
Here's what all this looks like in practice, again with the Buffer marketing team's OKRs, graded at the end of the second quarter.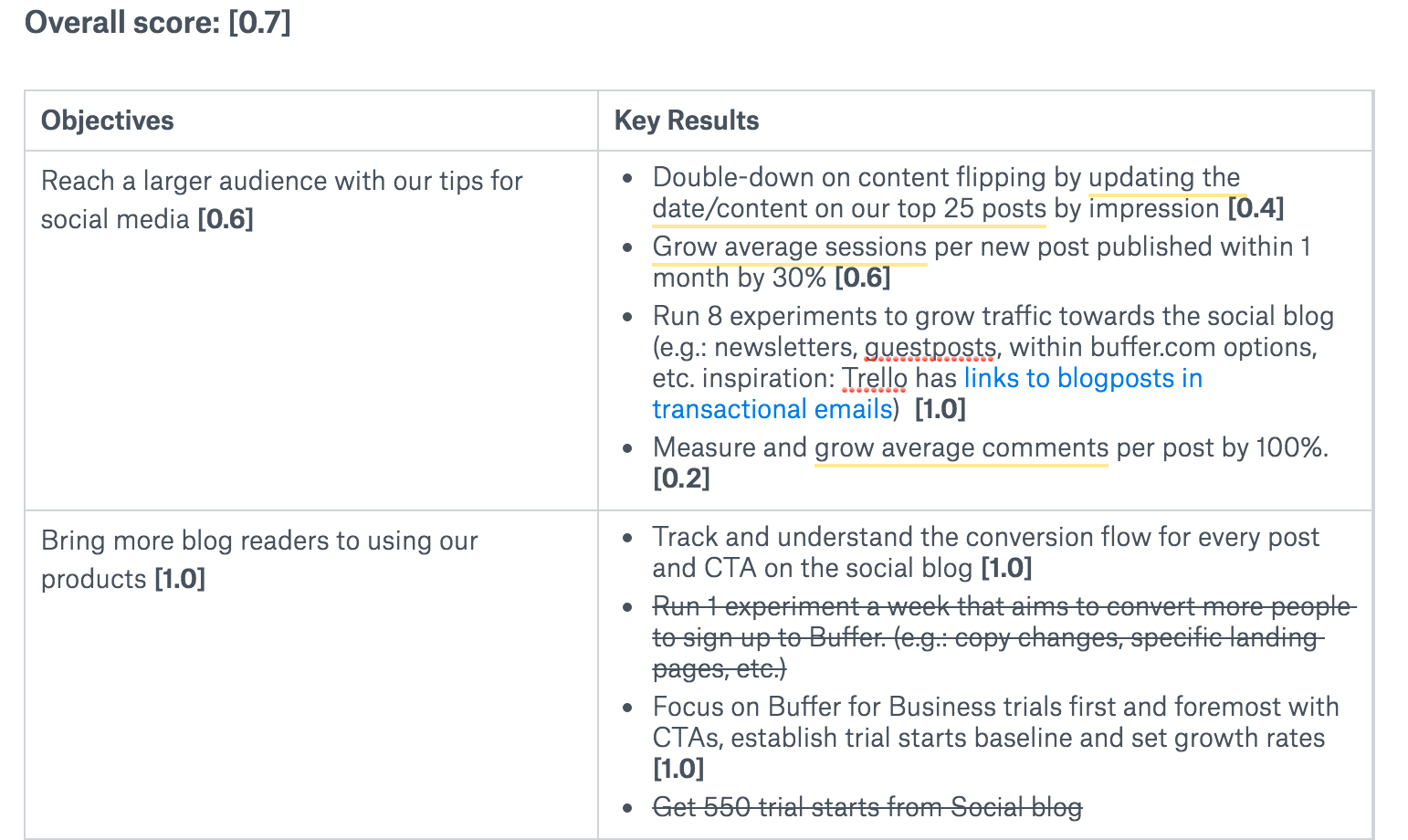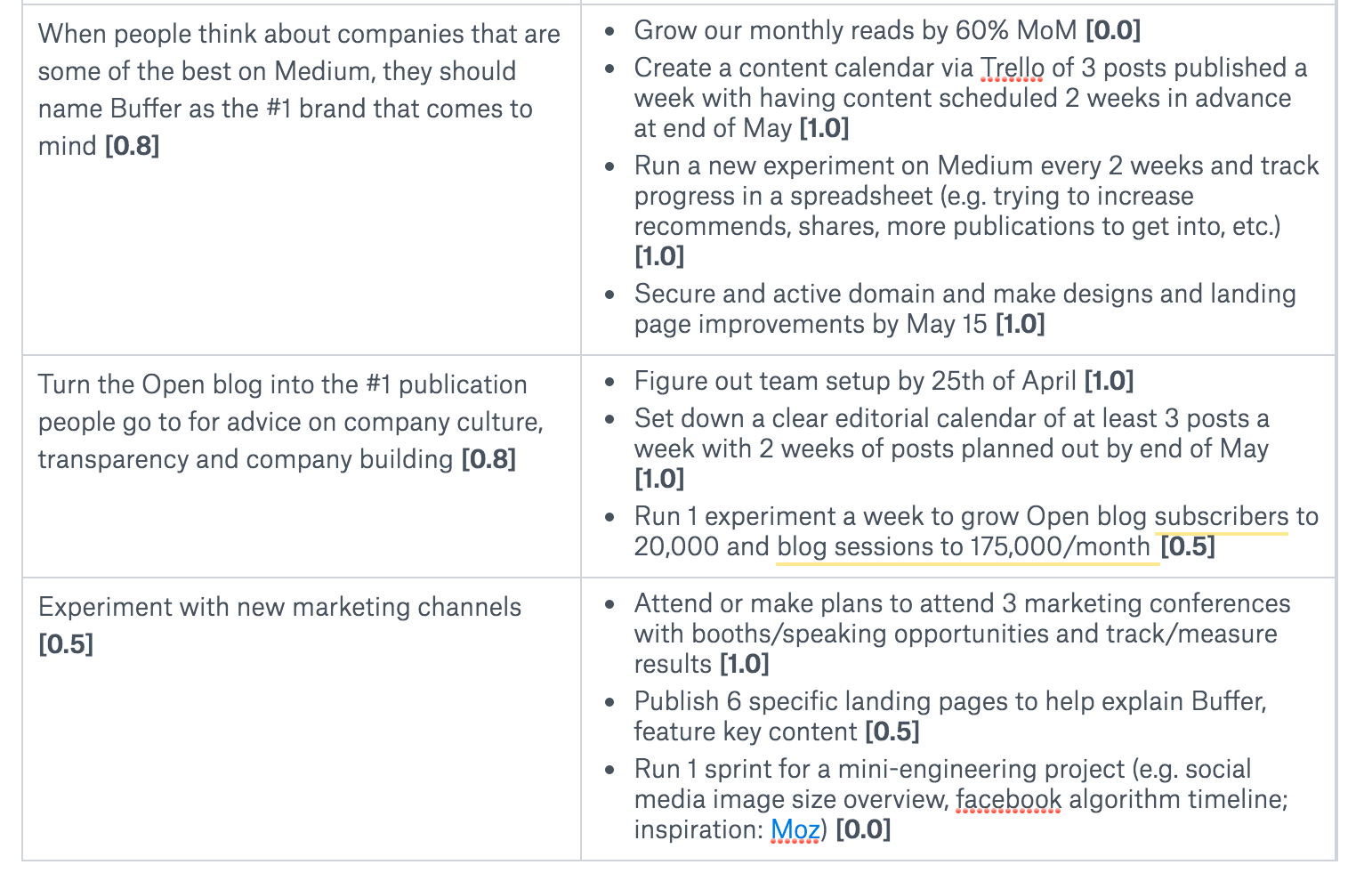 Curious about some of the strike-throughs? A quarter is a bit long for some teams that move fast, so we've been learning to adjust our OKRs as needed.
And here's a closer look at the grading process of one specific key result (We use Paper by Dropbox to organize, collaborate and annotate all of our OKRs):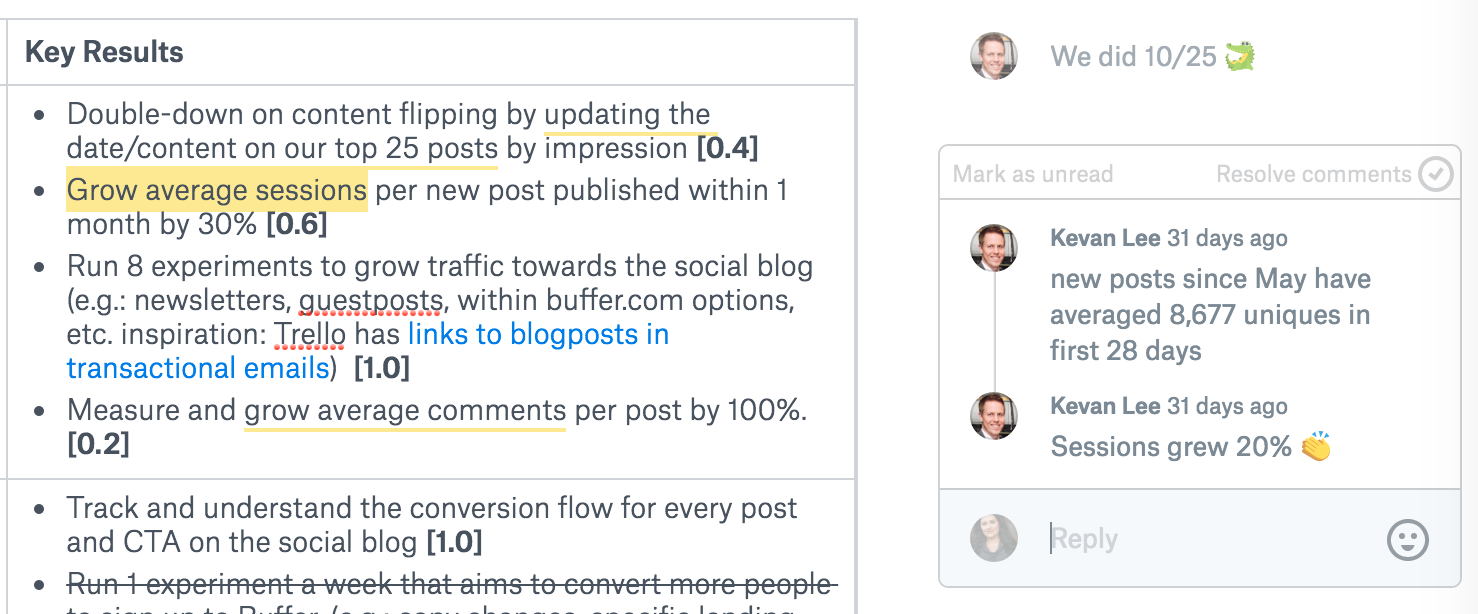 For this particular key result, "Grow average sessions within 1 months by 30%," sessions grew by 20% for a score of 20/30, or .6.
At Buffer, the grading process offers a moment of reflection (which is one of our values!).
Was your overall score too high? Perhaps you can set higher KRs next quarter and push yourself farther.
Was the score too low? Did you make progress but perhaps set the key results too high?
Did your key results feel too off-track? Could you have adjusted mid-quarter? Could you have pushed yourself a bit more?
It's important to remember, perfect grades are not the aim, but rather progress and accountability.
Our biggest OKR lessons so far
Are OKRs the right solution for us permanently? We're not quite sure yet. In the past six months, we've learned a bit about both the positives and the challenges of OKRs, at least on our team.
After our first round of OKRs, we surveyed our team to see how things felt. Here's a look at the questions we asked: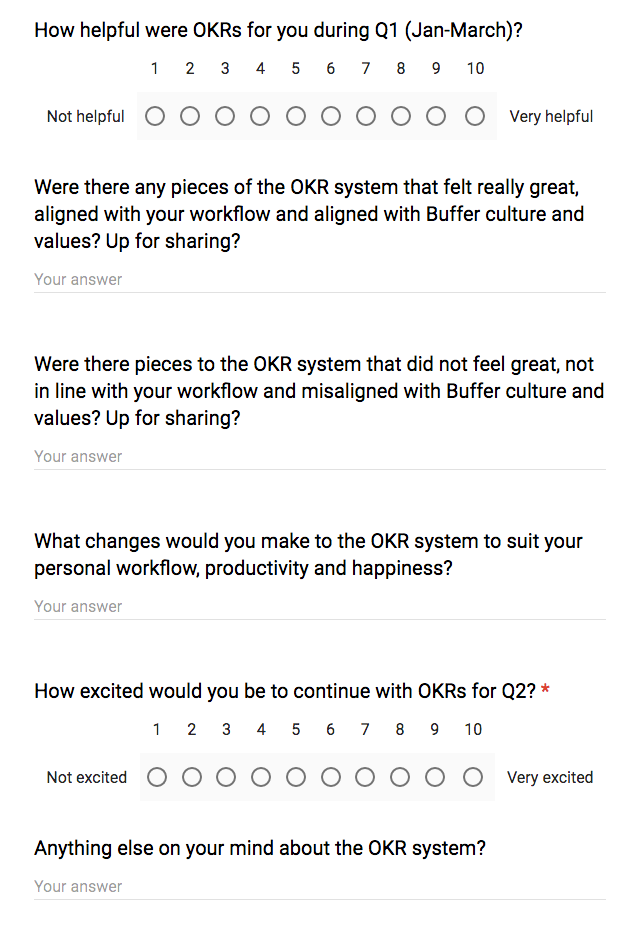 The positives of OKRs
Overall, we found a lot to like about OKRs. Many teammates mentioned that they found the system to be a great guide that provided clarity, team-wide context, and a great space for big-picture reflection: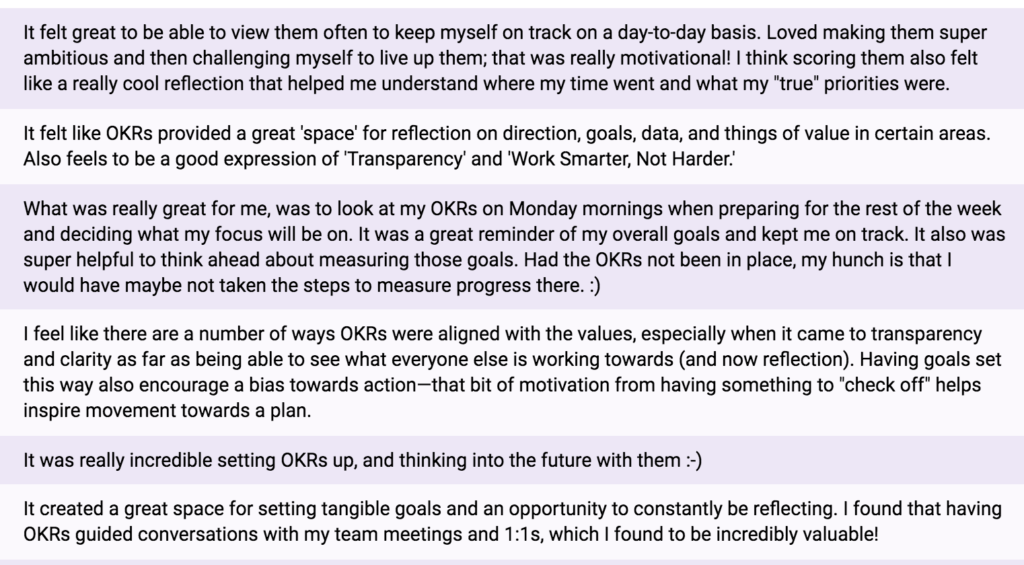 The challenges of OKRs
We also encountered some challenges during our experiment. Taking time out to create and grade the OKRs every quarter takes a fair amount of team energy, especially in areas that generally move quite fast.
We also found that it often makes sense for us to re-evaluate and edit our individual and team OKRs more often than every quarter. If the average shelf life of a goal is 40 days, our OKRs sometimes went on a bit longer than our goals did. We also have a great culture of reflection, which includes questioning our goals regularly. There have been many changes throughout each quarter that rendered some OKRs obsolete or not applicable.
Here's some candid feedback from the team on some of these ideas: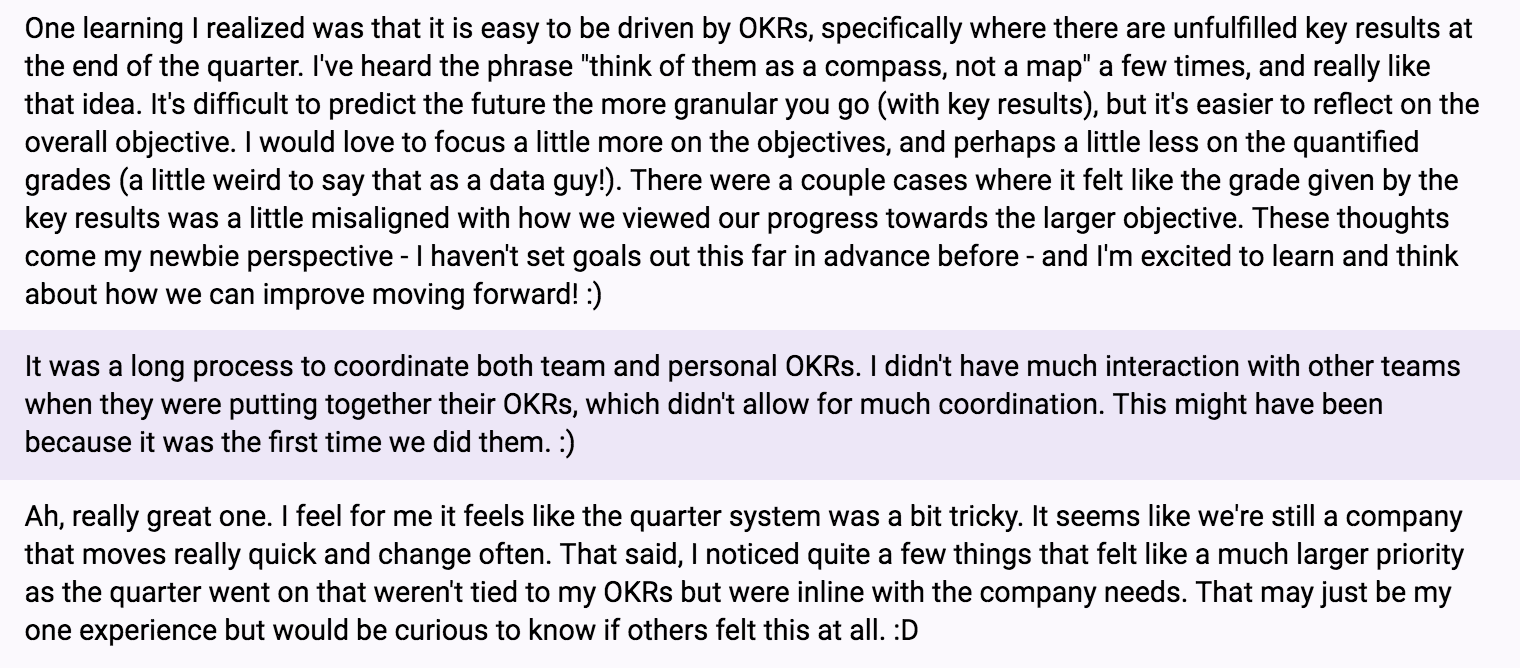 As we started to write this post, we came across this interesting Tweet from Rand Fishkin of Moz that sums up some of our findings as well. (He added that Moz has settled into a less-rigorous application of the OKRs practice).
Our 3 key lessons for implementing OKRs
If you might be interested in giving OKRs a try, here are 3 key lessons we've learned:
Provide as much clarity as possible: From some key feedback on our first quarter OKR experience, we crafted an FAQ document for Q2 and provided more examples, more direction and more coaching to our team.
Allow for flexibility: Mid-way through Q2, we shifted things drastically within Buffer due to some discoveries about our financial situation. We all took fresh looks at our OKRs and cut some things, added other items and still pushed ourselves to meet our wider objectives. We've emphasized that
Collaborate team-wide: Ensuring that everyone is aware of where to find the OKRs and see what others are working on is a cornerstone of the OKR process. This helps provide the wider context of what is happening on a macro and micro level.
Over to you!
A phrase we find ourselves saying a lot is that OKRs are "a compass, not a map," for each team and individual.
Whether they're the right compass for us remains to be seen. As we progress at Buffer, we're keen to continue to keep setting and meeting goals. Whether the solution is OKRs or another system that better suits our team's needs, we'll continue to experiment and listen to team feedback. And of course share it all with you!
How do you track and review your personal or professional goals? Have you ever tried using OKRs? We'd love to hear your thoughts and any tips you have for successful goal-tracking in the comments!
Special thanks to Mary Jantsch for her contributions to this post!