All eyes on video marketing. The subject that has taken the social media world by storm is now being implemented by brands everywhere. From increasing brand awareness to generating leads, the importance of video in your overall strategy is becoming apparent no matter which way you slice it.
In 2016, TechCrunch found that more than 8 billion videos (equating to roughly 100 million hours of video) are watched on Facebook every day. What's even more eye-opening is that numerous studies have found that online videos will account for more than 80% of all consumer internet traffic by 2020.
The challenging part for marketers is two-fold: Understanding what makes videos successful and knowing which metrics to measure.
That's where Travis Bernard, Director of Audience Development at TechCrunch, comes in. He's seen first-hand what can happen when marketers chase the wrong video metrics and take a one-size-fits-all approach to video marketing.
Join us as we get an insider's look into how Travis Bernard and the team at TechCrunch approaches video marketing in 2017. Travis shares what makes videos successful for them on social media as well as the exact metrics that marketers should focus on when it comes to video.
A huge thank you to Travis for jam-packing this episode with actionable wisdom and takeaways for social media managers and marketers looking to do video marketing like the pros.
This episode is available on:
In this episode, here's what you'll learn:
Travis Bernard shares his TechCrunch secrets on the most important metrics they use to identify successful videos. You'll also learn other great video marketing tips like:
Why it's time to ditch the one-size-fits-all approach
Answering the question: Is Live really the best format for brands?
The biggest video marketing challenge for social media managers
TechCrunch's video creation process
The most important video marketing trends in 2017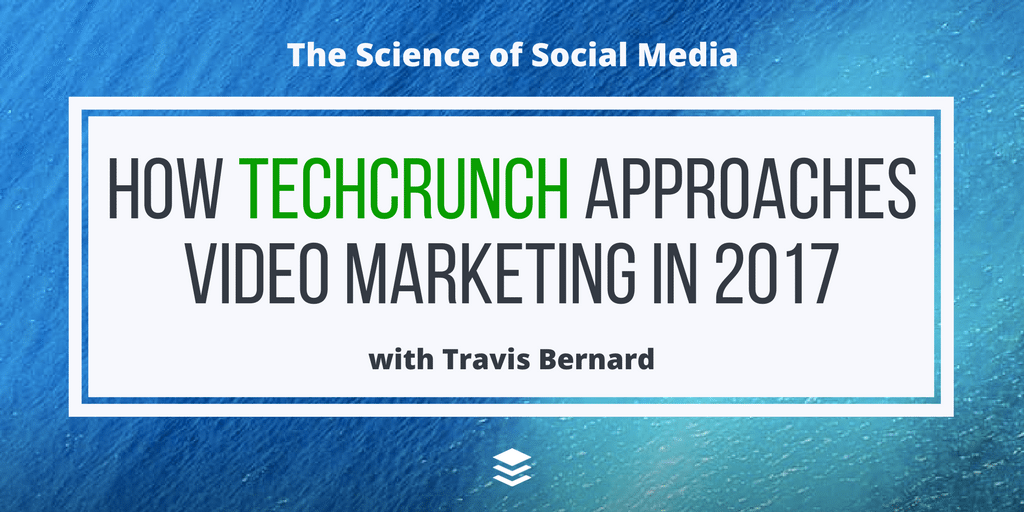 3 Key Takeaways for Marketers Looking to Understand What Makes a Great Video
In Travis' words…
1. Move beyond the "Video View" as a metric
First off, marketers need to move beyond the video view as a metric and start focusing more on things like watch time and completion percentages.
2. Don't try to aggregate video metrics across video platforms
People often try to aggregate video data across platforms and treat it like one single entity, but video views on each platform are very different and I don't think it's an apples-to-apples comparison. It's okay to treat it on a per-platform basis.
3. Understand different formats
Last but not least, make sure you're paying attention to how different formats come into play on each individual social media platform.
A Great Moment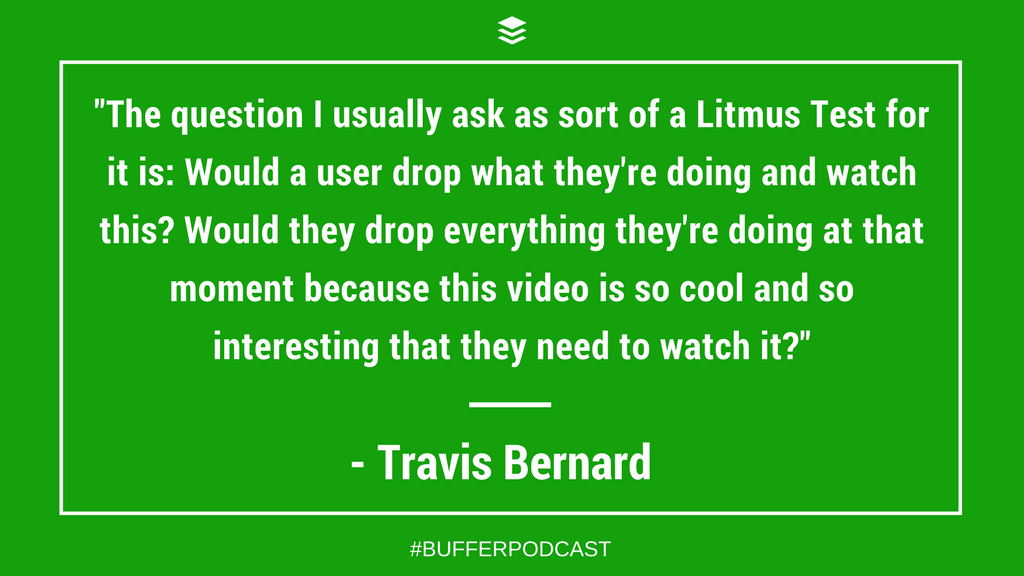 "The question I usually ask as sort of a Litmus Test for it is: Would a user drop what they're doing and watch this? Would they drop everything they're doing at that moment because this video is so cool and so interesting that they need to watch it?"

– Travis Bernard
Awesome People and Stuff Mentioned in the Show
Favorite Quotes
In the past you could do this "one-size-fits-all" approach, but that doesn't really work anymore… You have to start thinking about how users are consuming videos on social media and elsewhere.
There are a few trends or themes we're seeing in video today. Mainly, auto-play features and how they're evolving on each platform. Another one is sound and how sound is being treated with each channel – We watch all of our videos to make sure they look good without sound because that's how users are seeing it for the first time. And then the third thing is the size and the dimensions for each platform.
At a really high level, we need to move beyond simply measuring the video view. We need to start focusing more on things like watch time and completion percentage. That's what social media algorithms are starting to move to as important video metrics.
One of the biggest challenges right now for social media managers is figuring out how to easily aggregate video data across all platforms. The other challenge is figuring out how to compare the value of video views across platforms. The reality is and you probably shouldn't. Every platform counts video views in a different way and means something different.
One thing we've found to be really successful on the Live Streaming front is trying your best to make it a two-way conversation. That way people are actively engaged in your stream which adds a level of interactivity that you couldn't get previously with broadcasted television.
At the end of the day, VOD (pre-recorded Facebook video) is still king over Live content.
How to Say Hello to Travis (and us)
Travis Bernard would absolutely love to hear from you on social media – he's typically on Twitter and Instagram the most. You can find Travis on Twitter here and on Instagram here. As for TechCrunch, be sure to check out their incredible blog at www.techcrunch.com and follow them on social at @techcrunch across the board.
Thanks for listening! We'd love to connect with you at @buffer on Twitter or with the hashtag #bufferpodcast.
Enjoy the show? It'd mean the world to us if you'd be up for giving us a rating and review on iTunes!
—
About the Show
The Science of Social Media is a podcast for marketers and social media managers looking for inspiration, ideas, and results for their social media strategies. Each week, we interview one of the very best in social media marketing from brands in every industry. You will learn the latest tactics on social media, the best tools to use, the smartest workflows, and the best goal-setting advice. It is our hope that each episode you'll find one or two gems to use with your social media marketing!
The Science of Social Media is proudly made by the Buffer team. Feel free to get in touch with us for any thoughts, ideas, or feedback.