Brian Fanzo is a speaker, podcaster and expert in all things social. He's been a long-time supporter of #bufferchat and joined us as a special guest to share his thoughts on the rising trend of video and it's role in social engagement.
Catch the full recap here and view a replay of his Meerkat recording here!
Why is video's role in social engagement increasing?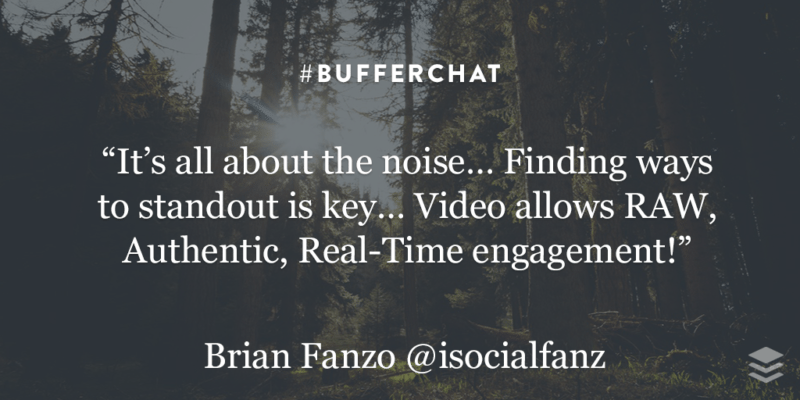 From Brian:
"It's all about the noise… Finding ways to standout is key… Video allows RAW, Authentic, Real-Time engagement!"
More great advice:
"Video produces more information density which is how much information can be shared for the effort involved"@Ross_Quintana
"Video allows you to infuse personality & emotion. Quicker for engagement & feels like a convo too." @GlendaVee
"Video is more accessible than ever to create & view. Streaming has made engagement realtime & what's more social than that?" @dremptcom
Brands and individuals to watch:
From Brian:
"@Hootsuite had an amazing use of #periscope allowing employees to share views on culture & people at each location!"
More great brands and personalities:
Why has there been an upward trend in mobile broadcasting?
From Brian: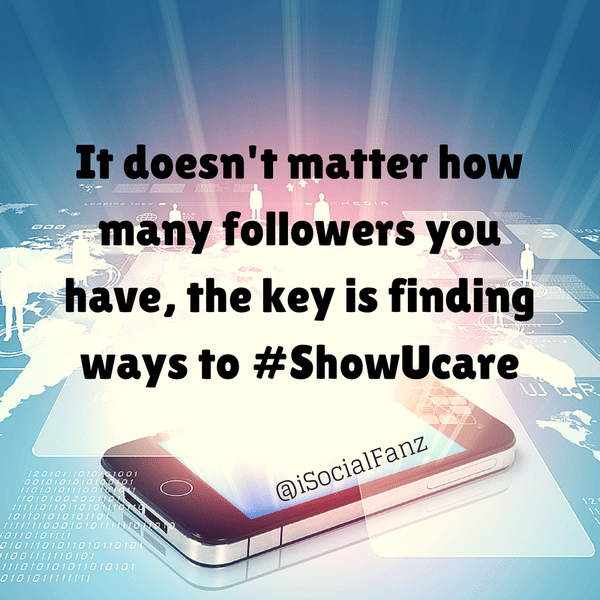 Live streaming isn't new… I love Ustream and YouTube and @Vine But #Meerkat & #periscope are about ENGAGEMENT!
To standout you have to find ways to #ShowUcare – Using video to say THANK YOU is powerful!
From the community:
"There's an inherent desire to see "behind the scenes" and the "real." Mobile broadcasting gives you unlimited access." @stevedinardo55
"I think it's b/c we're all craving authenticity. Video's a great way to humanize yourself – as a person or brand!" @MauraStewart
"Something new to break through the noise. Offers new perspective, less editing needs, + social convo" @christuttle
What sort of events, situations and stories lend themselves well to video sharing?
From Brian:
SO many brands talk about culture, relationships & caring about employees.. #meerkat & #Periscope allows them to PROVE IT!
Other Use Cases for #Meerkat & #Periscope: Training, Open Q & A, Product Feedback, Behind the Scenes, setup of events!
From the community:
"It's great for big conferences with YouTube for live feed, Meerkat and Periscope for behind the scene, Vine for bits" @sMorac
"Behind the scenes looks at events.. Giving people the opportunity to feel like they're actually there" @azure_adore
"Product demos, How-to & funny behind the scenes & AMAs" @shradha_poddar
Advice for those getting started:
From Brian:
Keys for Video Success when starting!

Focus on embracing your story!
Be YOURSELF!
Jump on and try, test, tweak as you go!

NOBODY will say you're helping them too much or you're adding too much value.. Create a video strategy to help your community!
There are tons of great streamers on #Periscope & #meerkat LISTEN & ENGAGE first then try out streaming yourself!
From the community:
"Get clear on why you're doing it, what goal you're supporting. If you're doing it "b/c everyone else is" then just.. don't." @mattddrchs
"Be yourself! Be personable + know what you'll say (at least an outline) before you push record. Have a story to tell" @lizfurl
"Once you start, keep it going! They will improve over time & people want to see what comes next from you or your brand." @nicolebergMN
Thank you so much for everyone who joined in on this great chat!
Catch #bufferchat each Wednesday at 9 am Pacific/noon Eastern and join our Google+ community for the latest news.
Do you have any comments or answers to these questions? Leave your thoughts in the comments! We'd love to hear from you!
Image sources: UnSplash