Instagram Stories is a feature that lets users post photos and videos that vanish after 24 hours.
The feature feels much like Snapchat Stories, a Snapchat feature that was introduced in 2013 and a pivotal part of the company's growth.
And like Snapchat, the photos and videos shared in your Instagram Story are ephemeral and can't be viewed once 24 hours have elapsed. Content shared to stories also won't appear on your profile grid or in the main Instagram feed.
What might this mean for marketers (and for social media)? We'd love to explore further, plus provide all the info on how Instagram Stories will work for you.
Buffer for Instagram now comes with direct scheduling! Schedule single-image posts or set reminders to post videos and multi-image posts at your best times to grow your Instagram following. Learn more today.
Editor's note: Facebook has also rolled out Facebook Stories to its mobile users across the world. Check out our post on Facebook Stories here.
How to use Instagram Stories
Instagram Stories appear in a bar at the top of your feed — and all Instagram accounts will be able to share stories, from your best friends to your favorite popular accounts. When there's something new to see, their profile photo will have a colorful ring around it.
To view someone's story, you simply need to tap on their profile photo, and their story will appear full-screen, showing you all of the content they've posted in the last 24hrs, the content will play in chronological order from oldest to newest.
Once you're viewing a story, you can tap to go back and forward or swipe to jump to another person's story. Unlike regular posts, there are no likes or public comments.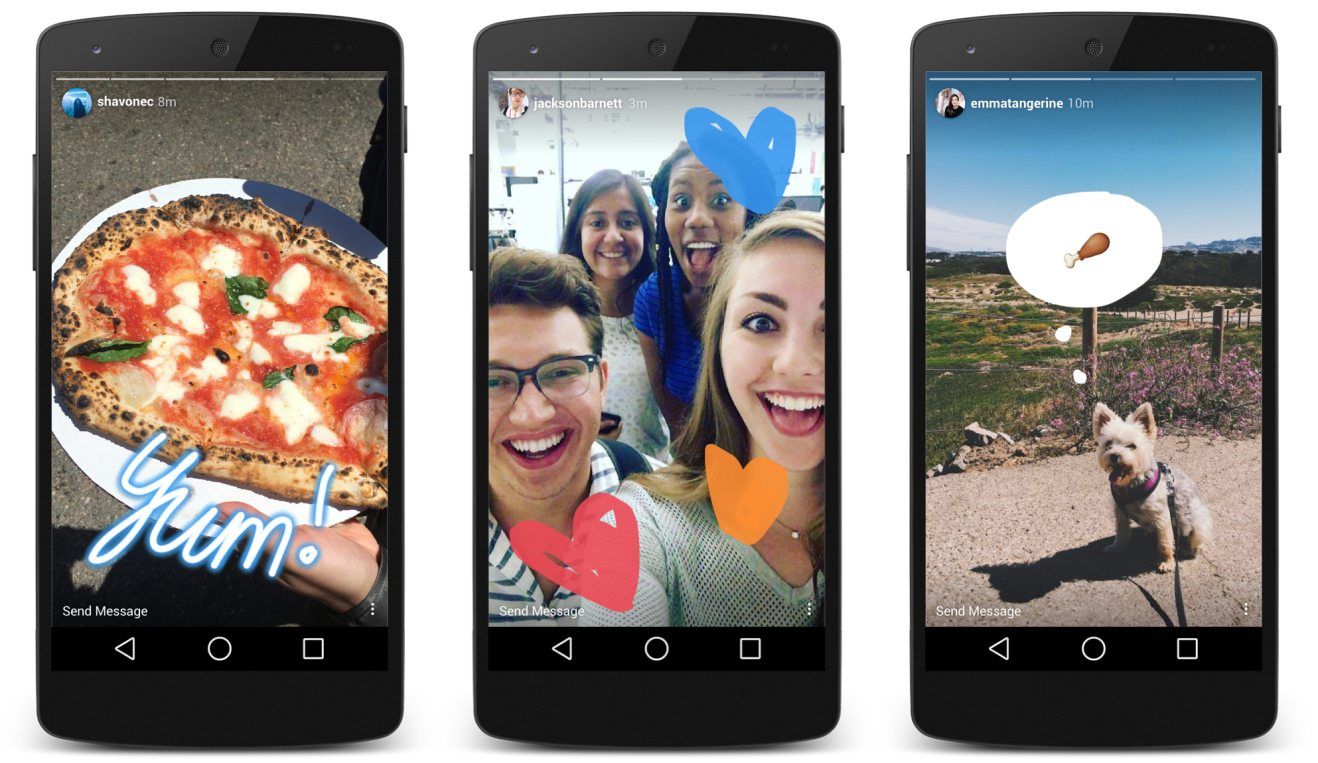 How to make Instagram Stories
To create a story on Instagram, you have to tap a new "+" icon at the top left-hand corner of the screen, or you can reveal the story camera by simply swiping left.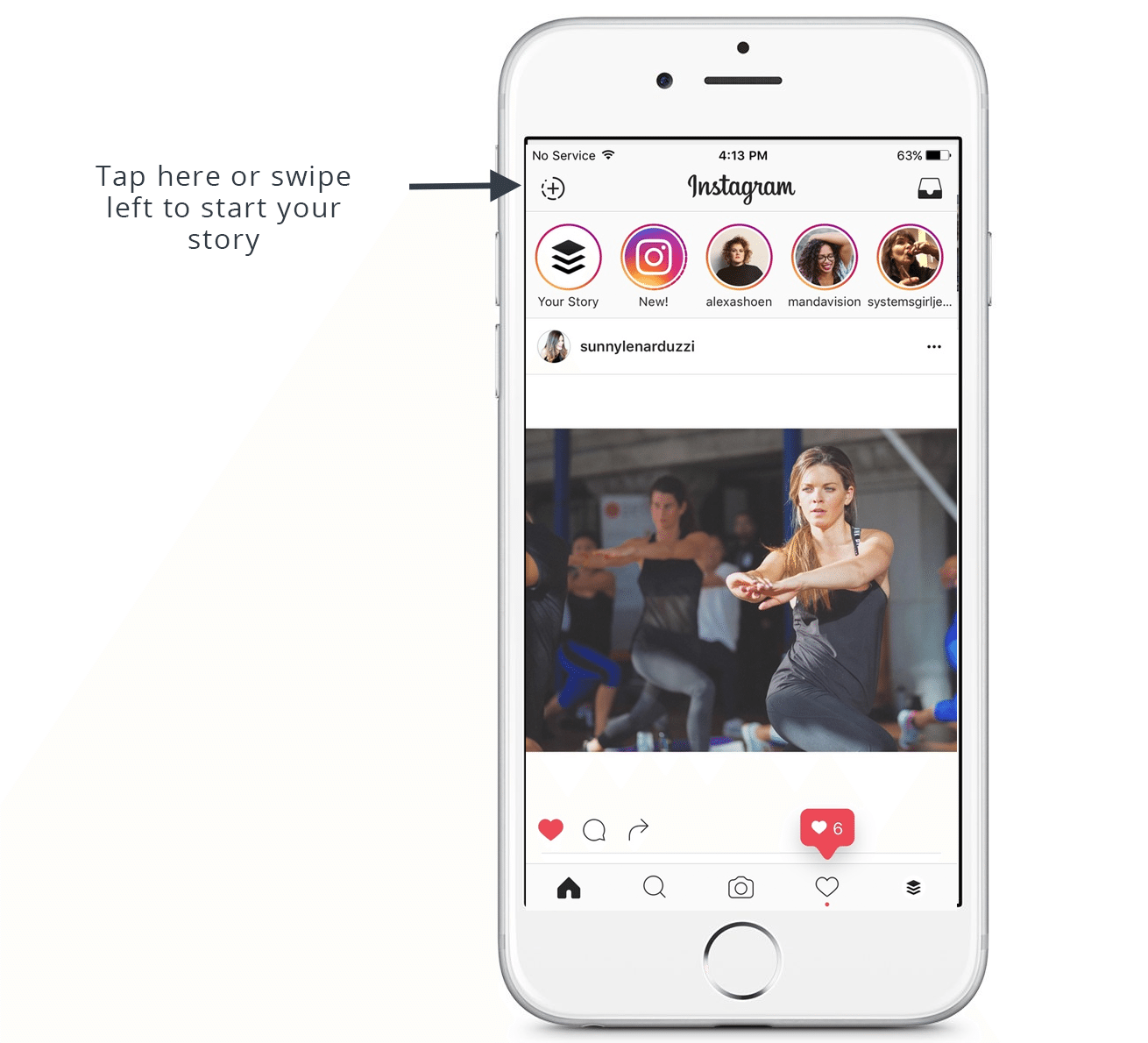 Once the story camera is open you can take a photo or record a video, just as you would normally on Instagram. After you've recorded your video or taken a photo, you can use a range of filters and also add text and drawings to your content.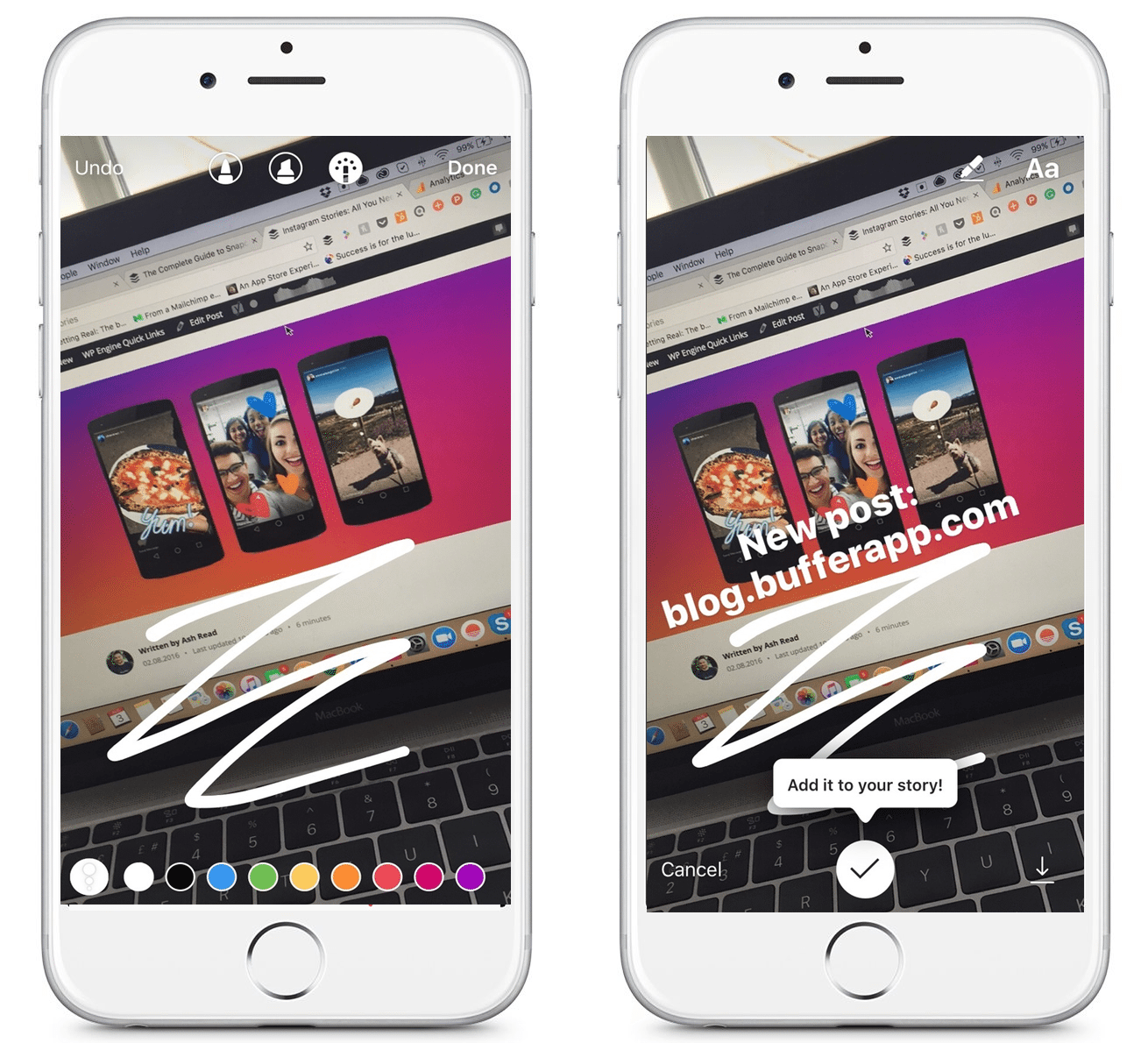 Instagram Stories views: How to check who's seen your story
Once your story is posted you can also view some basic analytics, to show you how many times each post in your story has been viewed and who has viewed it. When watching your own story, swipe up to check out this data and who's seen each photo and video.
You can also choose to feature a particular part of your story by posting it on your profile so it will appear within the feed. To do this, tap the upload button (highlighted in the below image).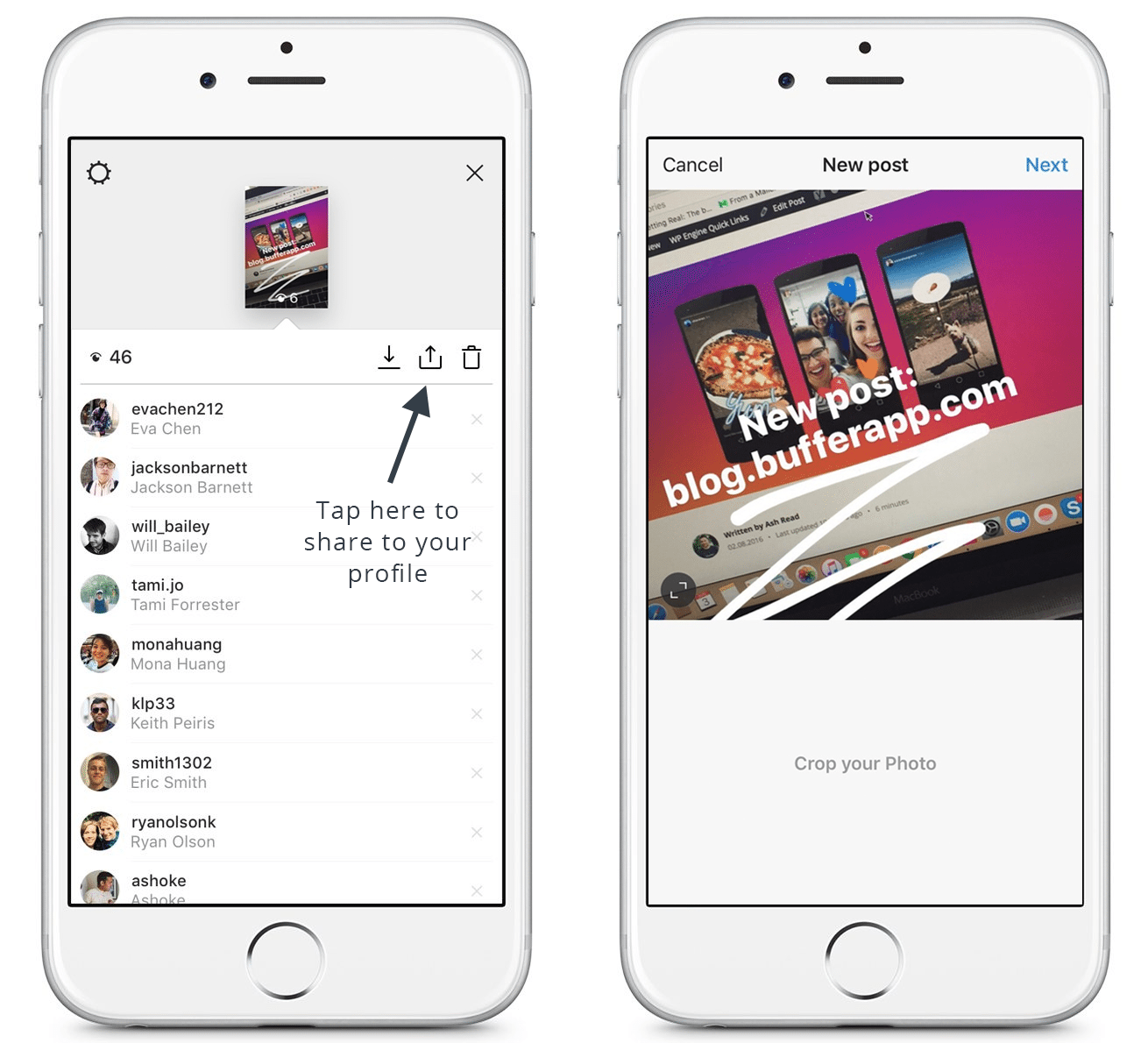 Pro-Tip: How to add content from your Camera Roll
There's a cool Instagram stories feature that allows you to upload content created within the last 24hrs from your smartphone camera roll. To do this, simply swipe up on the stories camera, and you'll see the latest content from your camera roll appear at the bottom of your screen. From here, simply select the content you'd like to add to your story.
(Note: Scheduling reminders for Instagram Stories is not available in Buffer yet but it's something we're thinking about.)
Privacy
Your story follows the privacy settings of your account. If you set your account to private, your story is visible only to your followers. However, you can also easily hide your entire story from anyone you don't want to see it, even if they follow you.
How to use Instagram Stories stickers
Instagram Stories stickers are super versatile and enable you to add extra context to your Instagram Stories content.
To add stickers to your story, take a photo or video and then tap the Stickers button (a smiley face in the top right of the screen) to find customizable stickers for weather, the current time, location and more.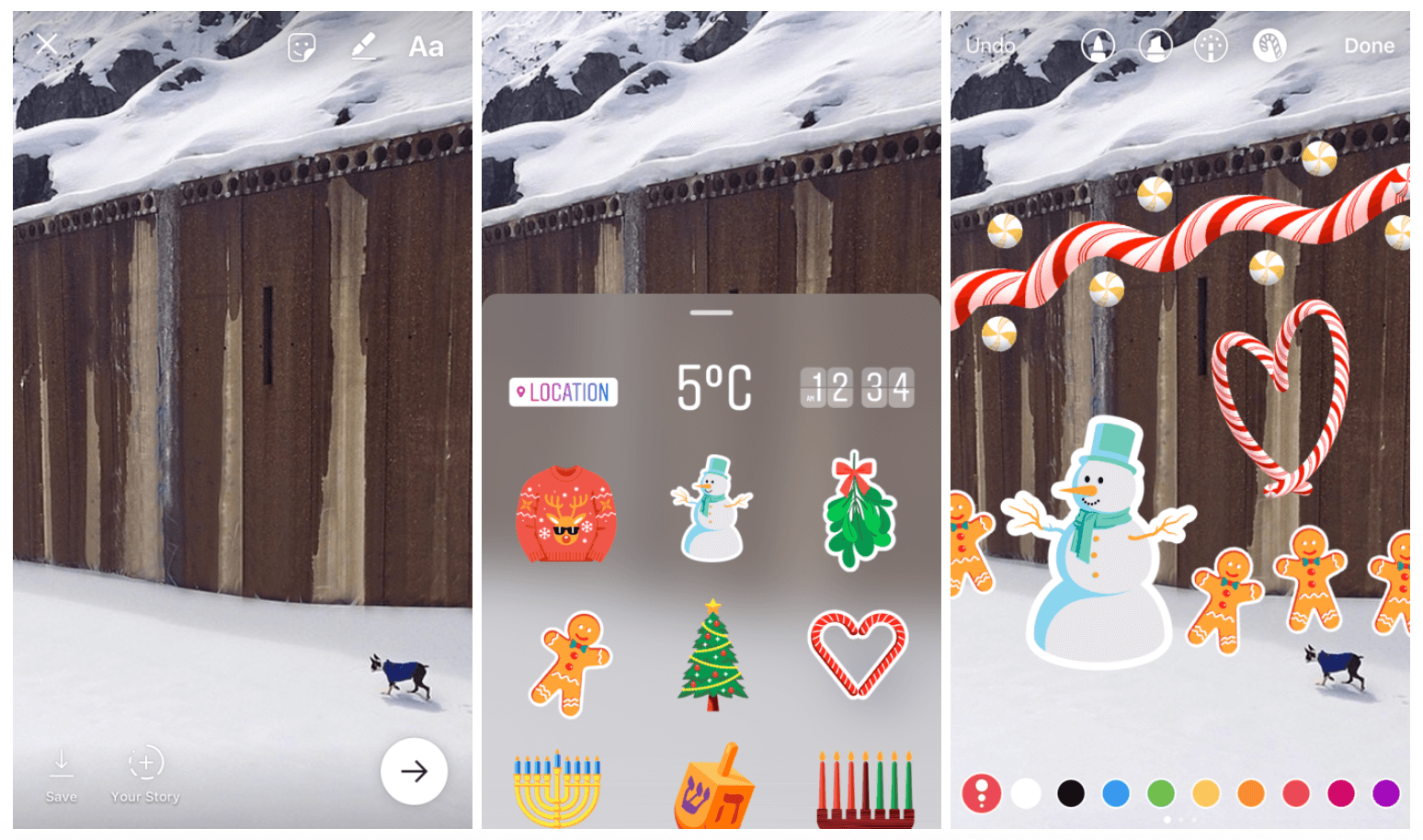 How to add a location to your Instagram Stories
To add your location to your Instagram Stories posts, tap the Stickers button and then select the 'Location' option.
You'll now be presented with a list of nearby locations and a search bar to help you filter and find the right location: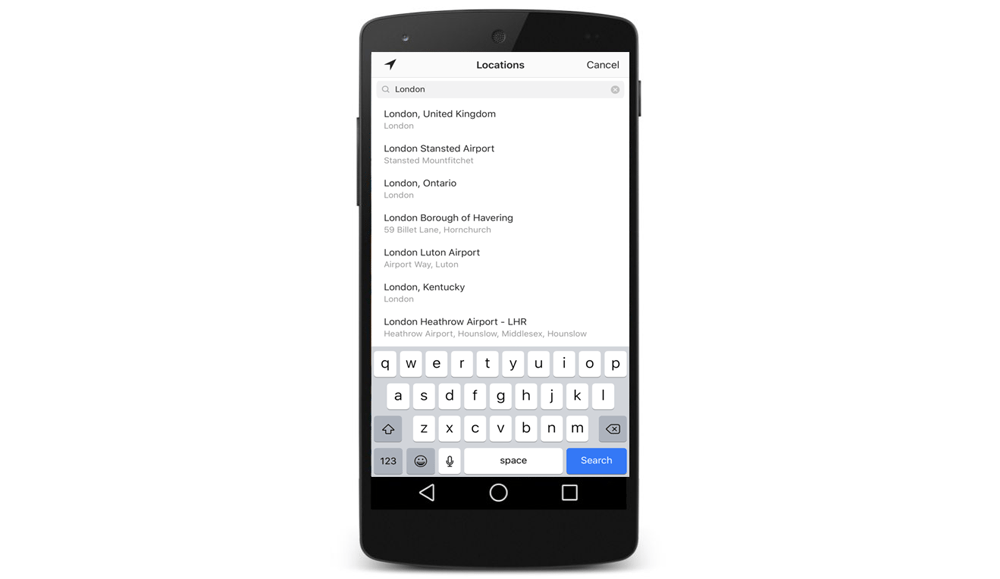 Next, tap the location you want to add to your post: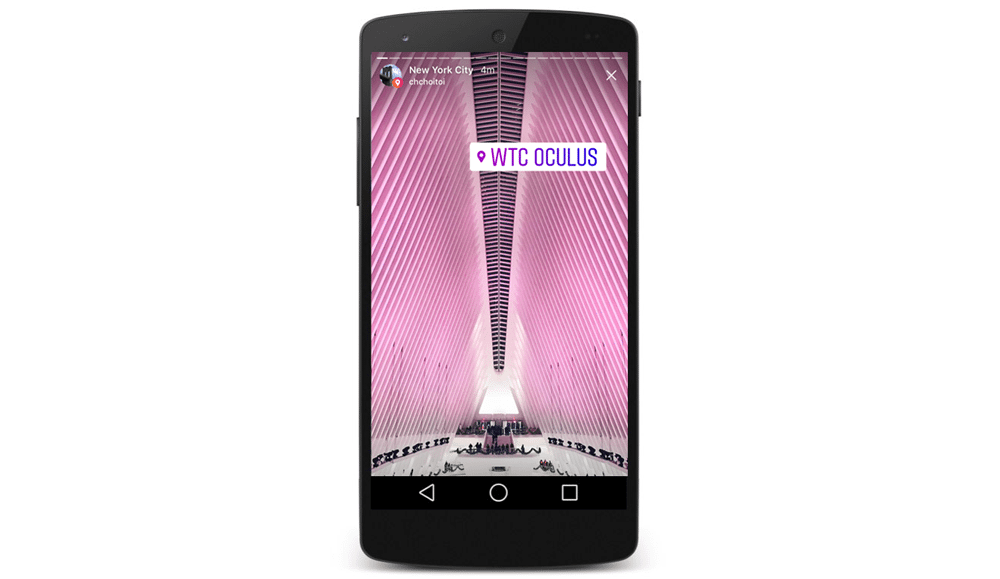 To customize your sticker, tap on it and you can change the color scheme and like any other stickers you can move and resize it by pinching or expanding it with two fingers.
How to add a hashtag to your Instagram Stories
You can add a hashtag to your Instagram story by tapping the hashtag sticker. Once selected, you'll be prompted to write your hashtag:
Location and Hashtag Stories on Explore
When you search for a hashtag or location on Instagram, you may see a story ring at the top of the page filled with stories using that hashtag or shared from that location.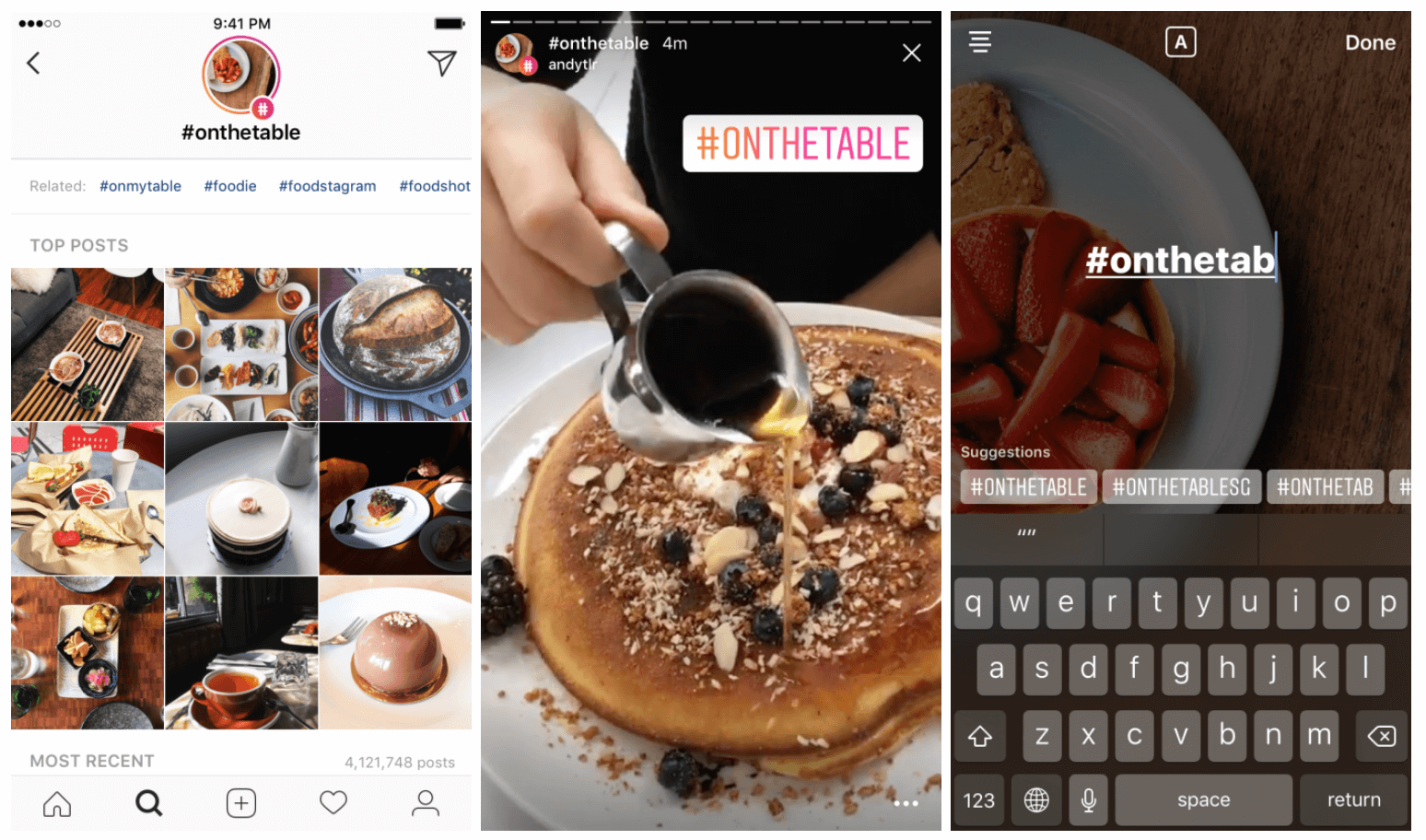 If your profile is set to public and you add a hashtag or location, your stories may also be featured on the Explore tab.
How to use Instagram Stories Polls
Instagram Stories also a neat interactive poll sticker that lets you ask a question and see results from your friends and followers as they vote.
After you've taken a photo or video for your story, open up the Stickers menu and select the "poll" sticker.
Once you've tapped the "poll" sticker, Instagram will prompt you to write a question and customize the poll choices. After you've created your poll, post your story and your followers will be able to vote right away.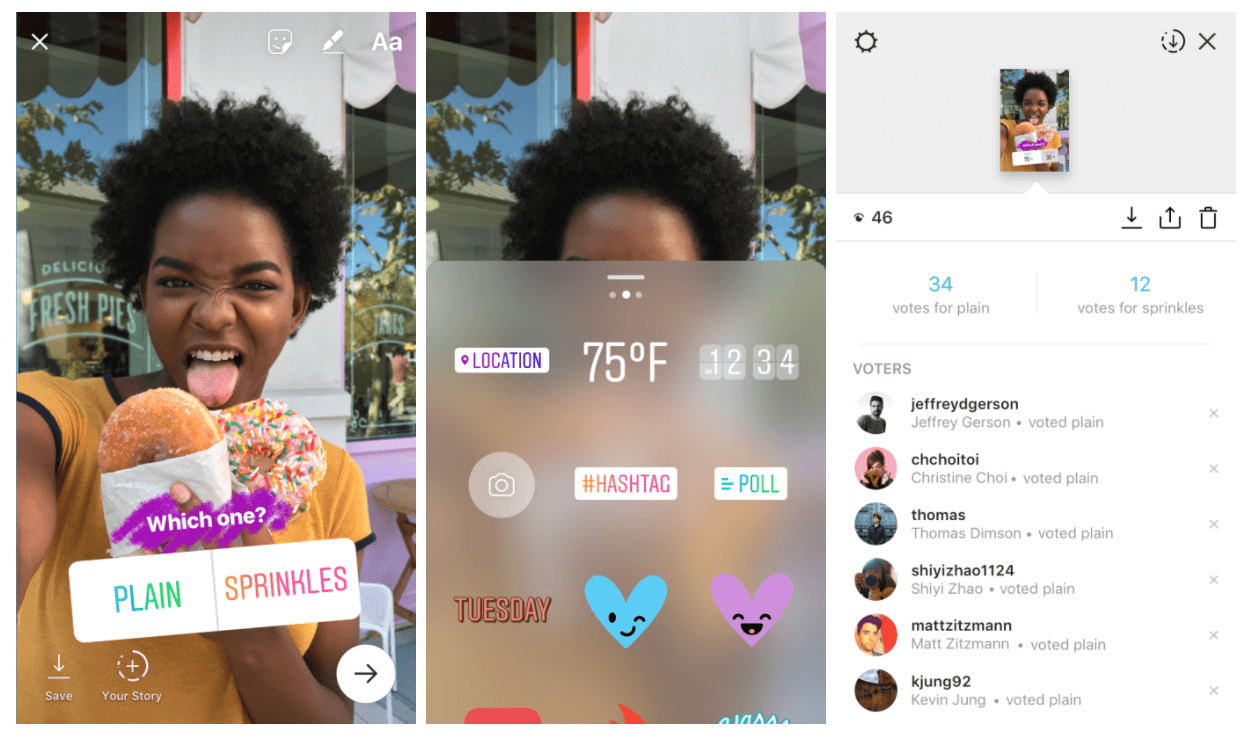 Once someone has voted on your poll, they'll see which choice is in the lead at any given moment. And if they watch your story again later, they'll see the latest results.
Instagram Stories dimensions
The idea dimensions for Instagram Stories are 1080px wide by 1920px tall. An aspect ratio of 9:16.
These dimensions will help if you want to create a custom video or graphic to really make your Instagram Stories stand out. For example, check out this post from the LA Rams: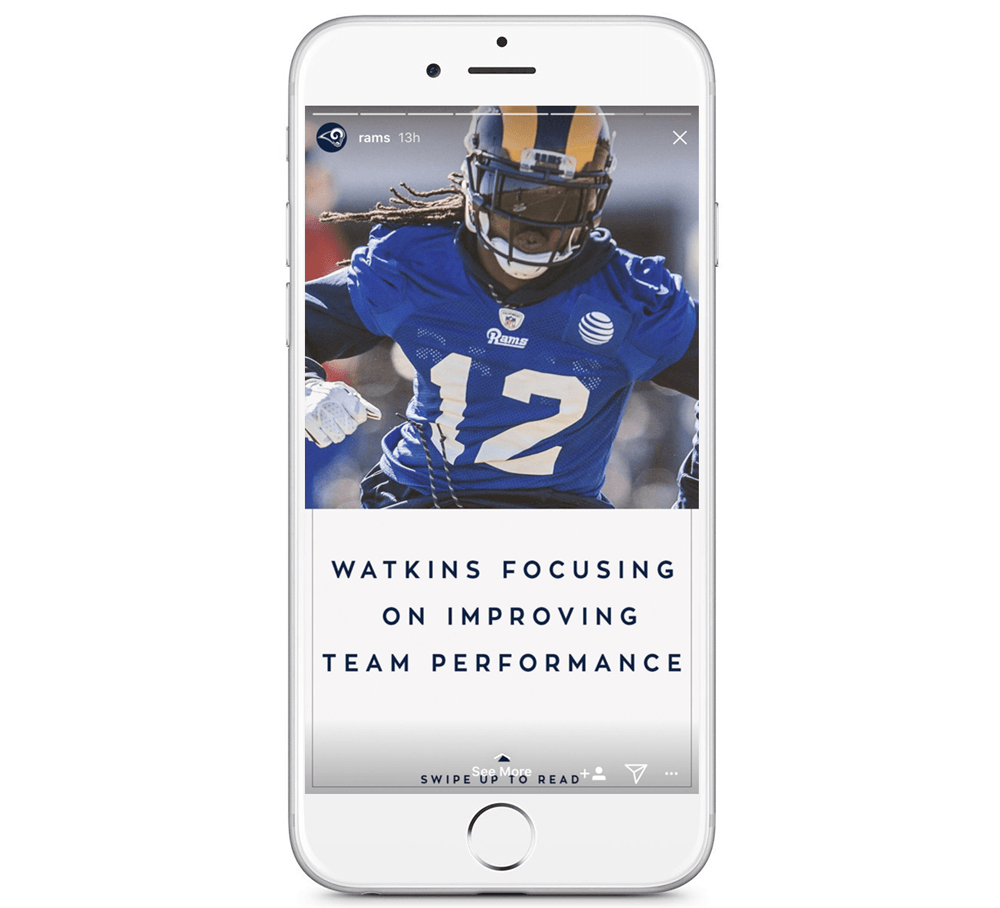 There are many great design tools and resources available if you wish to create Instagram Stories videos or customize your Instagram Stories graphics. Our favorite is our Stories Creator, a free, lightweight tool that enables you to create thumb-stopping content for Stories.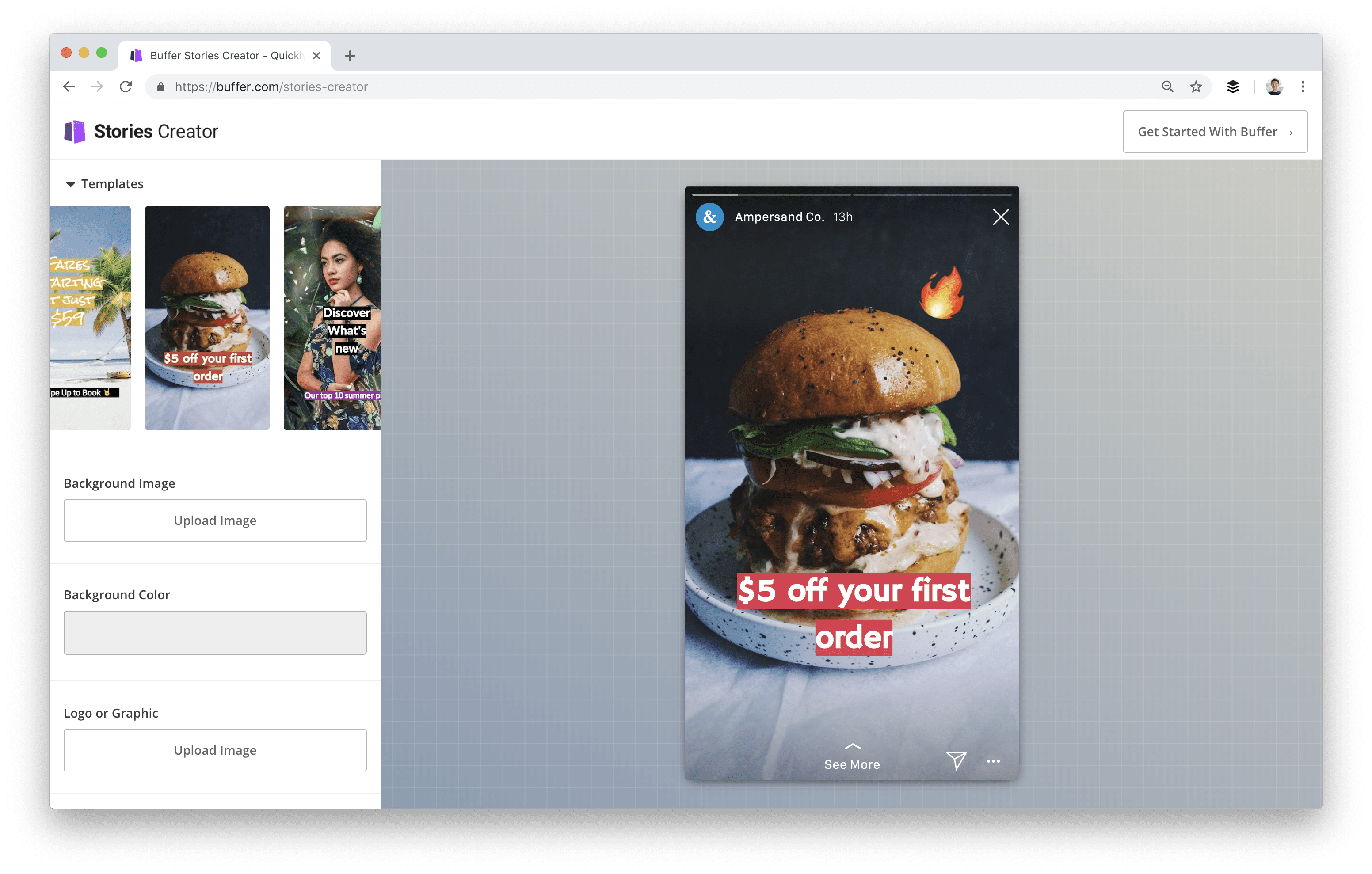 Want to save a bunch of time? Check out these pre-made Instagram Stories templates you can use right away.
Instagram Stories ideas: 5 ways brands can use Stories
Brands aren't strangers to Instagram. We could see a large number jump in and start testing Stories over the next couple of weeks. Here's our best estimate and what we may see from those first movers:
1. Behind-the-scenes content
If the Instagram feed has become a place for only the most polished, pre-produced photos and video, then Stories could be a way to add some authenticity to the content that appears in the feed. With Stories, brands have a chance to take their followers on a journey and tell the story behind the posts in their feed.
Imagine seeing a brand new post from Nike featuring a well-known athlete pop up in your Instagram feed, and then being able to go behind the scenes with that athlete directly afterward or even see some exclusive footage of the shoot in their story.
This technique could be used by brands of all sizes and industries too. For example, a restaurant could post a picture to their feed on a new dish and then create a story with a well-known food blogger reviewing it. Or a real estate company could take you on a tour around a property they've just posted about. The possibilities here are endless.
We've already seen a couple of brands using stories to share this type of content, with Pencils of Promise taking their followers behind the scenes in their New York office and the UFC using stories to show one of their athletes at the supermarket sharing the food he eats during training camp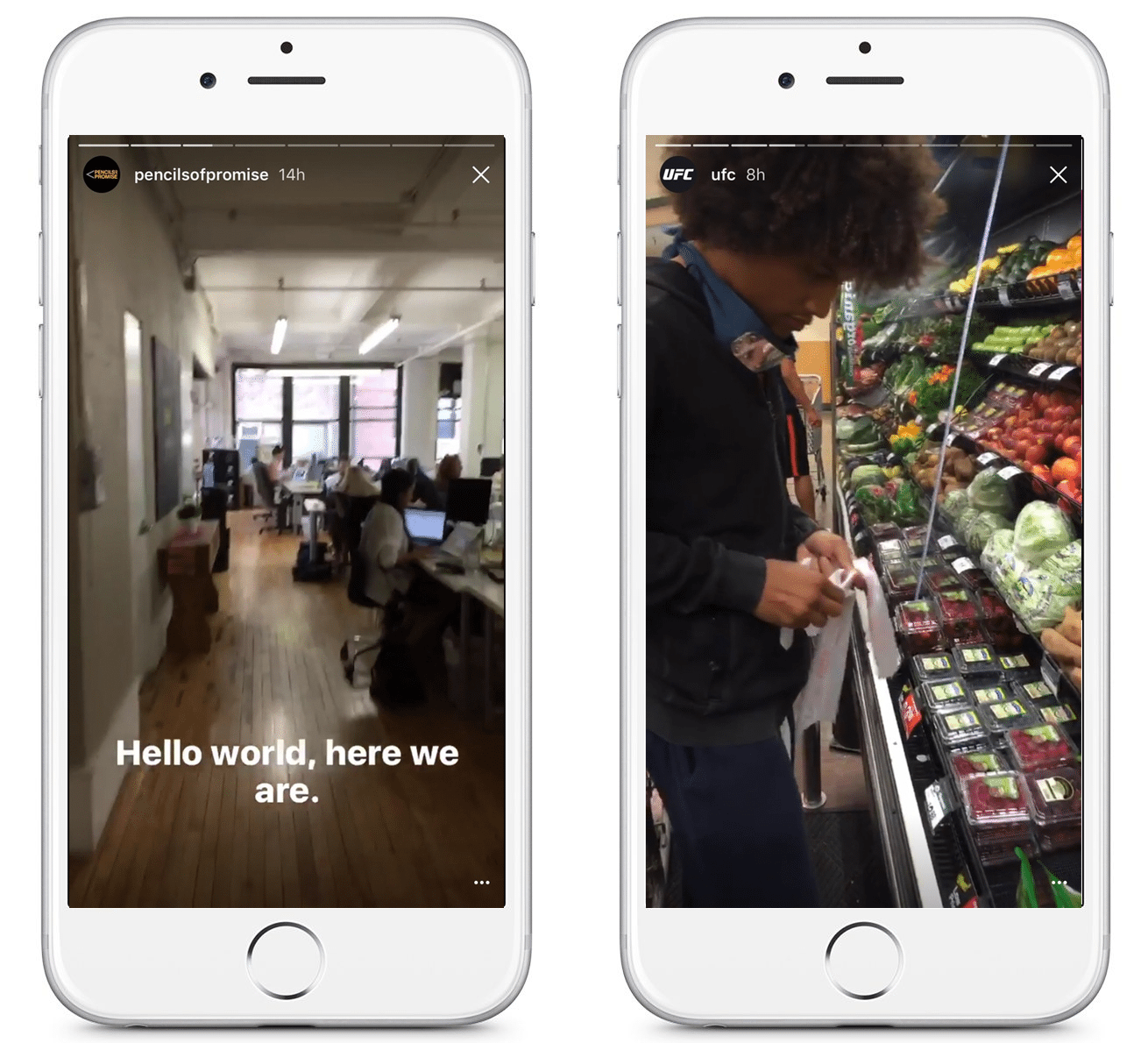 2. A potential way to beat the algorithm
Instagram recently added a Facebook-like algorithm to filter its feed and show users the posts it determines they'll be most interested in at the top of their feed.
We're still unsure whether Instagram will show all stories in chronological order or if they'll follow the algorithm, but stories could provide a way for brands to stay top-of-mind on the platform even if their content isn't always at the top of the feed. Experimentation with stories, and being a stand-out early adopter, could help brands to get their followers paying more attention to the posts within their feeds and boost their engagement across the platform.
3. Takeovers
Takeovers have become a big thing for brands on Snapchat. If you're not familiar with how it works, essentially, one brand will take over another's Snapchat account for a period and share content.
With Instagram stories, brands could begin to collaborate more with other brands or influencers. For example, at Buffer we regularly feature members of our community within our Instagram feed. Once Stories open up globally, we could share a photo from one of our community and then allow them to jump on our story and share a little more context about the photo or video in our feed.
4. A rise in 1:1 communication
When social media first hit the mainstream, there was a lot of buzz and excitement about being able to talk directly with your favorite celebrities and brands. Stories give brands the chance to get back to the roots of social media and engage with their followers on a 1:1 basis.
For example, we could see brands running Q&A sessions via Stories with people sending questions via Instagram Direct and the brand answering them within their story. We could also see stories being used to send 1:1 video messages to followers.
5. Live, timely content
There's a lot of excitement around live video content at the moment. And Instagram Stories could give brands a way to produce live video content on the platform.
Live video is extremely engaging, and though Instagram Stories won't allow for a long, uninterrupted broadcast like Facebook Live or Periscope, it could allow brands to make their Instagram accounts the place to go for live, interactive content.
Benefit Cosmetics have used Facebook to broadcast makeup tutorials, and The Metropolitan Museum of Art in New York used Facebook to share the opening of a new exhibit. And there's no reason Instagram stories couldn't be used in a similar way to these broadcasts and take users deeper into a live event as it takes place.
Over to you
This is certainly a big move for Instagram and one that could shift the platform a great deal. Snapchat has proven there's a huge market for sharing fleeting, everyday moments of our lives and if Instagram can make stories work alongside its current offering, then this could be one of its most important updates to date.

What are your thoughts on Instagram's Snapchat competitor? Are you excited to test out stories? How do you think we'll see brands using the feature? Share your thoughts in the comments and I'd be excited to join the conversation.
Share your thoughts in the comments and I'd be excited to join the conversation.
Want to learn more about the Stories format?
With more than one billion people using Stories and vertical video formats now, have you wondered what this means for your business? Sign up to receive our new four-part email series covering everything you need to know about vertical video and the stories format.