If you think Instagram Reels are Instagram's attempt to keep you on its platform instead of TikTok, you're not wrong. Instagram Reels are 15- to 90-second multi-clip videos offering many of the same features as TikTok videos—music, voiceovers, filters, and effects.

But Instagram has a history of imitating features from other social media platforms and then outperforming them. Remember when Instagram Stories launched, mimicking Snapchat? Unique viewers of Snapchat Stories dropped by 40% shortly thereafter.  
For small businesses with an Instagram business account, Instagram Reels offer another way to reach people without having to build up a following on a separate platform. Plus, Instagram always pushes new features to drive adoption, which means Instagram Reels will probably get priority placement in search results and on the Instagram explore page.

Are you convinced yet? Good. Now let's dive into how to use Instagram Reels to promote your small business.

How to make a Reel on Instagram
Instagram really wants you to use Reels, so it's no surprise that the icon lives near the center of your menu bar. Clicking on the icon opens up an Instagram Reels feed, and from there, you can tap on the camera icon in the upper-right corner. You can also create Instagram Reels by opening Instagram Stories and toggling to Reels.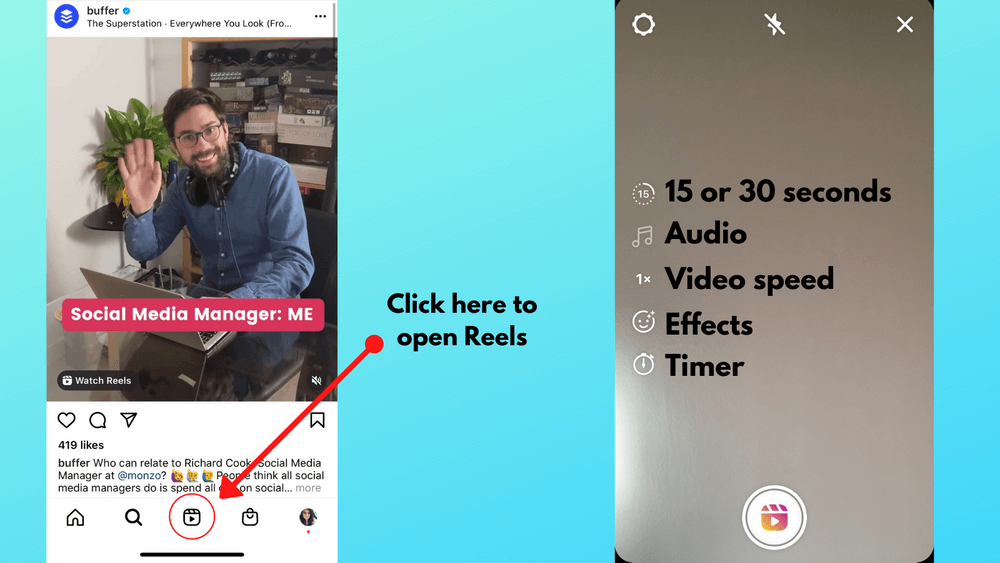 Once you have Reels open, you'll see the following options:
Duration — Choose 15 or 60-second video.
Audio — Open the Instagram music library.
Video speed — Speed up or slow down your video.
Effects — Use special effects created by Instagram or independent creators.
Timer — Set a countdown timer for hands-free recording.
Record Button  — Tap to start and stop recording video clips.
It's important to note that, due to copyright laws, some Instagram business accounts will not have access to the Instagram music library. Even if you do have access, be careful to use only copyright-free music in Instagram Reels that promote your business. You can also use editing tools outside of Reels to add music, but copyright laws still apply, so be mindful.

Of course, there are other ways to add sound to your video. You can record audio as you make your video (just like with Instagram Stories) or use original audio from another Instagram Reel. Creators can dictate whether or not their original audio is reusable, so if you see the option to use audio, that creator has approved it. To use audio from another Instagram Reel, tap on the sound name and select "use this audio."
Once you record your video, you can trim or delete video clips and add Instagram Stickers if you'd like. Then, you can share your video to the Instagram Reels Explore page and your feed.
5 tools to help you make a Reel on Instagram
If you want to add a bit more flair to your Reels, you can try out tools outside the app that can help you make the best video and then upload it to the app. This can also help you avoid the glitch-of-doom that sometimes happens when editing videos with in-app tools.
Most tools will offer the same – and more – things you can do through Instagram's native app. You should be able to add transitions, titles, and custom text captions. It should also allow you to trim and splice footage, speed up clips, add filters or background music, and more. Here are some tools that can help you create and edit videos for better-looking Instagram Reels in a faster way and with less hassle.
💡
Pro tip: If you edit your video outside the app, make sure to select music from Instagram's library – this helps your video get discovered more easily.
How small businesses can use Instagram Reels
While there isn't a lot of data on Instagram Reels' performance just yet, Instagram has privately worked with a few creators to share recommendations, one of which is to share between four and seven Instagram Reels per week. Here are a few ways you can get creative and meet that recommended quota.
Sell products with Shoppable reels
If you haven't set up your Instagram shopping account yet, check out our guide for How to Sell on Instagram as a Small Business. Once you have your catalog set up on Instagram, you can use Instagram Reels to feature products.  

Shoppable Reels have the Instagram Shopping icon and "View Products" on the bottom. Anyone viewing a Reel can tap to open up a page with products featured in the Reel.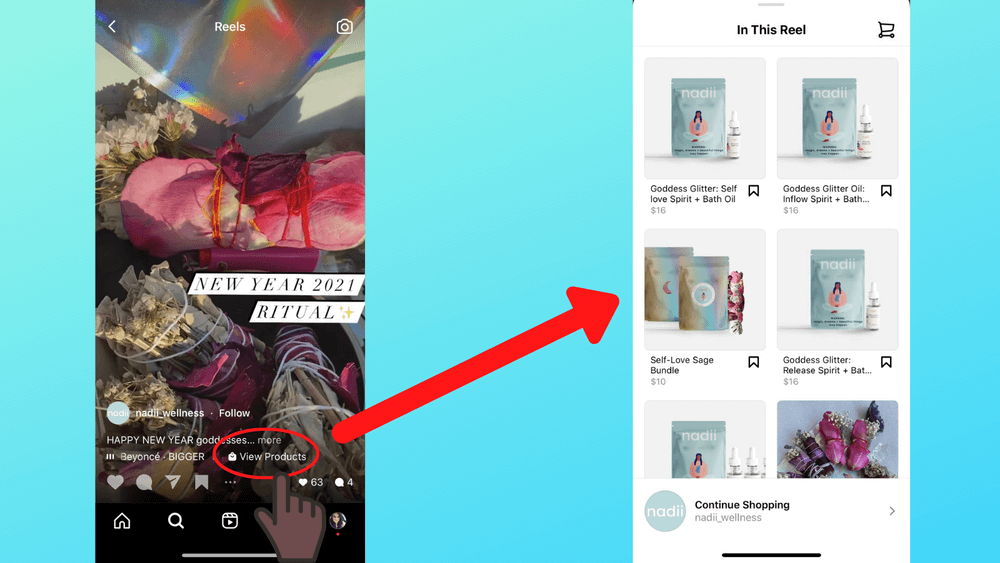 To create a Shoppable Reel, record a Reel as usual, and then tag all the relevant products to link them to your shopping catalog. Your viewers can view products and shop without leaving the app.

Shoppable Reels are a useful tool for small businesses because they are more subtle than a straightforward product feature post or an ad. Plus, Reels give you a chance to demonstrate the product in action.
Give your followers a look behind the scenes
People follow brands they feel connected to, so give your audience a peek behind the curtain. Consider sharing some behind-the-scenes content, such as:
Meet the team
Our process (video creation, products, services, packaging, etc)
Instagram versus reality
Before and after
If you're a small team that's proud of your work culture, show that off! If you love how detailed your packaging process is, make an Instagram Reel that walks people through the steps.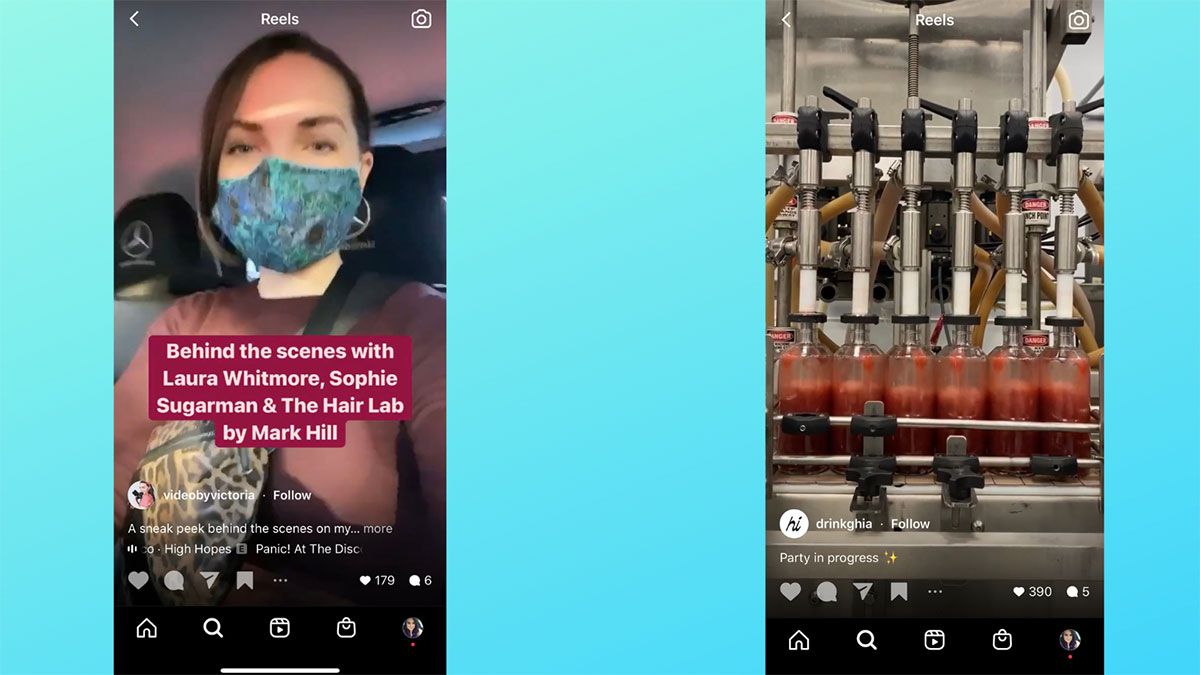 Brand videographer Video by Victoria uses Instagram Reels to share behind-the-scenes clips from her video shoots. Meanwhile, drink company GHIA, takes its followers to the assembly line for a look at how the bottles are filled.
Jump on a trend
When you open the Instagram Reels tab, you see trending accounts. If a trend catches your eye, make an Instagram Reel with your own take.

Instagram users can search for Reels by hashtags, effects, and audio, so keep an eye on any elements that are rising in popularity. Audio trends often start on TikTok and make their way to Instagram.  For example, the "oh no" audio is a short and funny way to share an unfortunate mishap or silly mistake.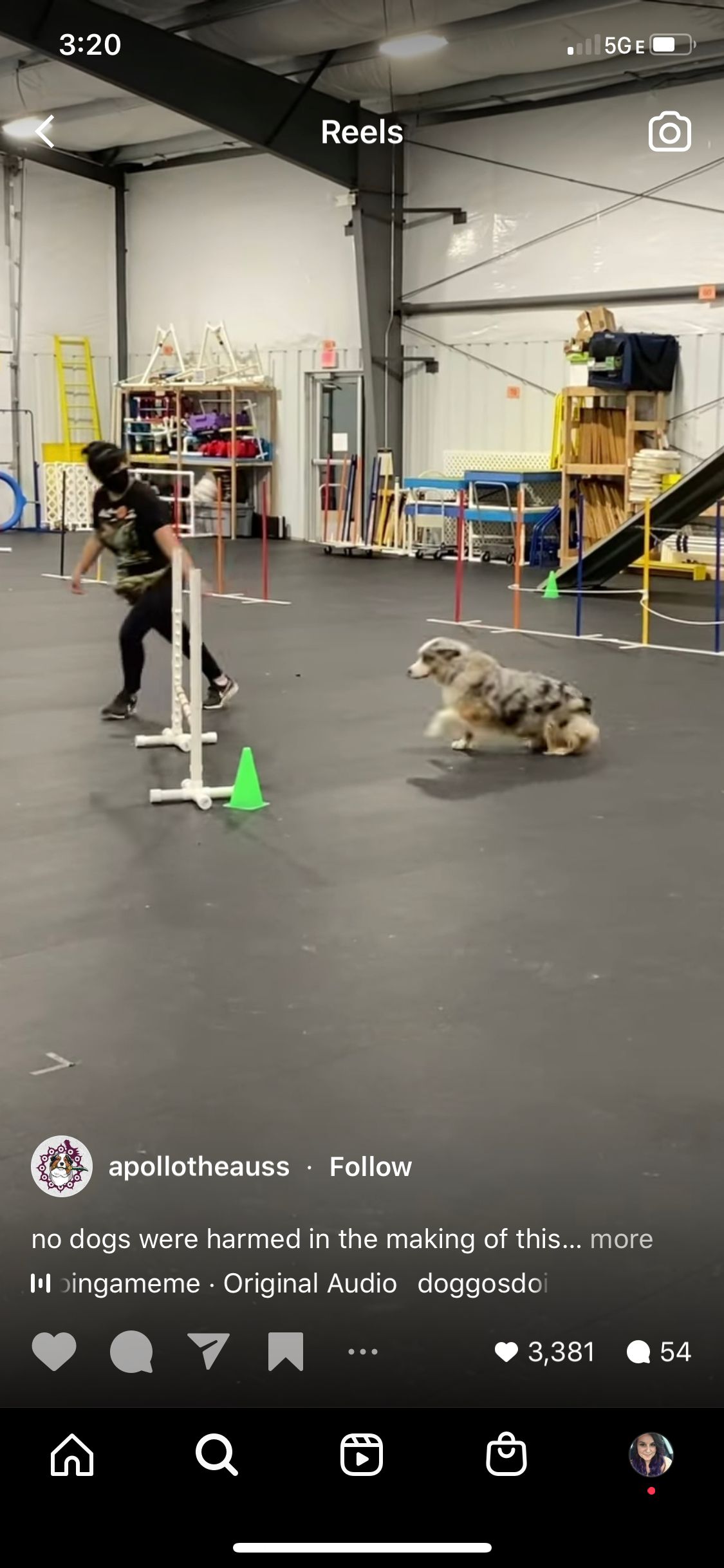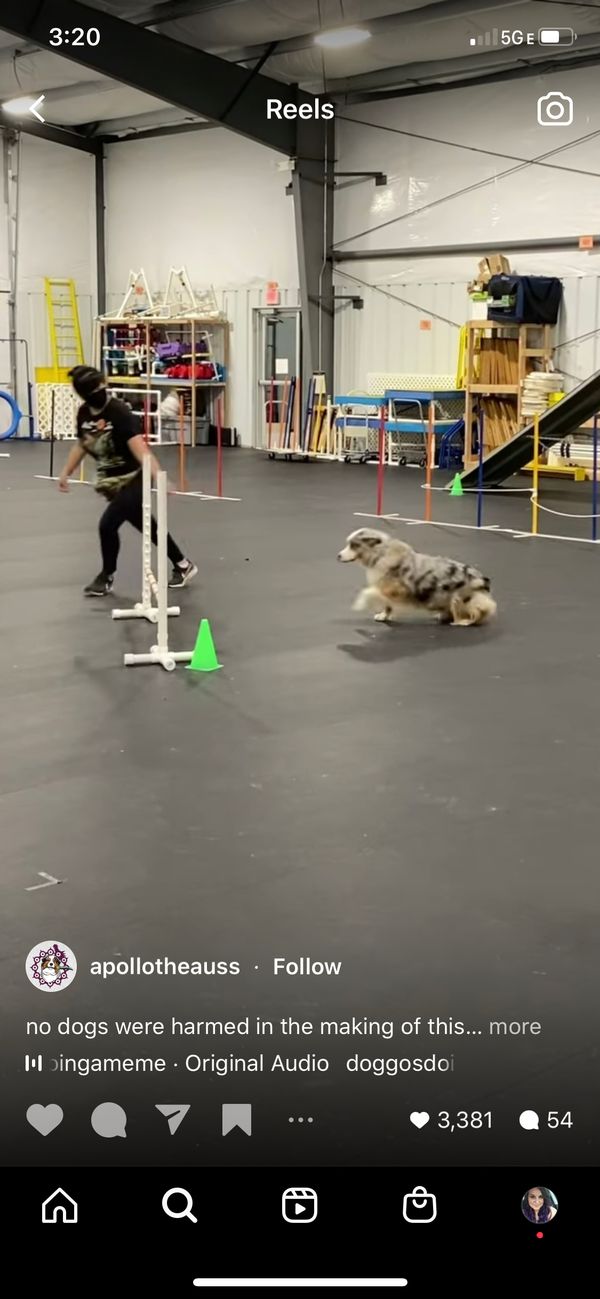 Using a trending audio clip is a great way to show up in the Explore feed or reach new audiences who search for Reels with a specific audio.
Make Instagram Reels a part of your Instagram marketing
Instagram prides itself on being an all-in-one social media platform. In fact, they don't even shy away from admitting they imitate features from other social media platforms so that people get everything they want without leaving the Instagram app.

"I think Musically before TikTok, and TikTok deserve a ton of credit for popularizing this format," says Robby Stein Instagram's director of product management. "The focus has been on how to make this a unique format for us. ... Your friends are already all on Instagram."

Instagram Reels are here to stay, and small businesses are seeing good engagement. If you're not already regularly using Instagram Reels, now's the time to start.
Get started publishing Instagram Reels in Buffer today!
Brought to you by
Did you find this article helpful? You might also like our all-you-need social media toolkit.
Get started for free now