11 Places to Find Scroll-stopping Instagram Templates for your Posts, Stories, and Reels
If you're a graphic design or video-editing novice, this list of the best places to find Instagram templates will have you creating beautiful content in minutes. 
When it comes to curating a cohesive brand and an aesthetic Instagram feed, templates are a marketer/creator/business owner's best friend.
Because, let's be honest: who has a brilliant designer or video editor on hand to expertly craft every single post, Story, or Reel you need to grow on Instagram?
Here at Buffer, we're a small Marketing team that doesn't! We do have a brilliant designer who lends a hand for launches and special projects, but many of the Instagram posts, Stories, carousels, and Reels you'll find on Buffer's Instagram feed were created with the help of templates.
In this article, I'll unpack Buffer's go-to template sources, plus my personal favorites. Even if you're a graphic design or video-editing novice, this template list will have you creating beautiful Instagram content in a couple of minutes.
Instagram templates for feed posts, carousels, and Stories
Free Instagram templates for Stories, feed, and carousel posts are relatively easy to come by these days. The sites and platforms below are all worth adding to your content creation toolkit.
1. Canva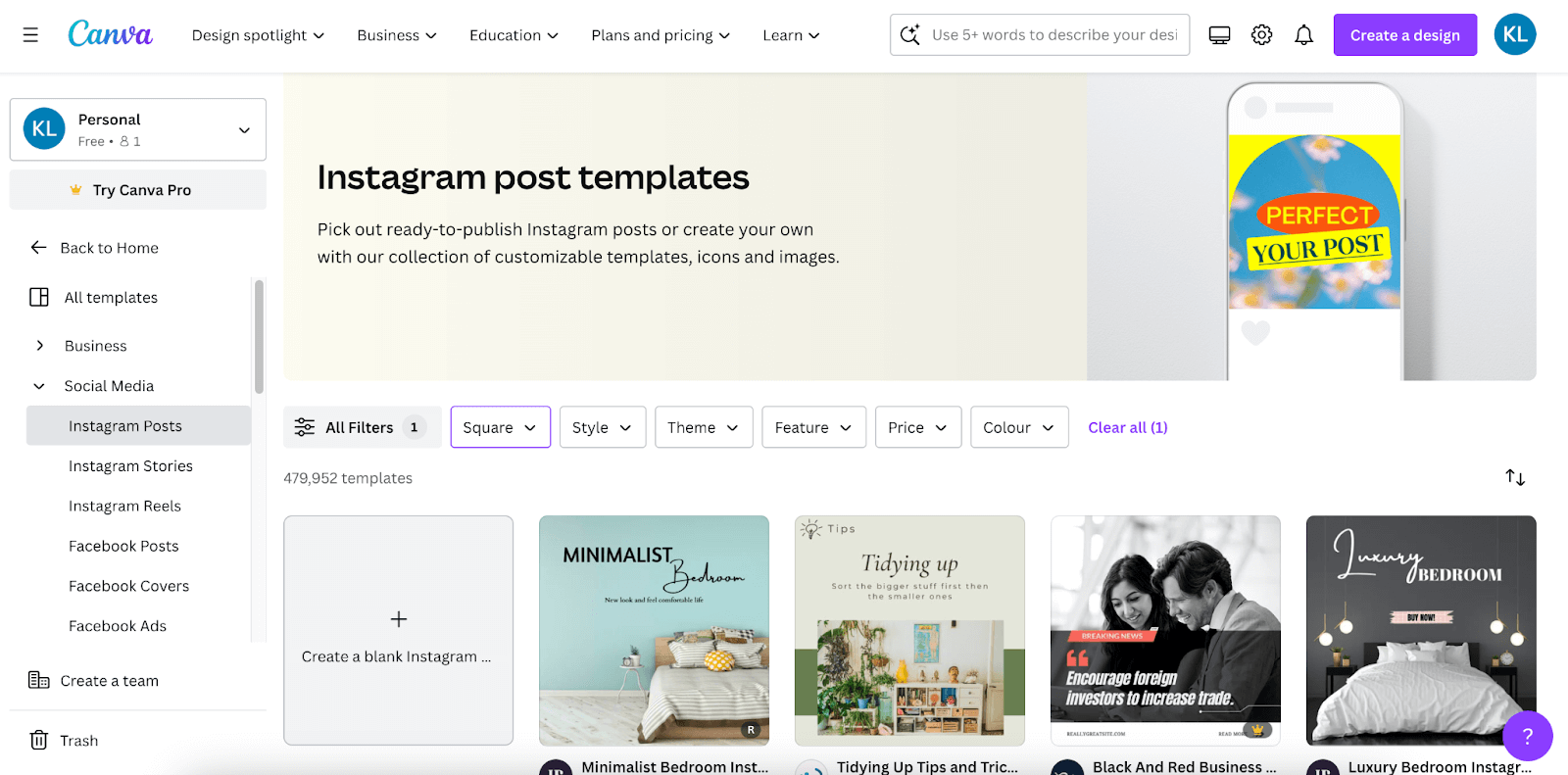 How could I not start with Canva? Canva is a lightweight, easy-to-use design and video editing tool to help you create designer-quality creatives. It's usually Buffer's first port of call for Instagram post templates.
Canva has a library of thousands of eye-catching templates for Instagram Stories, feed posts, and even Reels. You can even filter through options for square and portrait templates for your feed if you need something specific. Gradients, font pairings, stickers, infographics… Canva is a digital marketing dream tool.
Some social media templates are only available as part of their premium plan (those with the little crown icons on the top right corner), but there are thousands of great free options.
Bonus: there's even a handy Buffer-Canva integration you can use to schedule your Canva-made art in Buffer instantly.
2. Etsy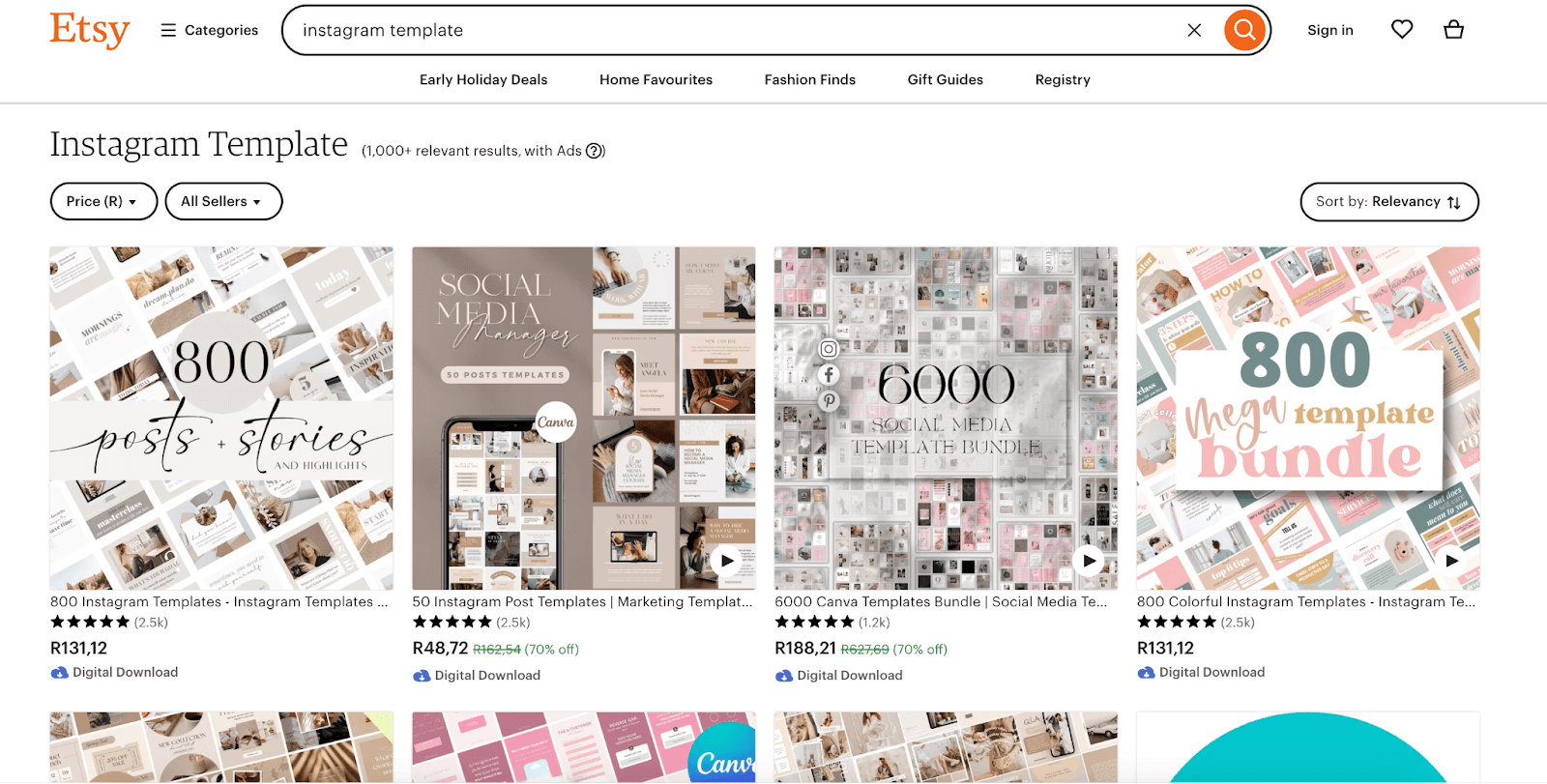 If you don't mind spending a little money, Esty is home to hundreds of thousands of beautiful, high-quality templates for your Instagram feed and Stories.
The best part about buying an Etsy package (all of which are pretty reasonably priced, by the way) is that you'll get precisely that — a whole pack of matching Instagram templates rather than just one. Oh, hello, beautifully curated feed!
Bonus: you'll likely be helping out a small business or freelance creator when you buy, too.
3. Pinterest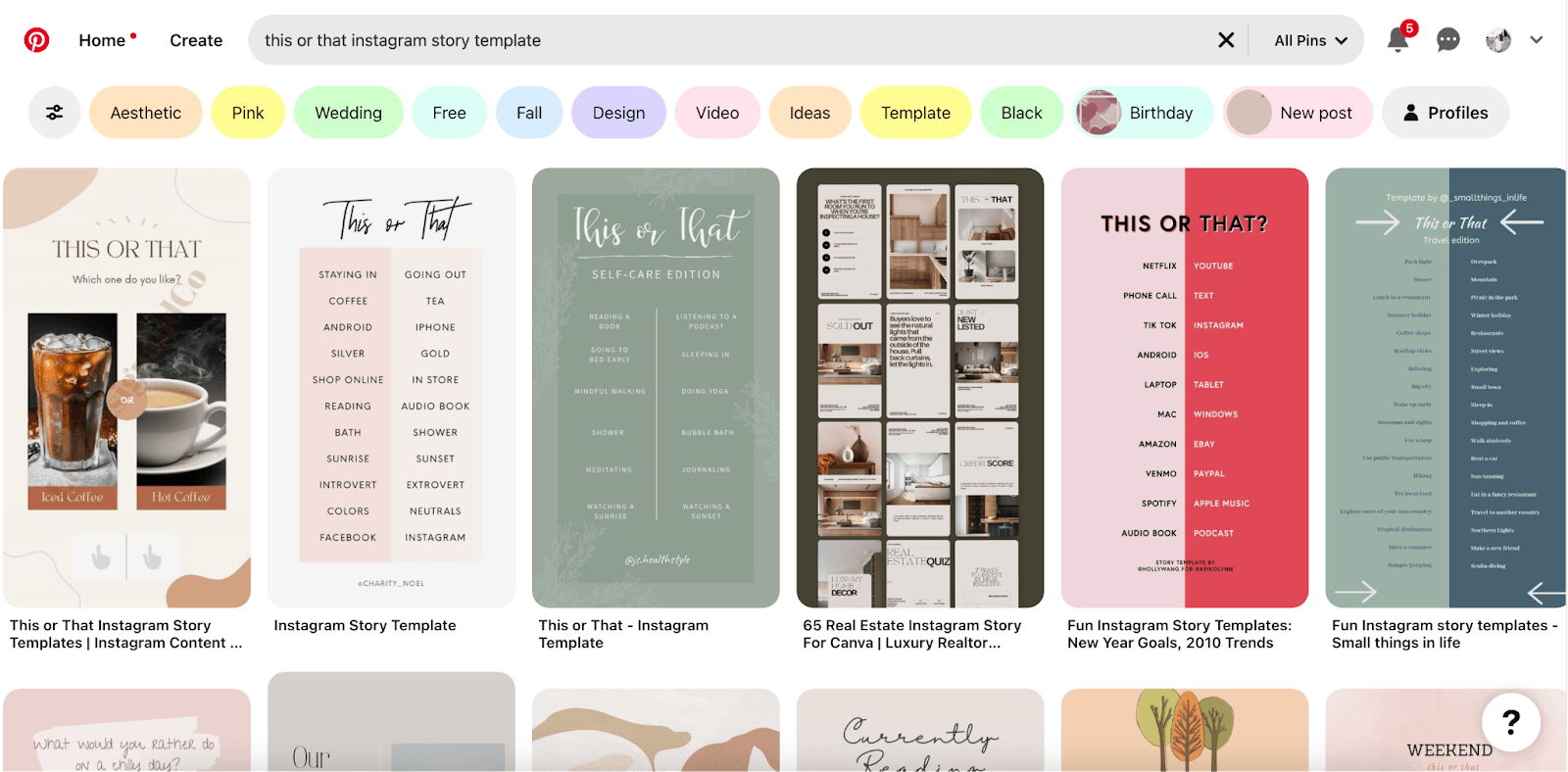 You can't directly edit templates on or download them from Pinterest. Still, the platform is definitely worth including here as a source of inspiration — perhaps even a template search engine of sorts.
On the social media platform, you'll find millions of aesthetically pleasing Instagram template pins that link you to the source (often Canva, Etsy, or similar platforms). Pinterest's search functionality is excellent — you can hop on there to get specific examples of what you're after (like my search for "this or that" Instagram Story templates below).
Pro tip: click on a pin you like, then scroll down — Pinterest will surface others just like it to help you find exactly what you're after.
4. Vecteezy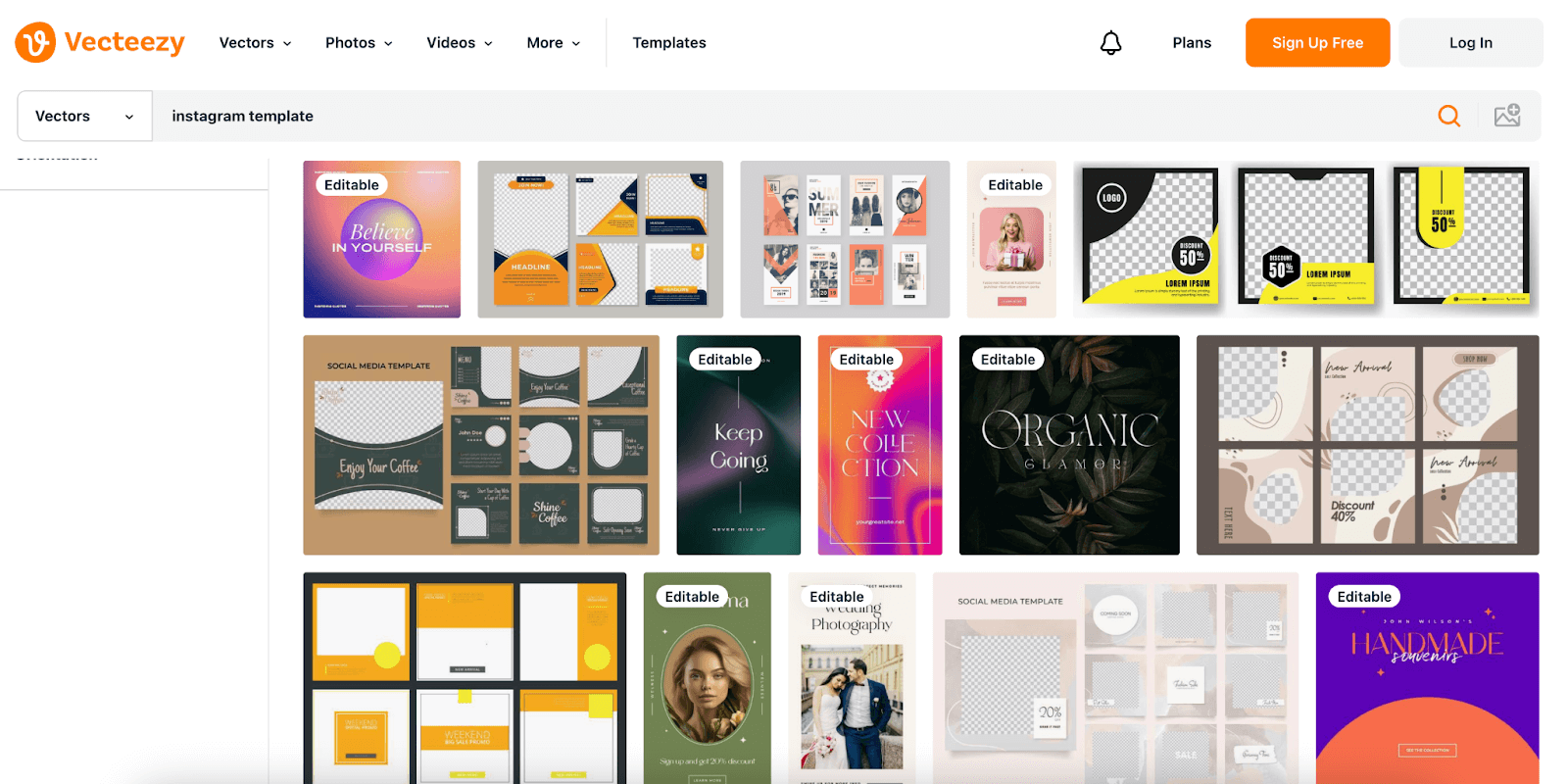 Vecteezy is home to millions of free stock photos, stock videos, vectors — and around 14,000 Instagram templates. From Instagram carousel templates to full matching graphics packs like you'll find on Etsy, there are some great free template options on the site.
One caveat with Vecteezy: the platform allows minimal editing within the tool for some designs, but for the majority, you'll need a tool that can work with vector (usually .ai) files, like Adobe Illustrator. Vecteezy has a handy guide on how to do that.
5. Figma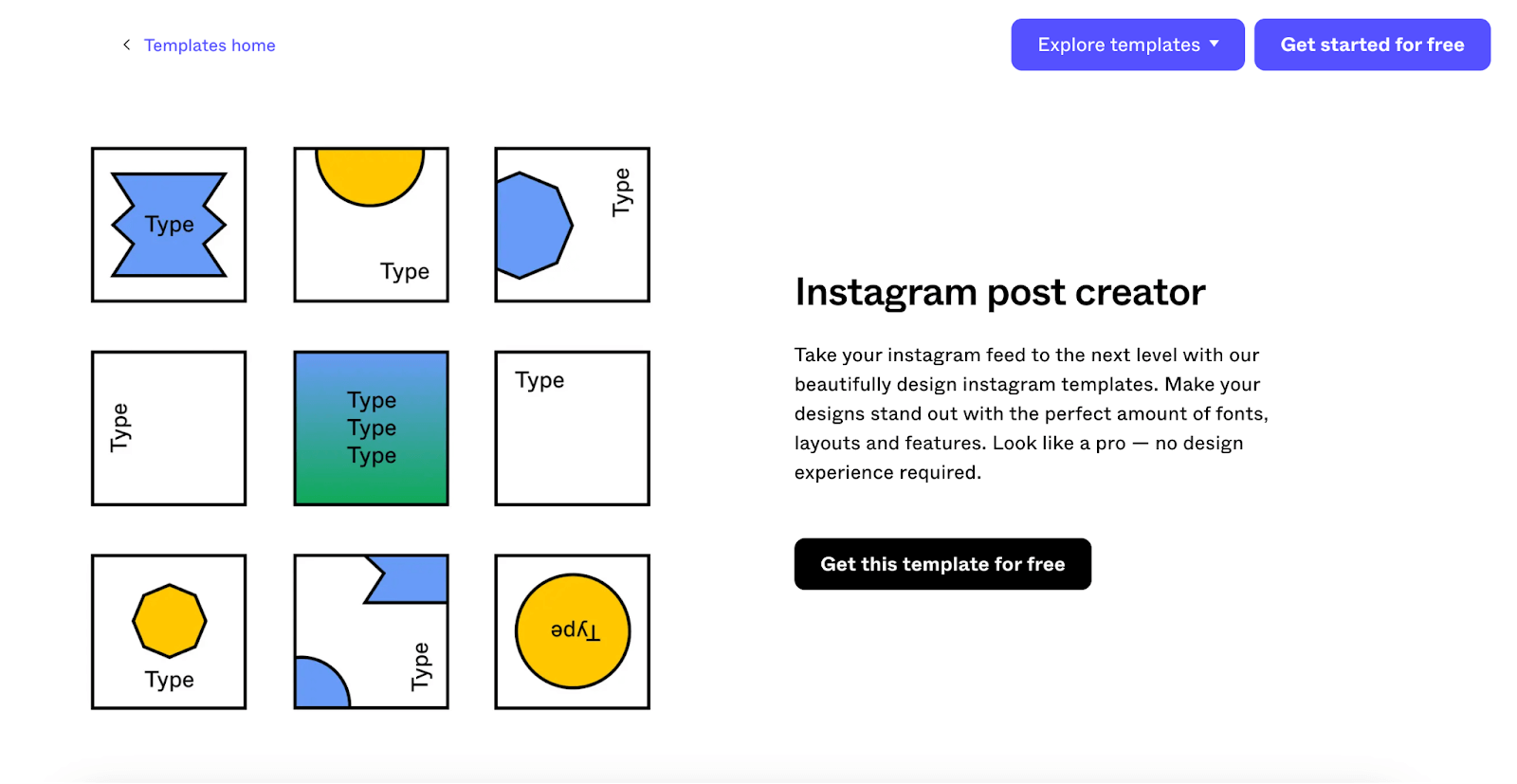 Figma is a slightly more technical platform to get your head around, but once you've got the hang of things, the design world is your oyster. The free tool has many of the capabilities of Adobe Illustrator, InDesign, and Photoshop — and plenty will argue it's easier to use.
Now, Figma doesn't have a library of ready-to-post templates you can tweak and share, but they have a selection of customizable templates in their 'Instagram post creator' that you can make your own. Working with these templates is a great first foray into Figma and learning a powerful new tool.
6. Visme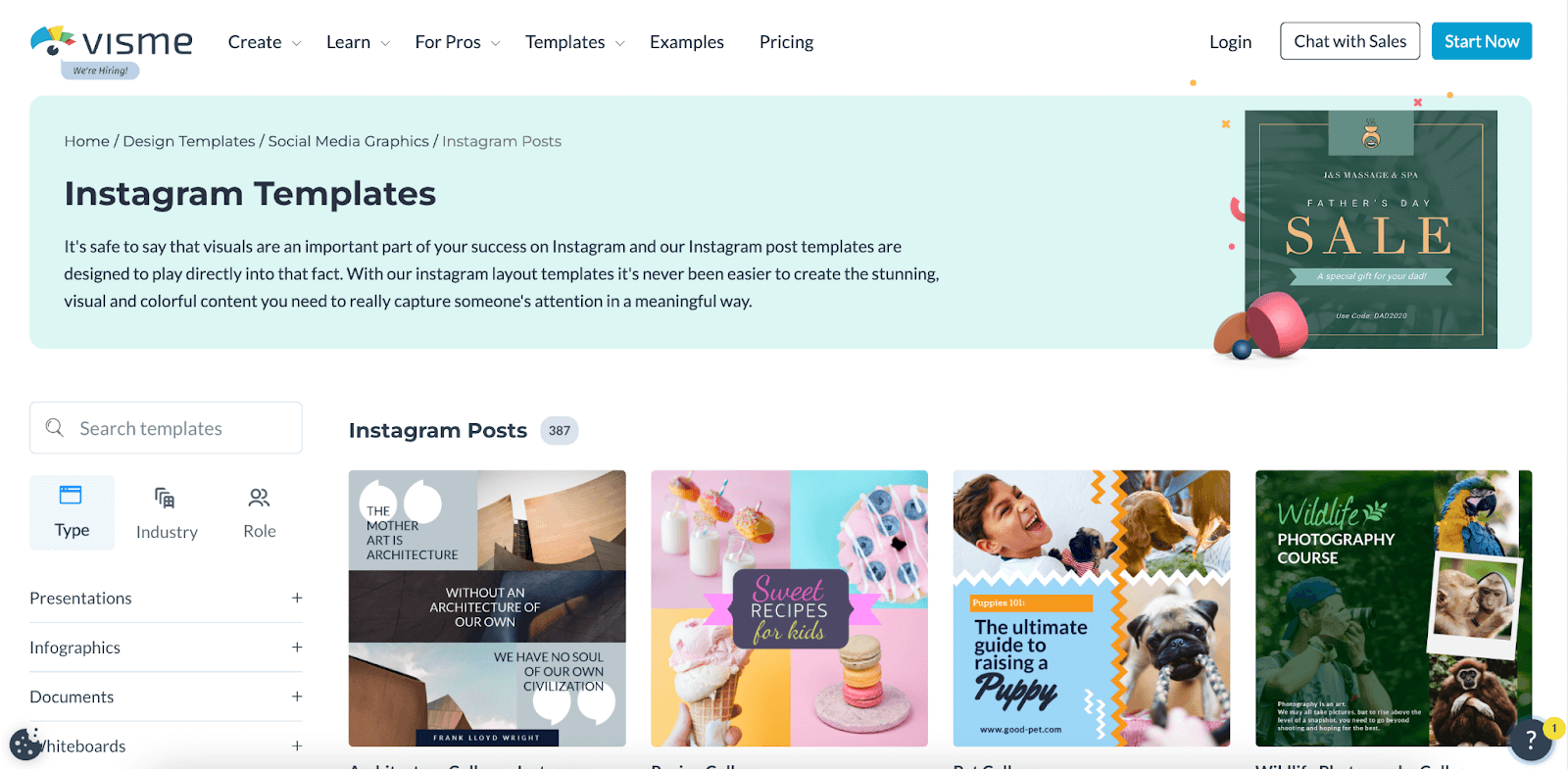 Visme is a web-based design tool a lot like Canva. They don't have quite as many templates on offer as their main competitor (around 10,000 in total), but there are some great options to explore.
What's the difference between Canva and Visme? Not a whole bunch. Their interfaces and pricing are very similar, though a quick scan through Visme's templates left me feeling they were a bit less playful and creative than Canva's (which is a pro if you're managing a corporate Instagram account).
7. iStock Photo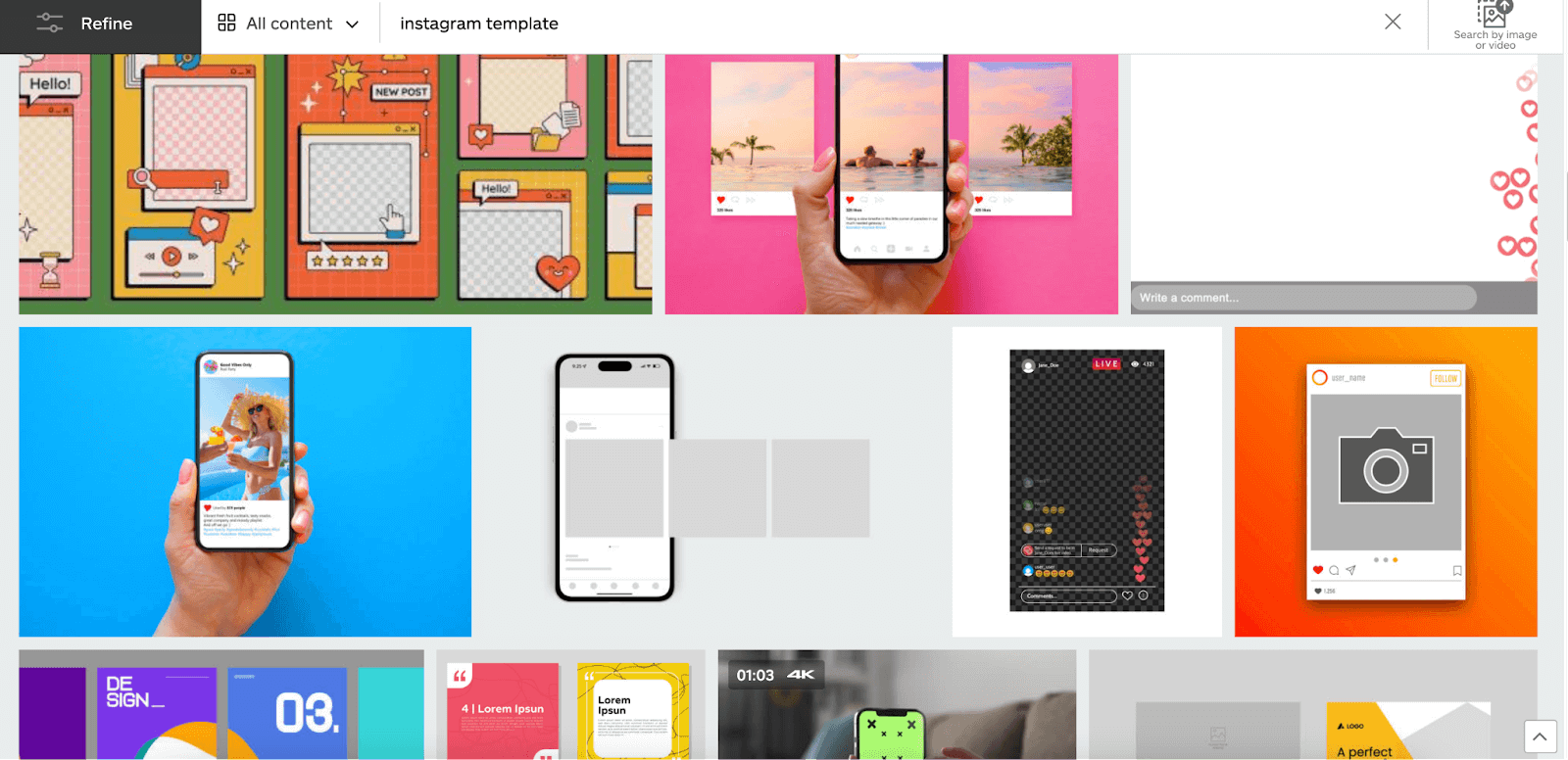 If you want to avoid the "I-found-this-template-on-Canva" look, it's worth exploring the more niche offerings of stock photo sites like iStock Photo — particularly if your company has a paid account.
iStock photo has thousands of unique Instagram templates you can make your own. Like Vecteezy, though, you will need a tool like Adobe Illustrator to tweak them — most of their templates are vector files. You'll also need a paid plan to use most of these templates. Pricing on iStock Photo ranges from $29 – $99 per month.
8. Fiverr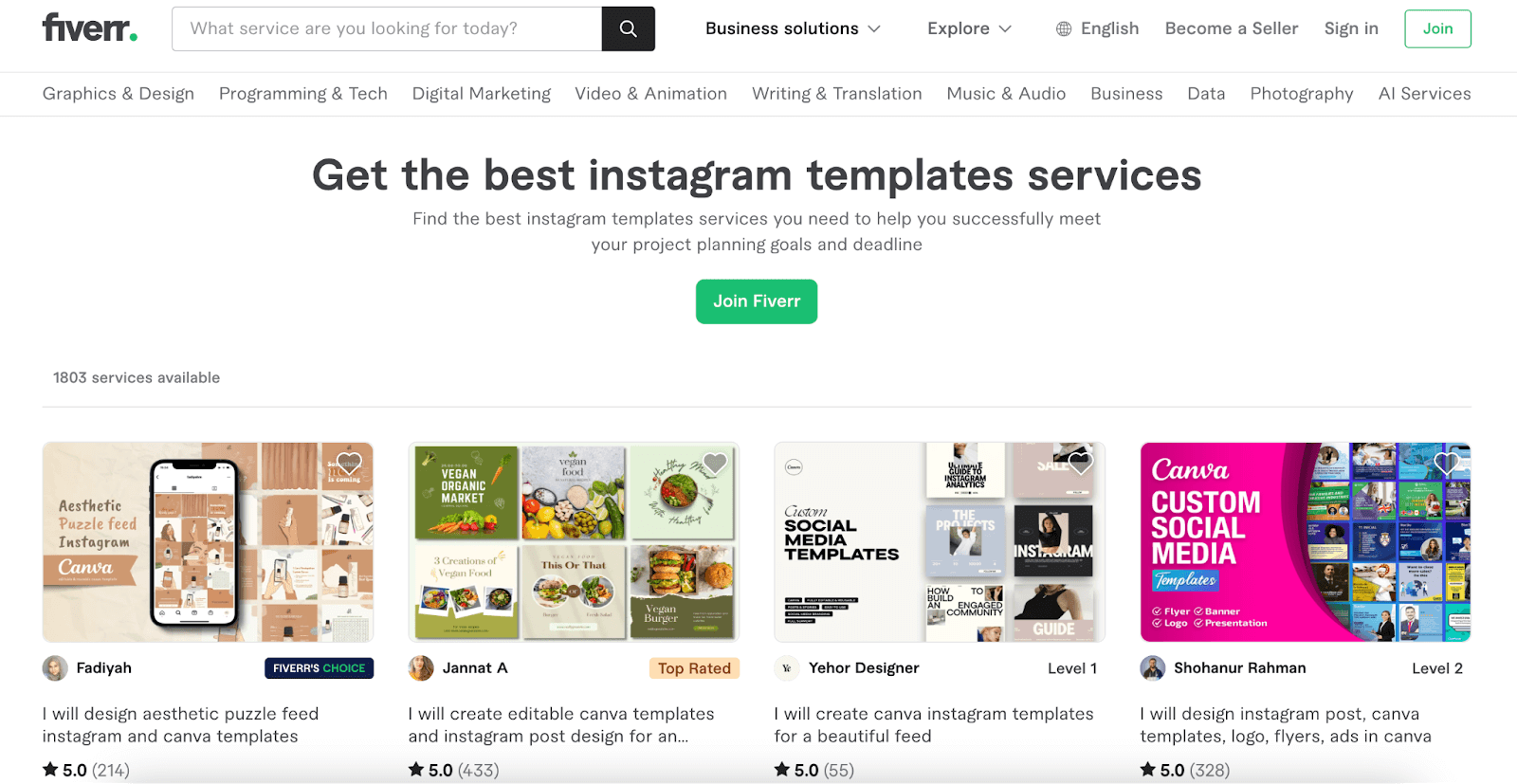 If you're looking for something more customized — say, with your company logo, fonts, and colors — working with a designer on Fiverr is a great way to achieve that.
There are a little under 2,000 freelancers offering their services for designing unique Instagram templates. Their prices and experience levels vary, but the site's reviews system will make it easier to find someone you'd like to work with.
Bonus: This is another way to support a freelancer or small business if you have a bit of budget to play around with.
Instagram templates for Reels
If design skills are not your strong suit (right there with you), then video editing may be outside your wheelhouse, too. But thanks to the host of fantastic templates and tools for creating short-form videos for social media, you don't need them for your social media posts.
The simplest way to get viral clips up on your Instagram feed (and, with luck, the Explore page)? You guessed it: Instagram Reels templates.
9. Instagram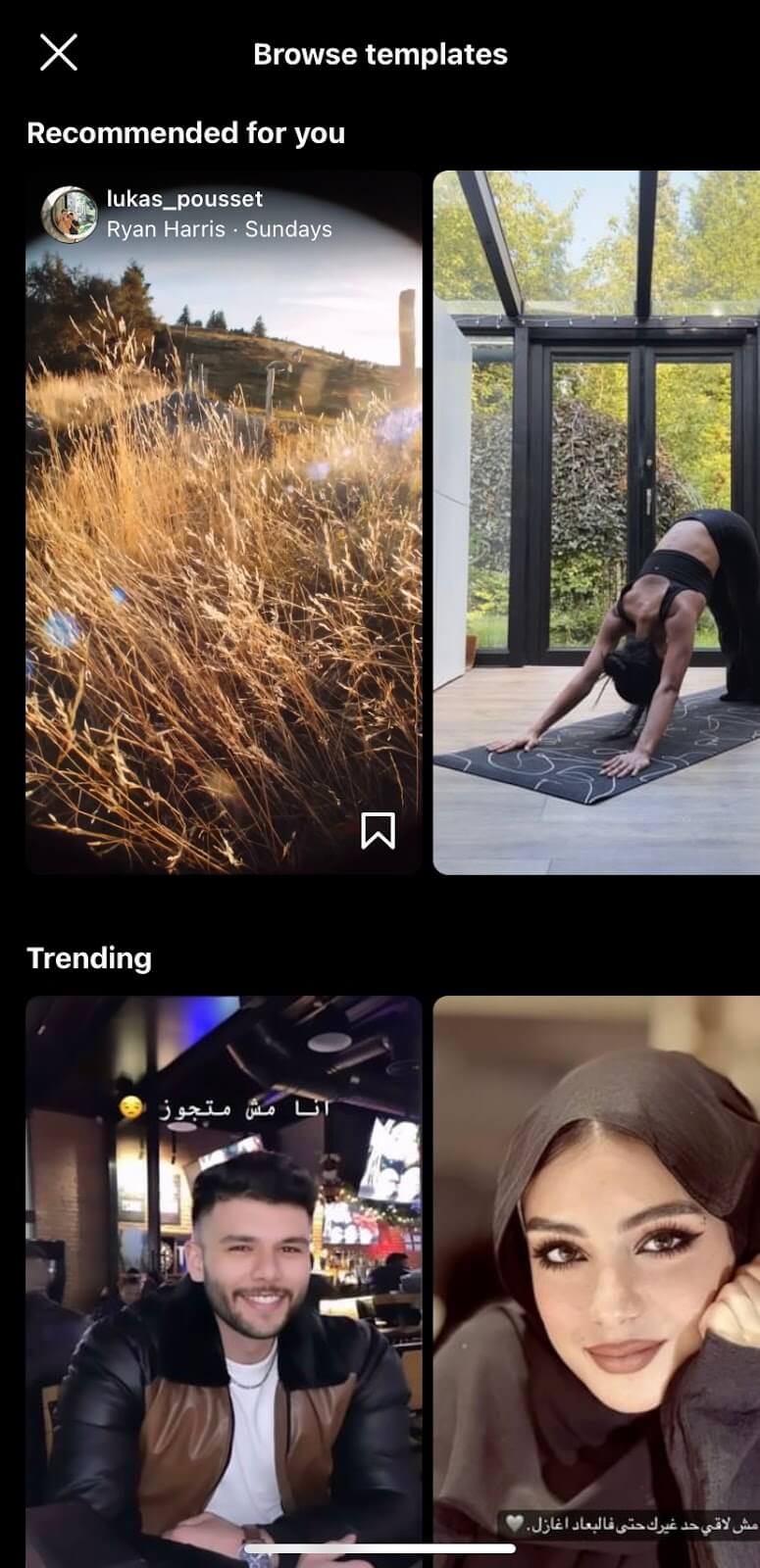 Does it feel a bit 'duh' to include Instagram itself in this list? Maybe — but if you're sleeping on Instagram's super simple in-app Reels templates, you're missing out.
There is no smoother way to get high-quality Reels posted at speed. With the platform's Reels templates, you can find a Reel you like and (if the creator has allowed it to be used as a template) create one just like it in minutes.
Here's a quick explainer on how to use Instagram templates for your Reels:
How to create a video with a Reel template
Tap on the create (+) button in the Instagram app, then choose 'REEL' at the bottom of the screen.
Choose 'Templates' at the top of the screen. Here, you'll find a library of Reels you can use as a template for your next video, including a selection recommended for you and trending Reels.
Once you've found a Reel you like that is available as a template, tap the 'Use as Template' button.
From there, tap on the template clips to replace them with your own.
You can tweak as much or as little of the original Reel as you like — the timings, transitions, and audio will all be carried over.
10. Veed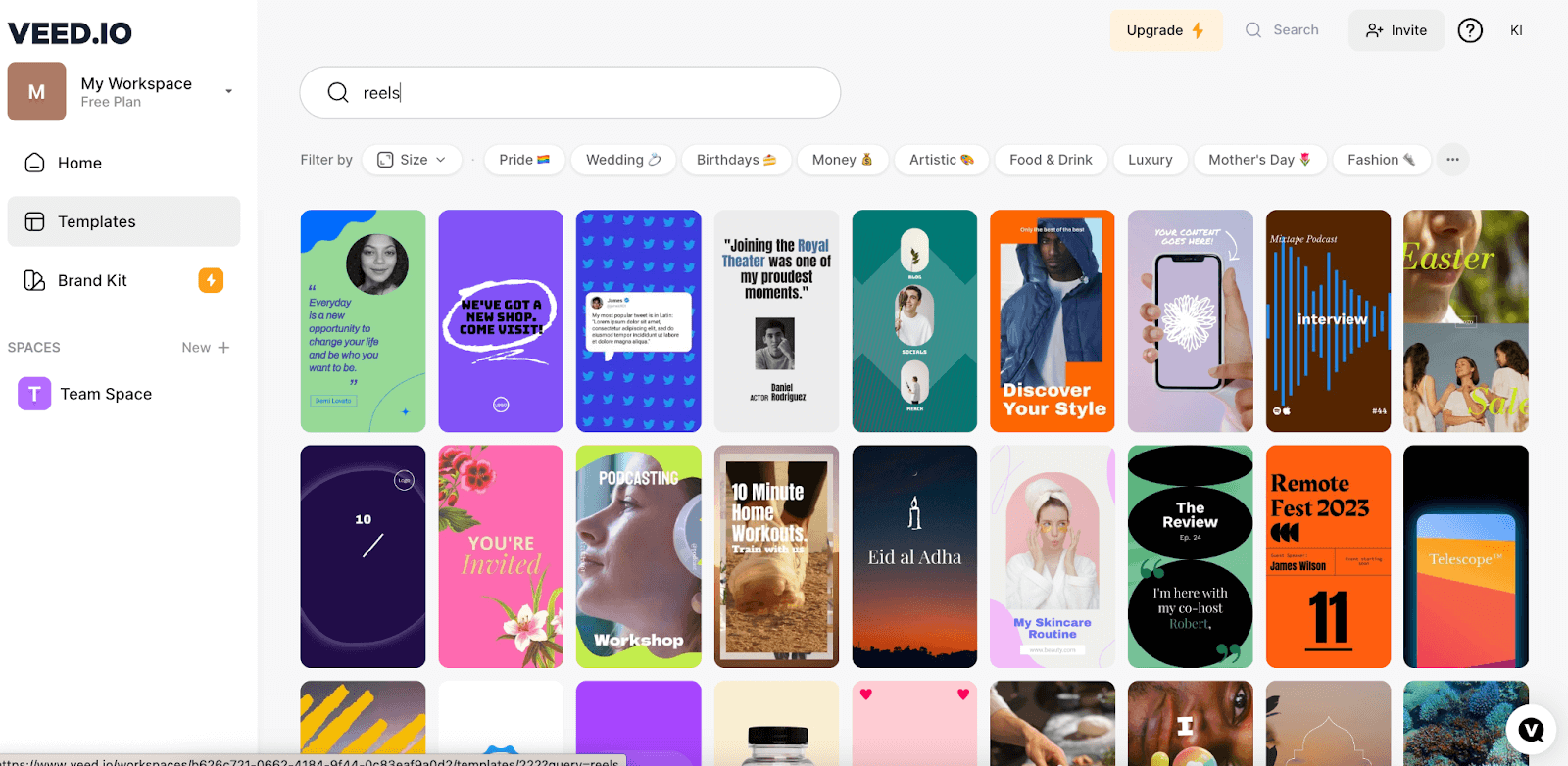 Veed is the Canva of video editing (OK, Canva has video editing now, but you get what I mean). The web-based video editor is straightforward to use, even if you're not using a template.
However, Veed has templates in abundance, which make the process of creating Reels laughably easy — it's one of my favorite tools!
The only potential drawback is the watermark on the free version of your videos, but it's relatively obtrusive. If that's not for you, Veed's pricing ranges from $12 to $59 per month for its paid plans.
11. CapCut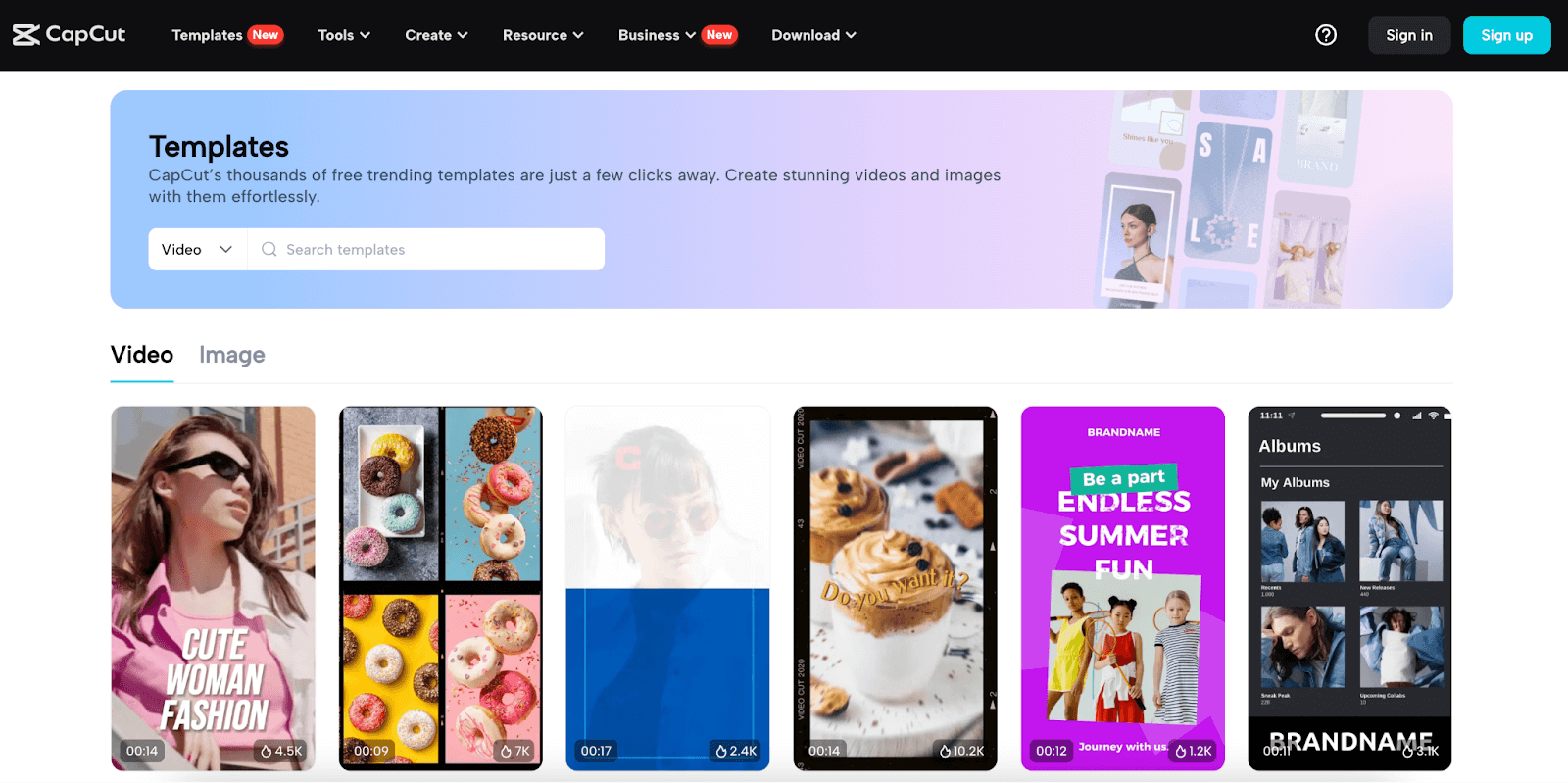 Video editing app CapCut found fame on TikTok, but the easy-to-edit templates on there are perfect for Instagram Reels, too. It's one of our Social Media Manager, Mitra Mehvar's go-to tools (which you'll know if you're a regular reader of Buffer's Social Media Newsletter, of course).
CapCut has a web-based editor and a mobile app that make getting your Reels on Instagram (or into Buffer to schedule!) a breeze.
If you're a TikTok user, you'd be mistaken for thinking CapCut is just for creating videos about moon phase soulmates and seeing what you and your partner's kids will look like with AI (just my FYP, then?). Along with this general silliness, they have some sleek template options that wouldn't look amiss in an Instagram ad campaign, either.
⏰
No matter where you make your Instagram posts, Stories, or Reels, you can schedule them all with Buffer to get them live at the perfect time.
Find out more →