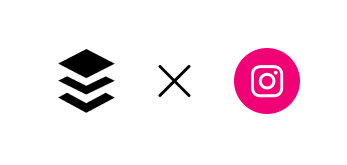 Schedule Instagram posts and build your brand organically
Visually plan and schedule your Instagram posts, carousels, Stories, and Reels. Receive personalized recommendations to increase your reach and build the organic momentum that will take your Instagram page from "meh" to "must-follow".
Get started now
Direct scheduling
Auto publish your posts, carousels, Stories, and Reels directly to Instagram
First comment
Include a first comment with your scheduled Instagram posts
Best time to post
See the best times to publish to earn the greatest reach
Hashtag manager
Create, save, and organize hashtags to use in your Instagram posts
Beat the Instagram algorithm and get the reach you deserve
Here's the secret yet simple formula to beat the Instagram algorithm—consistently publishing content when your audience is most engaged. Find the perfect time, date, and type of post to boost engagement without draining your time and let Buffer do the rest of the work for you.
Turn double taps into sales
Make the most of your one link on Instagram by creating a beautiful and mobile-friendly landing page where you can share your most valuable links, content, and product pages. Easily drive more traffic to your website and turn your double tappers into customers.
Create page
Capture organic attention with Reels
With Reels you can reach 83% more people than regular posts—all without spending a cent on ads. Schedule and auto publish yours in advance with Buffer.
Visually (and easily) plan your content calendar
Get a bird's-eye view of your upcoming schedule and fill in any content gaps. Easily reschedule your posts by dragging and dropping them around the calendar. And enjoy the benefits (yes, that means more free time for you!) of a fully-planned out content calendar.
Reach a new audience with the right hashtags
Growing on Instagram shouldn't be a shot in the dark. Buffer reveals which hashtags work best for growth, plus you can auto-schedule hashtags as first comments on your posts.
"

Buffer makes business manageable for us. We can manage all posts in one place and it's easy to use. It's a real lifesaver.

"
Luke Thornton,Managing Director
FAQ
1

How does Instagram scheduling work?
2

What types of Instagram posts can I schedule with Buffer?

You can schedule Instagram image posts, video posts, carousel posts (up to 10 images), Stories, and Reels with Buffer.
3

Can I schedule Instagram posts to publish automatically?

Yes, Buffer offers both direct scheduling (posts that can be published automatically) and reminders (posts that you'll receive a push notification for).
4

Can I schedule Instagram Reels for free?

You sure can! With our platform, you can plan, edit, draft, and schedule Reels to Instagram, for free. We've got you covered when it comes to maximizing your Instagram Reel strategy.
5

Can I schedule carousel posts to publish automatically?

Yes, you can schedule carousel posts to be published automatically to Instagram with Buffer—no need for reminders.
6

Can I schedule Instagram stories to publish automatically?

Yes! You can schedule your Instagram Stories to publish automatically at your desired date and time.
7

How do I schedule Instagram posts?

Scheduling Instagram posts through Buffer is super easy. Here's how:

To get started, log in to your Buffer account
Click the Create Post button at the top right corner of your calendar or queue
Select the Instagram channel you'd like to schedule to by clicking on the avatar at the top of the composer
Craft your post by adding any photos, videos, GIFs, text, and hashtags
Then click on Add to Queue, Share Now, Schedule Post, or Save as Draft depending on your scheduling preference


Head here for a full guide on how to plan, schedule, and publish to Instagram.
8

How do I schedule Instagram stories?

Instagram stories are a powerful channel to build your brand and engage customers. With Buffer, you can plan, prepare, and schedule your Instagram stories. Here's how:

To get started, log in to your Buffer account
Select your Instagram account on the left hand side of your dashboard and head to the Stories tab
Open the composer at the top of your stories queue
In the stories composer, click Add Media to choose the images and videos you'd like to include in your story. You can upload up to 10 media files within one story.
Drag and drop your images and videos into the order you want
Add notes, links, and reminders in the notes section by clicking on Add Notes
Finally, click Schedule Story. Choose the desired date and time to receive the reminder and we'll send a push notification to your mobile device at that time.


Head here for a full guide on how to plan, schedule, and publish to Instagram.
9

Why should I schedule Instagram posts?

If you're a small business owner, or social media manager, there are many benefits to scheduling your Instagram posts. Here are a few reasons why people prefer to schedule:

It saves them time and mental energy
It ensures that they post consistently (and keeping a consistent schedule helps you maximize engagement)
It gives you better control over your Instagram content
It enables you to plan and post to Instagram from your desktop
10

How do I start scheduling my Instagram posts?
Take your Instagram engagement to the next level