An important part of growing your Instagram is connecting with other brands and accounts on the platform, and doing so just got easier with Instagram Collab posts. With this feature, you can share content in collaboration with another account. This means your content, whether it be photos or a Reel, will be shared from both accounts rather than just your own.
There are a ton of occasions where sharing an Instagram collab post can be more powerful than simply tagging another account. Read on if you want to learn how to create an Instagram collab post and the benefits of doing so.
What is an Instagram Collab Post?
Instagram announced Collab posts in late 2021 and said the feature would allow for two accounts to share a Feed post or Reel. The original author can tag another account to become a collaborator, or co-author, which allows the post to be posted from two accounts.
According to Instagram, a Collab post between two accounts means:
Both account names will appear on the header of the post
The post will be shared with both sets of followers
The post will live on both profile grids
The views, likes, and comments will be shared by both accounts
This is a great way to present content on Instagram with people you're working with including other small businesses, brands, and content creators.
The benefits of Instagram Collab posts
Collab posts are an easy and efficient way to boost the reach of your content, which can lead to these benefits:
Increase exposure – instead of just posting content to your audience, a Collab post allows you to share content with your co-author's followers as well, meaning you'll be increasing the number of eyes on your posts. This can help boost your overall brand awareness.
Gain more followers – since you'll be showing up in more feeds through Collab posts, your brand will be introduced to new people, and this can be a great opportunity to gain new followers. These Collab posts can also be seen as an endorsement from the brand or creator that you co-author content with, encouraging their followers to follow your account as well.
Drive up engagement – There's a good chance that more people will interact and engage with your Collab posts because of the increased exposure. This means these posts can bring in more likes, comments, and shares than a normal Instagram post that only gets seen by your followers.
How to create an Instagram Collab post?
To create a Collab post with another account, you need to first invite that account to be a collaborator. Once they accept the invitation, the post will be shared from both accounts.
To be clear, the original author owns the post and if they delete it, it will also be deleted from the collaborator's account. The original author also has to have a public profile to create a Collab post.
To begin, click the + sign to create a new post.
Once you've uploaded the content, click on "Tag people."
Click on "Invite collaborator."
Search for the account and click on their profile
Wait for them to accept the request.
Once they've accepted the invitation, the post will live on both of the accounts' grids and feeds.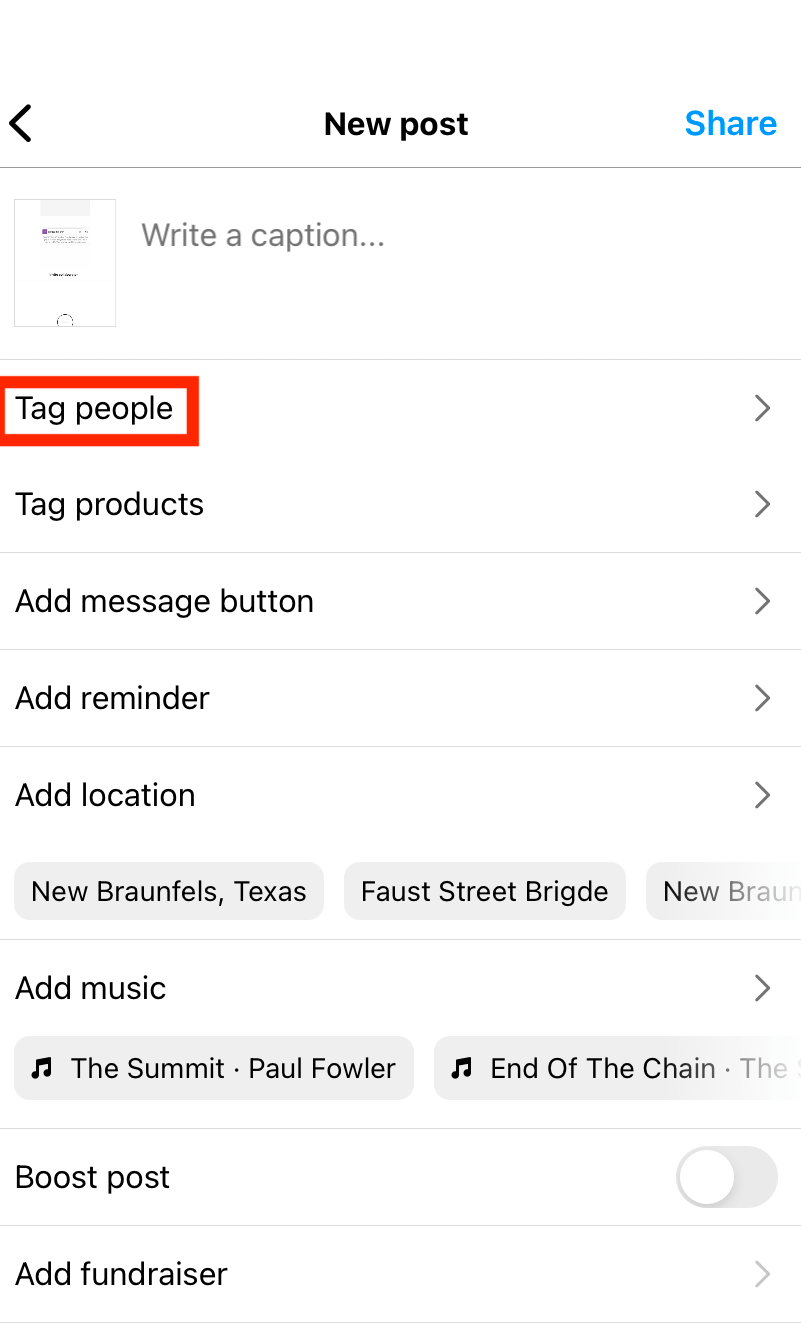 Examples of Instagram Collab posts
Here are just a few ways small businesses and content creators are using Instagram Collab Posts.
Brand partnerships
Instagram Collab posts are perfect for two brands that are collaborating on special promotions and want to get the word out to both of their communities.
Here, Sourdough bakery, Rize Up Bakery, shares a Valentine's Day collaboration with Charles Chocolates.
The Cosmic Latte, an astrology account, also did a Collab post with a jewelry brand, Sequin Jewelry. The partnership showcased the best accessories for each horoscope sign.
Working with Influencers and content creators
Collab posts are ideal for when brands work with content creators or vice versa because it allows both parties to share the posts together, representing the partnership.
Seattle Chocolate is a company that cares about sustainability, so when they highlighted eco-feminist, artist, and activist Burcu Koleli, they tagged her as a co-author. This made her profile more visible – a huge plus considering she has a smaller following compared to Seattle Chocolate.
Similarly, Twisted Green – an account that shares vegan recipes – partnered with content creator Jake Dryan aka Plant Future, and used Instagram Collab posts when sharing their joint Reel.
Influencers or content creators who are working together can use Instagram Collab posts as well, as Zach and Tee of ZachandTee did with Alyssa of Gaming_Foodie for their joint cooking Reel.
Giveaways
If you're posting a giveaway alongside another brand or content creator, the Collab post is a good option to share the giveaway news.
Here, content creator, Meghan Yuri Young shares her giveaway with the nonprofit Twentytwenty Arts.
Product launches
When launching a new product alongside another brand.  announcing the news through an Instagram Collab post is the way to go.
The Pastry Project used a Collab post to announce their new baking kit in partnership with Kola Goodies.
We hope this post gave you some inspiration and ideas to include Instagram Collab posts in your social media strategy.
Get started with Buffer for free today and schedule your Instagram posts and Reels!