Summary
Creating an Instagram business profile allows you to add contact information and action buttons to your profile, get insights about your posts and audience, and enables you to schedule content with third-party products like Buffer.
You will learn
How to switch to an Instagram business profile
The benefits of an Instagram business profile
So you're thinking about switching to an Instagram business profile, but you're not sure how to do it or why you should? We've got you covered.

An Instagram business profile is the best way to promote your business on Instagram. Not only does it present your brand in a more professional way, but an Instagram business account also offers features that will help you analyze and improve your Instagram marketing efforts.
How to switch to an Instagram business profile
If you currently have a personal account, don't worry — making the switch is easy. Here are the steps:
Go to your profile page, and tap on the three horizontal lines in the upper-right corner.
Select "Settings."
Select "Account."
Select "Switch to Professional Account."
At this point, you're asked to choose a category or an industry. Depending on what you select, you might be asked to choose between an Instagram business profile and a creator account. We'll talk about creator accounts in the next section.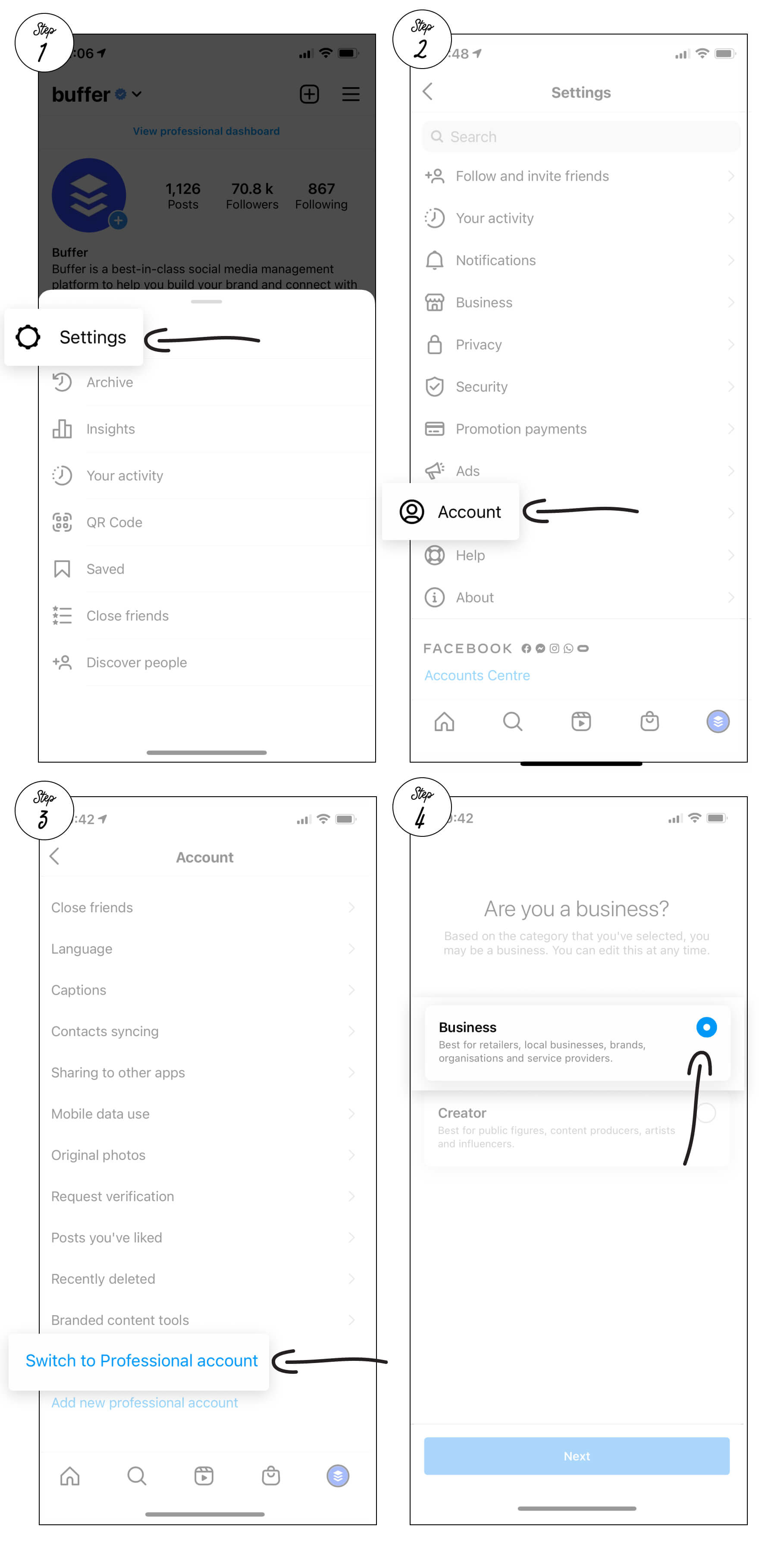 To finish setting up an Instagram business profile, select "Business," and then follow the prompts to fill in your business information. You also have the option to link your Instagram account to a Facebook business page.
How is an Instagram business profile different from a personal or creator account?
There are three types of Instagram accounts — personal, business, and creator. Personal accounts are for anyone and do not have as many advanced features, such as access to Instagram analytics and the ability to use third-party scheduling tools, like Buffer. If you're on Instagram to share your life and hype up your bestie's latest selfie, a personal account has everything you need.

However, if you want to use Instagram to promote yourself or a business, an Instagram business profile or creator account is a better option. While the two account types offer a lot of the same features, the former is catered to businesses, while the latter is for influencers and public figures.
Benefits of an Instagram business profile
Instagram recommends business accounts for retailers, local businesses, brands, organizations, and service providers. Basically, unless you're a celebrity influencer, you're better off with an Instagram business profile because they offer a wide range of benefits that personal and creator accounts do not.
Ability to include additional information in your bio
It's tricky to cram all your business information into a 150 character Instagram bio. When you switch to an Instagram business profile, you get some bonus bio features that don't eat up your character count.

In addition to the standard bio, Instagram business accounts can display:
Contact information (business address, phone number, and email)
Category/industry
View Shop button
Action buttons  (Order Food, Gift Cards, Book Now, Reserve)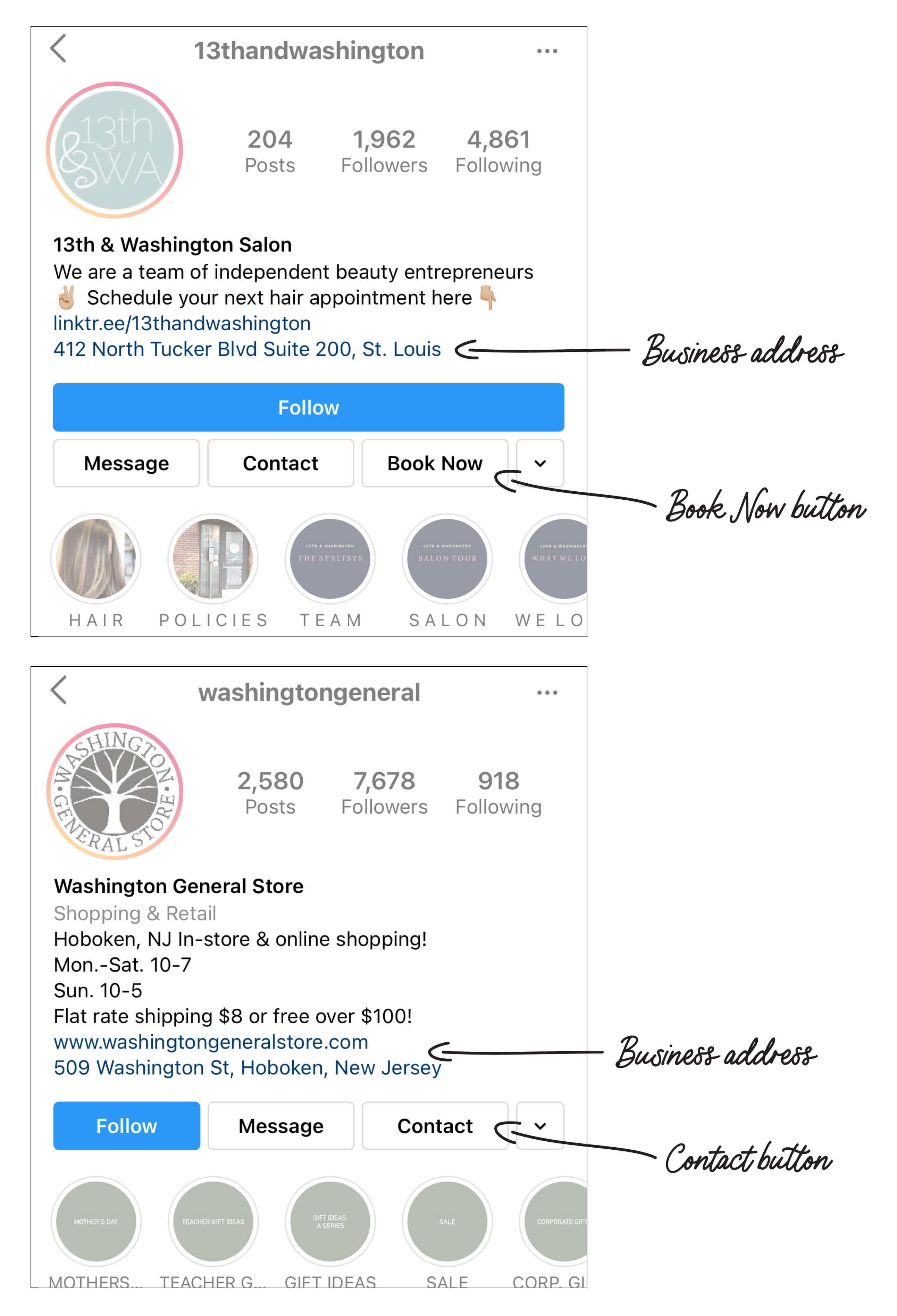 Using these additional options in your Instagram business profile lets you make the most of the limited space you have. Businesses with a physical location can list their address, and brands can make it easy for potential customers to send a direct message or contact the business via phone or email thanks to the contact button. In-app buttons such as View Shop and Book Now encourage people to engage with the business without having to leave the Instagram app.
Option to create Shoppable Posts
Once you switch to an Instagram business profile, you can stop putting "go to our website to purchase!" in your captions and start using Shoppable Posts in your feed and on your Instagram Stories instead.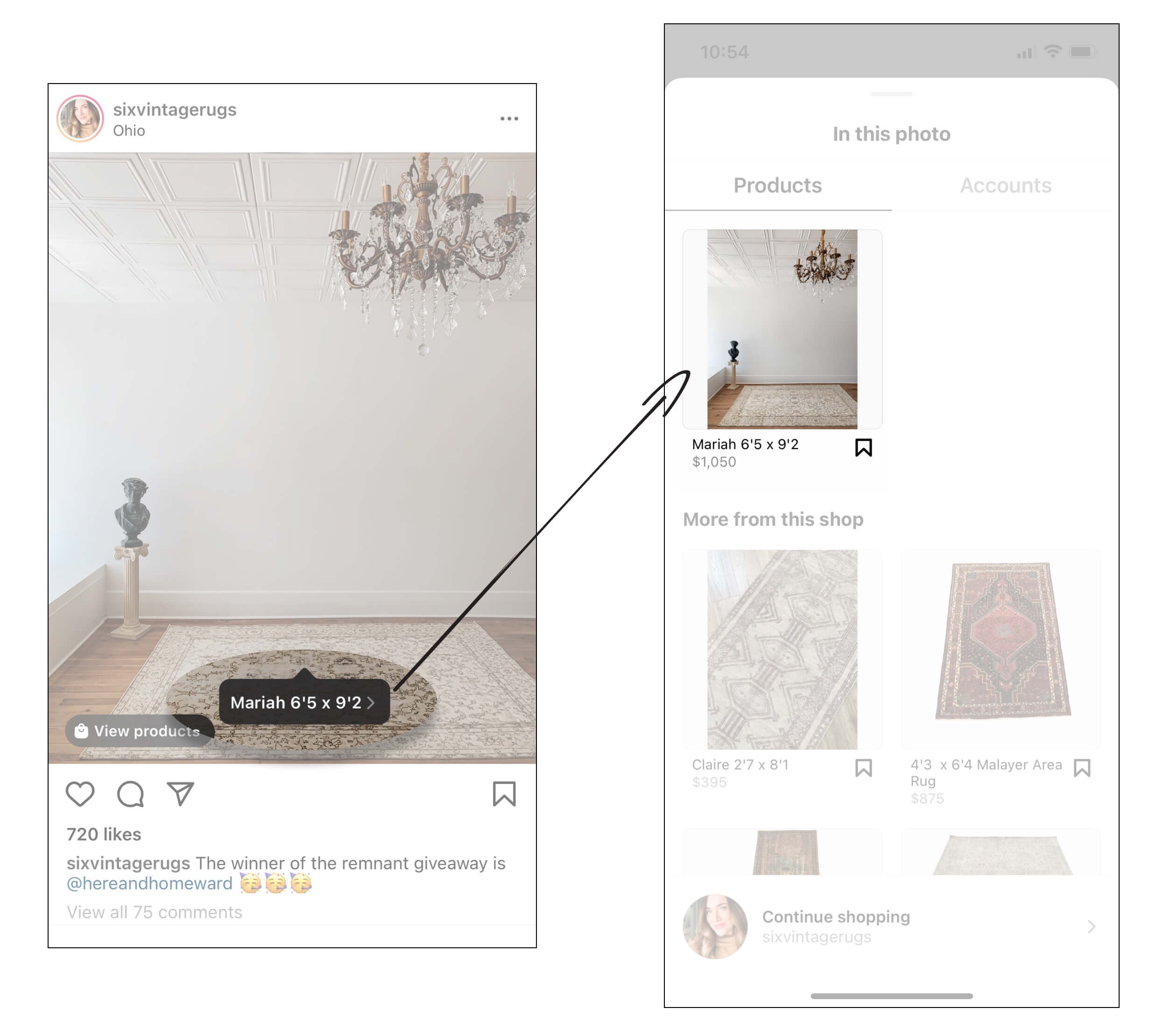 Instagram Shoppable Posts allow people to purchase products without leaving Instagram, which means fewer steps in the sales process. And anyone who has bought something online can tell you — the easier it is to go from "add to cart" to "purchase complete," the better.

Another benefit of Shoppable Posts is that you can create a subtle, catalog-like feel. Notice how Six Vintage Rugs creates an entire aesthetic for a single rug? Take a look at the product photo compared to the Instagram Shoppable Post — which one makes you fall in love with the product? Shoppable Posts let you stage your items just like you would in a physical store, so you can create eye-catching looks that encourage people to buy.
Access to third-party scheduling tools
Personal Instagram accounts cannot schedule posts ahead of time, and creator accounts are limited to scheduling through Facebook's Creator Studio. Meanwhile, Instagram business profiles can use their third-party scheduling tool of choice, such as Buffer.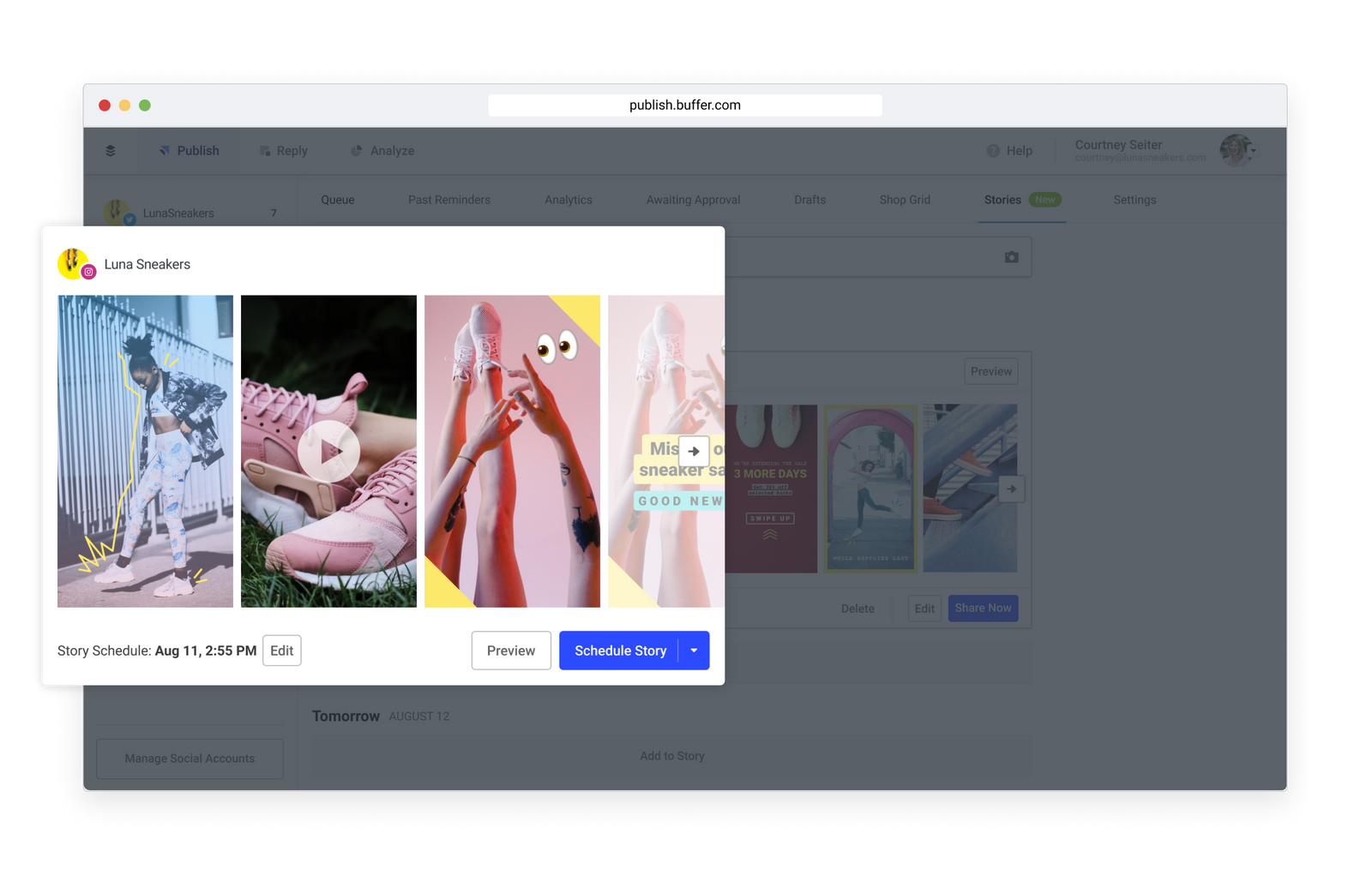 This is a major advantage because it gives you more control over your Instagram marketing strategy. Social media scheduling tools allow you to create a content calendar and schedule posts in advance, which keeps your online presence consistent and saves you time. Plus, with third-party tools, you can manage all of your social media accounts across networks in a central place.
Many third-party scheduling tools have built-in analytics as well. Buffer, for example, tracks performance over time and allows you to create custom reports for your Instagram data. Get started with Buffer for free here.
Ability to use Instagram Ads
Instagram Ads are a great way to meet your target audience where they already are — scrolling through their Instagram feed.
According to our survey, 76% of millennials and Gen Zers have bought something after finding a brand on Instagram.  While creator accounts have some promotional options, only Instagram business profiles have access to Instagram Ads manager, which comes with built-in targeting options and analytics, so you can home in on what gets results.
Business accounts also have the option to quickly promote posts by tapping on the promote button under any post in their feed. Once you click promote, the Instagram app takes you through a series of prompts to set up your ad.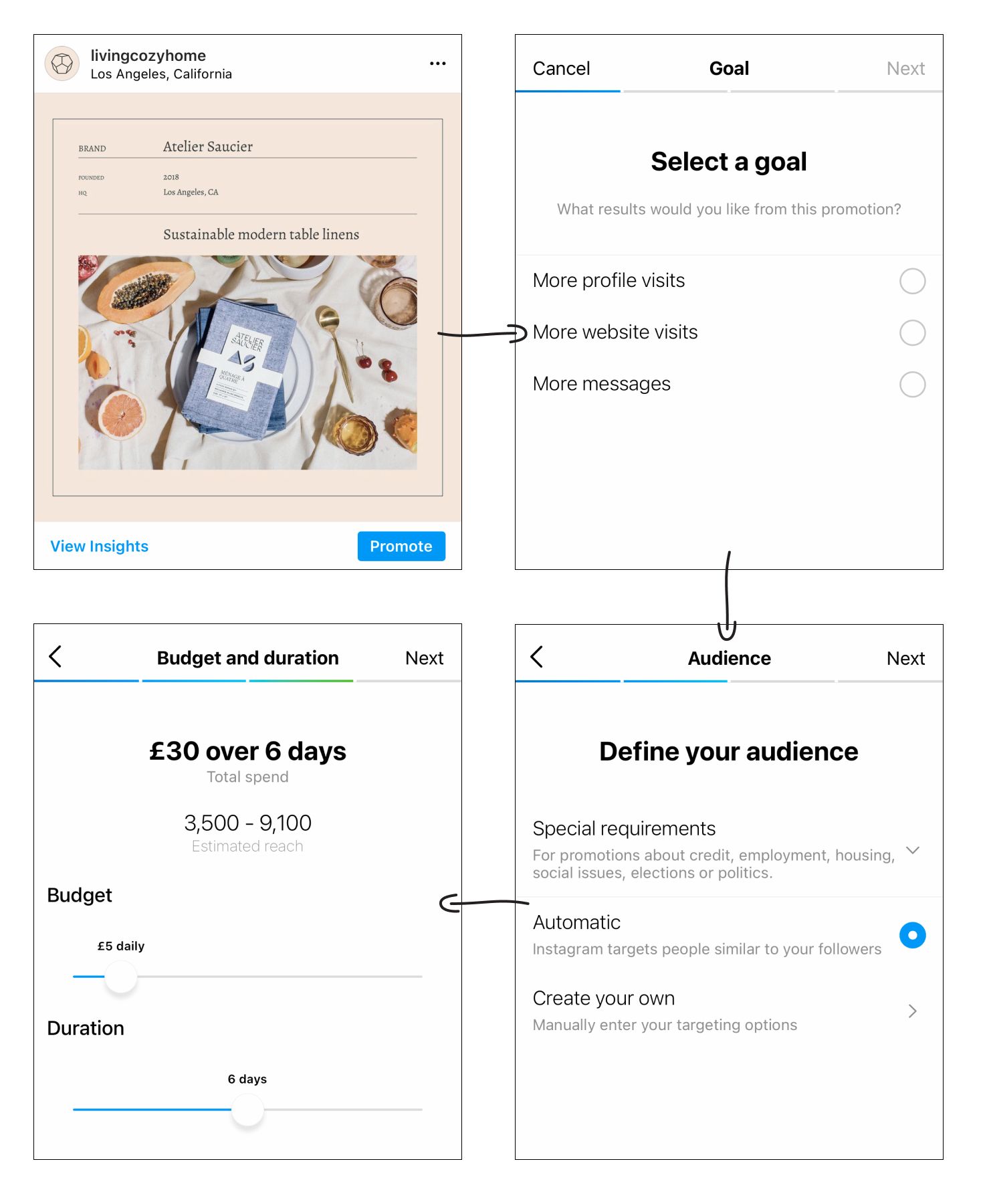 Opportunity to add links to Instagram Stories
This major benefit comes with one caveat: You need to get your account verified or have at least 10,000 followers to gain access. But once you've got the following, you can add swipe-up links to your Instagram Stories and send viewers directly to your website.
Instagram users see a small arrow and "See More" on Instagram Stories with a swipe-up link. You can also use Instagram Stickers to add swipe-up graphics to draw people's attention to the link.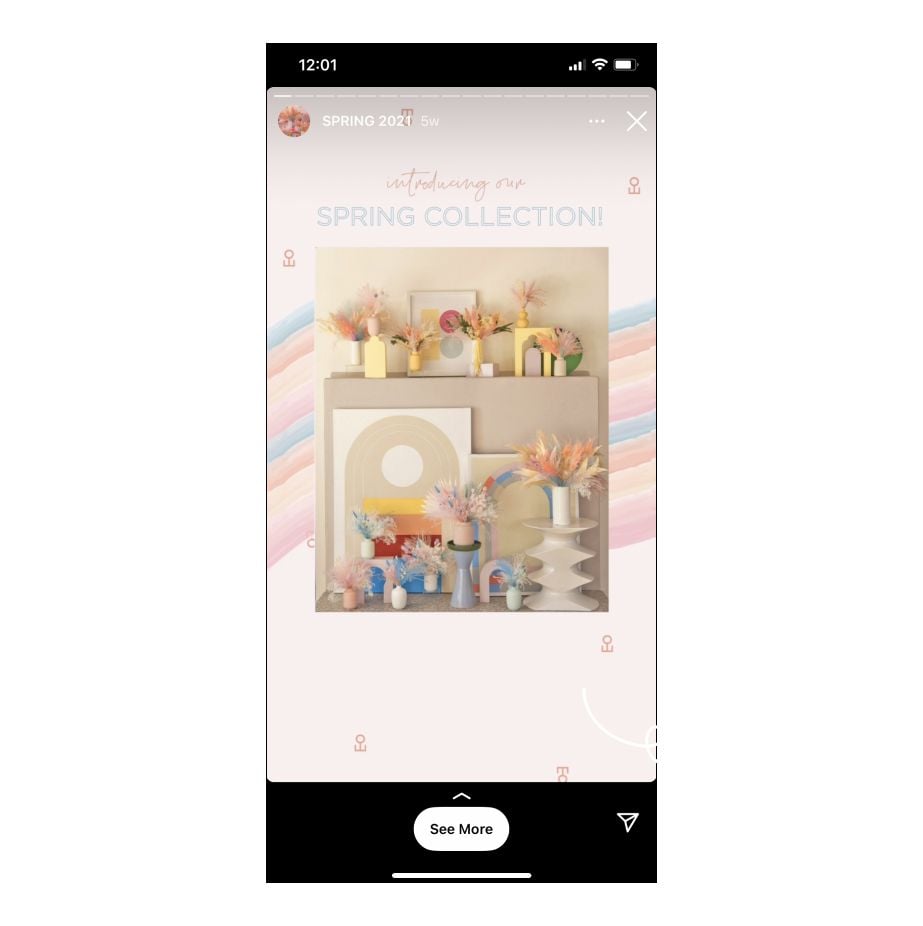 Links in Instagram Stories are a pretty big deal. Similar to Shoppable Posts, in-Story links reduce the number of steps potential customers have to take to get to your products.
Step up your marketing with an Instagram business profile
If you want to build your brand awareness and grow your business, it's time to make the switch. With an Instagram business profile, you can unlock the full potential of Instagram, with access to Instagram Insights, options to sell products directly through the app, and the ability to schedule posts ahead of time.
Keep your Instagram posts and analytics all in one place with a Buffer's publishing and analytics features. Get started with Buffer for free.

Brought to you by
Did you find this article helpful? You might also like our all-you-need social media toolkit.
Get started for free now