If you're on the internet, you probably know how powerful videos are. From social media to online stores to emails, you'll find them everywhere. And when done right, video marketing can help you boost your brand's visibility, engagement, and conversion rate.
But to get the most out of your video marketing efforts, you need to implement the right set of video marketing strategies to smartly put captivating videos in front of your audience without requiring excessive time, money, or effort.
In this post, I've put together seven winning video marketing strategies that you can implement in 2023 to get the most out of your efforts.
Let's dive straight into it.
7 winning video marketing strategies businesses can implement in 2023
I interviewed over a dozen video marketing experts to share strategies that have contributed to the success of their video marketing campaigns. These include:
Repurpose your videos
Add UGC videos to your marketing campaigns
Invest in vertical videos
Make your videos feel personal
Work with influencers
Add video testimonials to your website
Use animated videos
Let's get into them one by one.
1. Repurpose your videos
Producing captivating videos is way more than just filming and editing. To produce videos that genuinely engage your audience and hit their emotions, you need to spend a lot of time on other crucial activities like understanding your audience's problems, brainstorming unique ideas, creating a content calendar, writing engaging scripts, and more.
That's where repurposing comes in.
Repurposing videos, like any content repurposing, can help you save time, money, and effort. When you repurpose videos, you are simply reusing your existing video content in different ways and across different channels. You can easily repurpose your product videos, customer testimonials, educational videos and post them across different channels.
For instance, you can easily repurpose an hour-long webinar into four-five shorter clips – which can be posted on your social channels. Or you can repurpose your videos into podcast episodes by extracting the audio.
Anna Nadeina, the Head of Growth at saas.group, saves at least five to seven hours each week by repurposing long-form videos into shorter clips. She believes repurposing is a successful video marketing strategy because "I don't have to create more content, and there's no shortage since I can always go back and just edit out the relevant part and use it for a different social media."
You can also repurpose webinars or YouTube videos into blog post, or do it the other way around — from text to videos. Ryan Prior, the Head of Marketing at Modash, loves repurposing best-performing blog posts into YouTube videos because "we know these topics drive customers, and we already have the content. So, it's logical to convert these to videos & rank on the second biggest search engine too (YouTube). We're in the very early stages of this video strategy, but so far, YouTube referral traffic accounts for around 30 trials per month. It's free recurring traffic that'll keep compounding over time."
Last, but not least, you don't always need a unique strategy for different channels. Chloe West, a freelance SaaS writer with experience in video marketing, believes that video can always be cross-posted. For example, you can easily share the same short-form video clips across platforms like TikTok, Instagram Reels, and YouTube Shorts—you don't need different video content for all three platforms. This can help marketers reach an even wider audience with their video content.
2. Add UGC videos to your marketing campaigns
Customers are growing tired of seeing those same overly-produced videos from brands. Instead, they want to see videos that feel relatable and authentic.
Using user-generated content (UGC) is a great way to create a video marketing campaign that feels authentic and relatable. UGC refers to content created and shared by users or unpaid contributors of a brand about their products or services.
People are more likely to trust and connect with content from a brand's users or unpaid contributors rather than the brand itself.
You can use UGC videos in a variety of ways by:
Including them in your paid advertisements.
Featuring them on your website or landing pages.
Adding them to your email marketing campaigns.
Posting them on your socials.
But to incorporate UGC videos into your marketing efforts, you need to have customers posting videos about your brand in the first place. If you don't have a vast library of UGC video content, you can:
Host a hashtag contest – you can ask your customers to create videos of themselves using your product/service and posting them on their social media channels with your branded hashtag.
Reach out to your loyal customers – you can personally reach out to your loyal customers and ask them to share their experience with your brand.
Send a heartfelt note to your customers – this will help you build a positive image, and they may even share their experience on social media.
On the other hand, if you have a world full of UGC videos lying idle on the internet, I highly recommend putting them to work. Vitaliy Verbitskiy, the Head of Marketing at Videowise, believes, "Brands & retailers have a unique opportunity to leverage their greatest asset – video UGC. UGC product videos can offer valuable insight and add value to the product. And by making them shoppable, an eCommerce store can provide an immersive and interactive shopping experience."
Videowise's Find UGC feature helps brands save the trouble of scouring the internet for UGC videos. Instead, it'll automatically find UGC content mentioning your brand or products in no time. And the best part is – if you run an eCommerce store, you can also make them shoppable, helping you increase conversions and drive more sales.
Adding UGC videos to a marketing campaign helps brands build trust and credibility with their customers, as well as create a sense of community around their brand.
3. Invest in vertical videos
Love scrolling your TikTok feed? Or Instagram Reels?
In the last few years, vertical videos have grown immensely popular, all thanks to the rise in mobile usage. Over 5.44 billion people worldwide (68 percent of the world's population) are unique mobile users.
People love consuming videos on their mobiles. But while doing so, they have always faced one big problem, i.e., having to rotate their mobile phones just so they could watch videos in full screen.
Although they may rotate their smartphones to watch things of interest like vlogs, documentaries, movies, and TV shows on YouTube, Netflix, Disney+, and other video platforms, they're less likely to turn their phone sideways to watch a video ad.
Less than 30 percent of people rotate their smartphones to watch an ad in full-screen. And the ones that do watch 14 percent of that ad, on average.
That's where vertical videos come in.
Vertical videos save people the trouble of having to rotate their phones. At the same time, vertical videos are immersive and addictive. Rachel Macfarlane, Content Marketing Strategist at redfox visual, ​​shared that "Investing in vertical videos is becoming increasingly important for businesses to reach their target audience on social media effectively. It's a great social media marketing strategy. With more people consuming content on mobile devices, vertical videos provide a more seamless and immersive viewing experience for users."
While platforms like Instagram and TikTok have been designed and optimized to keep users engaged, there's something about vertical videos that keep people, especially younger generations coming for more.
Animaker, a DIY animation software, once created two versions of the same videos, one in horizontal format and the other vertical, to find out which one performed better than the other.
They observed that vertical video managed to reach 58 percent more people than the horizontal video, indicating that vertical videos have more reach. Alongside this, the vertical video got 28.5 percent more reactions than the horizontal video, indicating that vertical videos get better post engagement.
If you haven't given vertical videos a thought, I heavily recommend you to do it – as it can be the difference between someone watching your videos or not.
4. Make your videos feel personal
One of the reasons why video works better than other content formats is that it helps you connect with your audience on an emotional level. But with so many brands concerned only about pushing their products and services in front of their audience, the emotional factor in videos today is often missing.
The end result? The viewers feel disconnected.
In a world where brands are rolling out overly produced, emotionless videos, you can stand out by producing a heartfelt one through which you connect with your audience on a personal level.
Jimmy Daly, the Co-Founder and CEO at Superpath, is a big believer in producing videos that feel personal.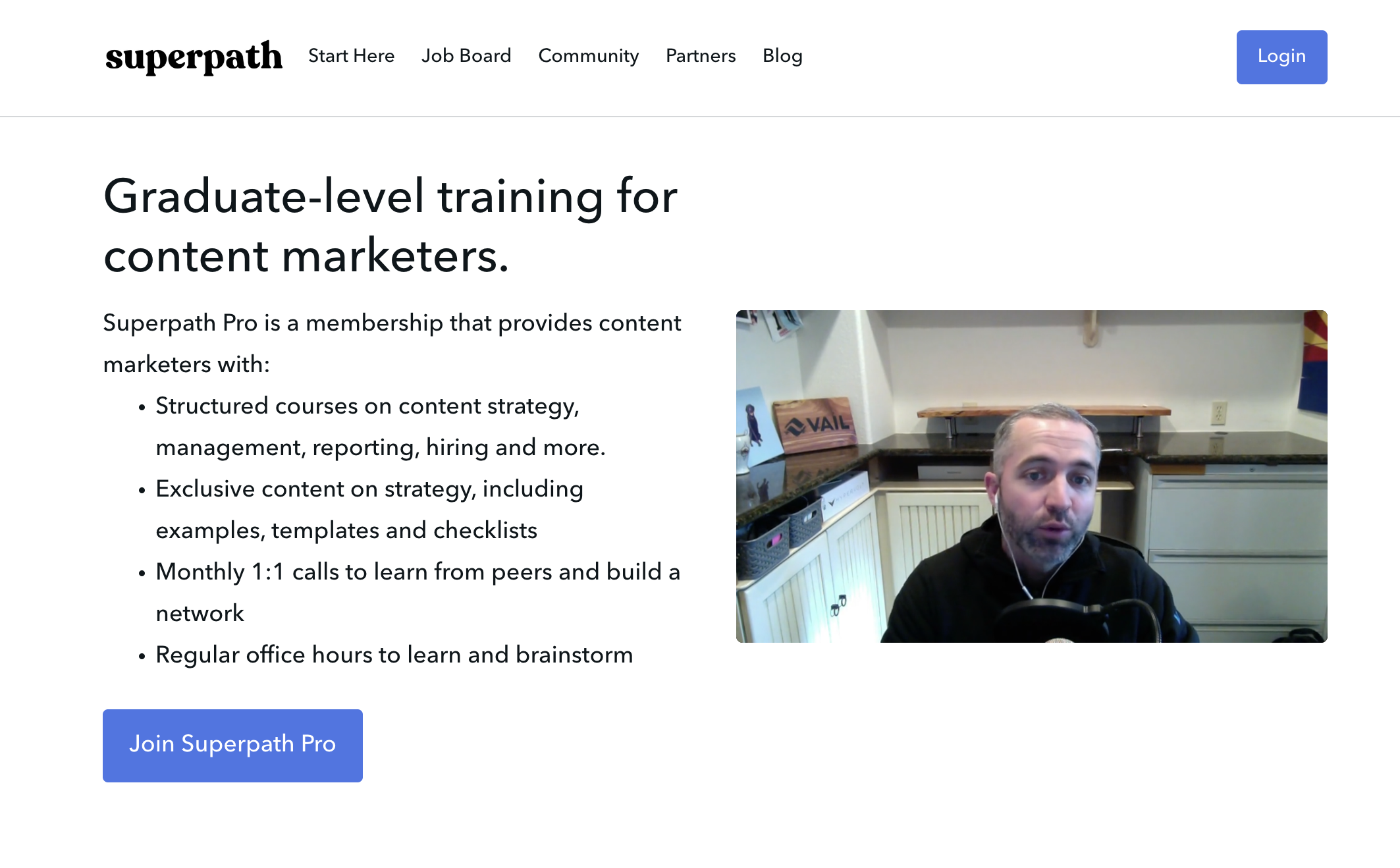 5. Collaborate with influencers
Running influencer marketing campaigns has helped many businesses, both big and small, increase awareness, build trust, and drive more revenue.
I interviewed Anuj Gosalia, the CEO of Terribly Tiny Tales (TTT), to understand what tactics he and his team have used to grow his company's Instagram following to over 2 Million followers and YouTube subscriber count to more than 500,000. Of all the strategies he mentioned during our call, the one strategy that stood out to me was collaborating with influencers.
TTT collaborates with a lot of celebrity influencers. Recently, they collaborated with Jasmin Bhasin (+7 Million Instagram followers) and Priyank Sharma (+3 Million Instagram followers) to create their first-ever TV show, "Jab We Matched." At the same time, they have been actively collaborating with several celebrity influencers like Shivangi Joshi (+7 Million Instagram followers), Prit Kamani (+122,000 Instagram followers), and many more.
He stated, "When you collaborate with influencers, you're tapping into their already-engaged audience, helping you get more exposure and increase awareness. Alongside this, you can generate a lot of authentic video content - which is a big benefit in my opinion."
While TTT collaborates mostly with celebrity influencers, that doesn't mean you need to do the same. Mega and celebrity influencers charge thousands of dollars per post.
So, if your budget is low, you can always choose to work with nano or micro-influencers.
No matter what size of influencer,  it's important to work with people who are the right fit for your brand.
If your target audience is people based in the United States, there's no point in collaborating with influencers based in Asia. Another scenario – if you sell beauty products, then it doesn't make sense to work with food bloggers.
Finding the right influencer is super important.
To make things easier, you can use an influencer discovery tool like Modash and Upfluence that allow you to narrow down your search using a combination of filters like location, engagement rate, language, interests, and more.
6. Add video testimonials to your website
This customer testimonial video posted on Applied Fitness Solutions' Instagram page featuring one of their customers, N.M. Porter, is so captivating:
N.M. Porter was told by her doctors that she would never be able to deadlift again. But then she trained with Adam Michael from Applied Fitness Solutions, who helped her get back her strength and achieve the impossible.
If the video were solely created by Applied Fitness Solutions themselves, it might not have resonated with their audience as effectively as N.M. Porter's story did.
The point is – customer testimonial videos work like a charm. Your potential customers want to understand whether your business is worth investing their time and money in.
By showcasing video testimonials from satisfied customers who praise your business and explain how your product or service has made their lives easier, you can establish trust in your brand and foster a deeper connection with potential customers.
You can add these customer testimonial videos to your social media handles (as posts or stories). Or you can add them to relevant sections of your website. You can also use them as video ads.
Customer testimonial videos help build trust and credibility way better than text-based reviews. Also, they can help you share the experiences of your customers and convey the value and benefits of your products/services in a compelling and engaging manner.
7. Use animated videos
People love animated videos. That's because animated videos have a nostalgic effect on them and often remind them of their favorite childhood cartoon shows. Every time I see an animated video, it reminds me of Scooby-Doo and Looney Tunes.
Animated videos are more captivating than real-life videos or static creatives. People stop scrolling when they see an interesting animation. And when done right, animated videos can genuinely help you connect with your audience on an emotional level. That's the reason businesses should consider using animated videos as part of their video content strategy.
Gordon Donnelly, who heads up web strategy at eCommerce analytics startup Triple Whale, mentioned that they use animation extensively on their website. He mentioned that he uses video extensively on his website and animated in particular because "we operate in a market that loves compelling creatives, which is one of the reasons our site is heavily animated."
On top of this, animated videos offer more creative flexibility and freedom than real-life videos. You can easily manipulate reality and present the most complex ideas in front of your audience in an easy-to-digest manner.
And let's not forget, the end-to-end real-life video production can take too much time. From organizing a shoot to bringing the crew together to purchasing expensive kits, there's just so much involved.
Lu Camish from Jelly Fielders believes that the trend is turning toward animation. According to her, "With animation, you don't need to organize a shoot, arrange dates, bring the crew together, hire locations or expensive kit, and as a result, it is often more cost-effective and quicker to produce." Last but not least, you don't need a fancy budget or expensive equipment to create animated videos. There are dozens of user-friendly and affordable animation tools that you can use to create professional-looking animated videos for your business in no time. Some of my favorite tools are After Effects and Blender, but there are many more.
Or you can just hire a video production agency with expertise in animated videos to do the hard lifting for you.
--
Video marketing, when done right, can deliver outstanding results. By implementing one or more of the seven strategies I've mentioned in this post, you can stand out from your competitors, build an emotional connection with your audience and save time, money, and effort you put into video production.
We hope this helps with your video marketing in 2023 — we'd love to hear what you implement!
Send @buffer a tweet with the video marketing strategy you'll be trying.
Brought to you by
Did you find this article helpful? You might also like our all-you-need social media toolkit.
Get started for free now