Scrolling on Instagram is a favorite pastime of billions of its users (myself included ✋). But more and more people are logging onto Instagram to search for something particular they need.
For GenZ specifically, Instagram is no longer just for cute puppy pictures (although no one would say no to that). It's actively evolving into a search engine: Almost 40 percent of GenZ go to TikTok or Instagram when looking for a place for lunch, rather than Google Maps, according to a TechCrunch report.
Imagine your Instagram post showing up at the top whenever someone searches for a query in your niche. It'll help you gain more followers, increase your Instagram reach, and maybe even get new customers.

In this article, I'll share everything you need to know about Instagram Search — how to ace Instagram SEO, how your brand can show up on the Explore page, how to use Instagram search for yourself, and everything in between. Let's go!
What is Instagram Search, and how does it work?
Instagram Search is exactly like Google's search engine. The only difference is you're sifting through content on Instagram alone, while on Google, you're searching the entire Internet.
To search on Instagram, click on the magnifying glass icon — at the bottom if you're using iPhone or Android or in the left sidebar if you're using the web app. In the search bar, type what you're looking for.
⚠️ Note: The advanced search feature is available only on the Instagram mobile app. The web version only has an Instagram hashtag search for now.
Let's say you're searching for some healthy recipes. Instagram Search will show you:
Posts with the "healthy recipes" keyword in their caption
Accounts that have the "healthy recipes" keyword in their username, bio, or profile name
Music related to healthy recipes
Hashtags that contain the "healthy recipes" keyword in them
Locations that have the "healthy recipes" keyword in them across the globe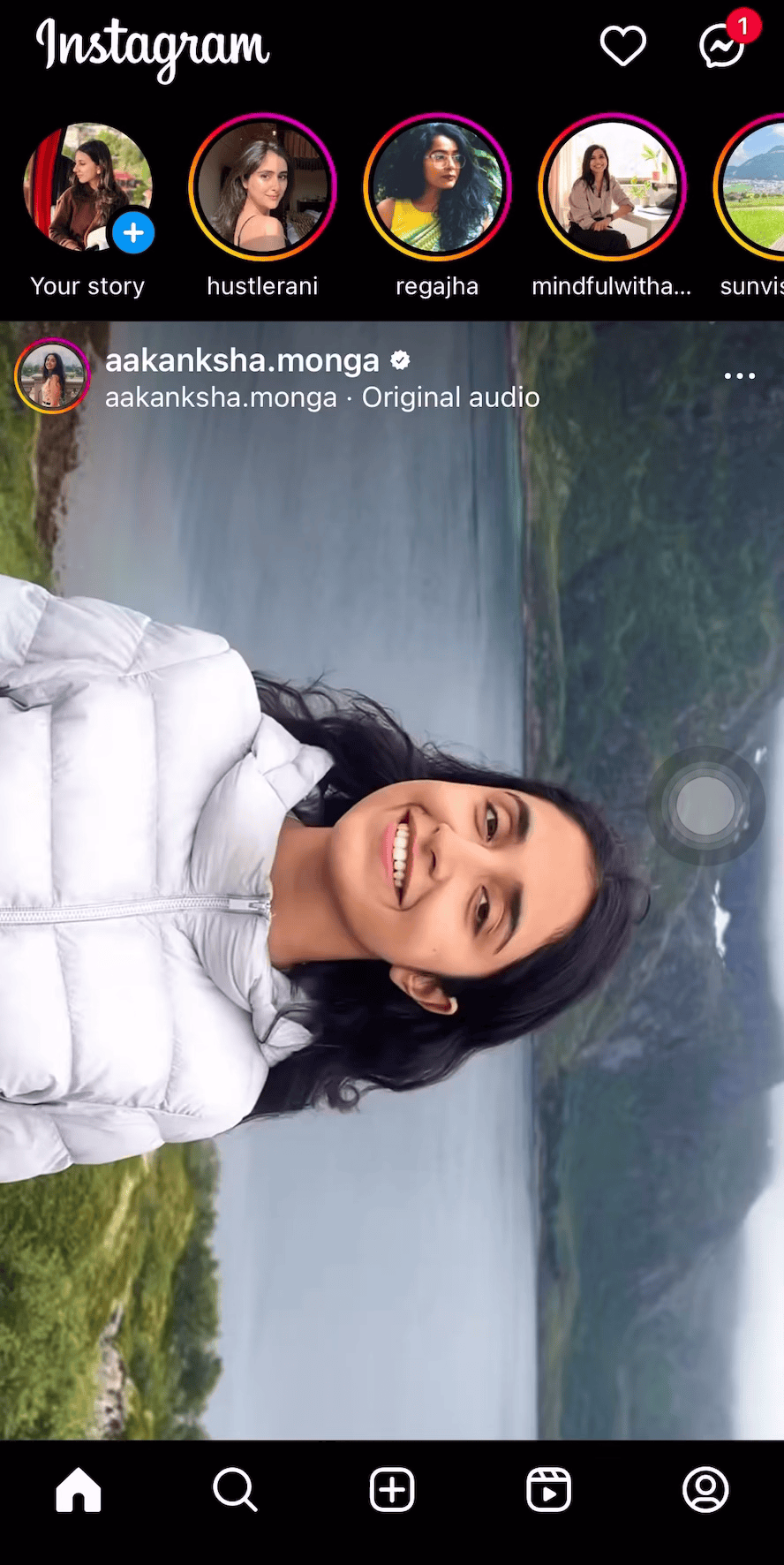 Instagram Search and Google Search have the same goal: Help its users find exactly what they're looking for, fast. Like Google, Instagram Search also uses its algorithm to rank content for various keywords.
Enter: Instagram SEO.
Instagram's search engine optimization helps you use the right keywords to get discovered on the platform. This way, when someone uses Instagram's search bar to hunt for something related to your business, your content appears at the top.
For example, when you search for "LinkedIn algorithm" on Instagram, Buffer's Instagram carousel shows up at the top — because the post is optimized for SEO.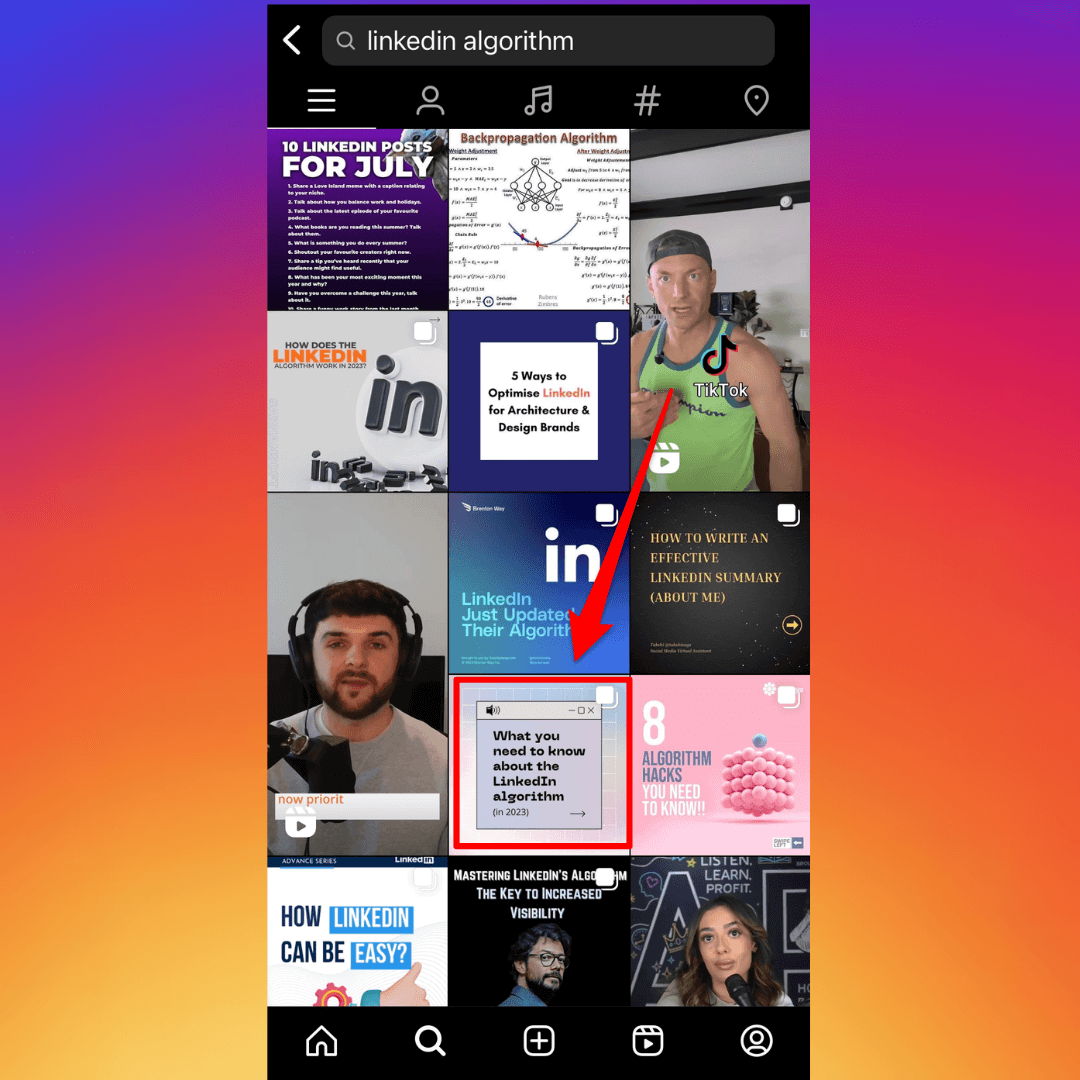 How does Instagram rank content in Search? It uses three primary signals to decide what display on top:
Text: What you enter in the search bar is paramount for Instagram. It tries to match accounts using the same keywords in captions, usernames, bios, hashtags, and places.

User activity: Instagram monitors the searcher's activity and shows results on top accordingly. Posts and accounts someone has interacted with in the past are more likely to show up at the top.

Popularity: The higher the number of clicks, likes, shares, and follows, the higher the chance of the post showing up at the top in relevant search results.
Acquiring expertise on Instagram Search isn't enough if it's purely theoretical, though. How do you apply Instagram SEO best practices to rank for your target keywords?
How to rank for your desired keywords in Instagram Search?
Instagram SEO isn't a one-and-done deal. To rank in Instagram Search, you have to apply the best practices in every Instagram post you create. Sounds like too much work? It doesn't have to be — with these three steps.
Step 1: Find keywords that your audience searches for
The first step is knowing the keywords you want to rank for. If you don't know what search terms to optimize for, how will you tailor your content toward it?
Let's say you're a nutritionist selling customized meal plans and one-on-one services. Using a keyword like "your gut's BFF" across your Instagram profile is quirky and adds to your personality — but it isn't what your target audience searches for. They're likely looking for keywords like "meal plans," "nutrition guidance," or "healthy snacks" — all of which you should imbibe in your Instagram posts to get discovered.
Keyword research can also help you get helpful post ideas if you're struggling with a creative block.
How do you find the keywords your audience is using? Here are seven ways:
1: Use Instagram's fill in the blanks
When you search for a broad term on Instagram's search bar, the algorithm auto-fills for you.

Let's say you know your target audience is interested in skincare. If you type the keyword "skincare" on Instagram, the platform will suggest keywords you can use.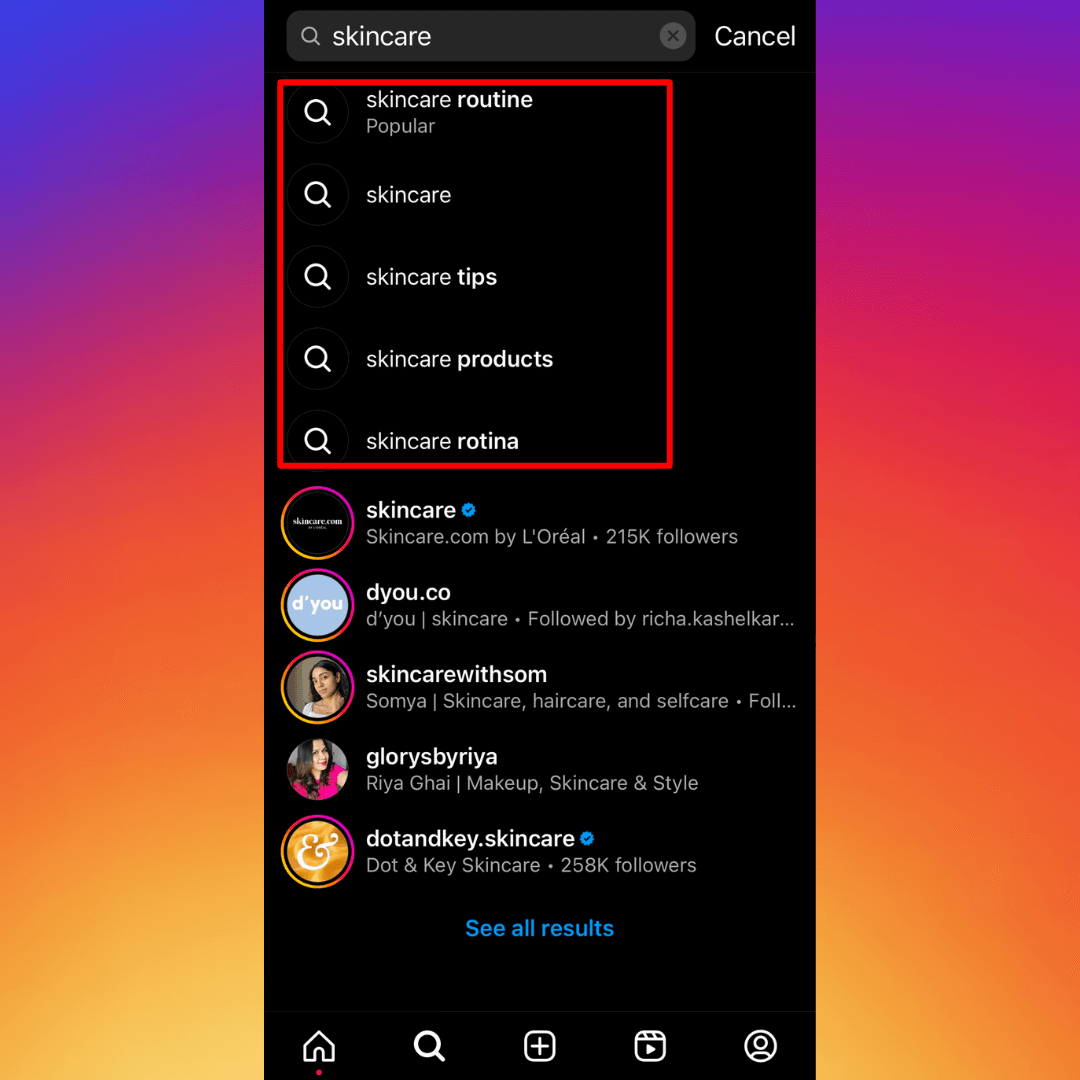 You can create Instagram content centering on these topics and use these keyword terms in your posts.
Use variations of various terms your audience might be searching for to get more suggested keywords from Instagram. To continue our skincare example, let's say you know your ideal audience struggles with acne in their skincare. Search for terms like "acne" or "skincare for acne" to find more keywords.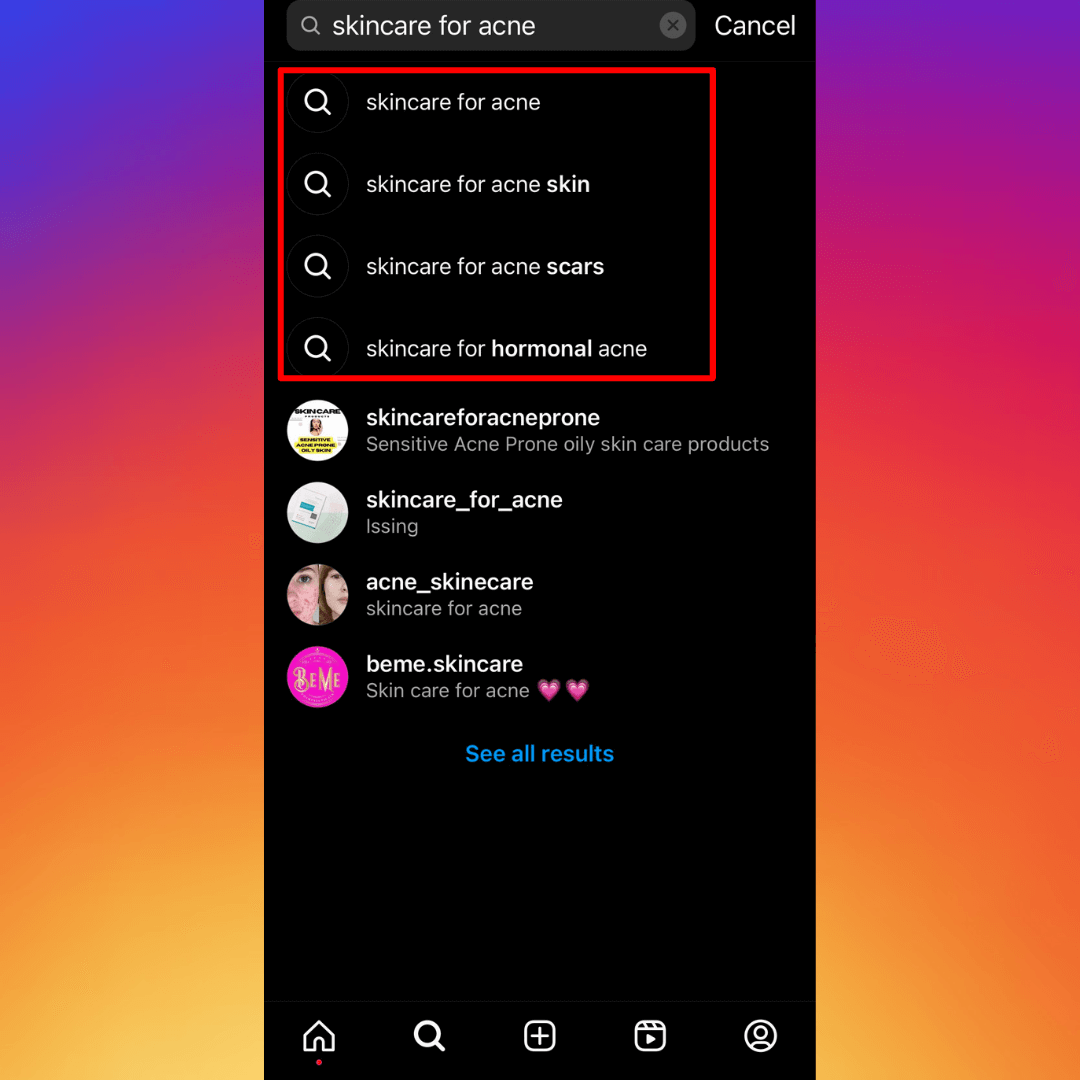 Elise Darma, an Instagram educator, says this strategy is excellent for not only knowing what your audience is searching for, but also gathering topic ideas.
"These [the search fill-in-the-blanks] are all potential topics for you to talk about in your content if you're looking for topic ideas, or ideas for relevant keywords you may want to start using."
⚡Pro-tip: Keep doubling down and reiterating on Instagram's suggested keywords to find more long-tail keywords. For example, if Instagram suggested "skincare routine" as a search query for "skincare," search "skincare routine" next to find more specific keywords recommended by Instagram.
NEED BUFFER-HASHTAG-MANAGER GIF
2: Use Instagram's hashtags
Think of Instagram hashtags as keywords themselves. The Instagram algorithm uses them to categorize your content and understand what you're posting about.
Not to mention: People can still follow hashtags, meaning certain topics might be popular if a large number of people follow the hashtag.
The strategy remains the same as Instagram's fill-in-the-blanks method. If your audience is interested in skincare, search for #skincare to find keywords related to skincare. You can also see how popular each search term is by seeing how many posts currently use the hashtag.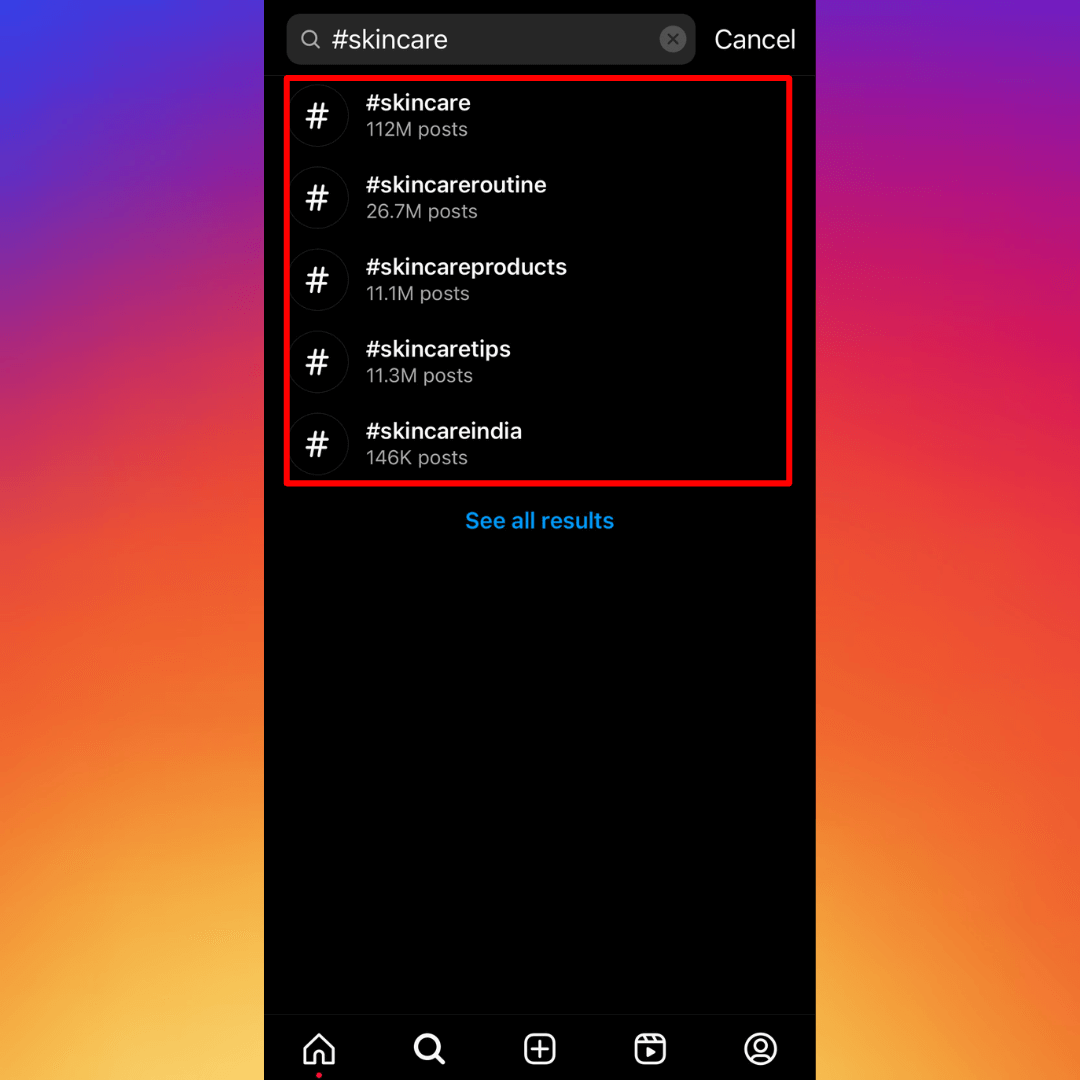 Keep trying various permutations and combinations of hashtags your audience might be interested in for getting a list of useful keywords in your niche.

⚡ Pro-tip: Use Buffer's hashtag manager to store, categorize, and use all your different hashtags in one click.
3: Use other social media platforms' fill in the blanks You can use the auto-fill strategy on social media platforms beyond Instagram too — like YouTube, Pinterest, and TikTok — to get more keywords your audience might be interested in.
These topics might be different from what Instagram is suggesting. For example, Instagram suggests using a "skincare routine" keyword because it's popular — while YouTube's top recommendation is "skincare for oily skin" and Pinterest's is "skincare by skin tone range." The difference exists because people behave differently on different social media sites.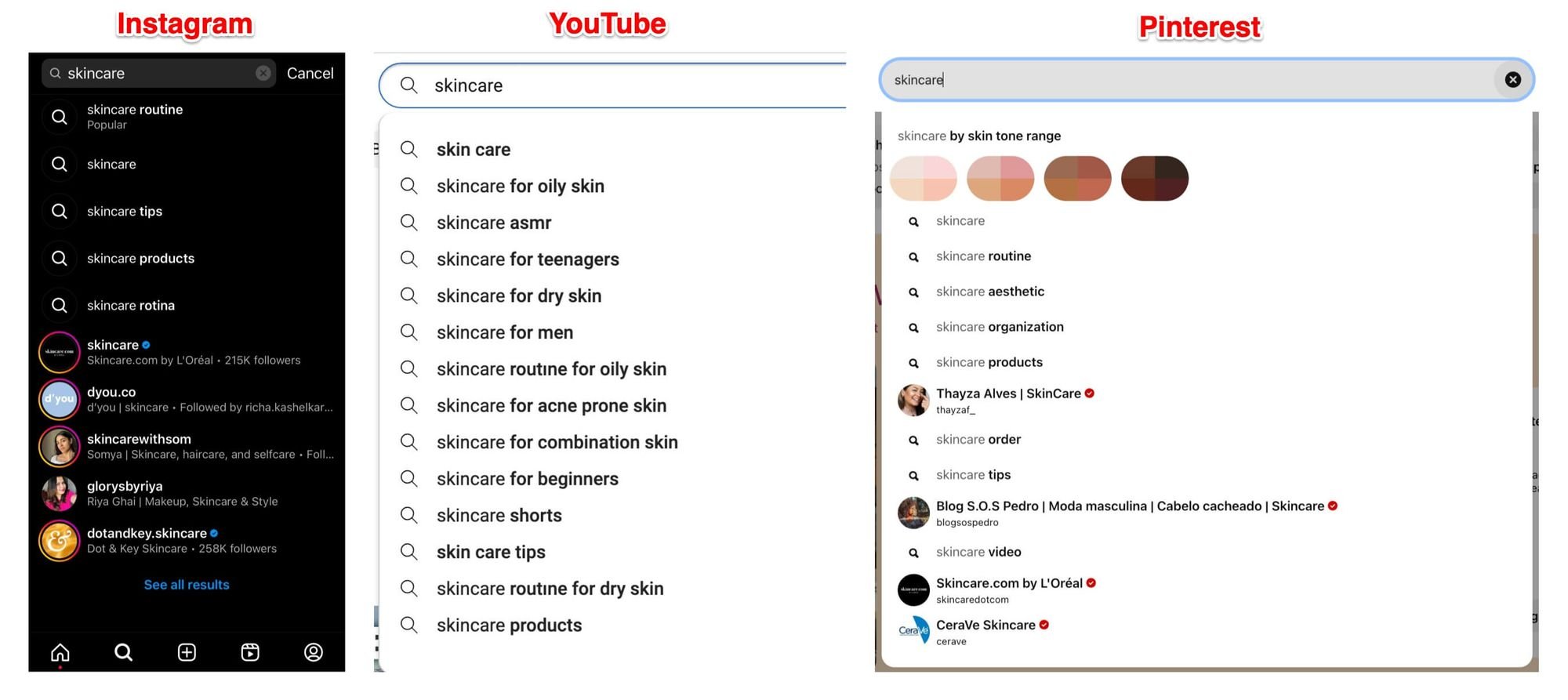 How do you prioritize these various keywords?
Your number one choice should be the keywords all social media platforms recommend because they're likely the most popular.

Your second priority should be creating posts around keywords recommended by Instagram itself because platform-native keywords are more likely to rank.

Your third option is TikTok's suggested keywords. TikTok has the closest overlap to Instagram in emulating the search behavior.

Your last priority should be the different keywords YouTube, Pinterest, and any other social media platform recommends.

Related: What You Need to Know About TikTok SEO
4: Use Google's fill-in-the-blanks, and People also ask feature
Google has its own auto-fill, like all social media platforms. Search keywords your audience might be looking for to get more related keywords.
Google is better for long-tail keywords. To continue our example on skincare, instead of using the "skincare" keyword for auto-fill on Google, search for something more long-tail your audience struggles with — like "how to get rid of acne" and get Google's suggested keywords.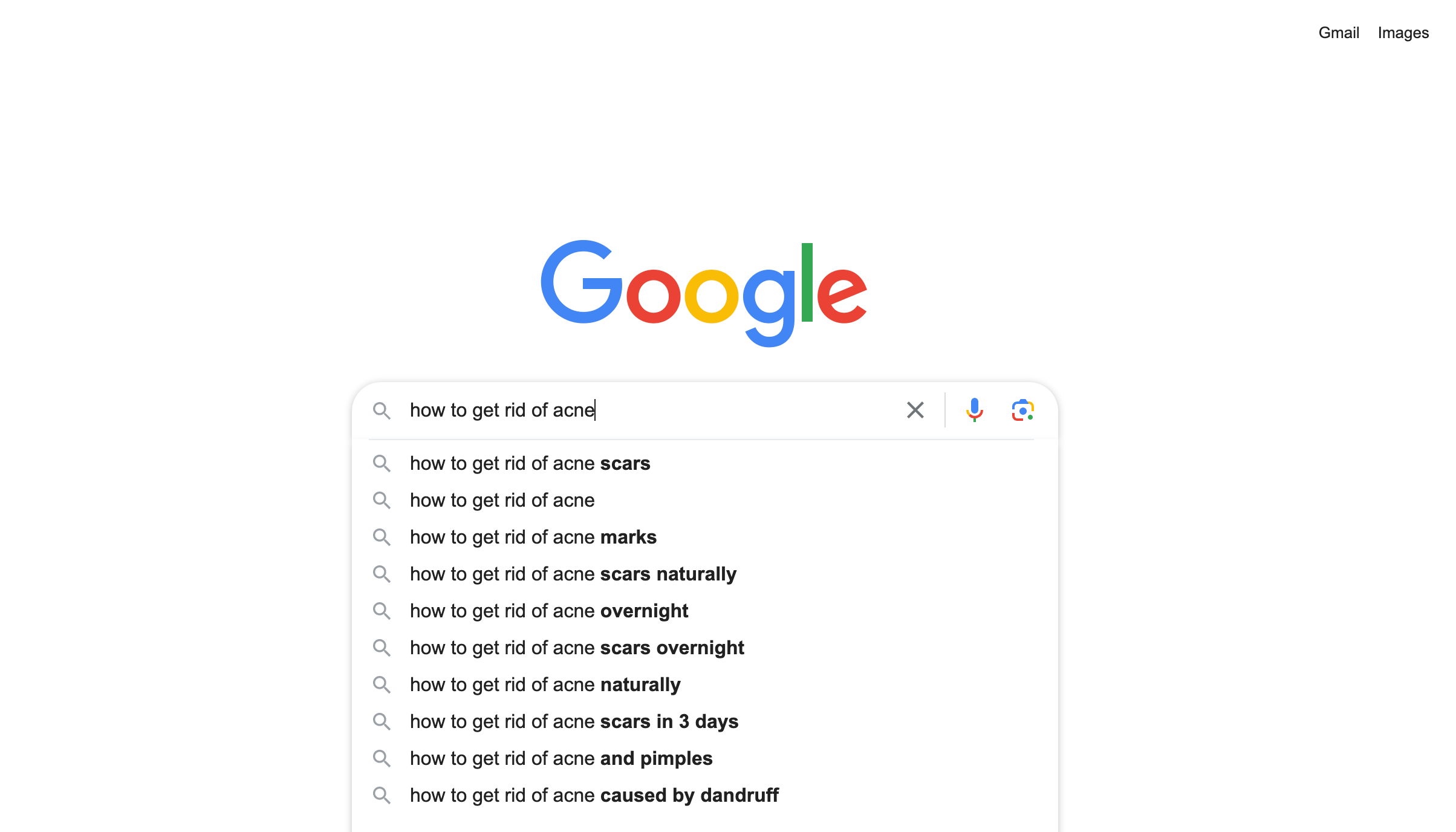 Another thing Google has is its "People also ask" feature. These are questions related to your keyword that people often search for. In our "how to get rid of acne" example, Google shared four more common questions people ask related to this topic.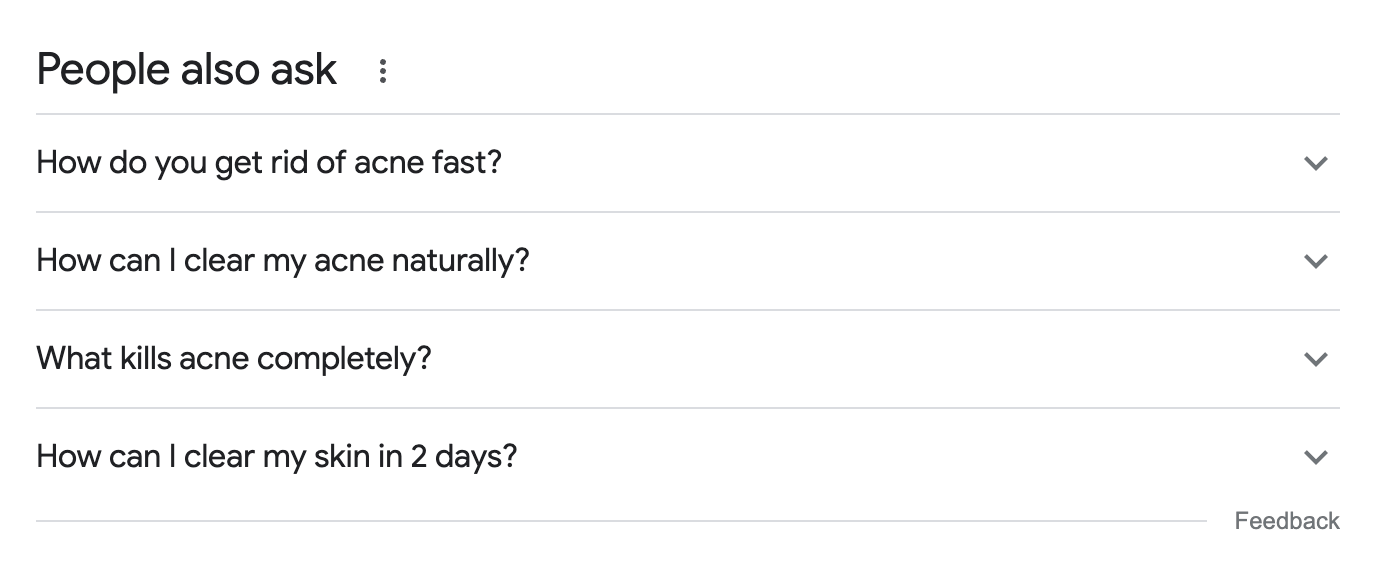 You can create content centering on all these questions — including the right keywords — and answer them for your audience.
5: Do a competitive analysis
You can do a competitive analysis in two ways:
An account competitive analysis with your direct competitors
A post-by-post competitive analysis for your target keywords
For the first one, you want to look at your competitor's Instagram profile as a whole. What kind of content do they create? What topics have they created content on? What keywords get the most engagement for them?
Having done this competitive analysis will leave you with a list of topics you can create content on — which will become your target keywords.
The second method is finding keywords in your niche and then analyzing the existing content ranking for them. Let's say you're a fashion influencer searching for keywords around "fall outfits" — search for "fall outfits" on Instagram and see what other keywords and hashtags the top-ranking posts use.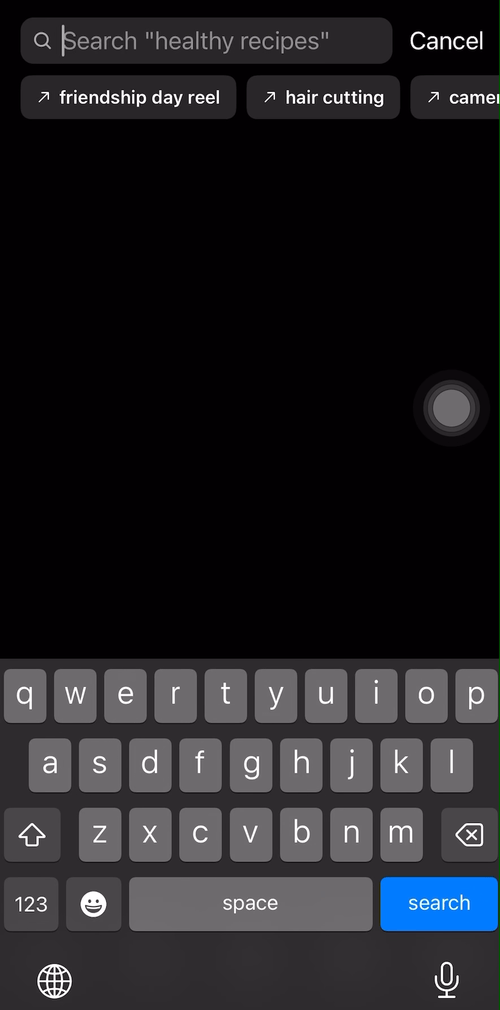 You'd find "ootd" and "fall fashion" are another set of keywords you can use separately or layer with "fall outfits" to rank for your desired keyword.
6: Use AI to research keywords for Instagram
You can use AI to assist in content creation, so why not use it for keyword research too?
Open any AI tool of your choice — we'd recommend ChatGPT — and use the following prompt to generate keywords related to your main keyword:
"You are an expert in Instagram market research and Instagram SEO. "[Enter your main keyword]" is the target keyword. Tell me XX closely related keywords to this term that I can use in my Instagram content."
ChatGPT gave me a pretty solid keyword list when I asked for keywords related to "fall outfits" using the prompt above.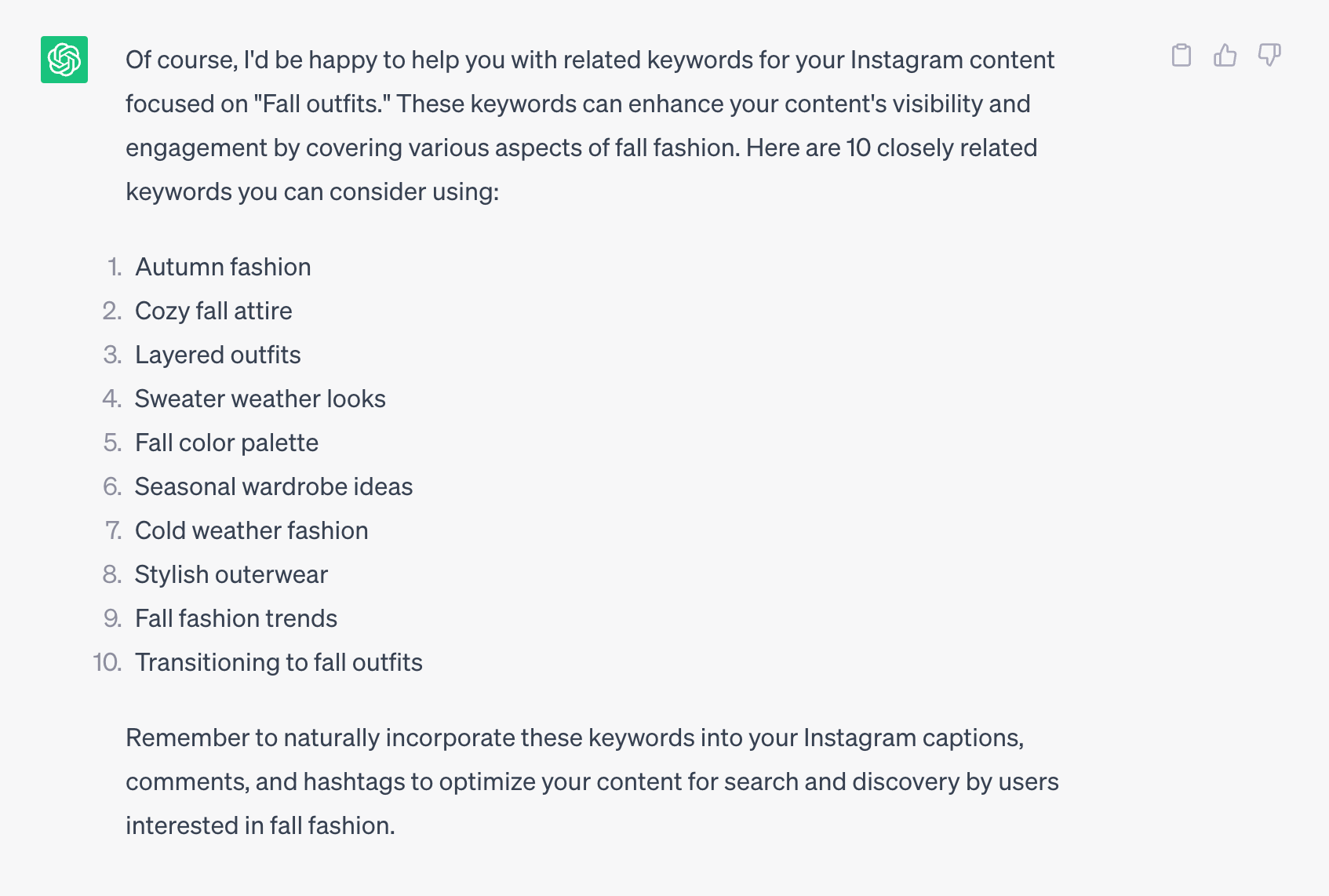 ⚠️ Remember: Don't trust any AI tool's suggested keywords without cross-checking the popularity and relevance of those keywords on Instagram.
7: Ask your audience what they're looking for
Last but not least, ask your audience what kind of content they're looking for on Instagram. Instagram Stories' various stickers and features are great for communicating with your audience and gauging their likes and dislikes. Direct messages (DMs) are also an excellent way of asking your audience what they need.
Learn more: The Complete Guide to Use IG Stories to Boost Engagement for Your Brand
This method might be more suitable if you already have a sizable audience you can ask. If not, use your competitor's Q&A and comment section to see what your ideal persona is asking.
Once you have a list of keywords you want to rank for under your belt, the next steps become significantly easier.
Related: How to Quickly Create Great Instagram Stories with Templates
Step 2: Make your Instagram profile and posts SEO-friendly
Now you have your keywords handy. You know the big and small things your audience is searching for. The next step is to use those keywords across your Instagram account — whether that's on your profile or each individual post.
On your Instagram profile, have a broad target keyword in:
Your username
Your profile name
Your Instagram bio
Kylie Sakaida is an A+ example of what it looks like to imbibe the right keywords across your Instagram profile. She's a nutritionist helping people live healthier life through her Instagram content. Keywords like "dietician," "nutrition," and "healthy living" are all across her profile.

The keywords you imbibe in your Instagram profile should be broad — a way to categorize your content and instantly learn what you create. But that doesn't mean you need to shy away from proclaiming your niche. If you post only healthy recipes for toddlers, for example, use keywords such as "toddler meals" and "toddler food" on your Instagram profile — as Ashley Stewart does.

Brock Johnson, an Instagram Growth Coach, says adding relevant, industry & niche-related keywords to your name and username is by far the most underrated way to improve discoverability on Instagram:
"Your first and last name likely isn't being searched for as often as some key terms related to your industry and your niche. Put your first name, followed by a hyphen, and then put a bunch of searchable keywords that relate to your industry."
Once you've optimized your Instagram profile, your next job is to ensure your Instagram posts are also SEO-friendly. Here's a checklist of where you should use your target keywords:
Text within the post: If you're creating Instagram Carousel posts, ensure some keywords are sprinkled in the slides. If you're posting Instagram Reels, use subtitles to enter keywords within your content.

Captions: Use descriptive captions to add more details about your post. Don't do keyword stuffing, but layer as many related keywords as organically possible. Focus on your caption being search friendly.

Hashtags: Mix popular and niche hashtags, but no more than five — according to Instagram. Social media expert, Modern Millie, says your hashtags should be about either content of the post (#plantcaretips), audience (#plantlovers), or identity (#gardeningcoach).

Location (if relevant): Adding a location is always recommended to boost your discoverability in a particular area. You hit two birds with one stone if a location is also your desired keyword. For example, if you're a travel creator creating content around things to do in Bali, adding a location that includes "Bali," "Bali resorts," or any other Bali-related keyword helps boost the discoverability of your posts. If you're a brick-and-mortar store, all your posts should always contain the location of your shop to make it easy to search for prospective buyers.

Alt text: Alt text is a visual description of your photos or videos for people with visual impairments. Instagram has an object recognition technology to enter the alt text for you automatically. But adding alt text yourself can boost your SEO efforts and help you appear at the top of Instagram Search for your desired keywords. How to enter your own alt text on Instagram? Select your photo(s) or video, edit the content however you like, click "Next," go to "Advanced Settings," and you'll find the "Write alt text" option under "Accessibility." You can also edit the alt text after you've shared a post — the same "Accessibility" option is present within the "Edit" button on a live post. This video shows you how to do both:
NEED ALT-TEXT-TUTORIAL GIF
Instagram reads everything above to understand what your post is about and show it under the right search term.

This post by You Need A Budget (YNAB) about saving money is a perfect example of using target and related keywords in your Instagram posts.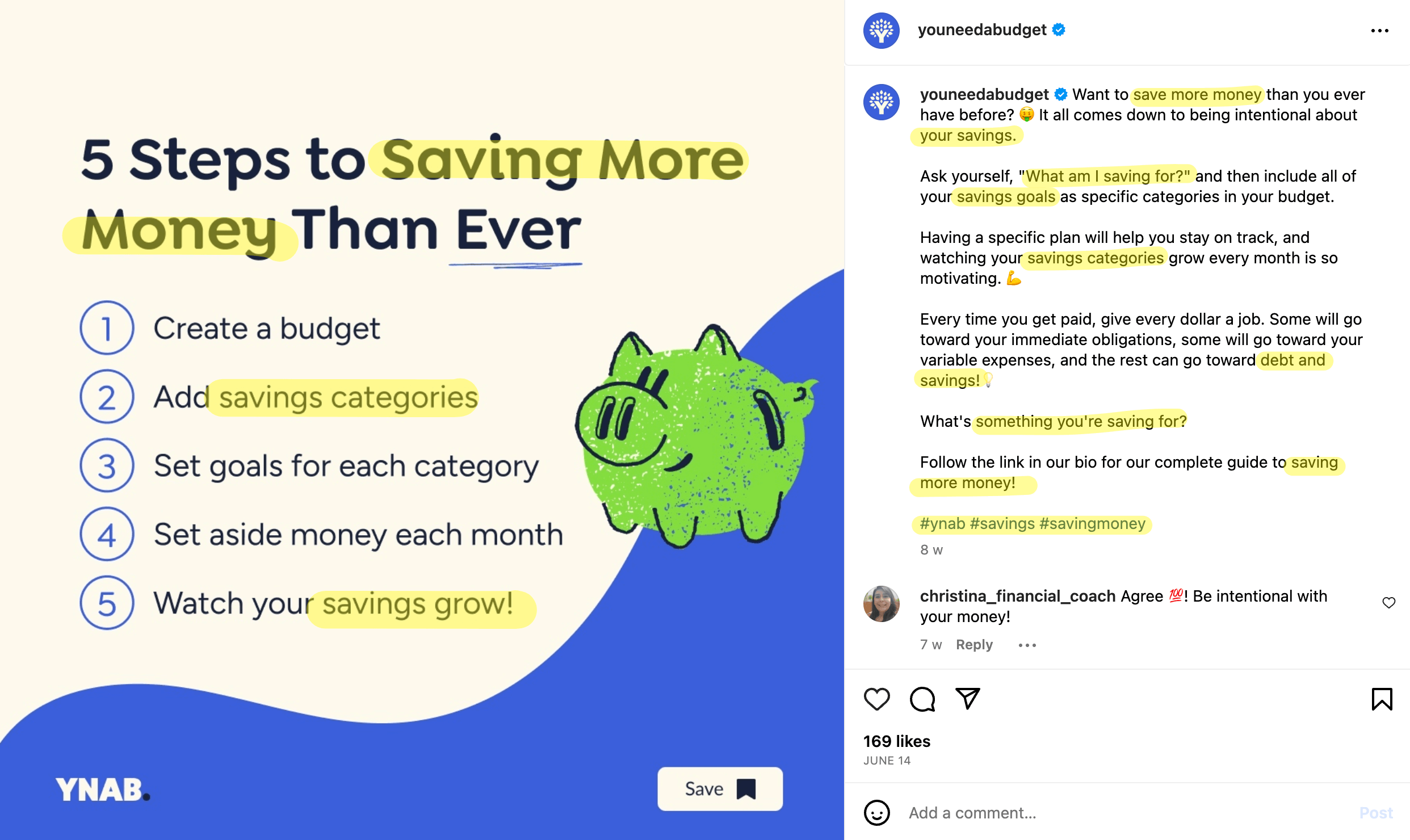 ⚠️ Remember: Don't overuse keywords just to please the Instagram SEO. The ultimate goal is to help your audience — and using keywords is just a way to make your content easily discoverable.
Step 3: Ensure your Instagram content meets community guidelines
The last step is double-checking if your posts meet Instagram's community guidelines. Instagram's community guidelines don't just include the basics like following the law and not sharing content you don't own without permission. It sometimes has popular keywords and hashtags too.
For example, the hashtag #beautyblogger is currently hidden in searches because Instagram suspects some posts with this hashtag don't follow its community guidelines.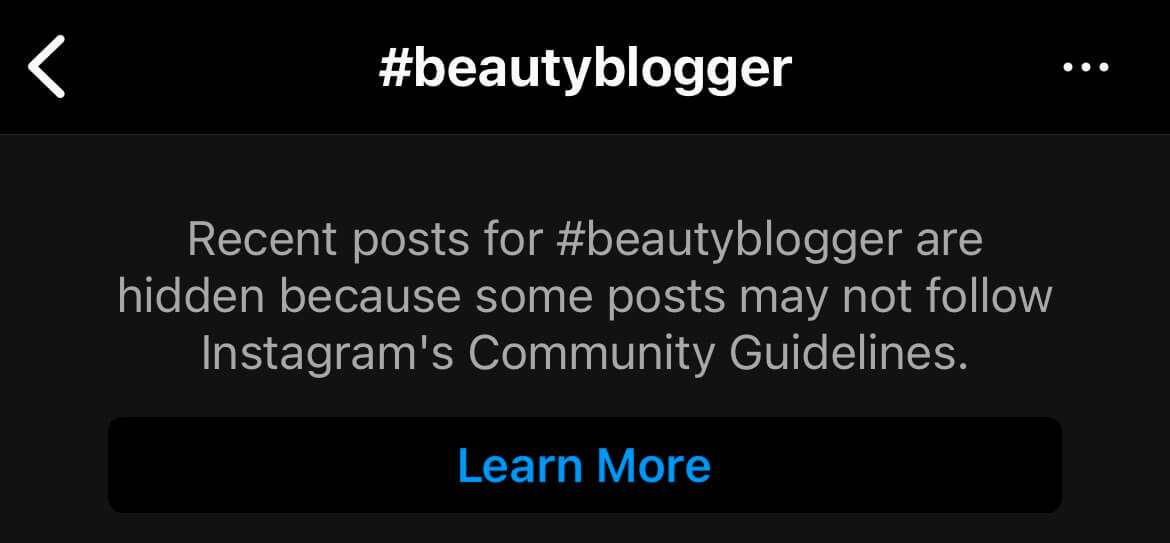 Apart from steering clear from the basics, search for all your hashtags and keywords on Instagram to ensure the platform doesn't hide them. If they are hidden, don't use them. Instagram also has a detailed guide sharing it doesn't recommend sensitive or low-quality content about health and finance and accounts that engage in malpractices like buying followers or likes.
To take a more proactive approach, you can see your Account Status on Instagram by:
1. Go to your profile and click on the three dots
2. Click "Settings and Privacy"
3. Scroll down to find "More info and support"
4. Click on "Account Status"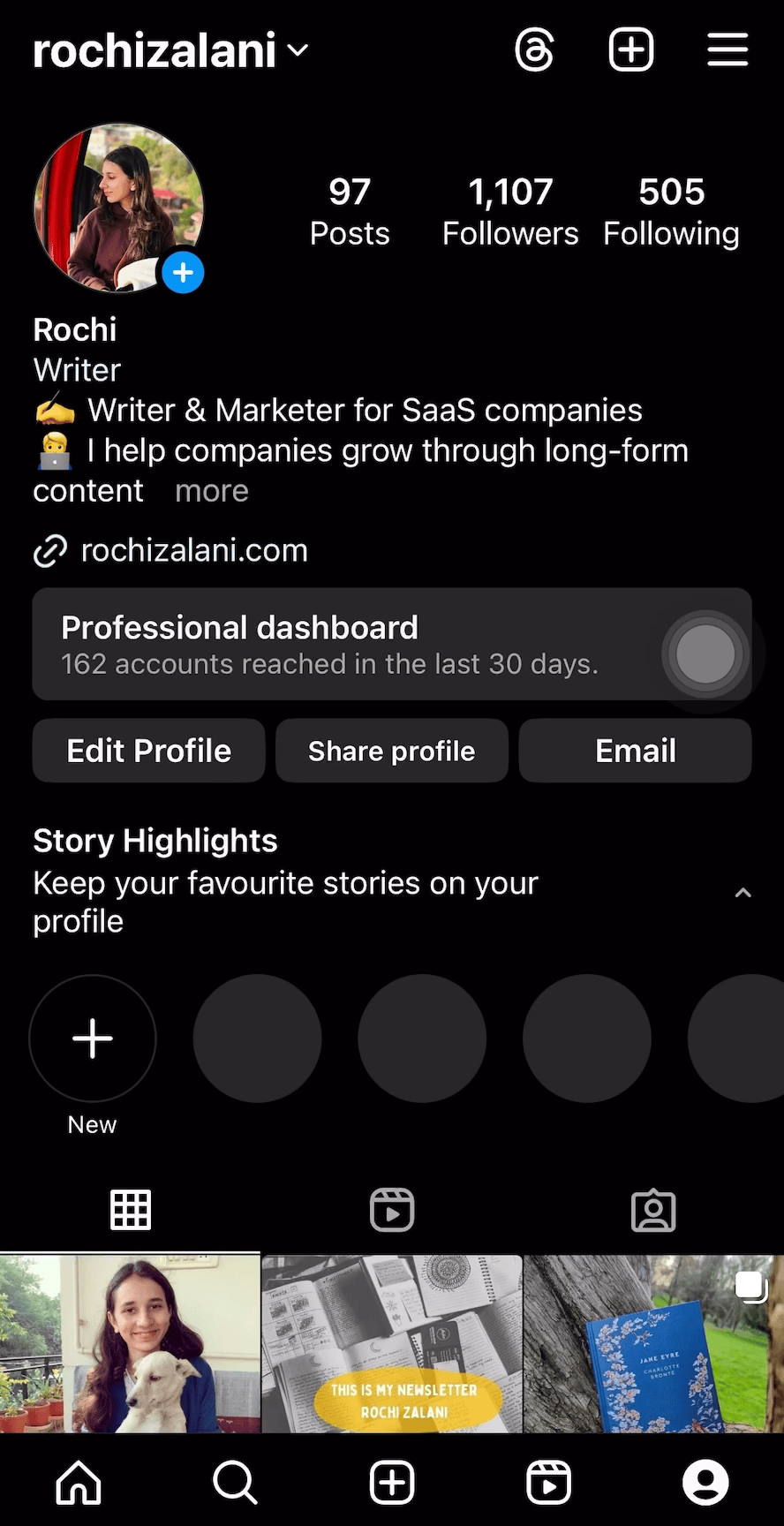 Here, you can know if your account is at risk of being disabled and whether any of your posts violate Instagram's community guidelines. If you think there's a mistake, you can also appeal by clicking "Request a review" on the Account Status page.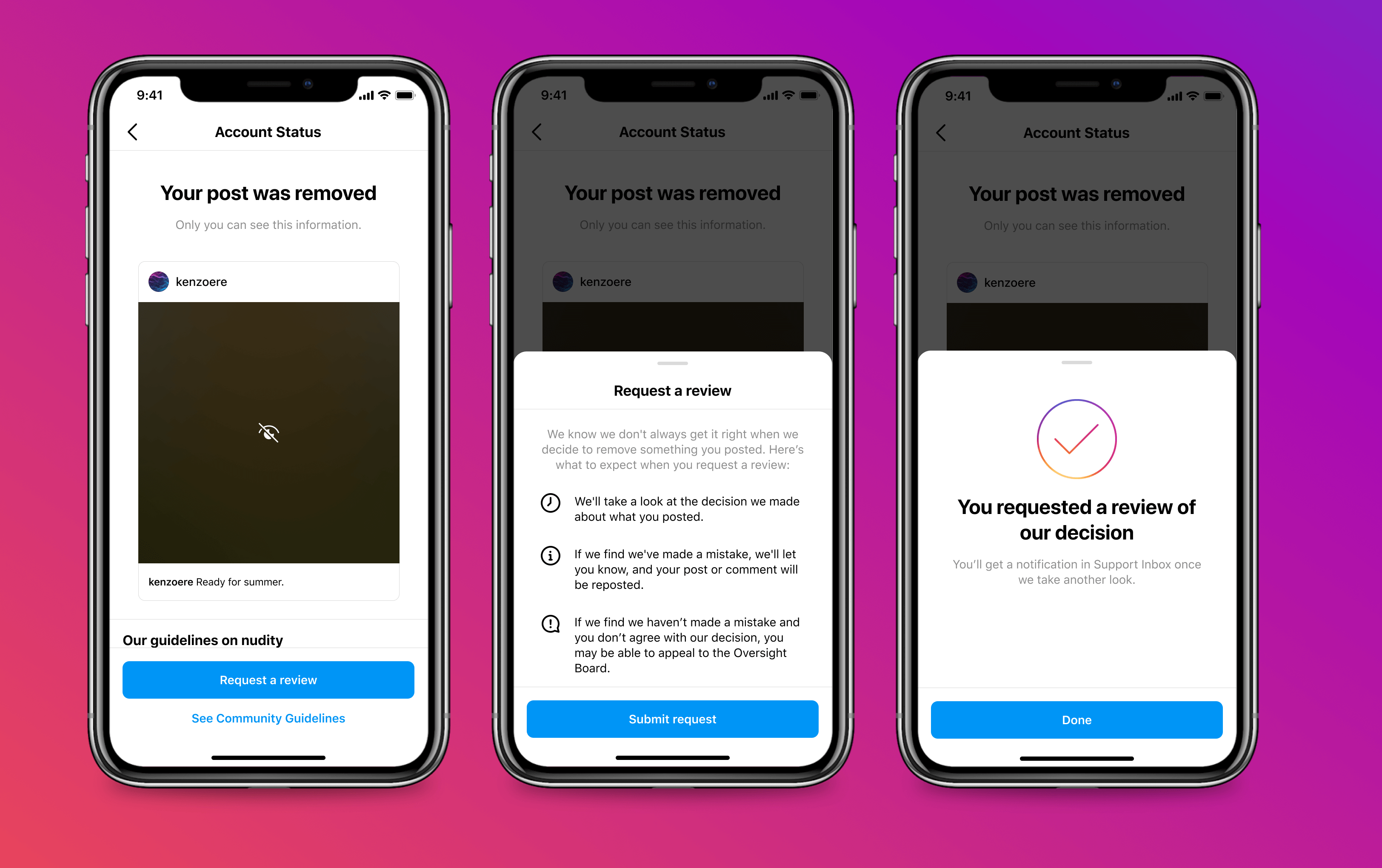 How to use Instagram Search to level up your marketing strategy?
It's one thing to use Instagram SEO to make your content more discoverable. But how can you use Instagram Search to your own advantage to grow on Instagram? Here are five ways:
1: Find Instagram filters
Like an Instagram filter on someone else's profile? Use it in your own posts using Instagram Search.
1. Scroll to the right and find the "Browse Effects" option.
2. Search for your desired effect by typing its name.
3. Get ready to use it!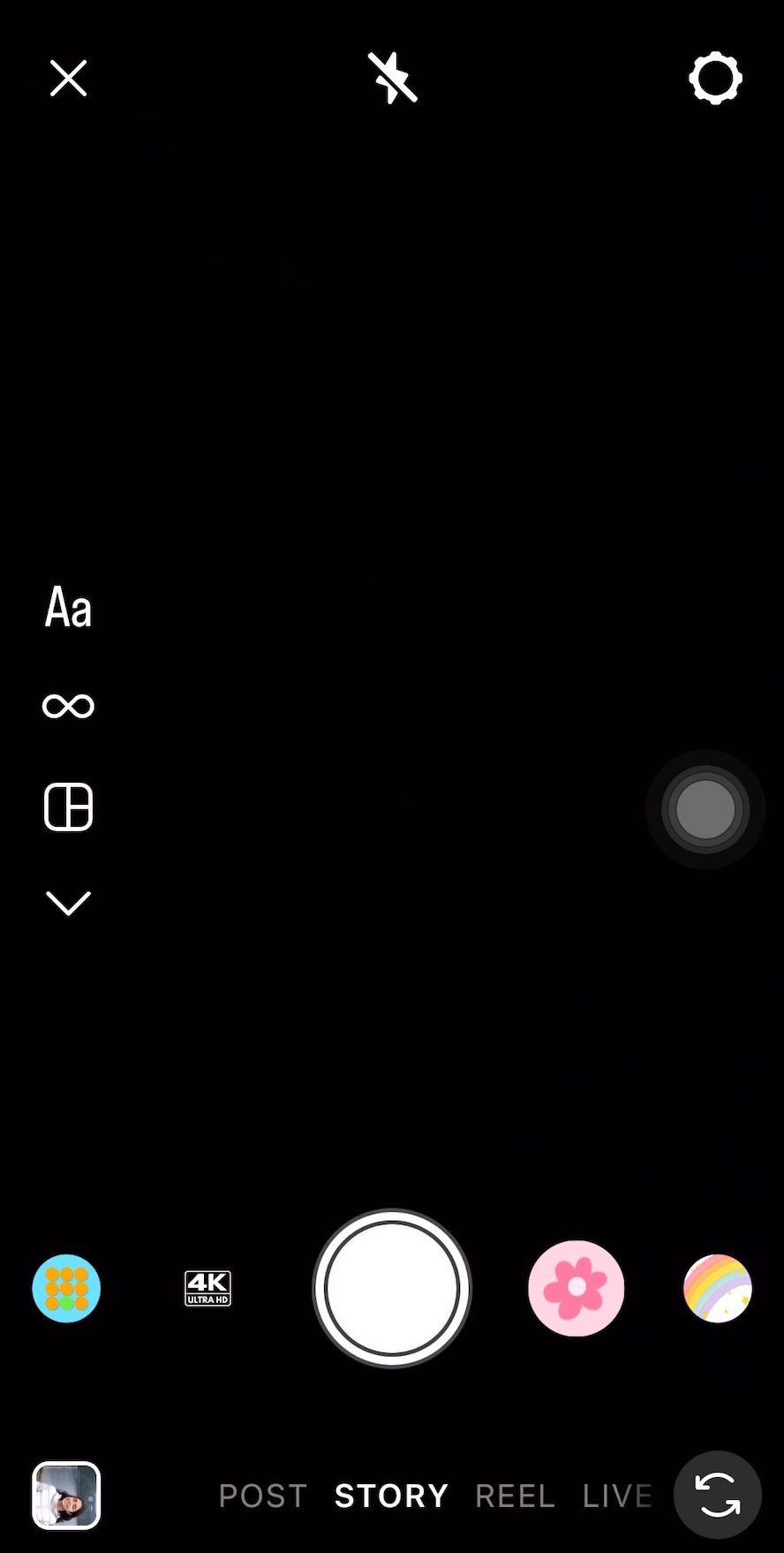 Note: If you're searching filters for Reels, you can find the Effects button on the camera screen itself — where a search bar is present for you to search for your desired filters.
You can also find trending filters on Instagram by clicking the "Trending" tab.
2: Finding creators and influencers you can collaborate with
One of the best use cases for Instagram Search — for businesses and creators alike — is finding influencers.
If you're a creator, you will get more exposure by partnering with another creator in the same niche. If you're a small business, you will gain more credibility by practicing influencer marketing.
Related: Instagram for Small Business: How to Grow in 2023 and Beyond
Using the same Instagram keyword search principles, hunt for creators with the same target audience. For example, if you're a fitness brand looking to partner with micro-influencers, simply type "fitness micro-influencer" in the search bar to get posts and accounts which meet the criteria.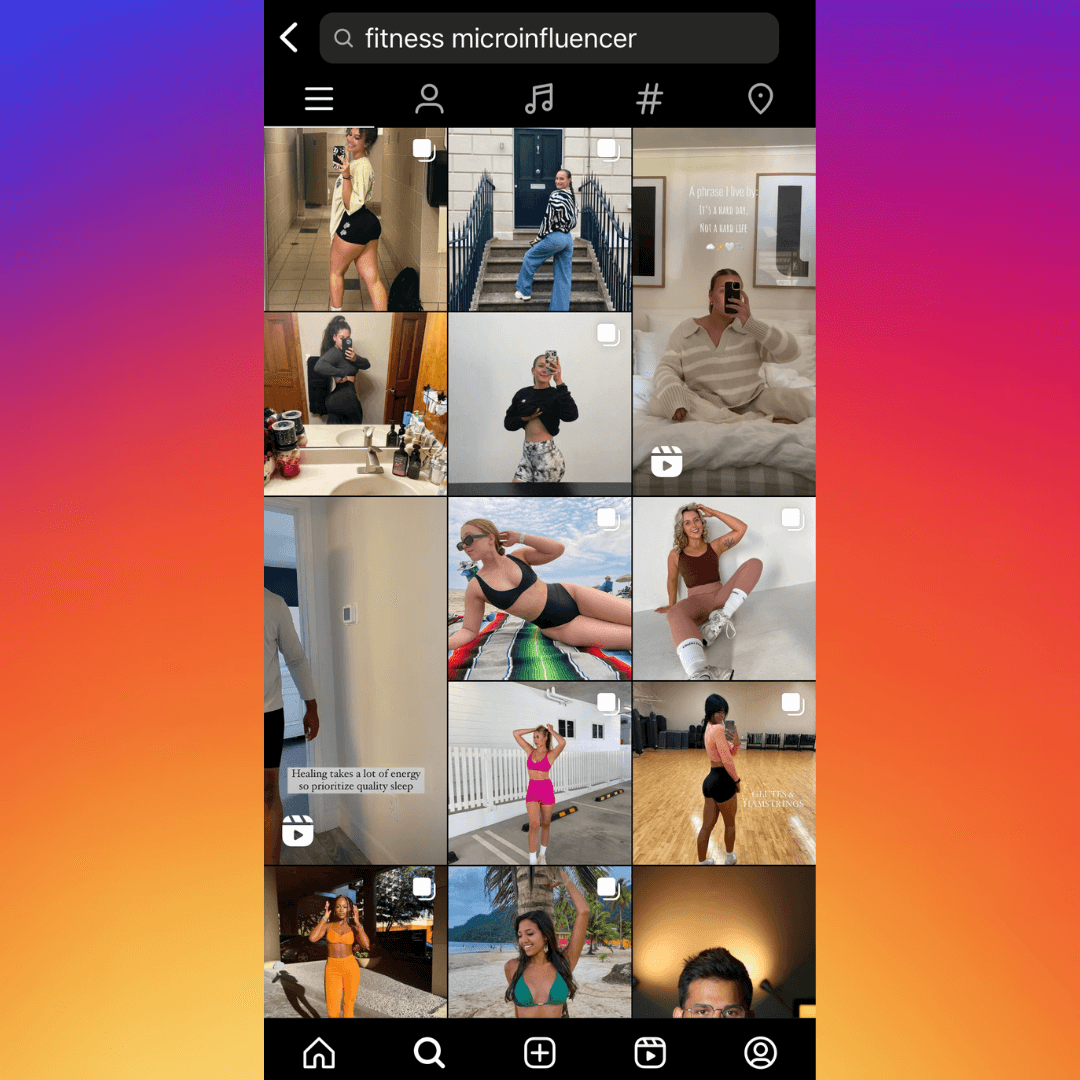 3: Collect new ideas
Instagram Search can be a great place to find new ideas — whether it's related to your niche specifically or Instagram in general.

Let's say you're struggling with scripting your next Instagram Reel. Search for "Instagram reel ideas" to find plenty of posts providing hundreds of ideas.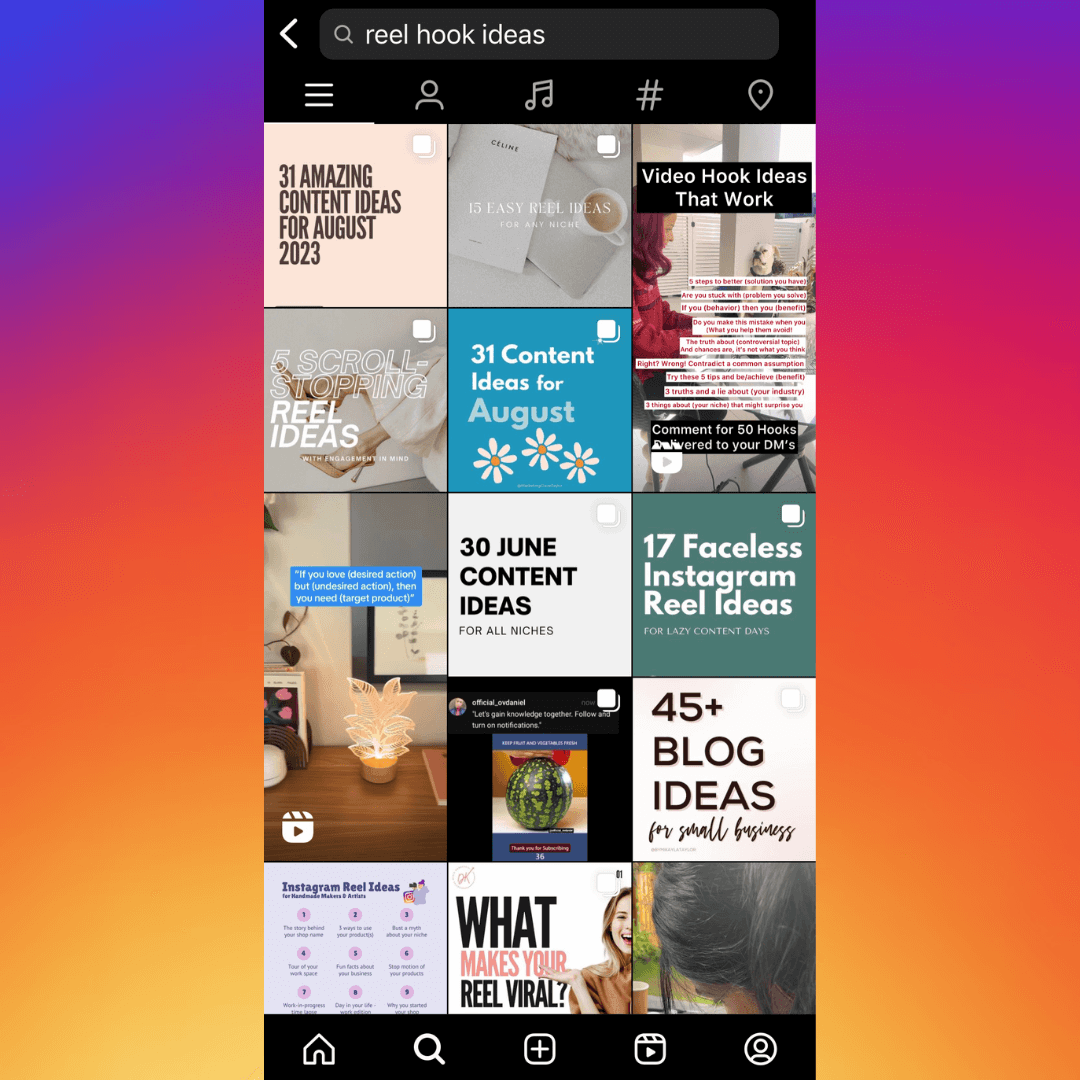 Similarly, you can also unearth topics for your niche by using Instagram Search. Type your keywords and see what shows up — how other creators in your industry are creating content is sure to spark ideas.
4: Finding new locations to shoot
Traveling to a new location and planning to shoot some aesthetic Instagram content while you're there? Search for the restaurants with the best views and unexplored places using Instagram Search.
You can use the location tab directly or type keywords like "Phuket Instagrammable places" in posts.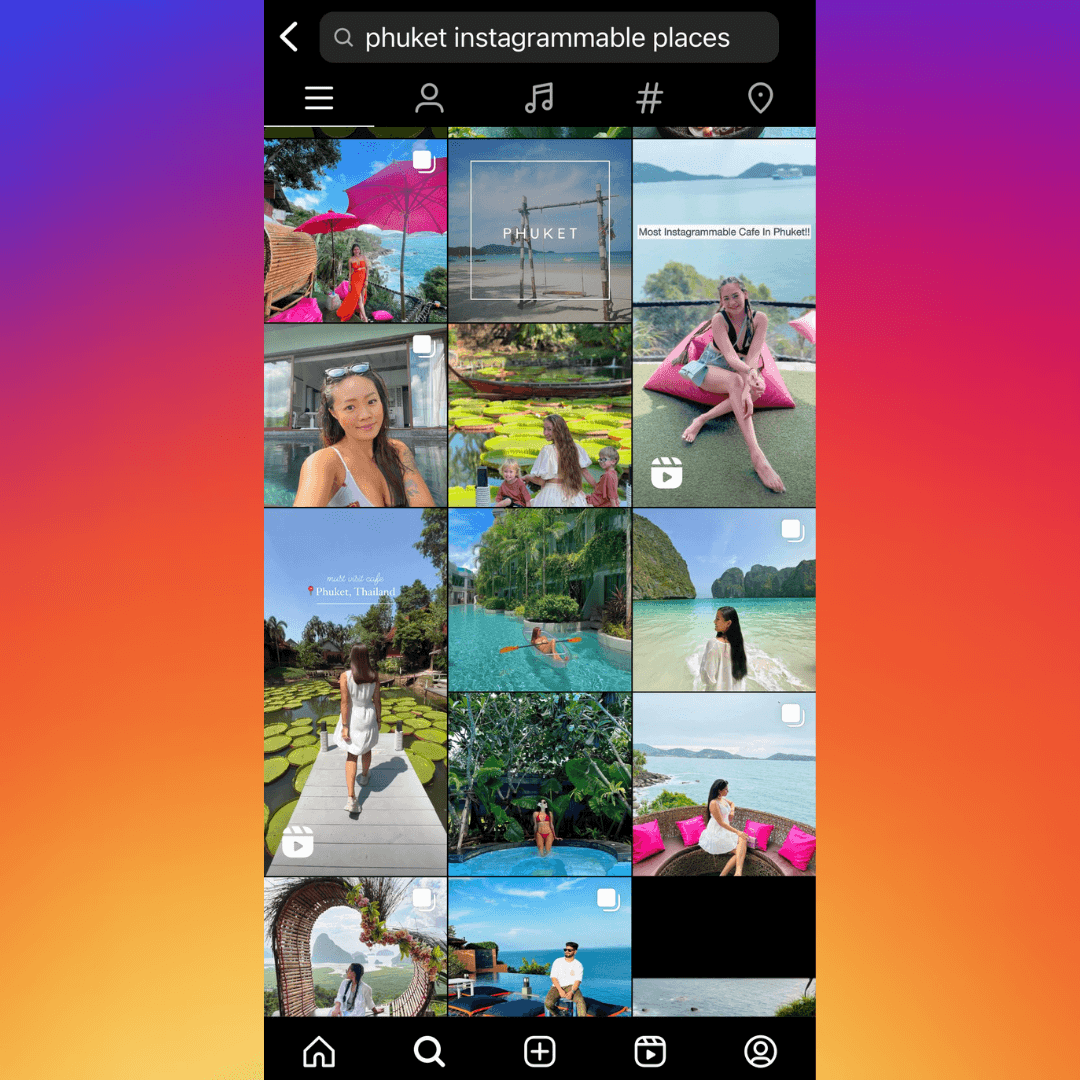 5: Tailor your Instagram feed
The more you proactively search for something, the more you help the Instagram algorithm understand what you're interested in.
For example, if you want to see more business-related content in your feed, search for it whenever you log onto the app. Slowly but surely, Instagram will start tailoring your feed to what you're searching for.
To take this a step further, mark posts you don't want to see on your feed as "Not Interested" on your Explore page.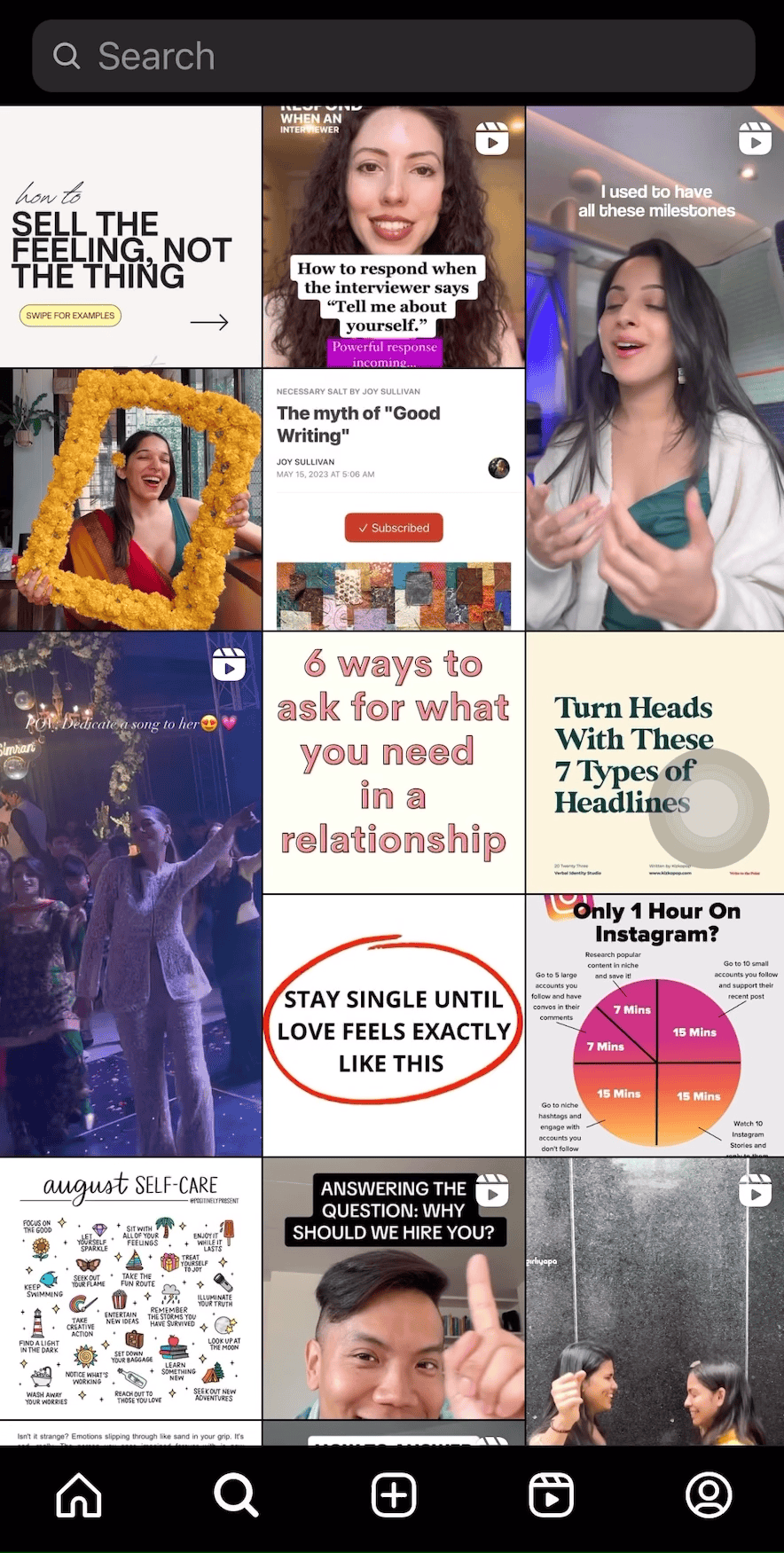 Marking posts as "Not Interested" will help Instagram get a clear signal of what you want less of in your feed.
How to get on the Instagram Explore page?
When you click on the magnifying glass icon, you'll see it's already populated with photos and videos from accounts you don't follow — even before you type anything in the search bar. This is Instagram's Explore page. It shows you content you might be interested in from non-followers.
Given how personalized the Explore page is, no two Explore pages will look identical. There might be a few similar posts here and there amongst people with a common interest, but the entire page can't look alike. Instagram has explained how it ranks posts on the Explore page in a post:
Appearing on the Explore page of your target audience means you get discovered by your ideal community — even if they aren't searching for you or your content proactively.
The question is: How do you get on the Instagram Explore page? Instagram Search and Instagram Explore often work in tandem. Some best practices — like following community guidelines and using Instagram SEO — apply to both.
But there are three extra steps you can take to increase your chances of making it to the Explore page:
1: Create trending content
Popularity is one of the primary signals Instagram uses to rank content on the Explore page. This means using trending sounds and topics is a great way to earn your spot on the Explore page.
How do you find what's trending? There are multiple ways:
Reels Trends on your profile: Go to your profile and click on the three horizontal lines. Tap "Reels Trends" to discover trending audio and hashtags. This feature is only available in the U.S. when writing this article, but it'll probably roll out to other countries soon.

Use TikTok trends: Trends usually transfer from TikTok to Instagram. Have a pulse on what's trending on TikTok and create content for Instagram in advance.

Reels Trend Report: Follow the @creators account to receive a trend report directly from Instagram. It not only shares audios trending audios, but transitions, topics, and pro-tips.
But don't trade popularity for relevance. Jade Beason, creator and social media consultant, says a lack of specificity is the biggest mistake creators and brands make when it comes to Instagram SEO.
"It's not just that most popular content appears on people's Explore page, it's now the most relevant content. The more specific keywords you use, the greater the chance your content is going to appear on someone's Explore page who's interested in that exact type of content."
The bottom line? Hop on trends only when you can whip them up to be relevant to your niche.
2: Use your Instagram account analytics to find posts that click
Instagram analytics is a goldmine for finding what clicks with your audience. Posts that get the most reach, for instance, automatically rank high in the popularity signal and have a high chance of getting featured on the Explore page.
Your Instagram analysis should answer:
Which posts got the most impression?
What do all successful posts have in common?
Are they Carousels, videos, or single-feed posts?
What's the best time to post on Instagram for you?
The insights from this analysis will help you replicate your most high-performing posts.

The best part? You don't have to do any of this yourself. Use a social media management tool like Buffer — with a social media analytics tool built-in. It'll help you get answers to all the questions above (and more!) in a few clicks.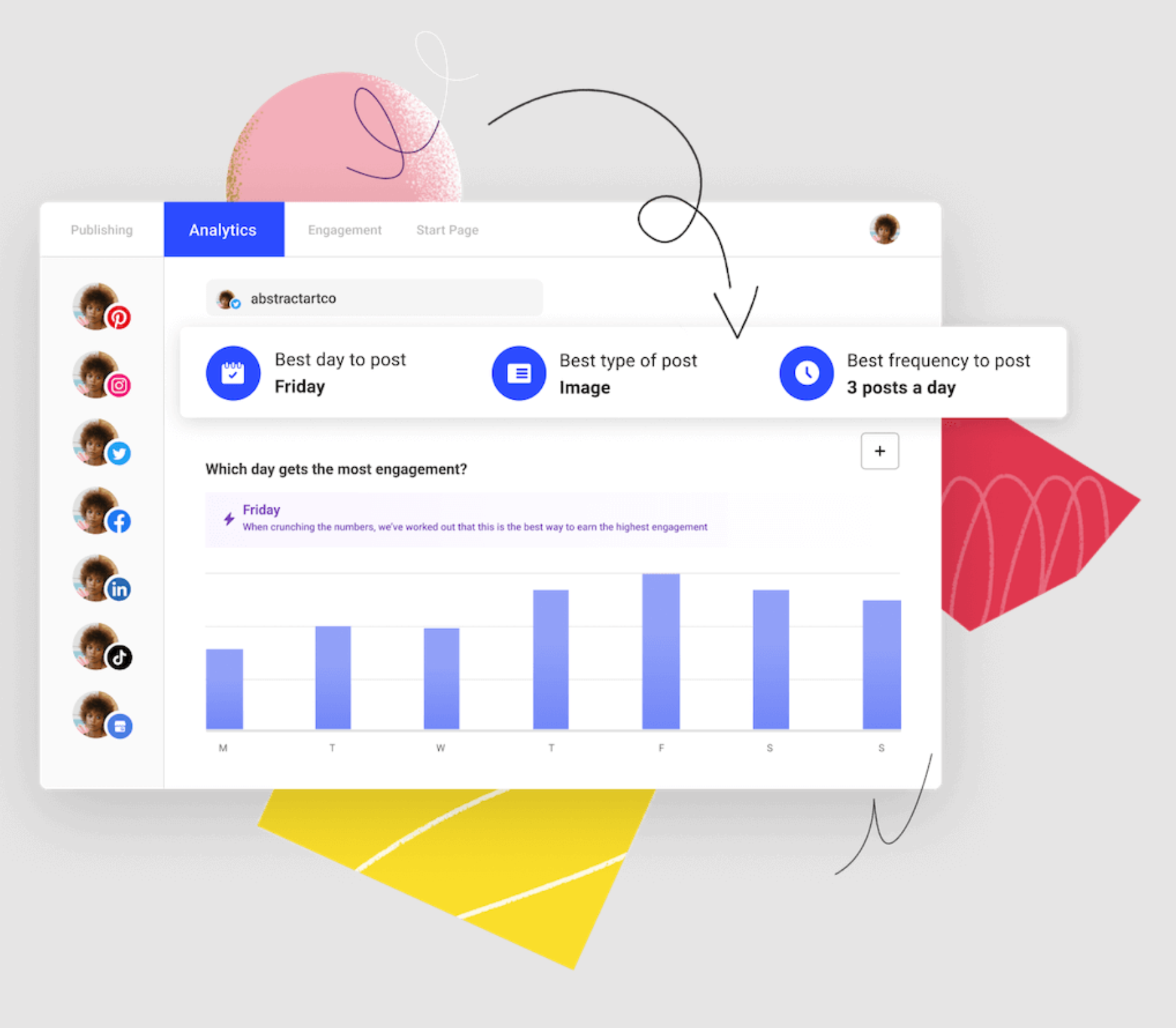 3: Use the "Add topics" feature on Instagram Reels
Instagram allows you to add topics to your Instagram Reels before you post them. There are over 15 categories with various topics under their umbrella. You can select up to three topics.
Here's how to use the "Add topics" feature:
1. Upload your Instagram Reel as usual
2. Click on "Next"
3. Select "Add topics" and choose up to three topics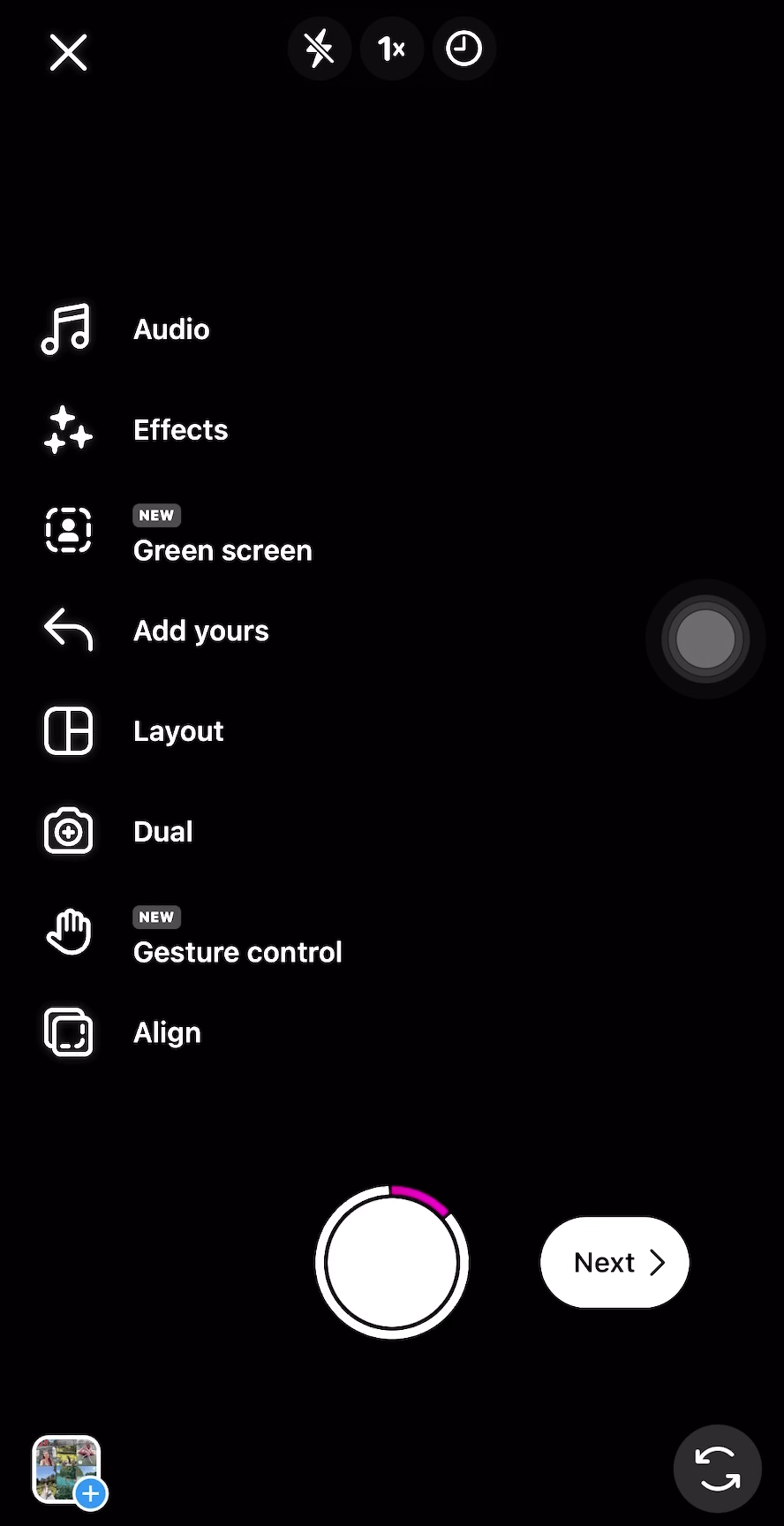 Adding topics helps Instagram understand what your content is about and categorize it properly. This will ensure you show up on the Explore page for a relevant audience — someone interested in your selected topics.
Do SEO for the 'gram
Instagram Search and Explore are top-notch ways to get in front of your target audience. Using SEO best practices increases your chances of getting featured in the Instagram Search and the Explore page.

Right now, the Instagram algorithm isn't as advanced as Google's — so you don't need the keyword research tools and extensive SEO methods just yet. Getting the basics right — creating content using your target keywords — alone can fast-track your Instagram growth.
Brought to you by
Did you find this article helpful? You might also like our all-you-need social media toolkit.
Get started for free now