Instagram now has more than 800 million monthly users and sky-high user engagement levels.
And with 80 percent of accounts following a business on Instagram, it seems like marketers might be more keen than ever to get acquainted with Instagram for their business
2
.
I know we are at Buffer!
Lately, we've been sharing, liking, and trying new ways to grow Buffer's Instagram account, and it's been so much fun. Since Instagram is a platform we're keen to focus on, we thought it would be fun to research some ways to grow a following there.
Whether you're growing your own personal account or working on behalf of a company, read on to find out the 10 best tactics (with tools and examples!) we uncovered that could help you grow a bigger, more relevant audience on Instagram.
Fuel your brand's growth on Instagram!
With Buffer Publish you can give your content the audience it deserves. Learn more today.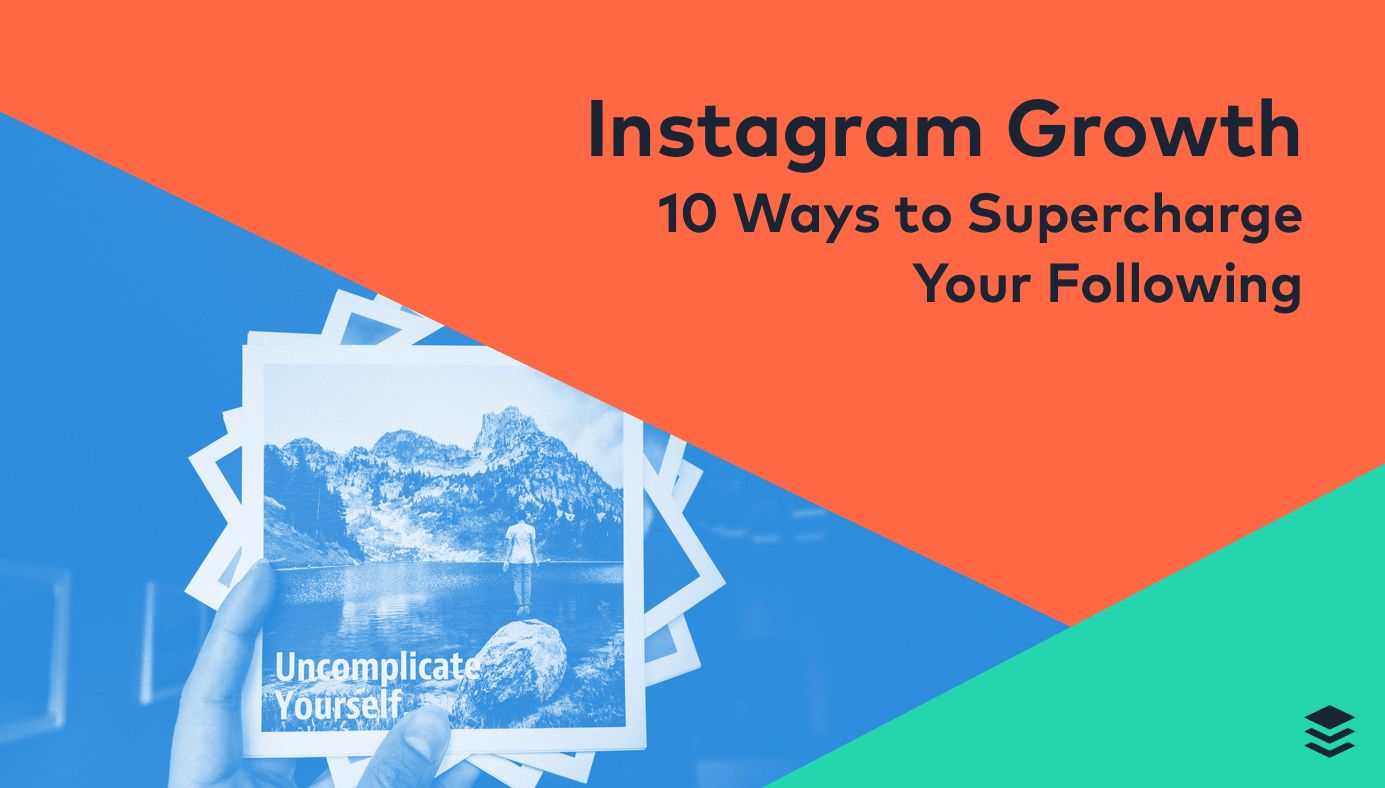 Top 10 Instagram Growth Tactics
10 actionable ways to supercharge your follower growth on Instagram:
1. Post consistently (at least once a day)
2. Try videos, live videos, and Stories
3. Study and use quality hashtags
4. Share user-generated content
5. Collaborate with others
6. Post at your best times
7. Use your analytics
8. Engage your fans
9. Host contests
10. Cross-post

1. Post consistently (at least once a day)
Visual marketing tool Tailwind studied more than 100,000 Instagram profiles in 2017 to understand how posting frequency affects follower growth and engagement rate
2
.
They found that the more often you post, the more likes and followers you get.
According to the study, profiles that posted seven or more times a week (or at least once a day) get more likes and gain more followers faster than those that post less frequently.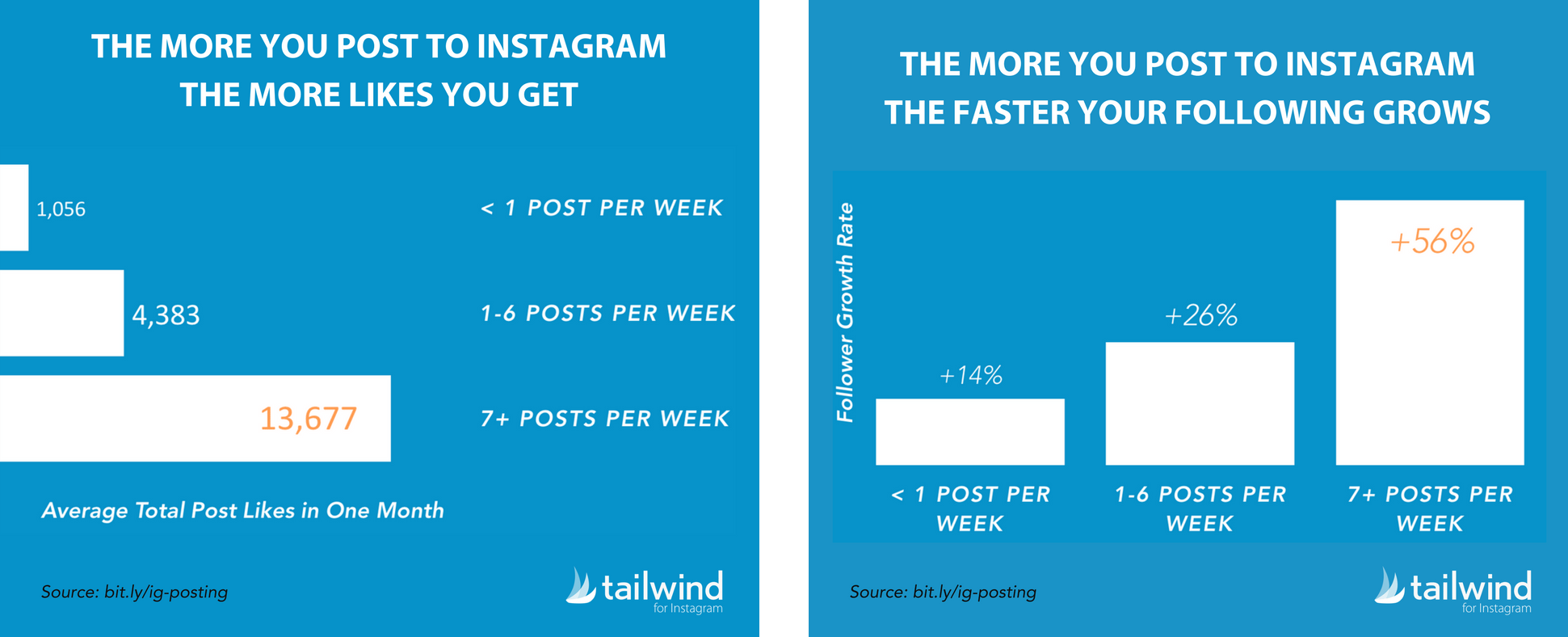 Here's the impact of posting more:
You can almost double your follower growth rate by moving from less than one post per week to 1-6 posts a week. You can more than double your follower growth rate again by moving from posting 1-6 times per week to once or more per day.
The key takeaway: Post consistently on Instagram. Brands that get into a regular flow with Instagram posts tend to see the best results.
With Instagram's algorithmic timeline, consistency feels like a key element to getting your posts seen and appearing at the top of the timeline. If your posts are shared on a regular basis and picking up good engagement, then our hunch is Instagram's algorithm may place your posts near the top of your follower's feeds.

2. Try videos, live videos, and Stories
While Instagram started as a photo-sharing network, it has grown beyond just photos. With features like videos, live videos and Stories, brands can now create many different types of content to engage their fans and grow their following.
Here are a few compelling reasons to try posting these new content types:
The average engagement for videos is growing faster than the average engagement for images
3
When you go live on Instagram, you will appear right at the front of the Stories feed
4
More than 400 million people use Instagram Stories every day
5
Sixty-eight percent of marketers surveyed plan to create more Stories in 2018
6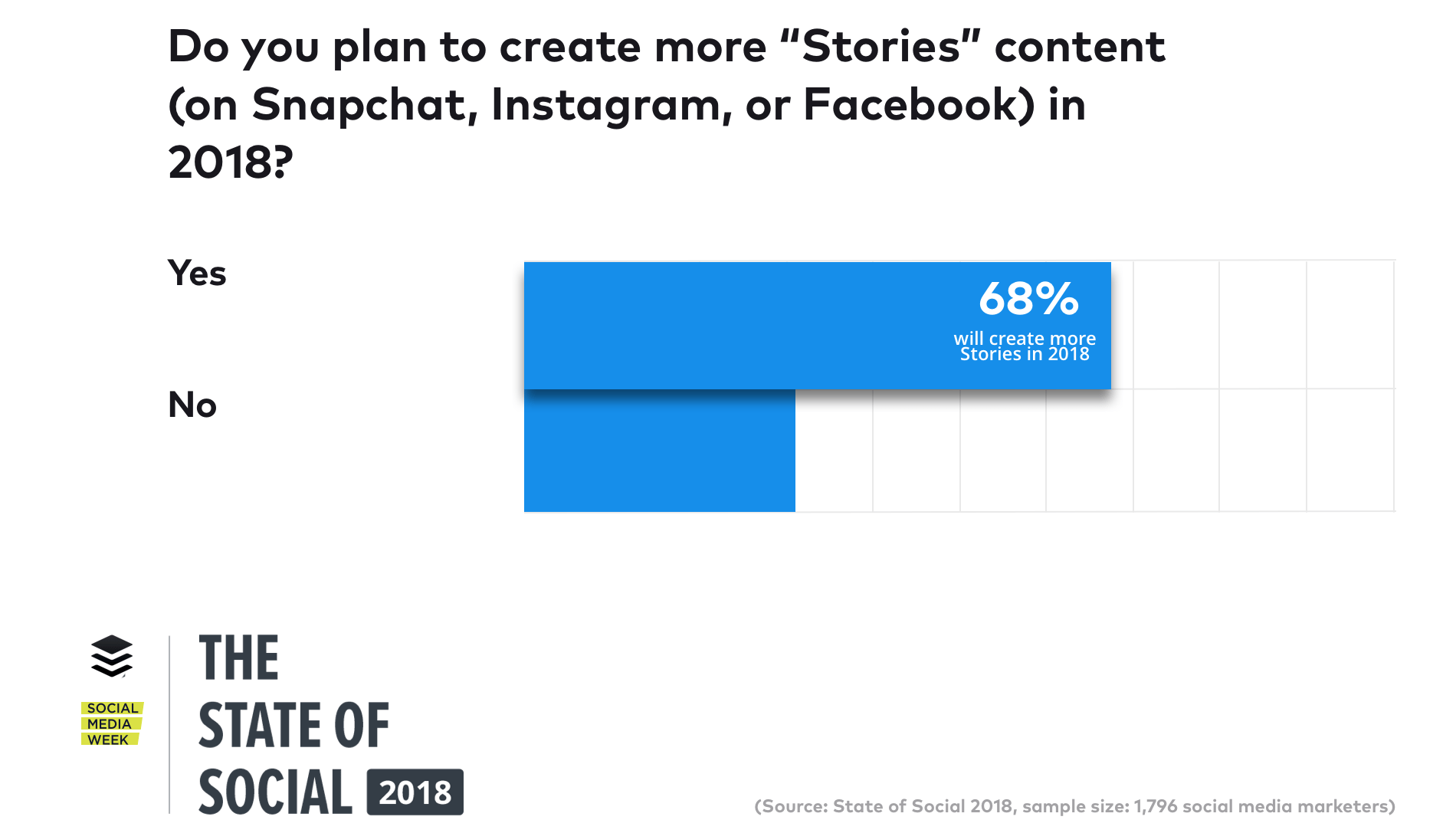 Free resources:
How to Create Beautiful Instagram Stories (and 10 Amazing Templates to Use)
Here's All You Need to Know About Live Video on Instagram Stories:
A Video Marketing Guide On Creating Epic Content for Social Media
3. Study and use quality hashtags
We've explored hashtags a lot on the blog, but it seems that nowhere on social media are they quite as important as on Instagram. The right hashtags (and location tag) can expose your image to a large and targeted audience, and Instagram users don't seem to get hashtag fatigue in the same way they might on other networks.
Due to its popularity, it's even possible to follow a hashtag now!
Simply Measured did two studies and found that Instagram posts with both hashtags and a location tag get the highest average engagement
7
. In other words, hashtags could be your best bet for growing a fast following on Instagram.
For example, check out one of our recent top Instagram posts, where we used ten hashtags and a location tag: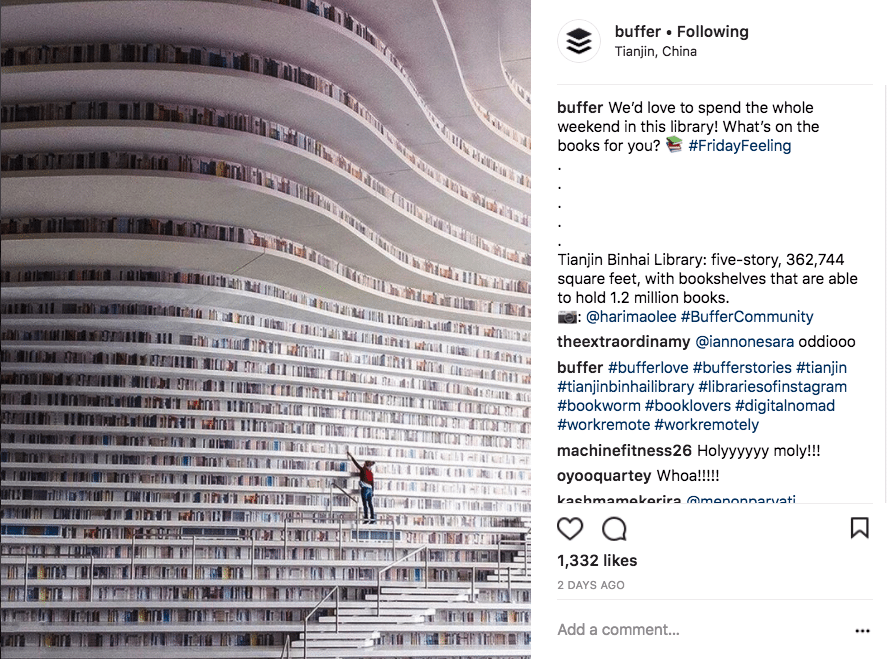 While Instagram allows for a maximum of 30 hashtags per post, TrackMaven found that nine hashtags seem to be the optimal number for getting the maximum engagement
8
.
With free Instagram tools like Display Purpose, Focalmark, and AutoHash, you can easily get quality, relevant hashtags for your Instagram posts. For instance, with Display Purpose, simply type in a few words about your image and it'll recommend the top hashtags to use.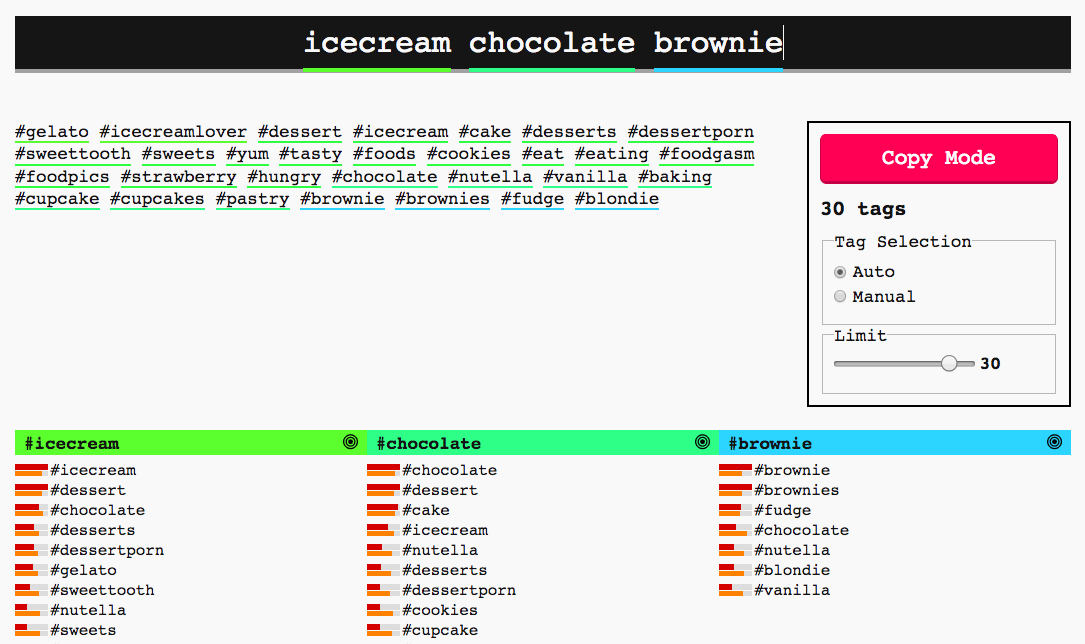 New feature! You can now save, organize and reuse your hashtags in Buffer with Hashtag Manager. Learn more today.
4. Share user-generated content
In a year, we grew our Instagram following by almost 400 percent  – from 4,250 to 21,000 followers. And a large percentage of this growth was a result of us embracing and sharing user-generated content.
The easiest way to think about user-generated content is this: brands taking the best-of-the-best user content from around the web and featuring it on their own social media or other platforms while giving credit to the original creator (user).
At Buffer, we started the hashtags #BufferStories and #BufferCommunity to showcase the unique stories of our users. These hashtags have opened up a huge variety of content options from curated stories of digital nomads to social media tips from marketers. Here's an example: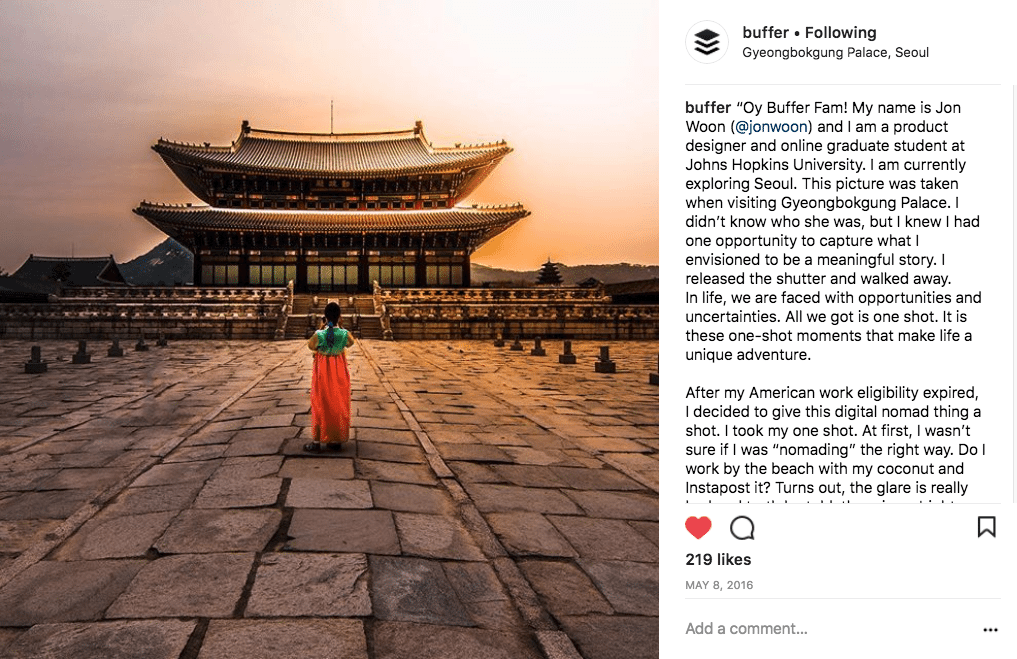 Besides growing your following, digital intelligence firm L2 Inc 9
L2 Inc, 2015
.
Further reading: Check out our full guide to curating user-generated content on Instagram here.
5. Collaborate with others
Another great way to extend your Instagram reach and grow your following is to collaborate with others, either through partnerships or sponsorships.
For example, we once collaborated with Brian Fanzo, founder and CEO of iSocialFanz, by taking over each other's Instagram Stories. Through the partnership, we were both able to provide value to our own audience and reach a new audience.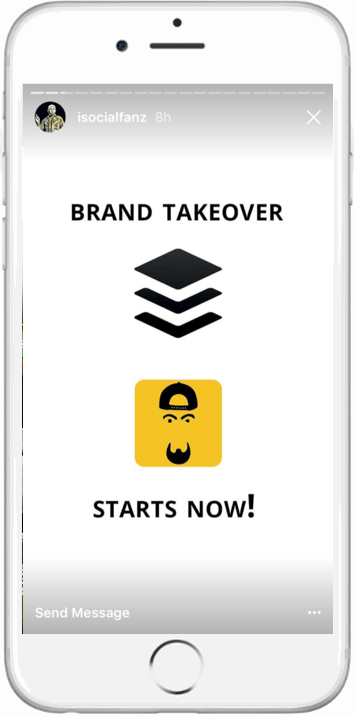 If you have the budget for social media sponsorships, then influencer marketing might be suitable for you. Swedish watchmaker Daniel Wellington is a classic example. They grew their Instagram following from 850,000 to 2.1 million followers in one year by sponsoring Instagram influencers
10
.
Here's an example of a recent sponsorship post: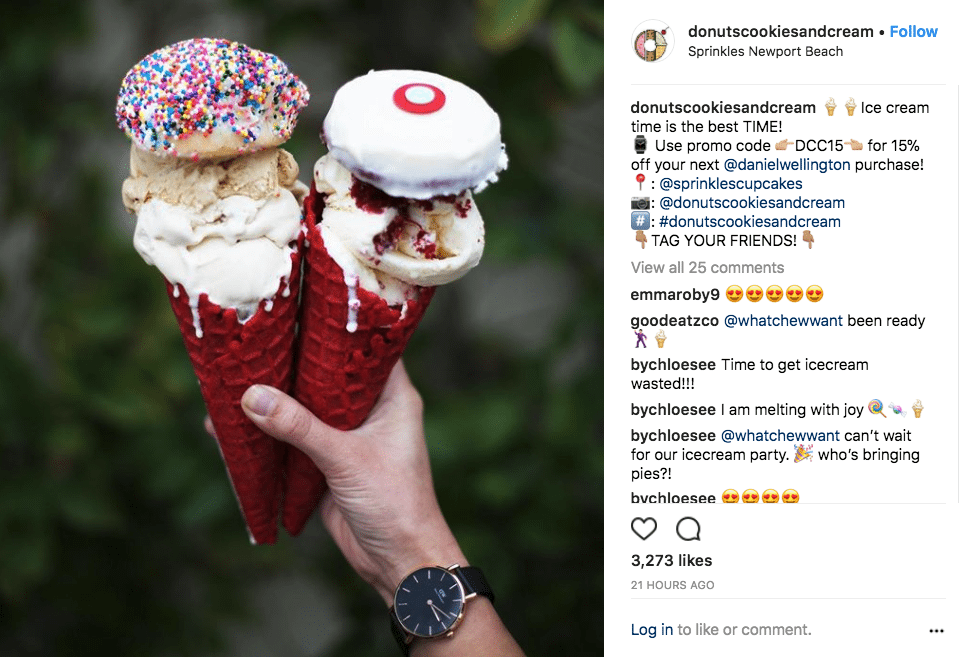 The Instagram influencers tag Daniel Wellington's Instagram account in their sponsored post, which drives people to check out Daniel Wellington's profile. Through this strategy, Daniel Wellington has amassed more than four million followers so far.
If you wish to explore influencer marketing, here's a quick five-step influencer marketing guide to get you started.

6. Post at your best times
After looking at Instagram algorithm. So a possible best time for you to post on Instagram is when your followers are most active. Here's how you can find that information:
In the Instagram app, tap on your profile photo
Tap on the Instagram Insights (bar chart) icon
Scroll down to the "Followers" section and tap on "See more"
At the bottom of the page, you'll see on which day of the week and at which hours of the day your followers are most active. For example, our followers seem to be most active on Thursdays from 9 am to 3pm ET. You could also look at where your followers are based and experiment with times that you think they'll be active.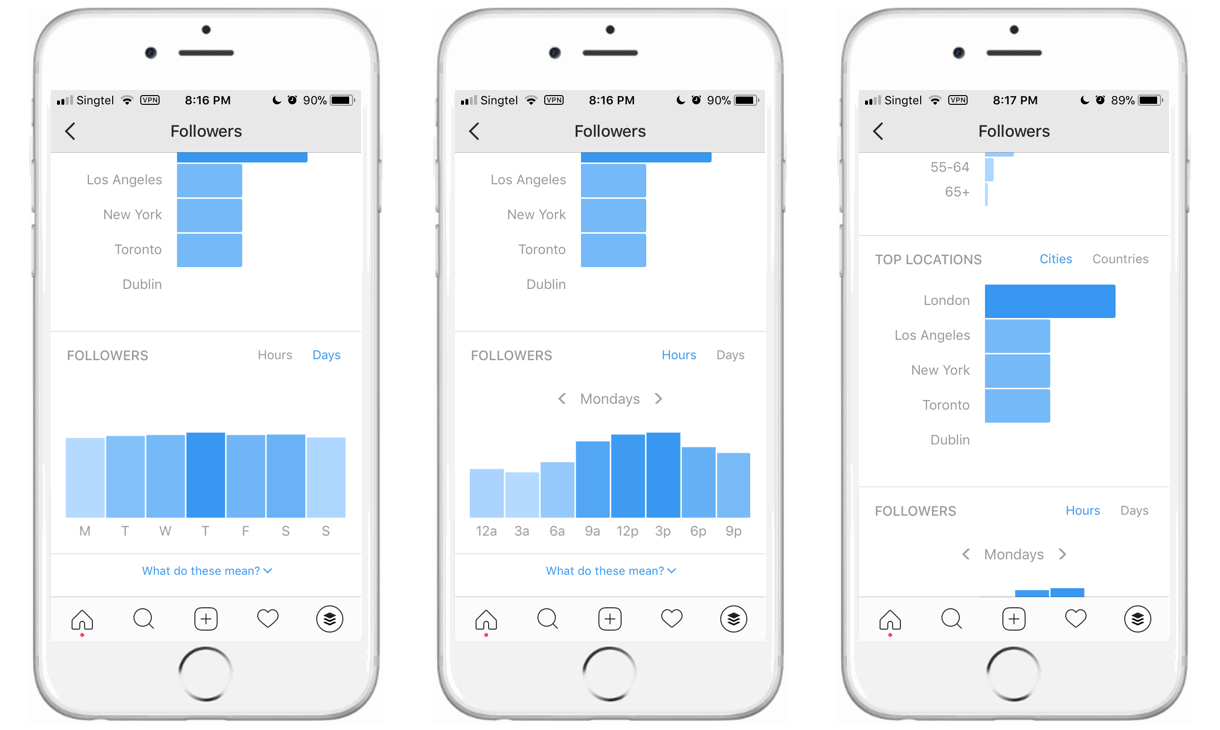 Alternatively, you can use Instagram analytics tools like Iconosquare or Buffer for Business to find your best time to post using your Instagram data. This is especially helpful if you don't have a business profile on Instagram and, thereby, no access to Instagram Insights. Here's how the Iconosquare feature looks like: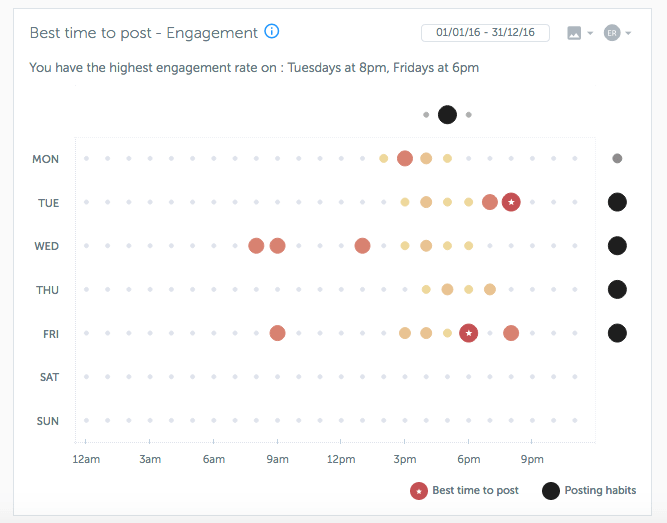 7. Use your analytics
One of the key ways to grow your Instagram following is to post high-quality content that your followers like and would engage with.
How do you know what your followers like? Again, Instagram Insights provides the data for you to understand which posts your followers like the most.
In the Instagram app, tap on your profile photo
Tap on the Instagram Insights (bar chart) icon
Scroll down to the "Posts" section and tap on "See more"
Here, you'll see your top posts sorted by impressions. You can tap on the sentence at the top of the page and change the filters according. For example, you could instead see your top videos in the past three months sorted by comments.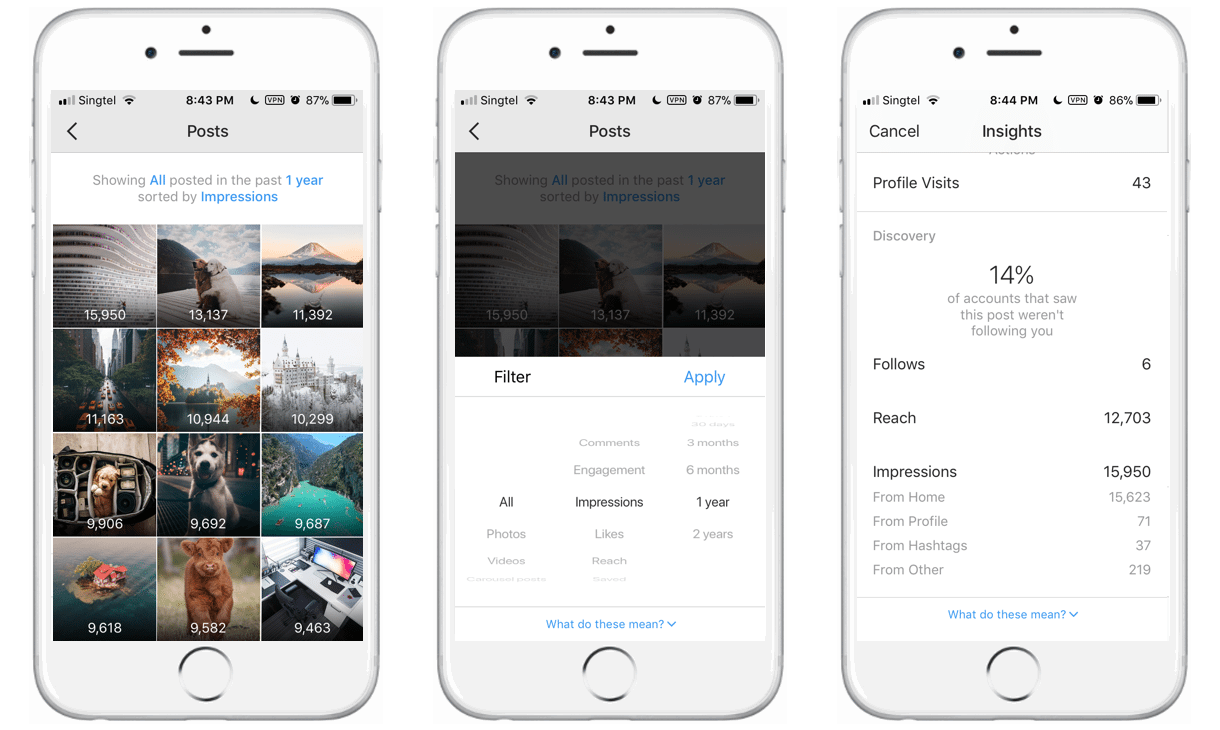 Do you notice any trends?
Does a certain type of image get more impressions or engagement? Post more of those images and see if your followers continue to like and engage with them.
You can even dive deeper into the data by selecting a post and tapping on "View Insights". For example, I found that, with one of our recent posts, we reached more than 1,700 people who weren't following us. If they like that post, there's a high chance that they might end up following us for more similar posts.

8. Engage your fans
In the the Explore tab, reaching even more people. And possibly gaining more followers.
A great practice is then to engage your followers by liking or replying to their comments to your posts. Since they took the effort to check out your posts and commenting on them, it feels great to reciprocate by continuing the conversation. Here at Buffer, we use Buffer Reply to easily and quickly reply our fans on Instagram (Facebook, and Twitter).

9. Host contests
Our most commented-on Instagram posts are all contest posts, where we gave out Buffer swags as the prize. Here's one of them: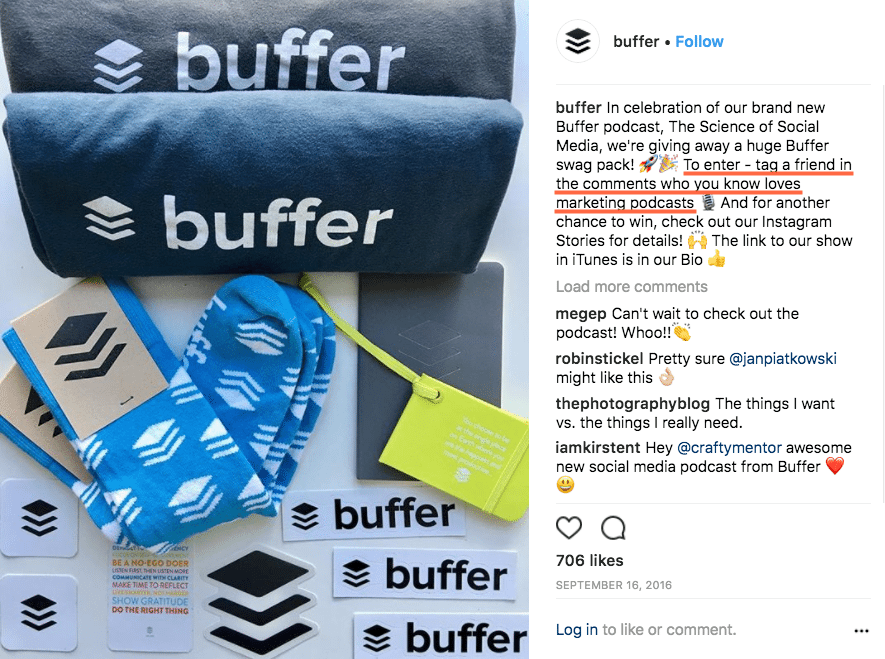 These posts are great for increasing your reach on Instagram and gaining new followers. For example, you could invite your followers to comment with their favorite emojis or tag a friend to enter the contest.
With the help of either the algorithm or your followers, you could reach many people who might not have heard of your brand before. And if they like the posts on your profile, they might choose to follow you.
To help you get started, Social Media Examiner has an awesome primer on all kinds of Instagram contests.

10. Cross-post
Finally, make sure your existing fans know you're on Instagram through cross-posting. Instagram makes it simple to share your posts to Facebook, Twitter, and Tumblr, which could be a great tactic to get some extra exposure.
And there's a great advantage to cross-post! A Buzzsumo study of more than one billion Facebook posts from three million brand pages found that images posted to Facebook via Instagram receive more engagement than natively published images
11
: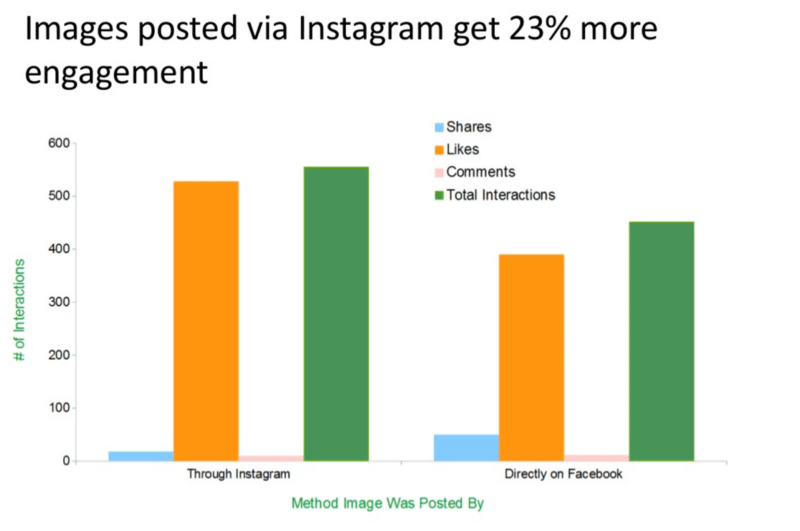 You can also try embedding Instagram photos in your blog posts (see this post for an example) or adding an Instagram feed to your Facebook page for some additional discovery. Here's a look at Buffer's Facebook Page with an added Instagram feed: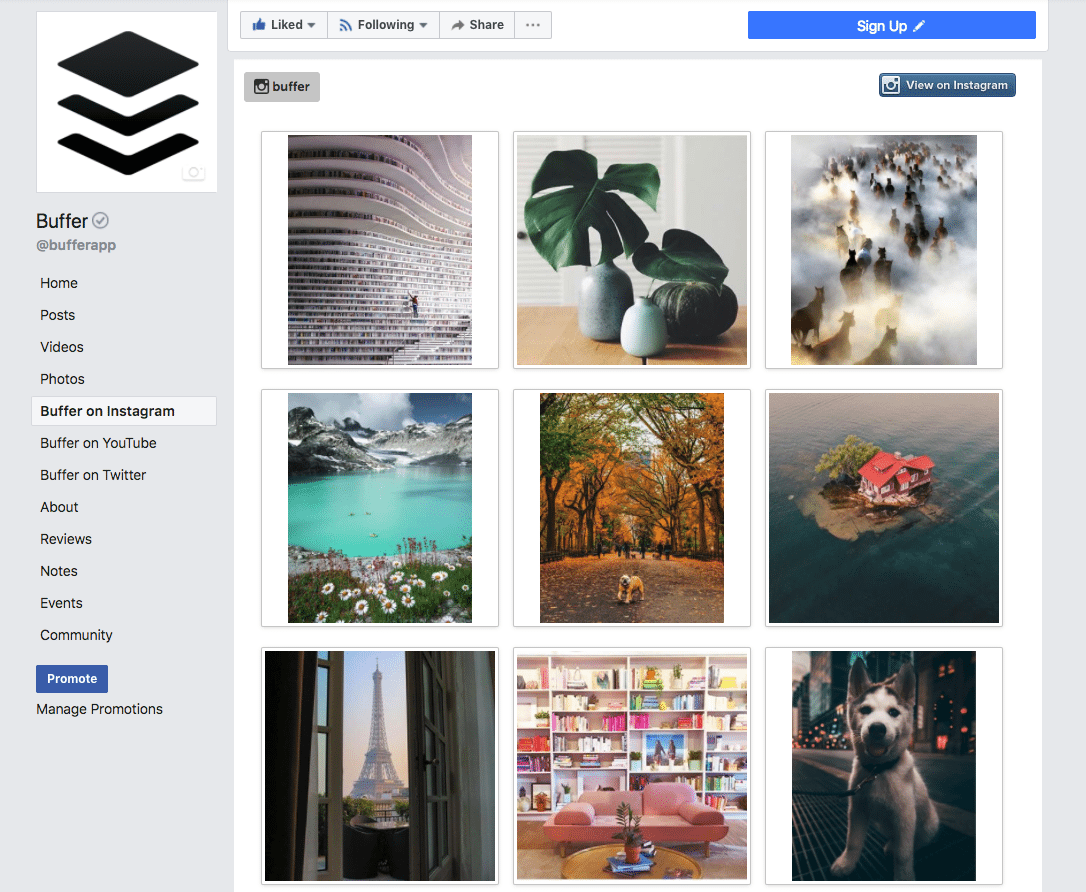 One last tactic: How to drive traffic from Instagram?
One of the challenges of marketing on Instagram (and possibly a part of its joy for users) is that you can't quite add links for your viewers to click.
If you want to send your followers to a specific link, it's becoming a common practice to change the link in your Instagram profile and add the comment "link in bio" to a corresponding photo or video.
You could also use a tool like Campsite to create a mobile-friendly page where you can list multiple links and associate the links to the respective Instagram post (which you can then link to from your bio).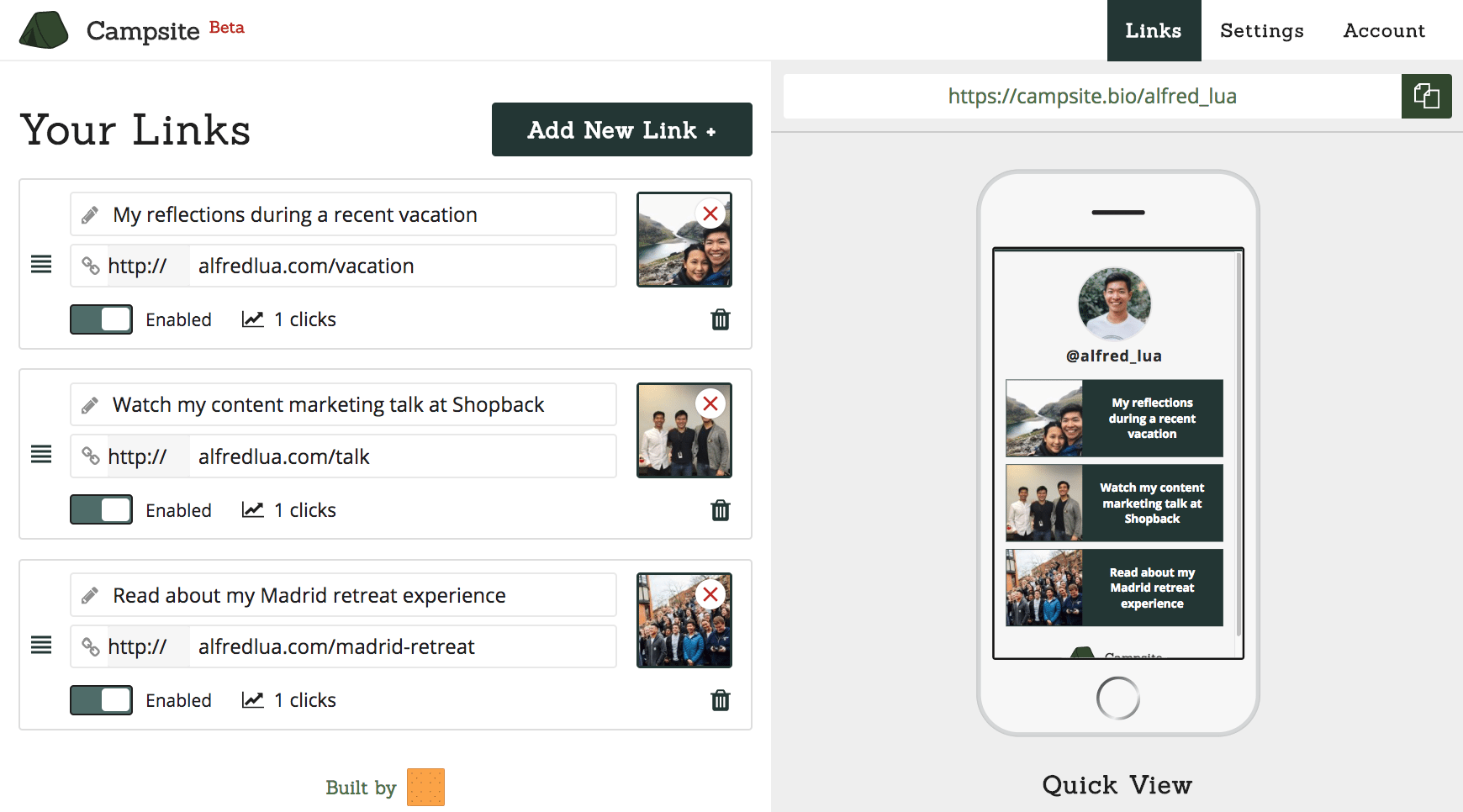 Wrapping it up: Anatomy of a perfect post
We've gone over quite a lot of tactics to remember and try! The kind folks at Made Freshly combined lots of these tips for growing a following into this fun, evergreen infographic: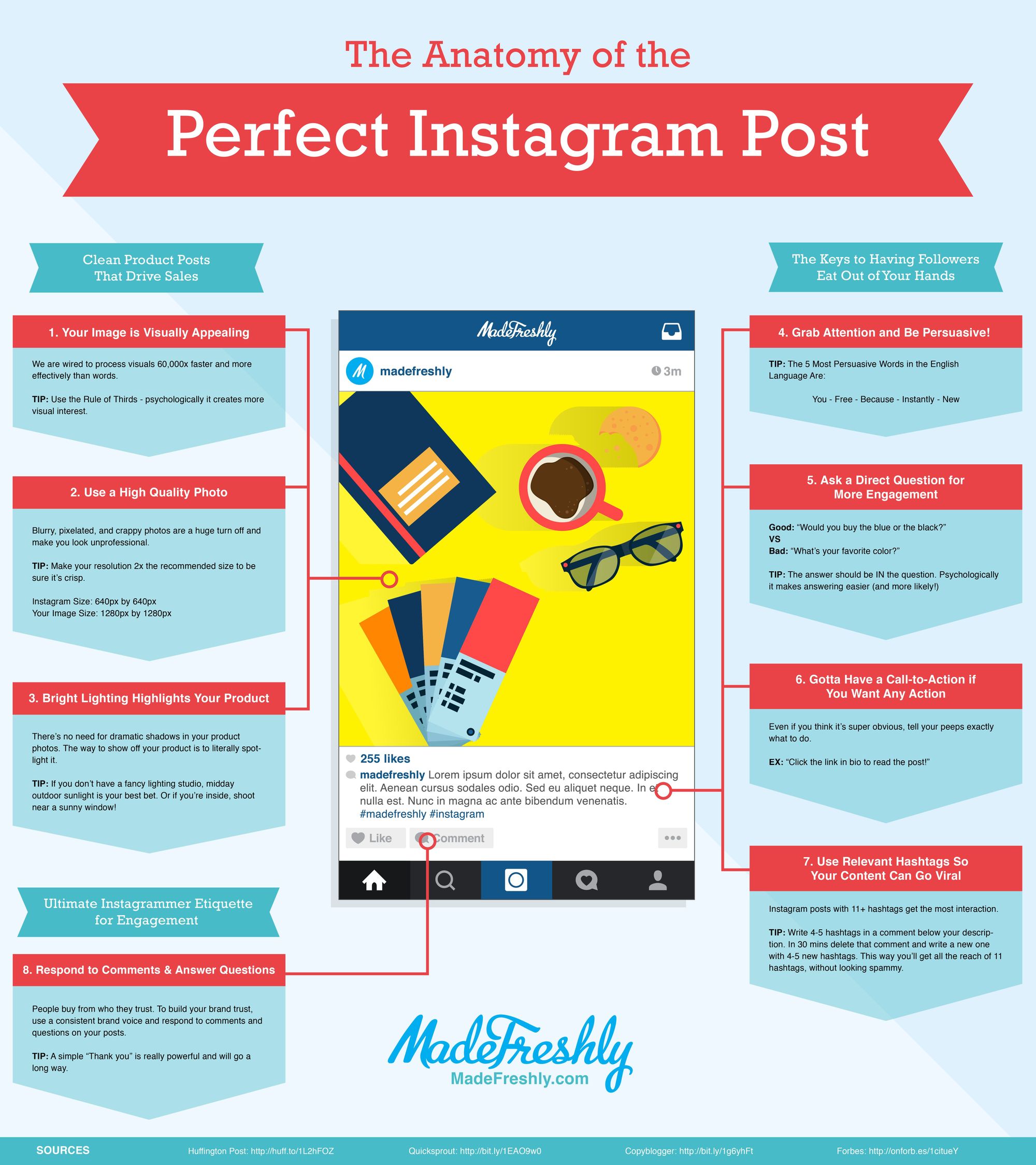 Bonus! Buffer for Instagram: Now with direct scheduling
We are so excited to share that Buffer for Instagram now comes with direct scheduling!
Schedule single-image posts or set reminders to post videos and multi-image posts at your best times to grow your Instagram following. Learn more today.
What are your Instagram experiences?
In our quest to grow our followers, it's always helpful to remember what really matters in all of this: The friends we'll talk to, the relationships we'll create, and the fun we'll have.
An easy way to keep this principle central is to spend a bit of time each day just hanging out and enjoying Instagram. You might respond to comments, like photos, follow some new friends, and comment on awesome posts. It's the time spent showing and sharing the love that can pay off in new followers. It also creates a better social media experience for everyone.
We'd love to keep the conversation going—both in the comments here and on Instagram, of course! Lots of awesome friends shared their top tips for marketing on the social network, and we'd love to hear yours, too! Add your thoughts below!
You might also enjoy these
Instagram marketing
resources:
The Ultimate Guide to Instagram Analytics: Metrics, Insights, Tools, and Tips
A Complete Guide to Instagram Marketing: The Playbook That Drives Results
How Instagram Stories Work: A Powerful New Way to Engage