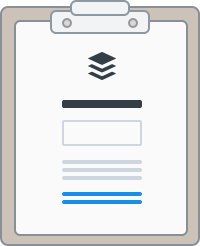 Buffer Product Report
September 2016
Weekly active users (Awesome + Individual plans)
165,180 +5.1%
Weekly active
B4B users
4,854 +2.4%
B4B Monthly Recurring Revenue
$473,425 +4.6%
Social updates sent by B4B users
2,998,879 -0.7%
Users starting B4B trials in September
5,796 -44.4%
Converted
B4B trialists
410 +30%
Users ended their trials in September
8,064 -15.1%
Individual and Awesome plan: "Core Buffer," customized posts, our product process
Update by Suprasanna Mishra
September was a great month that can be summarized as 'getting the details right'!
On Buffer tribe, we spent September working through more versions of our new Composer in the extension and in the dashboard. We also worked on getting our engineering and product teams ready for Q4 where we've decided to have a big focus on 'core Buffer'.
What is "Core Buffer"?
We've been thinking about our priorities at Buffer from a product perspective and one thing we realized was that we never want to compromise on the quality of products we build and maintain for you.
That's where "Core Buffer" comes in. This is our name for the parts of the product focused on creating, scheduling and analyzing your social content. For the next few months, we aim to spend a large percentage of our time focused on these areas.
In September, we made headway on a new image handling platform that will mean faster, more consistent handling and resizing of images.
We also have a great list of product improvements around these core areas that we started exploring. For smaller issues, our engineers will dive in, explore the problem, find a solution and implement it!
For other items that might be more involved, we run through our product process to ensure they are in the best possible shape for our customers. What is our product process? So glad you asked!
Our product process
Our process starts with a hypothesis of the problem we want to solve for our customers. One example of this might be "When I add an article to Buffer via the extension, I want to customize what I say about it for each network so I can get better engagement on my posts." We then talk to customers in a variety of ways and explore our data to validate or invalidate that hypothesis – in other words, is this a real problem worth solving?
If it is, our product designers will then create a few concepts of potential solutions. The designer will then work with our product researcher to see how real Buffer users respond to each. They'll try and find what parts of each concept work well and which ones not so well. This loop happens a few times with the design being improved and iterated each time!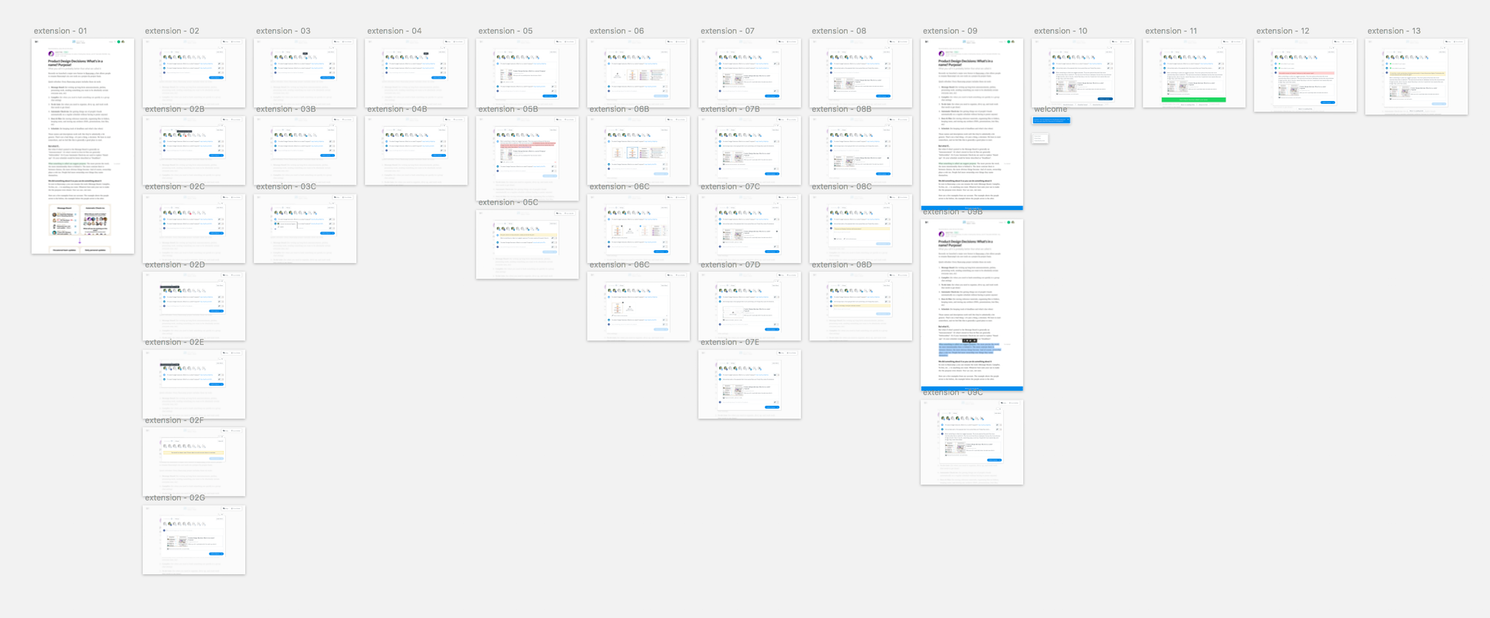 Once we know it's something we definitely want to build and we have a design solution that feels great, our engineering team thinks through the implementation and then works to bring it to life!
Throughout this process, our product managers help wherever they can to make sure we're considering the bigger picture and building the right solution at the right time.
Customizing messages for each platform
We've been working on a new Composer experience (currently in beta) that will have a text field per network rather than one text field for all networks. This lets you customize your message for each network and audience all in one go.
On the browser extension side of things for the beta, we added "attachment glances"—little thumbnail previews of any attachments the post contains.

We also went through three design iterations to improve how the experience looks and feels and keep it consistent with the rest of Buffer. Things have started to feel great for this feature so we have added about 200 new beta testers to get even more feedback.
For building the new Composer into the web dashboard, we're a bit earlier in the process.
We are simultaneously building the scaffolding on the engineering side to support this new Composer while we take our designs through rounds of customer research to improve them! Our goal here is to make an interface that balances power with intuitiveness.
We've gone through a lot of rapid iterations by mocking things up using Sketch and InVision and jumping on calls with customers to see how they feel. The idea is that by the time we have a 'final' design decided on, we'll be ready with the groundwork on the engineering side to bring that design into code and make it a reality.
Buffer for Business: New and improved analytics, upcoming collaboration tool
Update by Tom Redman
Overview Analytics coming soon
We've redesigned the Overview Analytics for Twitter profiles from scratch, with substantial research and design iterations to arrive at what we feel is a much more valuable solution than our current offering. We're excited to share even more useful data in this new overview, and we're now using Twitter's powerful Gnip data backend to ensure the analytics we provide are as accurate as possible.
This allows you to more quickly and reliably measure your efforts on social through our Analytics dashboard.
This overhauled Overview Analytics is now in active development and is moving along really well, with Alex building the front end, and Tigran making sure our backend analytics are accurate, fast and robust.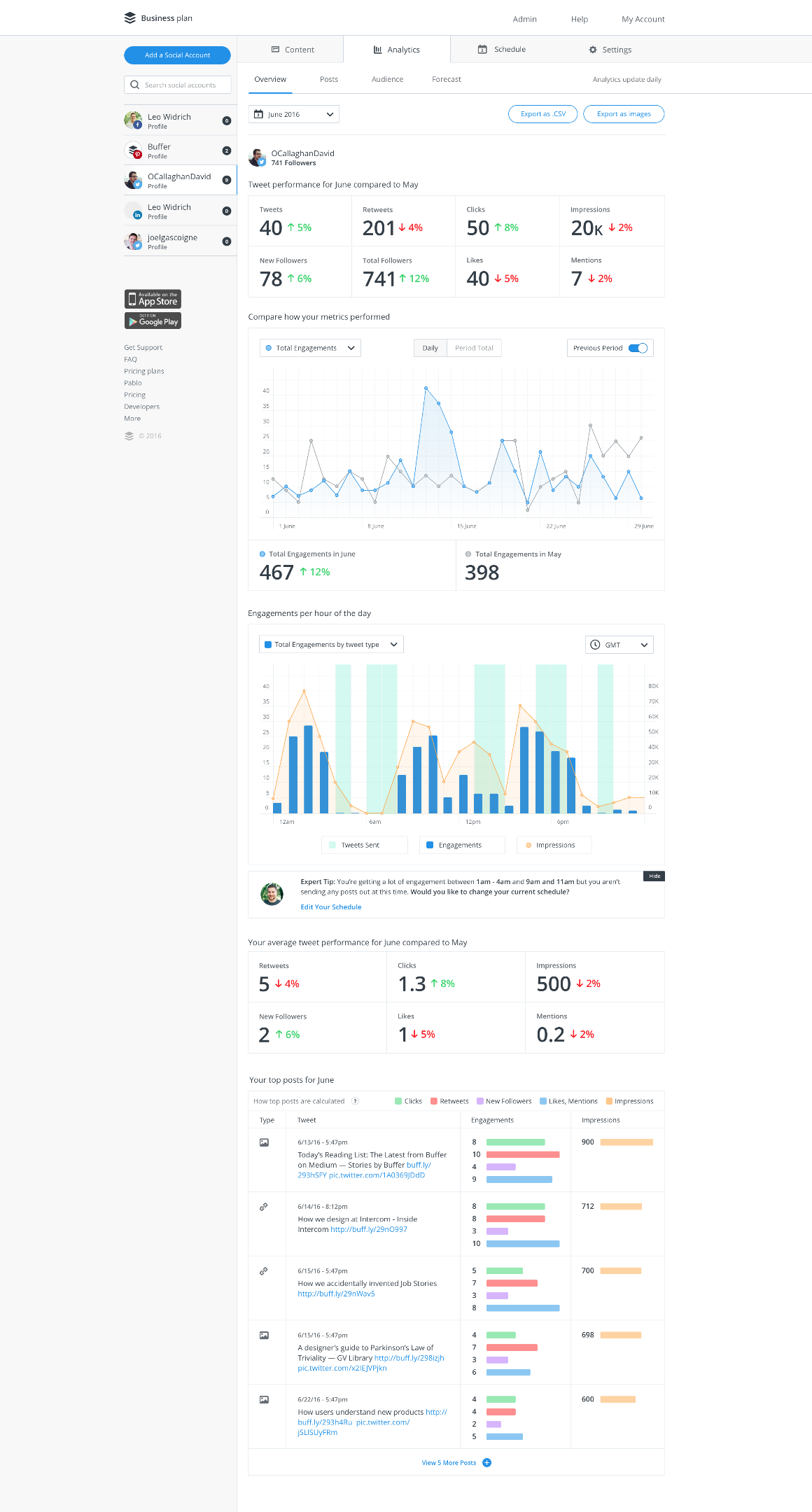 We've been working hard to ensure our analytics are accurate, and will continue to make this a full-time, dedicated focus in Q4.
Idea phase: A new collaboration tool
After several research and design iterations, we've ended up with a product design for a social update Collaboration Tool that we're very excited about.
While research and design is ongoing, the fundamentals are ready and we're thrilled to start engineering on this in Q4. The tool will be built and released in two phases, the first of which will be a major improvement of the existing contribution flow. The second phase will build on this, adding internal team member commenting, team member mentions and an activity log to your social updates in Buffer.
Almost ready for rollout: Organization Admin
To make managing your team in Buffer for Business easier and more intuitive, we've researched, designed and built a new tool we're calling the Organization Admin, and we're almost ready to start rolling it out!
I'm super excited to share that this new tool is in final testing before an external rollout: all of the work on adjusting permissions, adding and removing team members and social profiles is looking great and should provide a strong foundation to build on in the future.
We have a shortlist of engineering tasks left, and will plan a rollout once we're comfortable with the quality and robustness of the new tool. Once released, we'll continuously listen to feedback and actively improve the tool throughout Q4.
Growth: A big drop in trials explained + 3 things we'd love to see users do on Day One
Update by Maxime Berthelot and Tom Dunn
Awesome trials dropped a lot: Here's why
In August we ran an experiment where 50 percent of customers signing up from the main call to action on Buffer.com were immediately put on a seven-day Awesome trial. As a result we had 24,500 customers starting an Awesome trial in August (compared to a monthly average of about 3,100).
This resulted in 1,417 conversions in August, due to our experiment, compared to 889 conversions in September, when we stopped the full option trial experiment in order to analyze it fully.
Data analysis and customer research has indicated that customers are more likely to convert when they are onboarded onto an Awesome trial immediately.
We are confident in our decision to onboard new signups onto an Awesome trial and are implementing this new flow at the start of October.
Breakthrough: We've pinpointed the 'make or break' moment for new customers
The first day of a new Buffer customer's journey is an incredibly important one, and we got new data in September that shows just how much.
We have discovered that users who schedule three updates on day one are likely to be retained for three months and more.
In September we made this our new activation metric, thanks to fantastic work from Julian on the data team.
New activation definition: When a user schedules three posts on day one.
We believe Day One to be particularly important as our data findings have shown this to be a 'make or break' moment for new users. Our average daily activation rate with this new metric is 25 percent. Our mission this quarter is to help customers experience Buffer's value as quickly and easily as possible in order to increase our activation rate by 10 percent.
Other data wins: By observing signups on Hotjar and being more diligent with testing, we identified lots of onboarding clutter and fixed a bug that was confusing a lot of new users. We plan to declutter and simplify the experience this coming quarter.
We also identified a poor user experience for signups on mobile browsers that was affecting 500–600 weekly signups. We now offer a redirect option to our mobile apps where these users will have a much better experience. Once our onboarding roadmap is clearer, we aim to work on a long term solution for mobile browser users.
New experiments: Doubling the price of Awesome; removing onboarding
The price of the Awesome plan has remained at $10 a month for two years now, despite adding a lot of value since then with features like Calendar, Pinterest, Instagram and more.
We feel with the amount of inflation and added value to the Awesome plan, it's well worth a slightly higher price, though we want to be thoughtful of the best price-value match. We're grateful for each customer who spends their hard-earned money on our product and want to be good stewards of this.
To step out and test this on a small control group as a means to find the best fit, we charged $20 per month for two weeks for 50 percent of our new signups. We are excited to monitor the data and share results in a month or so.
Other experiments: As part of our mission to improve our activation rate, we are keen to find out how effective our onboarding flow is. We removed the whole onboarding flow for 20 percent of new signups so we can compare this group's activation rate with our control group. We will share the results in our next report.
Experiment conclusion: As we shared in our previous report, the length of the Buffer for Business trial does not make a significant impact on our conversion rate. So we moved back to a 14-day trial at the start of September. We're excited for the chance to learn and iterate much faster with this shorter trial length.
Over to you
Have you ever gone through a process of cutting out some of the extraneous projects to focus on the core or foundational items? We'd love to hear more in the comments!
Check out more reports from September 2016: