Learn how we drive the growth of our blog here at Buffer using free, organic traffic strategies.
Understand how to amplify blog content by reverse engineering social media videos that your audience will love.
See how we generated more than 30,000 clicks to to our content using paid acquisition channels, and how we optimize ads to lower CPC while simultaneously increasing CTR.

Building your website traffic in 2018 is no easy task.
Today, businesses are faced with an ever-increasing amount of online content as well as ongoing changes from search engines such as Google, and constant algorithm updates from platforms like Facebook.
But, if you're in a competitive industry that is dominated by established sites, all is not lost.
You can still get tons of website traffic with a resourceful content marketing strategy that revolves around producing quality, evergreen pieces of content.
We recently teamed up with Tim Soulo, head of marketing and product strategy at Ahrefs, to discuss what the most successful businesses are doing to generate quality website traffic in 2018.
Prefer video? Check out our webinar below:
Generating quality website traffic
Did you know that more than 90 percent of website pages generate no organic search traffic from Google? In fact, if you look closely, less than 1 percent of website pages drive the majority of organic traffic online: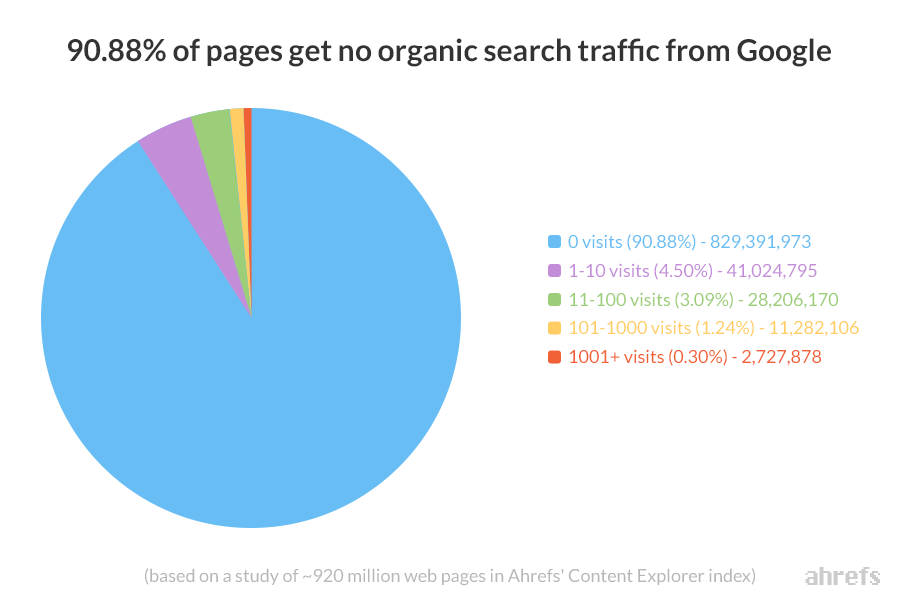 That's why it's critical to have a content strategy in place that incorporates well-researched, evergreen topics that will drive long-term traffic to your website.
The Buffer blog, for example, gets about 1.3 million visits every month, and more than 80 percent of our website traffic comes from people searching for social media marketing topics on Google and finding our blog posts. This 80 percent is also known as organic traffic and is the most scalable and reliable traffic source for most websites.
We achieved this with having only two content writers for most of the past seven years. If we can do it, you can, too!
Here's how we approach traffic growth:
Write about evergreen topics and promote them regularly
This first chart shows the traffic of most blog posts written nowadays. The blog post gets a nice spike of traffic from social media and email on the day of publishing. But the traffic fades away over time because the blog post doesn't rank well on Google and isn't being promoted on marketing channels anymore.

Now, compare that chart with this second one:

This blog post also had a nice spike of traffic on the day of publishing. But the traffic didn't drop over time. In fact, it continues to grow and grow. After three years, this blog post has been viewed more than two million times.
There are several ways to generate evergreen content ideas, but Soulo recommends two proven tactics to consistently increase your success rate.
1. Find popular search terms
Using a tool like the Ahrefs Keyword Explorer, you can search for a single word or phrase related to your product or service: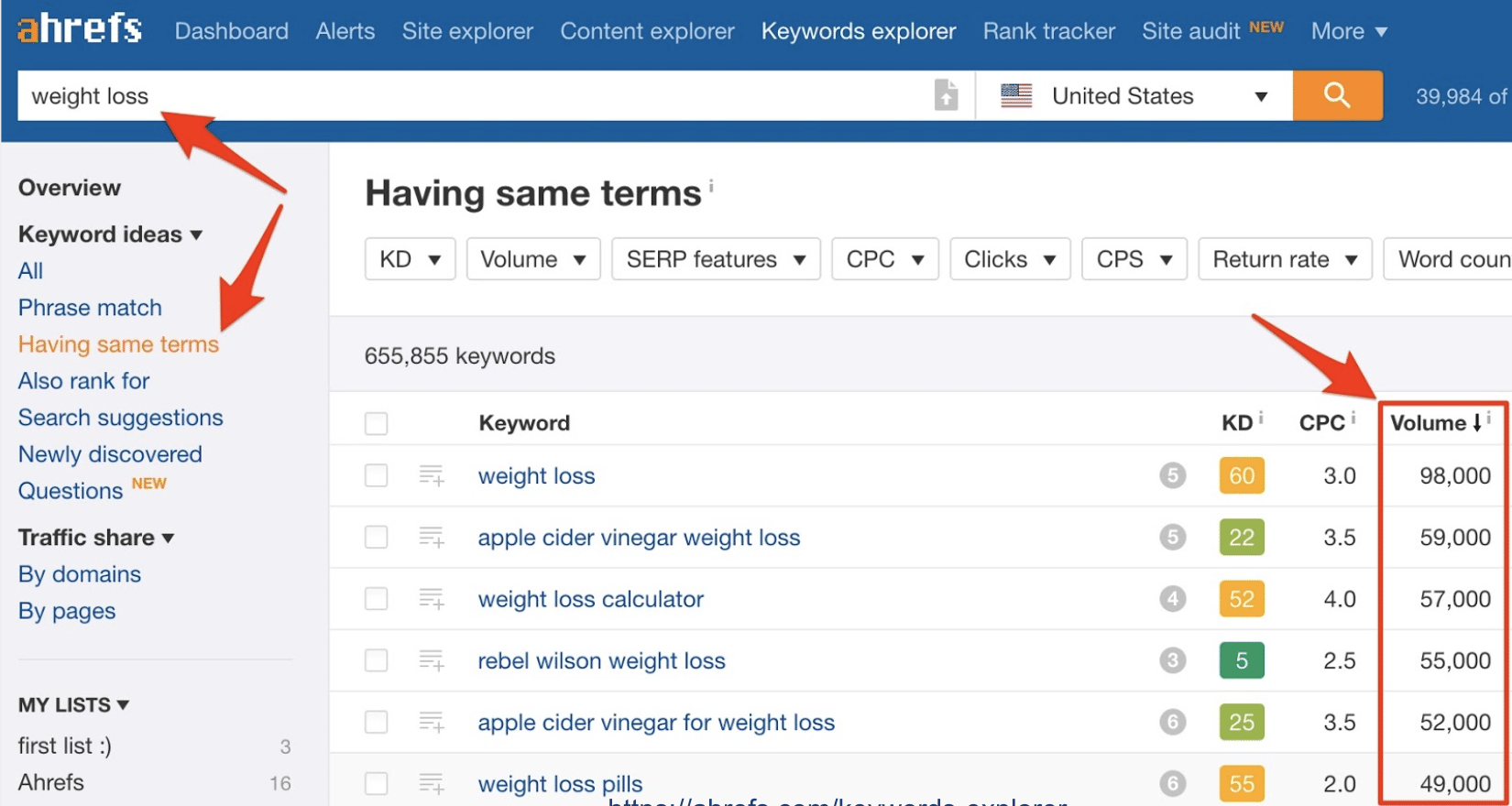 Not only will you be able to view the search volume around the term entered, you'll also be able to view all related keywords and search volume – providing you with even more content ideas.
2. Research your peers and competitors
Another way to generate keyword and content ideas is by research your peers and competitors.
We particularly like this strategy because it helps to provide even deeper insights into the exact pages other businesses in your industry are ranking for. In other words, you can discover exactly what problems and challenges potential customers are trying to solve.
Ahrefs Site Explorer provides you with an in-depth look at the organic search traffic and backlink profile of any website or URL: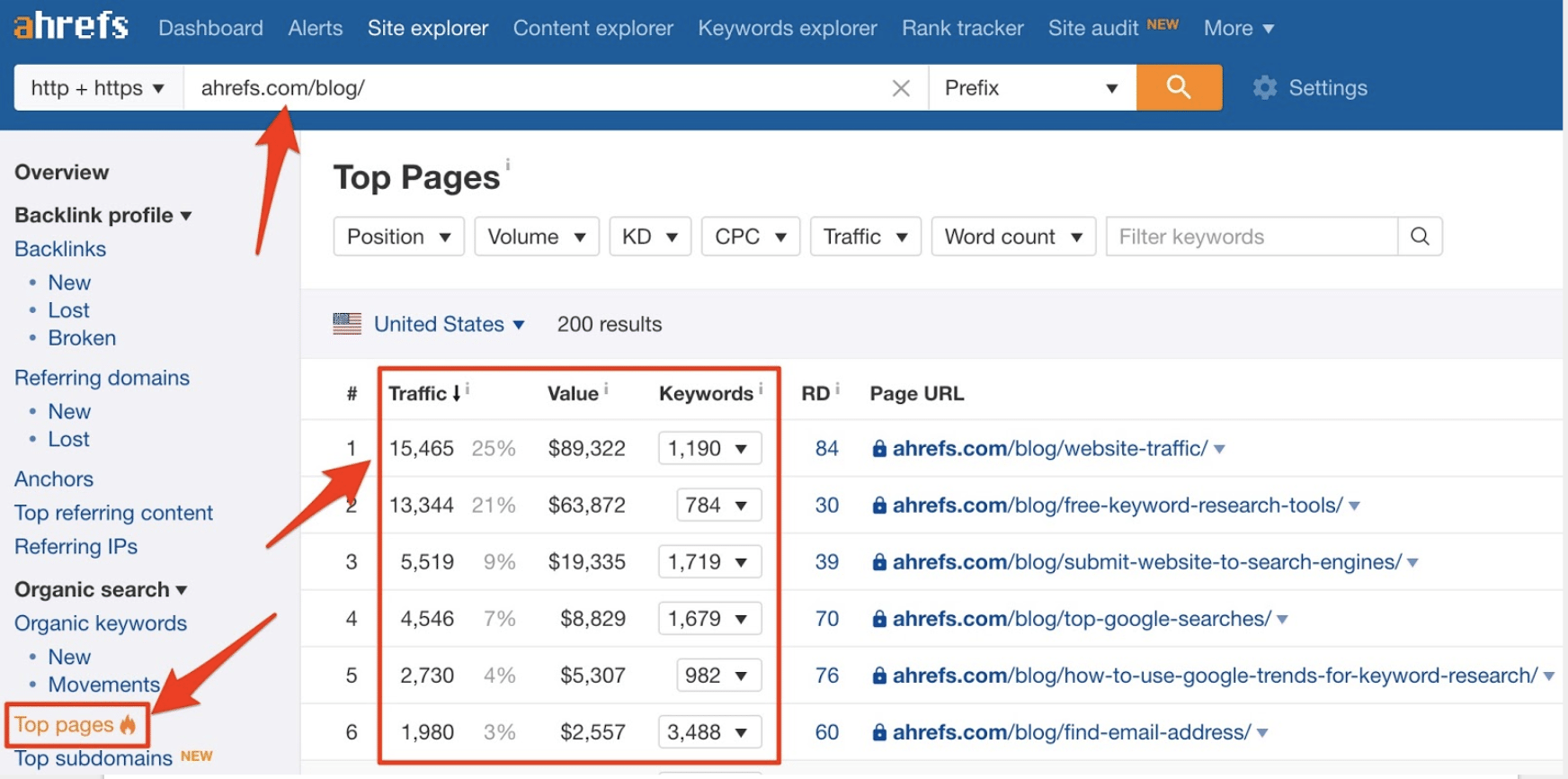 Of course, you should never rely on organic search volume alone to help generate evergreen content ideas for your website or blog, but performing the two steps above is one of the best places to start when planning your content for the month, quarter, or year.
"It's all about studying. Studying what people search for in terms of the topic that you are targeting. If there are a lot of searches, you might want to create an article that would cover most of them. If there aren't a ton of searches around a particular topic, then there isn't much opportunity to have your page rank for several keywords and bring you a healthy amount of search traffic."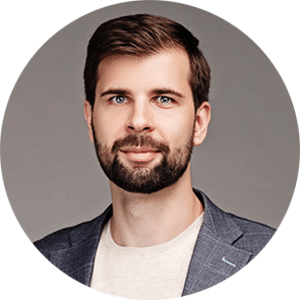 Tim Soulo (@timsoulo)
Head of Marketing, Ahrefs
Besides choosing the right topics to write (through keyword research) and promoting the blog posts regularly (which you'll learn more below), we also consistently update our blog posts.
Updating and relaunching your blog posts
Another thing we do is to regularly update our old blog posts to ensure that they are still relevant and useful to our readers.
In the social media space, many things, such as social media image sizes, can change frequently. Many of the blog posts that we write would no longer be helpful to our readers if the information is outdated.
Updating your old blog posts not only keeps your content relevant to your readers but it can also help you rank better on Google and get more sustainable traffic. For example, when we updated our social media analytics tools blog post last year, the number of daily page views more than doubled!

Here's what we did with that blog post:
Update the content: We added new tools, moved dysfunctional tools, and updated screenshots.
Fine-tune the writing: We re-wrote certain parts to make them read better, added a section on what's social media analytics, and added anchor tags to make navigation easier.
Relaunch the blog post: Then we updated the published date within WordPress and promoted the blog post on social media and via our email list.
"A good way to look at generating sustainable traffic (or organic traffic) is to think of it as creating helpful and relevant content for your target audience. What topics are your audience always searching for? Write a blog post to help answer their questions. Are your blog posts becoming outdated? Update the content so that your audience will still find it useful.
We have a blog post that goes into more details about how we grew our readership to over a million visits per month. If you are interested in learning more about the intricacies of SEO and generating organic traffic, I would recommend following Ahref's blog and Moz's Whiteboard Friday."

But even with the most quality content in the world, potential customers won't visit your website unless they know the content is there.
That's where social media, particularly video and advertising, can help boost the results of your evergreen content strategy above.
Here's how.
Amplifying content success with social media video
Video is one of the most compelling ways to reach your audience because video is the preferred way people consume information in 2018 and will be for the foreseeable future.
Here is a simple formula for amplifying the success of your content and boosting website traffic.
1. Create video topics from what works
Video is not a whole new type of marketing  – video is a way to amplify your existing marketing strategy.
Start by sorting your most visited blog posts or pages from the previous 90 days in Google Analytics. To access this information, head to Google Analytics > Behavior > Site Content > All Pages: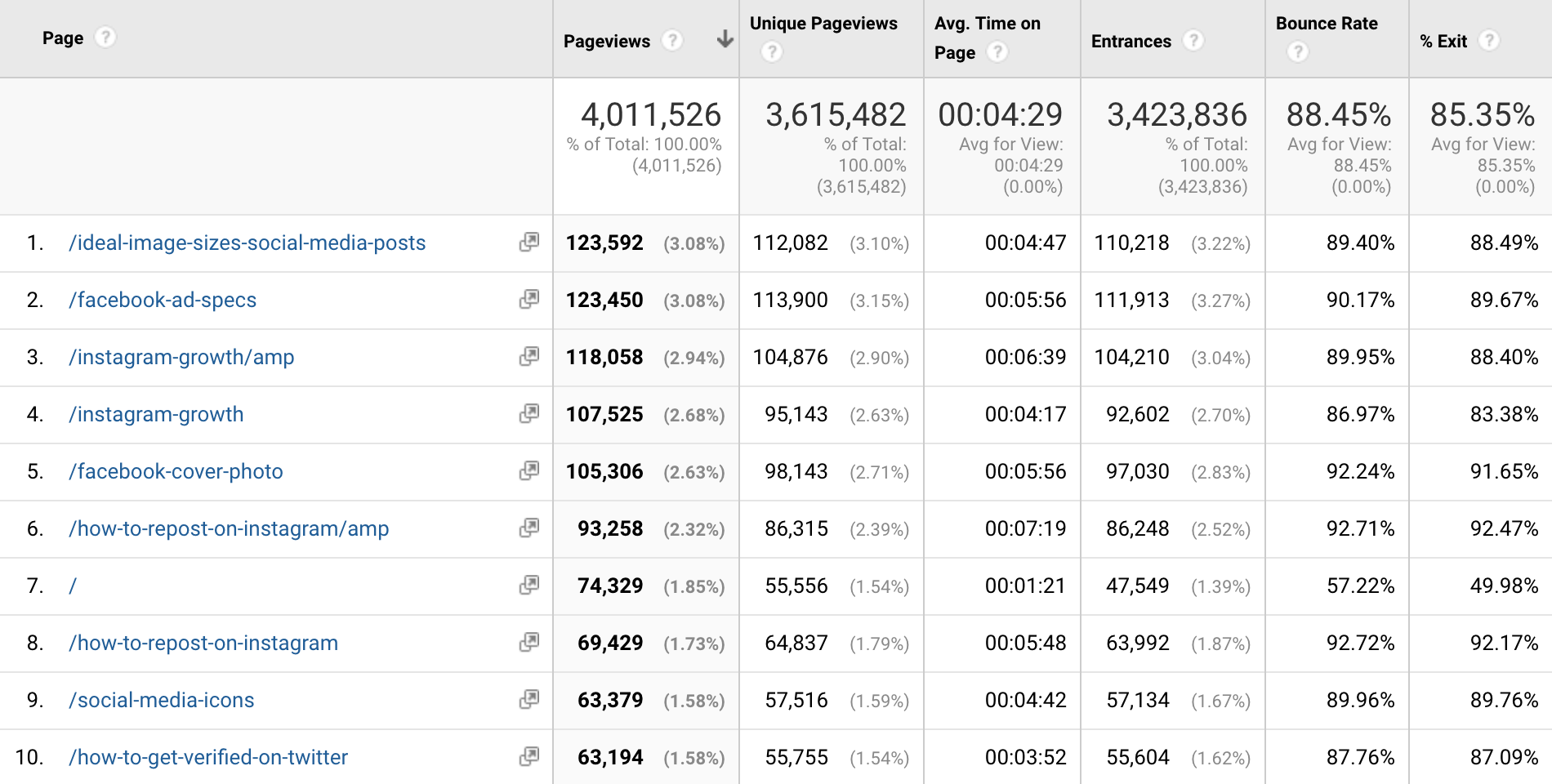 Sorting by Pageviews gives you a precise look at what people are most interested in learning about from your business. It's a good indication of what sorts of content will make for an engaging video topic.
Next, we create a list of possible video topic ideas based on our most popular website content in Excel: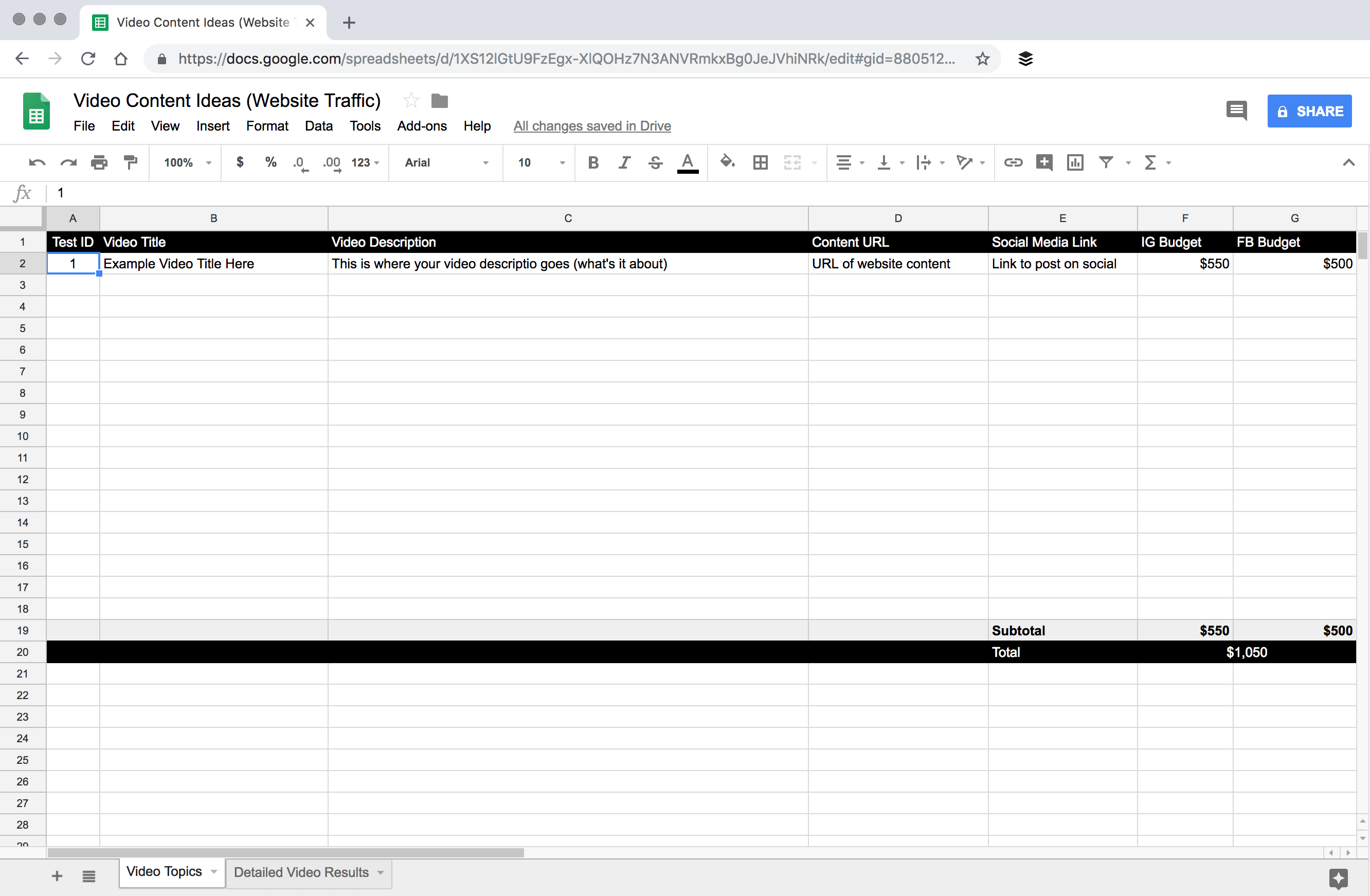 Feel free to "make a copy" of the above Excel spreadsheet template for your own use!
This strategy has helped us create well-liked videos such as this and this on social media as well as drive additional website traffic (traffic we would not have gotten without video content).
2. Create video topics from scratch
If you don't have a ton of existing content to amplify, that's alright! You can still drive traffic to your website by creating compelling video content ideas from scratch.
There are lots of great (free and paid) tools available that will help you to uncover popular topics. Here are two of our favorites:
You can use BuzzSumo to find the most shared content from any URL – instantly allowing you to determine what content has worked for your peers and competitors. You can also find the most shared content for any topic.
For example, let's say we were interested in driving website traffic based on the topic of social media marketing. We'd simply enter that search term into BuzzSumo and the results would look something like this: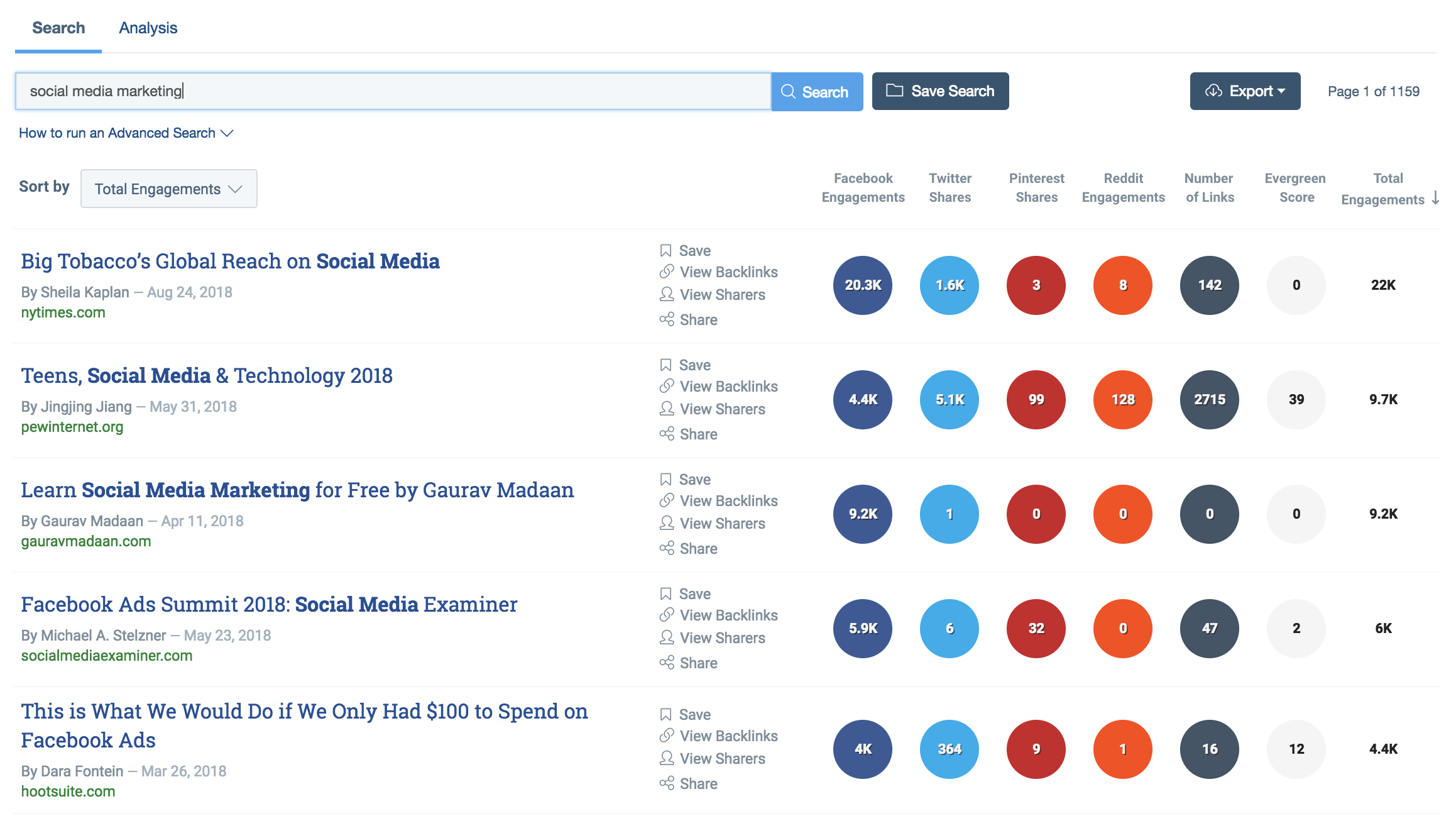 Discovering relevant topics using search terms and website URLs are my favorite way to use BuzzSumo.
Another great way to generate a list of video ideas to drive quality traffic to your website is with a keyword tool such as Ahref Keywords Explorer.
Keywords explorer can allows you to identify thousands of keyword and topic possibilities in a matter of seconds (and which topics are most popular based on search volume!)
For example, let's say you're interested in driving website traffic focused on healthy juices. Simply enter your search term into Keywords Explorer and Ahrefs does all of the work: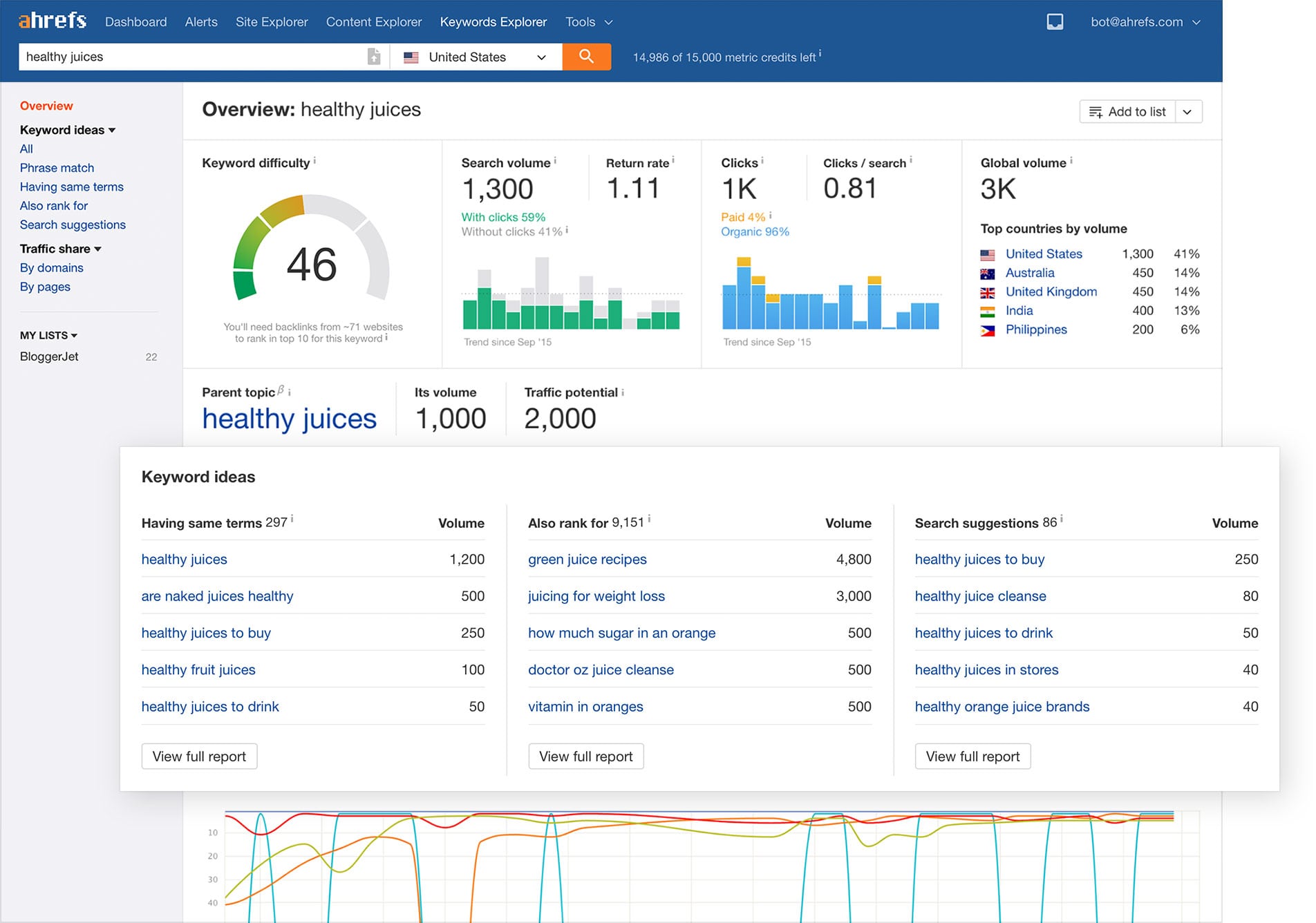 The best part is that the tool provides "alternatives" for your selected keyword and related topics that might be useful for your business.
Other great tools for generating engaging video topics:
3. Create videos to promote your content
Once you have a list of video topics, it's time to create the content. There are plethora of great marketing tools to help you create video content, but to help dwindle it down, here are a few of our favorites:
At Buffer, we regularly use Animoto  to create short, engaging blog post summaries that we can share across social media to drive website traffic back to Buffer.
There are tons of best-practices that help to make videos on social media engaging, but quite possibly the most important factor is video length. Keep in mind that people are often browsing social media from their mobile phone and so quick, compelling videos will perform best.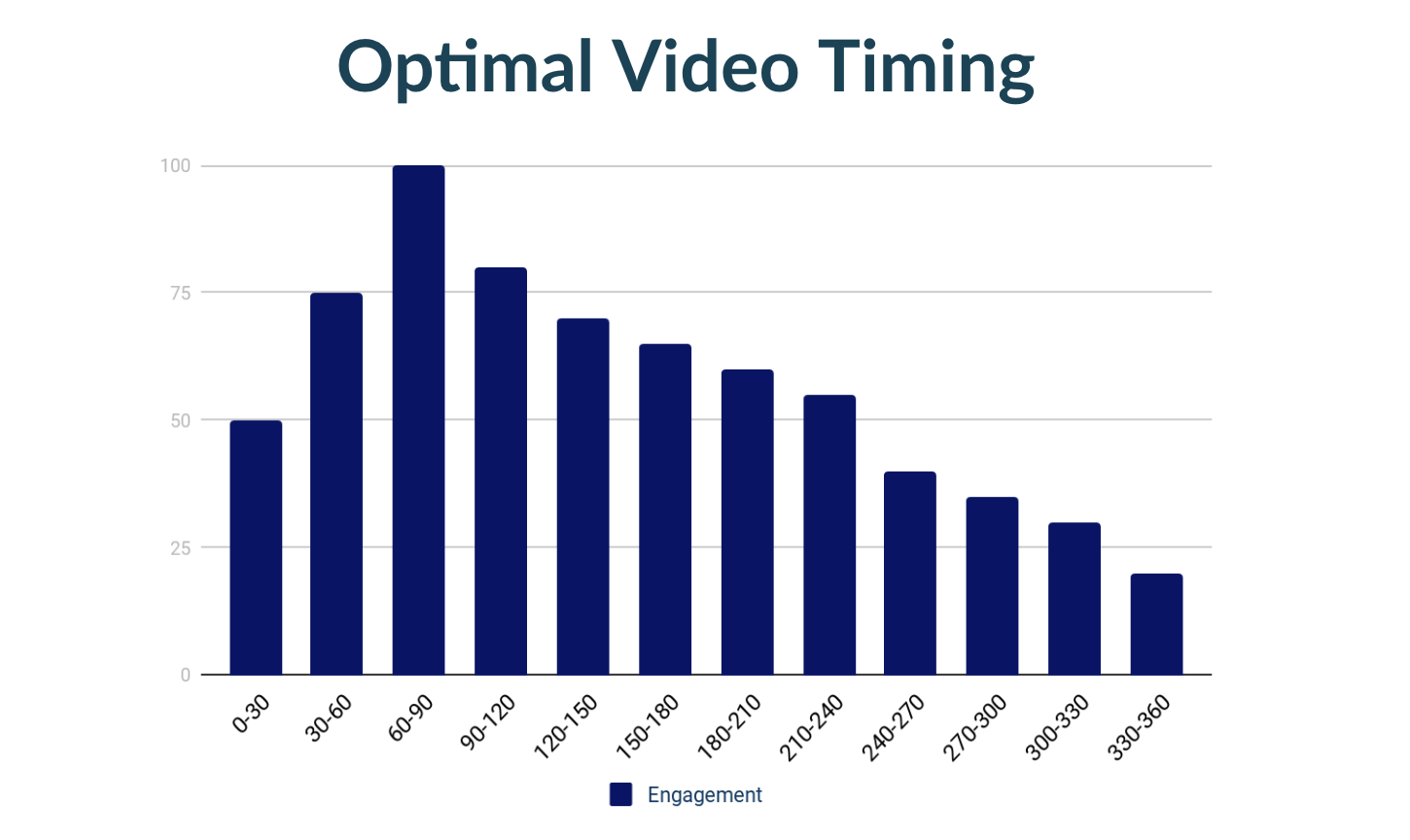 For a complete guide on creating engaging short videos for social media, check out our in-depth blog post where we cover everything you need to know.
Amplifying website traffic with social media ads
Social media advertising has been an effective way for us at Buffer to boost website traffic around top performing blog posts, strategic marketing initiatives, landing pages, and even our podcast.
When comparing Facebook and Instagram advertising to other options such a PPC, we realized that we could generate hundreds of thousands of visits at a fraction of the cost (often less than $0.10 per click).

The best part is that it's extremely easy to get started. Here's our simple approach to social media advertising.
Boost your top-performing content
A straightforward way to drive traffic to your website with advertising is to boost your top performing content on Facebook and Instagram. Here's how:
Start by posting your content organically to Facebook and Instagram
Check your analytics to see which posts have a high engagement rate (engagement / reach * 100)
Use Facebook Ads Manager to create a custom audience that is likely to interact with your content
Create a custom "Traffic" campaign in Ads Manager or use the "Boost" button to promote your top posts
Generate social proof by regularly responding to comments and interacting with your audience
For example, we posted an article to Facebook about "how to grow your Instagram account" and it immediately received higher-than-normal organic interaction.
In order to promote the post, we created a new traffic campaign and ad set, targeting folks interested in topics such as social media marketing, social media manager, and Social Media Examiner.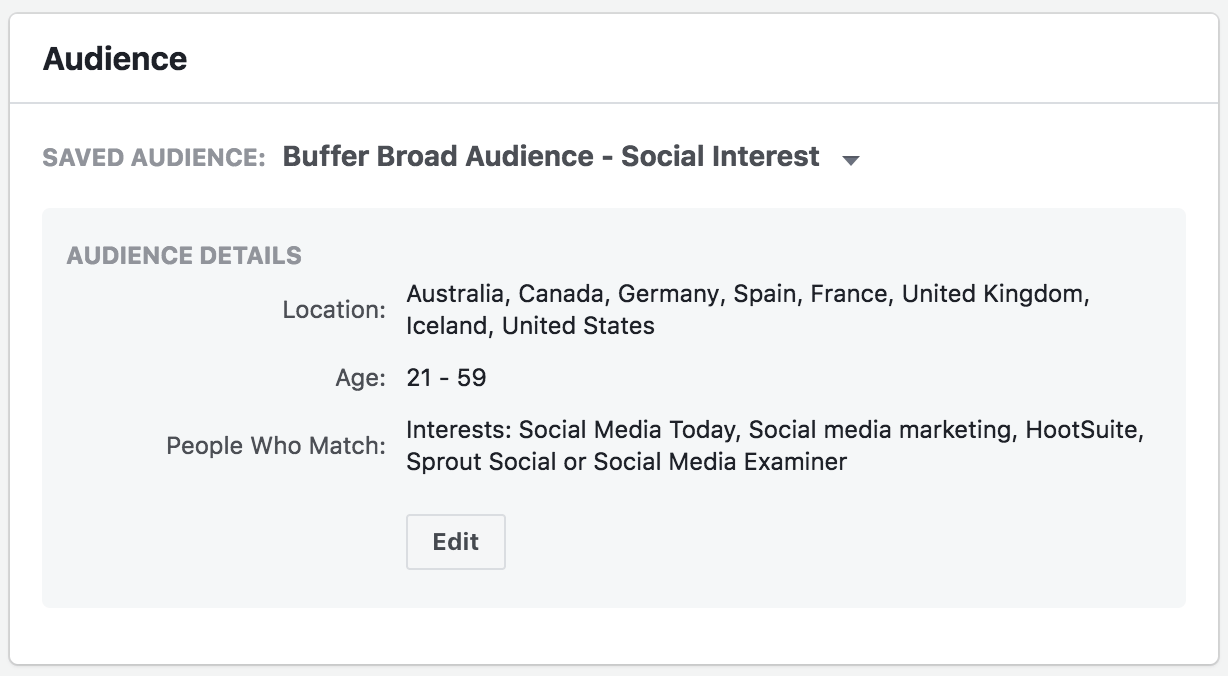 We then set a daily budget of $20 and promoted the post. Here's what it looks like: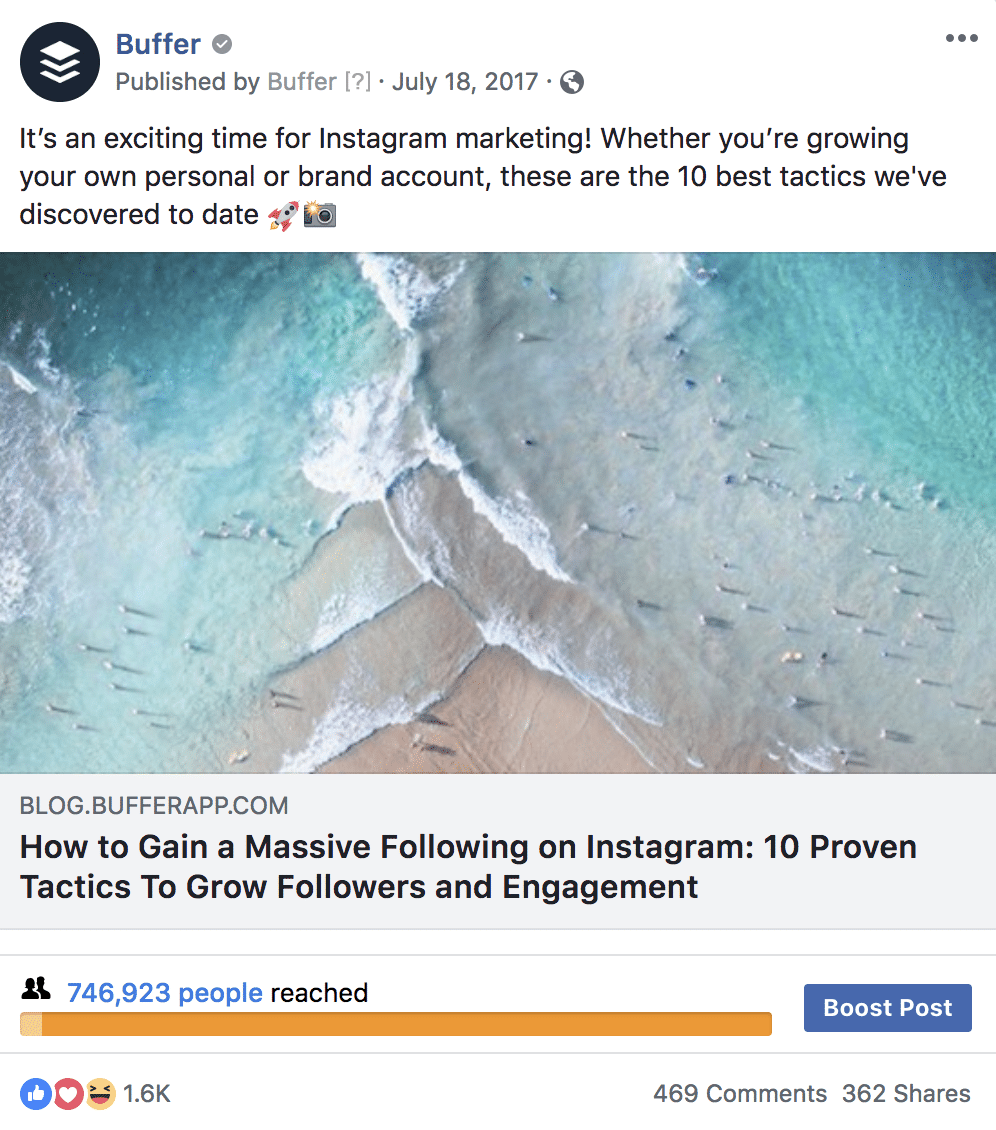 To date, this ad has generated more than 125,000 visits to the Buffer Blog for right around $0.06 per click, which has led to thousands of trials and hundreds of customers.
Create social media advertising content from scratch
Naturally, there will be times when you'll want to promote content, initiatives, and projects that aren't necessarily classified as top-performers.
We wanted to increase the number of downloads to the Buffer Podcast, for example, and looked to social media advertising as a means to do so. Today, we've generated more than 30,000 clicks to the Buffer podcast on iTunes, resulting in a 65 percent increase in downloads in less than six months.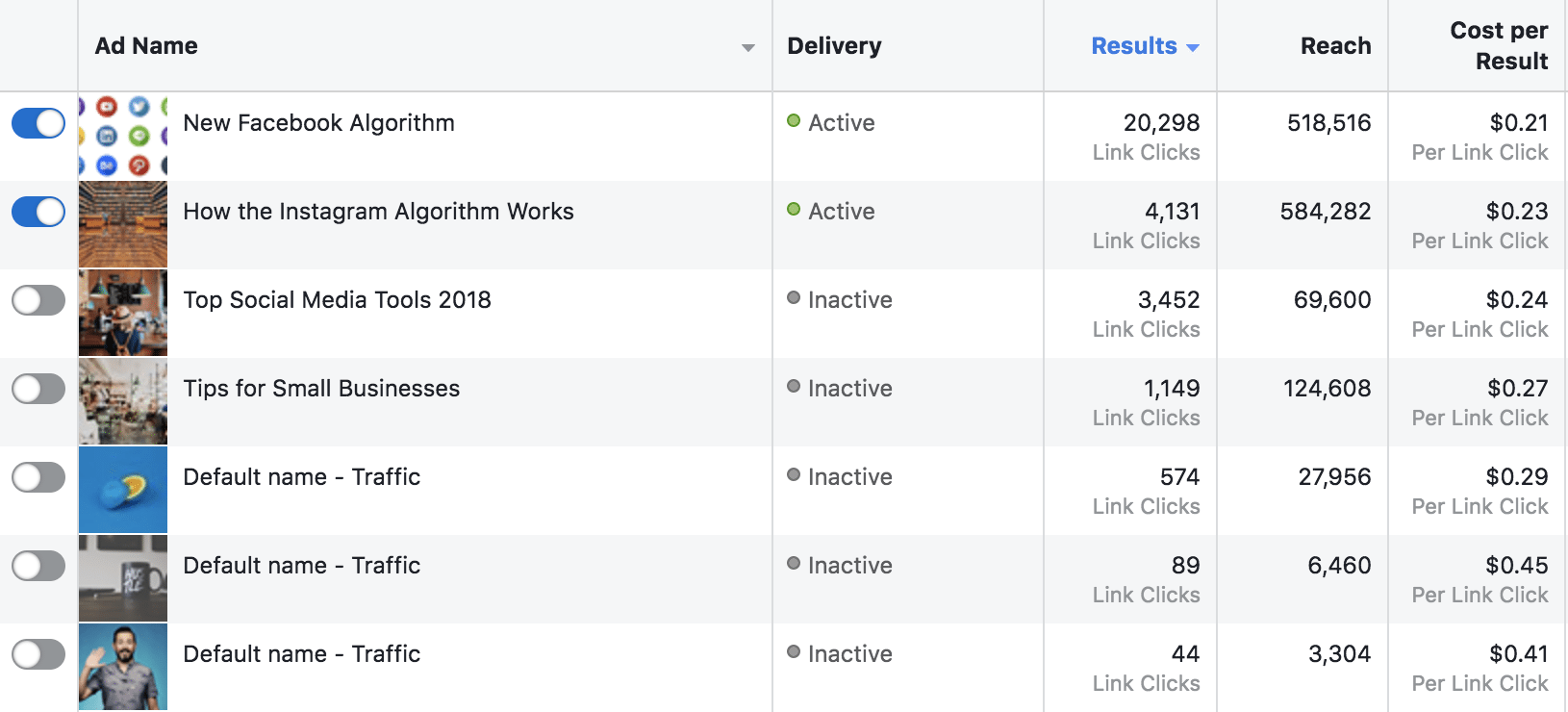 Here's how we did it:
We set up a Custom Audience targeting all traffic to the Buffer Blog and buffer.com knowing that brand awareness would increase our CTR and decrease our CPC.
Next we added an additional targeting filter to only deliver ads to iPhone, iPad, and other iOS devices and linked directly to the episode on iTunes (rather than the show notes or podcast landing page). This reduced the friction of going from podcast ad >> podcast subscriber.
We chose the most popular episodes from the podcast and started there — $10 per day using the "Post Traffic" campaign option in Facebook. We keep a close eye on CPC and whenever it creeps above $0.25–0.30 we shut it off and start a new ad.
"Social media advertising has been an effective way for us at Buffer to boost website traffic around top performing blog posts, strategic marketing initiatives, landing pages, and even our podcast. In the past year alone, we've used Facebook and Instagram advertising to generate more than 100,000 unique targeted visits to our website for less than $0.25 per click, which has resulted in thousands of leads and hundreds of new customers. Plus, it has had a huge impact on brand awareness and word-of-mouth marketing.".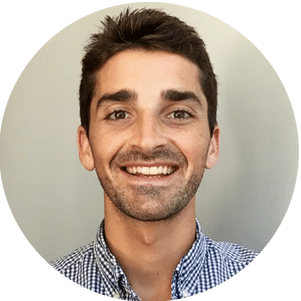 Social media advertising best-practices:
Test images, captions, and headlines until you find the right combination
Look for a relevancy score of 8-10 on brand awareness type content
Increase budget with successful posts (immediately shut down others)
Keep an eye on frequency rate (try not to exceed 2.0)
Evergreen content can run as long as you want!
If you're just getting started with social media advertising or you're looking to build upon what you already know, we have a brand new Skillshare class all about advertising (we're happy to offer you a free month of Skillshare Premium)
Over to you
We hope you enjoyed our webinar with Ahrefs and all of the content included in this post!
We'd love to hear from you as well.
What tactics and strategies have worked for your business to generate lots of quality website traffic? Feel free to drop a comment below!
Learn more about how Ahrefs can help your business here or check out more of Tim Soulo's work here.
Want more content like this?
More than 45,000 marketers and small business owners subscribe to our newsletter to receive our blog posts and exclusive email-only content.