The truth is, there's so much to do on social media that, as a social media manager, I have to choose my battles wisely when it comes to steering my time and deciding which creative strategies to pursue.
Luckily, there are an unlimited amount of resources out there to help social media marketers like us to decide which strategies will provide the biggest payoff when it comes to Facebook marketing.
But, more often than not, those resources give a general overview of various social media strategies and high-level tactics, leaving us wondering where we can turn to for ideas for specific images, copy, hashtags, videos and content that is working right now for top brands.
That's where my favorite Facebook tool comes in – A tool that is 100% free to use.
The Facebook "Pages to Watch" feature has completely changed the way I go about Facebook marketing on a daily basis. Many of you probably know about and use this tool regularly, but I'd love to provide a brief guide on where to find the Pages to Watch feature and how you can use it to improve your Facebook marketing.
After that, we'll get into some good stuff and I'll share with you the 16 Facebook pages that we watch like a hawk and draw inspiration from every day.
Ready? Let's jump in!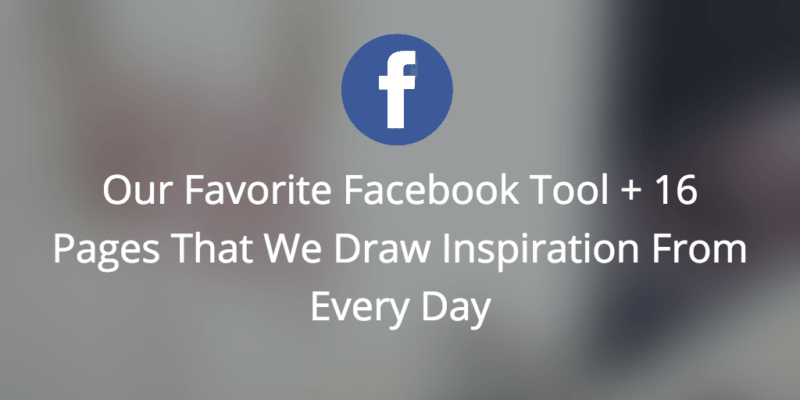 How to Find and Use Facebook's Pages to Watch Feature
For Facebook Pages with more than 100 likes, Facebook Pages to Watch offers a robust >Insights tool that gives social media marketers the ability to analyze a ton of great data from their page.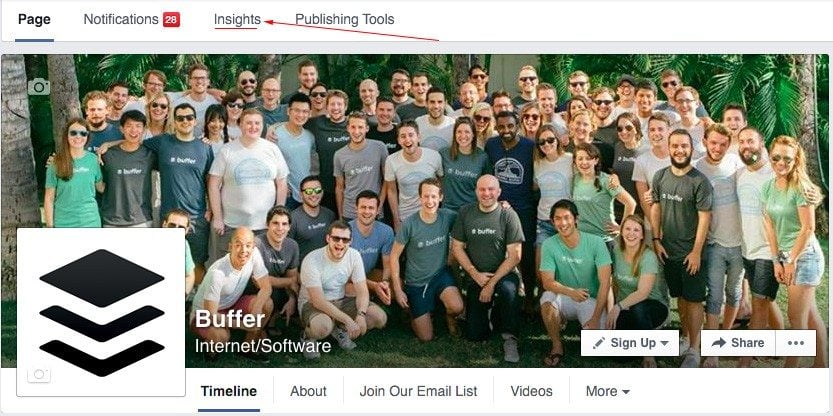 From there, you'll be taken to your page's Insights dashboard where you'll find the tool of all tools – Pages to Watch – directly under the "5 Most Recent Posts" section.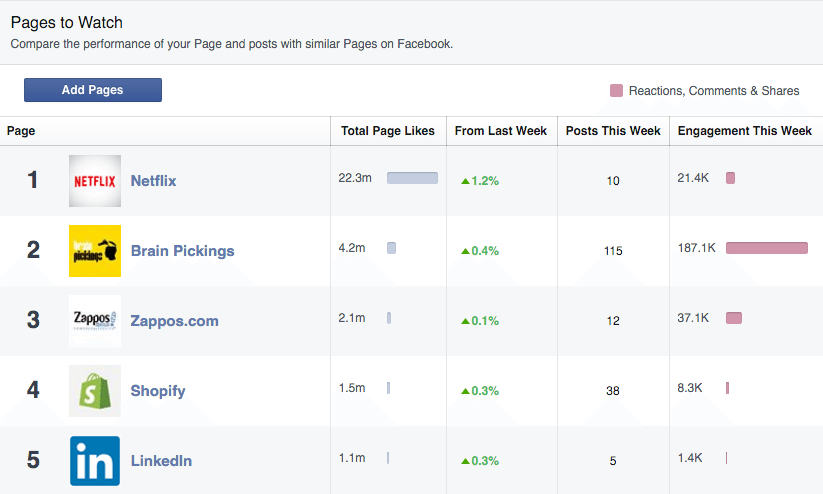 Next, simply click "Add Pages" and begin adding pages by typing their brand name into the search box. Once you've added a brand page to your list, you'll be able to see the following stats:
Their total page likes (and the % +/- change from the previous week)
How many times they've posted to Facebook this week
Their total engagement count for the week
Pretty cool!
Where it gets even better with Pages to Watch is when you click on a specific brand's icon in your list. Facebook provides a detailed view of every one of their posts from the current week – ranking them from the "most engaging" to "least engaging." This allows you to quickly check the top posts from every page you follow in a matter of seconds.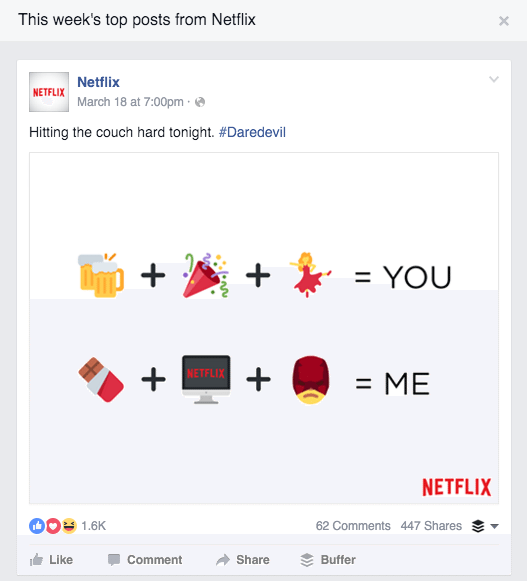 So you're all set to go with the Pages to Watch feature, but which pages should you follow?
My first instinct was to follow all of the pages that I follow personally on Facebook, which was a perfectly fine route to go for me as a beginner. However, I quickly realized that a lot of the pages that I follow personally are not relevant to Buffer's audience.
Here are a few ideas to develop a relevant watch list:
Top peers in your space
Brands that you admire in your space
Brands that have a strong social media presence in your space
Influencers in your space
Top brands from around the world (this one's for fun)
How I utilize Pages to Watch
I like to go in and quickly check the pages that we follow 3-4 times per week to make sure that I have my finger on what's trending in the industry. What I am looking for are posts and content that have major potential to be successful on Buffer's social media. The are 3 key factors that I consider when browsing pages:
Posts with high engagement (50+ likes, 15+ shares, and 10+ comments)
Posts with low engagement, but contain beautiful images, awesome copy, or great content. I love these because it allows us to improve upon content that has potential to be engaging
Specific trends across the board. In social media, things tend to pop up and fade quickly and so it's always fun to jump on trending topics that are relevant to Buffer
Another key factor that I take into account is a brand's overall engagement per post and if they're trending upward or downward. To so do, I quickly divide their total weekly engagement by the number of posts. If a brand with a similar audience size to Buffer is averaging a lot more likes per post, I'll try to dig in and study the images, content, and copy they are using to see how we may improve on our own.
I recommend that you follow around 12–16 pages so that you're not overloaded with content, but that you get a nice variety of brands and creative ideas to pull from.
If you're looking for a good place to start with Pages to Watch, here are 16 amazing pages that we draw inspiration from every day. In other words, they are crushing it on Facebook!
16 Amazing Facebook Pages that Inspire Us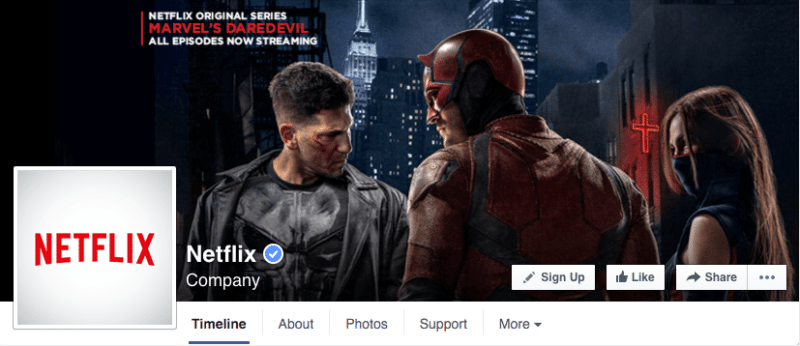 Why it Rocks: Netflix is a great example of a brand page that speaks in the language of their audience. They post high-quality images with captions that resonate well with their core users. Netflix understands the fine art of brevity and isn't afraid to "go there" from time to time. If you're looking for quippy, clever captions, then Netflix may just be your daily inspiration.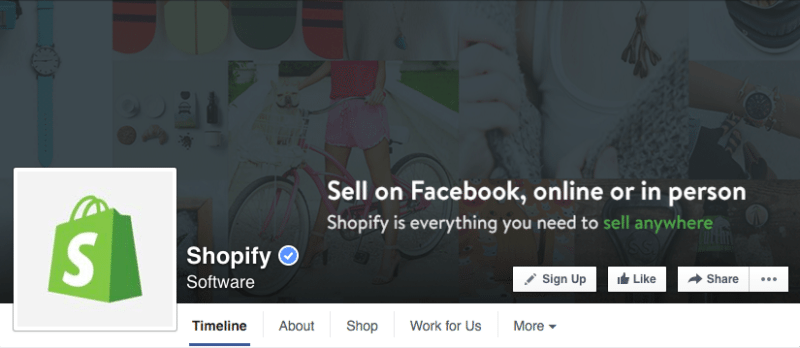 Why it Rocks: Shopify has the art of video marketing on Facebook down to a science. They post a great mix of original video content that points to their blog along with fun, light-hearted videos that are meant to simply delight their audience. They're also a great example of a brand that is using the Facebook "Shop" feature on the top of their page – driving sales directly from social media.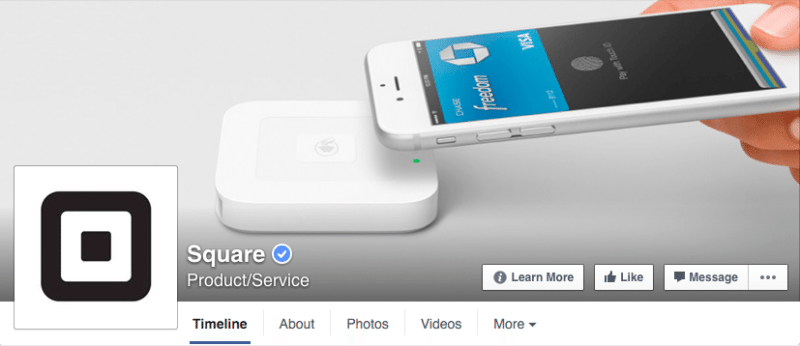 Why it Rocks: Square is an awesome example of a brand page that proves you don't have to post several times per day to receive a huge amount of engagement on Facebook. They only post the "best of the best" of their content and it really pays off for them. Square also has a great sense of who their audience is – sharing photos and videos that are highly relevant, speaking to the finance-minded user.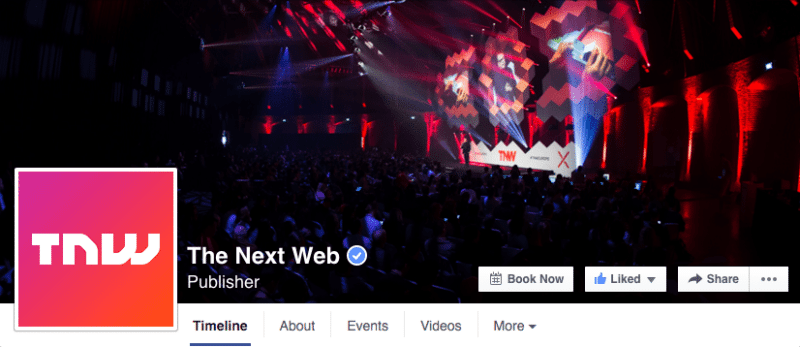 Why it Rocks: The Next Web has really burst on the scene as huge player in the Facebook space – Covering everything in the world of "Internet Technology." Not afraid to post multiple times a day, The Next Web makes a strong case for the power of putting your content out there as often as possible. What makes The Next Web notable is their ability to summarize major stories in just a few, catchy words.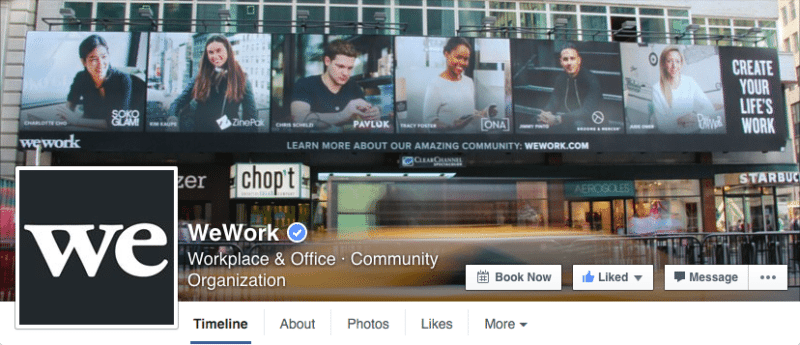 Why it Rocks: WeWork is a fabulous example of a brand page that does a solid job of mixing up content types and posts. Scrolling through their Facebook page you'll find a variety of links, photos, and videos. It's also fascinating to see the how they are able to tell stories about the people in the WeWork community and around the world.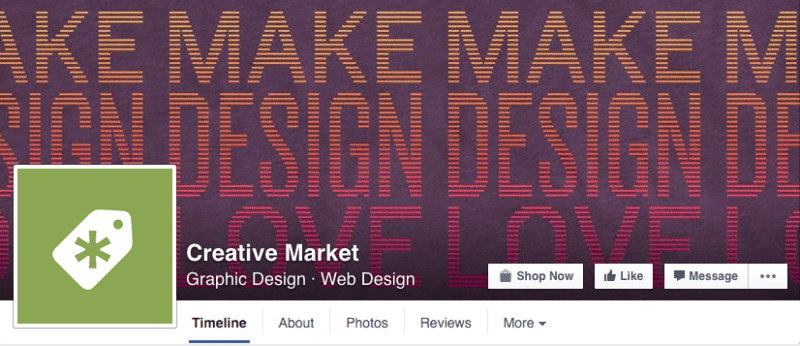 Why it Rocks: Creative Market does an incredible job of finding and producing the best "creative" content to share with their audience on a consistent basis. Looking at their top posts week after week, it's a mix of original and curated video content that is highly relevant and shareable. The shareability may be part of the reason why they've just passed the 215,000 fan mark.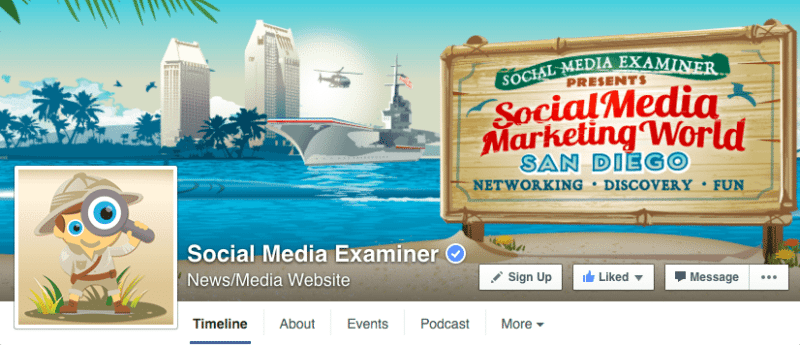 Why it Rocks: Many of us know Social Media Examiner's blog as a leading resource in social media news and know-how, but their Facebook page is also a wonderful example of how to be successful with sharing top social media content from around the web. I like to think of it as similar to an RSS feed of popular and useful articles. SME also puts their cover photo to good use by promoting their major annual event – Social Media Marketing World.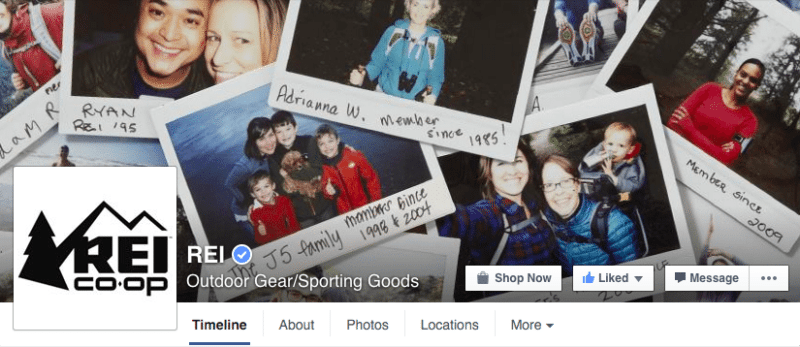 Why it Rocks: REI does a wonderful job of promoting beautiful fan content across all social media channels – With their Facebook and Instagram pages as the hubs. Their hashtag campaign, #OptOutside, has been used more than one million times on social media and connects people from across the world, people who love the outdoors. If you're looking for ideas for a user-generated content campaign, REI is a great place to start.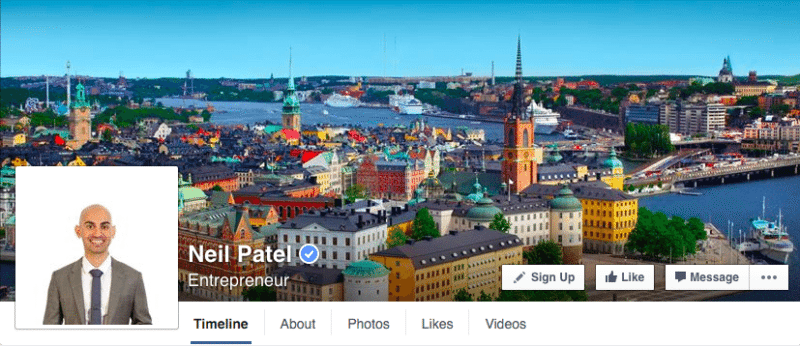 Why it Rocks: Neil Patel does an amazing job of studying his audience and knowing exactly what they love on Facebook. He's not afraid to experiment either – Sharing everything from quote graphics and curated content to text and picture-only updates. If you're looking for actionable insights and ways to shake things up, then look no further than Neil Patel.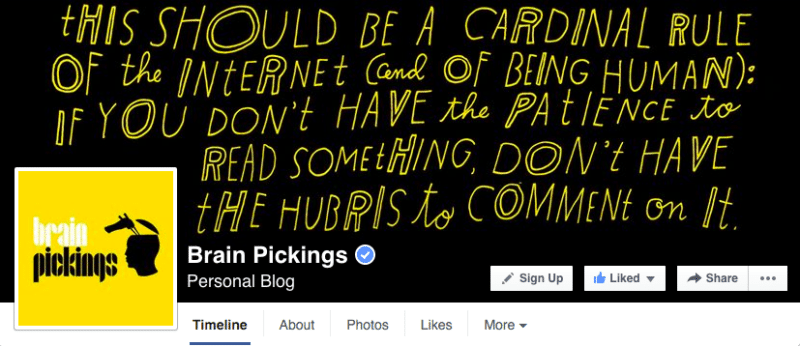 Why it Rocks: Brain Pickings' Facebook page is the poster child for super interesting content and perfectly branded updates. They've found a unique niche in the market that a massive audience has embraced with open arms. I love their About section as well: "A cross-disciplinary library of interestingness culling ideas that shed light on what it means to live a good life."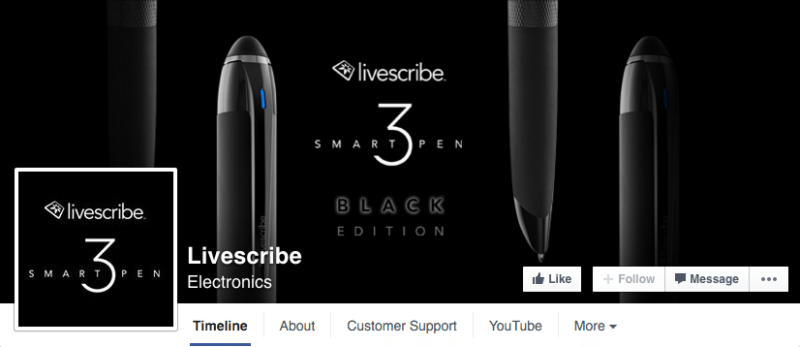 Why it Rocks: As social media customer support becomes more and more critical for companies, those who have already been experimenting with different ways to support their customers will be well-ahead of the curve. Livescribe's "Customer Service" tab is one of the first things you see when you arrive on their page. From there, customers can ask questions, share an idea, report a problem, or simply give praise.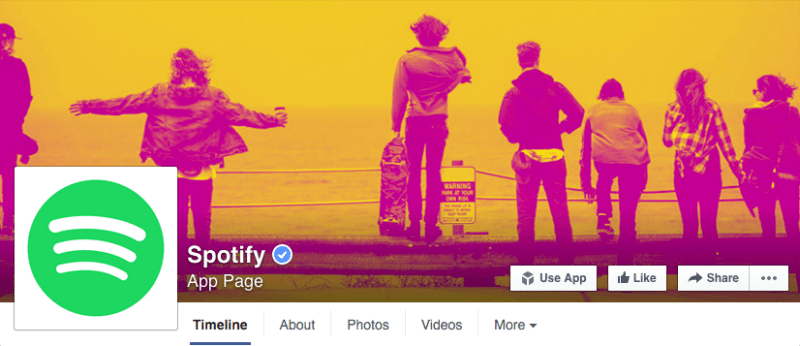 Why it Rocks: What I love about Spotify is that they're not afraid to speak in the language of their users. They'll often be found using words and phrases like "dope," "epic," "ridiculous," "peep it," etc. While this may not be a viable strategy for a lot of brands, it definitely works for Spotify. They also do a great job, like REI, of featuring and sharing their audience's stories on social media.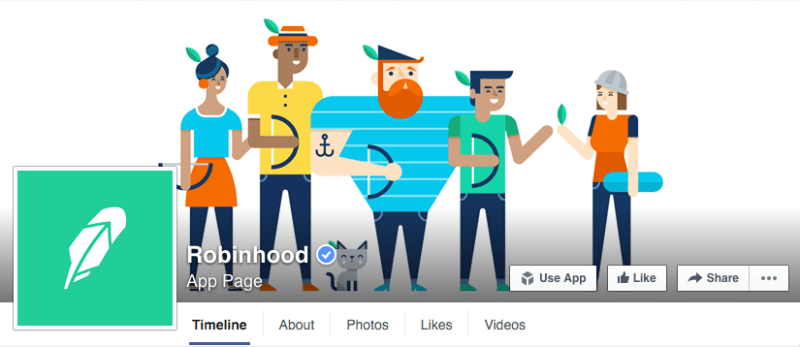 Why it Rocks: Quirky, yet beautiful graphic design and insightful articles on investing, Robinhood App has exploded onto the Facebook scene in 2016. 19,000 Facebook fans and counting, Robinhood boasts an unusually high engagement rate for a brand – averaging several hundred likes, comments and shares per post. This is a great page to watch in the coming months as they continue to grow as a company and their Facebook strategy evolves.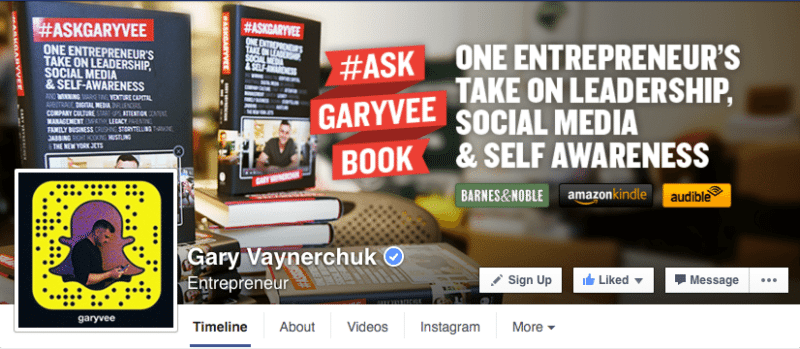 Why it Rocks: You may know Gary Vaynerchuk from his podcast and book "#AskGaryVee," but did you know he has a rockin' Facebook page as well? Gary shares an engaging mix of business and personal content – Giving us all a look inside what it's like to live the life of an entrepreneur. I find it very inspirational because it demonstrates the power of authenticity and personality on social media. No frills, no fluff, just the real Gary Vee.
Why it Rocks: Lyft does a wonderful job of harnessing the power of word of mouth when it comes to Facebook marketing. Scattered throughout their feed are contests, big announcements, coupons, deals, partnership celebrations, user stories and more. They make it really easy for their audience to want to share their content. It's straight forward, well-designed, and often includes a relevant call-to-action.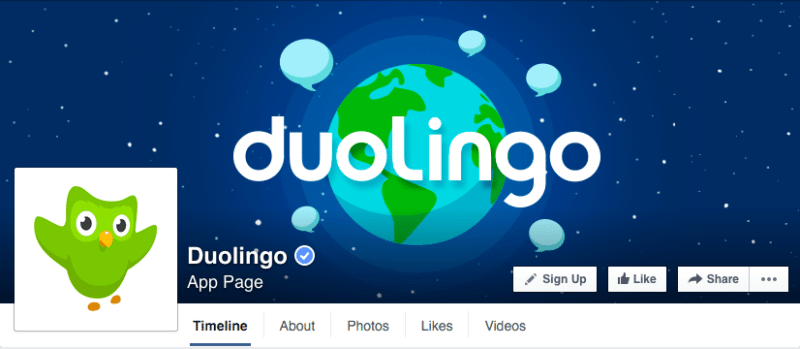 Why it Rocks: I love going to Duolingo's Facebook page for inspiration because of their high-quality content and simple graphic design. They are very much focused on quality over quantity – only sharing to Facebook a few times per week. Like other successful Facebook pages, they utilize catchy captions and design to encourage users to share their posts with their friends and family.
Over to you
Which Facebook pages do you follow for creative inspiration or just simply LOVE? Please feel free to let me know in the comments below so that I can add them to our list!