The last quarter of the year is always a busy one for marketers.
Between October and the end of December, we have the holiday season, Halloween, Thanksgiving, Black Friday, and more.
Each of these dates provides an opportunity for your business to connect with your audience and target customers. And though it might seem like there's too much to keep on top of, with a bit of advance planning, it's possible to ensure you don't miss a beat in Q4.
To help, we've put together this Q4 content calendar to break down some of the key dates and events from October 1st to December 31st, giving you important data and a few marketing ideas for each.
Ready to jump in?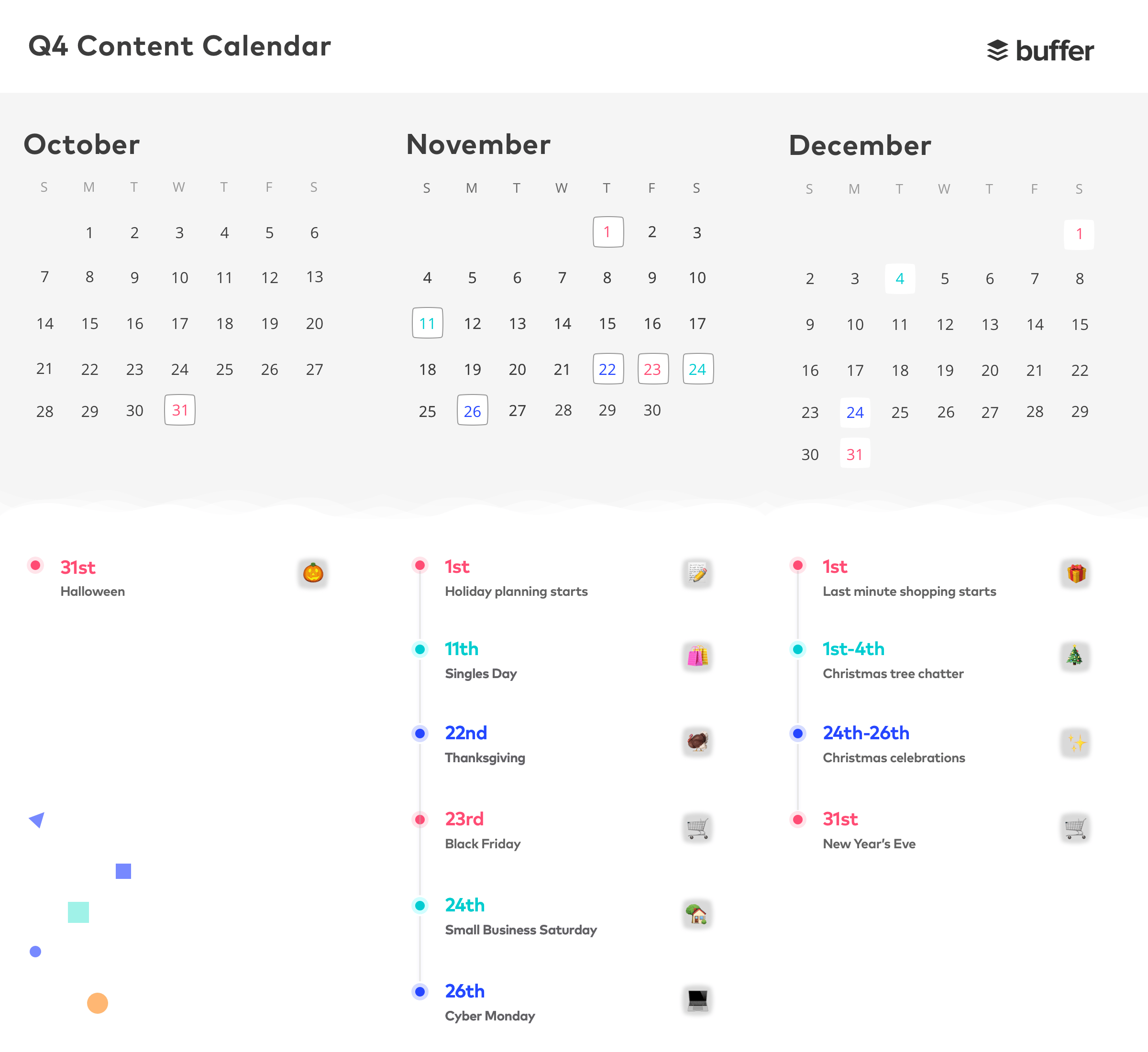 Q4 key dates and campaign examples
Note: You might not want to shoehorn your brand into every single event, but hand-picking the opportunities that make sense for your business can help make Q4 hugely rewarding.
31 October – Halloween ?
When people come together to celebrate Halloween, they love to share their experiences on social media.
Globally, more than 500,000 Halloween events were planned on Facebook in 2017. And in 2016 there were more than 41 million Halloween related tweets — in fact, more than half of all Halloween related conversations online happened on Twitter.
Total spending for Halloween 2017 was expected to hit $9.1 billion in the U.S. alone, with more than 179 million Americans planning to partake in Halloween festivities.
When it comes to marketing over Halloween, it can be a fun time to get super creative and think about how your brand could enhance celebrations for consumers.
For example, Guinness released some quirky, shadow-shaped coasters for Halloween 2015: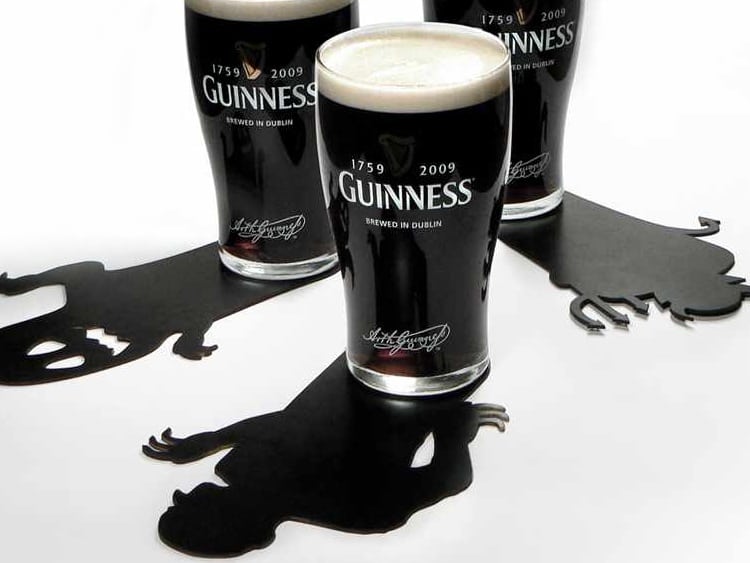 Asda also got into the Halloween spirit by creating an online hub focused on Halloween party ideas, foods and cocktails: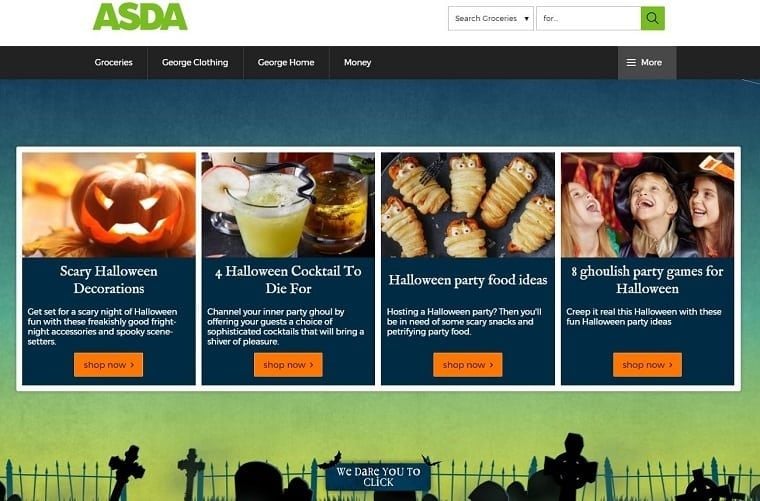 As Nikki Gilliland explained on Econsultancy:
"The comprehensive campaign means that consumers are likely to think of Asda in relation to Halloween in future, with its extensive product selection likely to satisfy shoppers as they head in-stores or buy online."
Pro tip: Share fun, DIY advice, and party tips
From creating costumes and decorations to home baking sweet treats and planning parties, there's a lot of DIY happening over Halloween. People are often looking for content that will help them get ready for the day and make the holiday super fun for all their friends and family.
November 1 — Holiday planning starts ?
Facebook found that planning for the holidays starts as early as November 1st.
The majority of people aren't quite in buying mode at this stage, though — especially with some of the biggest discount shopping days of the year still to come later in November.
But this doesn't mean you can't start thinking about your holiday promotions.
Take advantage of this time to start building towards your holiday campaigns by raising awareness of your brand and products before the big rush starts in December.
You could use Facebook Ads' Brand Awareness and Video Views objectives to create demand for your product before promoting it again in December with an eye on making sales.
For example, Luxy Hair created a video showcasing a holiday hairstyle in November 2017. It could have used this video as a way to build an audience of people who might be interested in purchasing its products later on in the holidays:
Pro tip: Remarket to existing customers
This is a perfect time to begin marketing to your current customers with an eye to making it on to their holiday wishlists. You could run email campaigns to your current customers, or even set up custom audiences on Facebook for people that view your videos or visit your website; then retarget them with adverts featuring products that they might be interested in.
Toy Market, a toy store in southern New Jersey, used this approach by creating custom audiences based on existing customer data and managed to increase its holiday sales by 20 percent year-on-year.
The key thing with remarketing is not to overdo it, you don't want to be so aggressive with your targeting that you end up putting people off your business.
November 11 — Singles Day ?
Singles Day originated in the 1990's in China, but it really started spread across Asia and the rest of the world when Alibaba turned the day into a discount shopping festival. It has now become the largest shopping event of the year worldwide.
In 2017, Single's Day shoppers in China bought more products during the 24 hours period of Single's Day than during the entire 4-day period running from Black Friday to Cyber Monday,
The below chart shows the percentage of people who report shopping on key shopping holidays — in the U.S. 7% of people surveyed by Facebook reported shopping on Single's Day:
November 22-26 — Thanksgiving shopping weekend ?
November 22 – Thanksgiving ?
Thanksgiving is traditionally a time spent with friends and family. It's about unwinding and taking a moment to be thankful for all that we have before the busy holiday schedule and shopping season kicks off.
Over Thanksgiving, you might want to use your social media channels to help people come together, relax and make this time of year even more special.
For example, as part of its "Share a Coke" campaign, Coca-Cola shared a video of personalized bottles being used as place cards for a family meal:
Coca-Cola also shared this content on Twitter and Instagram.
Airbnb also took the time to showcase how appreciative it is of its community over Thanksgiving by sharing an on-brand message about feeling at home:
November 23 — Black Friday ?
Black Friday falls on November 23rd in 2018, but data from Facebook has found that 39% of posts about Black Friday take place in the four days leading up to the sales starting. This means you should be looking to build excitement for any Black Friday offers or sales in the week leading up to November 23 — or maybe even further out.
For example, as Shopify Plus reported, eyewear brand, Blenders, began to promote it's giveaway 10-days before Black Friday: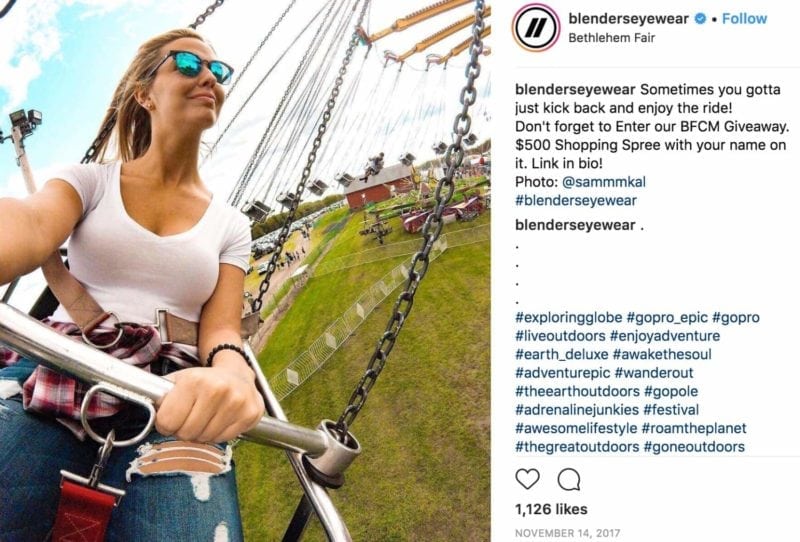 November 24 — Small Business Saturday ?
Small Business Saturday is held in the U.S. on the first Saturday after Thanksgiving.
Whereas Black Friday and Cyber Monday tend to focus on online retail, Small Business Saturday encourages shoppers to visit smaller, local stores in their local area.
If you're a local, small or brick and mortar business, this is the perfect day to build some extra awareness and boost your sales.
Some ways to make the most of Small Business Saturday include:
Host an event: Consider hosting an event to help attract new customers to your business. For example, if you run a homeware store, you could run a fun DIY class.
Run a giveaway: A promotion in Oakland County, Michigan offered shoppers the chance to win $5,000 if they shared receipts of their Small Business Saturday purchases.
Use hashtags: Hashtags are a great way to extend the reach of your content on platforms like Twitter and Instagram. Make sure to include #ShopSmall and #SmallBusinessSaturday in all relevant posts.
November 26 — Cyber Monday ?
In 2016, Facebook found that conversions peak on Cyber Monday (with Black Friday in the second spot):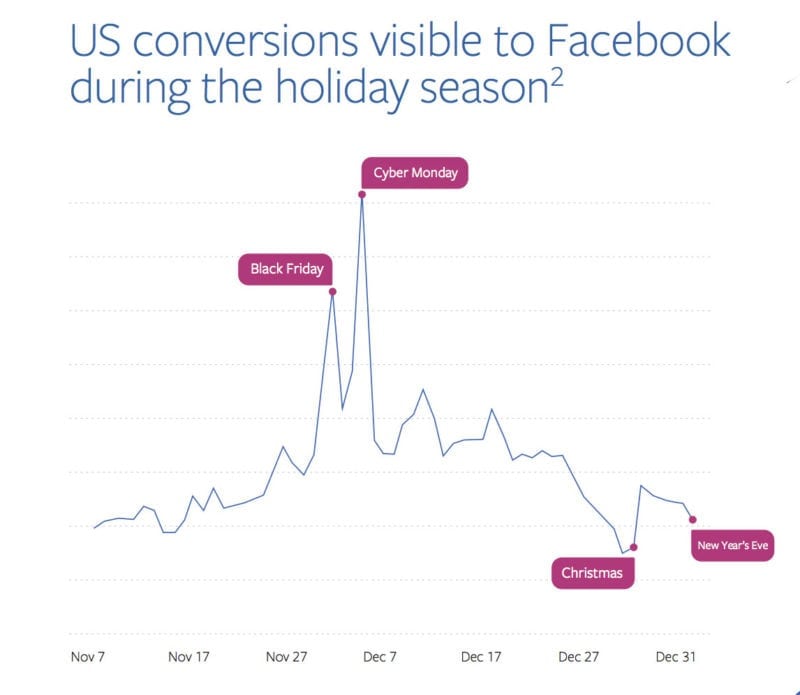 With Cyber Monday being one of the biggest online shopping days on the calendar, this isn't too surprising, but it's a great reminder that shoppers are keen to spend their money and happy to engage with social media ads during the event.
With so many businesses sharing offers to shoppers, try to think about how you could stand out and do something a little different on Cyber Monday. For example, you could take your customers behind the scenes like Amazon did in 2017: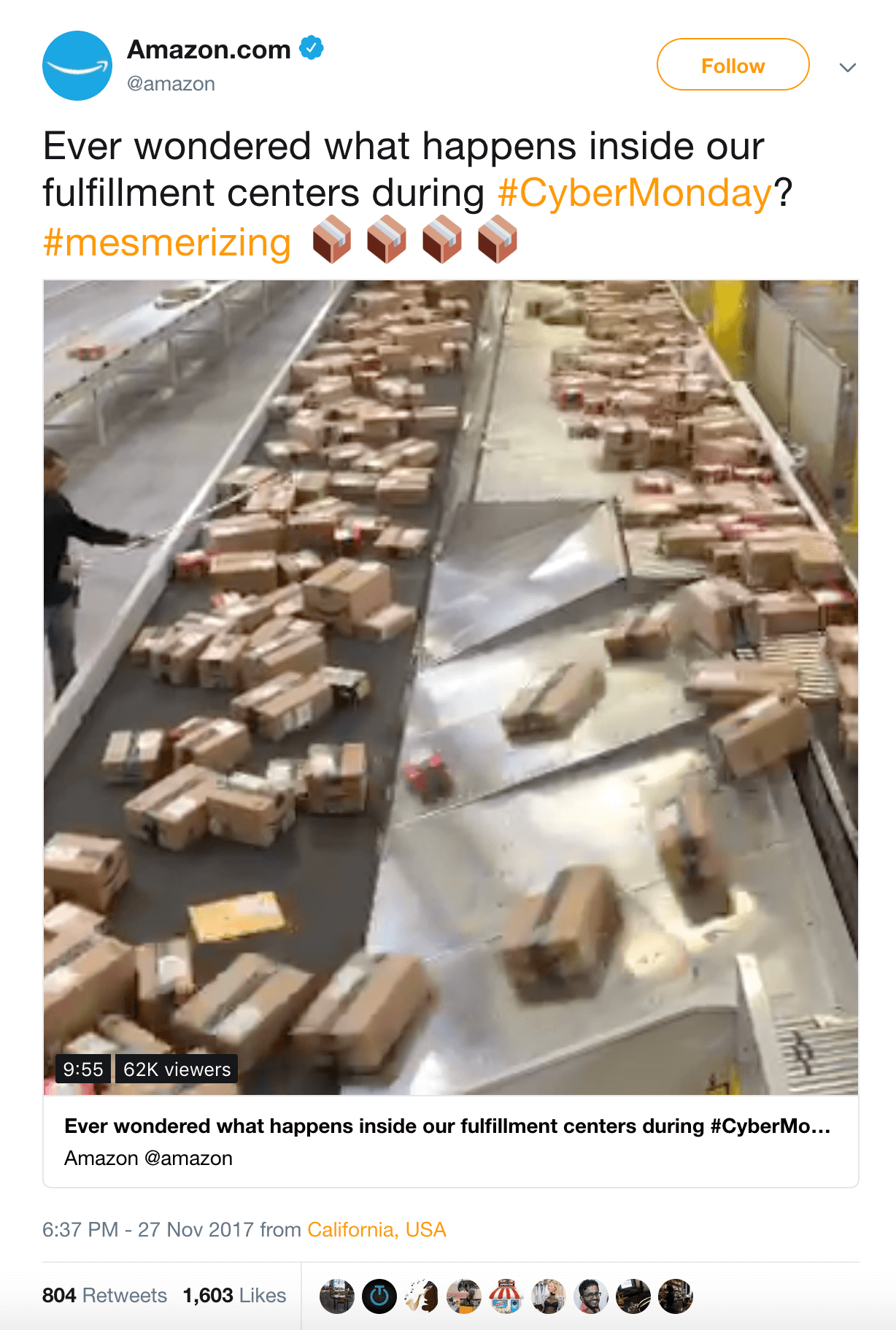 December 1 — Last minute shopping kicks off ?
By the time December rolls around, shopping season is in full swing.
A Facebook survey found that 62 percent of people do their shopping in December — with as many as one in four people making their holiday purchases between December 11‑20th.
As a kid, I remember spending hours flicking through all of the Christmas gift guides we'd receive in the mail, and now, plenty of brands take this experience online. For example, Zara shared its gift guide and some beautiful images of products on Facebook:
Video is also a great way to showcase your products, here's an example of Baskin Robbins using Facebook video to promote its Ice Cream Cake:
And one often overlooked aspect of successful holiday campaigns is social media engagement. It's important to keep an eye on your mentions year-round, but the holidays give your team the chance to add a bit of festive cheer to your replies.
Pro tip: Experiment with self-gifting
Facebook's 2016 'Holiday Study' found that more than half (52 percent) of festive shoppers also buy gifts for themselves. With this in mind, it might be worth experimenting with content that encourages shoppers to indulge themselves.
For example, you could test out 2-for-1 deals so shoppers can get a present for a loved one and treat themselves at the same time or focus on how self-gifting could help shoppers enjoy the season more (e.g. maybe a soothing candle could help them unwind after a busy day preparing for the holidays).
December 1-4 — Christmas tree chatter ?
Facebook IQ found that discussions around buying and decorating Christmas trees peaks on in the first week of December. This is a great time to tap into festive feelings as people start to think about how they'll be decorating their tree and house for the festive season.
One great example of content focused on this theme comes from Distinctive Gardens an Illinois-based plant and landscaping business. The company ran a three-day campaign on Facebook to attract people to its annual Christmas tree fundraising event. Over the three day period, it increased total sales for the fundraiser by 2.8X (on the previous year).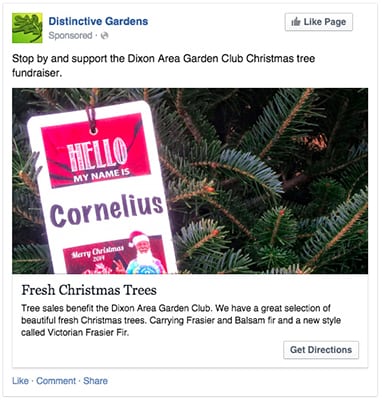 December 24-26 — Christmas celebrations ✨
Sharing replaces shopping on once the Christmas celebrations begin.
Christmas is the most active day of the holiday season on Facebook, with over 800m holiday-related posts generated — and 86 percent of those posts are shared on mobile.
For brands, this is a great time to simply wish your followers all the best for the holidays:
December 31 — New Years Eve ?
As the start of a new year approaches, the conversation turns to new beginnings and party preparations.
Facebook found that discussions related to New Year's resolutions were the highest on December 31 and accounted for 34 percent of total conversations from December 22nd to January 9th.
This is a great time to simply wish your followers a Happy New Year, like STA Travel:
You could also launch a campaign focused on how you can help your followers to achieve their goals for the year.
For example, Virgin Active UK kicked off 2017 with a campaign alongside 21 influencers who would all try to build a sustainable fitness routine across 21 days (21 is the number of days it's believed to take in order to form a new habit):
Over to you
Q4 really is one of the busiest times for marketers — and though you probably won't want to run a campaign for every single event, you could see great results by carefully planning out your Q4 content.
If you want to keep a handy reminder of everything that's coming up, you can grab a copy of our content calendar here.
How early do you tend to plan your content in advance? What's the best Q4 or holiday-themed campaign you've seen? Let me know in the comments below. ?
Want more content like this?
More than 45,000 marketers and small business owners subscribe to our newsletter to receive our blog posts and exclusive email-only content.