Quick note: This post was written in May 2017 and updated in March 2018. The tips and strategies listed below continue to work for us despite the recent changes to the Facebook algorithm. Enjoy!
In October of 2016 we dramatically changed our Facebook posting strategy.
A gradual, but noticeable shift in the Facebook and Instagram algorithm, plus an influx of brand advertising on Facebook, meant that it was important for us to either start experimenting or we'd continue to see a decline in organic reach and engagement.
Getting your content seen on Facebook is no small task. Especially when you consider all the content shared to Facebook every 20 minutes:
1 million links are shared
4.86 million photos are uploaded
763,888 status updates are sent out
We needed to make a change.
We cut our posting frequency by more than 50% on Facebook and began to truly focus on quality over quantity. What happened next, even the most optimistic social media manager couldn't have expected:
Our Facebook reach and engagement began to increase even though we were posting less!
Here are some of the headline stats:
Reach has more than tripled from 44,000 to 150,000+ people per week on Facebook
Average daily engagements with our Facebook content has risen from ~500 to more than 1,000
More and more of our posts are reaching between 5,000-20,000 people (before we made the change, many of our posts were reaching less than 2,000 people)
I'm super excited to share the data behind this growth with you and take you behind the scenes of our latest Facebook posting strategy.
Let's dive in!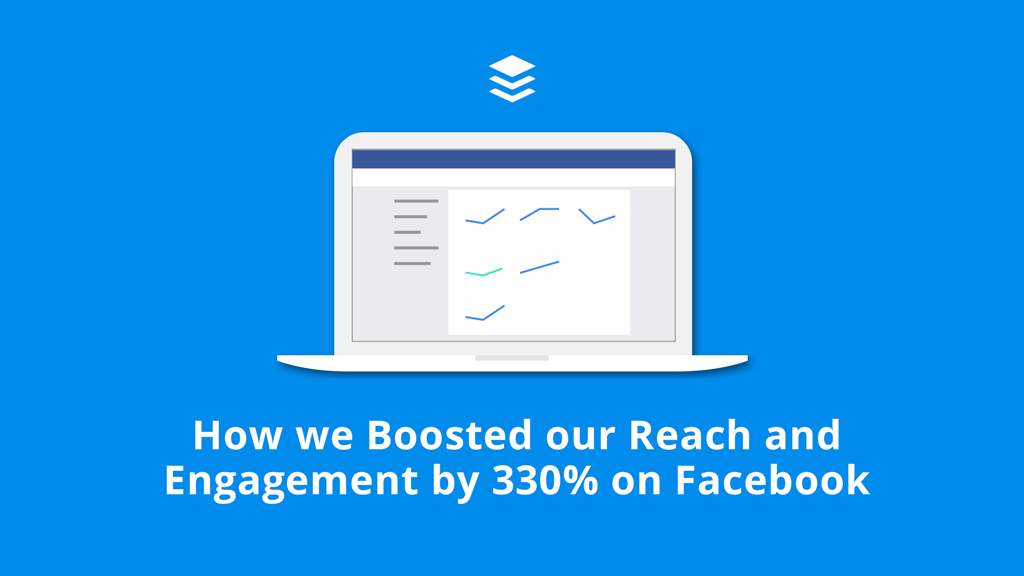 Data: How posting less increased our reach, engagement, and impact
Posts per day
Most of last year (Jan-Oct 2016), we were posting a lot to social media, especially on Facebook. A quick sift through our data shows that we were sharing more than 125 posts across our social media channels (25-40 posts to Facebook alone) on a weekly basis.
Here's a quick look at our average Facebook Posts per day between January 2016 and April 2017: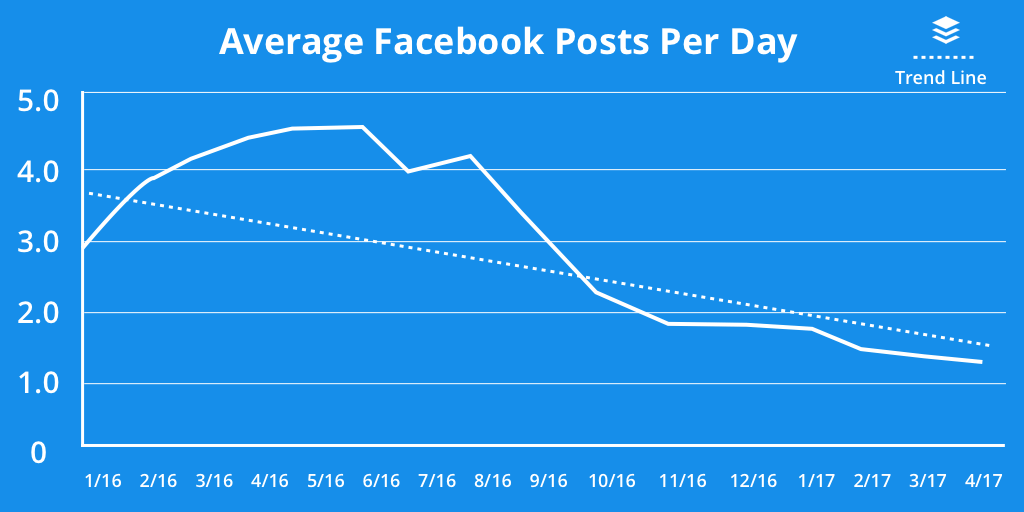 Reach
Part of our thinking was that we could adapt to the ever-changing social media algorithms by simply posting more. It makes sense, right? Theoretically, the more we post, the more that our reach would add up over the course of a week, month, and even the year.
But, what actually happened was quite the opposite. The more we posted to Facebook the less reach we received on each one of our posts. This graph shows the significant drop in reach during our peak posting times (~4 times per day around July/August, 2016):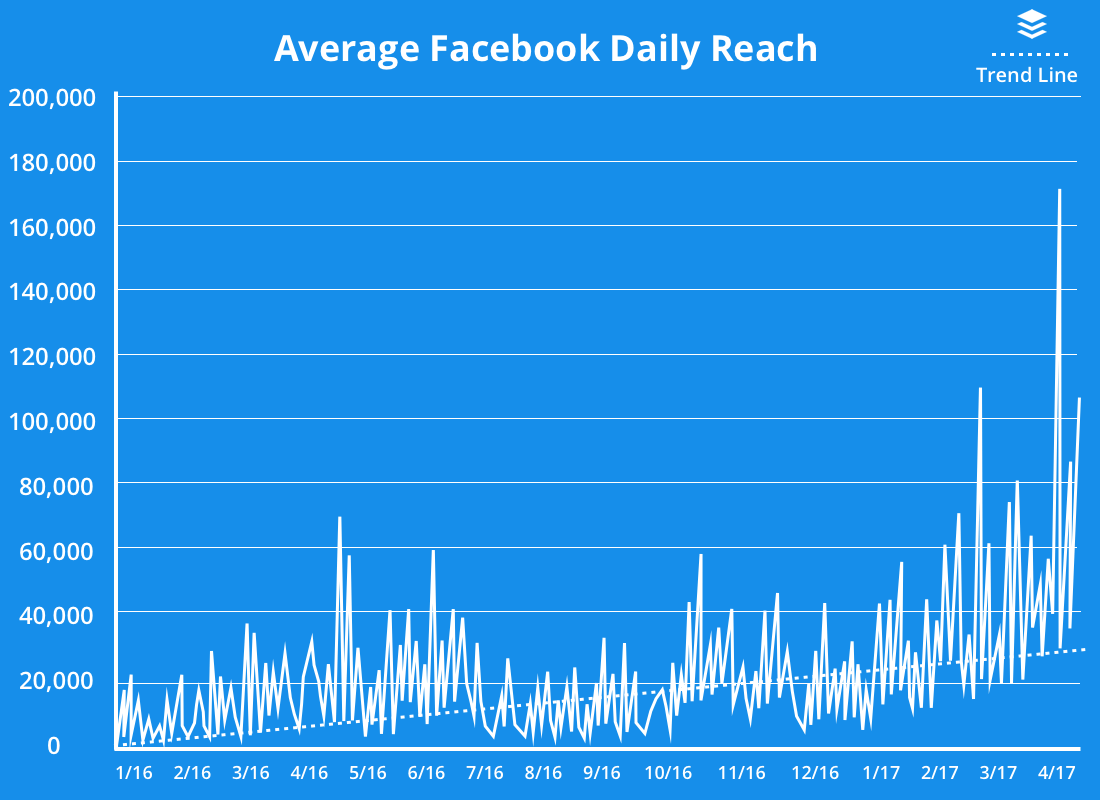 However, notice what starts to happen right around October 2016. Our Facebook reach begins to increase at nearly the same time that we began to experiment with our Facebook posting strategy. Not only that, but reach continues to grow as we move into 2017 and beyond.
Today, we're reaching more than 150,000 people per week on Facebook, compared to the 44,000 or so people that we were reaching during most of 2016.
And the fun doesn't stop there!
Engagement
In addition to reach, our Facebook engagement began to increase at the same pace. This chart shows our average daily engagement since January 2016: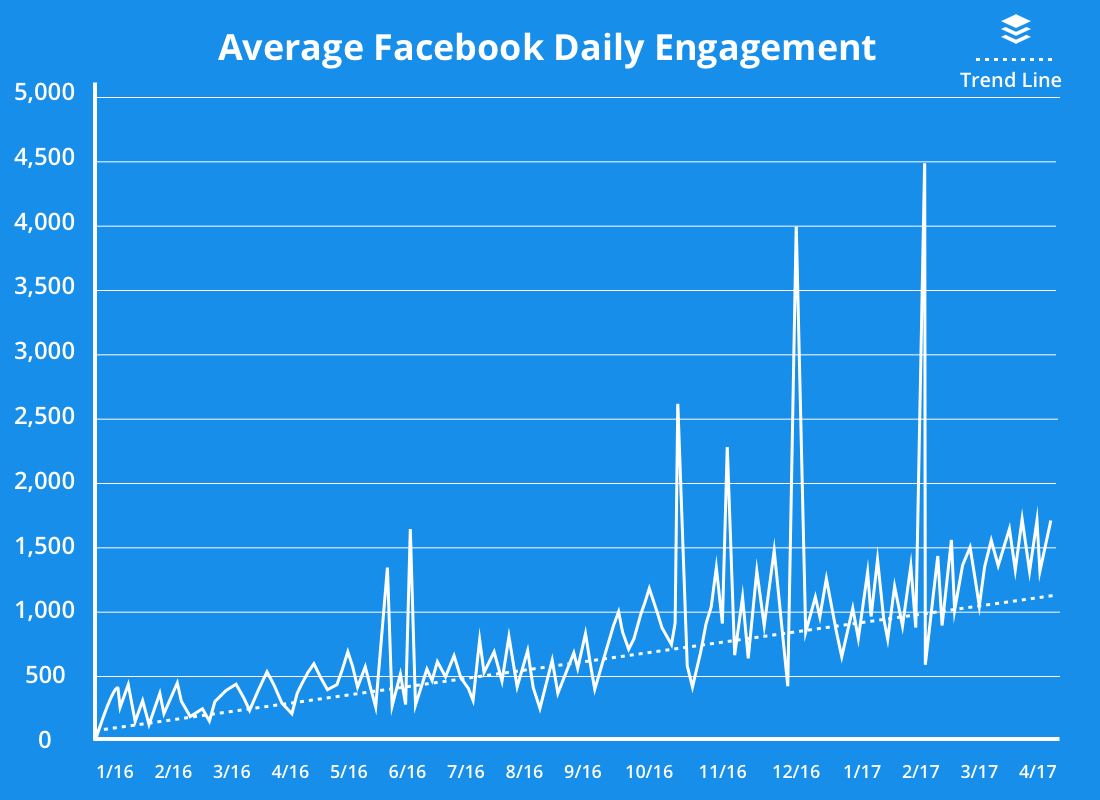 For me, this was a ground-breaking and exciting revelation.
I didn't have to post as much to Facebook (more on our new Facebook posting strategy below)
It gave me the opportunity to focus on other creative projects like creating videos, launching the Buffer Podcast, and growing our Instagram account.
The other unexpected thing that happened (as the chart above shows) was that the number of posts that reached more than 60,000 people and received more than 2,500 unique engagements nearly doubled. That was a massive shift from 2016 when were only reached more than 60,000 people with a single post once.
However, this next chart is my favorite one of all.
Overall impact
It's great to have individual data points as a reference, but I wanted to get a big-picture view of what was happening after the Facebook posting strategy change. To do so, I downloaded all Facebook post data using Buffer from January 1, 2016 to April 30, 2017. No small feat!
I then combined the data in Excel and sorted the posts into four reach buckets:
0-1,999
2,000-4,999
5,000-19,999
20,000+
The results were shockingly awesome – here's a quick look at the data: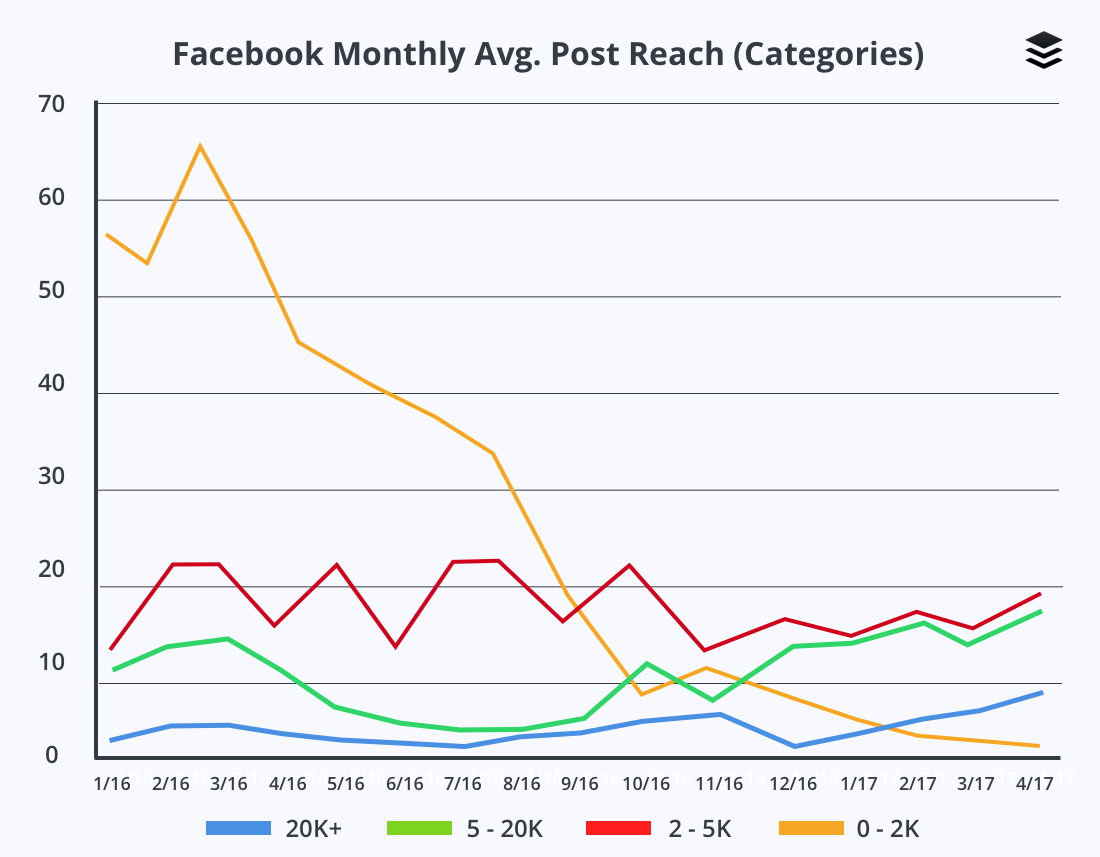 The most surprising of all was how many posts were reaching less than 2,000 people on a consistent basis before October. Before this point, I hadn't realized just how poor many of our posts were really performing. The more we posted, the worse they did! Between February and March, more than 100 posts reached less than 2,000 people.
Take a look what happens to the other categories of reach as time goes on. Posts reaching 2,000-5,000 people stay fairly consistent (which is understandable), but posts reaching 5,000-19,999 and 20,000+ gradually begin to increase and are currently trending upward as of today.
In the next few sections, I'd love to share why this was an important (and counterintuitive) change to our Facebook posting strategy as well as exactly what we're doing today to ensure these results continue.
Why we stopped posting everything to Facebook
Not every post is the right fit for Facebook
As many social media managers know, it's a consistent challenge to send out lots of quality content to Facebook every single week. There's the creation process, the copywriting and scheduling, the monitoring, the engagement with your community – the list goes on and on.
Yet intuition tells us that the more we post the more engagement and reach we'll get. It makes total sense (at least we thought it did!).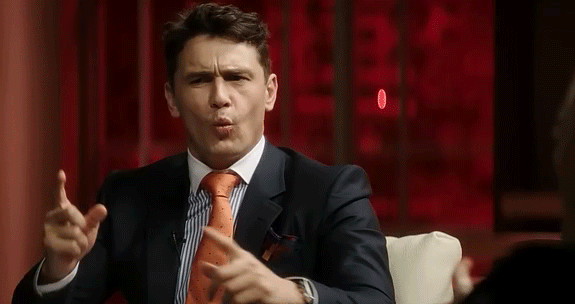 What we found, however, is that the opposite happens with engagement and reach. When trying to fill the queue with content for the simple sake of posting and having a presence on Facebook, content tends to become diluted and lost in the news feed.
For us, posting less didn't even seem like a viable option at the time. We have a ton of great content going out on the Open Blog each week – were we supposed to stop posting that all-together?
And that's where we discovered one key distinction in our Facebook posting strategy: Even though our content may be quality (and awesome), not every post is right for Facebook.
Which leads me to our current strategy…
Our current Facebook posting strategy
The big change to our strategy all started with the counter-intuitive realization that:
"Even though our content may be quality (and awesome), not every post is right for Facebook."
This was quite tough as I wanted to share all of the great things that our team was writing on our blogs. It all deserved to be shared with our community, but it was becoming clear that it was affecting our content across the board. So I established a quick rule-of-thumb question to help decide what I should post to Facebook:
Entertainment + Educational = Edu-tainment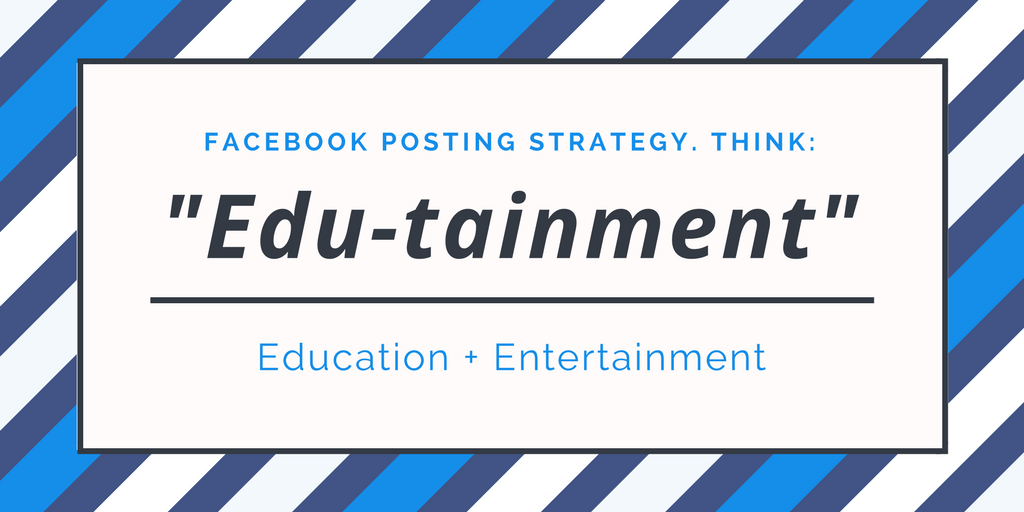 I've found that generally speaking, the most popular posts across Facebook can be categorized as Edu-tainment. They are either entertaining or educational. For example, silly GIFs might fall into the entertainment category, while data, how-tos, and infographics fall into the educational category.
The best posts of all tend to have a mix of both entertainment and education and those are the ones I'm constantly on the hunt for on social media.
Finding and sharing "Edu-tainment" content is our overarching strategy, which helps clarify everything that should be posted under the following Facebook posting strategies:
One or two posts per day maximum
The main reason why I believe we're seeing such a dramatic increase in reach and engagement is that we're only posting one or two pieces of content per day on Facebook.
This serves two valuable purposes:
It forces us to only share the best of the best content because we literally have limited space
It allows the Facebook algorithm to focus on delivering one piece of content (vs. multiple) to our audience
I encourage you to experiment with only posting once or twice per day on Facebook. You might be surprised at how quickly your best content filters to the top. Limiting the quantity of posts encourages a deep focus on posting quality, which sends positive signals to the Facebook algorithm.
Curated content
Another great strategy for us has been posting an increased amount of curated content to our Facebook Page. Previously, we used to shy away from curated content because it didn't directly affect the bottom-line: traffic, subscriptions, sales, etc.
I'll be the first to admit that I couldn't have been more off here.
Sorting our Facebook posts by "Most Reach" over the last several months shows exactly the impact it has had on our Page and growth: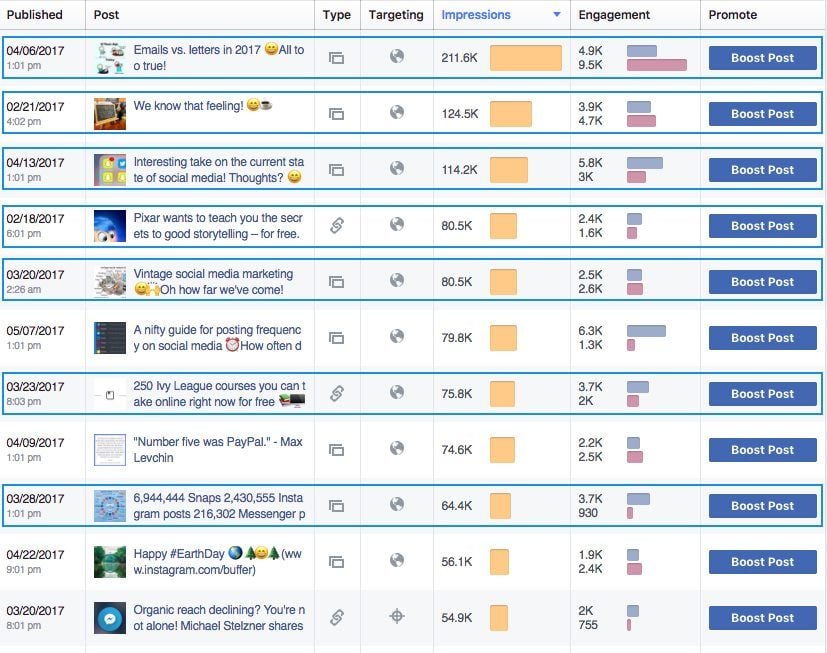 The posts highlighted in a blue rectangle are all pieces of curated content. In other words, 7 of 11 of our most successful posts throughout the last 14 months are curated (not created by Buffer). These posts have combined to reach more than 750,000 people, averaging to about 107,000 people per post.
Curated content may not "directly" affect our bottom line, but it plays a significant role in reach, engagement (likes, comments, shares) and page growth. Which, in time, allows us to deliver Buffer content – content that does drive the bottom line – to a larger, more engaged audience.
Focusing on brand awareness and engagement
Focusing on brand awareness and engagement vs. driving traffic to our website has become a staple of our strategy as well.
We've witnessed a shift in many social media networks over the last year. It used to be that brands and businesses could post links to their blog posts and watch the traffic flow in. And while that's still the case for many publishers, savvy marketers can benefit from thinking about their content strategy as a whole – focusing on both direct traffic as well as engagement.
Posting content that aims to drive engagement only helps to build an activate Facebook audience. Overtime, that audience will go to you as a trusted source of Edu-tainment. Then, right when you need them most, you can deliver a piece of brand content that will help move the bottom line. Here's a quick example of a recent engagement-only post: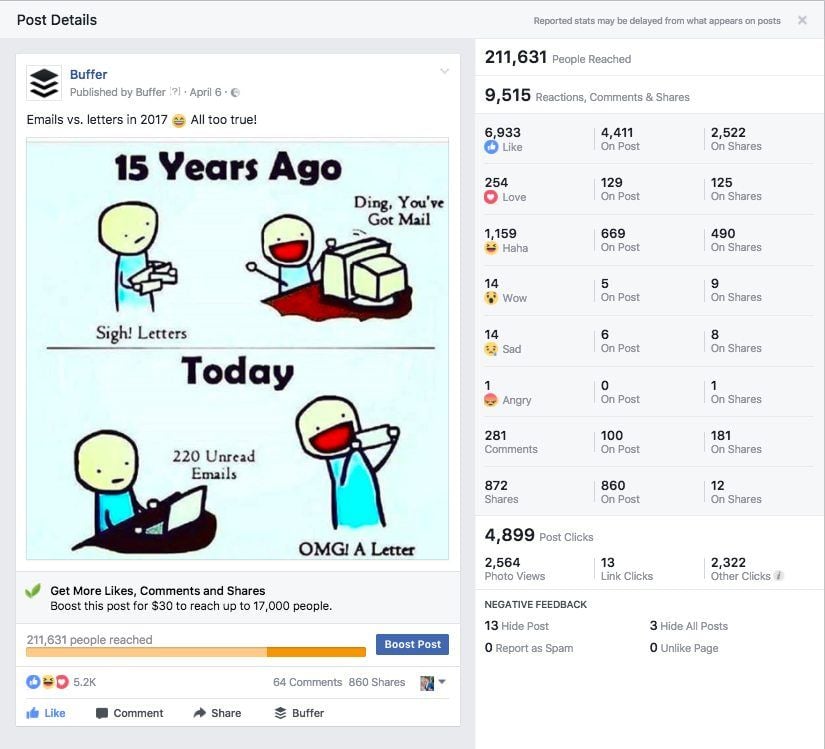 Reach: 211,631
Likes: 8,362
Comments: 281
Shares: 872
This post also brought more than 1,000 new Likes to our Page – many of whom continue to Like and engage with our Page today.
Boosted Posts
Last, but not least, I'd love to address how important Facebook boosted posts have been in increasing reach and engagement on our Page. It is worth noting that our daily budget has not changed over the period of the last year. I.e., our reach and engagement did not increase because of an increased advertising budget.
Currently, we spend roughly $40 per day boosting our best-performing content on Facebook.
The only difference between last year and this year is the quality of content that has been available to boost.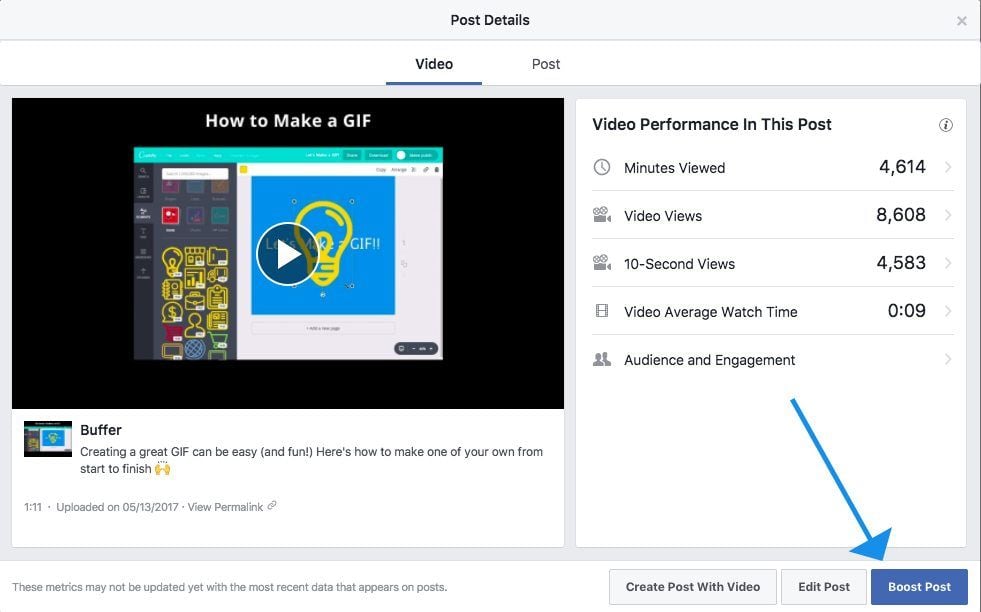 Boosting posts takes content that's already performing well and amplifies it on a huge scale. As that implies, the key is to focus on boosting great content, not necessarily posts that aren't doing well and "forcing" them with advertising dollars.
Doing so will ensure that your money is spend in the best way possible.
If you're interested in learning more about the new Facebook algorithm, check out our latest podcast episode covering everything marketers need to know:
Over to you
Thanks for reading! Have you experienced something similar with reach and engagement on Facebook? Or, maybe you have a few posting strategies that I missed above?
I'd love to continue the conversation with you in the comments below!
What has been the best success you've found in terms of a Facebook posting strategy? What are your top tips for increasing reach and engagement on Facebook?