We recently launched direct Instagram carousels scheduling in Buffer. Now you can scheduled carousel posts to be published automatically in Instagram—no need for reminders.
Buffer customers have been asking for carousel direct scheduling for a while (it was the most requested feature in our last customer survey), and we're not surprised! There's lots of evidence suggesting that carousel posts generate more engagements than image or video posts.
But is this really the case?
To find out, we analyzed the 184 posts @Buffer published on Instagram over the past year.
TL;DR, here are the results:
Engagement rate for carousels was 2.37% higher than other posts.
Our best performing post of the year was a carousel post.
That's despite only 1/4 of posts featuring carousels.
Carousel posts were also saved 2x more than other posts.
Looks great, right? Well, it's a little more complex than that.
On average, our carousel posts received fewer comments and likes. But that's likely due to our posting schedule rather than the carousel itself. Read on to learn more. 👇
Focus on engagement rate, not average engagement

The engagement rate for our carousel posts was 2.37% higher than other posts.
Engagement rate for carousels: 3.45%
Engagement rate for other posts: 3.37%
And yet, on average, carousel posts received fewer likes and comments.
Average likes for image posts: 129
Average likes for video posts: 128
Average likes for carousel posts: 87
How can this be?
Well, it's important to look at impressions when analyzing engagements. Your audience can only like and comment on your posts if they see the post in the first place. If your audience can't see it, they can't engage.
But, why might someone miss your post? Well the Instagram algorithm won't show every post, to every follower. Instead they'll show a custom feed based on when posts were published and how posts perform.
This means our audience might miss our carousel posts if we don't publish consistently, or if we publish at the wrong time of day. That'll reduce the impressions, and the engagements.
So, instead of measuring average engagements, we measure engagement rate:
Engagement rate = (comments + clicks + likes + reactions) ÷ impressions
Because the engagement rate takes into account impressions we can see how our audience acts once they've seen the post.
Now we know that if our audience sees a carousel post (vs. a video or image), they're more likely to engage with it.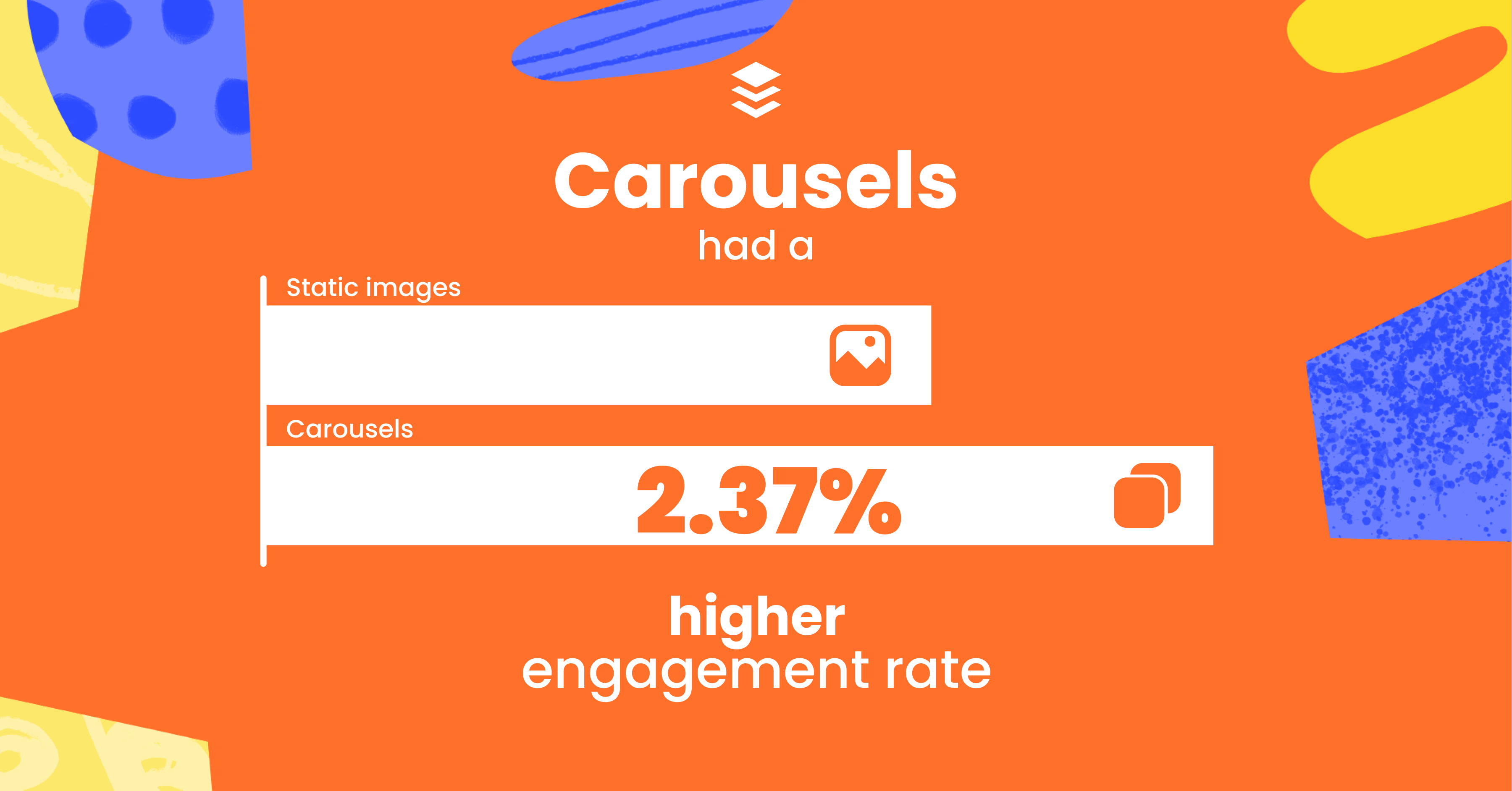 Consistently creating carousels

Before Instagram carousel direct scheduling was available in Buffer, we had to set reminders to schedule carousels on Instagram—opening up the Instagram app every time we wanted to publish.
Rather than making carousels a core component of our social media calendar, we had to shoehorn them in when we found time.
With this infrequent posting schedule, we think our carousels weren't always published at the optimum time. Meaning they didn't get the impressions they deserved.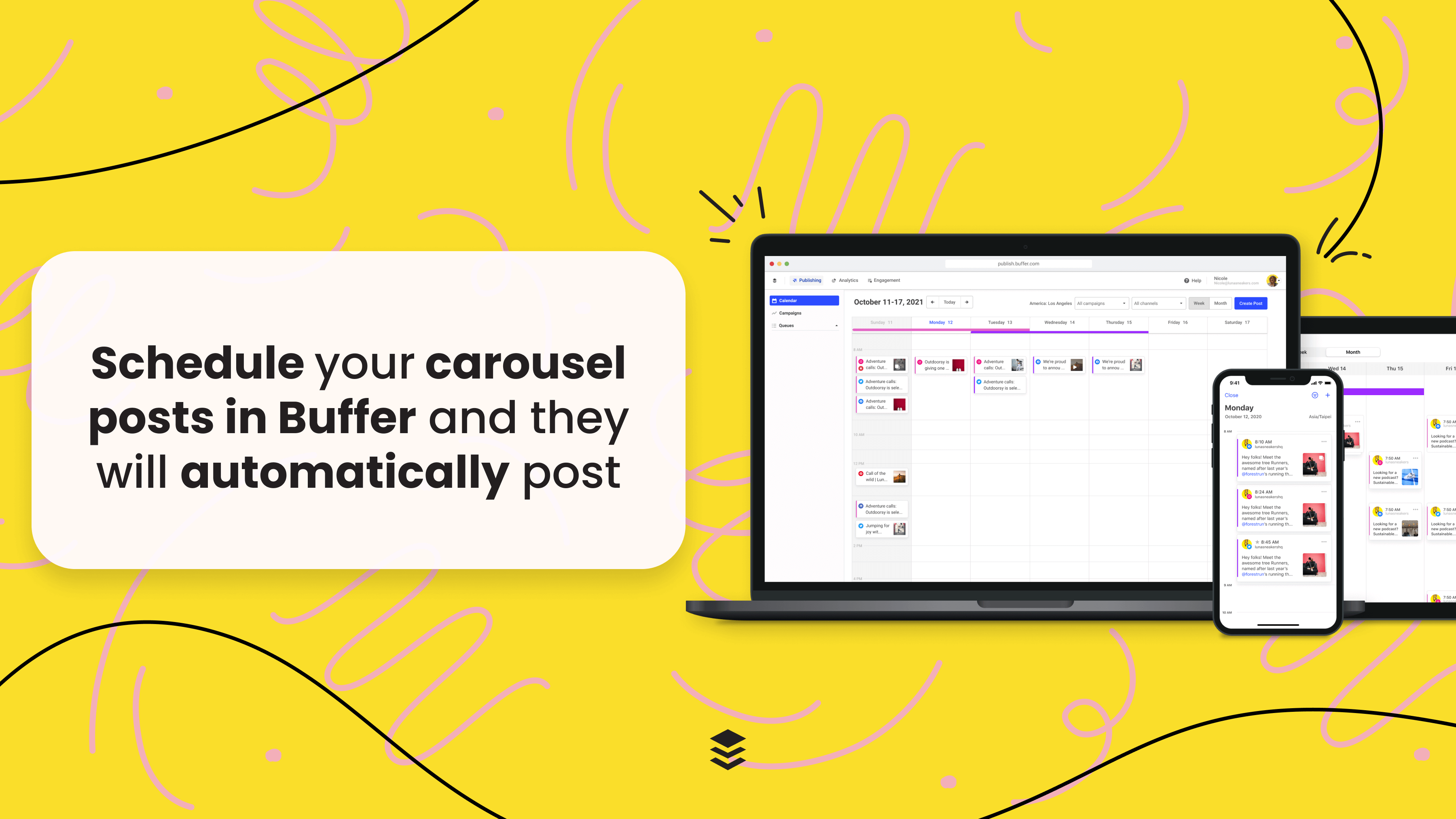 Today, we can directly schedule Instagram carousels.
We can add them to our Buffer queue to make sure they are published at the optimal time for engagement. Rather than publishing whenever we are online and available, we can let Buffer take care of the scheduling and publish at a time that's right for our audience.
We'd love your feedback

Do Instagram carousels perform better for your account? Will you use add carousels to your queue? Do you have any suggestions for what we should build next?
Let us know by sending us a tweet @buffer or by dropping us a note, using our feature request form.