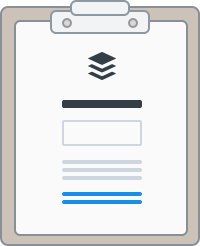 Buffer Happiness Report
November 2016
Responses within 1 hour
42% -6.6%
Customer satisfaction score
91 -3.2%
Email conversations
12,270 -2%
Twitter conversations
5296 +1%
Avg. Twitter response time
4 hr 1 min -.9%
Webinars hosted
9
Deepening our team's social media knowledge with training
We believe that our customer service shouldn't just answer the question in our customer's email but also address the next questions that could enter their mind.
In October, we launched our first iteration of social media training for our Happiness team. We're working on increasing our collective social media knowledge in order to not only provide the best possible customer support but also be able to share social media tips, insights and strategy ideas.
Darcy, one of our team leads, is doing a deep dive into all the things social media to help the team. With the wide amount of blogs, articles and videos out there, we thought it would be useful to curate top news weekly along with ideas on how our customers could implement some of this in their social media efforts. As part of our team's training, we also try and include a little project or simple question to make the newsletter even more engaging!
Here's what the 'Social Media Weekly Update' looks like: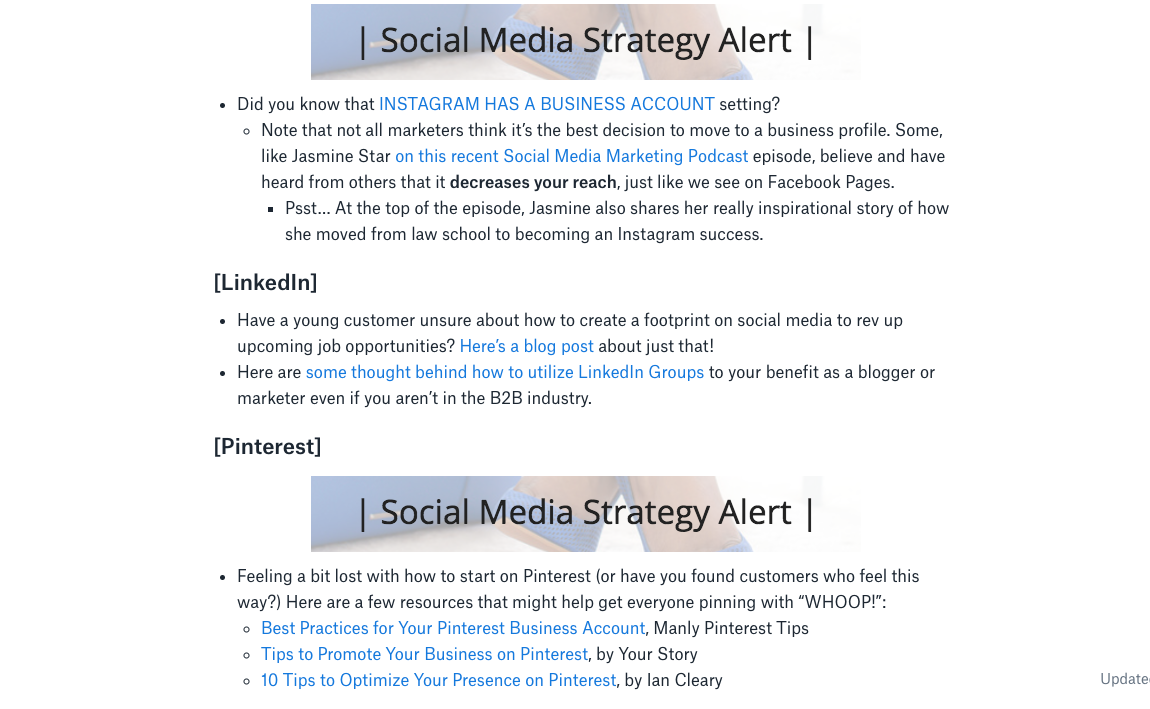 By diving further into general social media know-how, we hope to not only be a resource for Buffer questions but also helpful advisors for social media. It's exciting to be working closely with our Marketing team and collaborate in our social media training for podcasts and webinars soon!
Developing more of our popular, helpful webinars
We have been running onboarding webinars at Buffer the entire year of 2016!
Our Buffer for Business customers have found this extremely helpful and we have also found that customers who attend the webinar during their trial are four times more likely to convert into paying customers.
We have decided that onboarding webinars offers an immense amount of value for our prospect customers and trialists, and we're seeing heaps of great feedback from these:
"Flawless. Props to Hannah."
"Hannah did a great job! Got all the information I needed and she was very knowledgable in answering all the questions."
Whilst we are excited to keep seeing our "Getting Started with Buffer for Business" webinar attendance growing, we are also aware that some users prefer to watch demos on demand. People are busy! And we want to give everyone as many options as we can when it comes to figuring out how Buffer for Business can help them achieve their social media goals.
Therefore we have rolled out a new 10 minute introduction video, which users can choose to watch instead of or as well as joining a live webinar.
Between October and November, we have seen a 20% decrease in webinar attendees (though this drop is to be expected with many holidays.) On the flip side, the demo video had 302 watches in November! So overall, the number of people who have watched an overview of Buffer for Business has increased by 82%! ?
An exciting addition to the webinar schedule this month was our new "Getting Started with Buffer Integrations!" We'd found that some of our attendees had already used Buffer for a long time, and perhaps the webinar wasn't as helpful for them or they were power-users and wanted to learn even more during their trial or before signing up.
Further to this, our data team did some digging into integrations usage in October and discovered that the top 3 are Bulk Buffer, IFTTT and Zapier. It's amazing to see customers enhancing their use of Buffer by using these integrations, and we'd love to show even more people how they can work for them. This data helped to form the agenda for the new webinar, which covers the top three integrations previously mentioned, plus Feedly, Pocket and Quuu.
We've only hosted one of these webinars so far, with 10 signups and 5 attendees, but we're excited to see what we can learn and how we can grow this into a valuable resource for customers.
Better serving our customers through our FAQ and Knowledge Base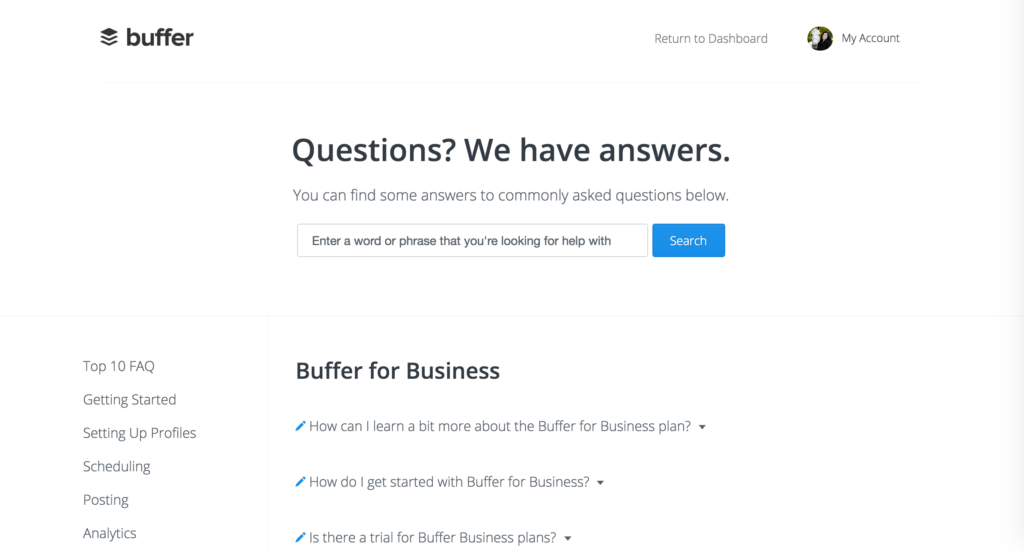 We'd love to keep improving our external Frequently Asked Questions (FAQ) document so our customers can easily find actionable tips and evolving our internal Knowledge Base so our team members can level up our knowledge of all things Buffer product and social media.
Our heroes Hannah and Juliet are working on these items and this month we combined the FAQ and Knowledge base suggestions Trello boards into one! Whenever we learn something new that would benefit our customers or other heroes or notice any existing FAQ/Knowledge Base article that can be improved, we add it to an incoming column for Hannah and Juliet to address.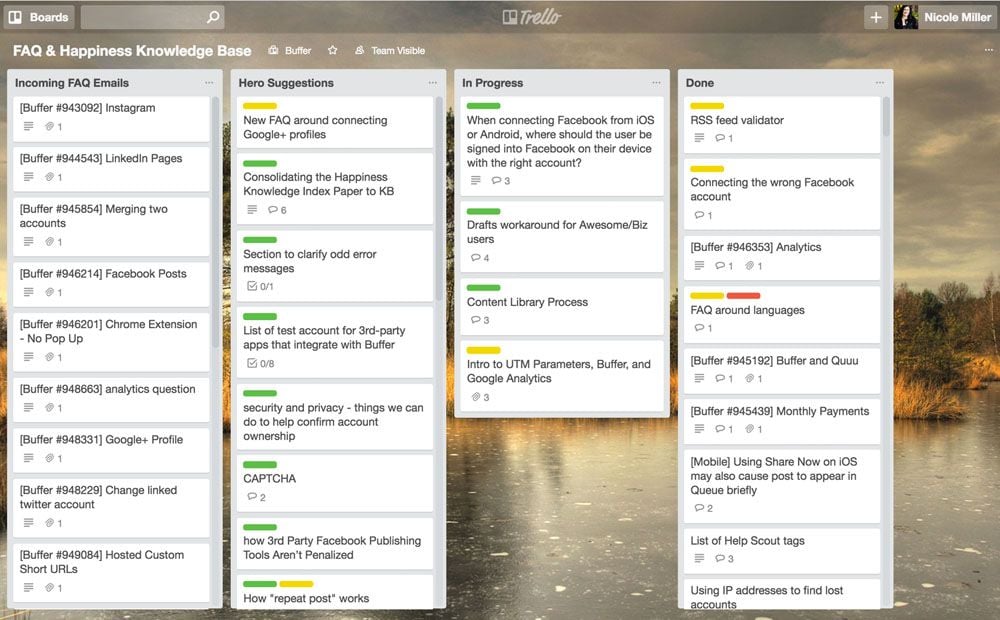 So now, when we're working in HelpScout, heroes can also use the search integration to search across both the FAQ and the Knowledge Base.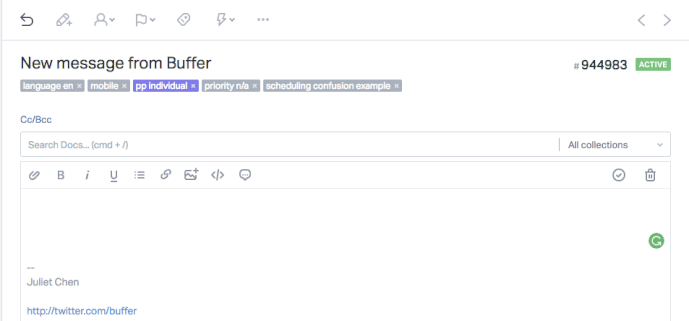 With a goal to improve our stats in the FAQ and therefore also our customers experience, Hannah is working on:
An all-over FAQ audit to make sure everything is up-to-date, including screenshots/gifs, keywords and related articles in place, sitting in the right categories)
Editing or adding FAQ topics based on tickets that are coming in from the FAQ contact form
We are determined to work on improving all of our self help resources. In order to do that we are tracking all metrics closely.
Here's an example of the FAQ's weekly metrics for the last week of November:
5,691 visits (6,148 the previous week)
1.11 articles viewed per visit (1.18 the previous week)
57% found an answer (60% the previous week)
3% sent an email (3% the previous week)
40% failed (38% the previous week) failed = the customer exits without viewing an article
209 emails from FAQ
We're hoping to bring up the percentage of customers who are finding an answer when they visit the FAQ.
Therefore we have found it very important to learn as much as possible from failed searches and customers who are emailing us after visiting the FAQ. Our goal is not to point customers to the FAQ over email or Twitter support, but that all support options at Buffer be top class.
In November, we released 26 brand new questions and updated 16. Here are a handful of the new ones:
We still have a lot of improvement to make on tracking and analytics for the FAQ. Some of these include:
Average viewing time per article and overall time in the FAQ
Number of views on a per FAQ basis (right now we can only track the top 50)
Introduce thumbs up/thumbs down ratings on FAQs
We're going to look into implementing Google Analytics tracking in the new year, which should cover the first two items. For the third, we're hoping that HelpScout might roll this out as a new feature soon!
Coming next month: The Happiness Revolution!
On the last day of November, the Happiness team went through a complete structure change that was fondly referred to during its brainstorming stages as the "Happiness Revolution."
We're becoming more time zone oriented at the same time as we're expanding the platforms we all use and the teams' whole skill-set. With these changes, we hope to bring not only more happiness to customers but also to our happiness team.
Excited to share more in the December report, stay tuned!
Over to you
What do you do to keep up on the latest social media news? Do you refer to FAQs when they're available? We'd love to hear your thoughts in the comments!
Check out other reports from November: