Business is booming on TikTok right now, especially for small businesses. The hashtags #smallbusiness, #smallbiz, and #supportsmallbusiness, for example, have amassed billions of views.

And with more than 1 billion (and growing) active users, TikTok is more than just a simple video app for lip-syncs and dance videos. It's become a social commerce platform that can help you reach millions of potential customers and generate sales for your business.

This article will show you how to get started using TikTok for business and leverage the platform's free marketing tools and resources designed specifically to help businesses succeed on the platform.
💡
Schedule your TikTok videos and reach a new audience with Buffer
Plan, create, and schedule content to get more exposure and engagement with Buffer's
TikTok scheduling and analytics tools
.
Create a TikTok business account
Creating a TikTok business account is as easy as 1-2-3:
1. Start by downloading the TikTok app from the Google Play Store or Apple App Store.
2. Next, register with your email address, phone number, and Facebook or Twitter account.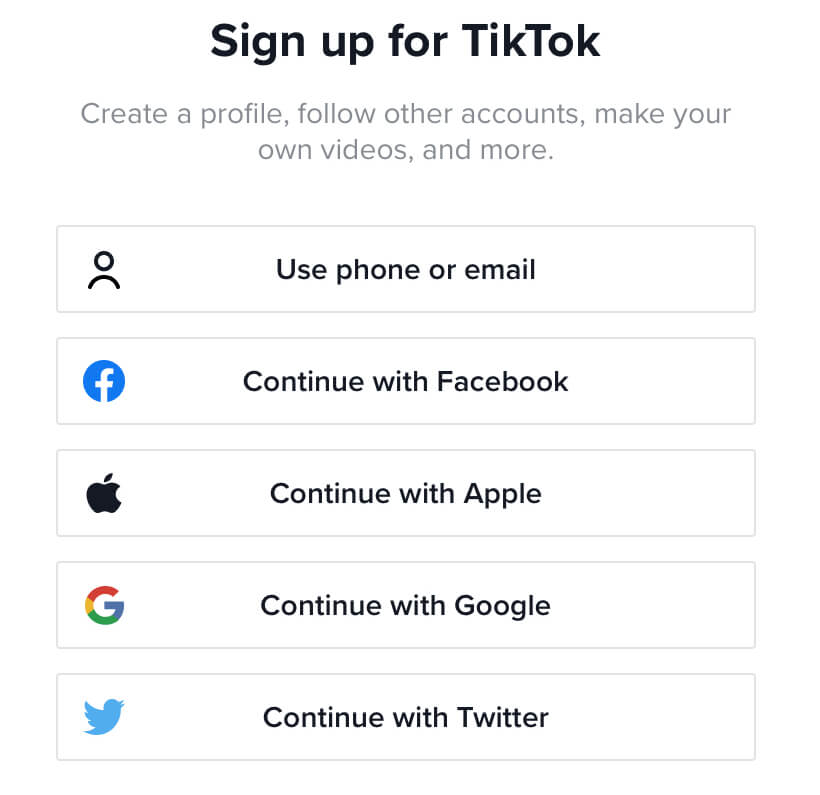 3. Last but not least, switch to a business account.
4. Start by tapping the three horizontal lines on the upper-right corner of the screen, then "Settings and Privacy." From there, tap "Manage Account," then "Switch to Business Account." Finally, select a category that best describes your business.
5. Start by tapping the three horizontal lines on the upper-right corner of the screen, then "Settings and Privacy." From there, tap "Manage Account," then "Switch to Business Account." Finally, select a category that best describes your business.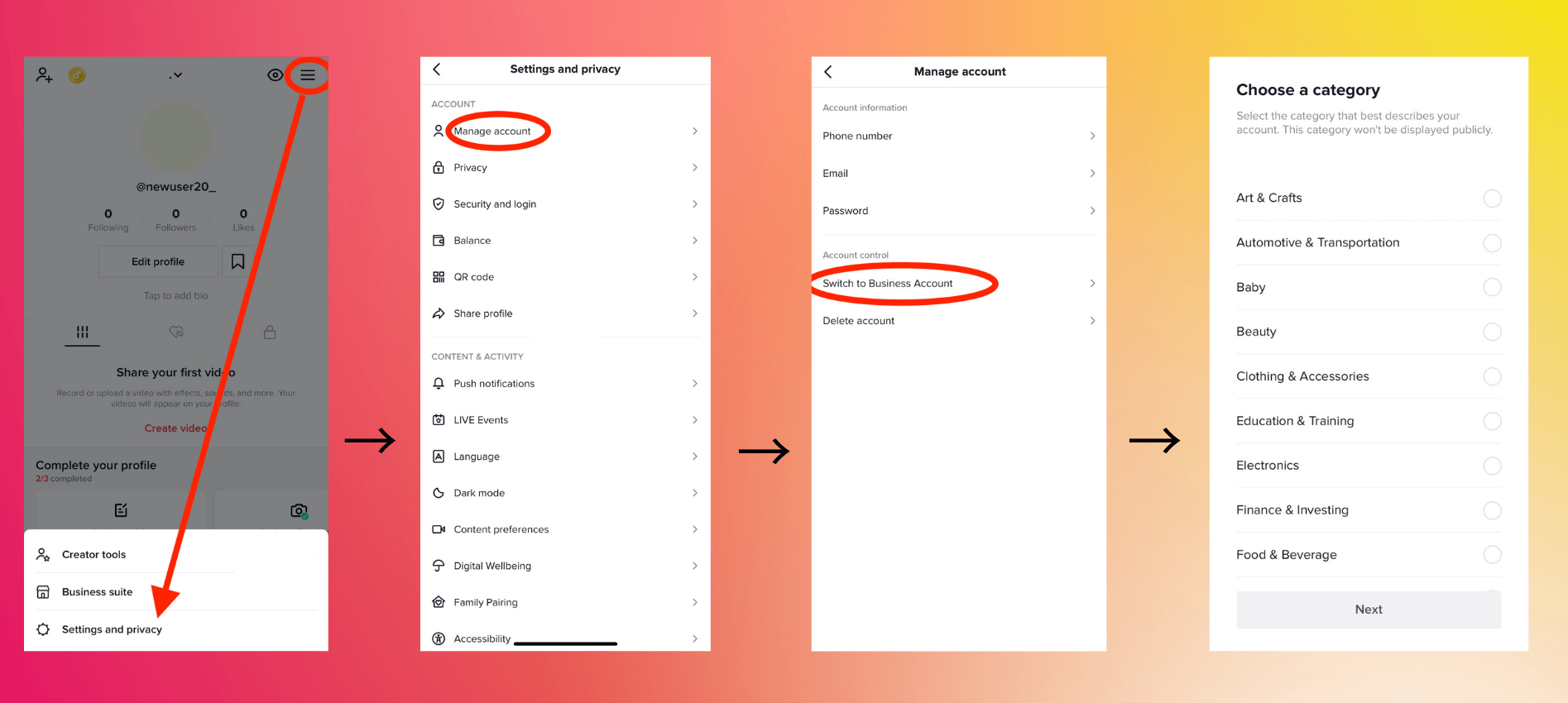 And that's it! Welcome to your new TikTok business account.
Optimize your TikTok bio
Your TikTok bio introduces your brand to the world; therefore, you want to nail that essential first impression. All it takes is the basics.
1. Select a profile photo that best represents your brand
If you don't intend on using your logo, you'll want to make sure that the profile picture you choose makes sense within the context of your overall branding — for example, with a team or product photo.

The Melbourne-based home decor duo Josh and Matt Design have a photo of themselves in their bio. While Natural Annie Essentials, a soy candle company, has a photo of the founder Annie Brown holding one of her candles.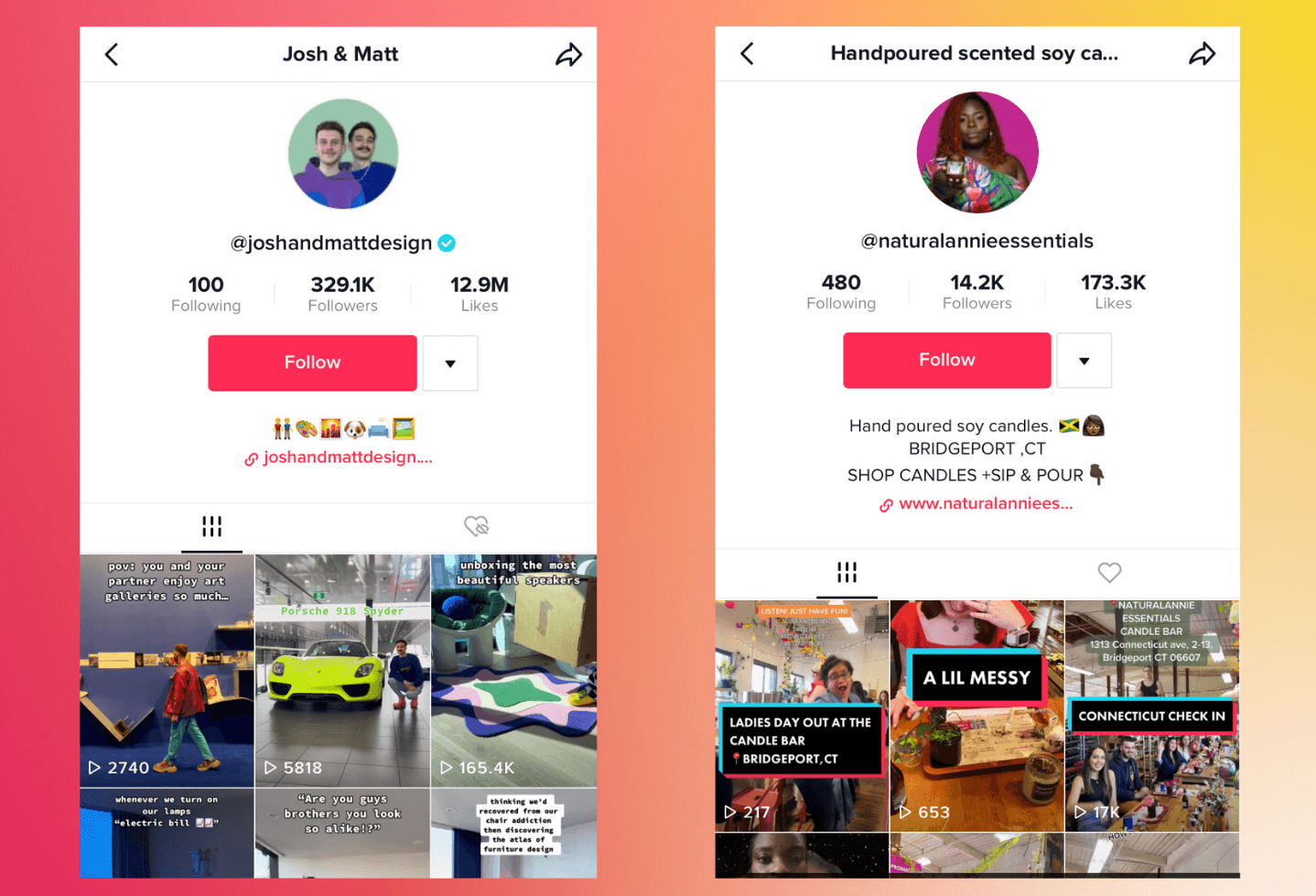 Keep in mind that your TikTok profile should match your brand's other social profiles for brand familiarity and recognition.
2. Briefly describe your business
With TikTok, you can only have 80 characters in your bio, so you have to be very clear and concise and tell your audience exactly who you are and what your business does in just a few words.

For example, Mesoa Skincare does a good job of describing their brand in just a few words, "Premium skincare for the everyday man. Repair. Nourish Invigorate."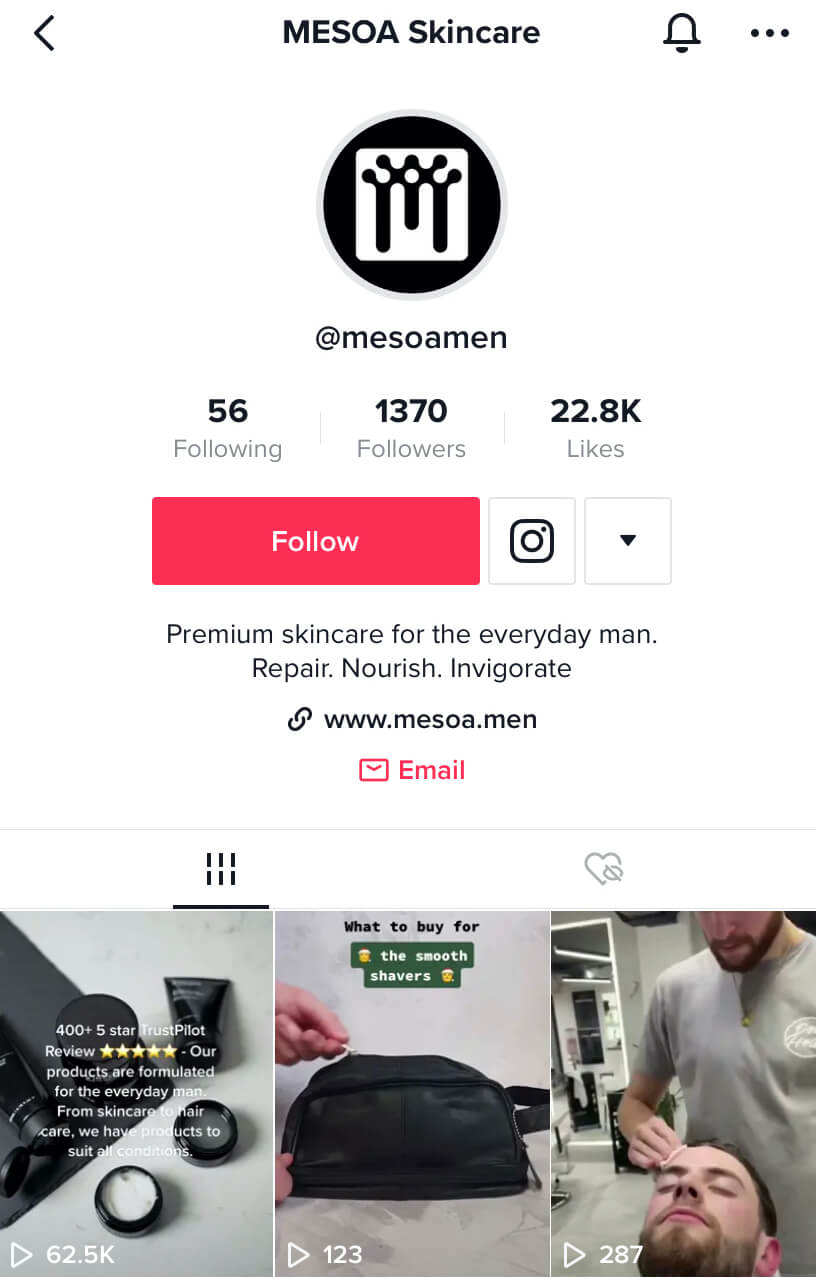 When Mesoa's target audience lands on their profile, they will immediately know how they can benefit from Mesoa's content.

An advantage of TikTok's short character limit is that you have the opportunity to be creative by writing one-liners that match your brand identity. Whether it's playful and cheeky, witty or blunt, have fun with it. TikTok users expect your brand to have a personality!

Popular South Africa-based restaurant chain Nando's has a dedicated fanbase in the UK. Their customers are obsessed with the brand's Portuguese-inspired dishes like spicy peri-peri chicken. And they want their TikTok followers to know they get it. Their bio simply reads: "You know who we are 😏"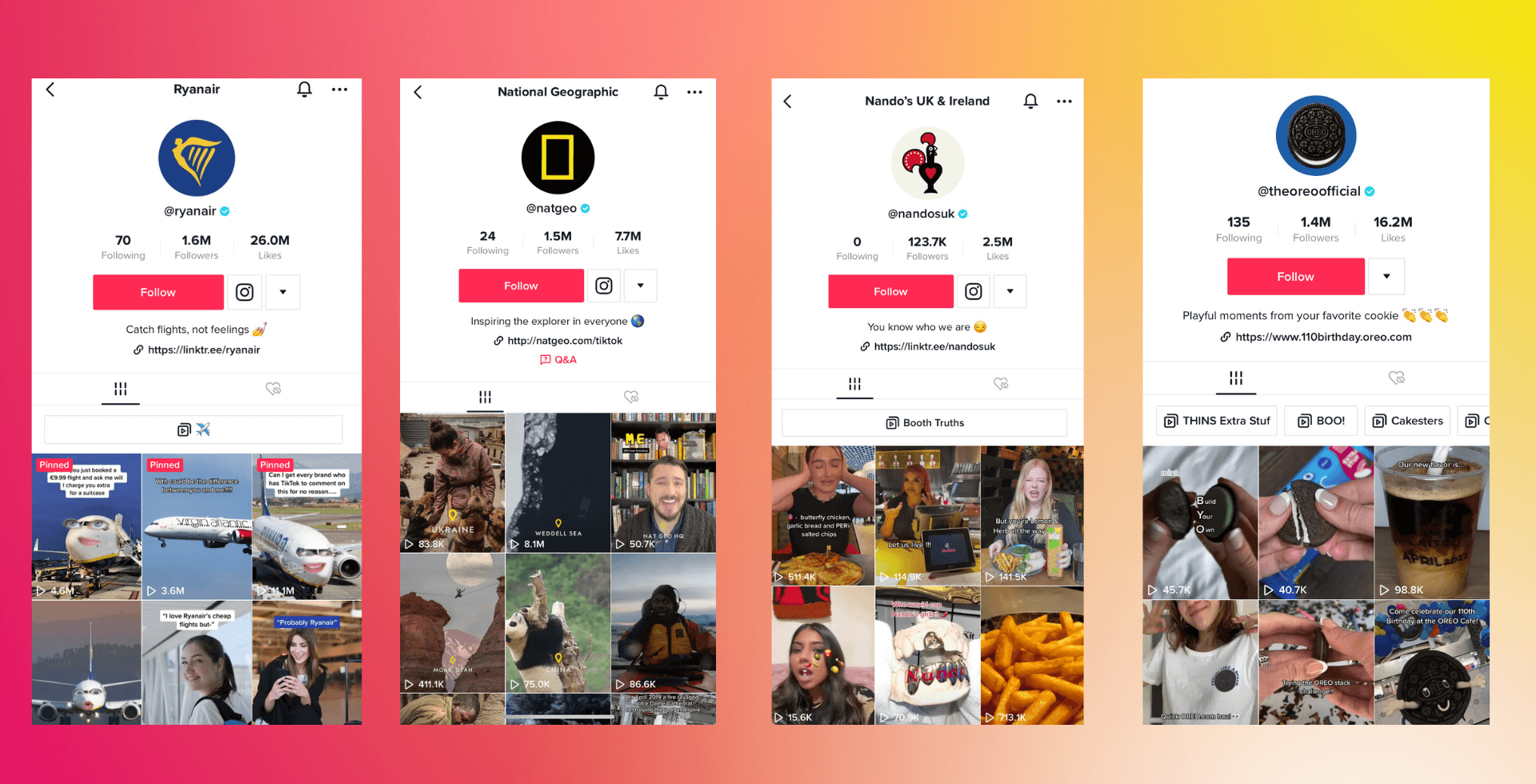 And don't worry if you're having trouble coming up with a short description for your bio; you can pull the essentials from your website.
3. Add a CTA
If a call-to-action (CTA) is more important for your business than a description, you can use your bio space to tell TikTok users exactly what they need to do after they visit your profile — for example, visit your e-commerce website, use a promo code, or sign up to your newsletter.

And because of the short character limit, every word counts. We suggest being creative by using emojis like what the Carpet Repair Guys did in their TikTok bio.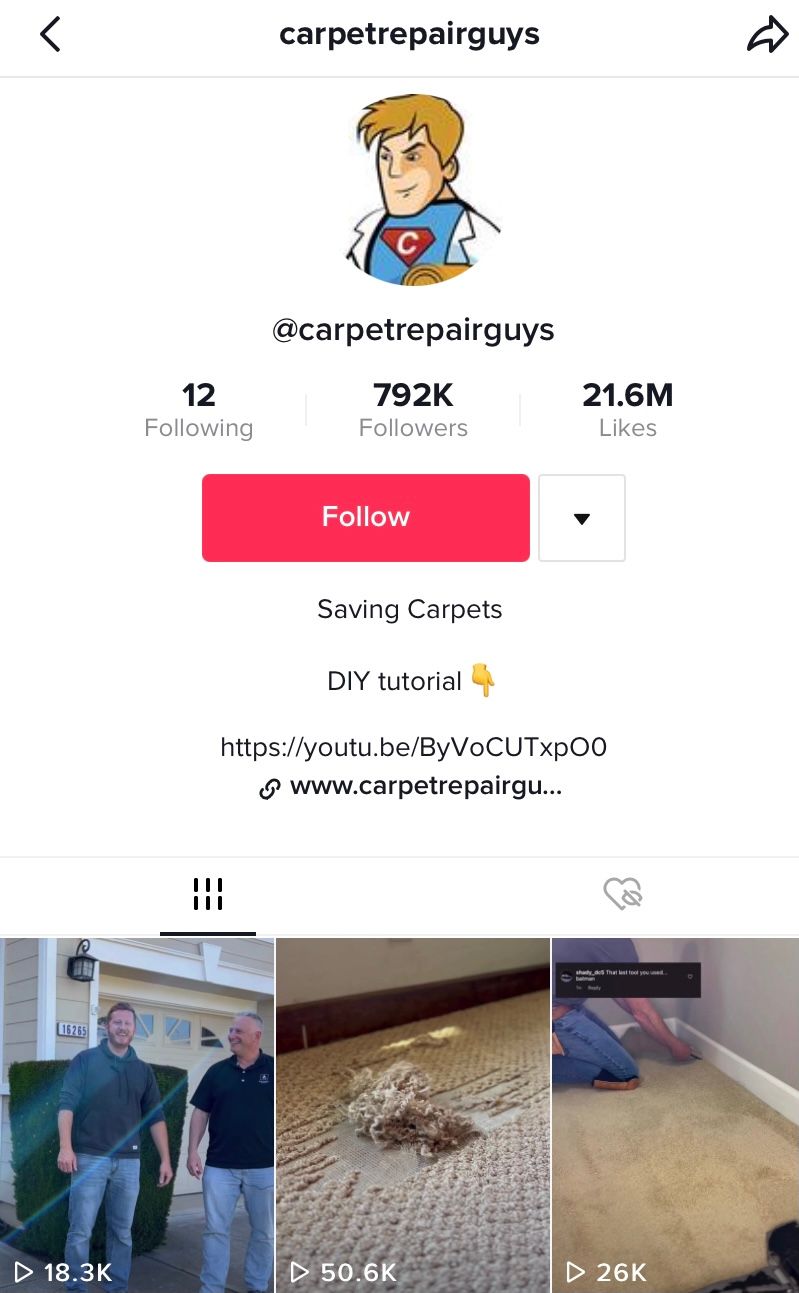 Instead of saying "For DIY tutorials visit...," they maximized space by putting "DIY tutorial "and the👇 emoji followed by the URL.
4. Add a URL
Speaking of URLs, don't forget to add one so that customers know where to go for more information or to purchase a product or book a service — for example, a link to a website, landing page, or a recent blog post. If you have a lot of info to share, consider using an app like linktree or a free landing page like Start Page.
Create engaging TikTok content
Now that your TikTok profile is ready to go, it's time to unleash your creative side with some content! One of the best ways to stand out in the sea of endless video content is to learn how to work with TikTok's algorithm.

Learn five ways to hack the TikTok algorithm in our Ultimate TikTok Marketing Guide.

You might want to join TikTok's Business Creative Center for inspiration and video ideas. They've got guides on how to create TikTok videos like a pro with advice on everything from choosing a video topic to the type of content that makes other brands successful on the platform.  The hub also features trending TikToks, so you'll know just what everyone is talking about.  The Business Creative Center is easy to find. Head to "Business suite" under your "Settings and Privacy" menu in the app.

When you're ready to partner with TikTok influencers, dive into TikTok's Creator Marketplace. The platform is home to thousands of TikTok creator profiles, and you can filter them to find the exact fit for your brand and demographic. If you need ideas for your influencer partnerships, check out our roundup of some of the most interesting TikTok creators — and what we love about their content.

With a business account, finding the perfect song to go along with your clip looks a little different. TikTok's guidelines say you can't use unlicensed music. It's not ideal when you're trying to ride the wave of the latest trend, but we suggest searching through TikTok's commercial music library. It contains over 150,000 pre-cleared, royalty-free clips. It will take the guesswork out of finding the right tracks and keep your account from getting banned.
Start selling and promoting your products and services
After you've mastered the basics of using TikTok for business, you're ready to tackle the features that will help you promote, sell, and make money on TikTok.
TikTok Ads Manager
If you've run ads on Facebook or Instagram, the TikTok Ads Manager should feel a bit familiar. This is the place where you'll create and manage ads on the platform. You've got five ad formats to choose from.
In-feed ads auto-play on your target audiences' "For You" page. These clips are usually 5 to 15 seconds long, and users are able to skip this type of ad by scrolling past it. It's a good way to start your advertising journey on TikTok.
TopView ads appear at the top of a user's "For You" page when they open the app and can be up to a minute long.
Brand takeovers capture the user's attention with a full-screen immersive experience — without competing content. These ads are just three to five seconds long, but only one brand takeover ad can appear in a user's feed per day. So they tend to have a larger impact.
Branded effects allow businesses to create tailor-made effects (e.g., games, stickers, filters, special effects) that users can apply in their videos. They are a great way to boost brand awareness and increase engagement.
Branded hashtags allow businesses to sponsor a specific hashtag challenge that they can advertise on the Discover page for three to six days. They are great for brand awareness and for engaging the TikTok community to make videos with the hashtag.
TikTok designed their Ads Manager "to be straightforward, easy to use, and most of all: effective," and with their step-by-step guide for creating video ads, we have to agree.
TikTok Shopping
TikTok Shopping is at the forefront of the social commerce trend. When you create a storefront on TikTok, you can sell products in TikTok videos and on your profile page's product showcase tab.

TikTok offers two ways to sell products directly on TikTok:
Direct integration: You can create a fully native shopping experience where product discovery and purchases are performed on TikTok. Set up a product catalog, and you're ready to go.
Partner integration: This shopping experience is really useful if you've already got an online store with e-commerce brands like BigCommerce, Ecwid, Shopify, and Square. You can link your existing catalog with your TikTok account. Customers can discover your products in TikTok, but they'll complete their purchase on your site.
Right now, TikTok Shopping is only available for select markets and e-commerce hosts, but the platform has plans to roll it out on a broader scale.
Plan and schedule your TikTok videos in advance
One of the reasons why TikTok is so popular is because creators and brands can create bite-sized entertainment instead of the carefully curated content that you see on Instagram, for example. So don't be afraid to have fun and experiment on the platform. And the last thing you want to slow down your creativity is worrying about staying on top of posting.

Our TikTok scheduling feature lets you schedule posts in advance and sends you reminders to post so that your audience will never miss out on all the amazing TikToks you'll be cranking out.
Brought to you by
Did you find this article helpful? You might also like our all-you-need social media toolkit.
Get started for free now