Where do you turn for meaningful stats on your social media marketing?
I'm grateful for the insight from some truly incredible tools that help make sense of the actions I take on social media. How have my followers grown this month? Which posts seem to perform best? Which times make the most sense to post?
The answers are out there, and there are tools to help you find them. I've collected a bunch of my favorite ones in this post. Feel free to give them a try and see what insights you can find!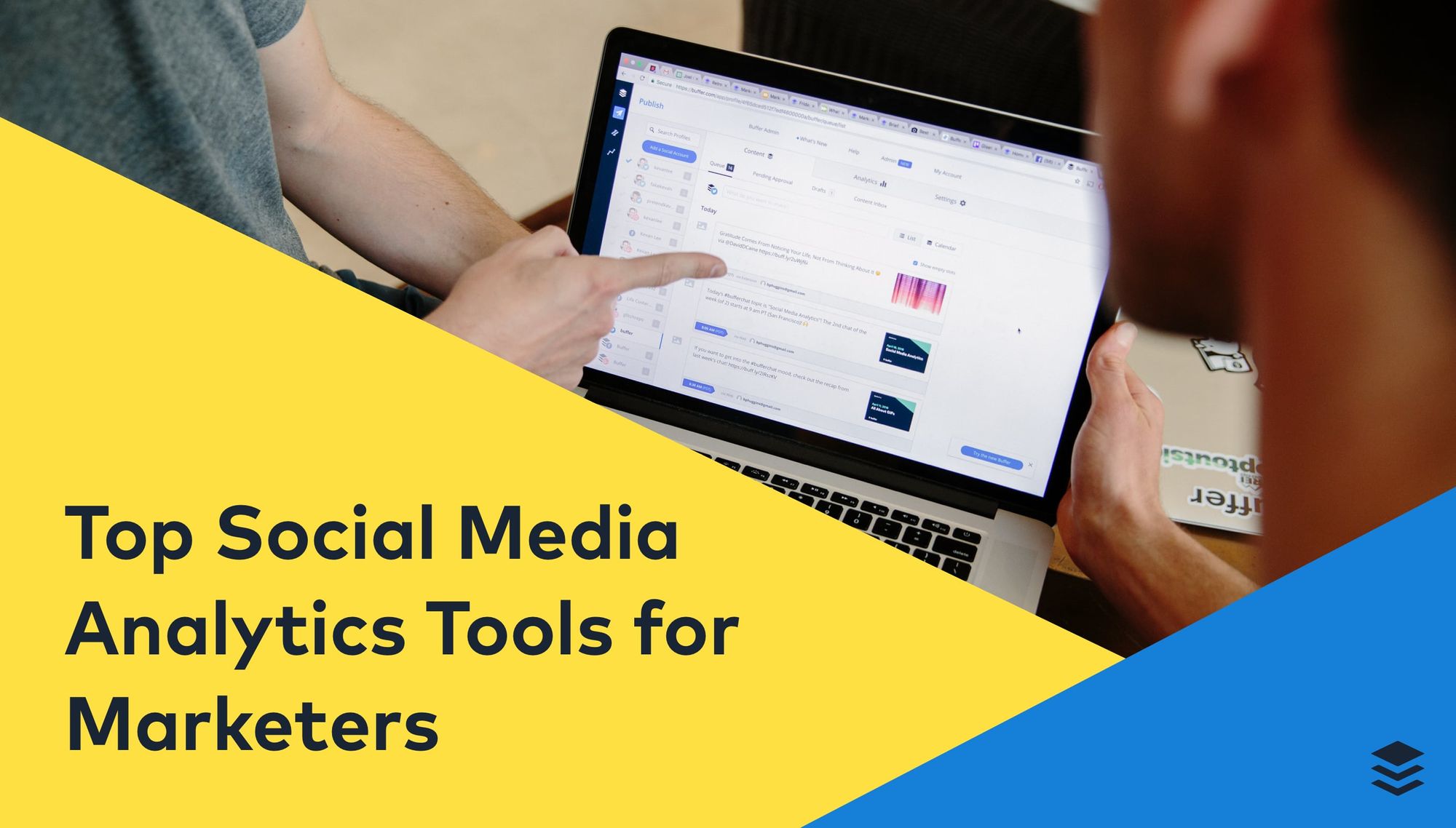 What are social media analytics?
First, before we jump into some of the awesome social media analytics tools available, I wanted to quickly talk a little about how we define social media analytics.
At Buffer, we see social media analytics as the gathering of data from social media platforms to help inform us and guide our marketing strategy. By paying close attention to social media analytics, you can measure your performance against your social media goals.
Social media analytics tools are usually used to complement social media management tools. The latter lets you plan and schedule your social media content while the former enables you to measure the performance and informs your strategy.
The top free and paid social media analytics tools for marketers
Apart from these third party social media tools, we have the social networks' own analytics toolkits:
Click to jump to a social media analytics tool you are interested in or scroll down to learn about them one by one. The tools below are either free with limited features or paid with a free trial.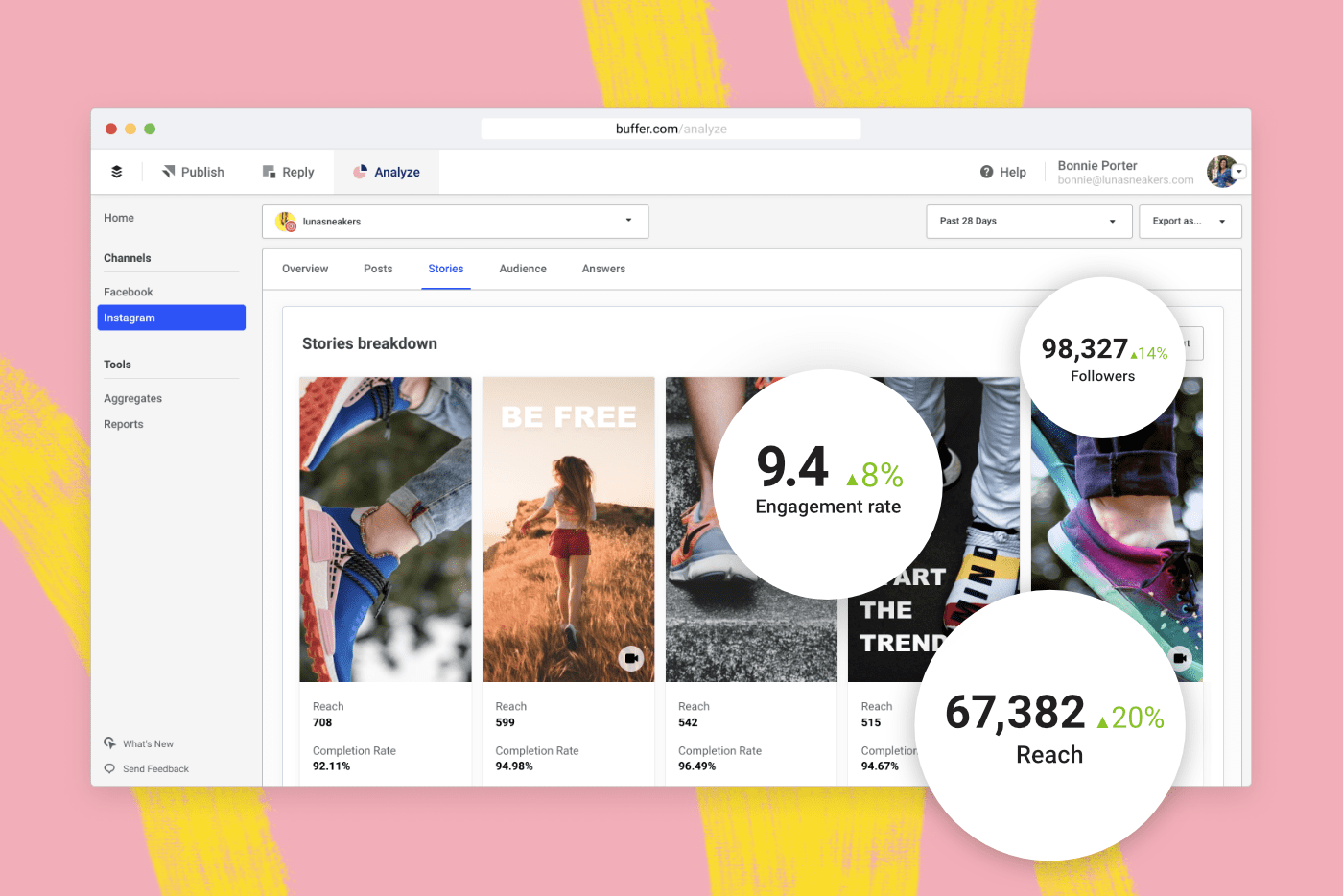 Buffer Analyze is our social media analytics tool for online brands that want to make better decisions about their social media strategy and measure their results without feeling overwhelmed.
3 cool features:
Instagram Stories analytics
Posting strategy recommendations
Create professional reports in as few as two clicks
Social media channels:
What analytics you get for free:
All features for 14 days

Overview and charts for key metrics
Posts and Stories analytics
Audience insights
Answers
Easy-to-use report builder
Pricing options: $35 and $50 per month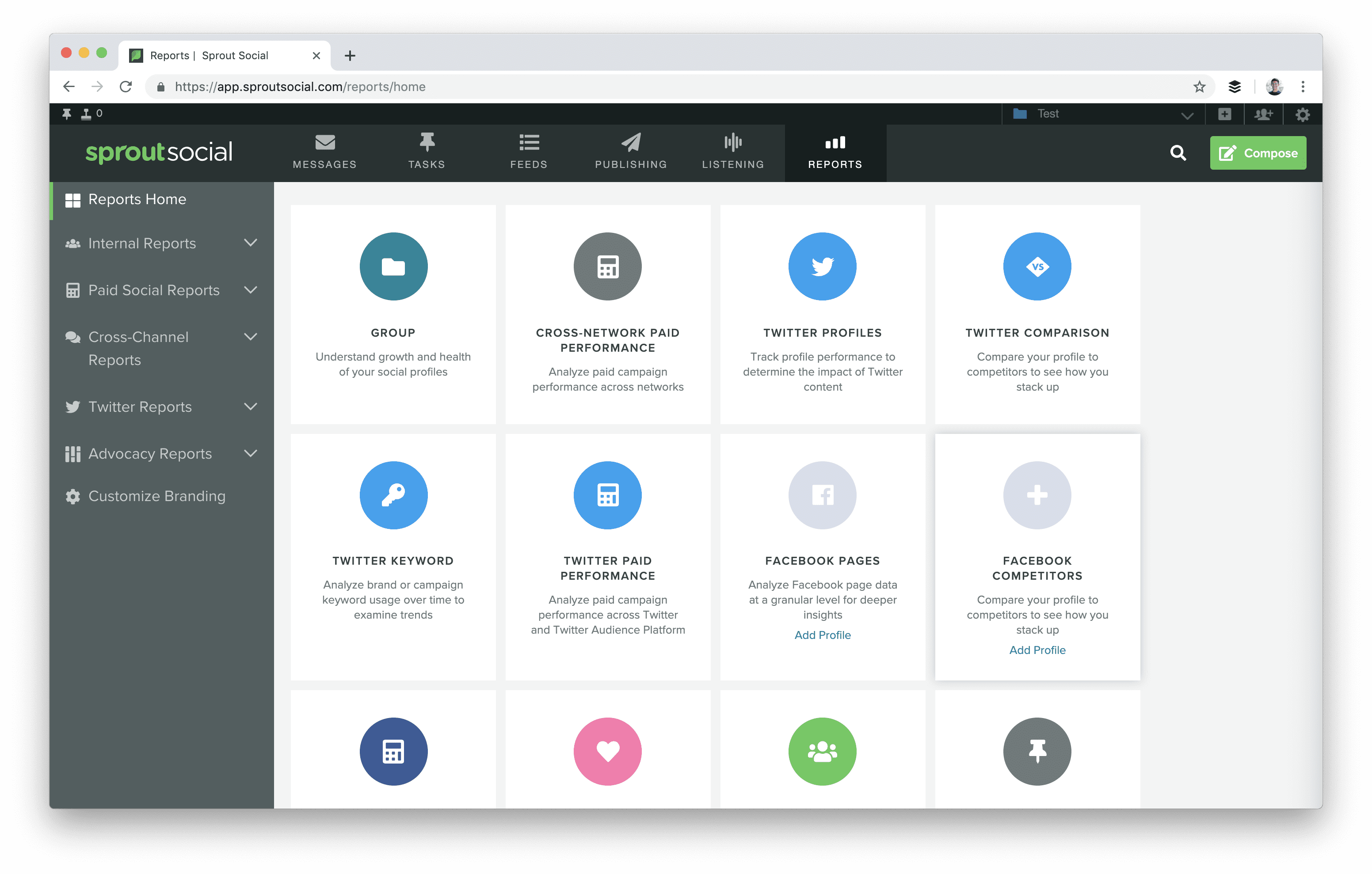 Sprout Social is a comprehensive social media management and monitoring tool that provides a host of enterprise-level options. Its cross-channel social listening features you perform a contextual and qualitative analysis of topics, hashtags, and keywords. You can tell how your content is performing on various social networks from its visual and intuitive reports.
3 cool features:
Analyze paid campaign performance across networks
Get group report of your social media profiles
Analyze your team's performance (task performance, response rates, etc.)
Social media channels:
Facebook
Twitter
Instagram
Pinterest
LinkedIn
What analytics you get for free:
All features for 30 days

Report builder
Reports for each social media channel
Reports for internal team performance
Paid options: $99, $149, and $249 per month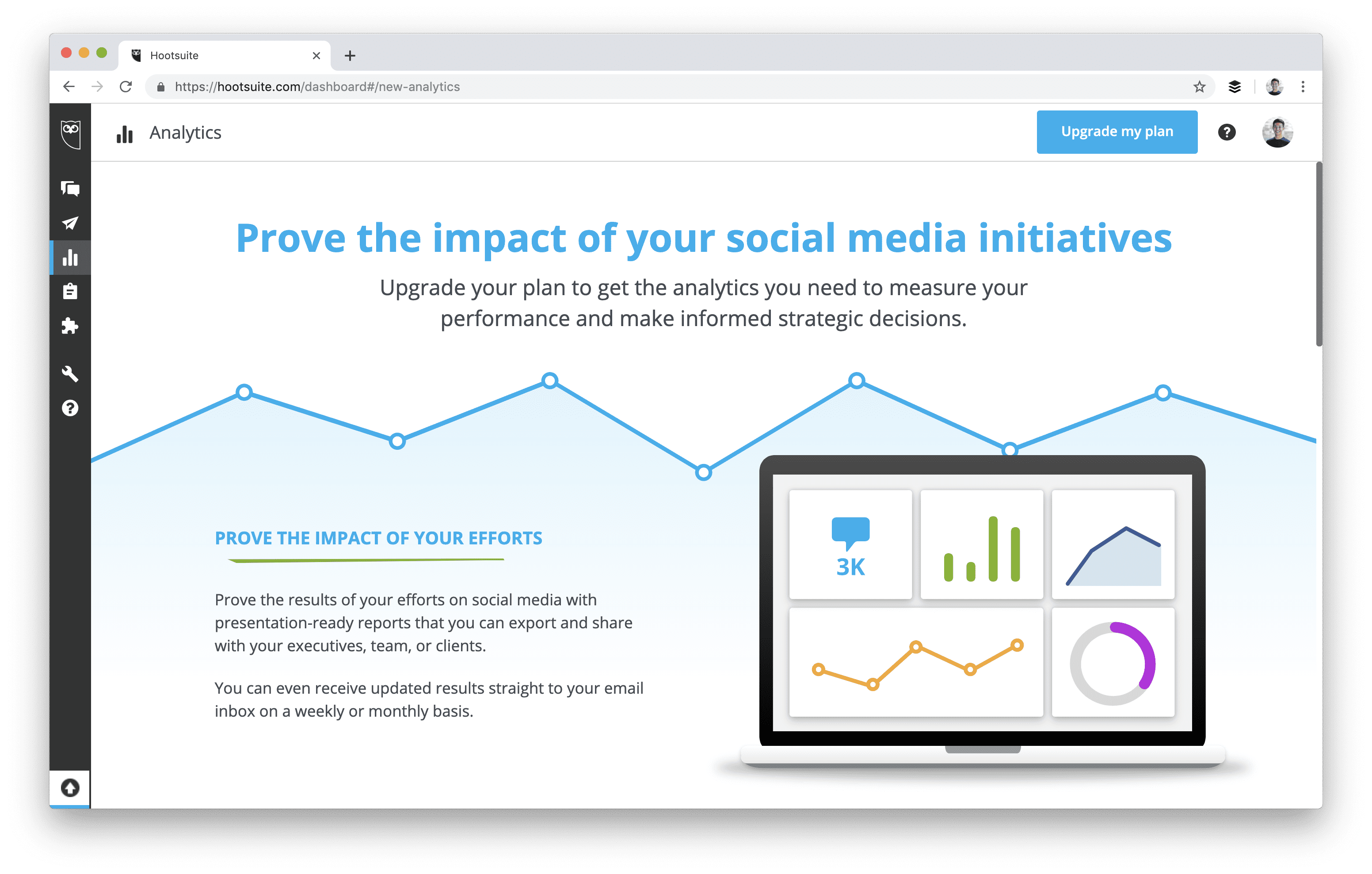 Hootsuite is a great combination of social media management, listening, publishing and analytics tools. It helps you ascertain what kind of content is working for you, increase the reach of your posts, improve the effectiveness of your ads, and get your whole social media team working in tandem. It has in-depth analytics features that give you a clear understanding of your performance across all social platforms.
3 cool features:
Customize reports by choosing from over 200 metrics and export them in PDF, Excel, or PowerPoint formats.
Measure your customer care team's response and resolution time on Facebook and Twitter.
Track brand mentions better by integrating with specialized tools like Brandwatch and Talkwalker.
Social media channels:
Facebook
Instagram
YouTube
LinkedIn
Twitter
Pinterest
What analytics you get for free:
All features for 30 days

Overview of key metrics
Unlimited real-time reports
Team performance measurement
Pricing options: $19, $99, $599 per month, and enterprise pricing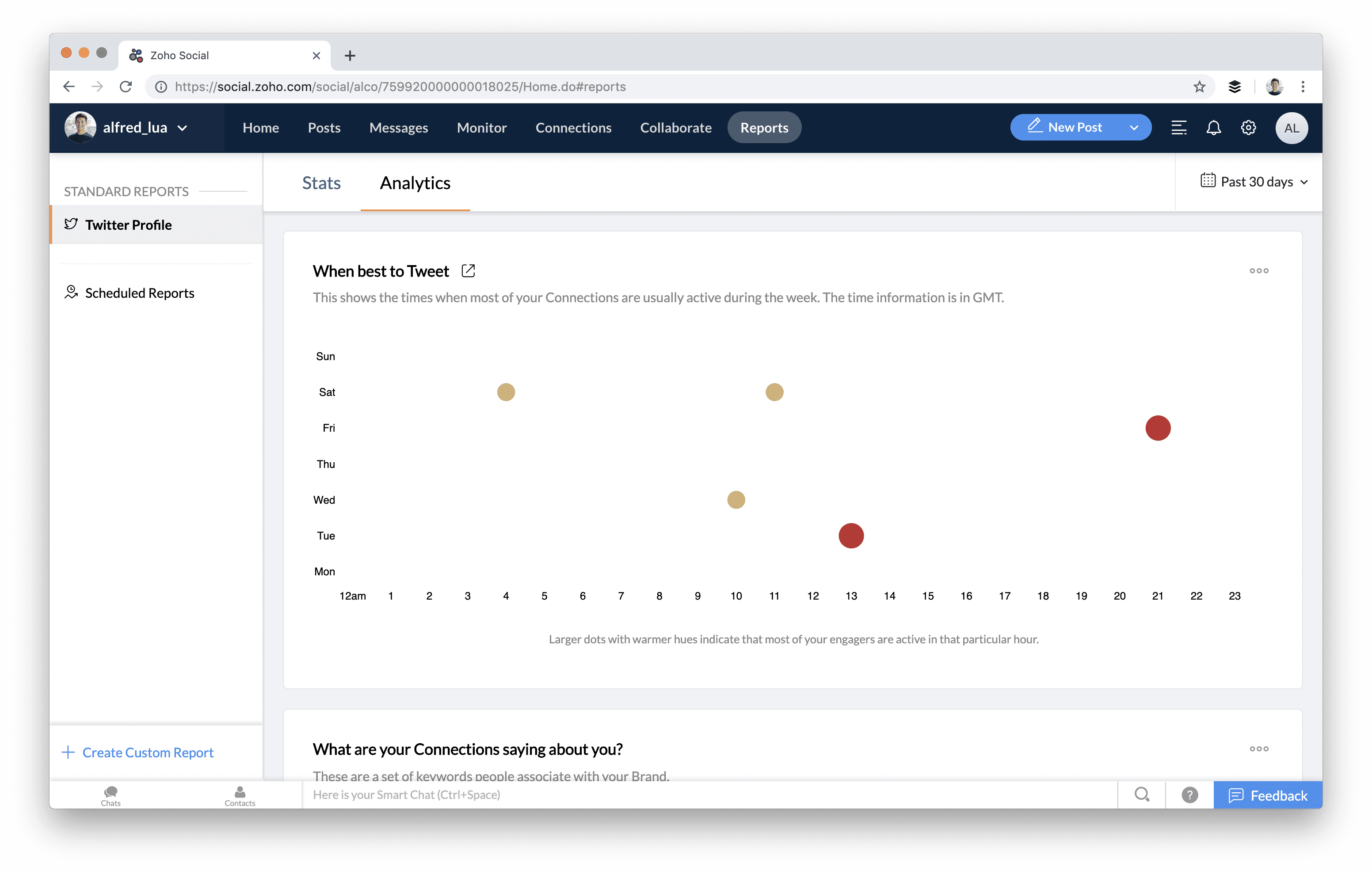 Zoho is a unique and powerful software suite that has CRM, collaboration, and other SaaS options that take care of your entire operational workflow. Zoho Social is the part that enables you to understand your social media audience and how they engage with you. You can listen to multiple channels from a single dashboard and respond in real-time. You can also dig deeper into each post to measure their reach and engagement.
3 cool features:
Create intuitive reports from a huge list of pre-defined segments based on demographics of your fans, influencers, or people reached.
Get a breakdown of the content formats that your connections are engaging with and compare it to those that you publish.
Compare fans vs. other people reached for every post.
Social media channels:
Facebook
Twitter
LinkedIn
Instagram
What analytics you get for free:
All features for 15 days

Stats for individual posts
Analytics for content type, best time to post, etc.
Pricing options: $10, $25, $200, and $300 per month (annual pricing)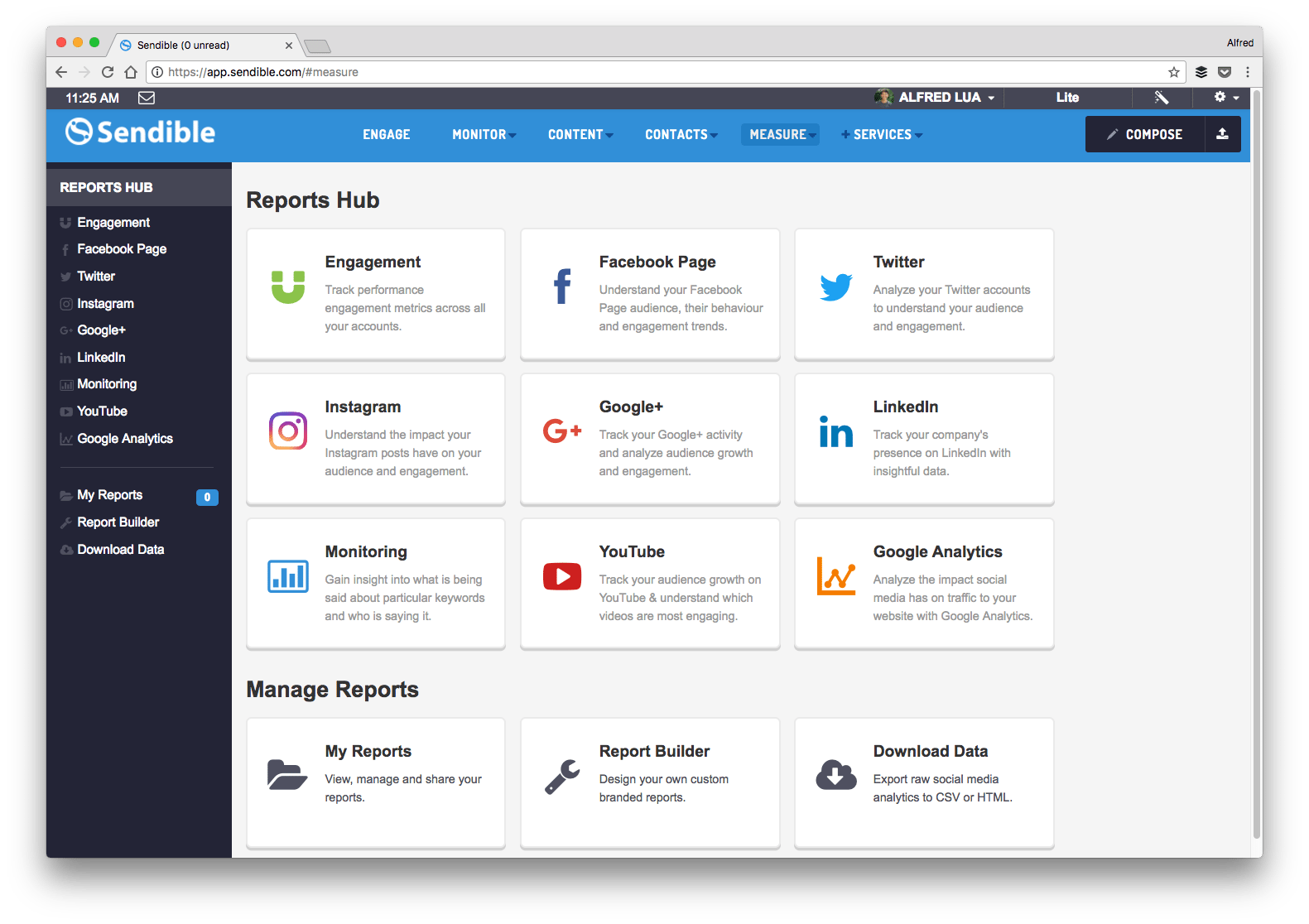 Sendible is a social media management tool with considerable monitoring, listening, and reporting features. It gives you ready-to-use insights into post content and engagement, mentions, and audience profiles across digital channels. Sendible also lets you track what's being said about your brand on various web and social platforms, and identifies mentions that might need your attention or response.
3 cool features:
Create presentation-quality reports with a drag-and-drop builder.
Measure response times and track team performance in responsiveness.
Get notified of reactions and engage with multiple social profiles across networks from a single dashboard.
Social media channels:
Facebook
LinkedIn
Twitter
Instagram
YouTube
What analytics you get for free:
All features for 30 days

Report builder
Reports for each social media channel
Paid options: $29, $99, $199, and $299 per month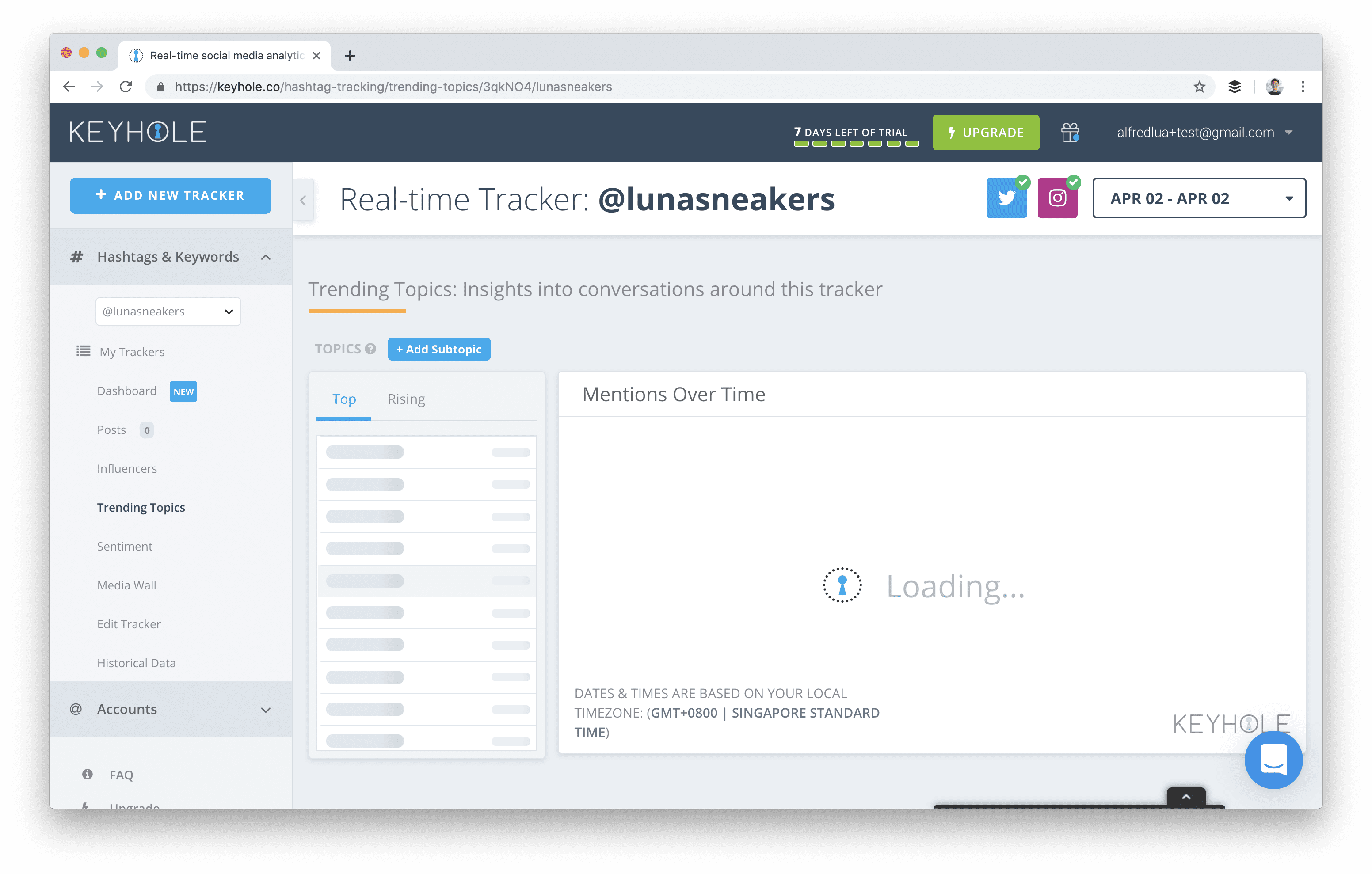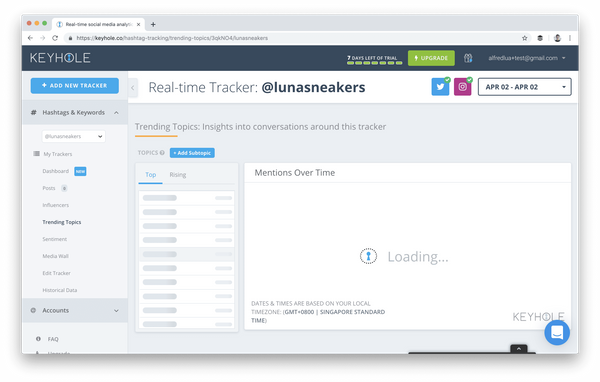 Keyhole offers various trackers that help you monitor your events, campaigns, influencer activity, brand mentions, and industry-specific social conversations. It lets you track hashtags, keywords, and accounts, for which it provides a wealth of information such as reach, top posts, share of voice, and more for your brand or competitors'.
3 cool features:
Predict your campaign's performance with machine learning and make changes accordingly.
Analyze people's sentiments when they engage with your posts.
Manage influencers' accounts and permissions, and track their performance from one place.
Social media channels:
What analytics you get for free:
All features for seven days

Audience insights
Sentiment analysis
Compare brands
Trends identification
Paid options: $49, $99, $199 per month, and custom pricing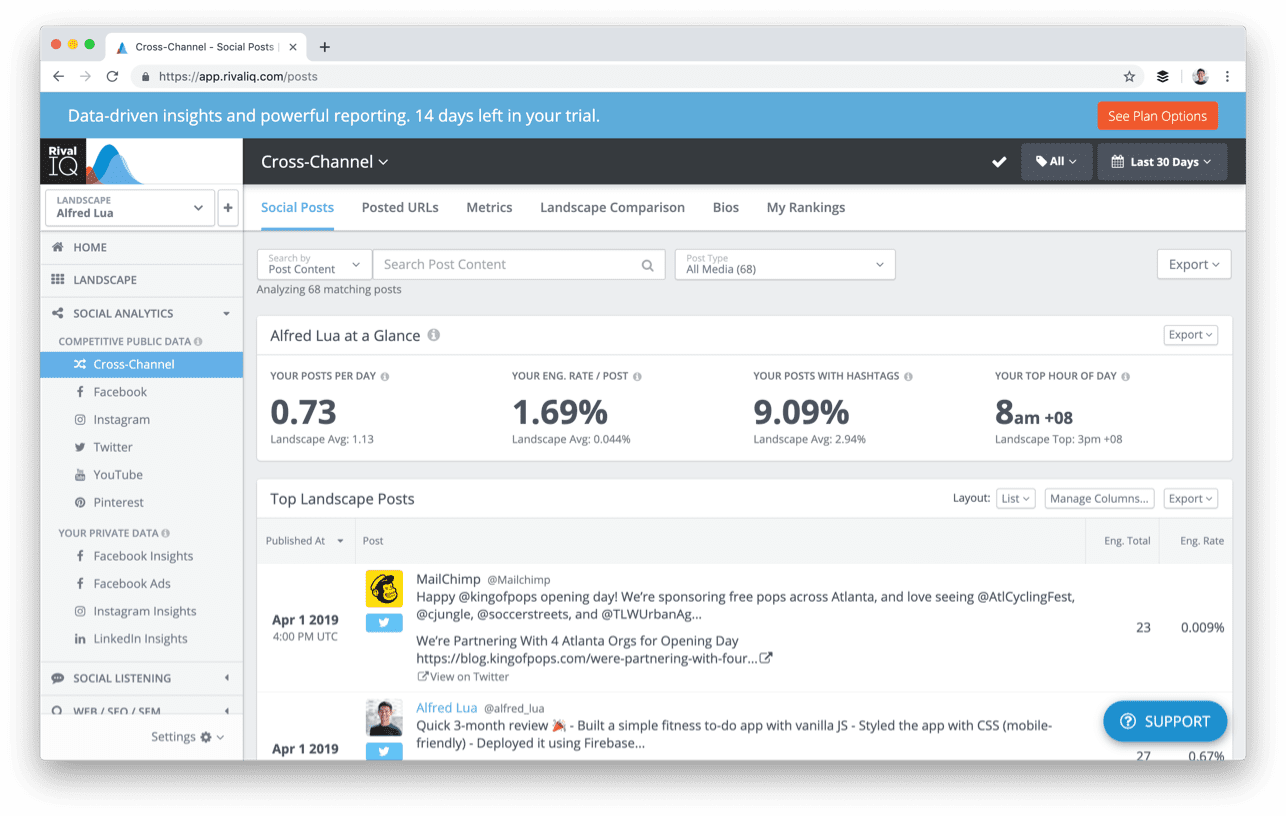 Rival IQ lets you track a number of different companies and compare their performance across not only social media platforms but also SEO. It also analyzes Facebook and Instagram ads, and features historical data up to 24 months. This way, you can pinpoint the overall digital strategies that are working for your competitors and learn from their tactics.
3 cool features:
Compare your profiles to others in your industry in terms of social metrics, hashtags, and content quality.
Integrate Google Analytics to get a complete understanding of your customers' journey.
Improve your Facebook and Instagram ad performance with automated insights.
Social networks analyzed:
Facebook
Twitter
Instagram
YouTube
Pinterest
LinkedIn
What analytics you get for free:
All features for 14 days

Facebook ads reports and alerting
Facebook and Instagram insights reporting
Facebook boosted post analytics
LinkedIn and Google analytics
Paid options: $199, $349, and $499 per month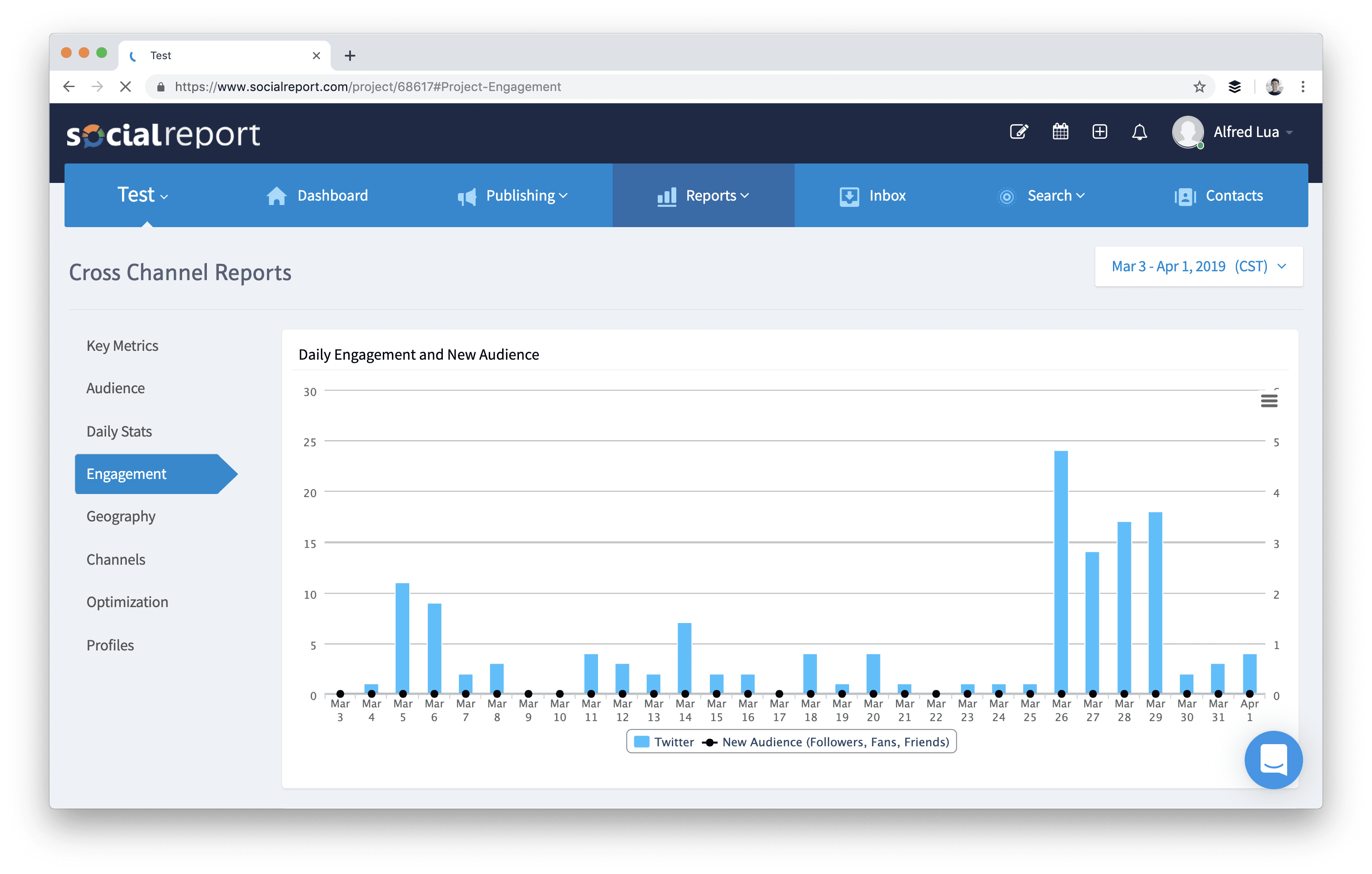 Social Report provides an overview of your activity on multiple social networks as well as blogs. You can track new topics, measure ROI, and export the data into a handy report layout. Social Report makes it easy for you to monitor your social profiles as well as those of your competitors. It includes useful options to structure and manage your customer data.
3 cool features:
Enable notifications to receive in-depth reports daily or weekly.
List insights on different social profiles side by side to find correlations and contrasts in your overall marketing strategy.
Create and share white label reports with your clients.
Social networks analyzed:
Facebook
Twitter
Instagram
YouTube
Pinterest
LinkedIn
What analytics you get for free:
All features for 30 days

Analytics for social media, business reviews, and website performance
Competitor tracking
Unlimited PDF and Excel exports
Paid options: $49, $99, and $199 per month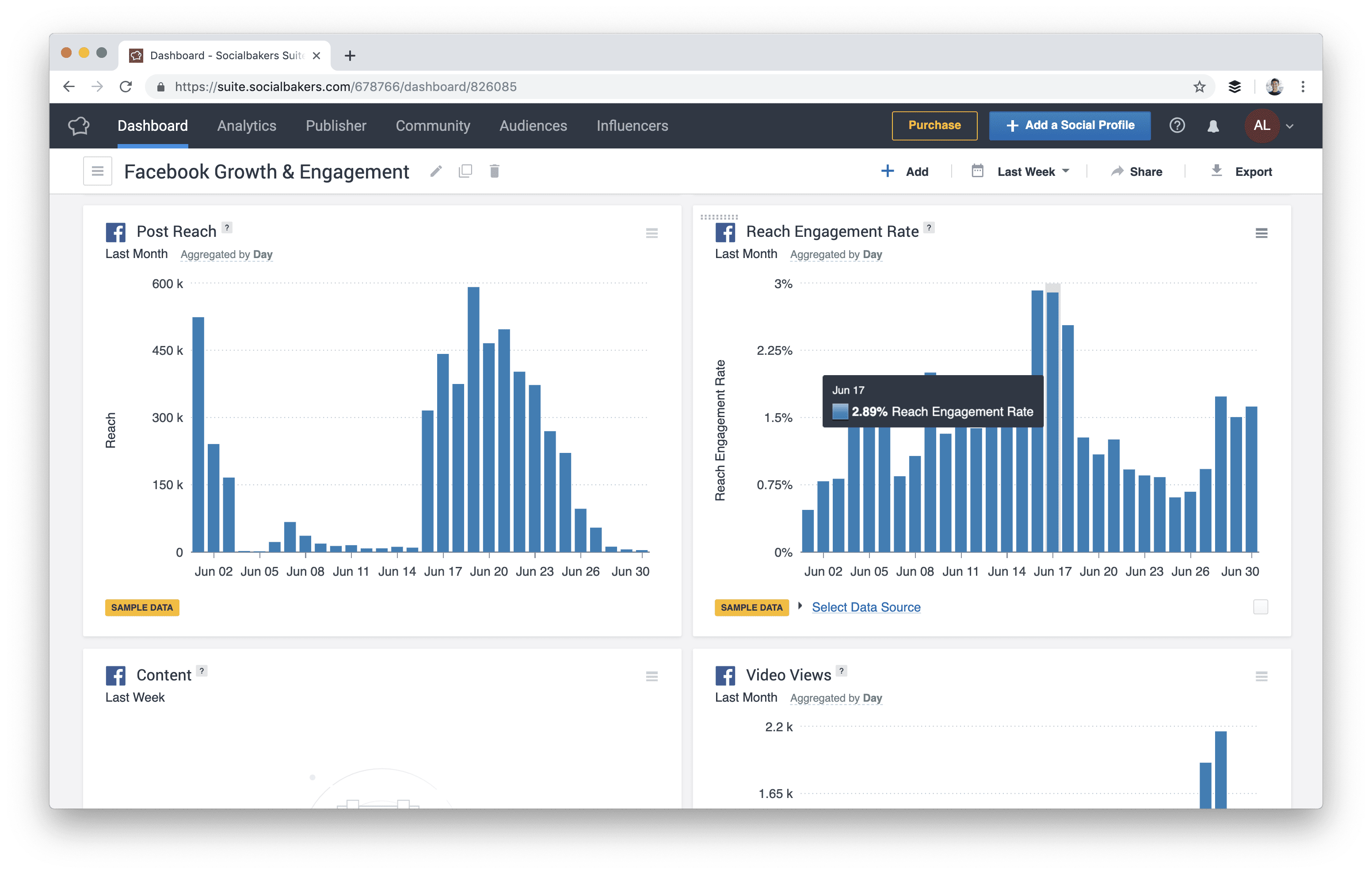 Socialbakers is a collection of analytics tools that includes all the fundamental resources you might need—tracking of multiple profiles, key performance indicators, competitive intelligence, and automated reports. Beside analytics tools, Socialbakers also offers tools for publishing and optimizing your content, identifying influencers, digital persona mapping, and customer care on social media.
3 cool features:
Analyze audience sentiment towards your campaigns from their reactions and interactions.
Decide whether to boost Facebook posts or not based on predictive analysis.
See how your performance compares to that of your competitors in the last 90 days on Instagram and Facebook.
Social media channels:
Facebook
Instagram
LinkedIn
Twitter
YouTube
Pinterest
What analytics you get for free:
All features for 14 days

Social media analytics
Automated sentiment analysis
Smart benchmarks
Omnichannel paid analytics

Facebook and Instagram performance report
Facebook benchmarking tool
Instagram analytics tool
Paid options: $200 per month and custom pricing
Iconosquare helps you track, grow, and report your Facebook and Instagram accounts' performance. Agencies can manage multiple brands from a single dashboard and schedule reports to be sent directly to clients. The competitor tracking and benchmarking features help you compare your performance with other brands in your industry.
3 cool features:
Discover photos, captions, and comments that tag or mention your brand.
Track engagement on competitors' profiles.
Learn when your followers are online and engage them live.
Social media channels:
What analytics you get for free:
All features for 14 days

Advanced analytics
Competitor and hashtag tracking
Industry benchmark

Facebook account audit
Instagram account audit
Paid options: $29, $59 per month, and custom pricing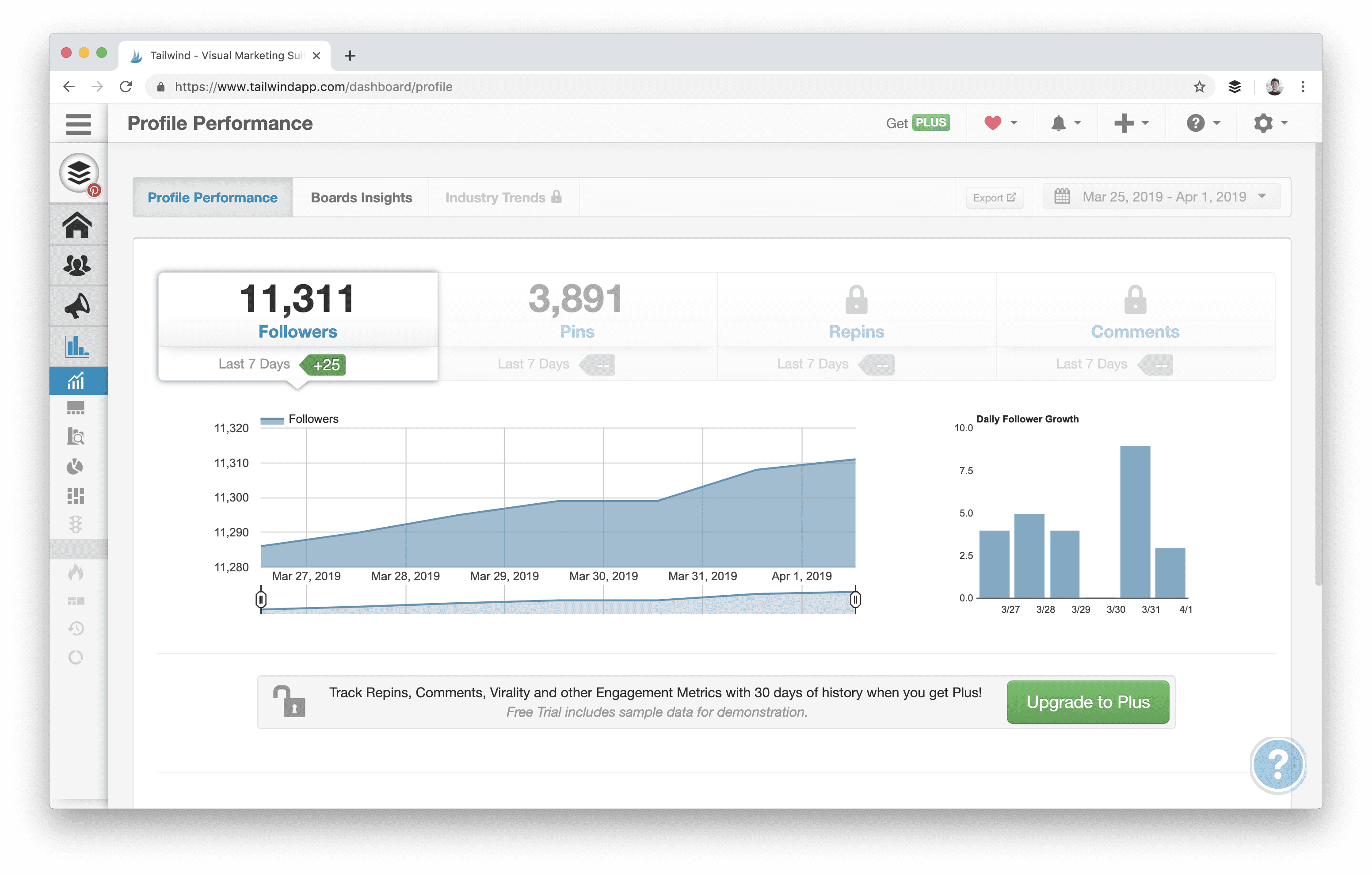 Tailwind is a Pinterest and Instagram marketing solution that helps you schedule content, monitor conversations, and analyze performance. For Pinterest, its analytics gives you insights such as the number of pins with your domain, the potential impressions, and the number of followers for your boards. For Instagram, it shows basic metrics such as followers, posts, comments, and likes.
3 cool features:
Identify the best hashtags on Instagram with the Hashtag Finder.
Use the browser extension to create multiple posts from any site.
Upload images in bulk using a drag-and-drop calendar to save time.
Social media channels:
What analytics you get for free:
Basic profile performance
Basic metrics for individual posts
Board and website insights
Paid options: $9.99, $799.99 per month, and custom pricing
Likealyzer is a Facebook Page analyzer tool by media intelligence firm Meltwater. It audits your Facebook Page and returns metrics such as posts per day, engagement per post, timing, and length of posts. Likealyzer also grades the Page's performance based on more than 70 different data points, and offers recommendations for improvement based on the results.
3 cool features:
Benchmark your Facebook Page against a million others to know how you are performing.
Get recommendations based on how your content is performing.
Export your chosen metrics and insights in the form of easy-to-understand reports.
Social media channel:
What analytics you get for free:
Analysis of your Facebook Page's front page, about page, activities, response, and engagement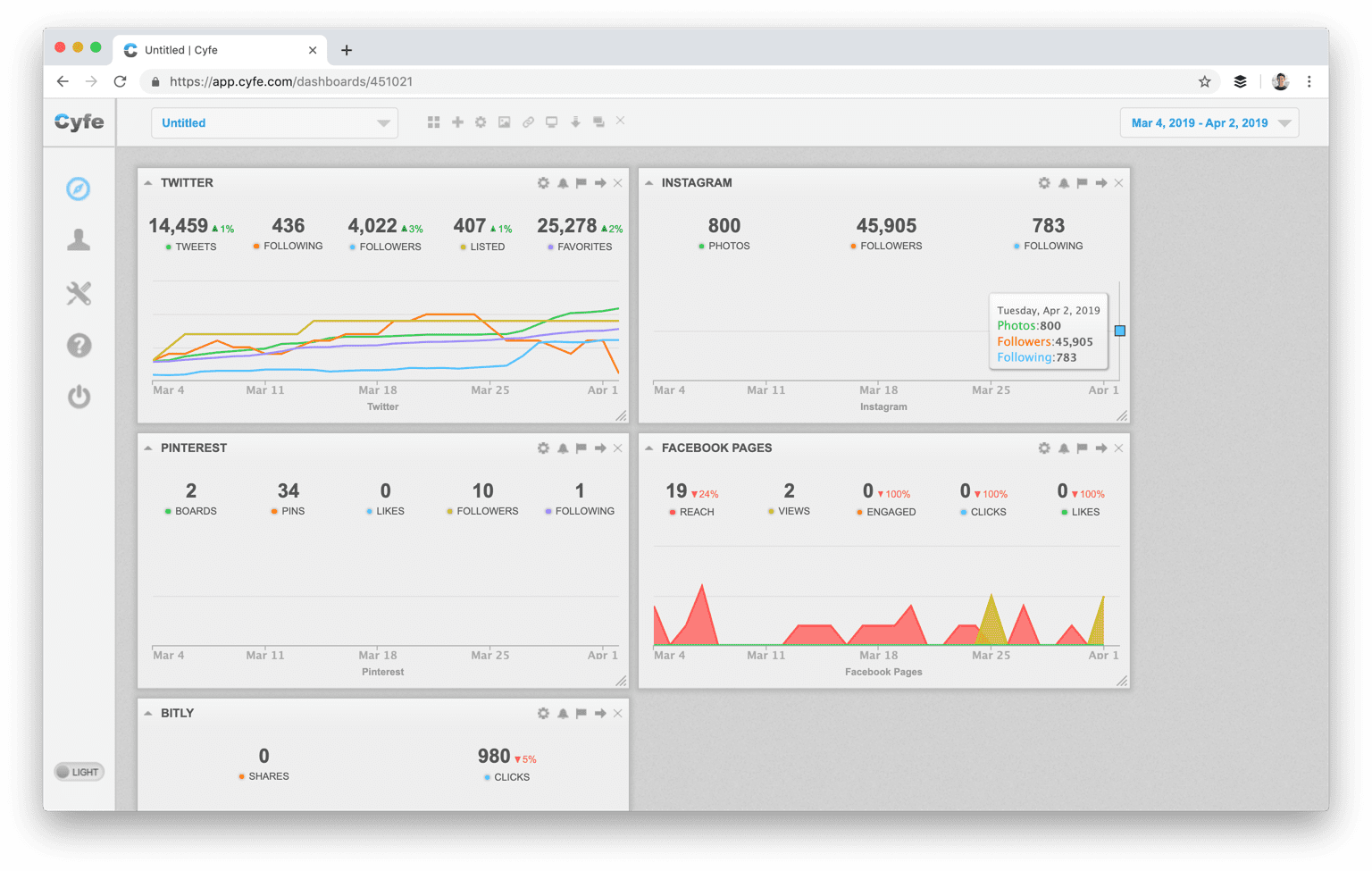 Cyfe is a custom dashboard tool that you can fill up with integrated metrics from dozens of marketing tools. Its social media section allows you to sync up all the major networks and pull overview reports for the accounts you manage and those you want to track. It offers 50 widgets for Facebook alone, for tracking reach, impressions, clicks, check-ins, and posts.
3 cool features:
A fully customizable dashboard
Set up email and SMS alerts to notify you when certain thresholds are crossed.
Monitor your brand mentions and competitors' activity using the Twitter search widget.
Social networks analyzed:
Facebook
Twitter
LinkedIn
Instagram
Pinterest
YouTube
What analytics you get for free:
Five widgets
A fixed view of the trailing 30 days of data
Paid options: $29 per month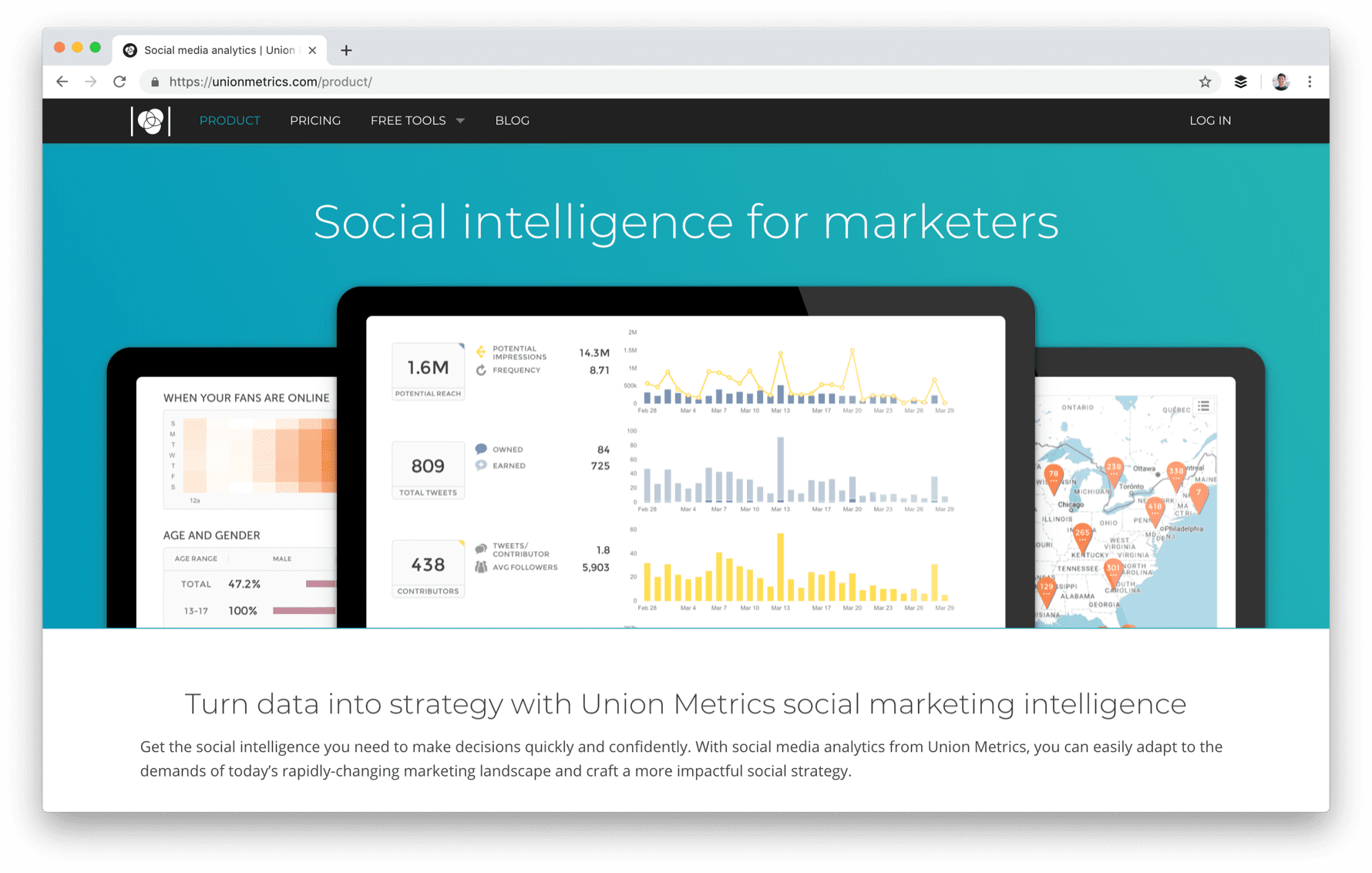 Union Metrics is a social intelligence tool suite that has acquired TweetReach, which provides a free snapshot of your Twitter analytics. Type in any keyword, hashtag, or username, and you get useful charts and graphs for reach, exposure, activity, and contributors. It's quite valuable for checking in on mentions, tracking branded hashtags, and analyzing industry keywords.
3 cool features:
Measure the potential reach for any hashtag on Twitter or Instagram.
Look at your competitors' activity and measure their share of voice.
Know what sort of content works in your industry by analyzing conversations in real-time.
Social networks analyzed:
What analytics you get for free:
Twitter assistant
Twitter analytics report
Instagram account checkup
Paid options: $49, $99, $199 per month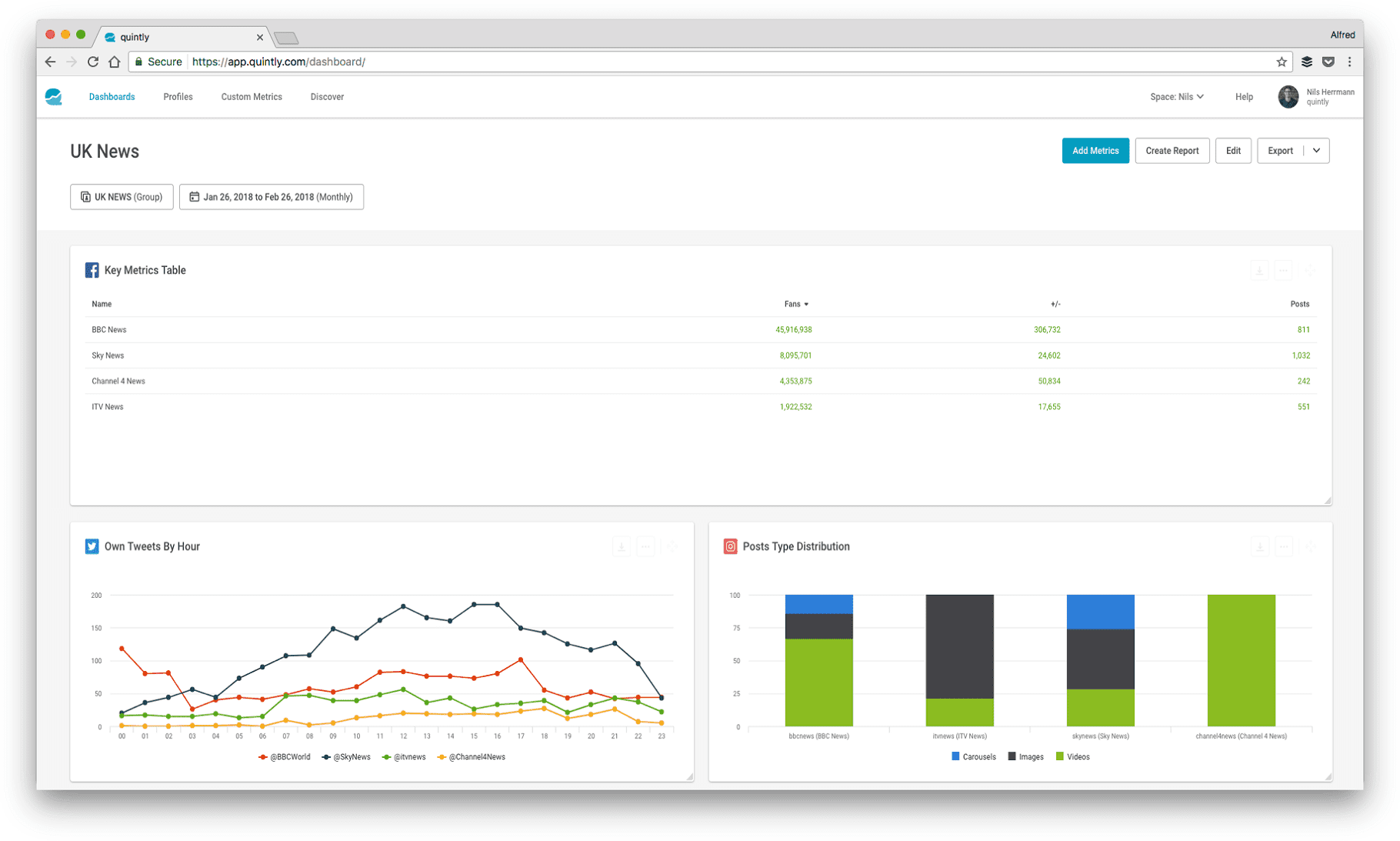 Quintly is an enterprise-level analytics tool that monitors your engagement on all major social networks. You can mix and match dozens of customizable metrics and automate the deployment of flexible, shareable dashboards. By adding multiple pages belonging to you or your competitors, you can compare them against pre-set benchmarks or each other.
3 cool features:
Choose from 350+ metrics to effectively set up and measure social KPIs.
Export data in a variety of formats including CSV, XLSX, PDF, and PPTX and send automated reports.
Use Quintly's API to extract data into custom dashboards and integrate it with a BI solution.
Social media channels:
Facebook
Instagram
LinkedIn
Twitter
YouTube
Pinterest
What analytics you get for free:
All features for 14 days

Advanced analytics
Reporting
Customizable dashboard
Paid options: $100, $255, $480 per month, and custom pricing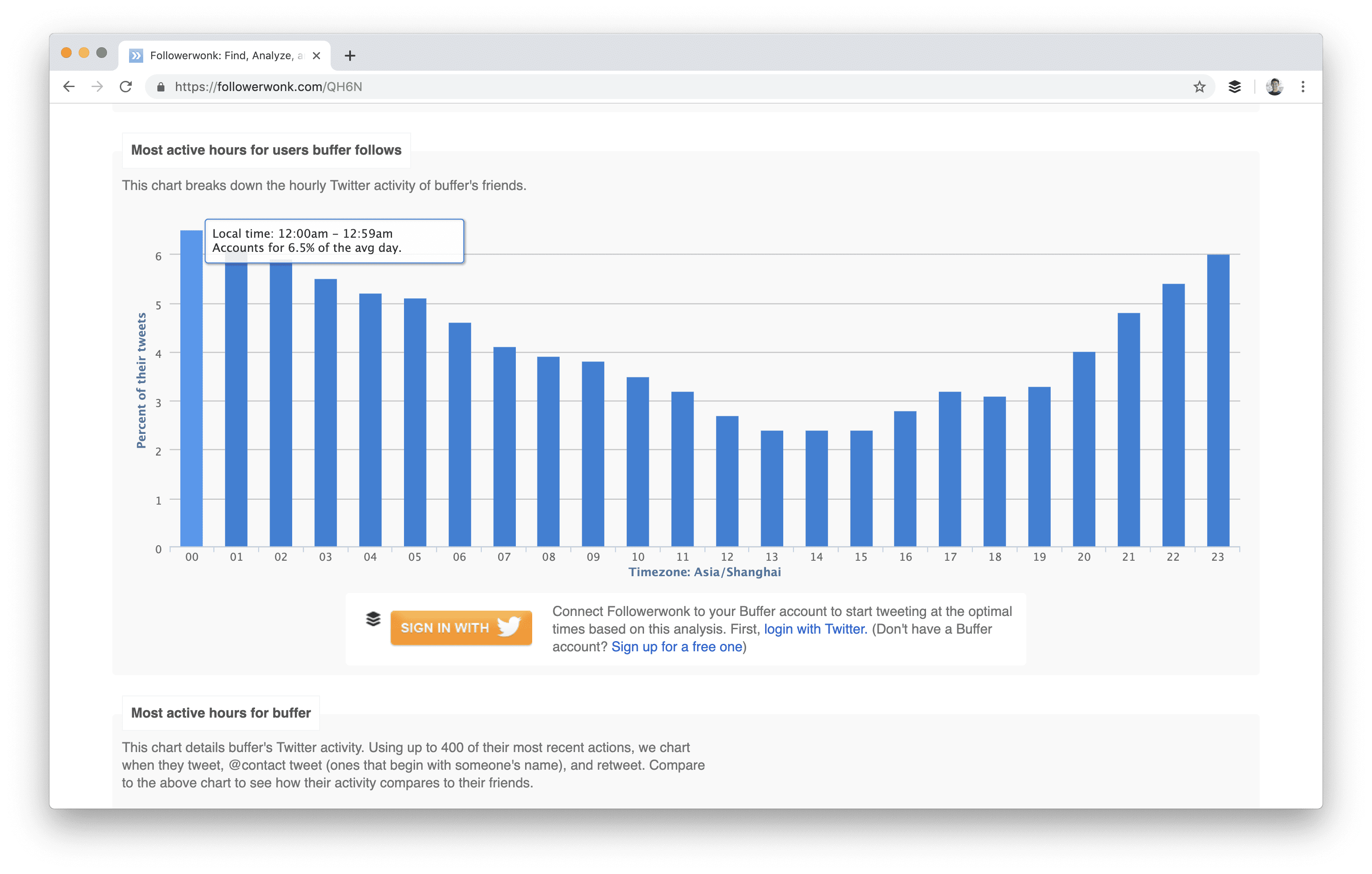 One of our favorite Twitter tools, Followerwonk shows you detailed breakdowns of your followers and activity. Click on the Analytics tab, enter a Twitter username (either yours or someone else's), and view information on followers and following. See stats like when your followers are online, when you typically post, and how your followers fall into categories like social authority, activity, total tweets, and follower count.
3 cool features:
Find targeted users by keywords used in their profiles or bios.
Sort users or followers of an account by insightful factors such as influence or activity.
Compare your stats to those of competitors or peers with the help of a visual graph.
Social media channel:
What analytics you get for free:
Search up to 50 profiles per day
Analyze accounts with up to 25,000 followers
20 comparisons per day
Paid options: $29 and $79 per month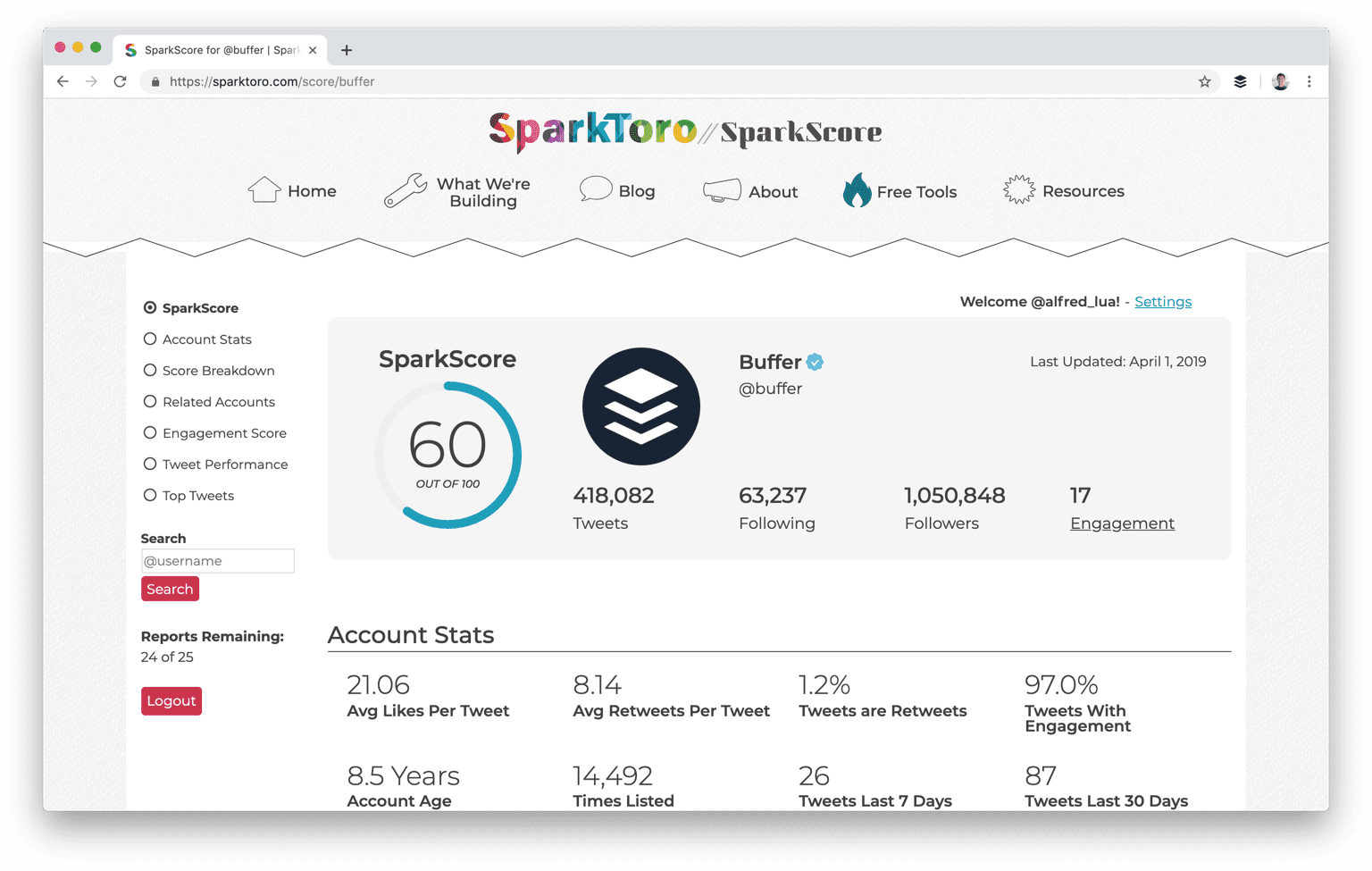 SparkToro is an audience intelligence tool-in-the-making, founded by former Wizard of Moz Rand Fishkin. It will eventually be a search engine that helps you identify the websites, publications, podcasts, and social profiles that appeal to your audience. At the moment, it is a collection of nifty tools that evaluate your Twitter handle and followers, and give an objective assessment of your brand influence and authority on Twitter.
3 cool features:
Audit your followers and know what percent of them are fake.
See the specific topics that marketers are talking about on Twitter.
Get a 'SparkScore' of your influence, based on the performance of your tweets.
Social media channels:
What analytics you get for free:
Fake follower audit
SparkScore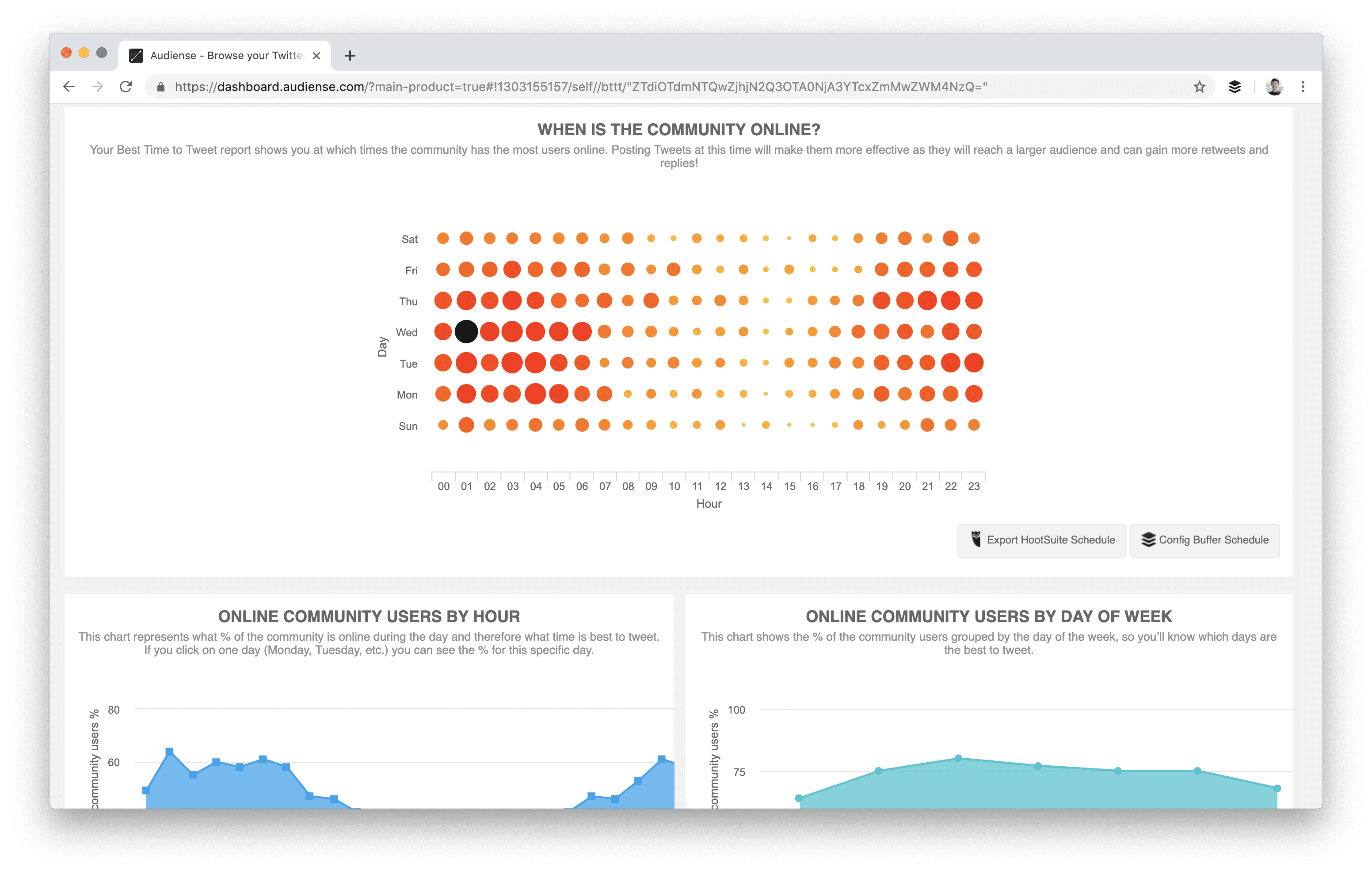 Audiense Connect provides one of the most comprehensive analyses of Twitter profiles. You can glean information about your followers', peers', or competitors' location, language, interests, and influence. Audiense uses machine learning on social data such as affinities and demographics to help you understand your target audience. You can then engage these audiences directly at scale.
3 cool features:
Create your own chatbot and engage customers via Twitter DMs.
Analyze your followers in-depth and use these insights to build communities.
Analyze historical and real-time conversations on Twitter.
Social media channels:
What analytics you get for free:
Best time to tweet
Community insights dashboard
Twitter list management
Paid options: $9 and $89 per month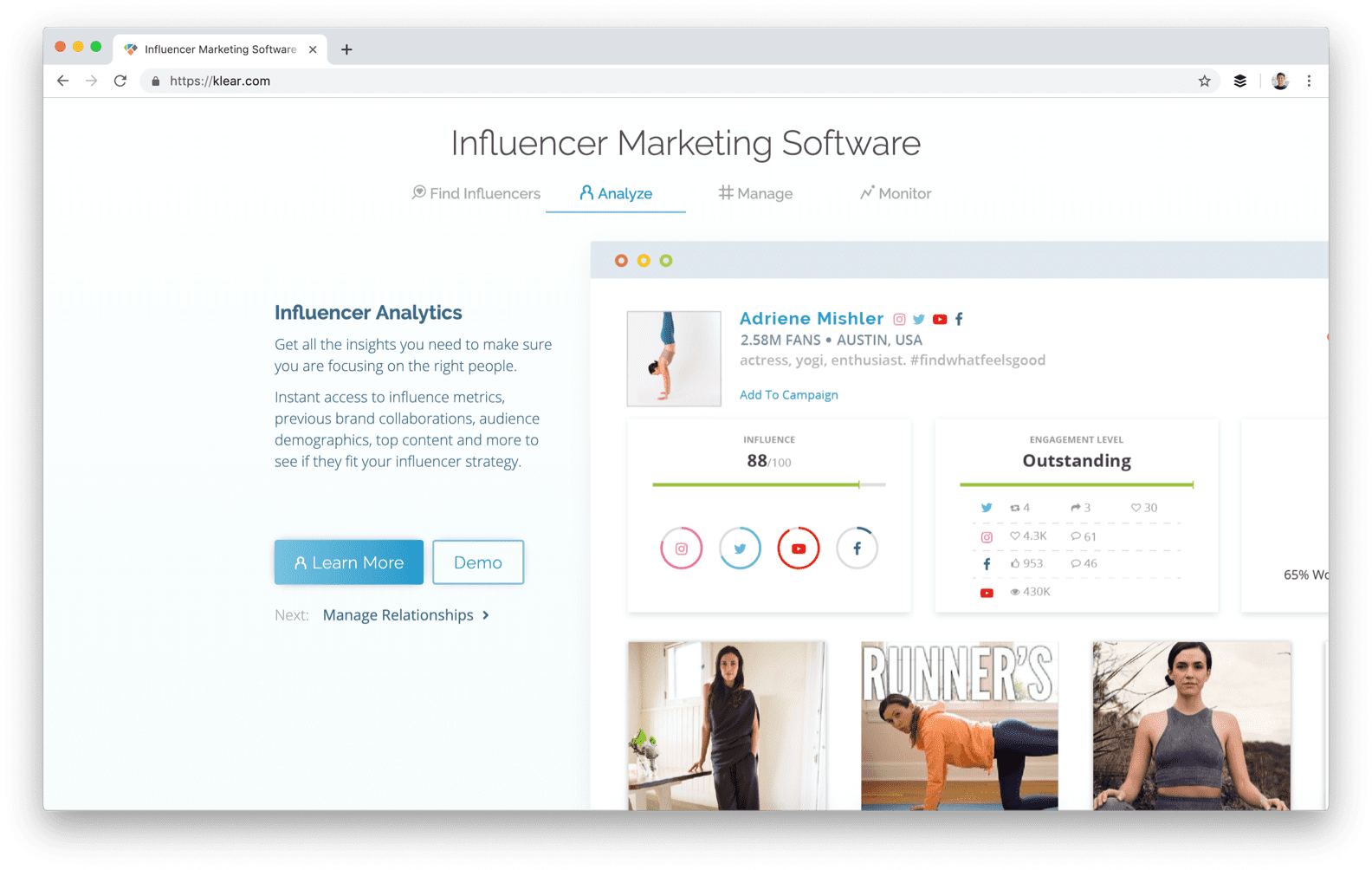 Klear is an influencer marketing analytics tool that helps you easily identify influencers in any category, in any location across the world on Twitter, YouTube, or Instagram, and manage your relationships with them with a CRM-like system. Klear can analyze not just influencers, but also your own profile and followers, and segment them by niche or interests.
3 cool features:
Identify influencers in your Twitter feed with a Chrome extension.
Extract qualitative metrics by tracking hashtags on Twitter and Instagram.
Generate PDF reports for your social activity, engagement, content performance, fan-base growth, and brand awareness.
Social media channels:
What analytics you get for free:
Analytics for Facebook Page, YouTube, and blogs
Social PDF reports
Hashtag tracking and influencer campaign monitoring
Paid options: Custom pricing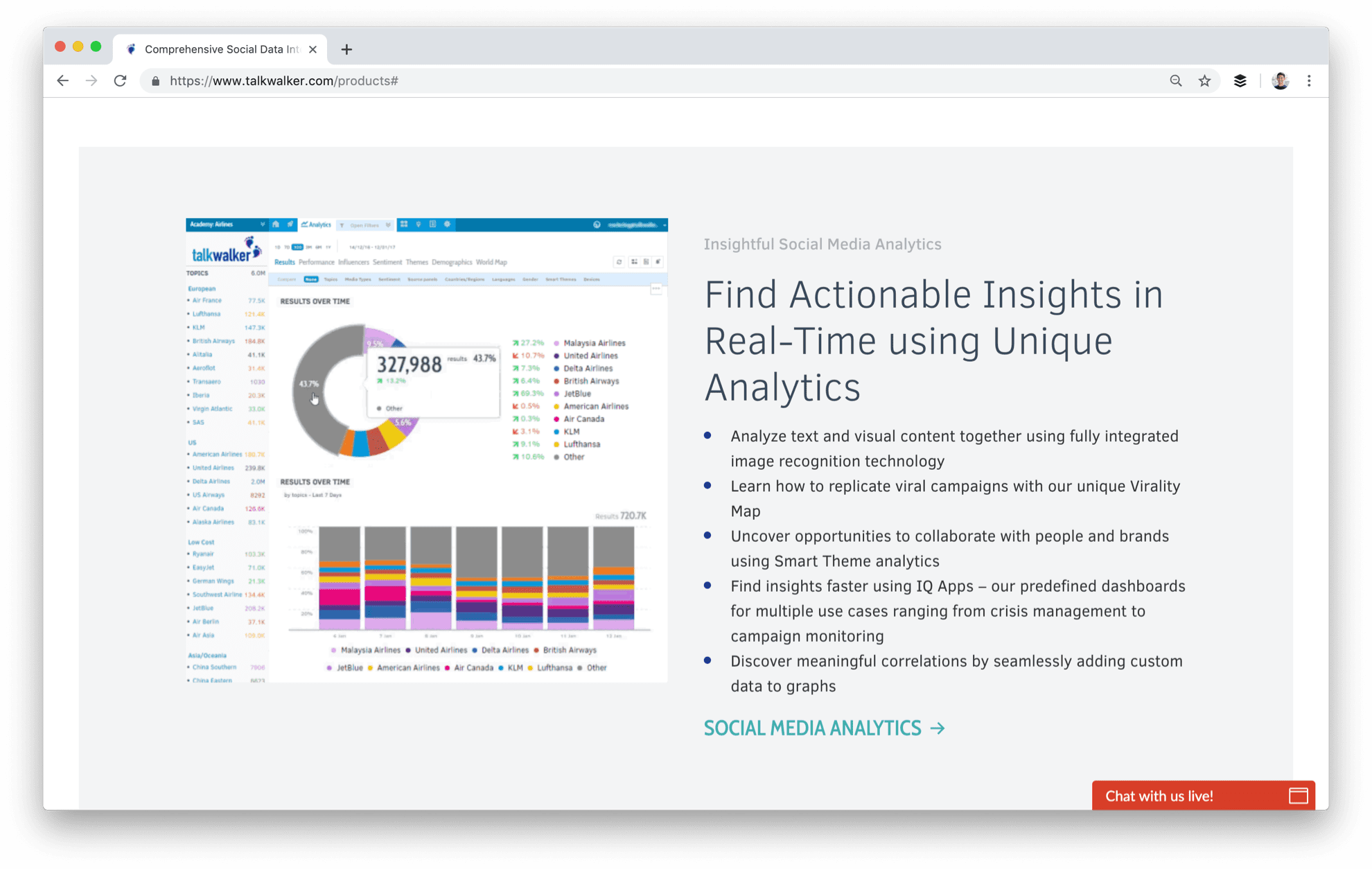 Talkwalker gives you unlimited free searches for hashtags and keywords across major social media platforms, news, blogs, and forums. It provides a wide range of data such as mentions, sentiment, distribution of conversations, top posts, and more. Overall, Talkwalker is a powerful brand monitoring platform that helps you measure sentiment and compare your performance to competitors' across channels.
3 cool features:
Monitor in real-time what customers are saying about your brands, products, events, earning calls, or campaigns.
Map your mentions to a world map.
Get demographic information such as age, gender, and occupation on your audience.
Social media channels:
Facebook
Twitter
Instagram
YouTube
LinkedIn
What analytics you get for free:
Talkwalker Alerts
Free social search (and monitor)
Paid options: $9,600 per year and custom pricing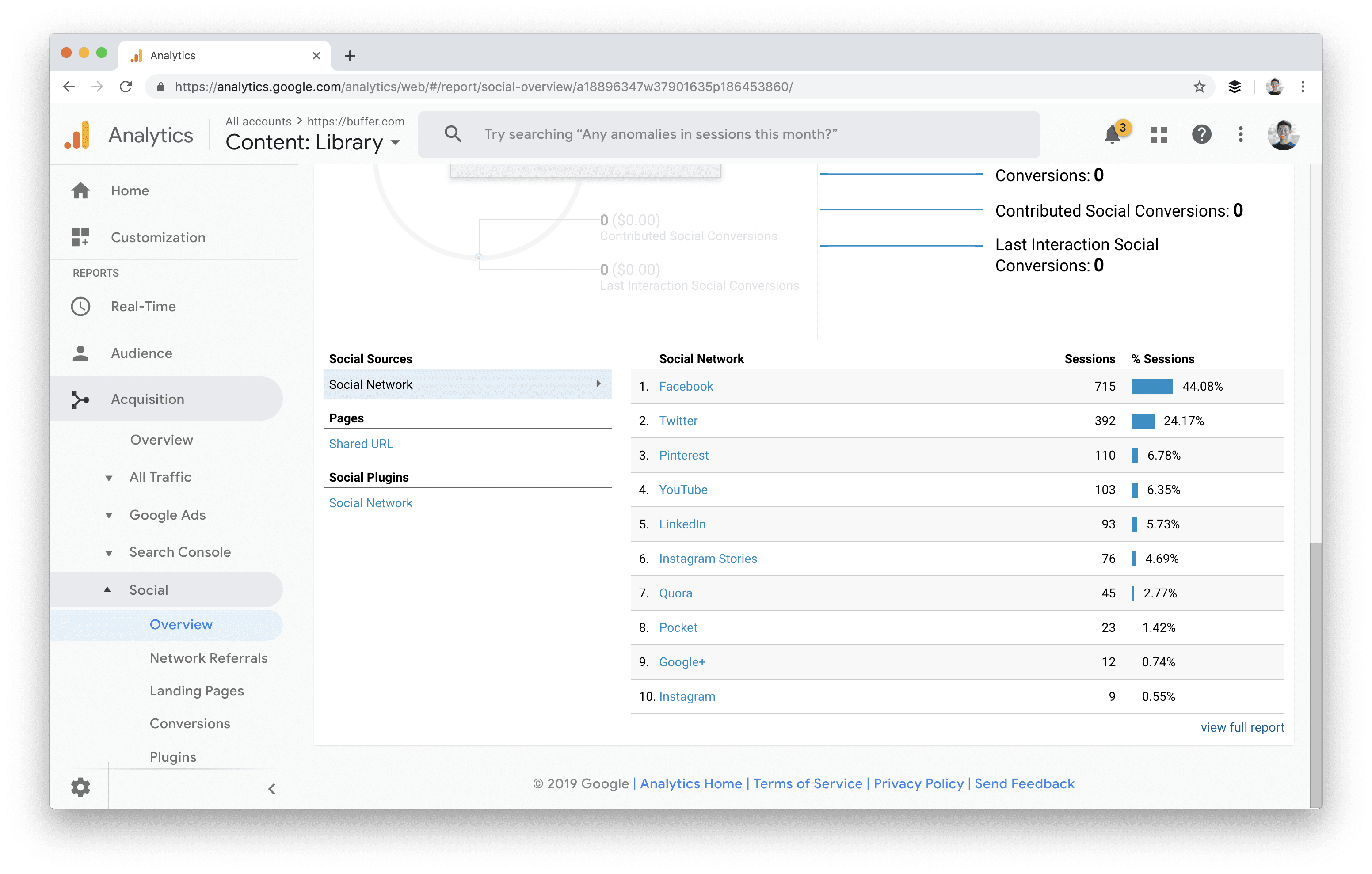 While Google Analytics is built for analyzing website traffic down to the last detail, it is very useful for analyzing the impact of social media as a marketing channel and source of traffic. Click through to Acquisition > Social > Overview, and you can check out how many visits your site receives from each of the major social networks. You can tie this back to your bottom line using goals and conversions.
3 cool features:
Find social networks and communities where people are interacting with your content.
Measure the value of social media as a channel by analyzing conversions and ecommerce transactions.
See how users who come from social media navigate through your site.
Social networks analyzed:
Facebook
Twitter
Instagram
LinkedIn
Pinterest
YouTube
and all other social networks
What analytics you get for free:
Social referral traffic
Social traffic flow
Social conversions
6 social media analytics dashboards from the social media networks
All of the major social media networks have their own built-in analytics and dashboards that offer some great insights into your activity on the network. Here's how to obtain the data and metrics offered by the social networks themselves.
1. Facebook Insights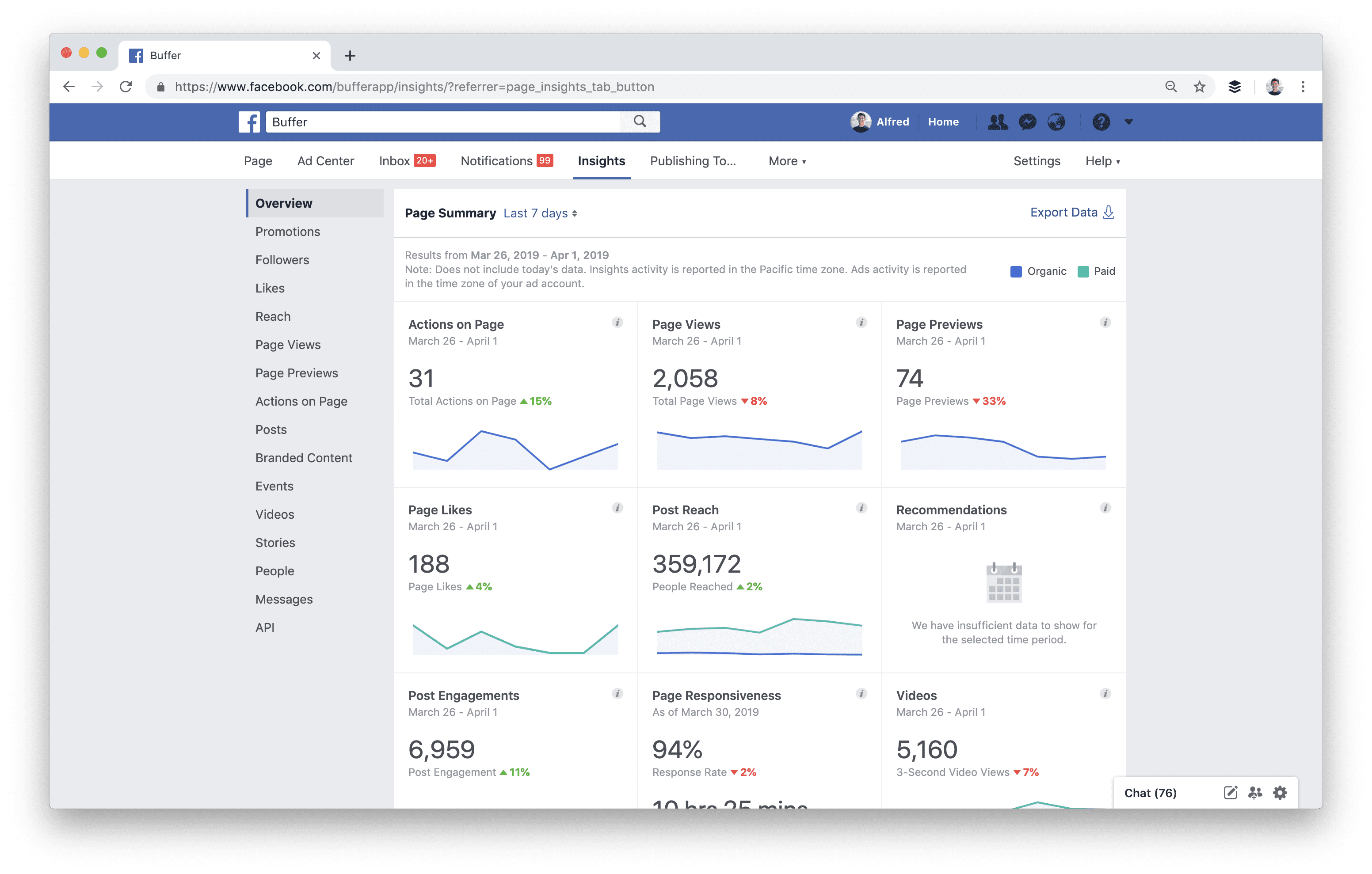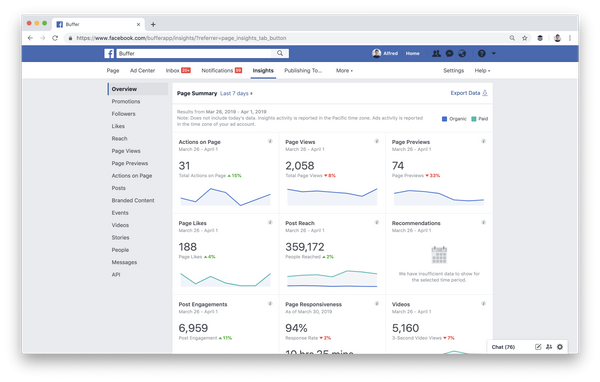 Available for all Page admins, Facebook Insights shows you the full stats behind your posts, your fans, and your reach. Additionally, from the Insights tab, you can set up a list of Pages to Watch, which gives you information on the performance of other Facebook pages.
How to access: Click the Insights tab in the menu bar across the top of your Facebook Page.
Quick tip: You can click on the people reached number at the bottom of any individual post in your Page's timeline to see a pop-up of the full stats for that post.
2. Instagram Insights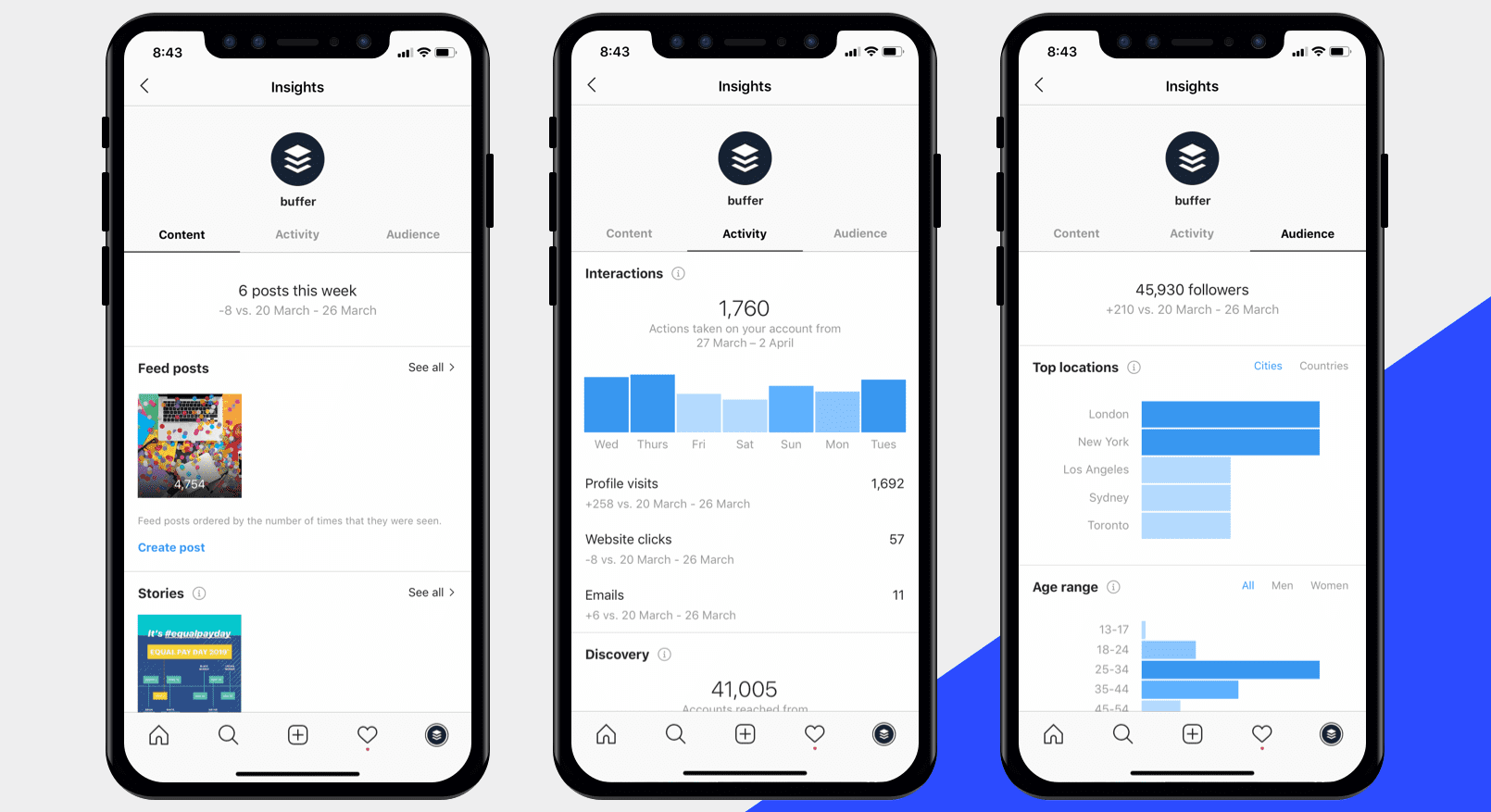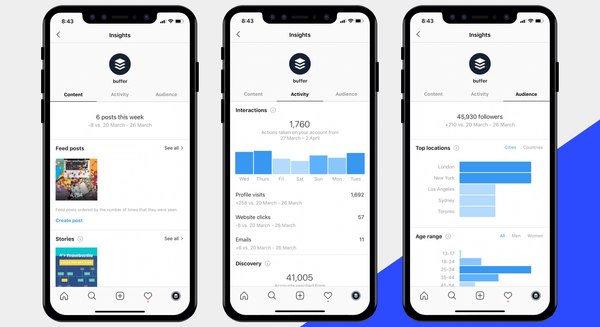 If you have an Instagram Business Profile, you will have access to Instagram Insights — Instagram's native in-app analytics. It offers a comprehensive range of data about your profile, posts, stories, and ads. It also has detailed information about your followers such as their most active times and days.
How to access: If you have a personal Instagram profile, you'll need to convert into a Business Profile. Go to your profile page in the mobile app, tap the menu icon in the upper-right corner, and tap Insights.
Quick tip: In the Audience section, you get data on the average times when your followers are online. You can use this to determine your best time to post on Instagram.
Here's a complete guide to Instagram analytics, covering the ins-and-outs of Instagram Insights.
3. Twitter Analytics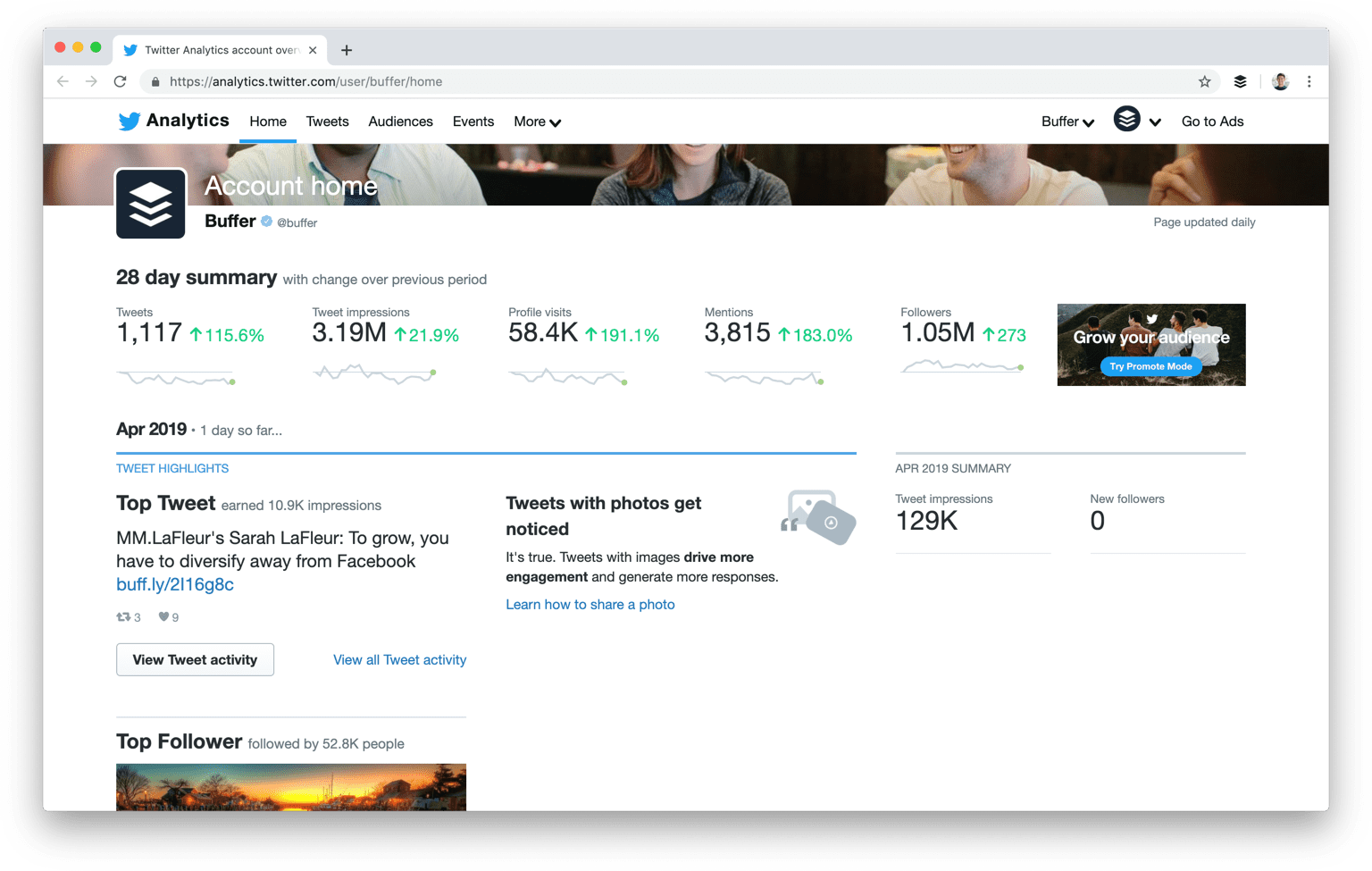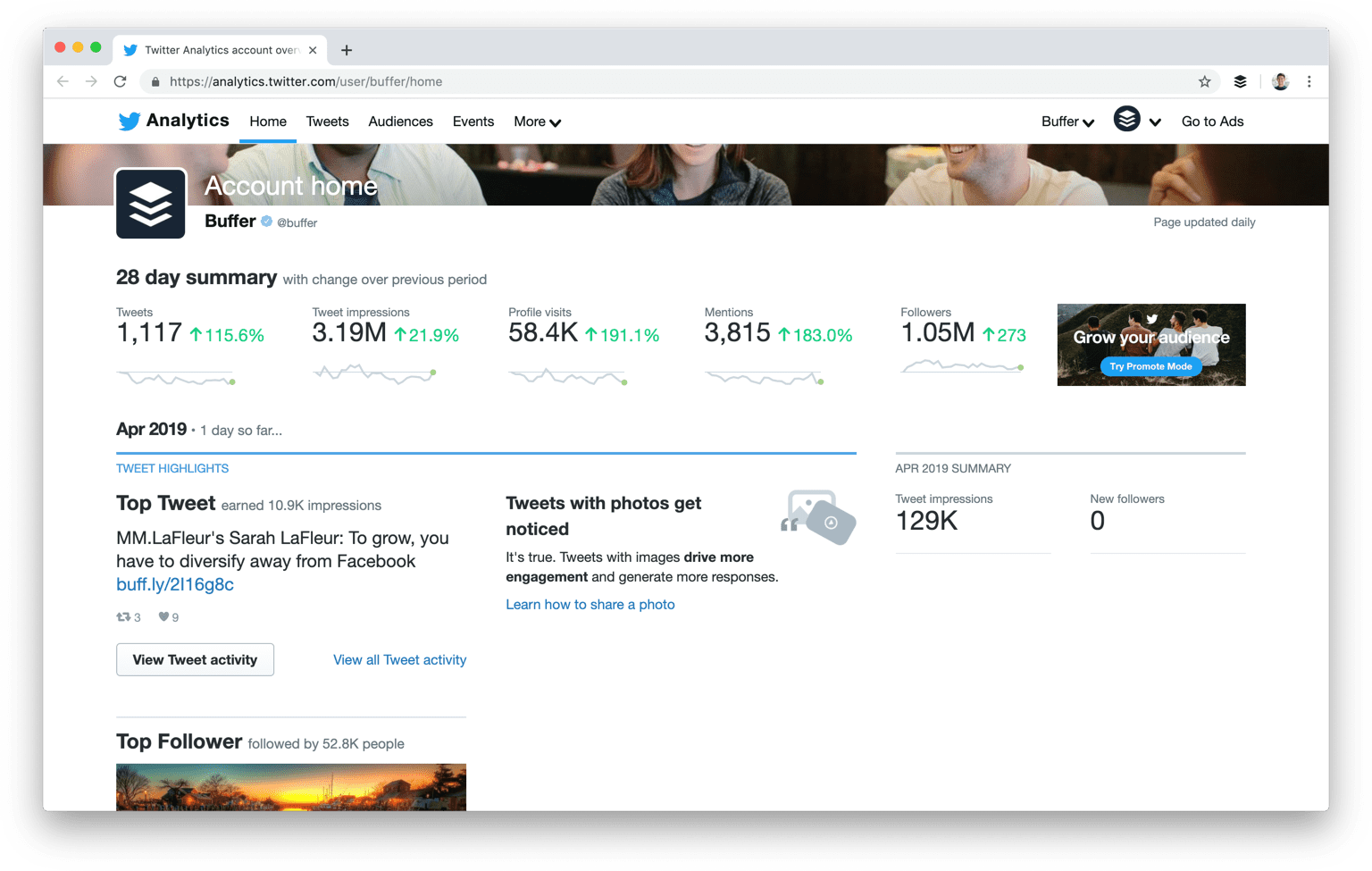 Twitter provides a 28-day summary of your profile and show you how it has performed in terms of profile visits, follower growth, tweet impressions and mentions. It also gives you an analysis of the impressions your tweets are getting, as well as details on engagement, i.e. retweets, mentions, favorites, and clicks. You can export all the data and run some pretty neat reports for yourself.
How to access: Log in to your Twitter account and go to analytics.twitter.com.
Quick tip: Clicking on the bar chart icon of any of your tweets will show a complete breakdown of the engagement on the tweet, including clicks on URLs, clicks on your username, clicks on images, and expanded details.
4. Pinterest Analytics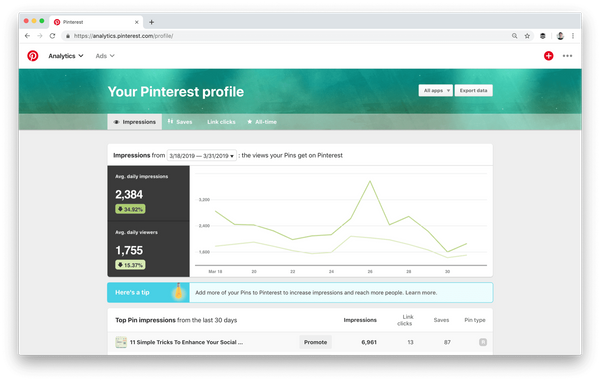 One of the best sources for Pinterest analytics resides on Pinterest itself. The dashboard shows growth in impressions and followers, audience stats, and website engagement. You can click into more in-depth reports for each of these and see which posts and boards have performed the best.
How to access: Pinterest analytics is available only for business accounts. So, first convert your personal account to a business account (for free). Then make sure you're logged in to Pinterest and go to analytics.pinterest.com.
Quick tip: There's a new Audience Insights report, which shows a breakdown of your audience's interests and demographic.
5. LinkedIn Analytics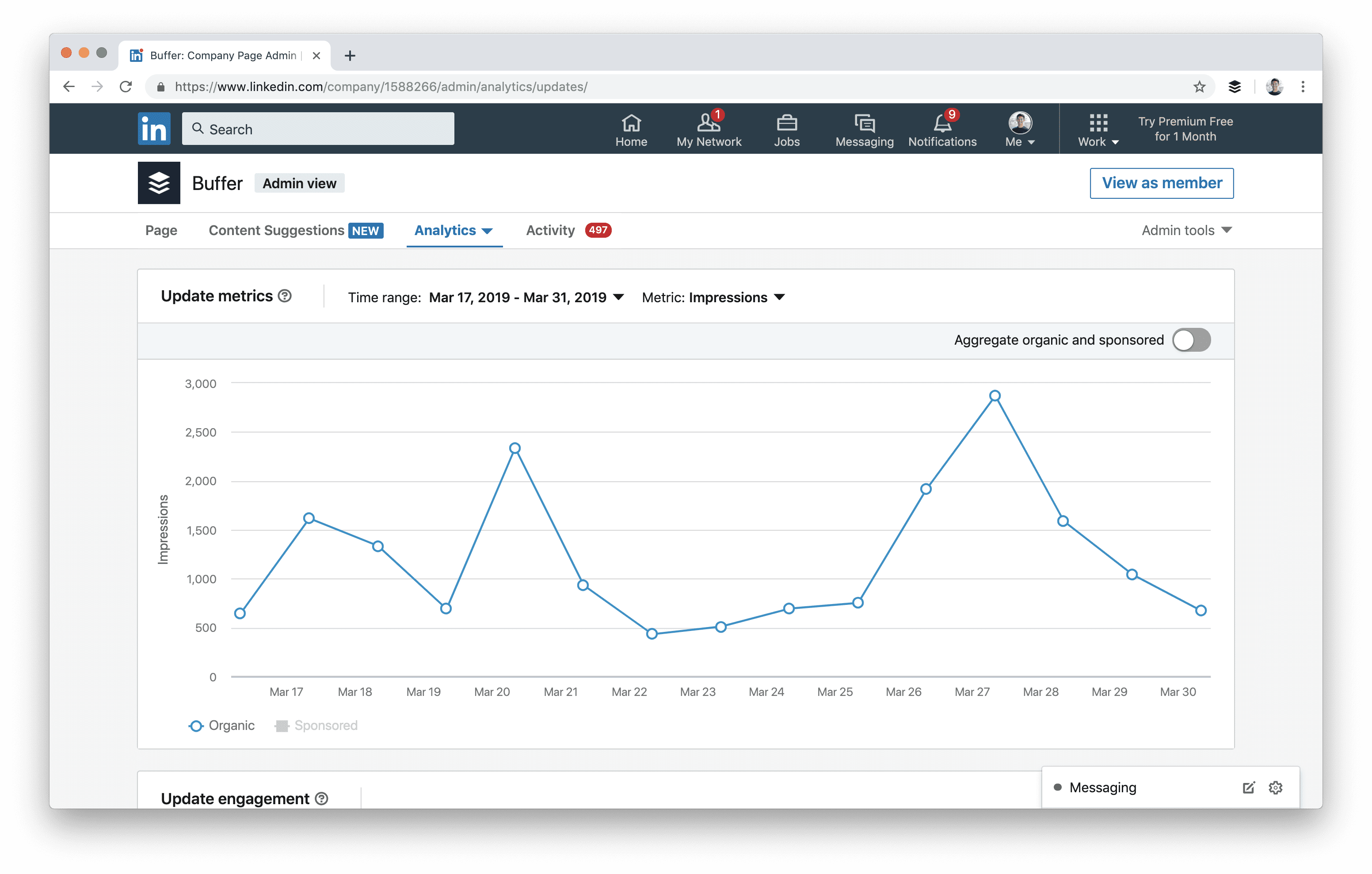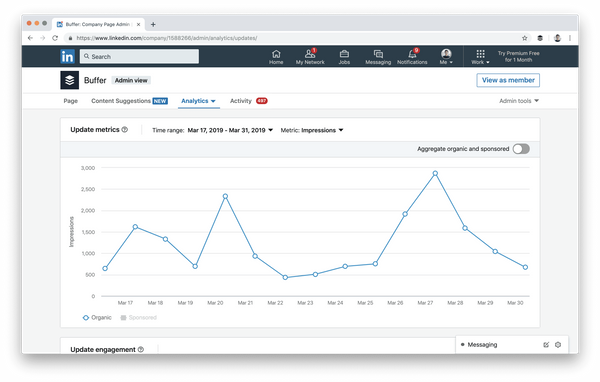 For a Page belonging to your company or organization, you can track engagement with your updates as well as see various metrics about your followers and visitors. If you've enhanced your Page with LinkedIn Career Pages, you also have access to Talent Brand stats.
How to access: To access LinkedIn Page analytics, sign in to your Page admin center, click the Analytics tab in the menu and select Updates, Followers, or Visitors from the dropdown.
Quick tip: The Visitor metrics section for your Company Page shows a blue line representing desktop views and an orange line representing mobile views. Toggle the Aggregate mobile and desktop metrics option at the top right to see the combined results.
6. YouTube Analytics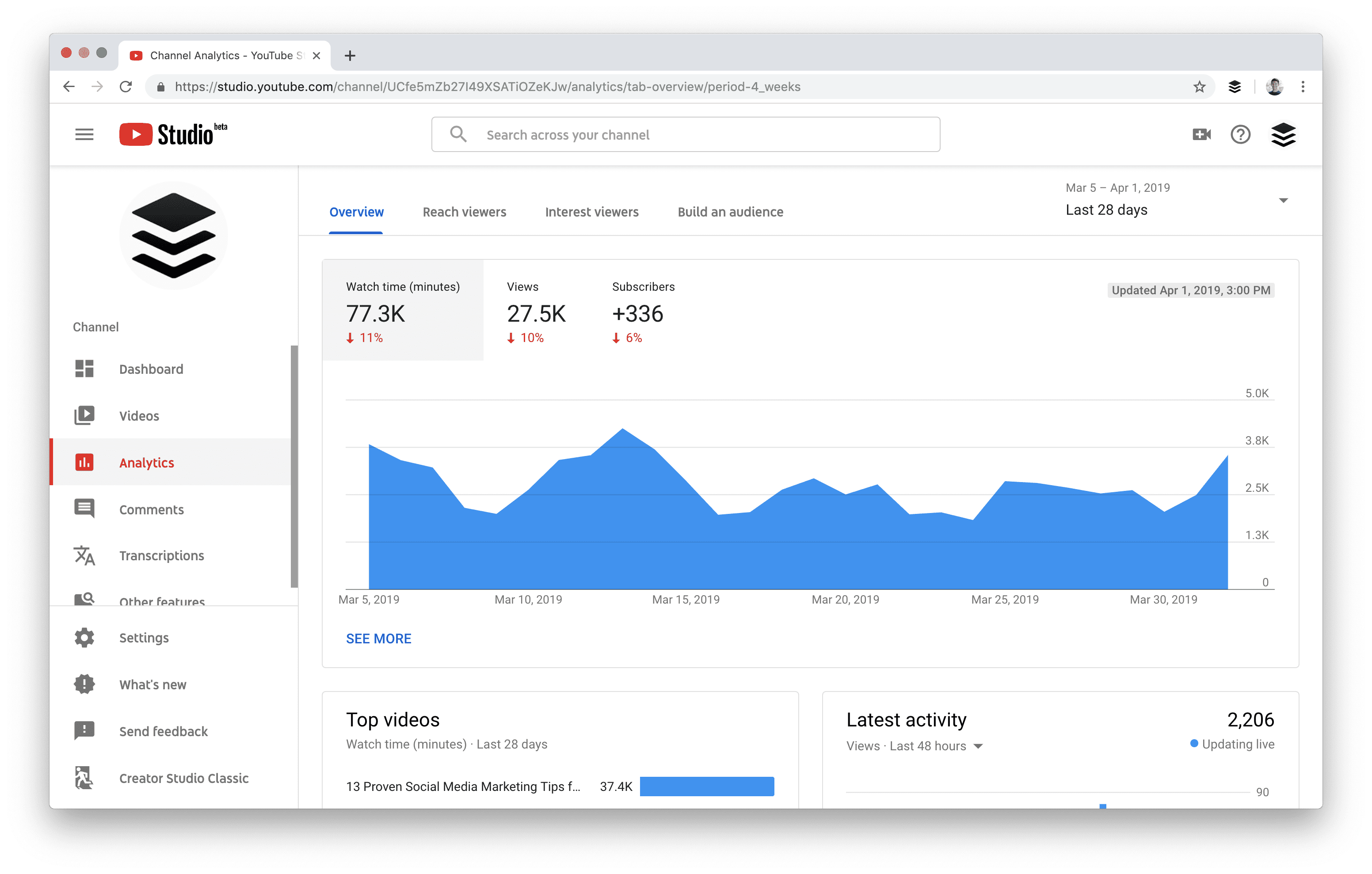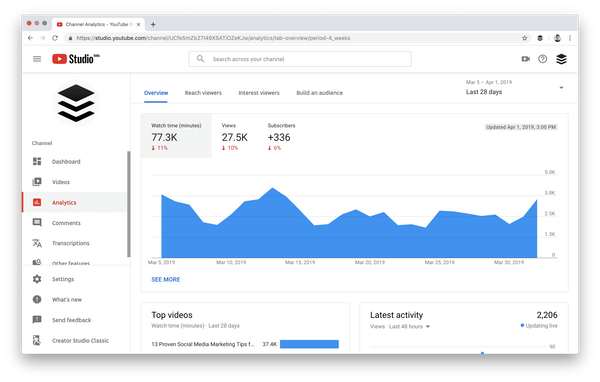 YouTube Analytics is a comprehensive system for tracking the performance of your videos and channels. It reports on a plethora of metrics including estimated traffic sources, watch time, views, earnings, ad performance, audience retention, and subscribers.
How to access: Sign in to YouTube and go to youtube.com/analytics
Quick tip: Click SEE MORE below the main dashboard and you'll be taken to the detailed channel analytics page. Once there, click More > Playback location to see where people are watching your video – on your YouTube channel page, its regular YouTube URL (watch page), or embedded in another website or app.
That's a wrap!
There are so many great social media analytics tools out there. I hope this list have given you a good overview of the tools available to help you with your decision-making process.
And once you've gotten a chance to research all your options, we'd love to help you analyze your performance on social media!
Brought to you by
Did you find this article helpful? You might also like our all-you-need social media toolkit.
Get started for free now