Breaking news! Buffer is the first platform to offer full Instagram Story Scheduling. Now you can schedule your Stories direct to Instagram without needing to manually hit send! Learn more here →
Summary
Scheduling your Instagram posts ahead of time has a host of benefits beyond simply saving time. Keep reading to learn how to schedule your Instagram posts on desktop and mobile, and how schedling can benefit your business.
You will learn
How to schedule Instagram posts
The benefits of scheduling Instagram content ahead of time
Why consistency matters on Instagram
Learning how to schedule Instagram posts is one of the best productivity hacks for social media managers today — and the benefits of scheduled Instagram posts go far beyond saving you time.

In this guide, we'll cover the biggest advantages of scheduling Instagram posts and explain how you can use Instagram scheduling tools to improve your small business's Instagram marketing strategy.
Why you should schedule Instagram posts
If you're a small business owner, or social media manager, there are many benefits to Instagram scheduled posts.
Scheduling instagram posts saves you time and mental energy
Crafting and posting the perfect Instagram post can be time-consuming, especially if you're creating your posts one-by-one on the day you plan to share them. Scheduling Instagram posts allows you to create content in batches, instead of interrupting your workflow to post a single photo.

While it may not seem like a big deal to spend 10 minutes editing an image, writing the perfect caption, and adding all the relevant hashtags, that interruption to your workday costs you. After a disruption, it takes people an average of 25 minutes to return to their original task — turning your 10-minute Instagram post into a 35-minute ordeal.

Plus, multitasking is bad for your brain. Switching between tasks strains your mind and temporarily lowers your IQ up to 10 points.  With all that added mental stress, you'll have a hard time coming up with a creative caption for your photo. By spending an hour or two creating and scheduling your posts for the week ahead, you can save a ton of time and maintain consistent quality across the board.

With Buffer for Instagram, you can schedule image, video, and carousel posts directly from desktop or mobile (with a few limitations).

You can even create and save groups of hashtags using Buffer's Hashtag Manager. Posts with hashtags receive 12% more engagement than those without, but typing out hashtags manually is a pain. With Hashtag Manager, you can build a library of hashtag groups and experiment with different combinations to see which ones receive the highest engagement or greatest reach.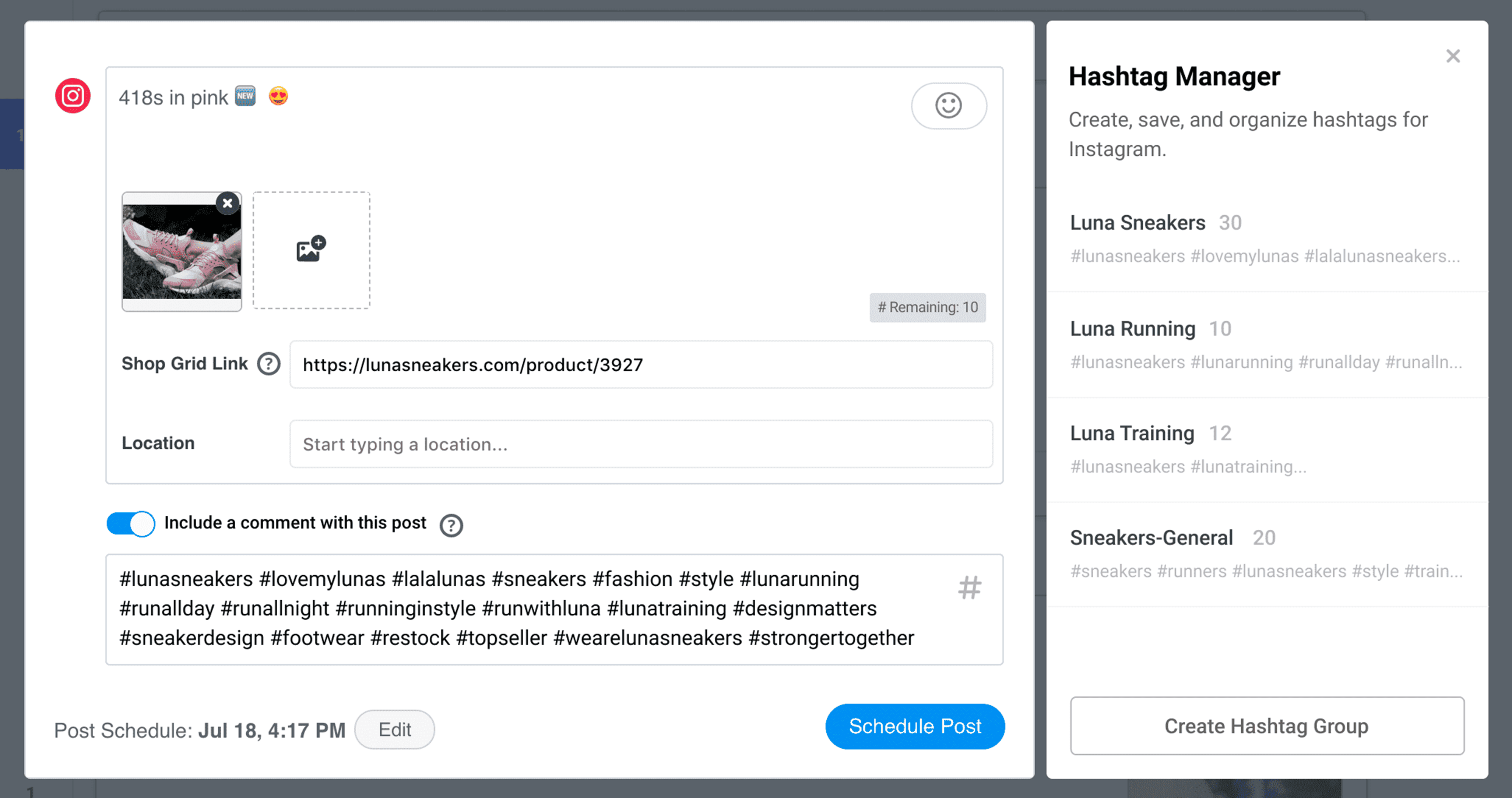 Scheduling ensures you post consistently
Consistency plays a key role in social media success. When you're consistently and frequently publishing new content, your audience will learn what to expect from you and when it'll be posted.
For example, Emma Ward, marketing manager for the New England smoothie bar The Juicery, schedules content when her brand's products are most relevant to its followers' daily schedules. She's found that the best time to post about smoothies and other menu items first thing in the morning—around 7:30 a.m. every weekday and just past 8 a.m. on the weekends, even if the number of followers online is smaller.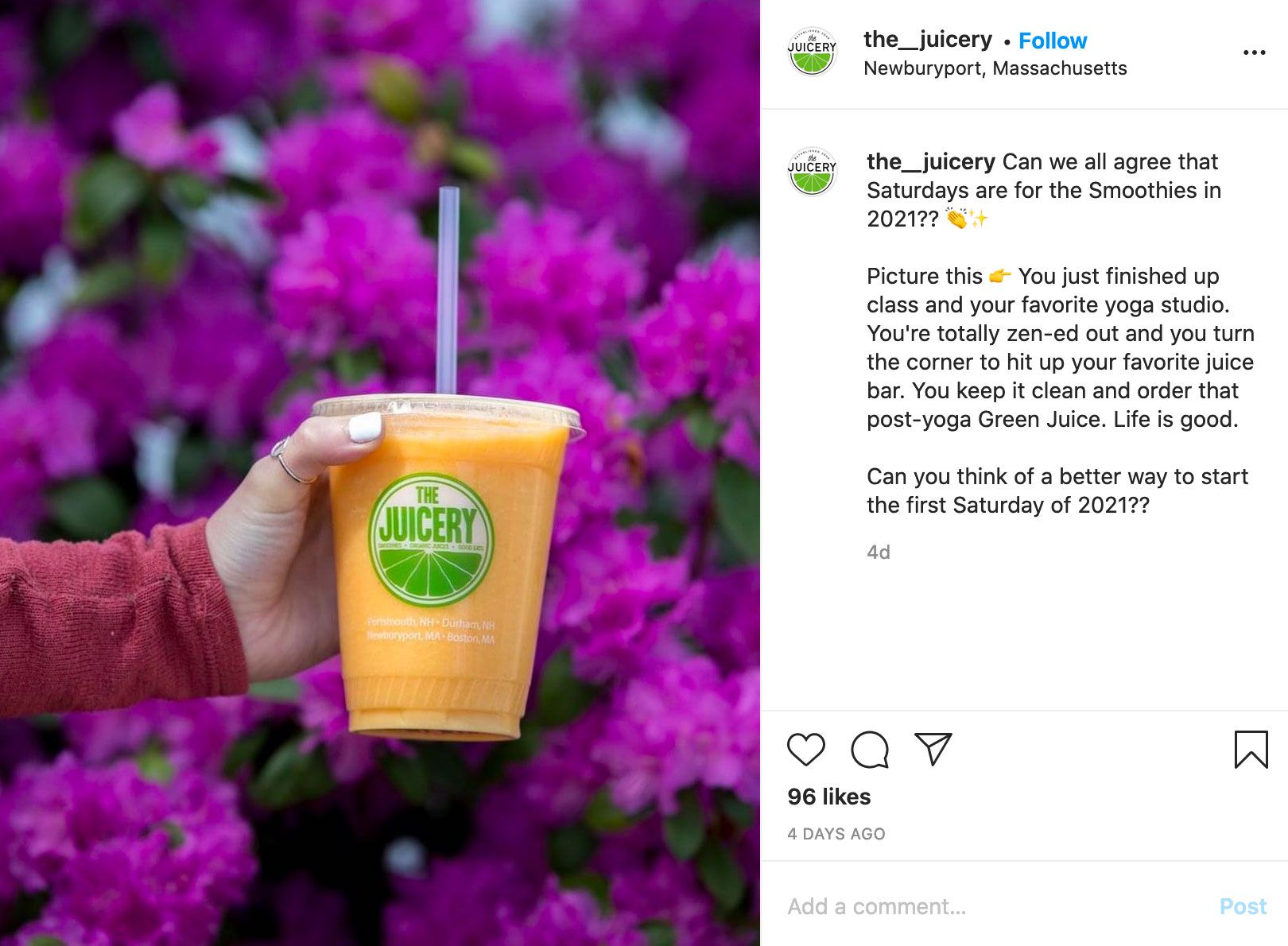 Keeping a consistent schedule helps you maximize engagement without hitting any lulls or stretches without updates. According to a Union Metrics study, most brands post 1.5 times a day, on average, and those that don't post consistently see a decline in followers.  
Scheduling Gives You Better Control Over your Instagram content
Sharing photos in the moment is fine, every so often, but it's much easier to stay organized if you schedule Instagram posts ahead of time. Instagram is a visual platform, and your brand's visual impact goes beyond a single post. Successful small businesses have a consistent look and feel — and their Instagram feeds reflect it.

When you schedule posts for Instagram, you can plan out the order of upcoming posts and envision how they'll look in your grid. Doing so helps you avoid sharing similar posts back-to-back. Plus, you can make sure time-sensitive content goes out at just the right time.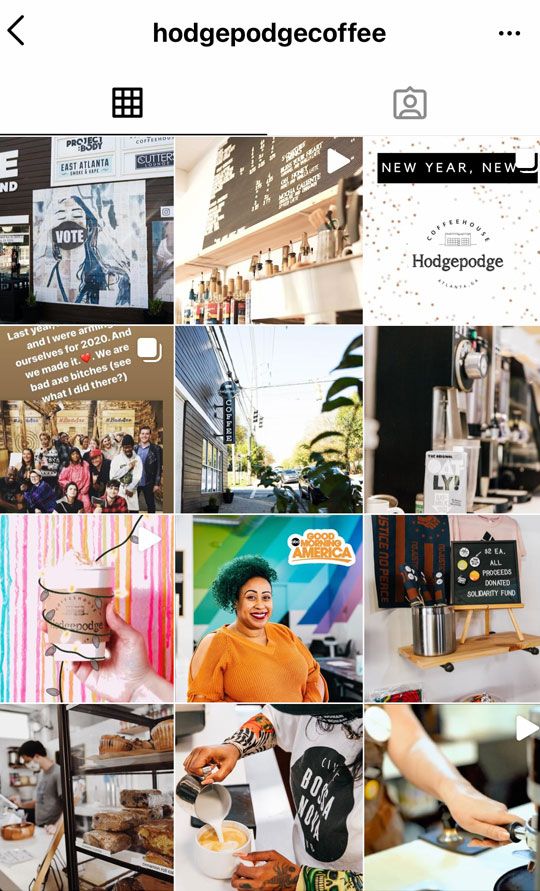 Scheduling enables you to plan and post to Instagram from your desktop
Most Instagram scheduler tools, Buffer included, enable you to create your posts on your desktop before publishing on mobile. Smartphones are awesome tools for creating content, but they don't give you the features or control that a desktop Instagram scheduling tool can.
With Buffer you can visually plan and schedule your Stories on web or mobile. When the time comes to post, Buffer will send you a mobile notification with everything you need to share the Story to Instagram.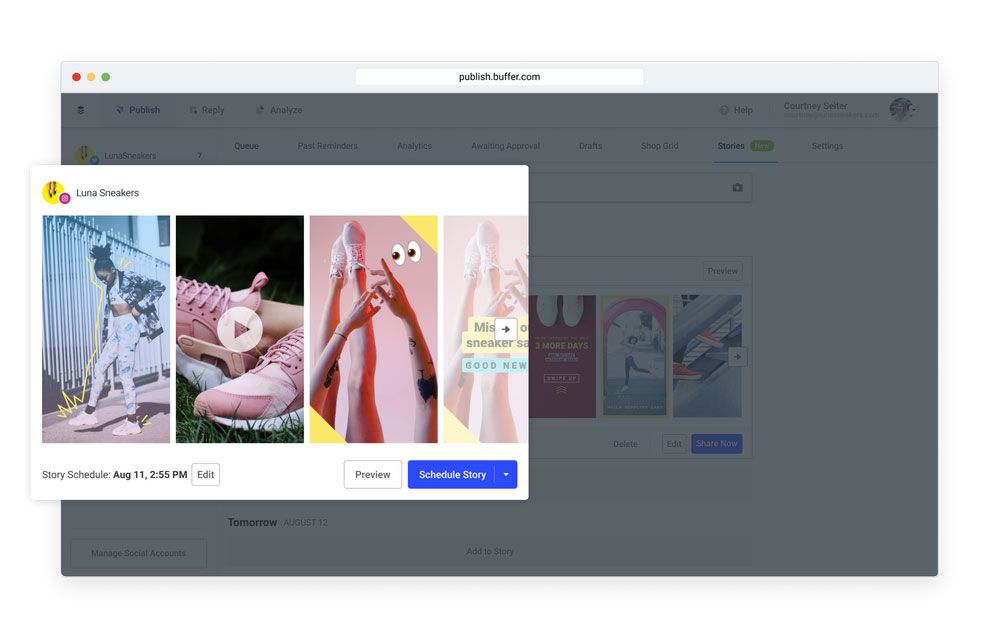 How to schedule Instagram posts
You can use social media scheduling tools and third-party apps like Buffer to schedule Instagram posts in a couple of ways: direct to Instagram and push notification reminders.
Direct Instagram Scheduling
If your Instagram profile isn't a business account already, switching it will enable Buffer to schedule posts directly to your profile. Here are some handy instructions from Facebook (you'll need to have a Facebook Page to switch to an Instagram business profile). If your account is a personal profile, Buffer will schedule reminders only — skip to the scheduling reminders section for tips.
Once you have a business account, you can link it to Buffer and schedule images with (or without) a caption, video posts, carousels, and Instagram stories. You can connect your account to Buffer on desktop or through our iOS and Android mobile apps.
(Want to make sure your images are pixel perfect? Check out guide to Instagram image sizes and dimensions here.)
After you've sourced the video or image you'd like to post, you can draft your caption, choose any hashtags you'd like to include, and add any other Instagram accounts you'd like to @-mention in your post or create a carousel.
Caption: Instagram captions are limited to 2,200 characters, and after three lines of text, they become truncated with an ellipsis. Try to include any key details at the beginning of your caption.
Hashtags: Hashtags allow Instagrammers to discover content and accounts to follow.
@-mentions: Is there anyone else featured in your photo? Maybe you could @-mention them in the caption. This will notify them when the post goes live on Instagram.
Carousels: add up-to 10 images to your post to build a carousel. On average carousels get 2% more engagement, so try to drop in extra images to boost your reach.
To schedule Instagram posts for the ideal time, hop over to your Buffer dashboard and choose your Instagram account by selecting it on the left-hand side of your dashboard.

Under the "Publish" tab, you'll see a section labeled "Queue." Here you can upload a photo and write your caption, including any hashtags and @-mentions.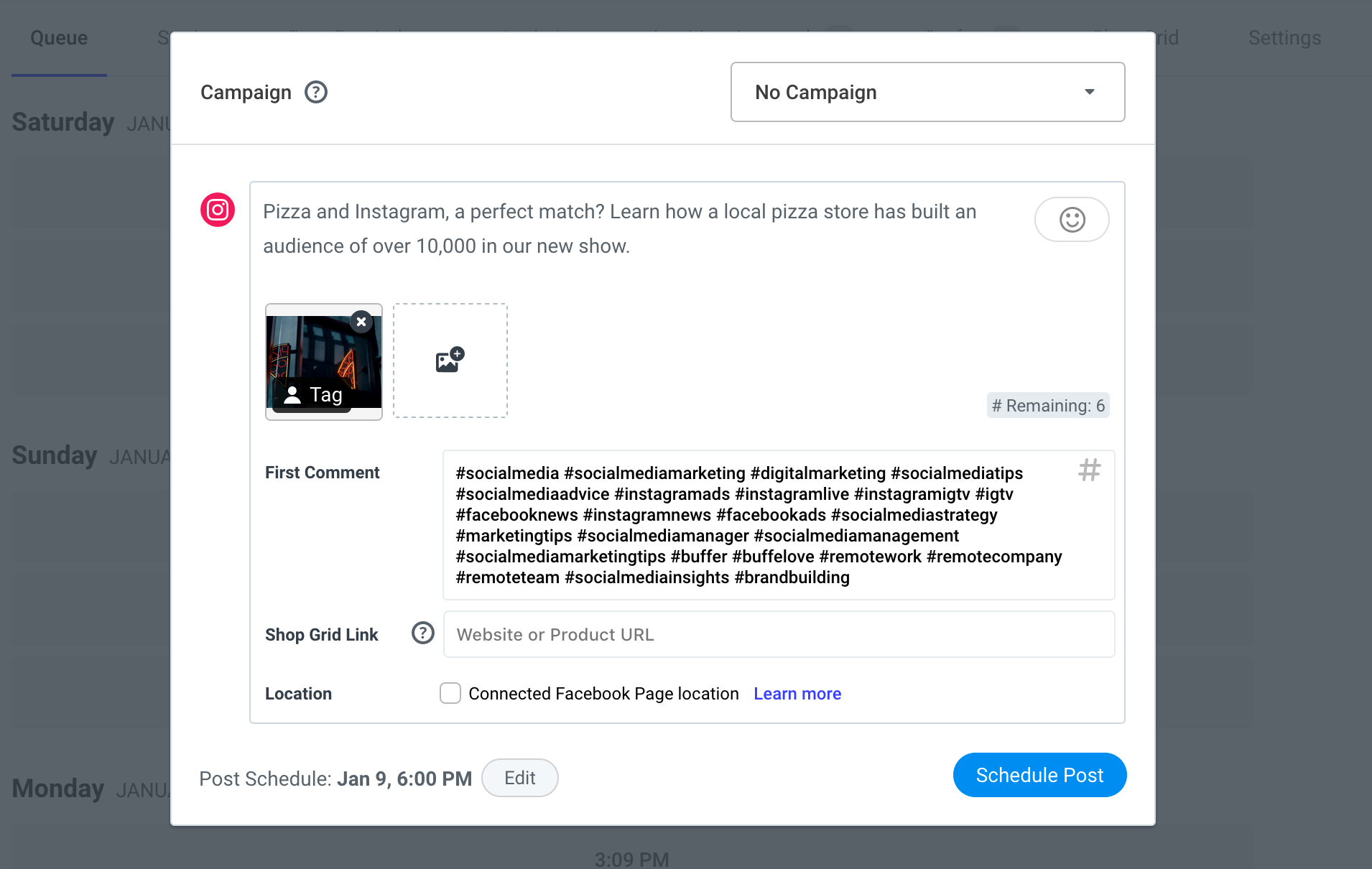 Once you add content, you can decide whether you want to:
Add the post to your Buffer queue.
Schedule the post for a custom date and time (this is especially handy for big events or posts that need to be published on a certain date).
Share the post immediately with Share Now.
Instagram Scheduling Reminders
Not all types of content can be scheduled to directly post to Instagram, but you can still set up the posts ahead of time and get a reminder along with the prepared content.

Content that requires reminders:
Single-image posts that are very long (portrait) or very wide (landscape) — anything outside of the 4:5 and 1.19:1 aspect ratios
One of the great things about reminders is that they allow you to create an image on your desktop and then use all of the Instagram app's handy native features, like image filters, to put a final coat of polish on the post.
When it's time for your post to be published, Buffer will send you a push notification to whichever devices have been connected to your Buffer account. Here's how the reminder might look on your device.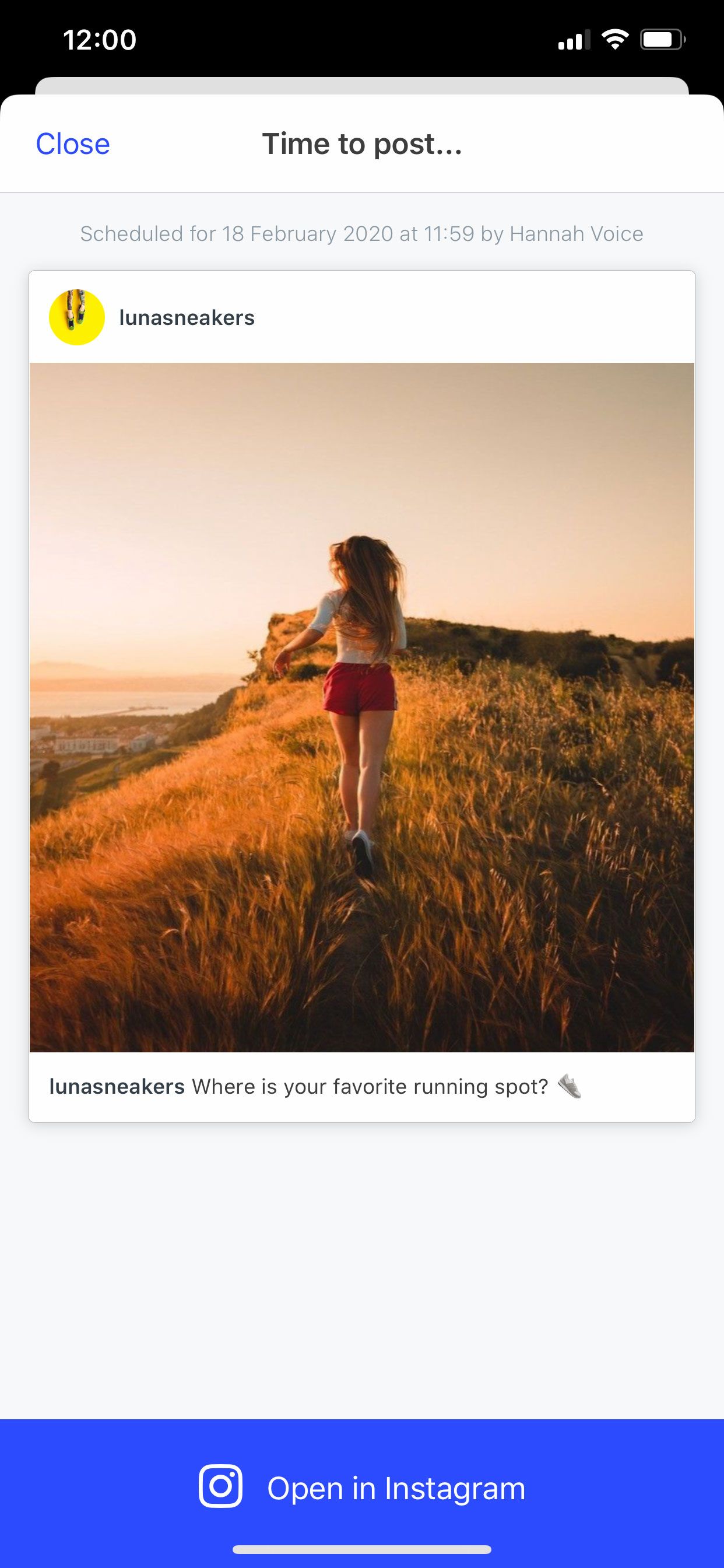 Tapping "Open in Instagram" will automatically copy your caption and open Instagram, with the photo or video ready to be customized. Here you can also crop and edit your content as needed.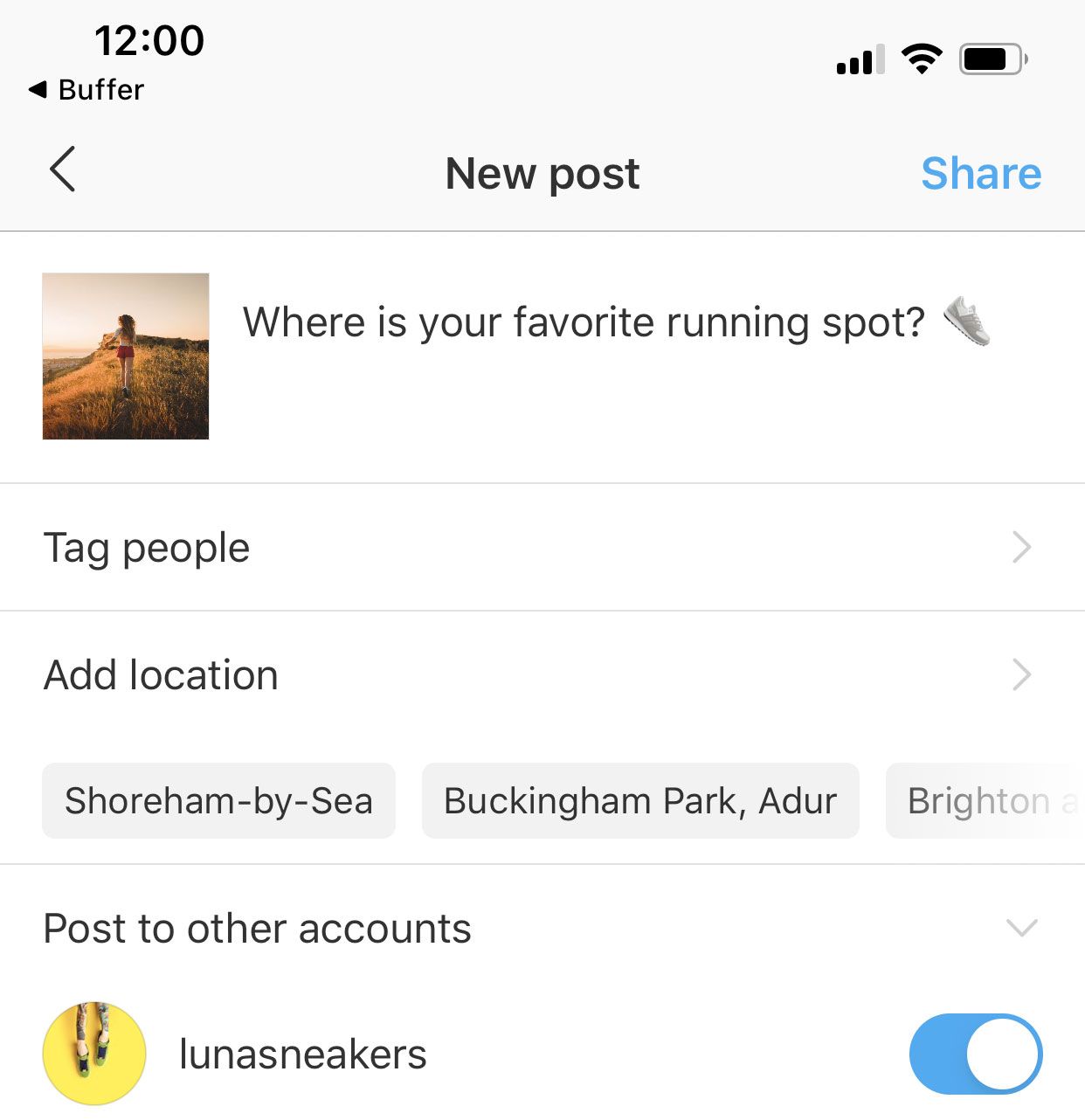 Then, tap Share and you're all set! Your post will then be published on Instagram, and you'll be able to see it on your timeline.
Ready to start scheduling your Instagram posts? Get started with Buffer today
With Buffer for Instagram, we're excited to give you the power to manage your social media marketing from one central location, and we're eager for you to have the tools you need to plan, track, and amplify your Instagram marketing. Get started with a 14- day trial.
Brought to you by
Did you find this article helpful? You might also like our all-you-need social media toolkit.
Get started for free now