Breaking news! Buffer is the first platform to offer full Instagram Story Scheduling. Now you can schedule your Stories direct to Instagram without needing to manually hit send! Learn more here →
---
Since the feature was introduced in August 2016, Stories have completely changed how people, and brands use Instagram.
More than 500 million Instagrammers use Stories every day, and the format has opened up a wealth of content opportunities for marketers: Whether you want to boost engagement, take your followers behind-the-scenes or promote your latest product releases and sales, you can do it all with Instagram Stories.
Now you can also plan and schedule Instagram Stories directly within Buffer, on web or on mobile. Try it now with a free 14-day trial.

Introducing Buffer for Instagram Stories
Buffer helps you prepare and share your Stories with confidence.
With Buffer you can easily re-arrange and preview your Stories, so that you'll know they'll be posted in the right order. You can pre-write your captions, to avoid any spelling slip-ups that can happen when you post on the fly. And you'll have images and videos sent to your phone when it's time to post, so you don't have to waste time digging around your camera roll.
How to schedule Instagram Stories with Buffer
With Buffer you can plan, preview, and schedule your Instagram Stories ahead of time, so that you have everything ready to post with a single push notification.
You can storyboard your posts, create draft captions, and choose the time you want to post your stories. Then, when it's time to post, Buffer will send you a reminder with everything you need to share your Story.
Here's how it works:
1. Open the Stories tab

Stories have their own queue in your Buffer Publish dashboard. If you have an Instagram account connected, you can find it under the Stories tab.
2. Add to Story

To create a Story, select Add to Story to open the Stories composer.
3. Add Media Files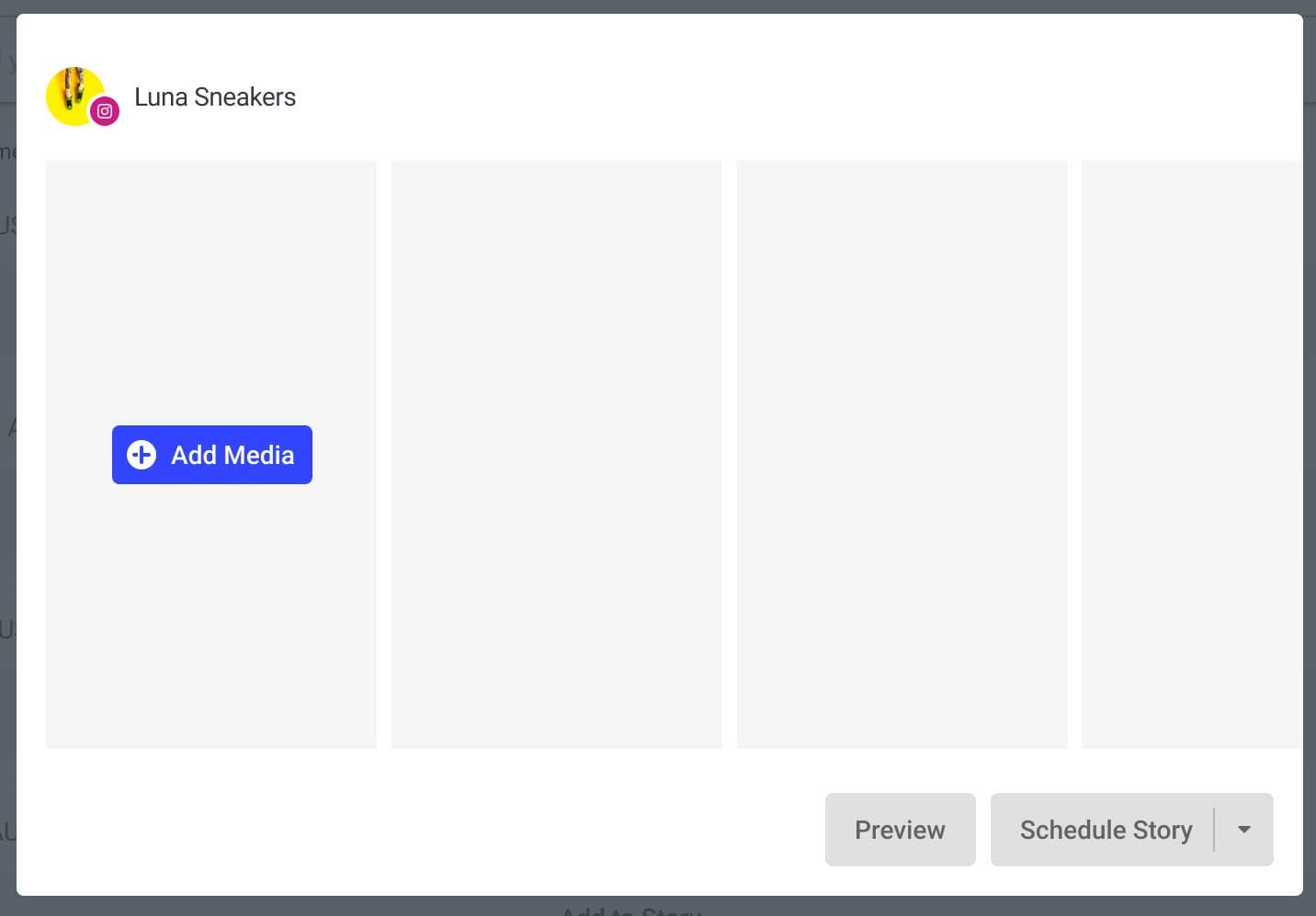 Once the Stories composer is open, the next thing to do is upload your content. Select Add Media Files to upload your Story images and videos. You can upload up to 10 media files to make up a Story.
4. Arrange your Story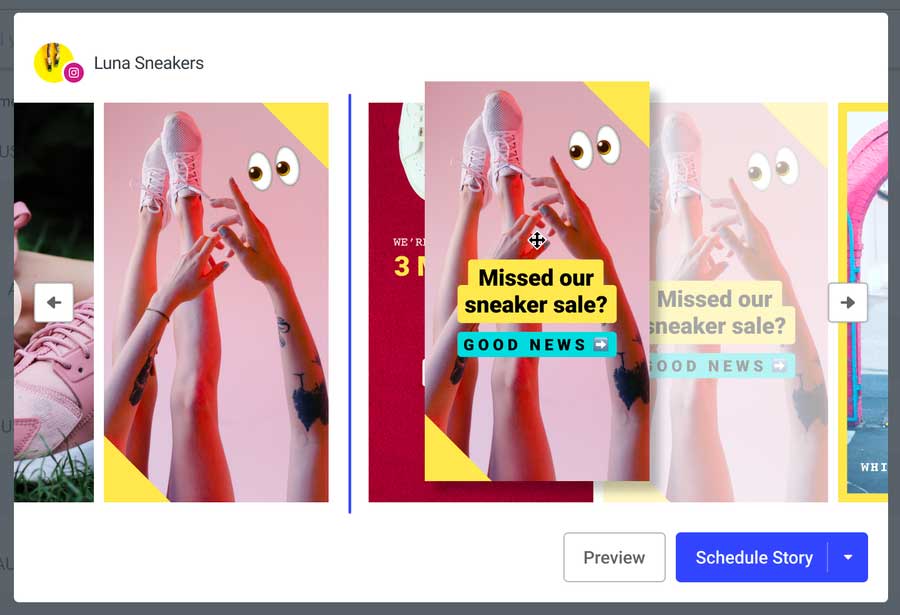 Drag and drop media files in the order you want, so that you can visualize and arrange your Story. You'll be able to adjust the cropping and positioning of each individual image or video when you finish the post in Instagram.
5. Add a note to each media file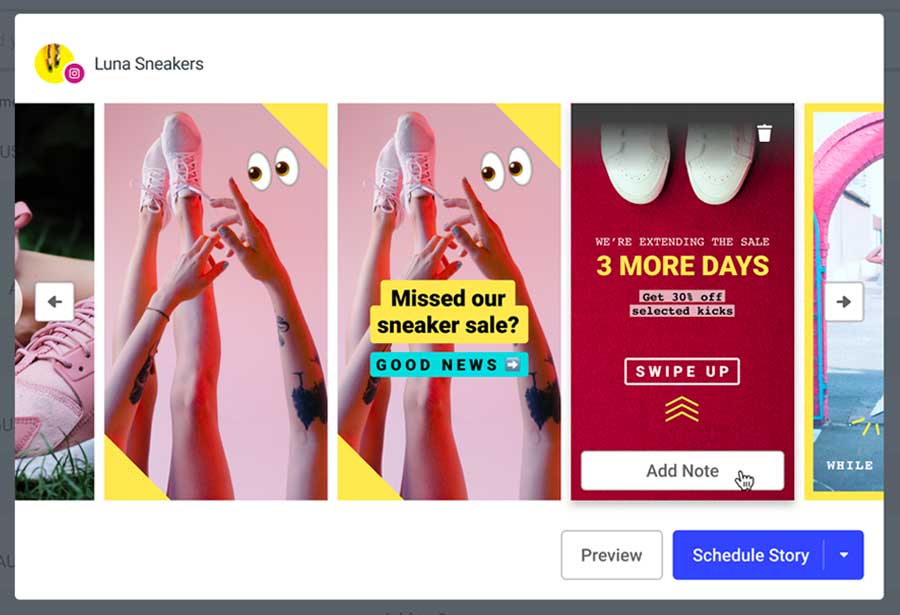 Hovering over an uploaded media file will prompt you to add a note. You can use notes to prepare a caption, or remind yourself to add stickers, polls, music or hashtags to the post. When we send you a mobile notification to complete the post, your note will be copied to your clipboard for easy pasting.
6. Preview your Story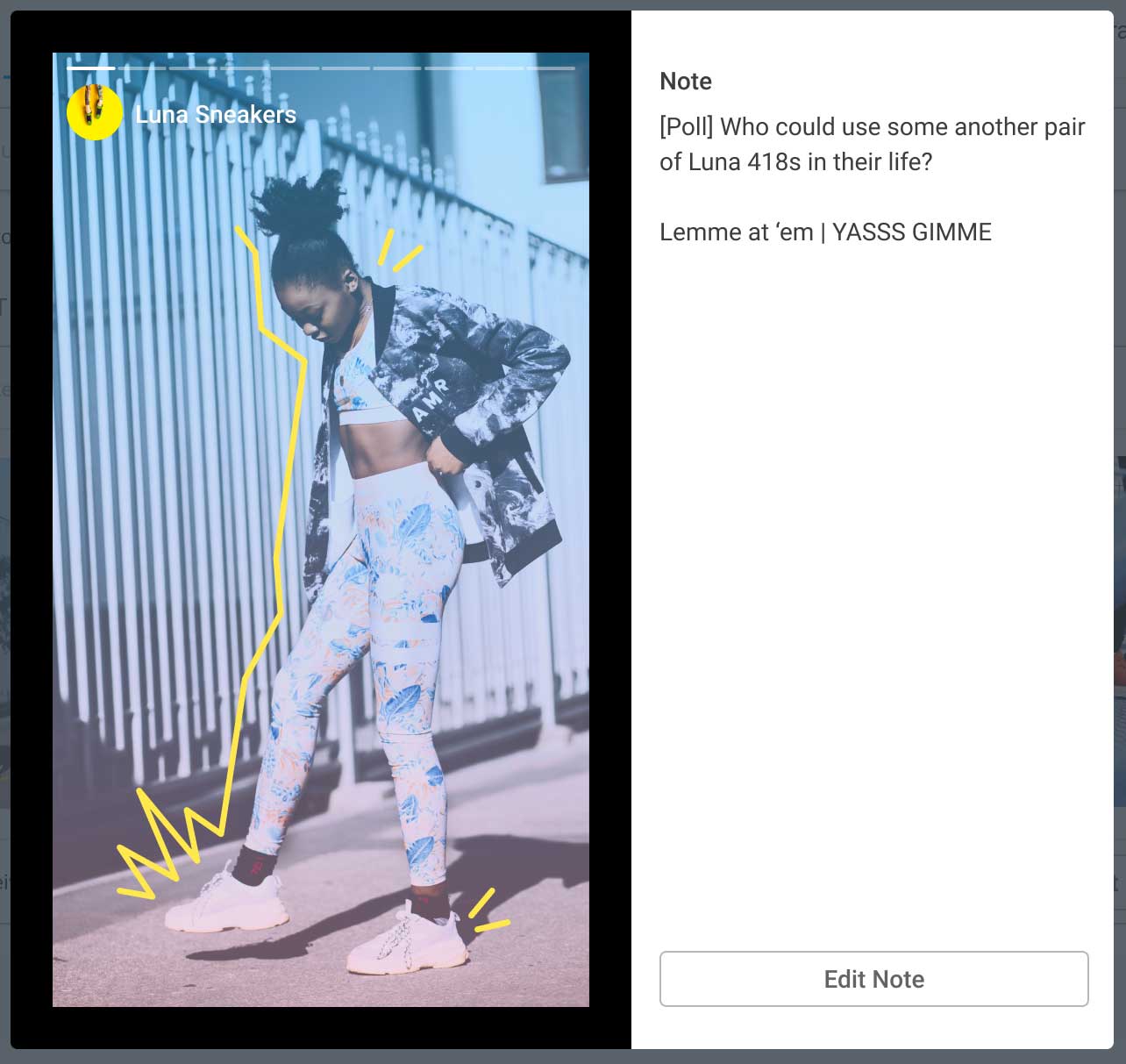 You can use the Preview button to see how your Story will appear.
Note: you'll be able to readjust and reposition each image or video when you finish the post in Instagram.
7. Schedule your Story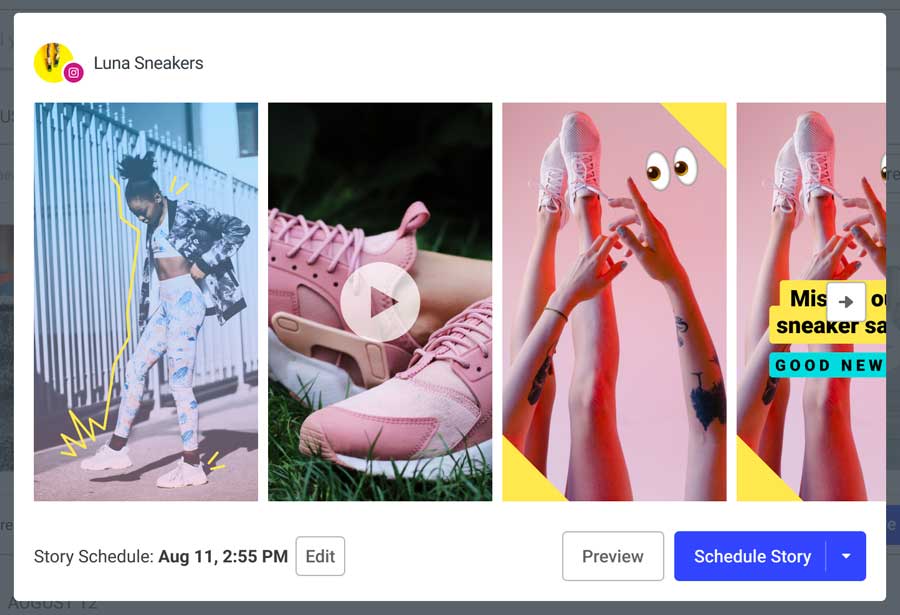 Use the Schedule Story button to open up the time and date picker. Choose the day and time that you want to post the Story, and we'll send a push notification to mobile device with everything you need to complete the post in Instagram.
You can also schedule Stories using the Buffer mobile app, which is a great option if you already have content saved on your mobile device.
How scheduling Instagram Stories can help your business
Instagram Stories have become a powerful tool for marketers to drive traffic, increase engagement and even make sales.
But stories only last 24hrs, and the grind of creating and posting new content daily can be very challenging. Whether you're struggling with creating the content, keeping all your assets in one place or simply remembering to post it between the other tasks in your calendar every day, scheduling can help.
Here are just a few of the benefits of scheduling your Instagram Stories posts:
1. Plan Stories on web or mobile
Whether you're on the go or sitting at your desktop, Buffer enables you to plan and schedule stories posts from the web and mobile (using the Buffer apps). This makes it easier for you to post stories when the time comes, freeing up more time to think about your content and achieving your Instagram goals, instead of preparing and scheduling of Stories.
2. Bulk upload images and video
When we interviewed some of our customers on how they create stories, one of the biggest pain points we found was organizing and storing all of the photos and videos they wanted to include within their stories.
With Buffer for Instagram Stories, you can bulk upload up to 10 assets for each of your scheduled stories posts. No more searching around various files or drives for assets, or sending everything to your camera roll before publishing.
3. Drag and drop storyboarding
Want to see how your story will flow when it's live? Buffer enables you to visualize and arrange your Story ahead of publishing. Once all of your media files are uploaded you can also drag and drop your media files to ensure your story goes out in the order you want.
4. Prepare links and captions
Alongside uploading media to Buffer, you can also add notes to include any links and captions you want to post with each part of your story. Pre-writing your captions can help to avoid any spelling mistakes and make sure your story flows just as you'd planned it to.
Once you've added your notes, you can also preview your story to make sure everything is looking great before it's time to publish.
Get started with a 14-day free trial
Buffer for Instagram Stories is available on all paid plans. Whether you're new to Buffer or an existing customer, you can take this feature for a test-drive right now with a 14-day free trial.