Summary
There are many factors to success on Instagram. One of the most important is timing. In this guide, we'll walk you through a step-by-step process to help you find the best times for your business to post
You will learn
How to find the best time to post on Instagram for your business
The factors that determine your best time to post
A strategy for testing new posting times and analyzing results
You might have heard that the best time to post on Instagram is 11 a.m. to 1 p.m. Or maybe 2 to 3 p.m. And that you should avoid Mondays and weekends, and post more on Thursdays...

Well, here's the truth.
There's no one-size-fits-all best time to post on Instagram. All those studies that looked at millions of users? Not all that helpful. Those aren't your followers.

So, buckle up—we're here to show you how to find the best time to post on Instagram for your business.
💡
Schedule your Instagram posts, carousels, stories, and reels with Buffer
Visually plan your content calendar and make your profile a "must-follow" with Buffer's suite of
Instagram scheduling and analytics tools
.
What factors determine your best time to post on Instagram?
The best time to post on Instagram is when your audience is most active. But it may also be a time when fewer followers are online—if your content is relevant to their daily routine at that moment.

Both timeliness and relevance are factors that the Instagram algorithm uses to determine where your post falls within your followers' feeds. And the higher your posts show in your followers' feeds, the more impressions your brand gains. More impressions can lead to more engagement. And the more engagement your posts get, the more impressions your future posts can get, too, creating a snowball effect.
Timeliness: When most of your followers are online
Posting at the time when most of your followers are active will give your post a better chance of being seen by more people. This is due to the timeliness or recency factor, which simply means that your post occurs close to the time that a user logs on.
Emma Ward, marketing manager for the New England smoothie bar The Juicery, has Instagram scheduling down to a science. She reserves the time when most of The Juicery's followers are on Instagram to post about promotions, news, or other exciting content to share.
"If I'm promoting a giveaway, a new location, or something that isn't menu-specific, I'll post in the evenings. I want to get the most eyes on the content and, therefore, post at a time where the most amount of people are online," she tells us.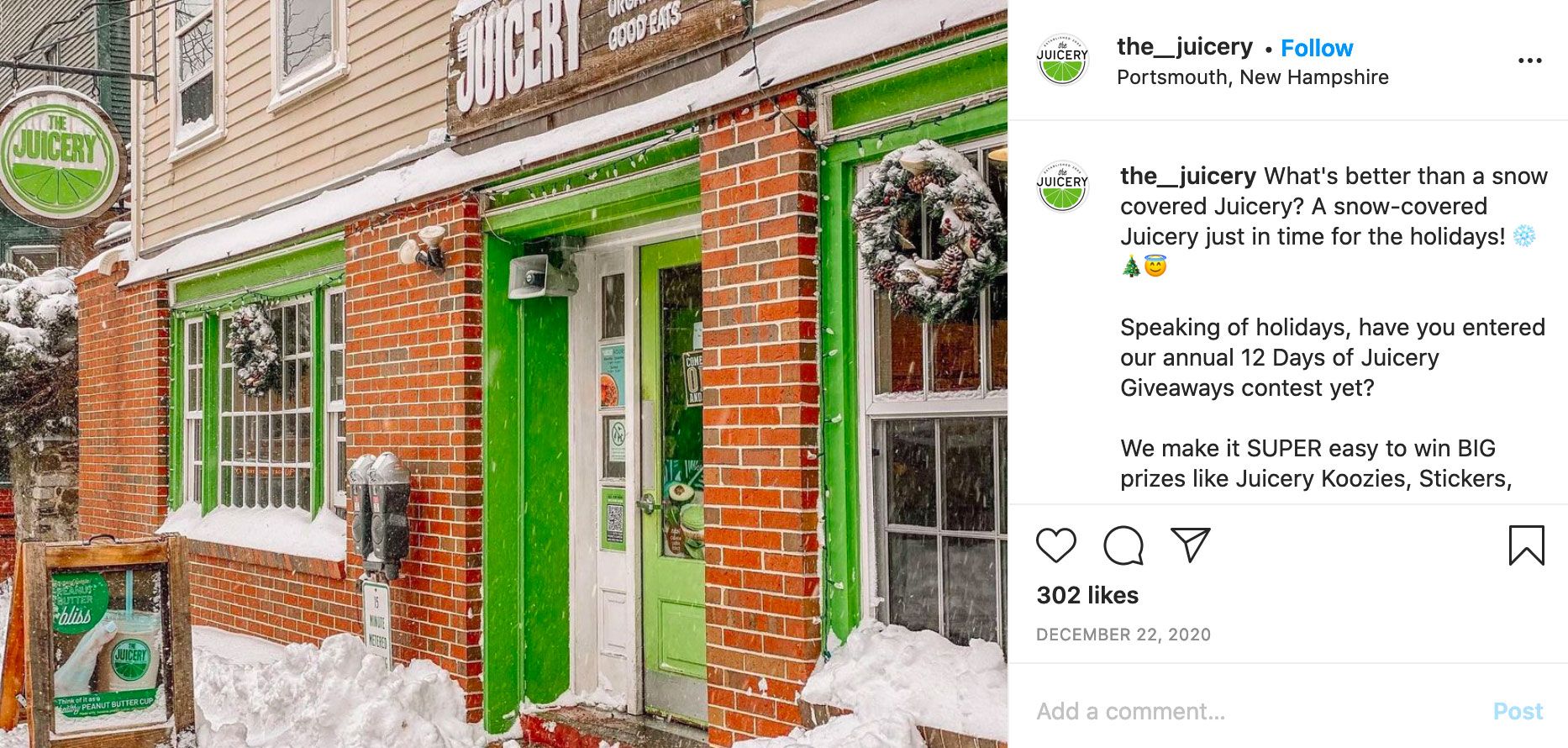 While most of her brand's followers are online in the evenings, she knows that's hardly the time when people are primed to buy smoothies, though. Thus, the optimal time to post to Instagram depends on the content you have to share, too.
Relevance: when your content fits best into your followers' days
The Instagram algorithm seeks to first show users the content they want to see most. How does it know what people want to see? By looking at users' interests and relationships. The more relevant your content is to your followers, the more they'll interact with it. This engagement prompts Instagram to display your content higher on people's feeds.
Emma considers when her brand's products are most relevant to its followers' daily schedules. For The Juicery, mornings are a great time to get in front of people who are thinking about what to pick up for breakfast. She posts about smoothies and other menu items first thing in the morning—around 7:30 a.m. every weekday and just past 8 a.m. on the weekends, even if the number of followers online is smaller.
Emma says of her followers, "I want our smoothies to be on top of mind when they head into a workday."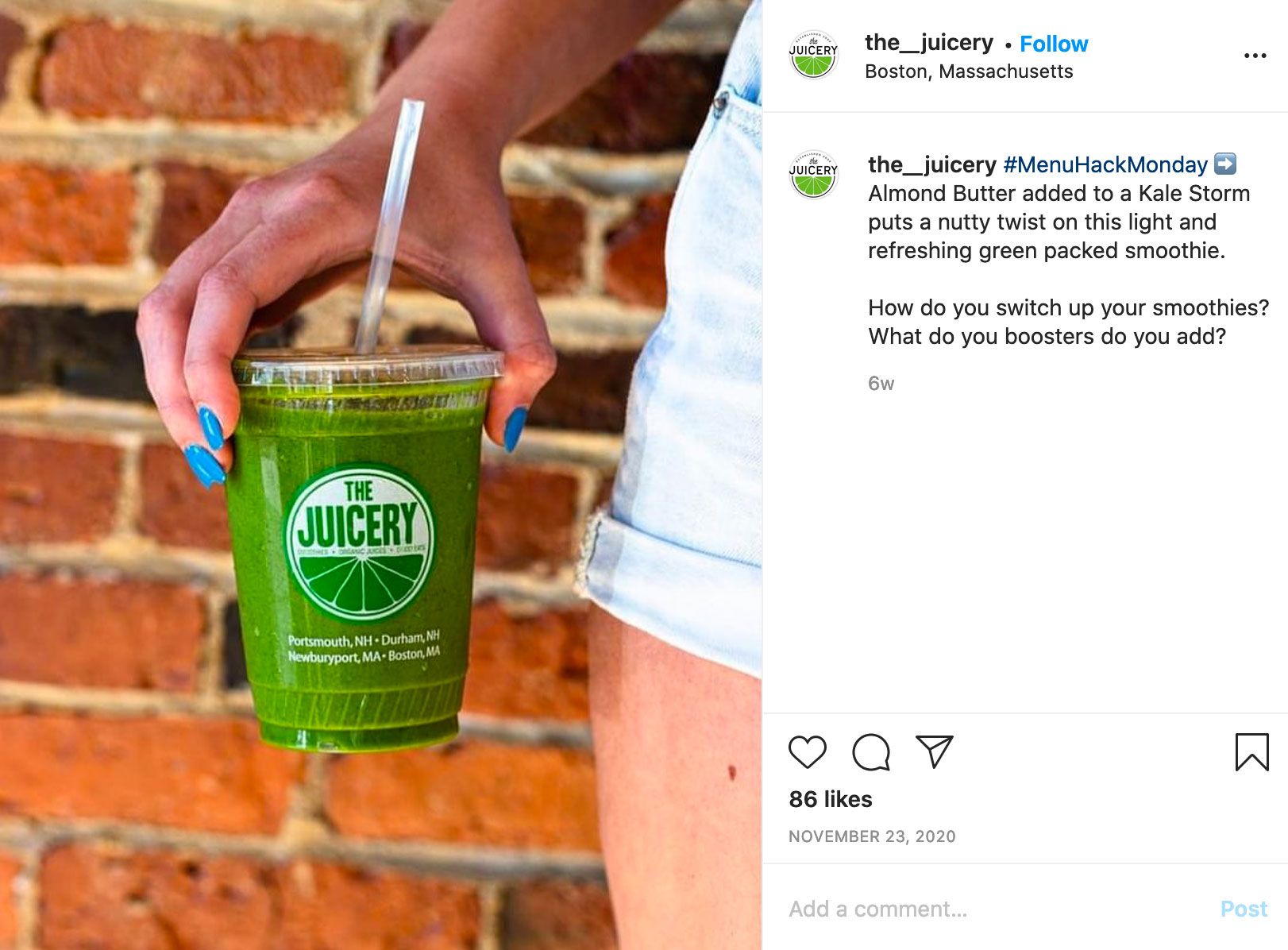 If she simply looked to conventional "best time to post on Instagram" advice from aggregate studies, she would miss the opportunity to plant the idea of a morning smoothie for those followers who are most likely to go pick one up on their way to work.
How to find the best time to post on Instagram for your brand
Finding the best times to post on Instagram for your brand doesn't have to be complicated. You'll need to consider two things:
When your greatest number of followers are active on the platform
When your brand is most relevant for them.
These two data points will give you an idea of your optimal posting times, which you can then test and refine.
Now let's walk through each step to finding your best times to post together. (Buffer's analytics can also do the legwork and recommend best times for you, too.)
Step 1: See when your audience is most active on Instagram
You can see when your greatest number of followers are on Instagram by looking at the insights that Instagram provides. You'll find this information for business accounts by clicking the Insights button.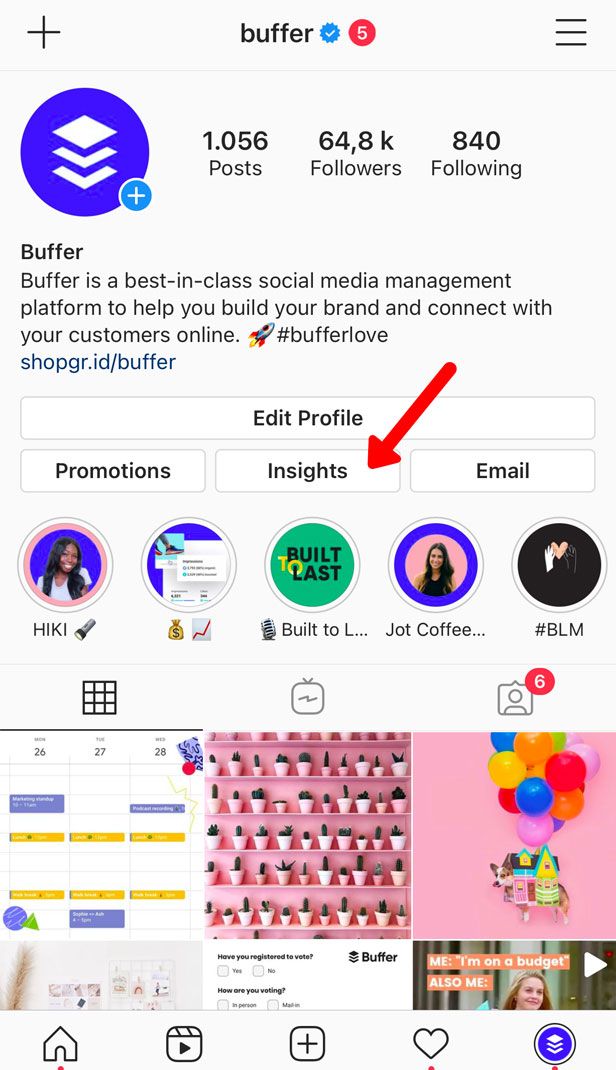 Under Insights, you can then click to view data broken down by content, activity, and audience. Select the Audience tab to see data on your followers, including when they access Instagram, as well as their location, age range, and gender. You can toggle between hours and days to view their most active times.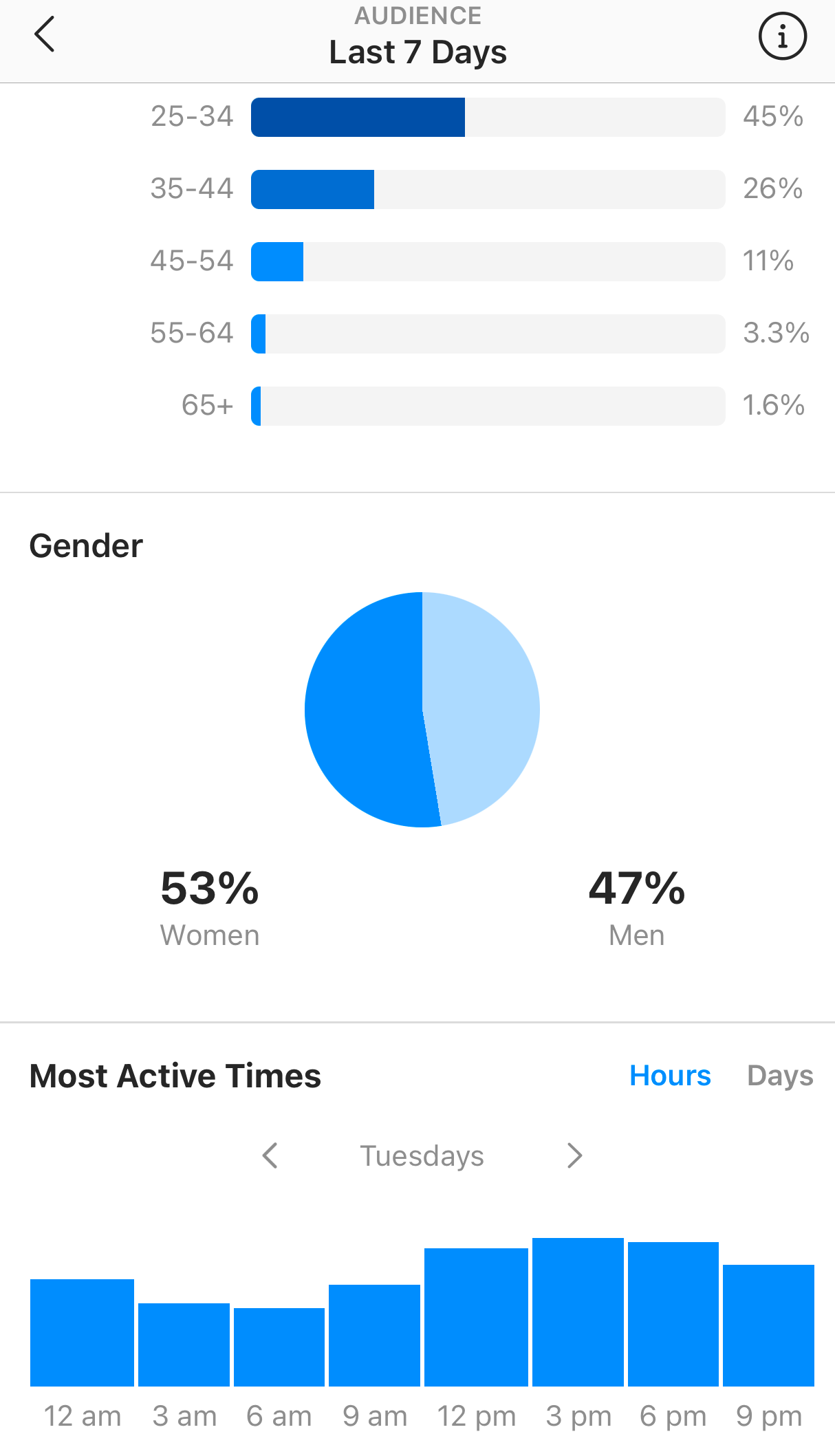 Keep in mind that the data only shows for the past seven days in your Instagram account. This gives you limited data, but it's a start. Watch out for the impact of special occasions and seasonal behavior before you base any decisions on data from such a short timeframe.
Step 2: Hypothesize what type of content is best for those times
The best time to post one type of content on Instagram will differ from that for another. And chances are you have several different types of content you can serve up.

At this step, come up with a hypothesis. You know your target audience better than anyone else. What time of day are they dealing with the problem that you solve? When does it make sense for them to think of your brand?

Emma considers when each type of content will be most relevant for The Juicery's followers, and then she tries it out. "For each new type of content, I'll try it at different times. A post with an enticing acai bowl will be at a different time than a gift card giveaway," she explains.
Step 3: Create a schedule to test your hypothesis
Now you know when your followers are online, and you have an idea of what content you think may interest them at those times. Try putting it into action with an Instagram posting schedule for a set period like three weeks.
Let's say you run the Instagram account for a gym. We've hypothesized some different types of content that we think might resonate with your followers at different points in their day.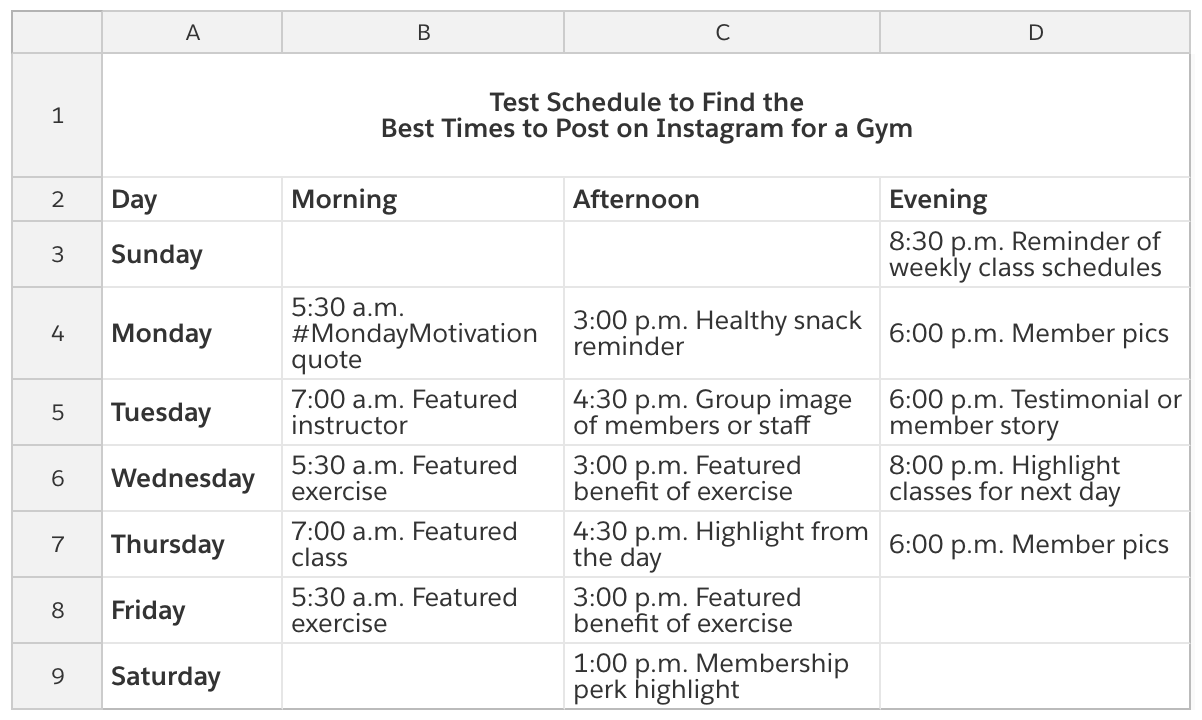 The idea is to consider what time your followers want to hear from you. If you're a gym, your followers might be looking for healthy inspiration in the afternoon when their energy is waning or in the morning when they face the choice to get out of bed and hit the gym rather than sleeping in. Reminding them of upcoming class schedules can help them plan for the next day. And perhaps you want to post content that encourages people to visit on Tuesdays and Thursdays since those days are often less busy at your gym.

You don't have to publish a certain number of times a day. Once you find your optimal times, you may be able to publish less with greater impact. And remember, hashtags based on days of the week can be a powerful way to grow your following, too.
Step 4: Analyze your findings to figure out the best times for your content
By the time you've come through a few weeks of testing your Instagram posting schedule, you'll have an idea of which content is resonating with your followers at which times.
Then, you can tweak your schedule to refine it. Keep posting the content that resonates with followers, and change up the content that didn't do as well.
Where can you find the data? Instagram shows engagement numbers for each post under the Posts tab in the Insights section of your business account.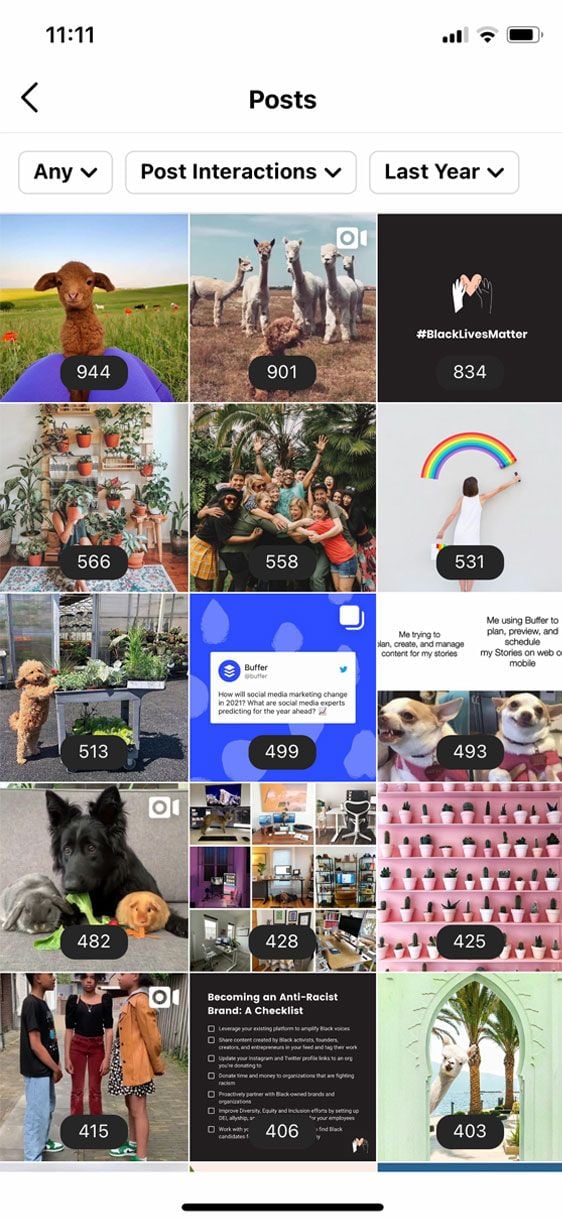 If you use Buffer's analytics, you can find a goldmine of data organized in a way that's easy to understand. For example, you can see the interactions for each post side by side to get a feel for how each resonated with your followers.
In the Instagram example schedule promoting a gym, perhaps your early morning posts got likes and comments, but your late-afternoon posts didn't resonate even though it was a time when a lot of your followers were online. You could try posting a different kind of content at that time to determine what your afternoon crowd responds to.
To dig deeper into data, check out Buffer's Ultimate Guide to Instagram Analytics.
Step 5: Continue testing new times
Your post performance data is based on your posting history. So check your best times every month or so, and try testing out new times occasionally. This lets you continue learning about your audience.
Laura Moss, co-founder of Adventure Cats, usually posts during the daytime, but she sometimes experiments with an evening or late-night post to see how it resonates with her brand's 162k followers.
Occasionally her "experiments" happen organically because she forgets to schedule a post and ends up posting at a less-than-optimal time. She says, "Sometimes it's a pleasant surprise to see that post take off, but other times it serves as a reminder that doing some strategic planning and scheduling is smart."
Brands that schedule their posts can aim for specific times each day. However, Laura likes to post manually. She aims to post to Instagram between 10 a.m. and 3 p.m. on weekdays to get visibility.
If you miss posting at a certain time each day, does it mean your posts will be lost in your followers' feeds? Not necessarily.
It's true that analytics data pinpoints the best time of day to the hour, and consistently scheduling your posts is key to hitting your best time of day—every time—to maximize engagement. However, the time on either side of this precise point will often be very favorable, too. While not optimal, you could still see positive effects by publishing within a range, like Laura does.
How the right tools can power your "best time to post" choices
When you're operating a small business, your resources can be spread pretty thin. Your social media accounts are just one part of your marketing, and you need to approach everything efficiently. Taking advantage of the best time to post to Instagram for your business means you can see a bigger effect with less effort.
"The predictive 'best time to post' feature in Buffer's analytics is a game-changer!
Choosing the right tools can help stretch your marketing efforts further. Buffer's tools can be found behind many successful Instagram marketers like Emma and Laura. Buffer's analytics help you determine your best times to post, the best types of posts, and how often you should post to maximize reach and engagement. The tool studies your data over time to make informed recommendations and predict how your followers will respond.
In Emma's words, "The predictive 'best time to post' feature in Buffer's analytics is a game-changer! Especially for my smaller accounts, I really look to this tool to see suggested times based on when our followers are online and when they're engaged."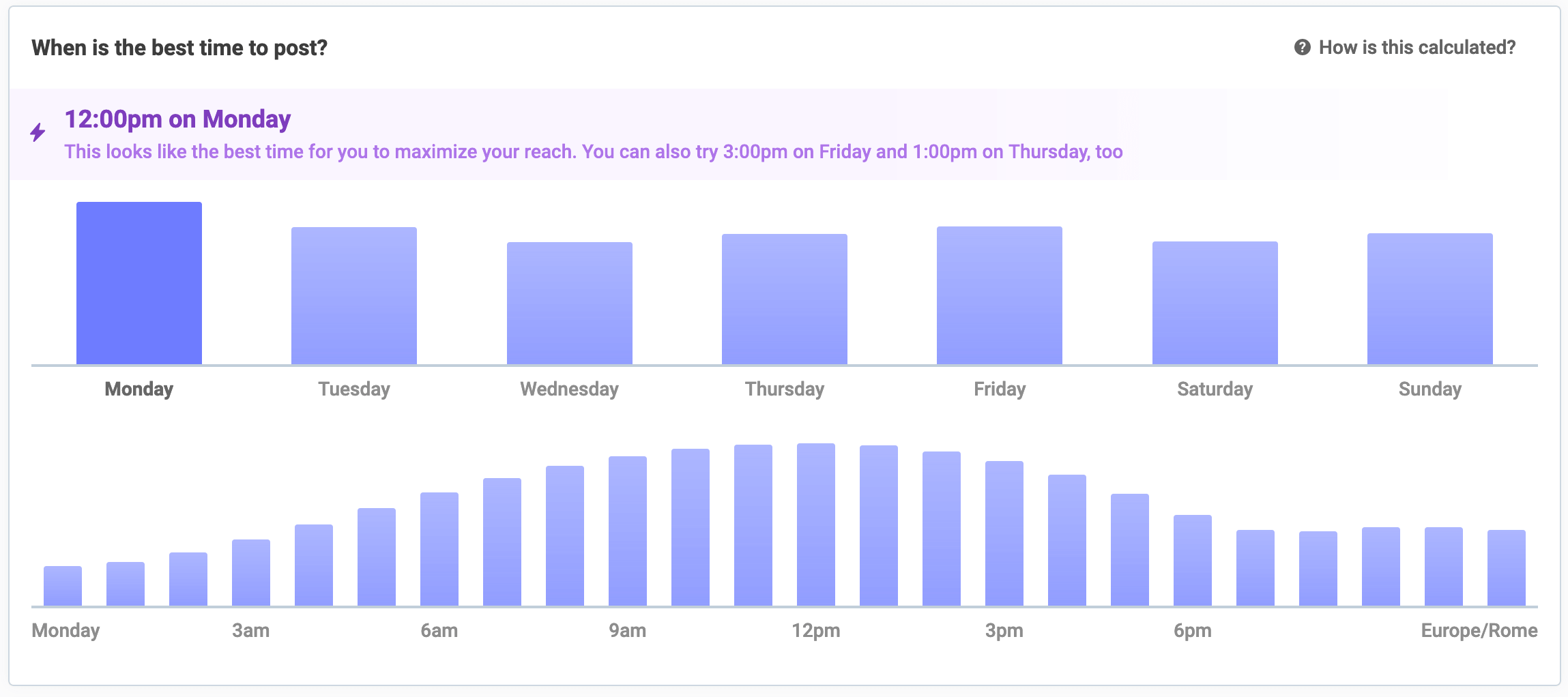 Buffer's Answers feature gives you three posting time suggestions for maximizing your reach on Instagram. Our in-house statistical model predicts your reach for every hour of the week based on your followers' activity and the performance of your previous posts. Three times, spread across the entire week, are then recommended to you so that you can schedule your Instagram posts and maximize your reach.
So, instead of posting 20 times a week, you can optimize, say, five really great posts and see better results. We invite you to learn more in our Instagram marketing library and look into Buffer's analytics today.
Brought to you by
Did you find this article helpful? You might also like our all-you-need social media toolkit.
Get started for free now