What does it take to create incredible social media content?
Knowing you have to create new content for multiple social media channels every day can feel a little daunting, especially when you consider the range of disciplines you need to rock at in order to be successful with your social media marketing.
Nowadays, every marketer has to be part designer, photographer, videographer, copywriter, editor, and more.
Thankfully, there are now a bunch of tools out there to make these jobs easier for us all. What's even better, with the right apps, you can create, publish, and analyze the performance of all your content with just one device.
Your smartphone.
Small businesses are constantly on the lookout for faster, easier, and more cost-efficient ways to create new content for all the different social media platforms. Smartphones are now like all-in-one production studios, empowering us all to make the best social media content using a range of fun and often simple-to-use apps.
In this post, we'll share 22 social media apps that'll help you create incredible social media content using just your smartphone.
Ready to jump in?
Create

6 apps to help you shoot incredible photos and videos
Phone cameras are incredibly powerful, and we wanted to share with you some of the best apps to help you capture and create social media content from scratch.
Here are six apps to get you started with your visual content:
MuseCam is a great app to help you shoot and edit your photos on iOS. It features a bunch of professional-feeling camera presets, manual camera controls, and advanced tools like HSL and Curves.
➡️ Download Musecam for iOS (free, offers in-app purchases)
VSCO enables you to capture, edit, share, and discover photos. The app features a bunch of high-quality filters to help you get the look you want and also offers a host of free editing tools like fade, clarity, skin tone, tint, sharpen, saturation, temperature, and more, each with manual adjustments.
VSCO also has VSCO plus and VSCO pro memberships, which cost $29.99 and $59.99 per year for exclusive presets, more editing tools, and educational content.
➡️ Download VSCO for iOS or Android (free)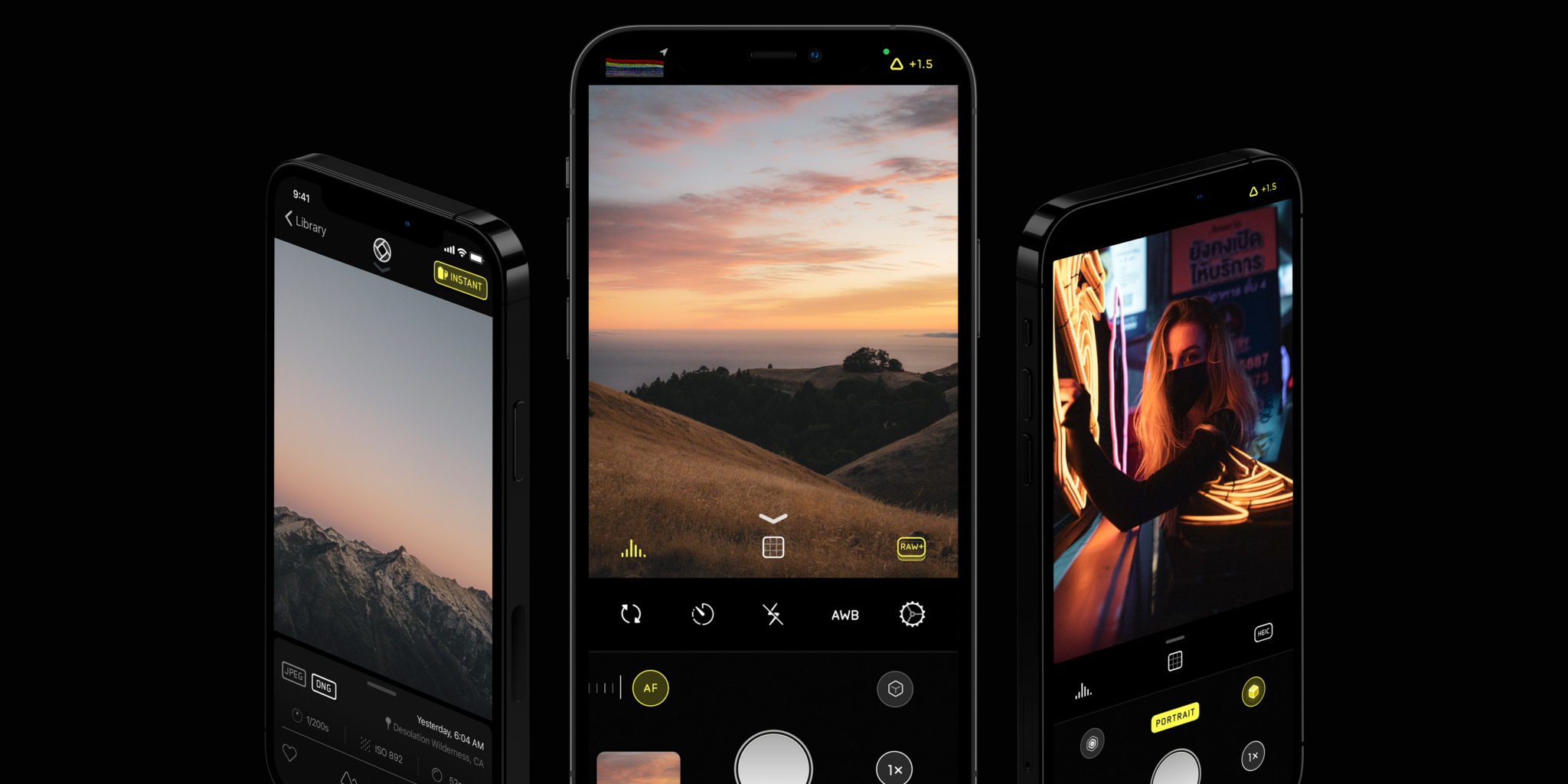 Halide is a unique camera app that focuses heavily on enhancing the experience of taking photos on mobile and gives you full manual exposure controls, including shutter speed, ISO, and white balance.
➡️ Download Halide Mark II for iOS (currently $5.99)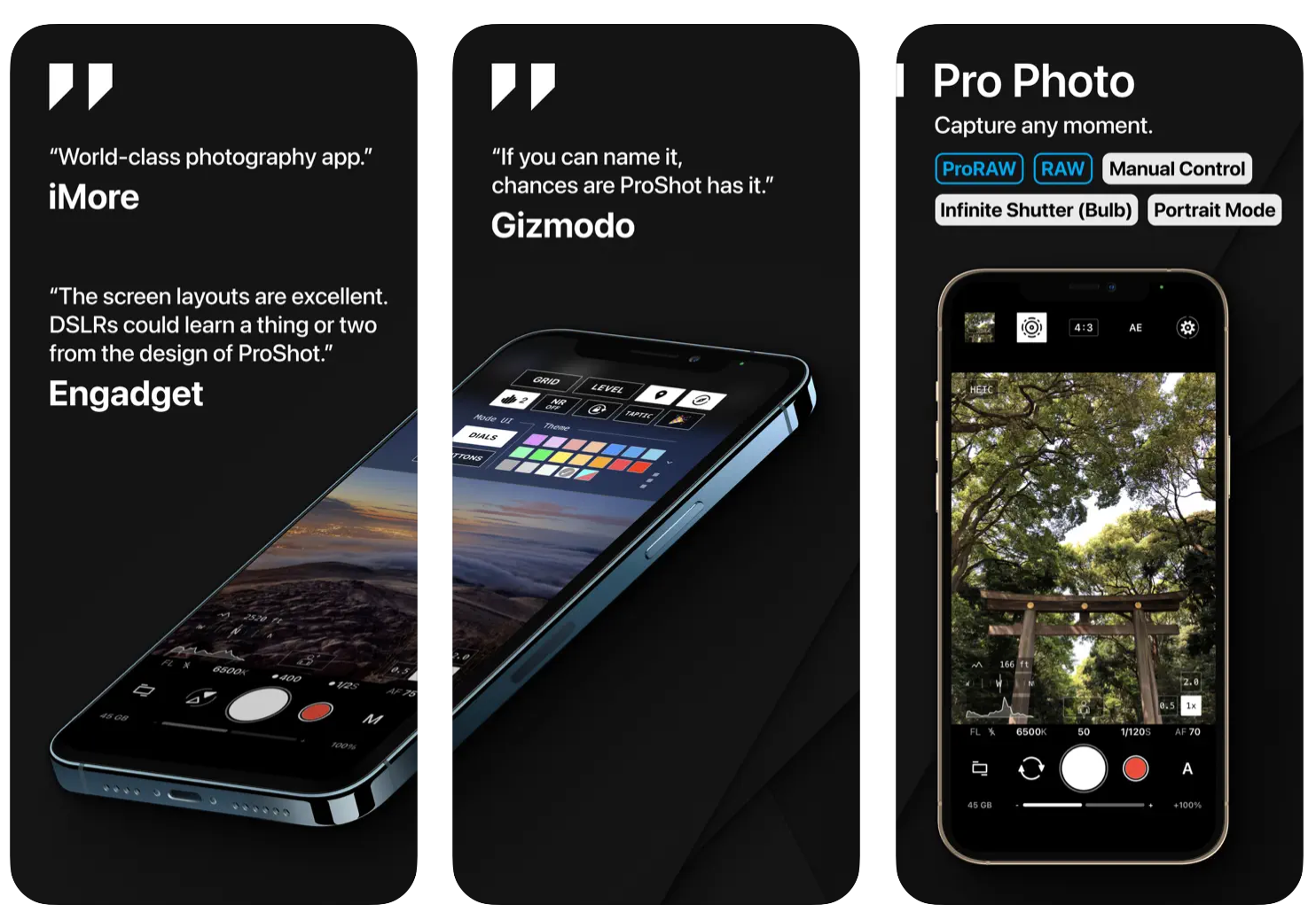 ProShot gives your phone's camera manual functionality, just like a DSLR. The app includes tons of professional features for capturing both photos and videos.
➡️ Download ProShot for iOS or Android (currently $6.99)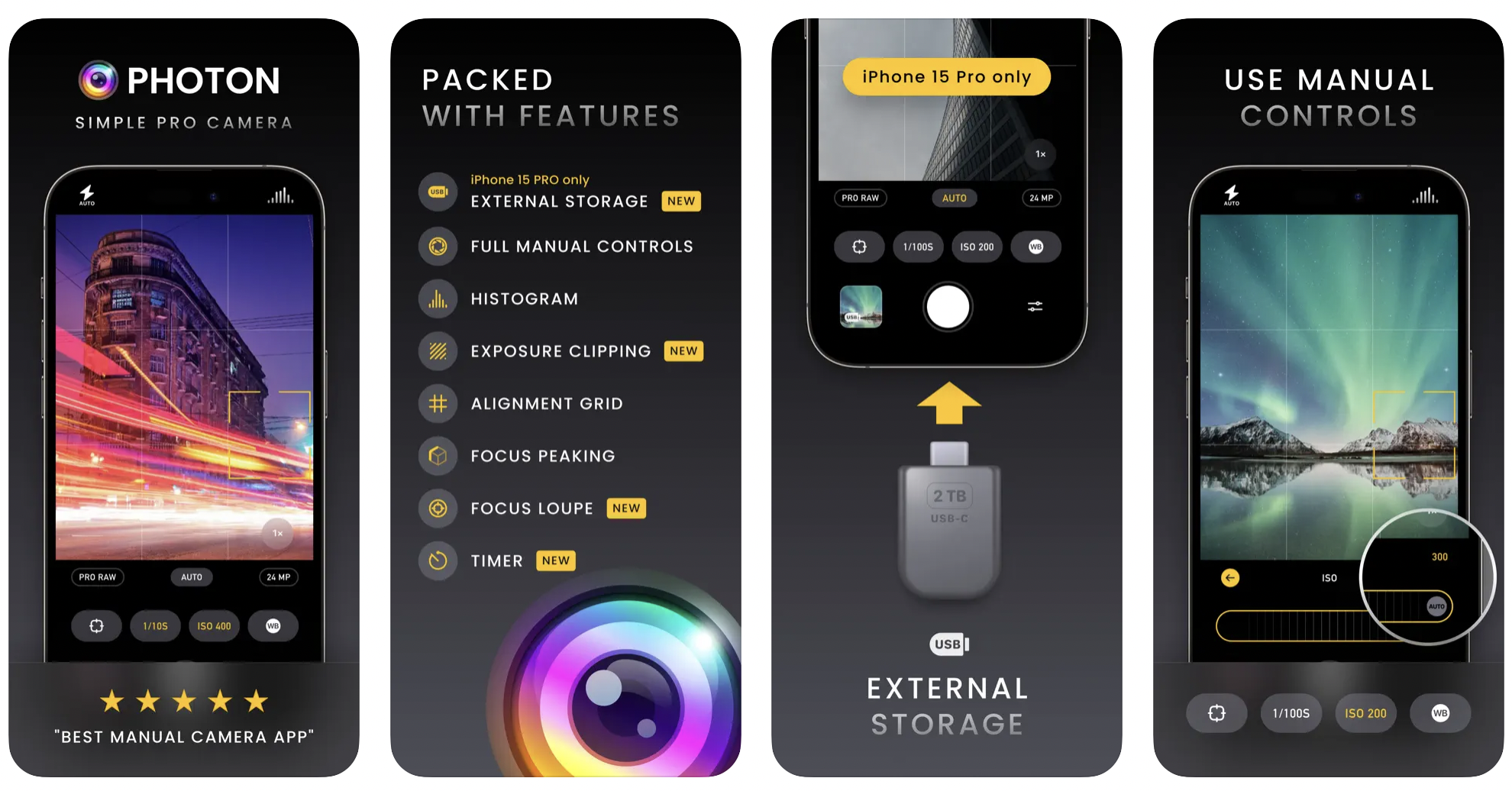 Whether you're a seasoned photographer or someone who's barely touched a camera, Photon can help you take beautiful photos.
Photon gives you the opportunity to set exposure separately from focus so that you can easily control how light or dark your shots come out. It also features a range of shooting modes, scenes, and pre-set effects.
➡️ Download Photon Camera for iOS (free)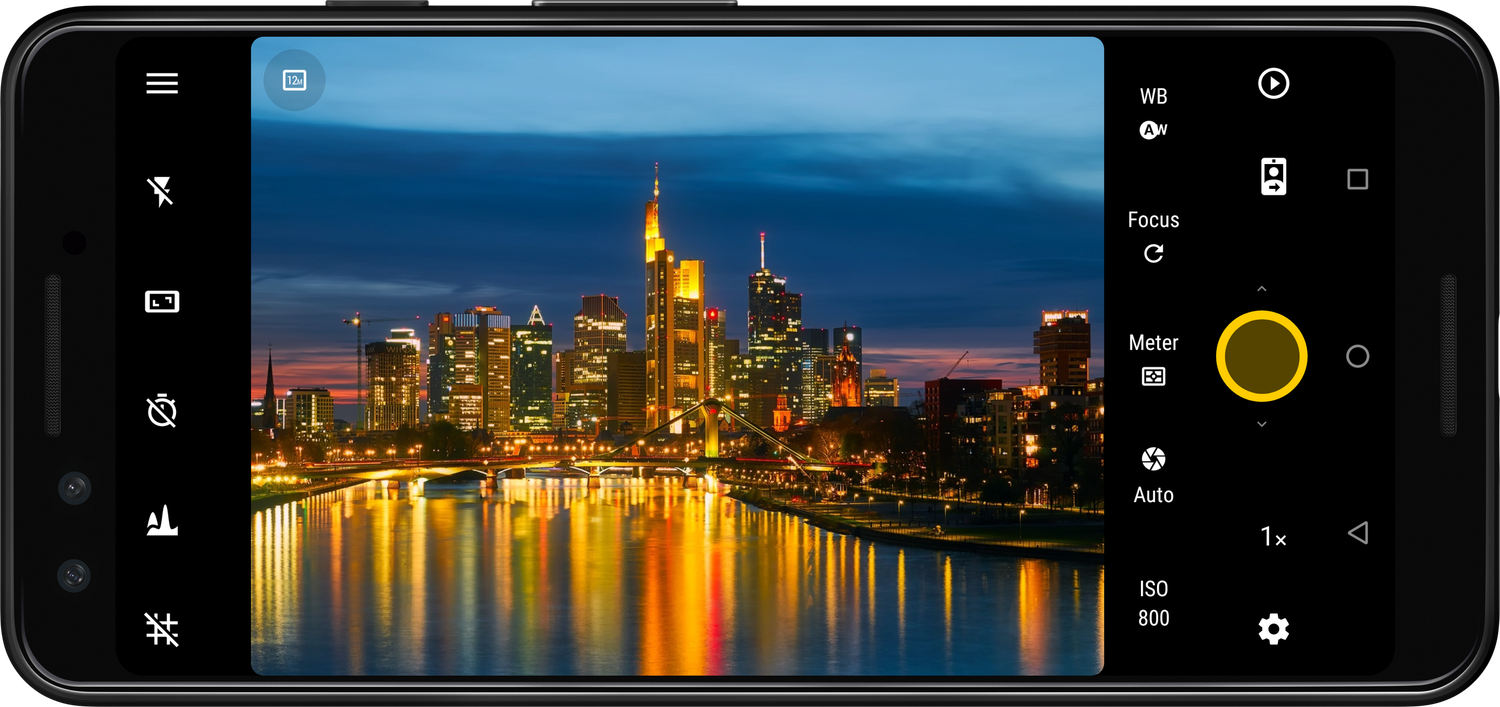 Camera FV-5 is one of the standout cameras available on Android. The app is based on a similar approach to DSLR cameras, putting photographic settings like ISO, white balance, exposure compensation, and metering at your fingertips.
➡️ Download Camera FV-5 for Android (currently $4.99 or free for the Lite version)
Edit

12 apps to bring your content to life

Smartphone apps can also help you to edit your footage and photos, turning them into great social media posts in just a few taps and swipes.
Here are 12 apps to help you edit your content: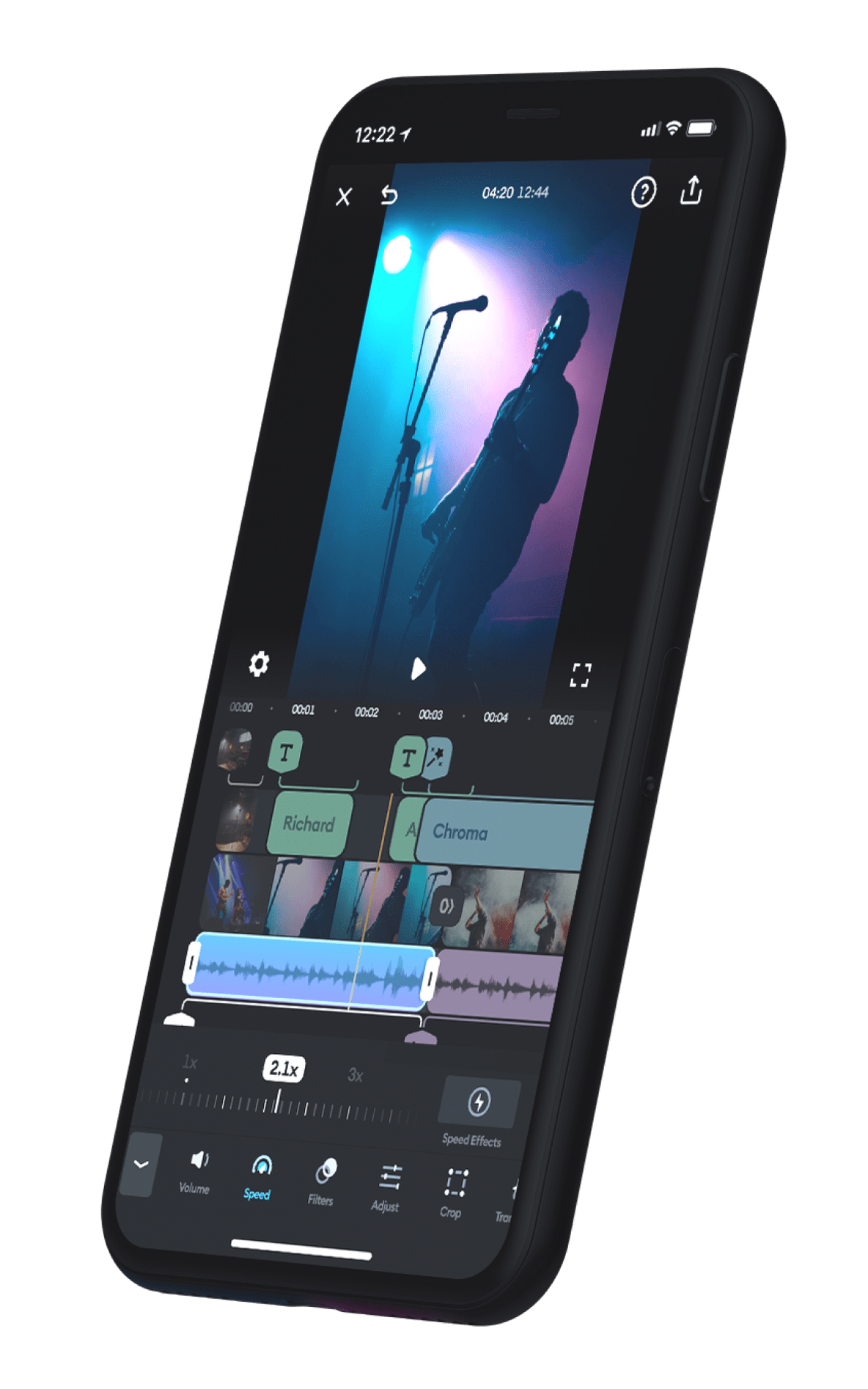 Splice is a free video editing app. It is a powerful video editor with a lot of features (trim, crop, effects, transitions, titles, speed controls, animations, and more). It even has a library of free music and sound effects for you to use.
➡️ Download Splice for iOS or Android (free)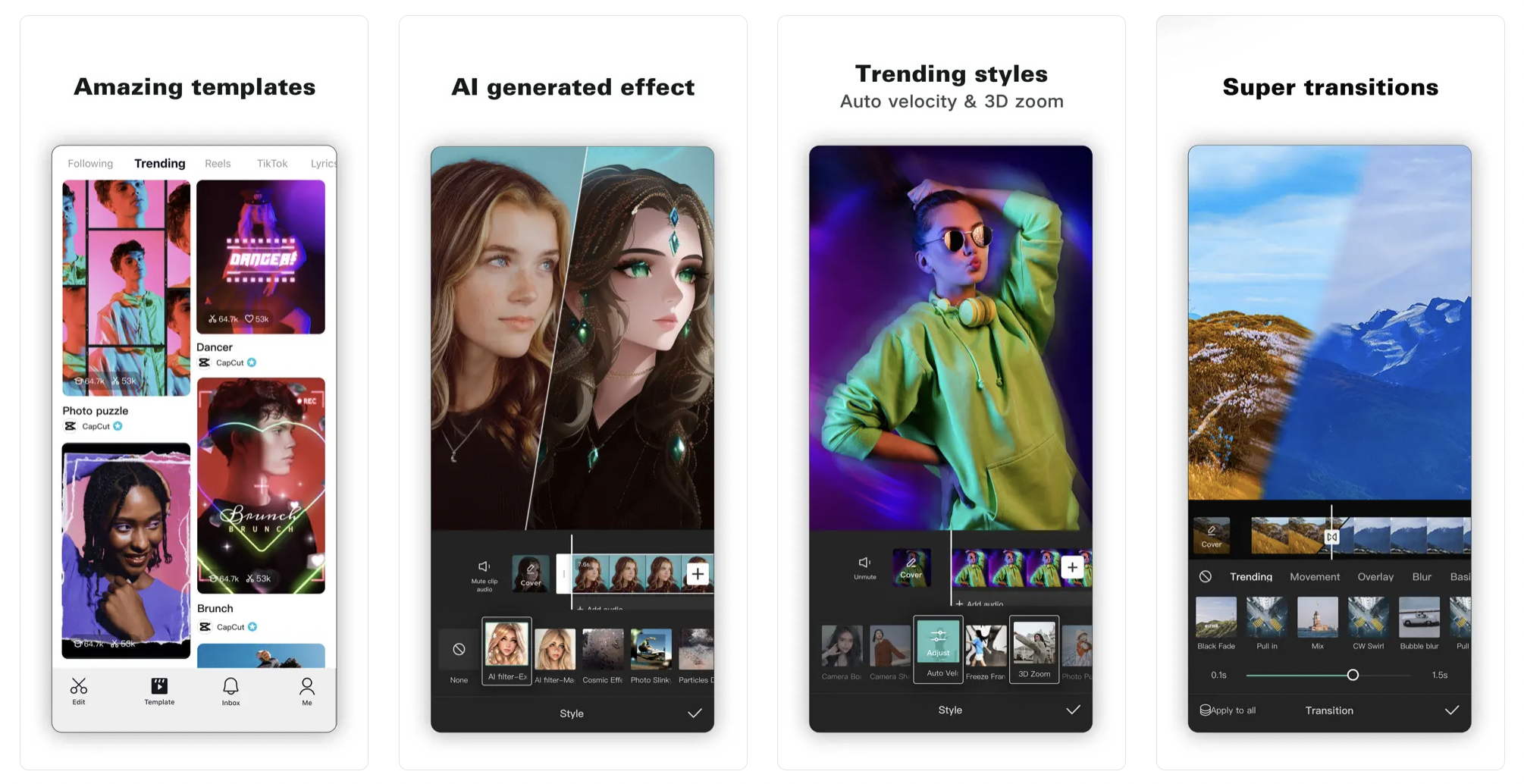 CapCut is a free video editing app. It includes basic video editing features like trimming, speed adjustment, zoom effects, and transition options. The app also features advanced video editing features like keyframe video animation, stabilizing, a multi-track timeline along with intelligent features like auto-captions, text-to-speech, and background removal. Plus, CapCut is home to a huge number of trending effects and filters that you can share on TikTok, Reels, or Shorts.
➡️ Download CapCut for iOS (free) or Android (free)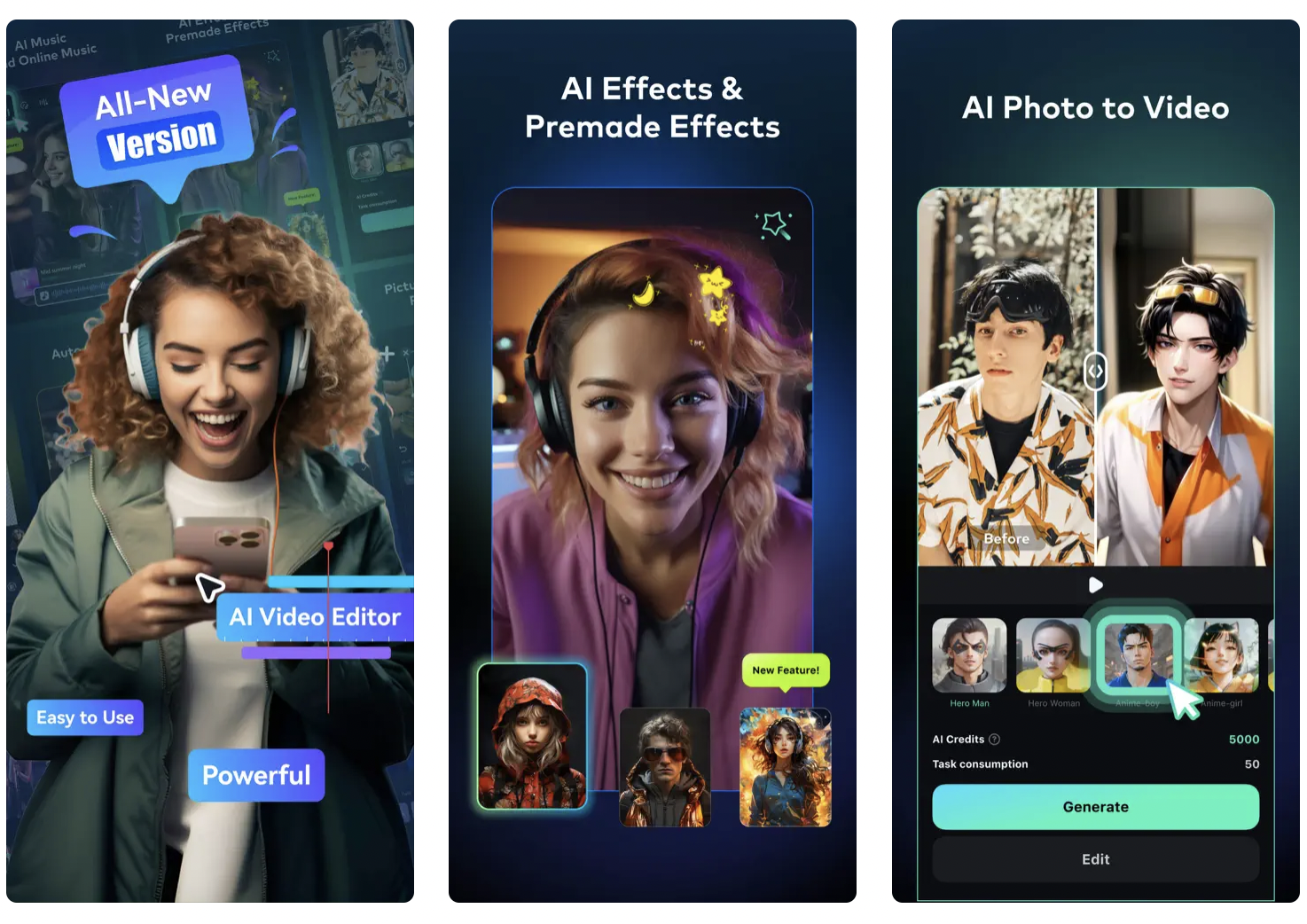 Filmora is a free powerful AI video editor. It comes with all the professional video editing features such as picture-in-picture, reverse play, slow/fast motion, and more. It is available on both Android and iOS devices. The Filmora Pro subscription comes with stickers, filter packages, etc. and watermark and logo roll will be removed automatically from your videos.
➡️ Download Filmora for iOS or Android (free)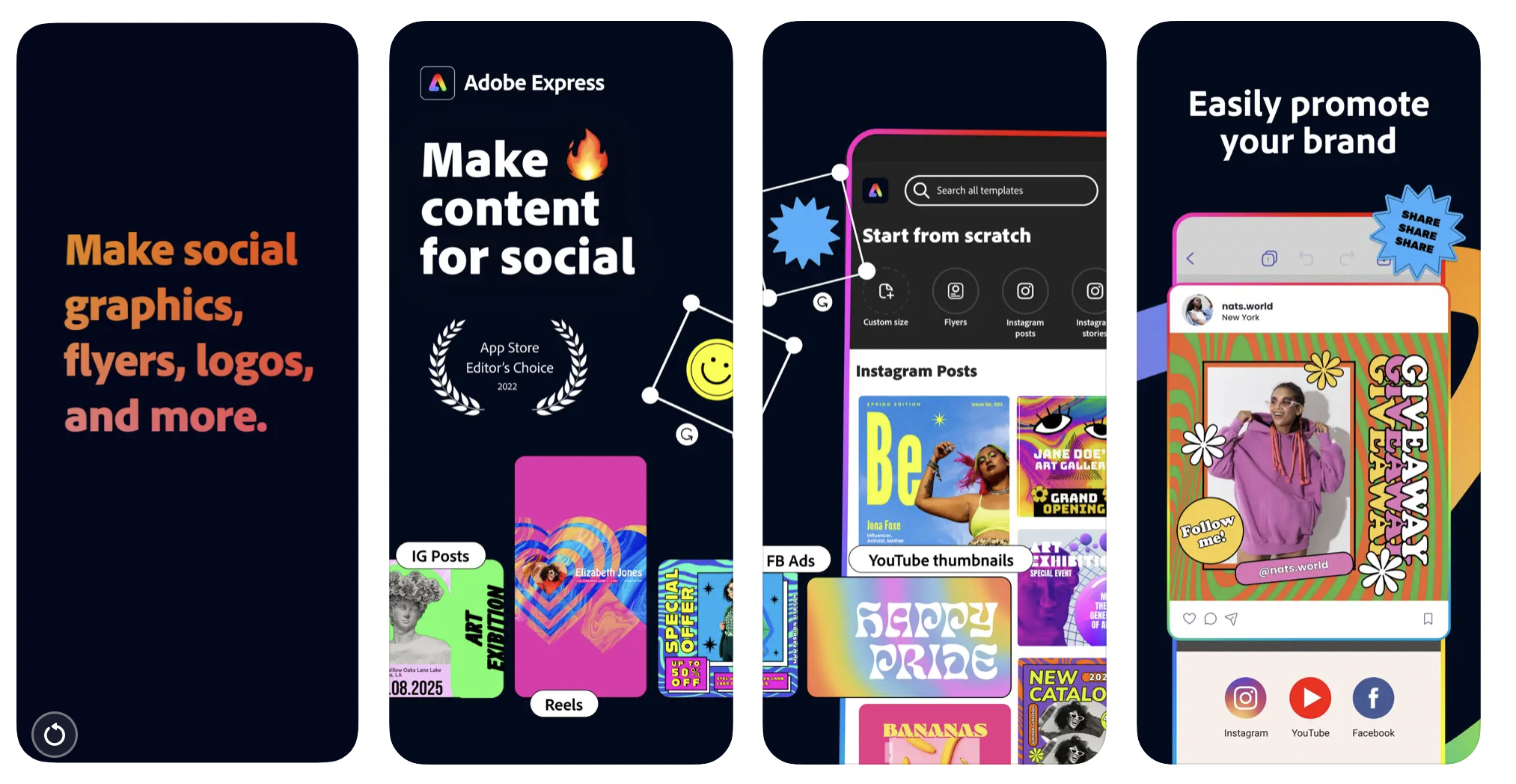 Adobe Express gives you AI-recommended templates to create graphics for your socials, logos, posters and flyers, banners, and more. The app also has easy-to-use tools like a background remover, text effects, and font recommendations. You can upgrade to a premium membership to unlock more templates and features.
➡️ Download Adobe Express for iOS or Android (free)
5. InShot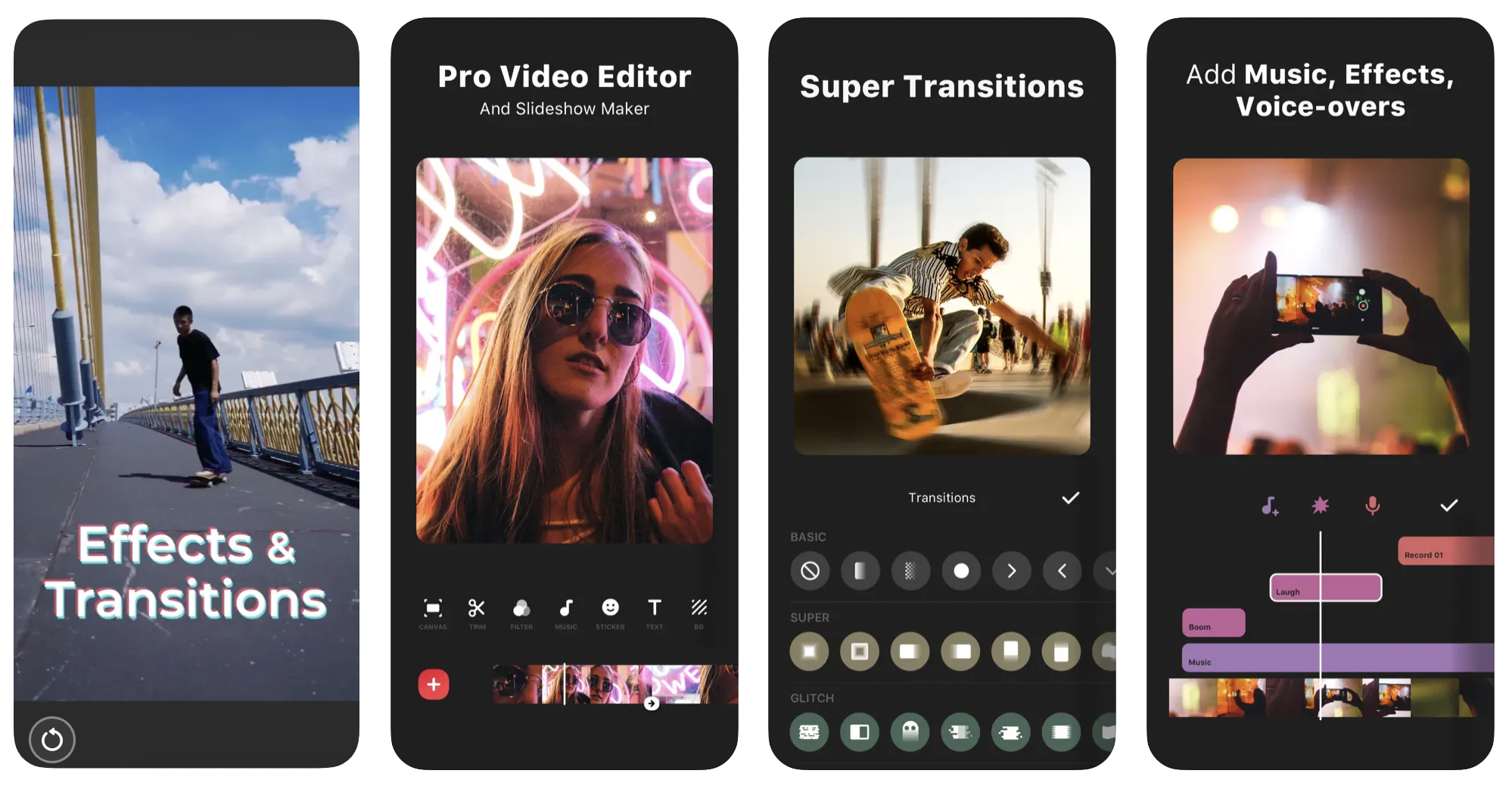 InShot provides advanced photo and video editing with easy-to-use features and AI tools. Add music, stickers, emojis, and text to your videos or various sound effects.
You can upgrade to an InShot Pro Unlimited Subscription for access to all features and paid editing materials, including stickers, filter packages, etc. Watermarks and advertisements will be removed automatically.
➡️ Download InShot for iOS or Android (free)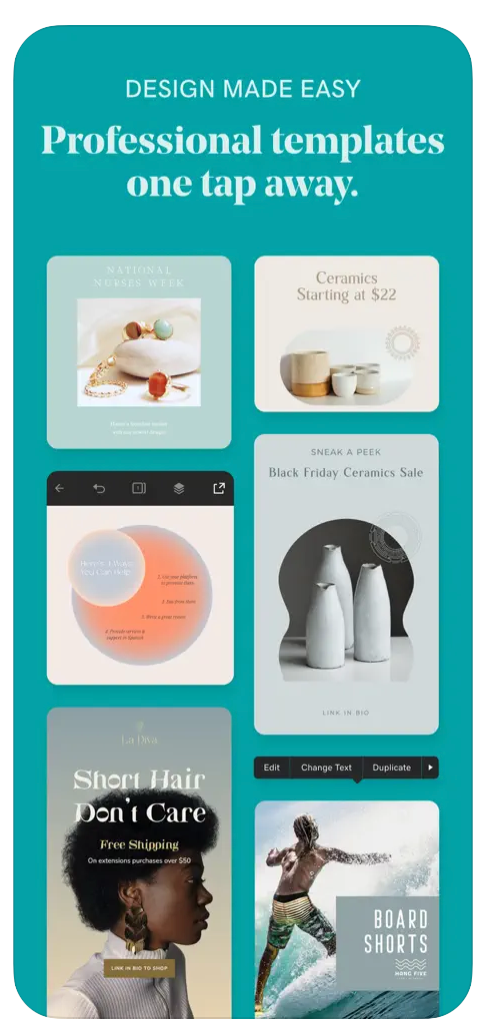 GoDaddy Studio is one of the most popular mobile apps for editing photos and videos. With GoDaddyStudio, you can design social media posts, ads, posters, and more using their customizable templates.
➡️ Download Over for iOS and Android (free)
Layout (by Instagram) lets you easily combine multiple photos into a single image to create collages. Upload your photos, choose from a range of custom layouts, drag and drop photos to rearrange them, pinch to zoom, or pull the sides of each photo to adjust its size and get your layout just right.
➡️ Download Layout for iOS or Android (free)
Canva helps you create professional designs and graphics even if you don't have a lot of experience in graphic design. Edit photos, videos, or gifs, plus add text, elements, stickers, borders, frames, and more. There are also more than hundreds of professional eye-catching templates and you can tweak them to suit your need.
➡️ Download Canva for iOS and Android (free)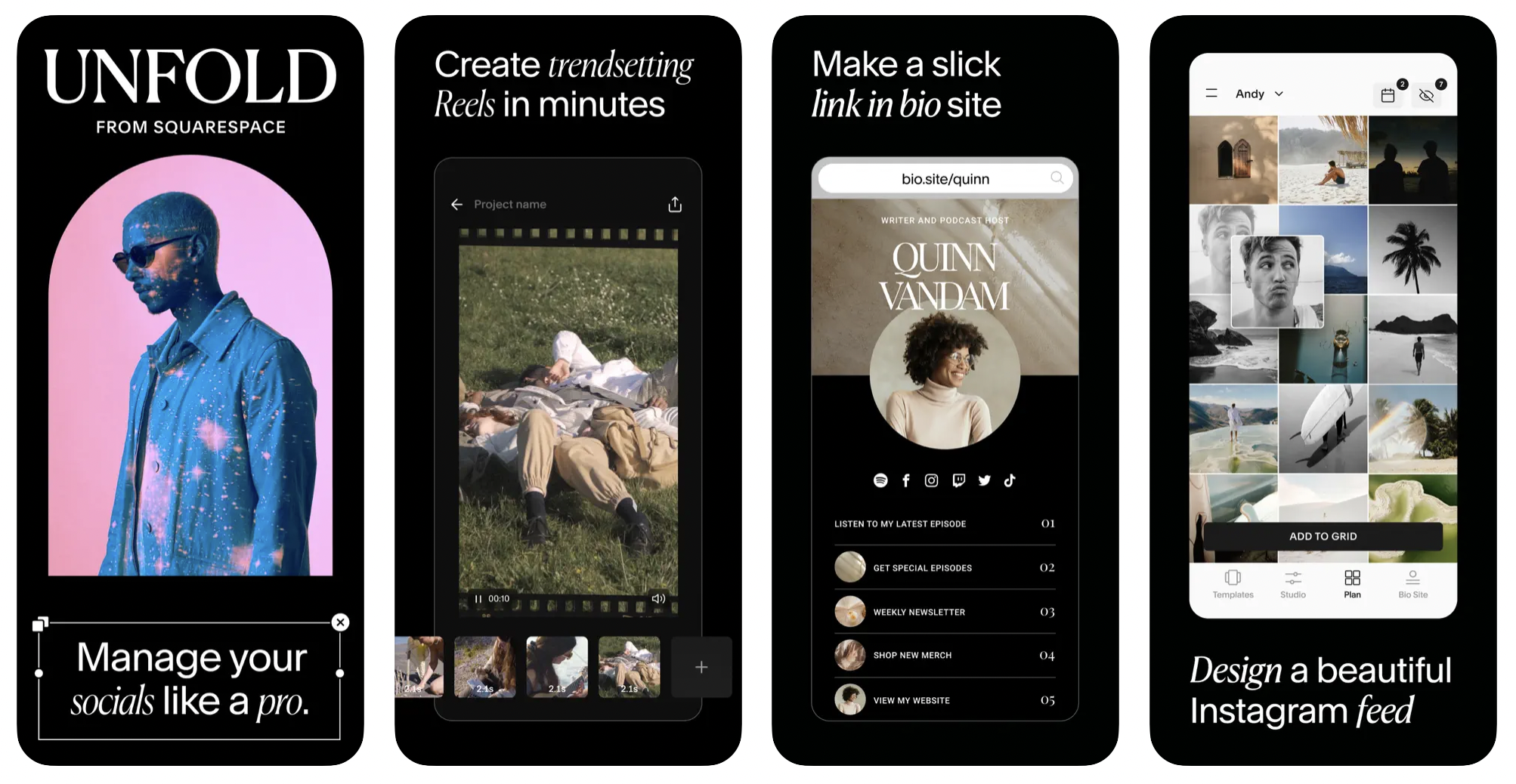 Unfold is a free app that lets you create beautiful content for your socials with lots of templates to work with. Stitch video clips together with Reels templates, remove backgrounds with their AI editing tool, and create graphics for your Instagram Stories with template collections like their Film collection. Upgrade to Unfold Pro for access to more templates and to upload your business assets (logo, fonts, brand colors, etc.).
➡️ Download Unfold for iOS and Android (free)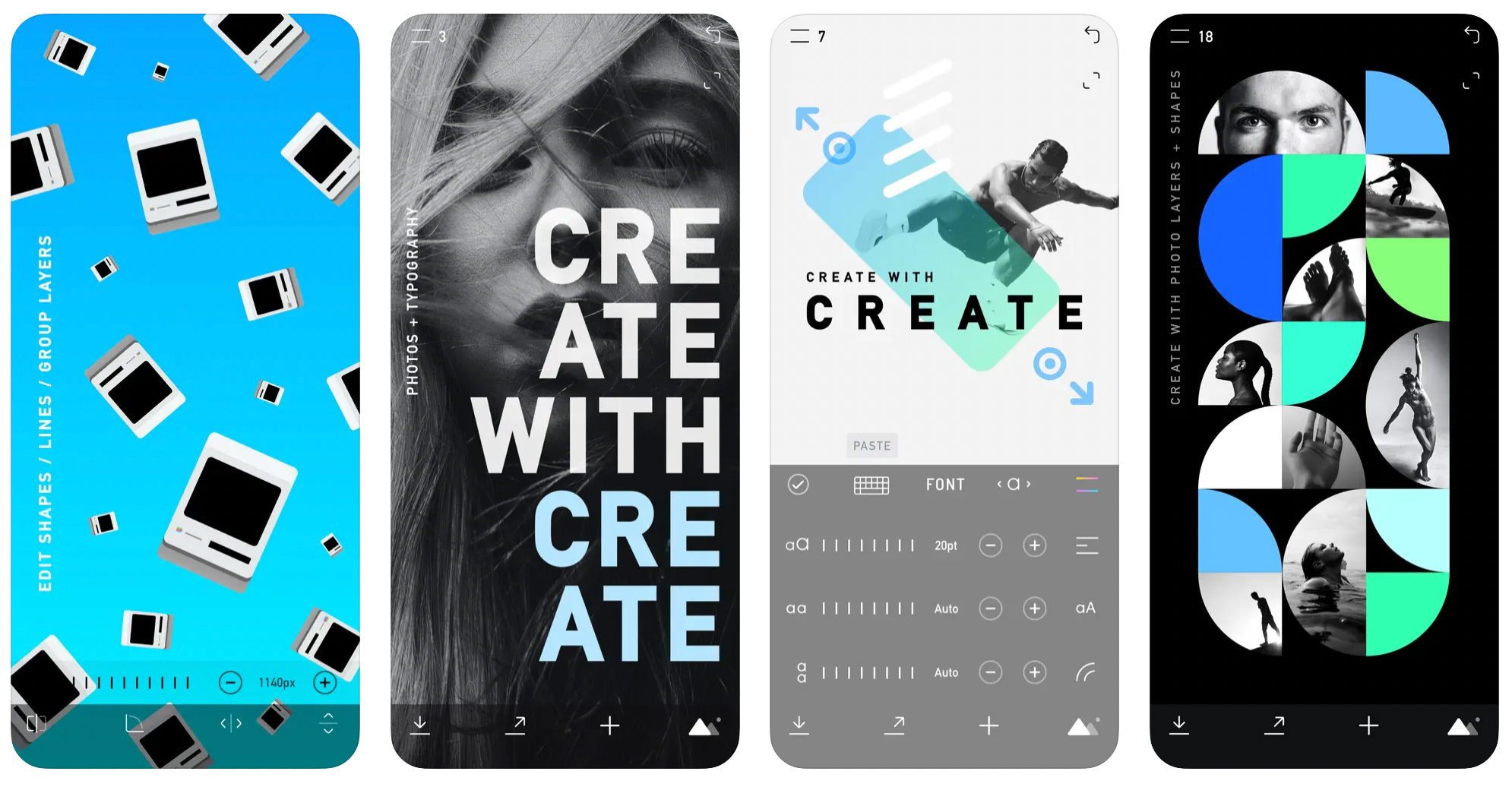 With Create, you can develop sophisticated designs and graphics; communicate ideas easily using images, typography, shapes, and icons, or draw your own shapes and lines. Create is awesome for adding graphics, text, and arrows to photos. You can create your own graphics, logos, and stickers from scratch using Create.
➡️ Download Create for iOS (free)
Snapseed is a powerful photo editing app by Google. You can edit pictures using swiping gestures to select different effects and enhancements or opt for an automatic adjustment of color and contrast.
➡️ Download Snapseed for iOS or Android (free)
12. Videoleap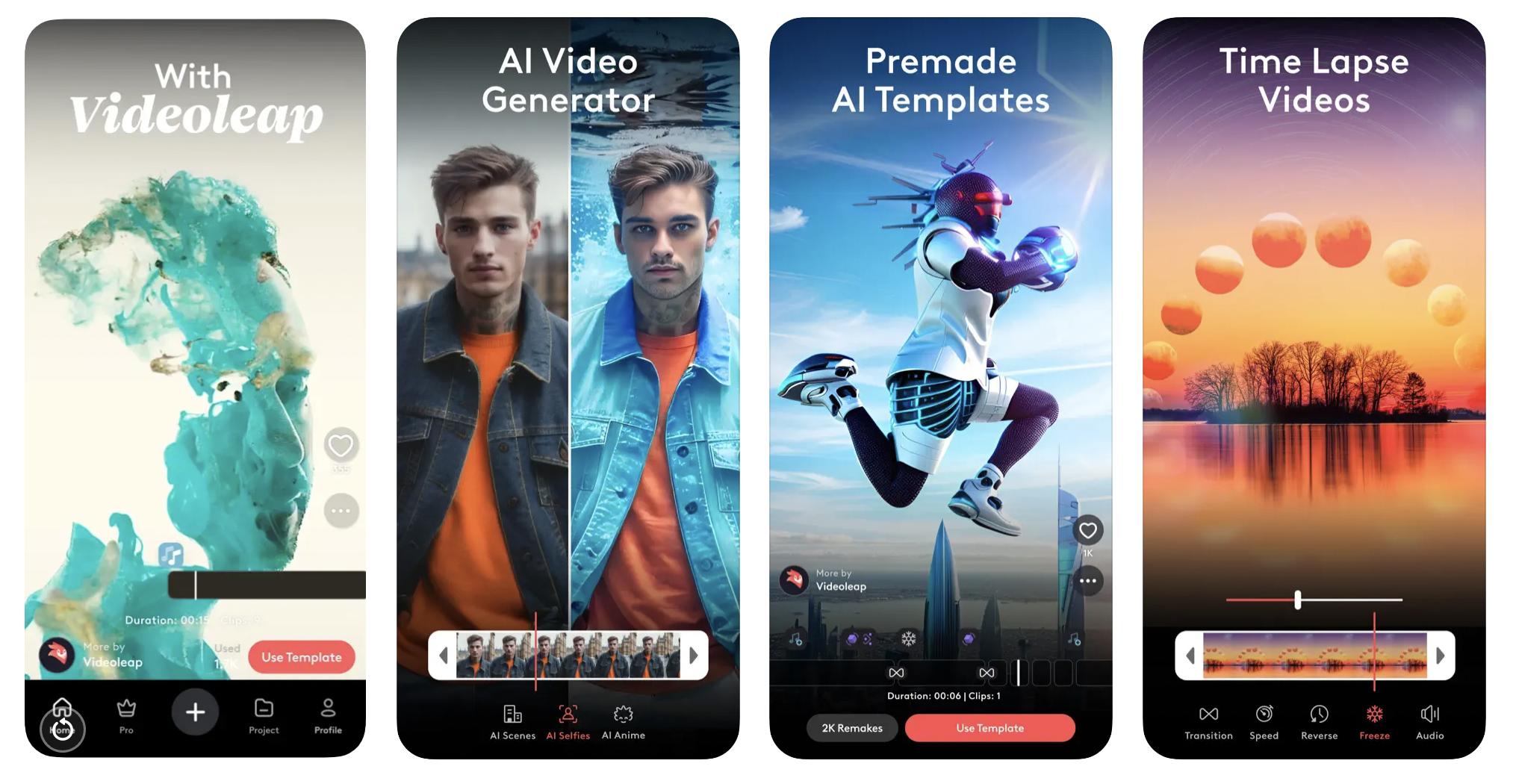 Videoleap is a video-editing app that includes hundreds of professional tools including video effects, filters, transitions, music and audio effects, green screen, and more. Create your own video content from scratch or try out their ready-to-use templates.
➡️ Download Videoleap for iOS or Android (free)
Publish

4 apps to share your content across networks

Once you've crafted the perfect piece of content, the next step is to publish it across your social media channels.
Here are five awesome apps to help you with publishing your social media content: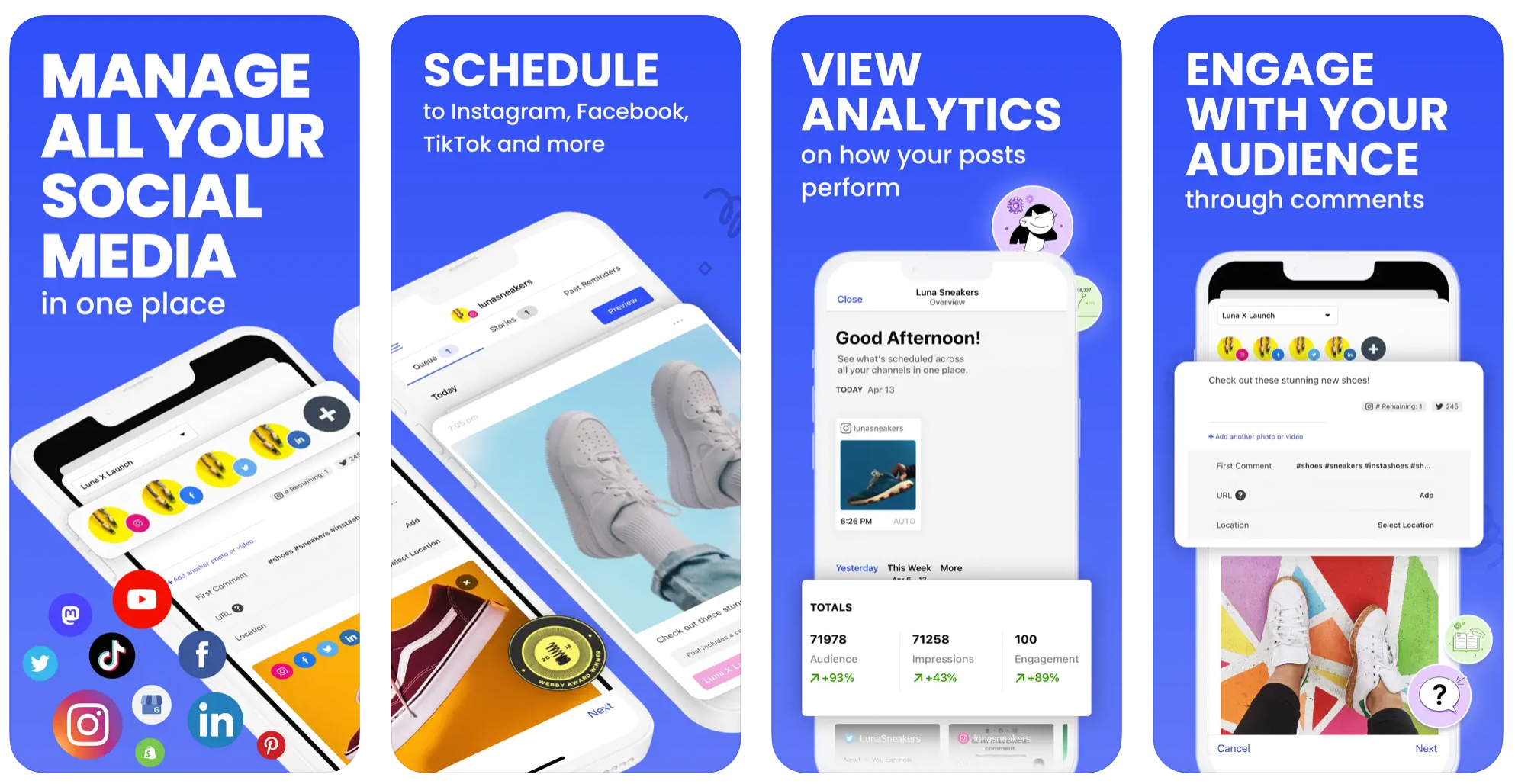 Share and schedule posts to Twitter, Facebook, Instagram, TikTok, YouTube, Google Business Profile, Mastodon, Pinterest, and LinkedIn – all from one place with Buffer.
Any link, text, pictures or videos you want to share, just add them to Buffer. Your updates will automatically be scheduled and spaced out throughout the day to post to your favorite social networks.
Our mobile apps can help you:
Share to multiple Twitter, Facebook, Instagram, LinkedIn, TikTok, YouTube, Mastodon, Google Business Profile, and Pinterest accounts from one place.
Get analytics for each update you share: Clicks, Retweets, Repins, Likes, Shares, Mentions and more.
Schedule your posts automatically so you never have to worry about setting a time and date. Just hit "Buffer".
Schedule your posts using a Custom Time to schedule for specific events or campaigns.
Share from all of your favorite apps using our iOS extension. Including scheduling native retweets from Safari, Twitter, and more!
➡️ Download Buffer for iOS or Android (free)
Easily create your own content systems with IFTTT to automatically share content across your social media accounts. The product stands for "if this, then that," and you can use it to set up automations like "if I publish a blog post, then share the post on LinkedIn as well. It's a simple-to-use no-code app that can help elevate your social sharing.
➡️ Download IFTTT for iOS or Android (free)
3. Notion
Notion is a true powerhouse when it comes to content. You can use Notion for your content calendar, and try out the Notionsocial plug-in to publish all of your content directly from Notion.
➡️ Download Notion for iOS or Android (free)
4. Meta Business Suite
Meta Business Suite is a tool Meta built to help you to manage activity on multiple Facebook Pages and Instagram accounts, all in one place.
➡️ Download Meta Business Suite for iOS or Android (free)
Over to you
Thank you for checking out this post. We hope you find some of these social media apps useful for creating content on the go.
We'd love to hear what your favorite social media apps for creating, editing and publishing content are.
Let us know in the comments below.
Brought to you by
Did you find this article helpful? You might also like our all-you-need social media toolkit.
Get started for free now