Summary
Find out the best image sizes for all types of Instagram posts to ensure your content is always pixel-perfect.
You will learn
Specific pixel heights and widths for Instagram landscape, portrait, and square feed posts
Ideal dimensions for Reels and Stories
How creators and businesses are using each type of post
With so many different post options, it's hard to know which Instagram image size to use and when.
If you're looking for guidance that's a little more detailed than "a width of at least 1,080 pixels with an aspect ratio between 1.91:1 and 4:5," we can help.
Because Instagram is a platform centered around visually appealing content, using this Instagram image size guide is crucial if you want to give your posts the best chance of getting that all-important engagement.
💡
Schedule your Instagram posts, carousels, stories, and reels with Buffer
Visually plan your content calendar and make your profile a "must-follow" with Buffer's suite of
Instagram scheduling and analytics tools
.
Instagram image dimensions for each post type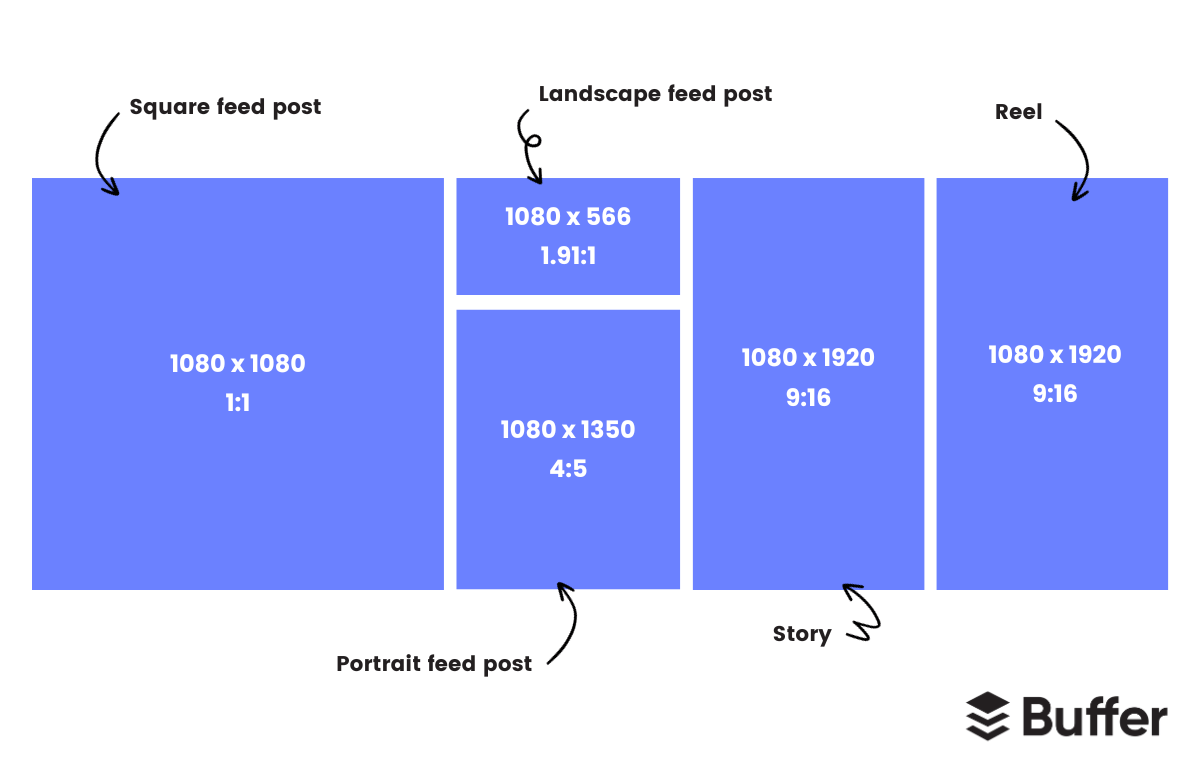 When you search for the best photo size for the Meta-owned social media platform, you'll find references to pixels as well as the ideal aspect ratio for each post type. Because we're not all graphic designers or photographers, let's unpack what those jargony terms mean.
Aspect ratio refers to the ratio of width to height. For example, a square image has a 1:1 aspect ratio because the width and height are the same.
Pixels are a unit of measurement. The term technically refers to one of the small dots that make up an image on a screen, but don't get too bogged down in that. What we're really talking about is the image's resolution.
Here's an easier way to think of it: Instagram aspect ratio refers to the shape of your post (square, vertical rectangle, or horizontal rectangle), while image size refers to the resolution/quality of the image file.
Before we get into the specifics, it's worth noting that the photo-sharing app accepts a variety of file formats:
For photos: PNG, JPG, BMP, and non-animated GIF files
For video: MOV and MP4
Because Instagram has various post types, there is not a single best image size for Instagram. Here's a breakdown of ideal image sizes for each type of post.
💡
If all this sounds a little intimidating, we recommend using a tool like
Canva
, where you can simply search for your desired image size in a template — no need to fuss over resizing.
Instagram feed post dimensions
Instagram supports three types of feed posts: square, landscape, and portrait. These are the recommended Instagram post sizes and aspect ratios for each:
Square: 1080 x 1080 px (1:1)
Landscape/horizontal: 1080 x 566 px (16:9)
Portrait/vertical: 1080 x 1350 (4:5)
While many businesses stick to the traditional square post, there are advantages to each type.
Square posts are great for symmetrical images that will work well in the square shape, but many photos benefit from landscape or portrait orientation.
Vertical orientation works well for portrait photos that use the entire frame, such as photos of tall buildings or structures. For example, many of @lulumoonowlbooks's whimsical AI creations, like this one, are best displayed vertically in all their portrait glory.

Landscape orientation, as the name suggests, works well for photos of wide landscapes. @lifetreecollection relies on this post size for the landscape photos of beautiful vistas they often share, like the one below.
Regardless of which orientation you choose, your profile page grid will show square photos (so be mindful of that when cropping your portrait and landscape photos).
Carousel posts can use any of these image sizes, but all images and videos within the carousel will have the same orientation as the first photo. So, if your first Instagram photo is a 1080 x 1080 px square, all the following photos and videos in the carousel will be cropped to that size as well, as in the below carousel by @thejesshinds.
Instagram Story size
For Instagram Stories, vertical images or videos are highly recommended. If you use a landscape orientation, your videos and photos will show up with a lot of dead space around them.
The ideal Instagram Story size is 1080 x 1920 px (9:16).
Instagram Stories are designed for people to view them full-screen while holding their phone vertically. Using portrait mode for both videos and images allows you to take advantage of the entire screen.
If you've got a great video or image in landscape, consider sharing it as an Instagram feed post instead of a Story.
Instagram Reels size
Instagram Reels must be shot vertically in portrait orientation. Before you ask: all Instagram videos are uploaded as Reels (the platform called time on IGTV videos, its old video offering, when they removed it from the mobile app back in 2022).
The ideal size for your Reel is 1080 x 1920 px (9:16).
For profile grids, Instagram Reels are automatically cropped to the square size, but viewers will see the full vertical video when they tap on in or if they come across it in their feed or the Explore or Reels pages.
Instagram Reels cover photo
When uploading a Reel, Instagram will automatically select a frame to appear as the cover or thumbnail of your Reel that shows up in your Instagram feed — but you do have the option to choose your own cover.
Just tap 'Edit cover' in the final step of Reel creation. From there, you can either choose a frame from the video yourself or upload a new photo from your camera role.
Bear in mind that when looking at your Instagram grid, your Reel cover will always be cropped to square. Though there is a handy feature that allows you to see how your image or frame will be cropped in the 'Edit cover' section of the Reels upload process and resize it if need be (really useful if you're curating an aesthetic Instagram grid, @ioanapuiuofficial has done below).
Instagram profile picture size
While not technically a post, it's worth noting that there is a recommended size for your Instagram profile picture too, small as it may be.
IG suggests a 1:1 aspect ratio at 320 x 320 pixels for profile photos.
Are you using a variety of Instagram post types?
Instagram's algorithm takes note of the types of posts each person interacts with and uses that data to determine which types of posts will dominate each individual's feed.
So, if a person gravitates towards Instagram Reels, they'll see more Reels than other post types in their timeline. Using a mix of all post types increases your chances of showing up in more Instagram timelines.

But if you don't pay attention to Instagram image size requirements for each post type, you'll end up with awkwardly cropped photos, pixelated images, wasted space in an Instagram Story, or other aesthetic issues. And we all know that on Instagram, high-quality images are everything.
💡
Did you know you can schedule Instagram posts, Reels, and Stories with Buffer? Get started with Buffer for free and take control of your Instagram marketing.
Brought to you by
Did you find this article helpful? You might also like our all-you-need social media toolkit.
Get started for free now