Summary
Find out the best image sizes for all types of Instagram posts to ensure your content is always looking pixel perfect.
You will learn
Specific pixel heights and widths for Instagram landscape, potrait and square feed posts
Ideal dimensions for Reels, IGTV and Stories
How creators and businesses are using each type of post
With so many different post options, it's hard to know which Instagram image size to use and when. If you're looking for guidance that's a little more detailed than "a width of at least 1080 pixels with an aspect ratio between 1.91:1 and 4:5," we can help.
Because Instagram is a platform centered around visually appealing content, using this Instagram image size guide is crucial if you want to give your posts the best chance of getting engagement.
💡
Schedule your Instagram posts, carousels, stories, and reels with Buffer
Visually plan your content calendar and make your profile a "must-follow" with Buffer's suite of
Instagram scheduling and analytics tools
.
Instagram image size for each post type
When you search for the best image size for Instagram, you'll find references to pixels as well as the ideal Instagram aspect ratio for each post type. Aspect ratio refers to the ratio of width to height. For example, a square image has a 1:1 aspect ratio because the width and height are the same. The recommended Instagram aspect ratio for a landscape post, on the other hand, is 16:9.
Instagram image size refers to the image's resolution — the number of pixels (px) in the height and width of your photo. For example, Instagram square post dimensions are 1080 x 1080 px, which is also a 1:1 aspect ratio.
Here's an easier way to think of it: Instagram aspect ratio refers to the shape of your post (square, vertical rectangle, or horizontal rectangle), while image size refers to the resolution/quality of the image file.
Because Instagram has various post types, there is not a single best image size for Instagram. Here's a breakdown of ideal image sizes for each type of post.
Instagram feed post dimensions
Instagram supports three types of feed posts: square, landscape, and portrait. These are the recommended image sizes and aspect ratios for each:
Square: 1080 x 1080 px (1:1)
Landscape/horizontal: 1080 x 566 px (16:9)
Portrait/vertical: 1080 x 1350 (4:5)
While many businesses stick to the traditional square post, there are advantages to each type. Square posts are great for symmetrical images that will work well in the square shape, but many photos benefit from landscape or portrait orientation.
Take a look at this photo of a tall fountain. Notice how much of the structure is cropped out in the square post.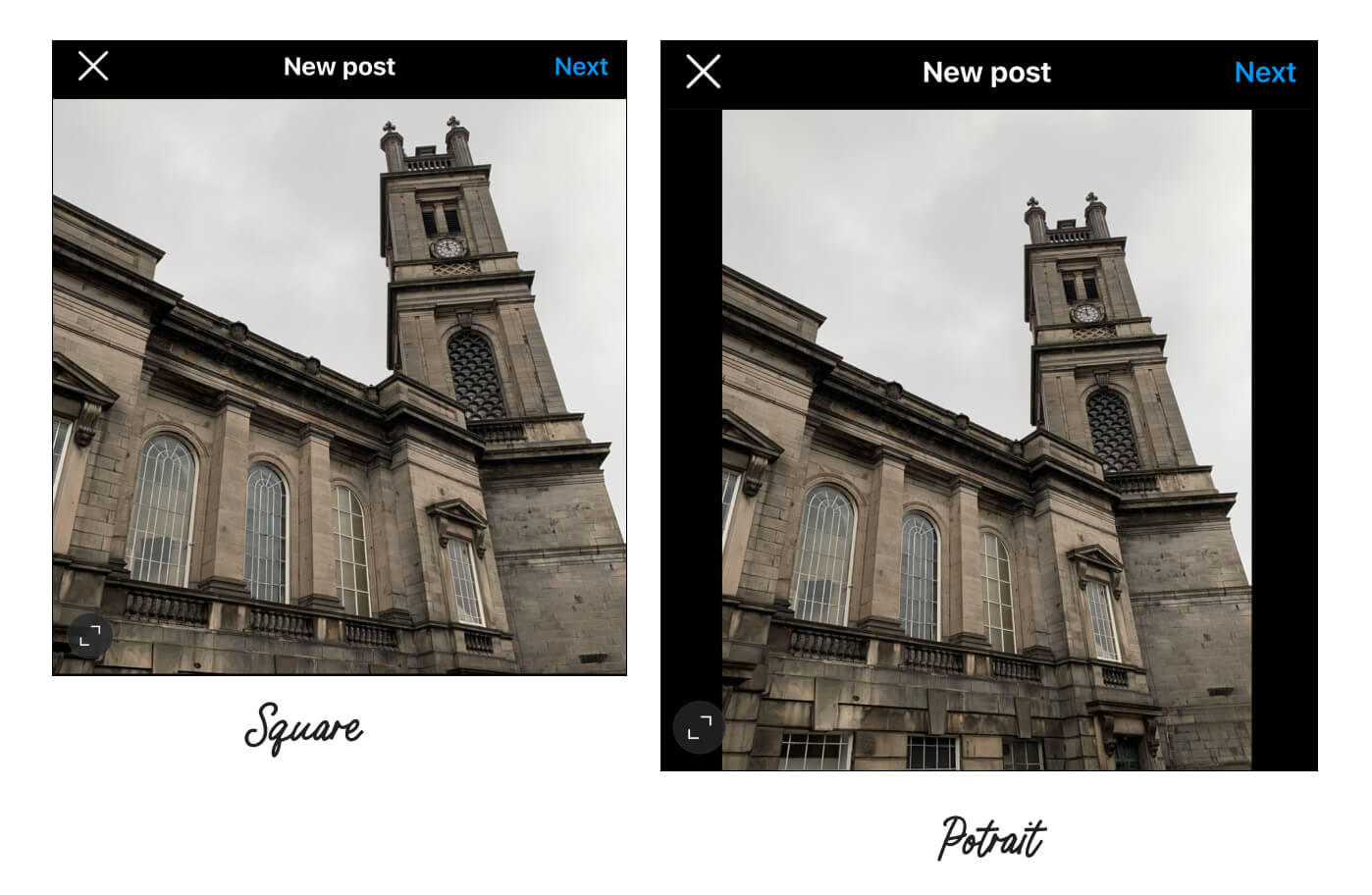 Landscape orientation, as the name suggests, works well for photos of wide landscapes. Regardless of which orientation you choose, your profile page grid will show square photos. Carousel posts can use any of these image sizes, but all images and videos within the carousel will have the same orientation as the first photo. So, if your first photo is a 1080 x 1080 px square, all following photos and videos will be cropped to that size as well.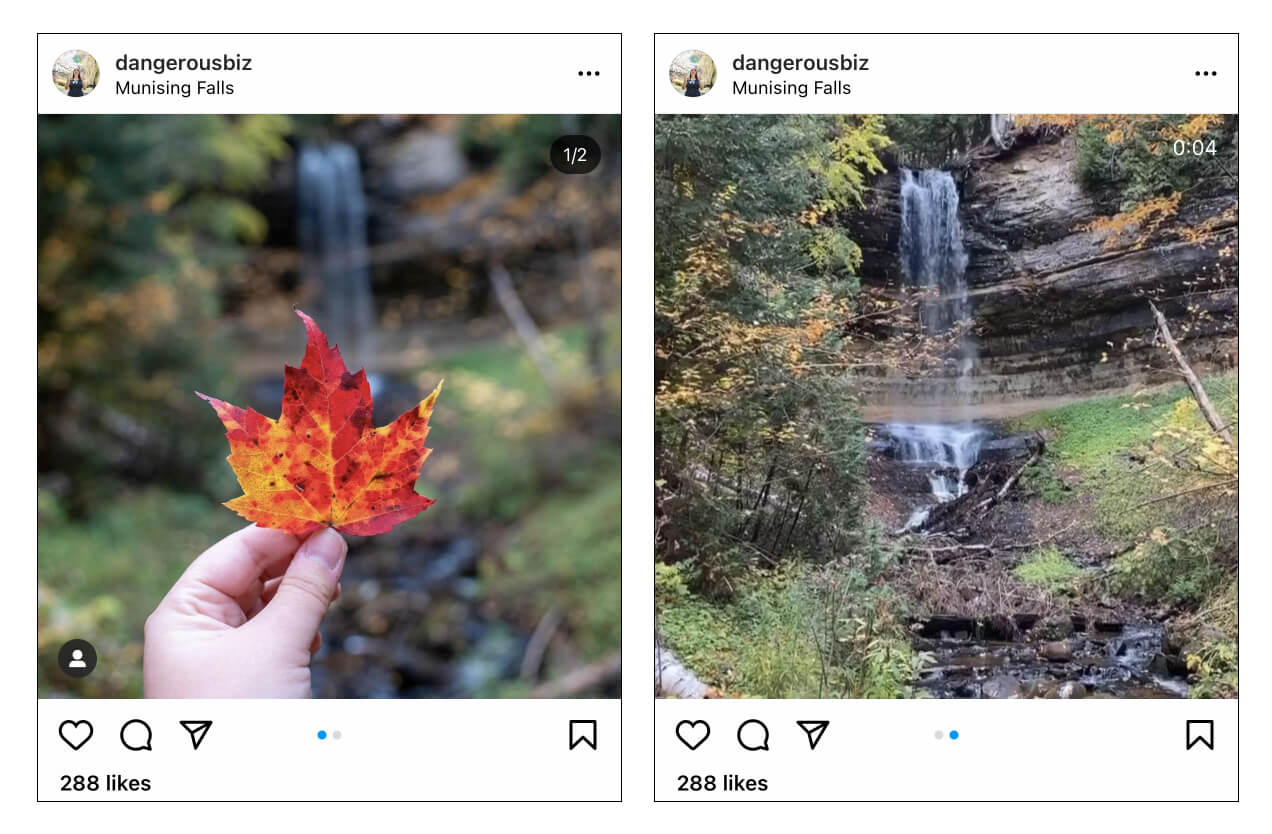 Instagram video dimensions
Single videos within the Instagram feed can be either landscape, portrait, or square. Just like with posts, if you include a video in a carousel post, the video will be cropped to fit the orientation of the first image.
Square: 1080 x 1080 px (1:1)
Landscape/horizontal: 1080 x 566 px (16:9)
Portrait/vertical: 1080 x 1920 px (9:16)
Generally, you'll want to stick with the orientation you filmed with — if you held your phone and recorded a portrait/vertical video, it will probably look best in that same orientation.
Here are Instagram video posts featuring three different bookstores. Think about why each business might have chosen square, portrait, or landscape to showcase their books.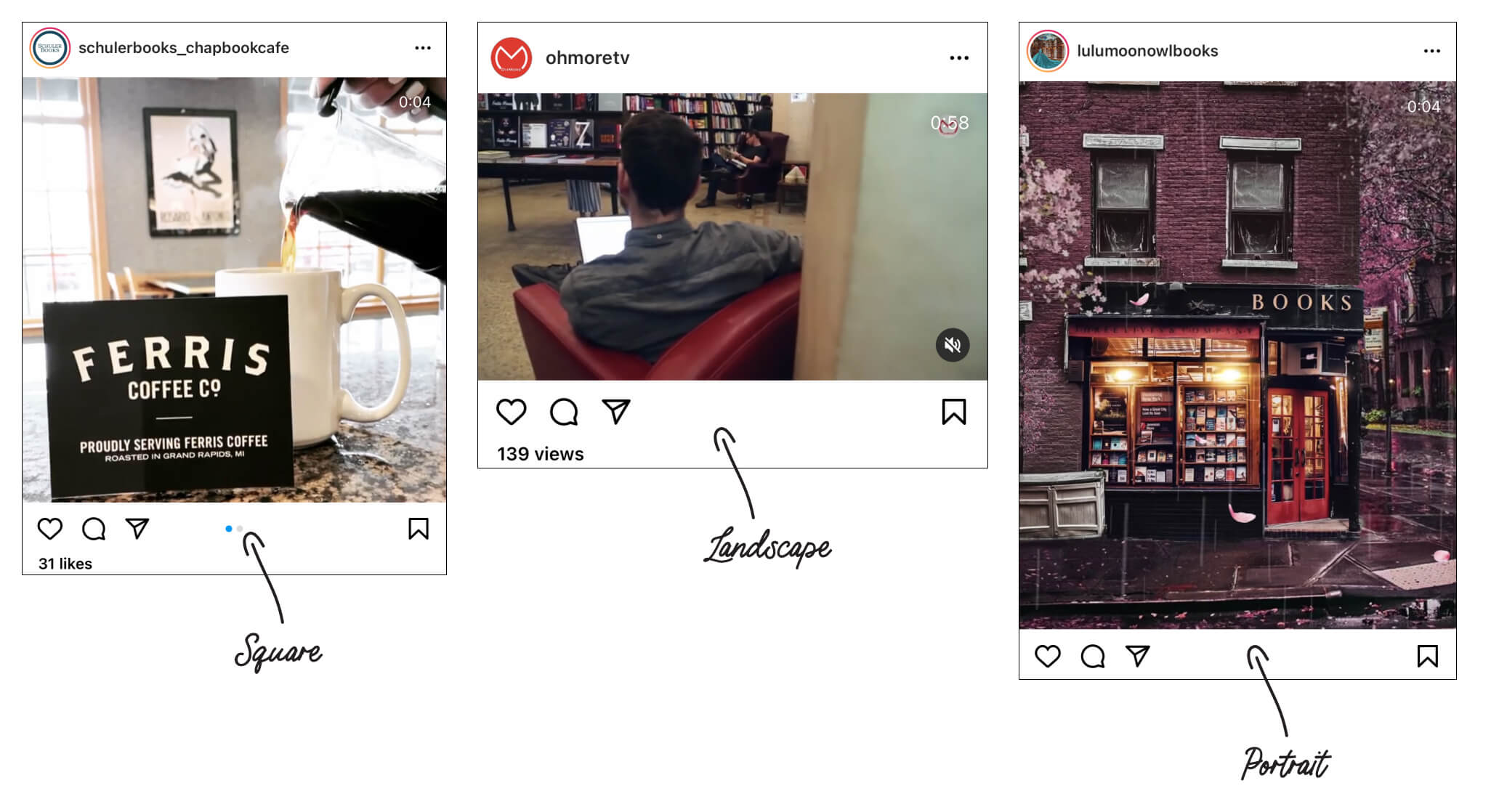 While the square video from Schuler Books puts the visual focus on the bag and the books being stacked around it, Lulu Moon Owl Books made the tall building and falling rain the focus by using portrait orientation. Oh More's video has a bookstore tour feel because it pans the shelves and uses landscape orientation. Each video works because the accounts chose the Instagram image size that put the visual focus on the most important aspect of the video.

Keep in mind that single videos on Instagram can be between 3-60 seconds. Once you cross the 60-second mark, you'll need to use IGTV.
IGTV dimensions
While Instagram allows landscape IGTVs, the app recommends portrait orientation. Regardless of which orientation you use, all previews in timelines and profile pages will show a 4:5 center crop of your video.  
Portrait/vertical: 1080 x 1920px (9:16)
Landscape/horizontal: 1080 x 566 px (16:9)
What's great about IGTV posts is you have the chance to edit the preview content. Normally, Instagram will automatically show the first 15 seconds of your video as the preview, but if you use portrait orientation, you can use "edit preview" to select the still image and the 15-second clip for the preview. These options are not available for landscape IGTVs, so consider the limitations before you decide on an orientation.
So, which is the best Instagram image size for IGTV? It depends. Let's look at examples of each.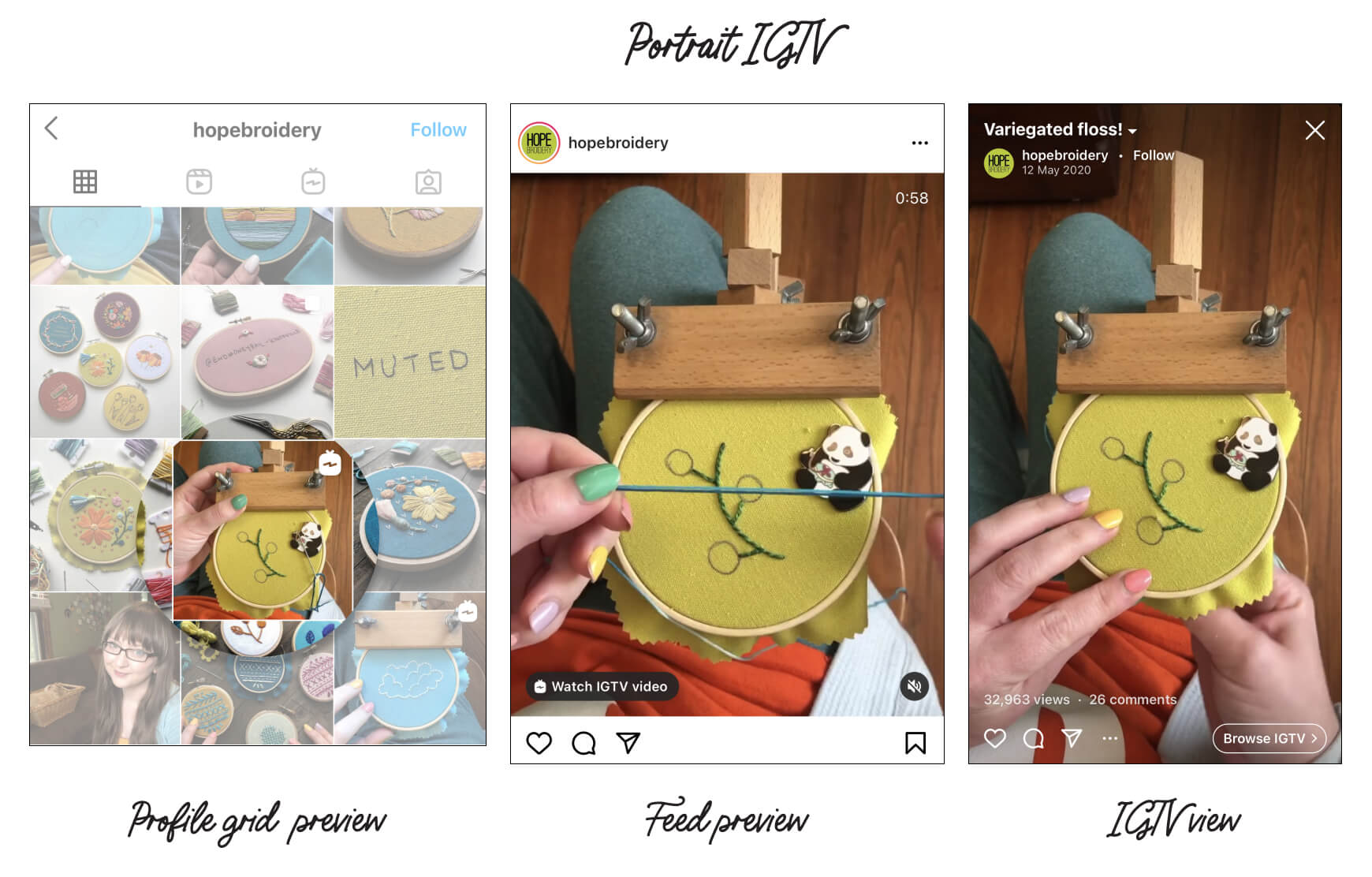 See how the tutorial takes up the entire phone screen when viewing the IGTV? That's a major benefit of filming IGTVs while holding your phone vertically. But there are times when landscape orientation could work in your favor, too. Most notably (and unsurprisingly), when it comes to filming landscapes.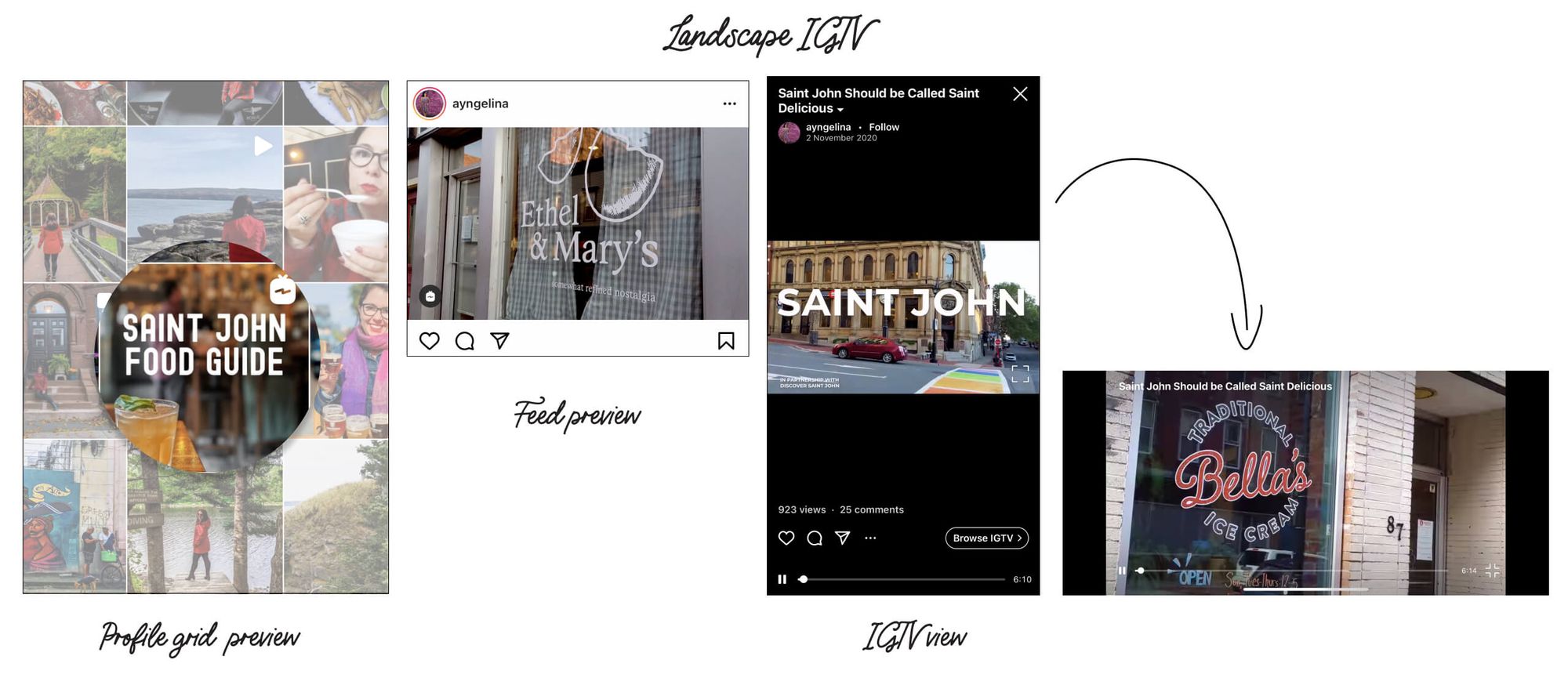 While Instagram users can view landscape IGTV in full-screen mode, they'll have to turn their phone to the side to do it. Otherwise, they'll see a much smaller version of the video (like in the potrait screenshot above). While those are serious downsides, consider how a sweeping view of water would look in a vertical view. Probably not as impressive, right? Sometimes, the trade-offs with landscape IGTVs are worth it.
Instagram Story dimensions
For Instagram Stories, vertical/portrait videos are highly recommended. If you use a landscape orientation, your videos and photos will show up much like landscape IGTVs — with a lot of dead space around them.
Portrait/vertical: 1080 x 1920 px (9:16)
Instagram Stories are designed for people to view them while holding their phone vertically. Using portrait for both videos and images allows you to take advantage of the entire screen.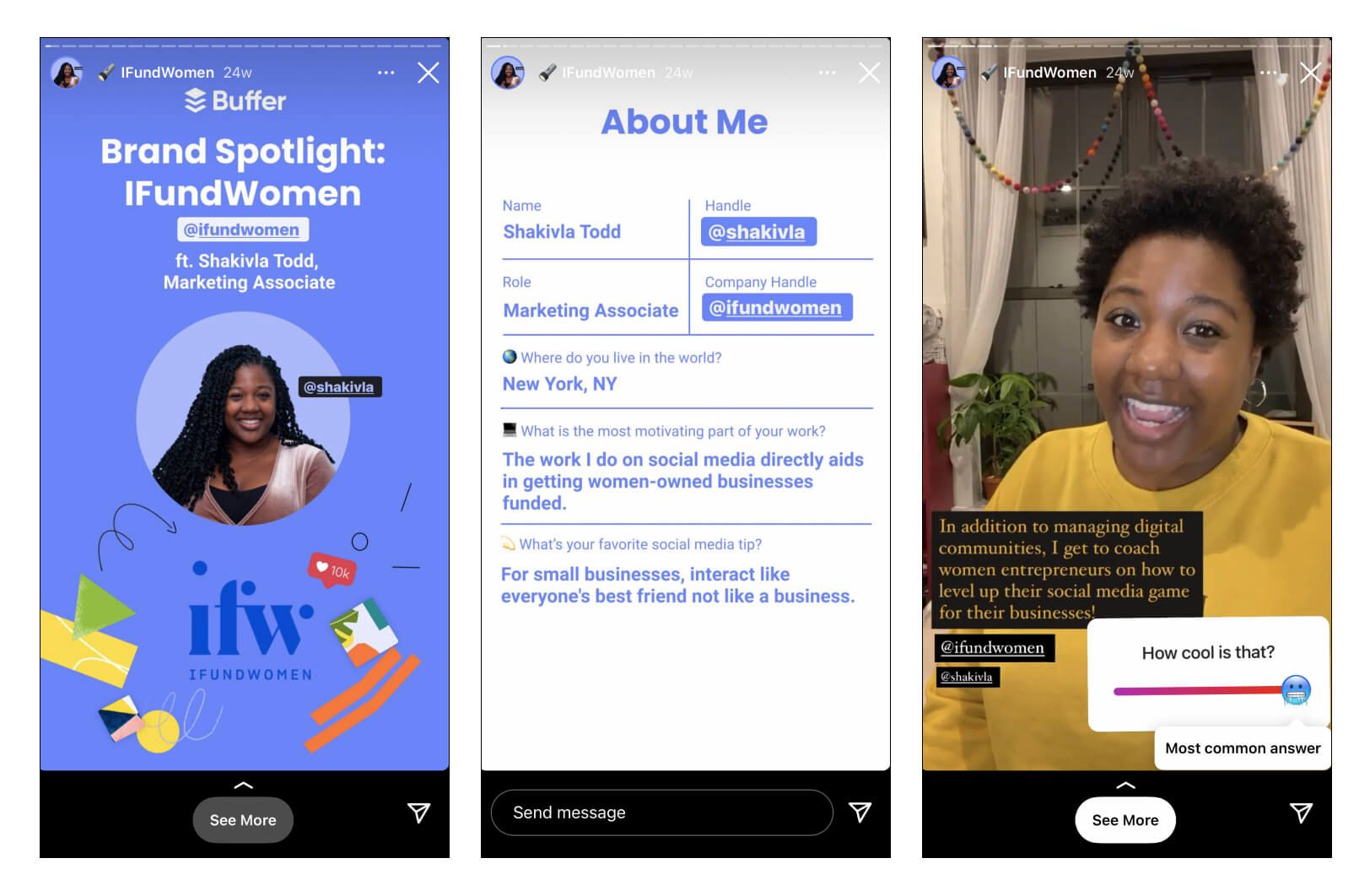 If you've got a great video or image in landscape, consider sharing it as an Instagram feed post instead of a Story.
Instagram Reels dimensions
Instagram Reels must be shot vertically in portrait orientation. Unlike IGTVs, there's no option to open Instagram Reels in full-screen mode — Reels play directly in the Instagram timeline.
Portrait/vertical: 1080 x 1920 px (9:16)
For profile grids, Instagram Reels are automatically cropped to the square size, but viewers will see the full vertical video.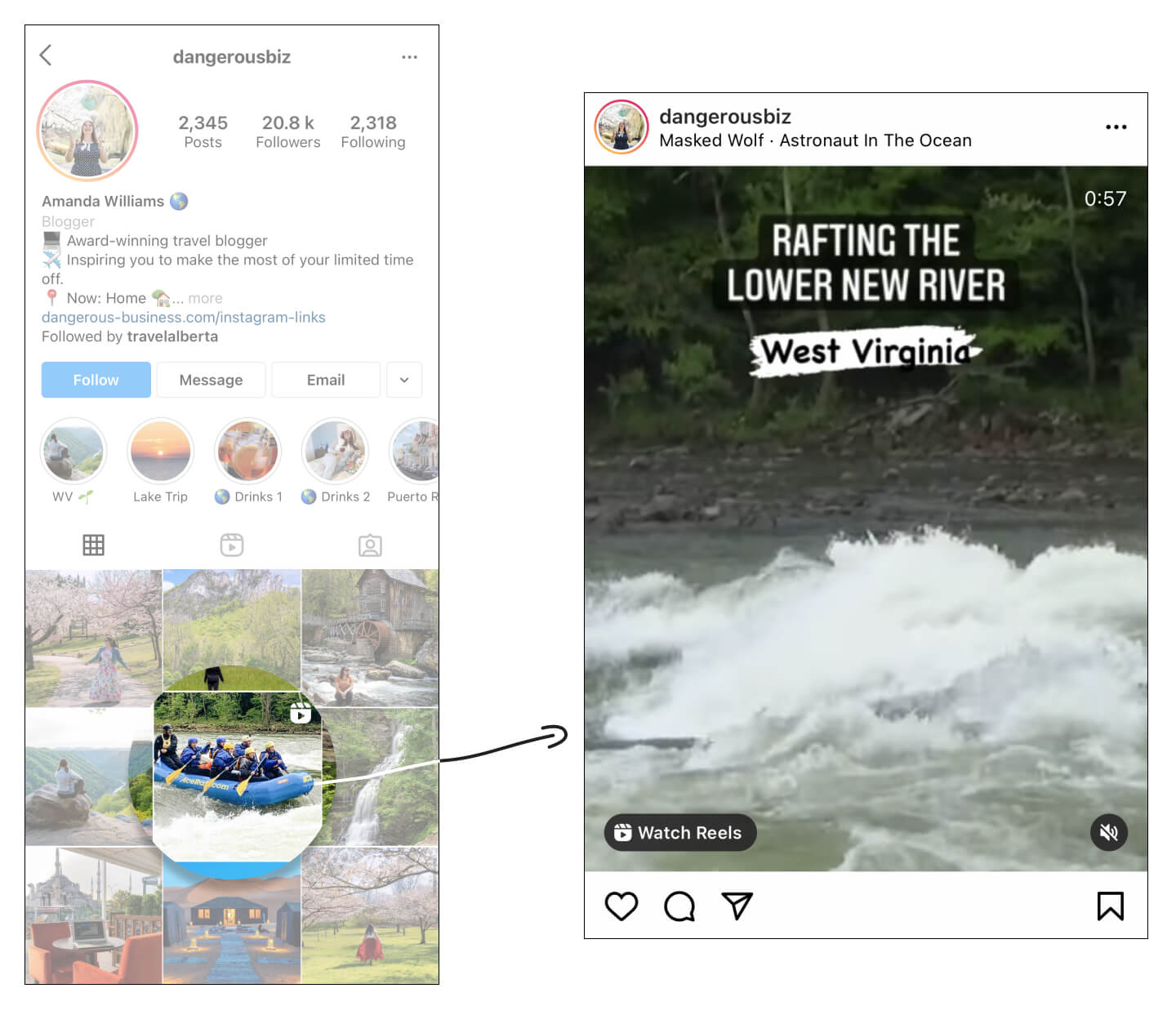 Are you using a variety of Instagram post types?
Instagram's algorithm takes note of the types of posts each person interacts with and uses that data to determine which types of posts will dominate each individual's feed. So, if a person gravitates towards Instagram Reels, they'll see more Reels than other post types in their timeline. Using a mix of all post types increases your chances of showing up in more Instagram timelines.

But if you don't pay attention to Instagram image size requirements for each post type, you'll end up with awkwardly cropped photos, pixelated images, wasted space in an Instagram Story, or other aesthetic issues. And we all know that on Instagram, aesthetics are everything.

Did you know you can schedule Instagram posts and Stories with a Buffer Publish account? Get started with Buffer for free and take control of your Instagram marketing.
Brought to you by
Did you find this article helpful? You might also like our all-you-need social media toolkit.
Get started for free now