Imagine this scenario: You have planned to post once a day on Facebook this week.
On Monday morning, you log in to Facebook and navigate to your company's Facebook Page. You spend some time crafting the perfect post and wait for the supposed best time to post. You read that 3pm is a good time as people are taking a break from work and checking Facebook. So you wait…
At 2:55pm, you go back to the browser tab that has been opened since 10am. When the clock strikes 3pm, you hit "Publish". Woohoo!
And then you repeat that for the next four days.
If that's not too far from your day-to-day experience, I would love to suggest a simple tactic that can help you get better results and make you a better marketer…
Scheduling your Facebook posts.
Keen to find out more? Let's read on.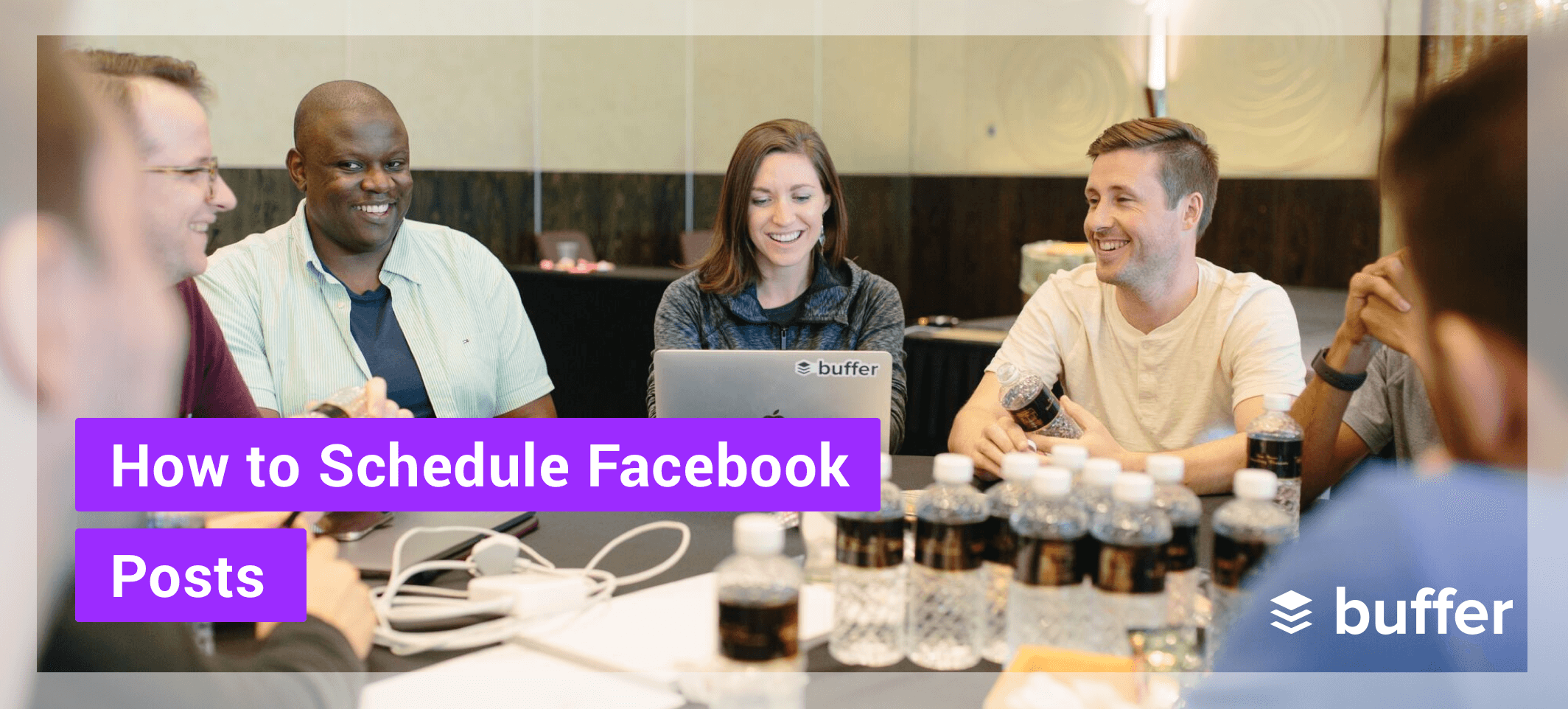 3 benefits of scheduling your Facebook posts
You might be wondering, "the way I post on Facebook is just fine. Why do I have to change?" Well, here are three top benefits of scheduling your Facebook posts, compared with publishing it manually yourself.
(Oh, and if you are thinking that Facebook might penalize you for using a third-party tool, we'll discuss that in just a moment.)
1. Maintain consistency and quality
The biggest benefit of scheduling your Facebook posts is to ensure that you're posting consistently and to maintain the quality of your posts. Quantity and quality.
When you are scheduling your Facebook posts, you're essentially planning ahead.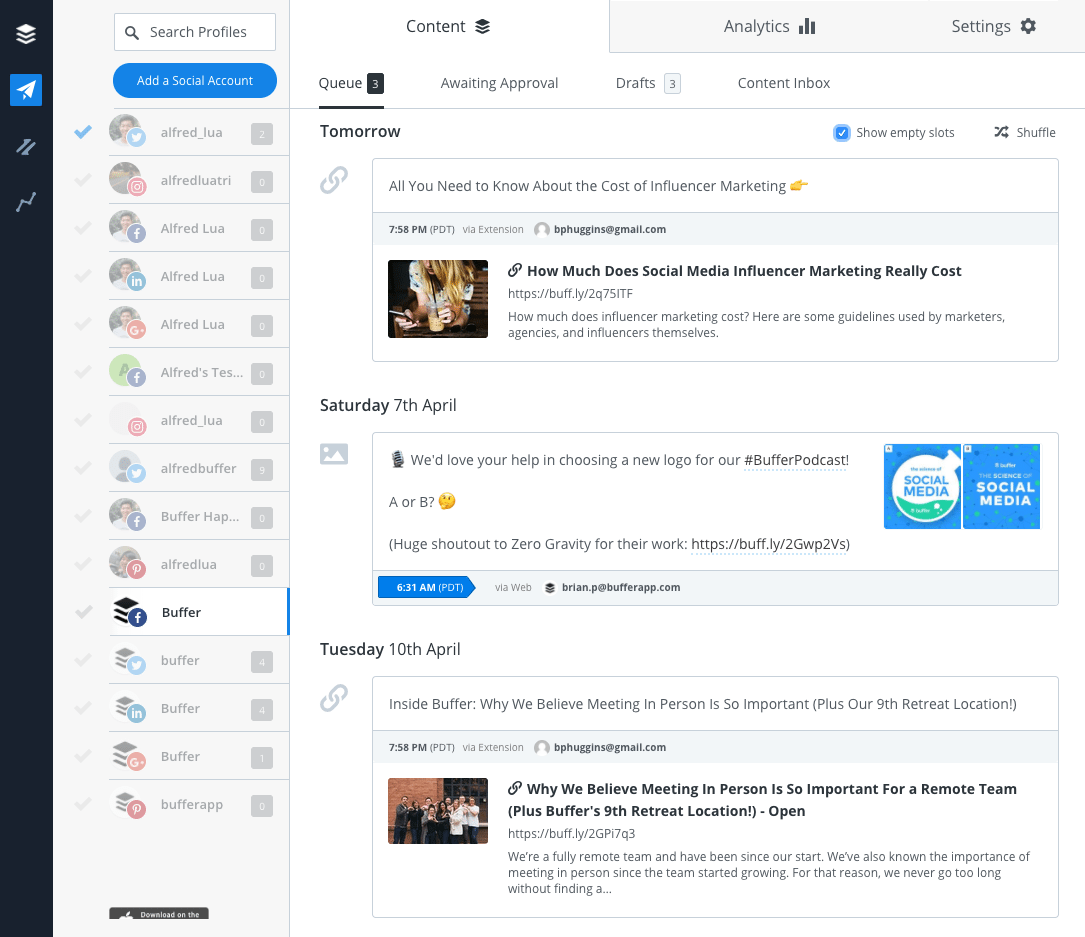 For example, on Monday, you plan out all five posts for the week. Because you're scheduling the posts to be published automatically, you won't miss posting something even if you are busy — consistency. And because you dedicate time to crafting your posts in advance (rather than thinking of something on the spot every time), you can create higher quality content — quality.
2. Reach a wider audience
Publishing a post on Facebook directly is mostly fine… until you want to post at a time outside of your working hours to reach your audiences at different times of the day. You might have to excuse yourself from a dinner just to hit the publish button. Or worse, wake up in the middle of the night to do that.
When you schedule your posts, your posts will be published automatically at your chosen times. Whether it's 7pm or 2am, it'll almost seem like you published it manually yourself.
This way, you'll be able to reach more people around the world who are checking Facebook at various times of their day. This is especially helpful for businesses with an international audience but also businesses in places where the population is spread across several time zones (e.g. US and Europe)5
.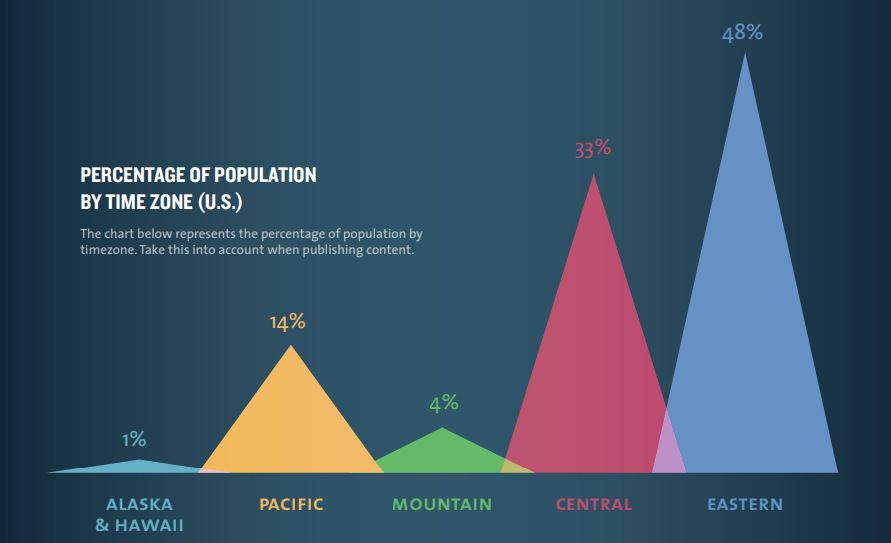 3. Become more efficient
Finally, scheduling your Facebook posts can make you a better marketer.
According to the American Psychological Association, numerous studies have found that multitasking reduces one's productivity. While switching between crafting a Facebook post and your other tasks for the day might not seem like much, research has found that "even brief mental blocks created by shifting between tasks can cost as much as 40 percent of someone's productive time".2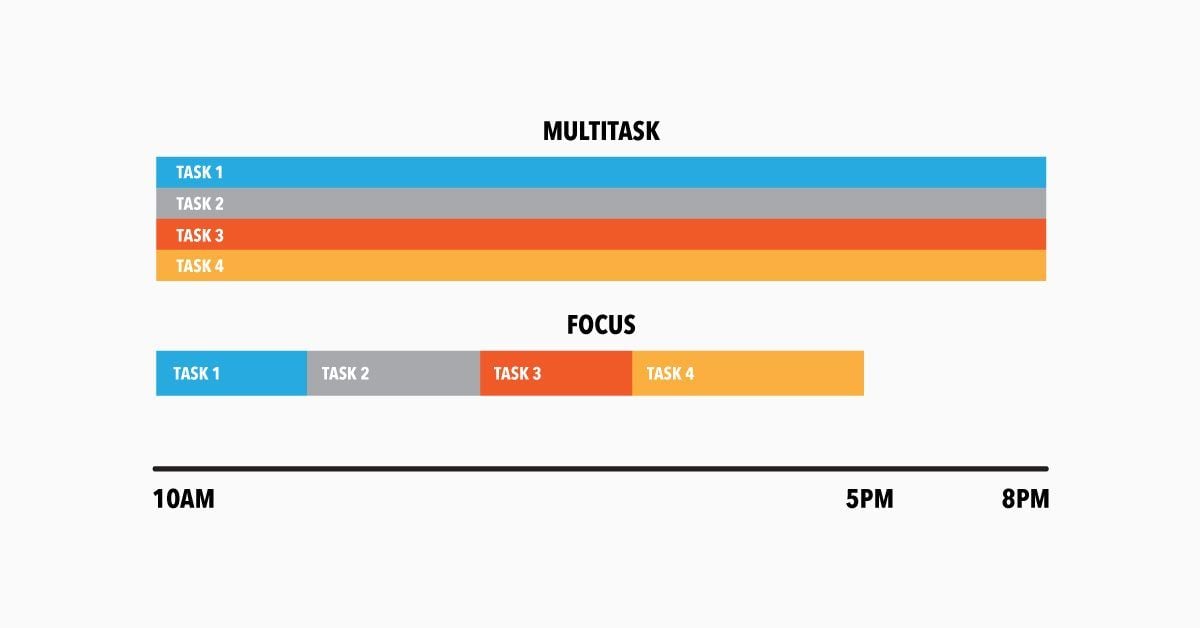 Just consider the things you can do if you get back that 40 percent of your time!3
Does Facebook penalize posts from third-party tools like Buffer?
While scheduling Facebook posts sounds attractive, many people have a concern once they research into scheduling…
Facebook doesn't seem to like third-party tools.
It is often said that Facebook penalizes posts from third-party tools by showing the posts to fewer people organically than posts published directly on Facebook.
How true is that?
We recently did an experiment with Buffer, Hootsuite, and CoSchedule to see if that's true. We found that there wasn't a significant difference in reach whether we scheduled posts using a third-party tool or published posts directly on Facebook. Some scheduled posts from third-party tools even reached more people than the Facebook posts published directly on Facebook.
How to schedule Facebook posts with Buffer
So how do you schedule Facebook posts? There're several methods.
Facebook itself offers a native feature that allows admins and editors to schedule posts to a Page or a Group. Here's a quick guide from Facebook on how to schedule Facebook posts.
If you are managing multiple Facebook Pages (or multiple social media profiles), we hope the best way for you would be to use Buffer.
How to schedule a Facebook post in four simple steps
Go to your Buffer dashboard
Select your Facebook Page or profile
Craft your Facebook post
Schedule your post
1. Go to your Buffer dashboard
Once you've signed up for Buffer and connected your Facebook Page (Group or profile), you'll be brought to your Buffer dashboard. Here's how it'll look like: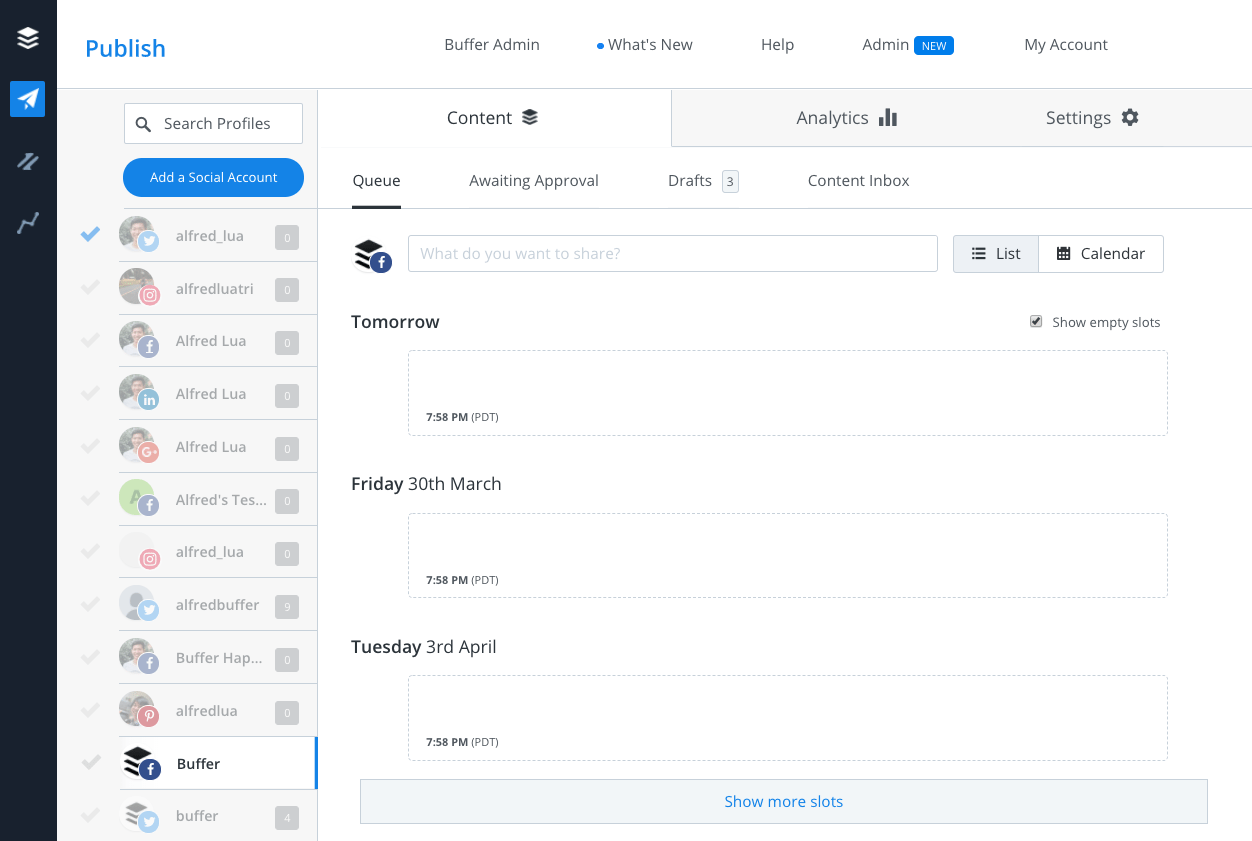 2. Select your Facebook Page or profile
Next, select the Facebook Page or profile you want to post to, in the left-side column and click on the composer ("What do you want to share?"). A popup where you can craft your tweet will appear.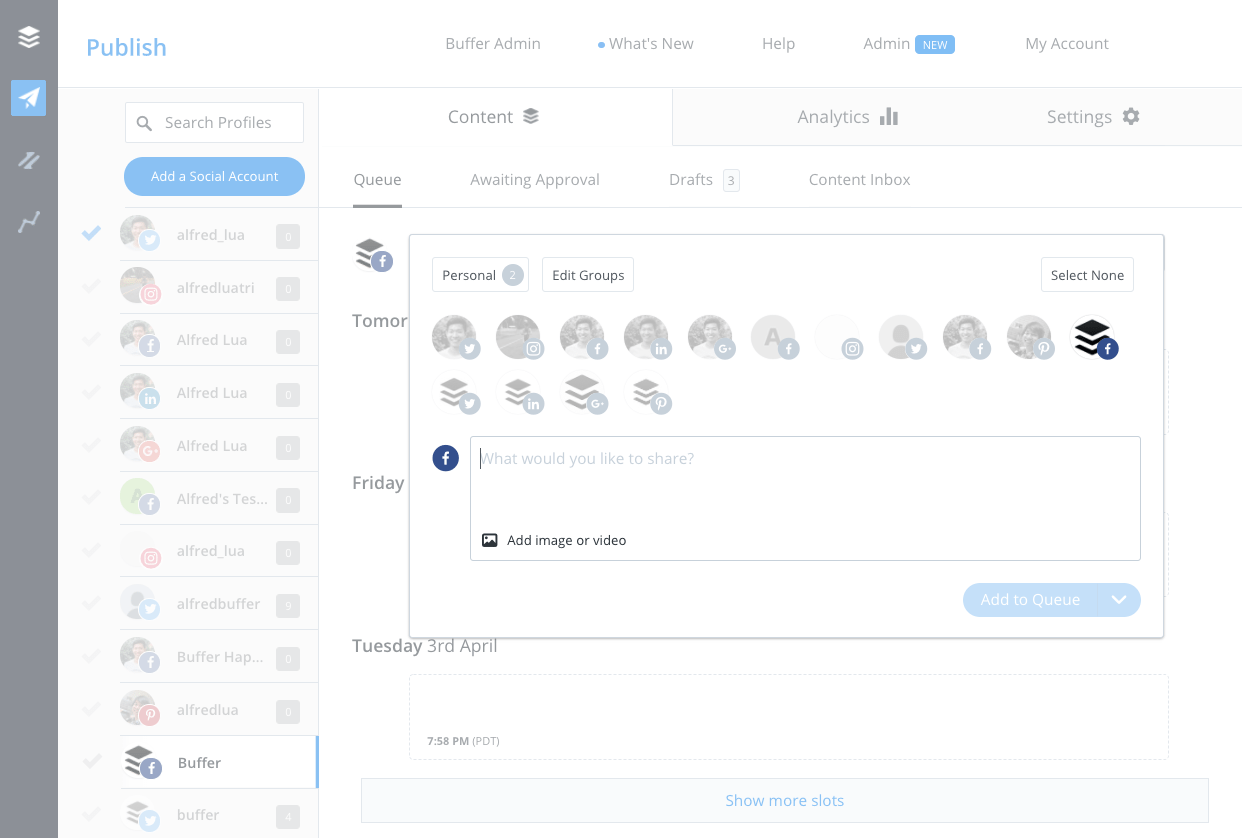 Here are two quick tips for you:
If you have connected multiple social media profiles to your Buffer account, be sure to select the Facebook Pages(s) that you want to schedule posts for.
If the post is suitable for other social media networks like Twitter, you can also select those profiles and create scheduled posts for them at the same time.
3. Craft your Facebook post
Next, let's create some content!
What content should you be sharing? Here are some ideas (and examples) for your inspiration:
Post edu-tainment content. We found that content that is either educational or entertaining often performs well on Facebook. Best if it is both educational and entertaining (hence "edu-tainment")!
Curate top content. Curating and sharing top posts from our peers in the industry has helped us grow our Facebook reach significantly. These pieces of proven content have often become our best posts in terms of reach, which also grew our engagement and Page Likes.
Share videos. Video has been and still is the most popular content type on Facebook. Buzzsumo conducted a research on 880 million Facebook posts found that video posts have the highest average engagement and twice the level of engagement of other post types on average4
.
If you schedule videos with Buffer, your video will appear just like you uploaded it directly to Facebook — which is
Once you've crafted your post, you have a few scheduling options:
Yay! You have just scheduled a Facebook post!
Bonus: Buffer browser extension
You can also create a Facebook post via the Buffer browser extension. For example, whenever you see a great piece of content that's relevant to your Facebook audience, you can click on the Buffer browser extension button and share that piece of content as a scheduled Facebook post.
Here's how the browser extension looks like: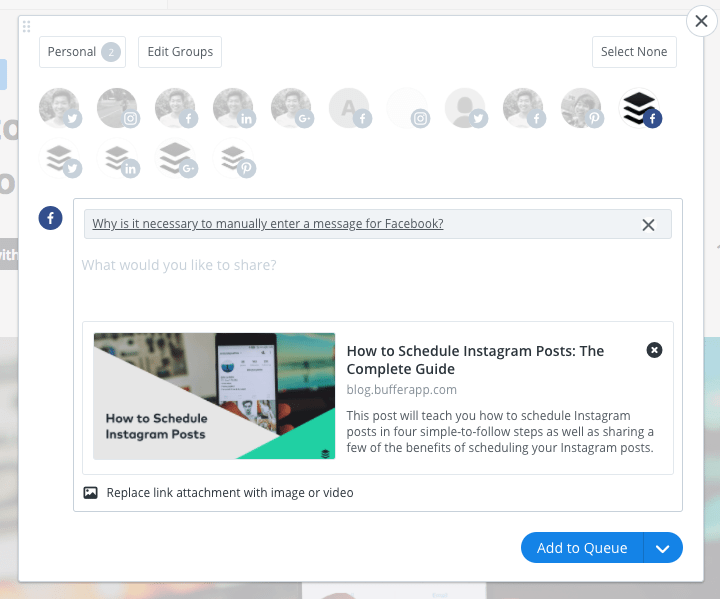 Read more: The 17 Best Browser Extensions for Social Media
3 Facebook scheduling quick tips
Now, scheduling your Facebook posts is only half the story. To maximize your results on Facebook, here's the other half: tips and tricks to ensure that your Facebook posts reach and engage as many people as possible.
Let's go through them one by one.
1. How often to post on Facebook
When you are setting up your posting schedule, one question you might have is "How often should I be posting?".
(The other question is likely "what times should I be posting?" We'll cover that next!)
There likely isn't a definite answer to this question as it depends on your audience's preference and your capacity for creating new content. But in case it's helpful to have a benchmark to work from, we recently studied our own Facebook Page and found that posting one to two Facebook posts per day helped us grow our reach by three times!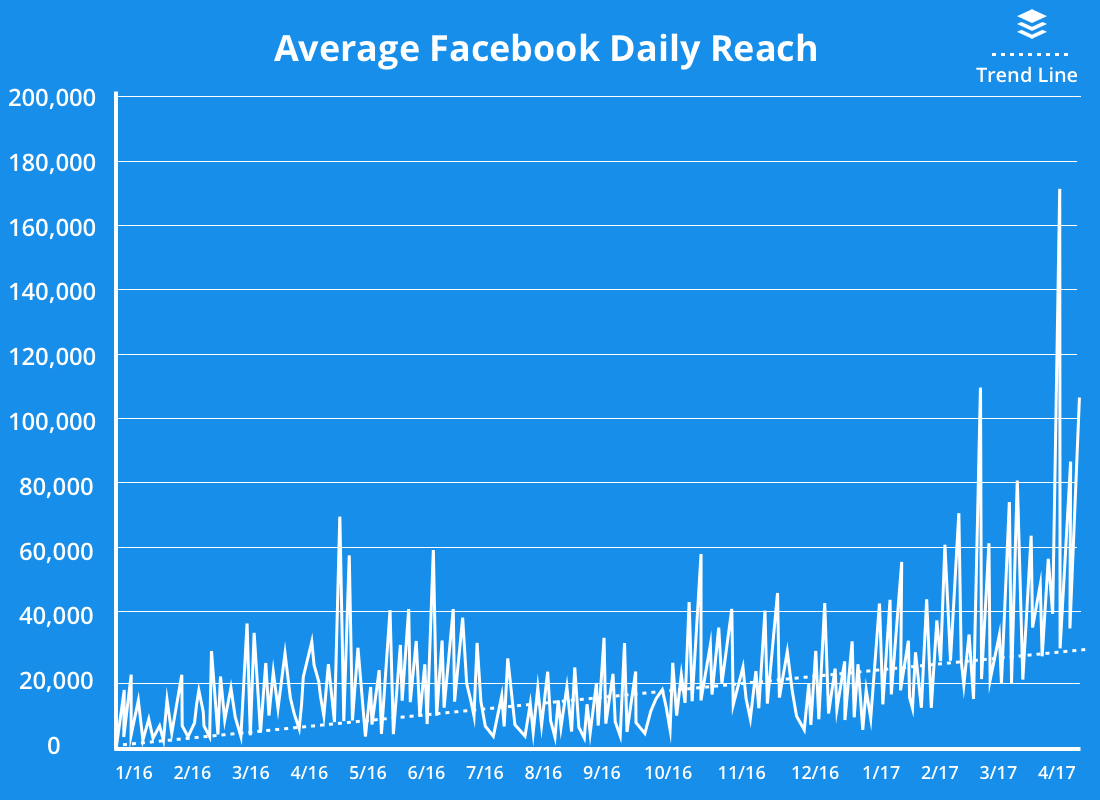 This recommendation is similar to the findings of Coschedule's research, which looked at 12 different studies on posting frequency for Facebook.
2. Best time to post on Facebook
The next question, "what times should I be posting?"
While there are many studies that suggest the "best times to post" (including ours), we've learned that there isn't a set of universal best times to post on Facebook. That's because every business has their own unique audience. What industry are you in? Where is your audience based? When are your followers checking Facebook?
All these different factors influence your best times to post. So instead of the universal best times to post, look for your best times to post.
A way to Facebook Page Insights, under the "Posts" tab.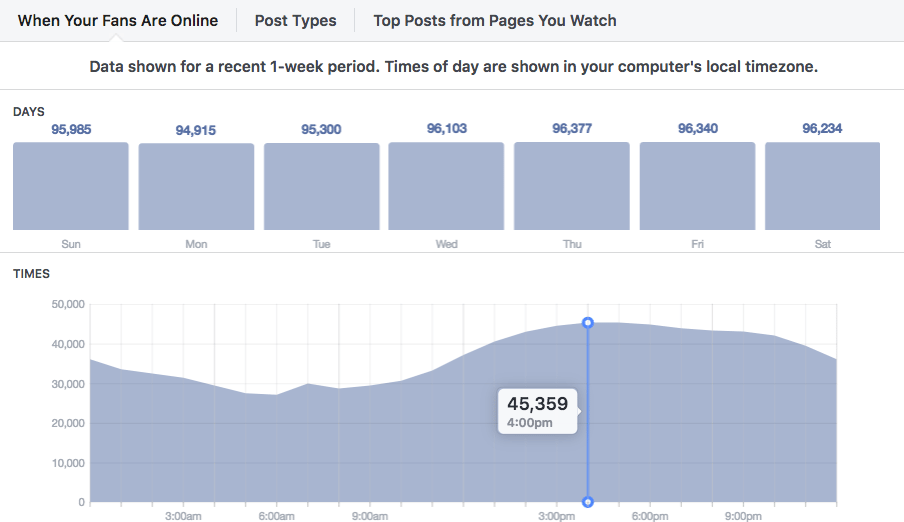 If you would like to read more about finding your best time to post on Facebook, here's a completed guide on that topic.
3. What can be scheduled (and what cannot be)
Finally, another crucial information to know is what can be scheduled to Facebook (and what cannot be). Knowing the limitations will allow you to better plan your social media posting in advance.
Things that can be scheduled
Text updates
Images (up to four images with Buffer)
Videos
Links
Things that cannot be scheduled
Photo albums
Events
Check-ins
GIFs
Another great thing to note is that many social media scheduling tools do not have the more advanced settings such as tagging, choosing a preferred audience, or adding a product tag. If you would like to use these features, you can do so by creating and publishing your posts on Facebook directly. (Thanks, Cara Parrish, for mentioning this!)
Over to you: What do you think of scheduling?
For many social media managers, social media scheduling tools are a lifesaver. These tools help them improve their social media performance and save them time (and their evenings and weekends).
If you have always been going to Facebook to publish your posts, scheduling your Facebook posts might sound like an unusual recommendation. If you have any thoughts or concerns about scheduling your Facebook posts, I would love to hear and discuss them with you in the comments section below.
If you would like to see how scheduling Facebook posts can help you with your Facebook marketing, we would love for you to give Buffer a try and see the difference.
—
Image credit: Photo by Kaylah Otto on Unsplash
Brought to you by
Did you find this article helpful? You might also like our all-you-need social media toolkit.
Get started for free now