In this post, we'll share exactly how to repost on Instagram.

One of the best aspects of social media is being able to share something with your followers, but other social media platforms make reposting a bit easier.

On Twitter, you can retweet. On Facebook, there's the option to share a post. And on Instagram, you can repost, which is essentially a way to share a picture from another Instagram user with your followers.

Though reposting isn't an official feature of Instagram's apps or website, it's something that many brands and users have been doing for a while now. And it's a tactic that has delivered great success, too. Here at Buffer, reposting was a key factor in our growing our Instagram audience by over 400%.

Learning how to repost on Instagram is the key to taking your marketing strategy on the photo-sharing platform to the next level. We'd love to help get you started! Keep reading for advice and tips on the best ways to add reposting to your social strategy and the ideal workflows for doing it quickly and efficiently.
💡
You can now schedule Instagram carousel posts directly in Buffer!
Learn more today
.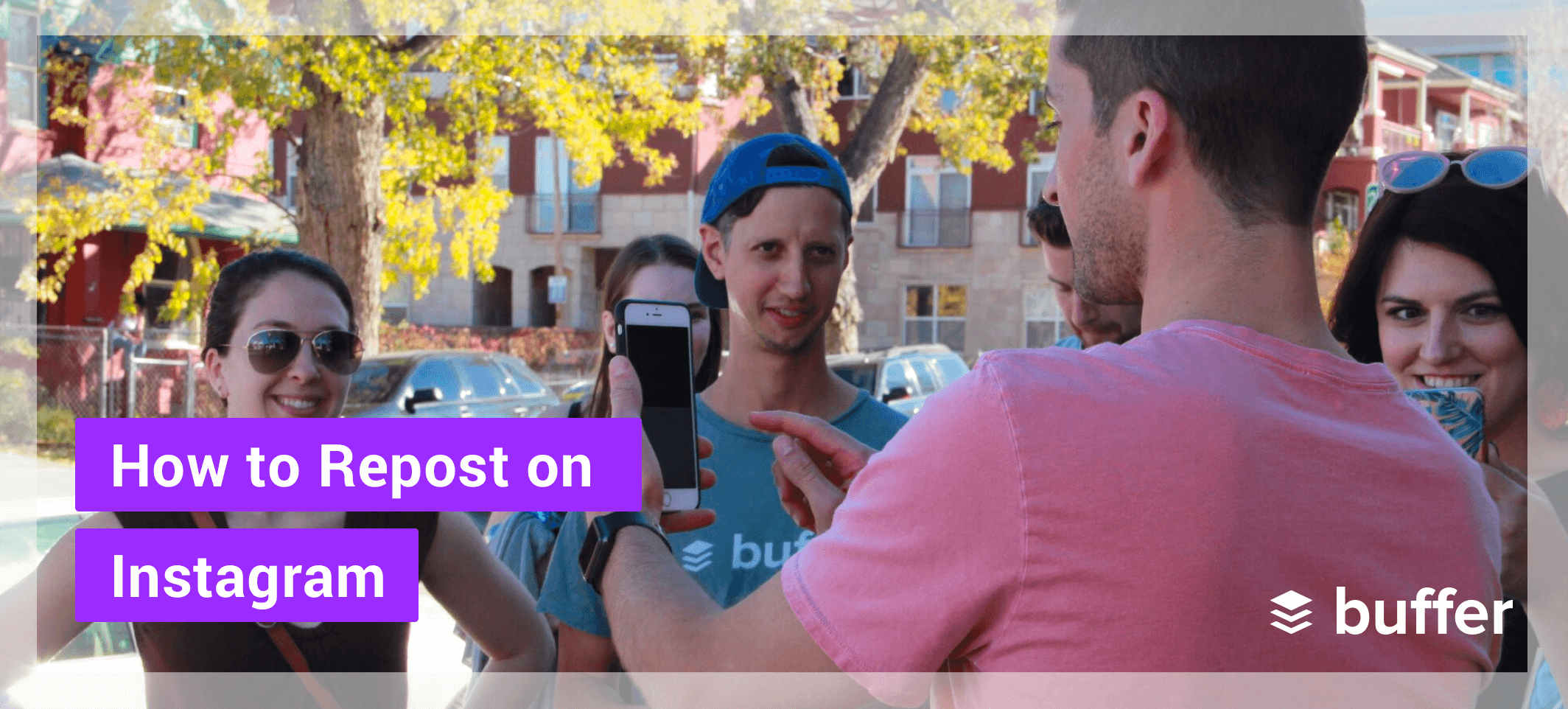 How to Repost on Instagram
First things first, before you repost…
With other social networks, reposting is a native feature that comes baked into the product experience and expectations. On Instagram, since this isn't a native part of the app, there needs to be an additional step:

Before you repost, it is best to get permission from the original poster so that you can repost their work with credit.

You can do this in a few ways:
Send the original poster a direct message on Instagram.
Comment on their photo to start the conversation.
Connect via email to iron out the details and get explicit permission.
Reposting has been around as a strategy on Instagram for quite some time, long before tools like Buffer for Instagram came around. Third-party apps allowed for particular repost functions, often including watermarks or @-mention credits on the reposted photo. The absolute simplest way, though, was with a screengrab of the original post — a process that can still be replicated today.

Here's how to manually repost photos in four easy steps:
1. Screenshot a photo
Open Instagram, find the photo you'd like to repost with your audience, and take a screenshot of it.
2. Upload your screenshot to Instagram
Once you have your image saved to your camera roll, tap on the plus-sign icon within Instagram, hit post, and select your screenshot as you would any other image you want to share on Instagram.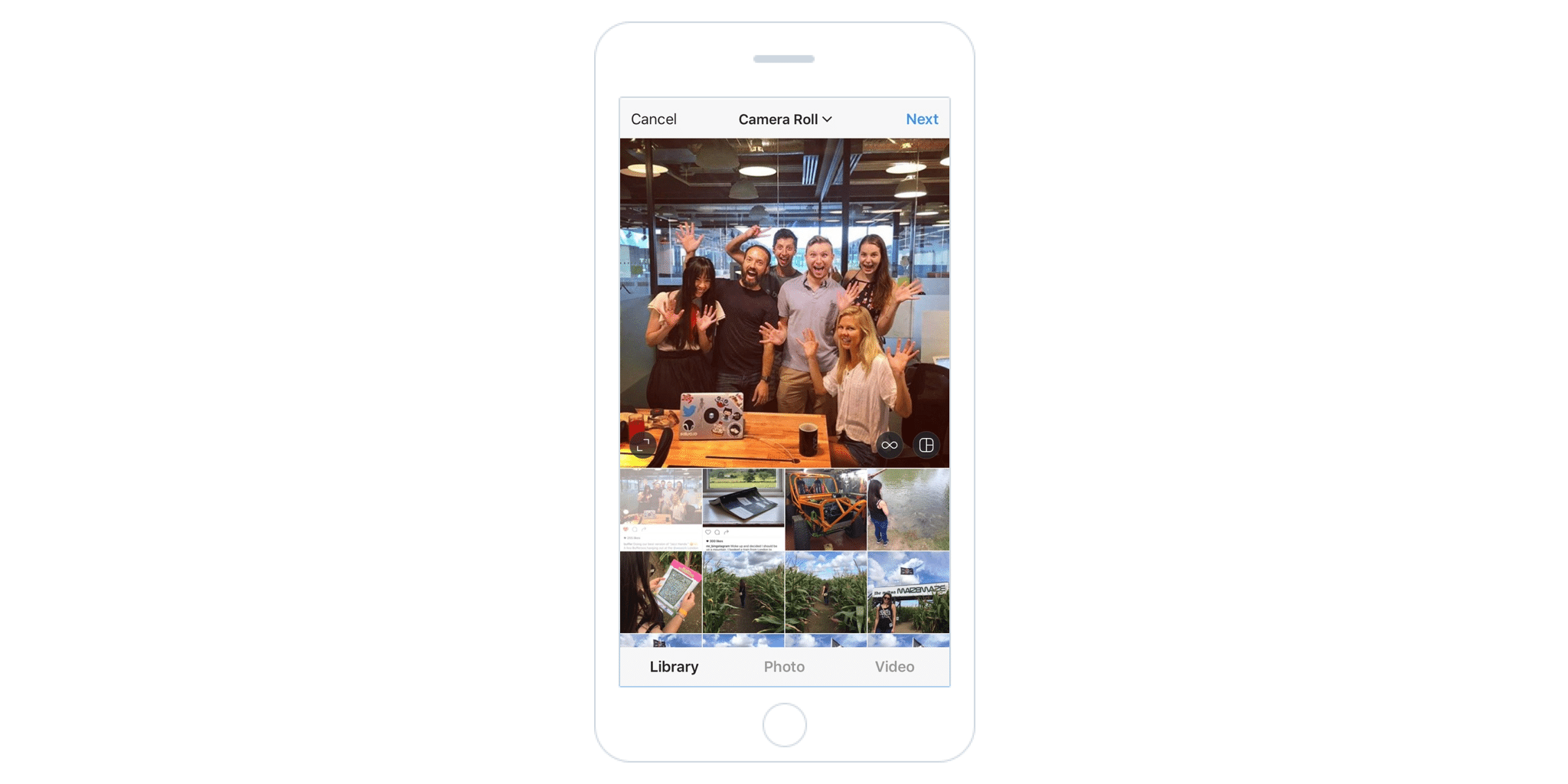 3. Resize the image
Next, you'll want to resize your post so that only the image remains. You can do this using the resize functionality within Instagram, or if you'd like to crop before you upload the photo, this can also be done using your phone's photo editing functionality.
4. Add a caption
Be sure to credit the original source of the image within your caption and tag their account using their Instagram handle (@buffer, for example).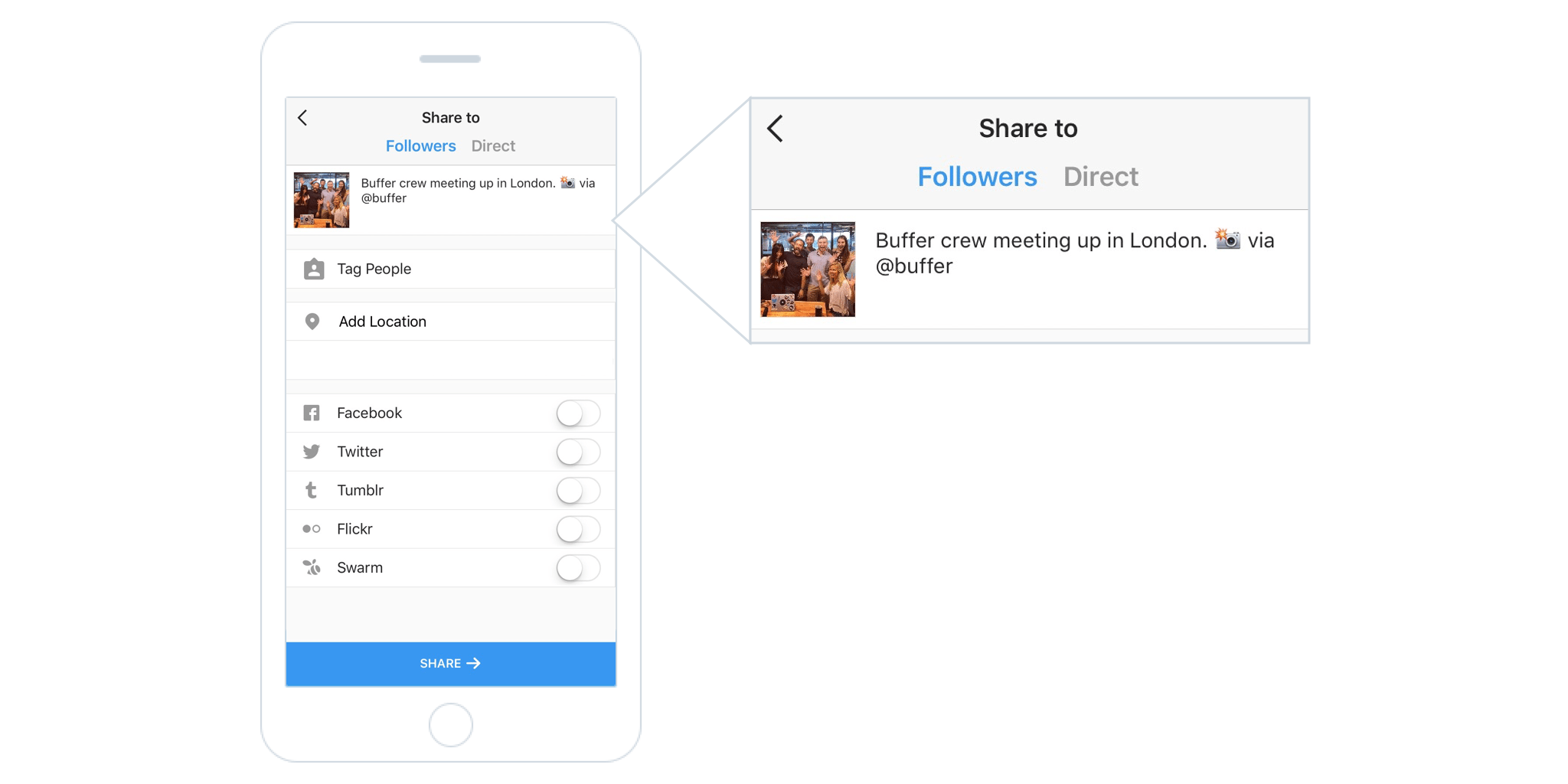 How to repost to your Instagram Story
You can also repost someone else's original content to your Instagram Story. You'll need to be on the app to do this, but the process is the same from Android to iPhone. To repost content to your story, follow these steps:
Tap on the paper airplane icon on the post or video you want to share.
Tap on the option to add this to your story.
Customize your post with the text, effect, and caption options in the top-right corner.
Tap the arrow in the bottom-right corner, and make sure "Your Story" is selected,
Hit the share button,
Keep in mind that this won't work with a private account or with ads; only those set to public will let you share their content on your own account.
What happened to the Instagram reshare sticker?
In 2021, Instagram tested and scrapped a new feature: the reshare sticker. It required users to navigate to a "recently viewed" tab if they wanted to repost someone else's content to their story. Feedback wasn't positive; the new feature meant users had to stray from their feed if they wanted to share something, which just made the process more complicated.

Why reposting can be important for brands
Instagram has become an incredibly important network for brands. In fact, 48.8% of brands are on Instagram. And by 2017, this figure is predicted to rise to 70.7%.
Instagram is used by more than 200 million businesses and 1 billion monthly users.
Instagram has become an incredibly important network for brands. There are over 200 million branded business accounts on the platform, as well as around 1 billion monthly users worldwide.

Instagram offers a prime opportunity to engage with your customers. Your audience is there, ready, and expecting to interact with you. The vast majority of people — 90%, in fact — follow at least one brand on Instagram. One in two people have discovered new brands using the platform, and 63% of people say they've formed meaningful connections with companies using Instagram. And with social commerce on the scene, 44% of users said they use Instagram to shop on a weekly basis.

But how does reposting come into play here?

People tend to trust user-generated content (aka UGC) more than they trust branded posts. Consumers are twice as likely to see user-generated content as authentic — and that authenticity directly influences their purchasing decisions.
How we use reposting at Buffer
Here at Buffer, we've also made reposting a key part of our Instagram strategy and this tactic has helped us to significantly grow our account. In under 3 months after implementing a user generated content campaign on Instagram, our account grew by 60% – 5,850 to 9,400 followers and counting.
How reposting can fit into your Instagram strategy
Here are three ways to make reposting a part of your strategy.
1. Share UGC from events and milestones
Live events, meetups, and talks are great times to create and curate content. If you're running your own event, or maybe a member of your team is giving a talk at a conference, this is a golden opportunity to repost some content on Instagram.

Addressing big milestones or celebrating key moments can also be a great strategy to inspire your followers to share some user-generated content.

Coachella sometimes features UGC to generate hype for their music-loving fans. For instance, they shared an incredibly creative video from artist Rudy Willingham that showcases headlining performer Harry Styles: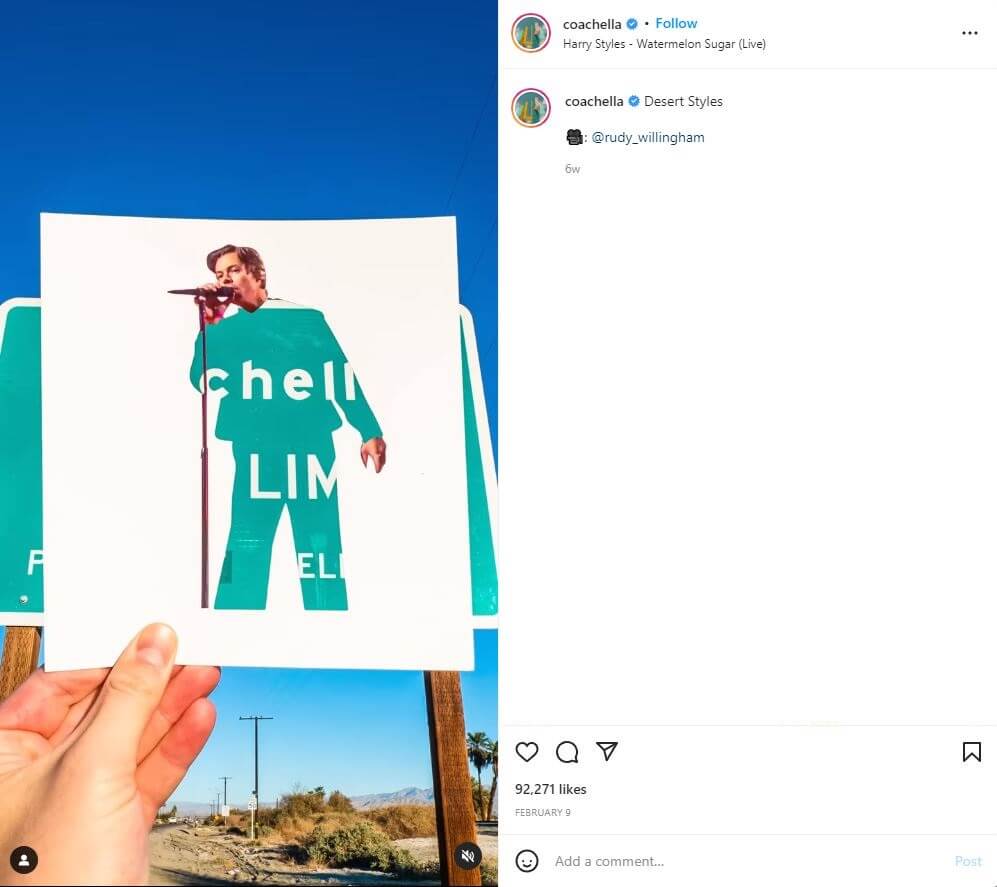 2. Monitor brand mentions, tags, and hashtags
Your Instagram notifications can also be a great source of user-generated content. Keep an eye out for any new mentions and tags, as these can be great sources of content for your own Instagram feed.

Airbnb features guest photos (and tags rental listings) in their feed, sometimes drawing from their #airbnbsuperhost community for content.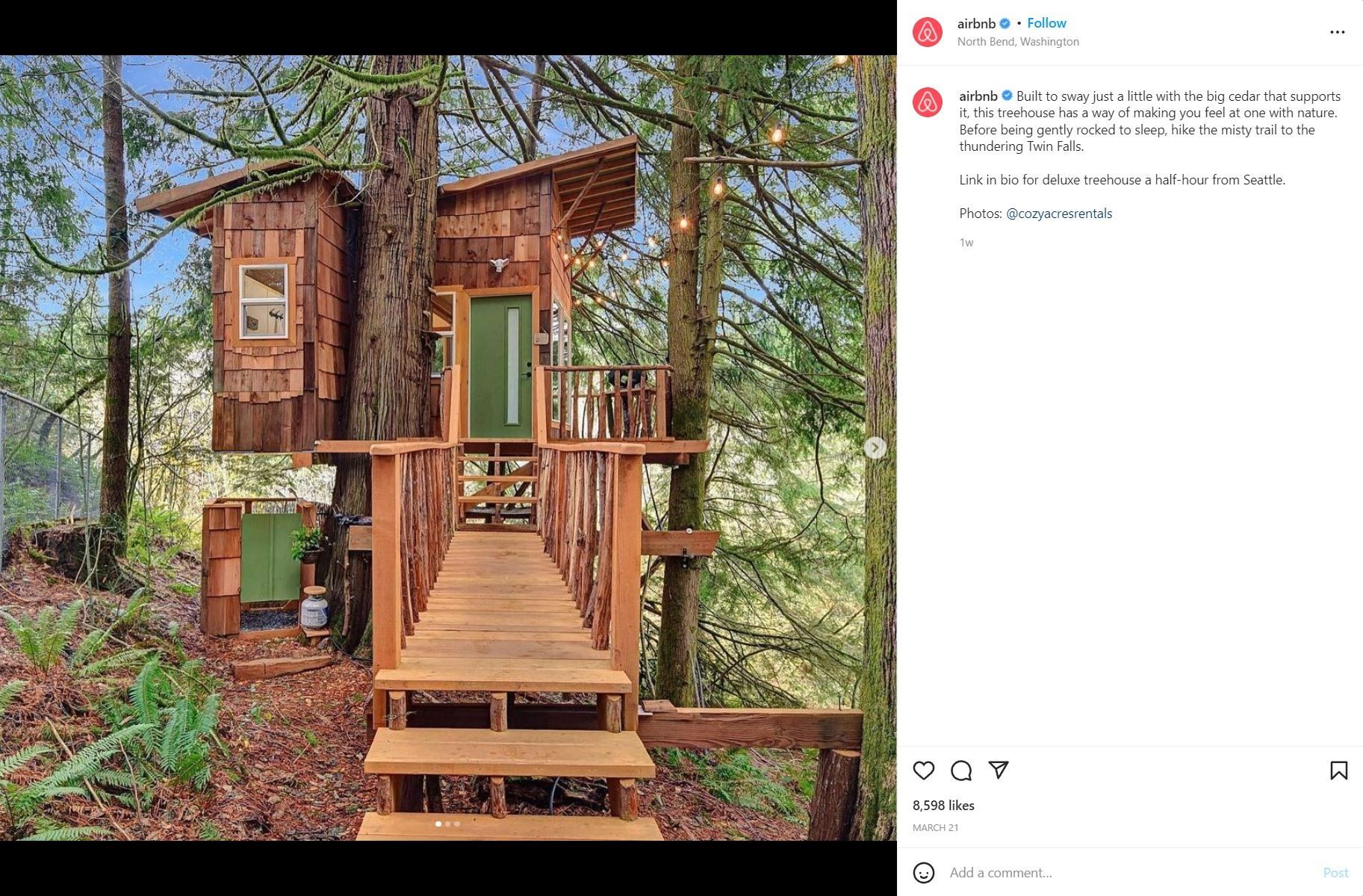 This approach from Airbnb serves two needs: they get compelling visuals to share with their audience, and they promote the properties that support their bottom line.
3. Acknowledge and share content from community members
People enjoy being acknowledged for their content and efforts on social media. And sometimes, reaching out and asking to share some fan's content on your brand's profile can be a great way to acknowledge their work and discover new brand ambassadors.

Etsy puts their community of makers front and center on their feed, showcasing the products available on their wide-ranging shopping platform. They also created an elegant way to secure permission to repost: they ask people to respond to requests with the custom hashtag #YesEtsy if they're comfortable with the reshare.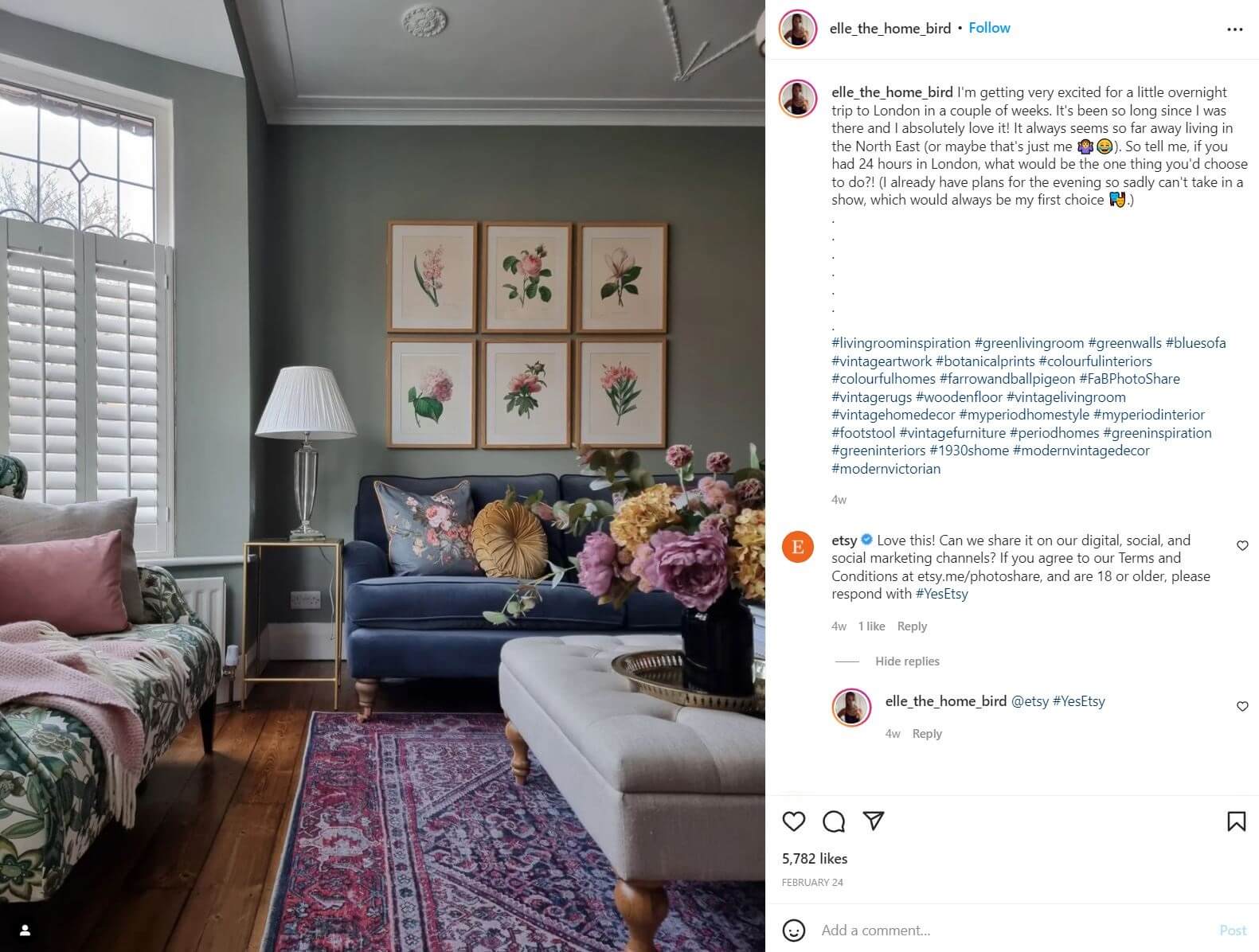 Etsy is built on a community of makers, so showcasing their creativity and craftsmanship helps them feel supported while getting customers excited to purchase their products.

Discover more about how we use reposting and UGC as part of our Instagram strategy here at Buffer:
How We Grew Our Instagram Followers by 60% with User Generated Content

How to decide what you should repost on Instagram
Cool, so you're ready to repost some content on Instagram, but which photos should you share?
It's important to ensure you have a strategy in place when it comes to reposting and also an idea of how the content you repost fits into your wider Instagram strategy. There are a few factors to think about before you hit "share post."
Composition
Composition refers to the placement or arrangement of visual elements or ingredients in a work of art as distinct from the subject of a work. A good composition makes an image pleasing to look at and will draw in more viewers. The rule of thirds is a great starting point for a well-composed image: if you imagine a grid of nine equal zones, the subject of the photo should be in the right or left third of the grid (or the top or bottom if it's a vertical shot).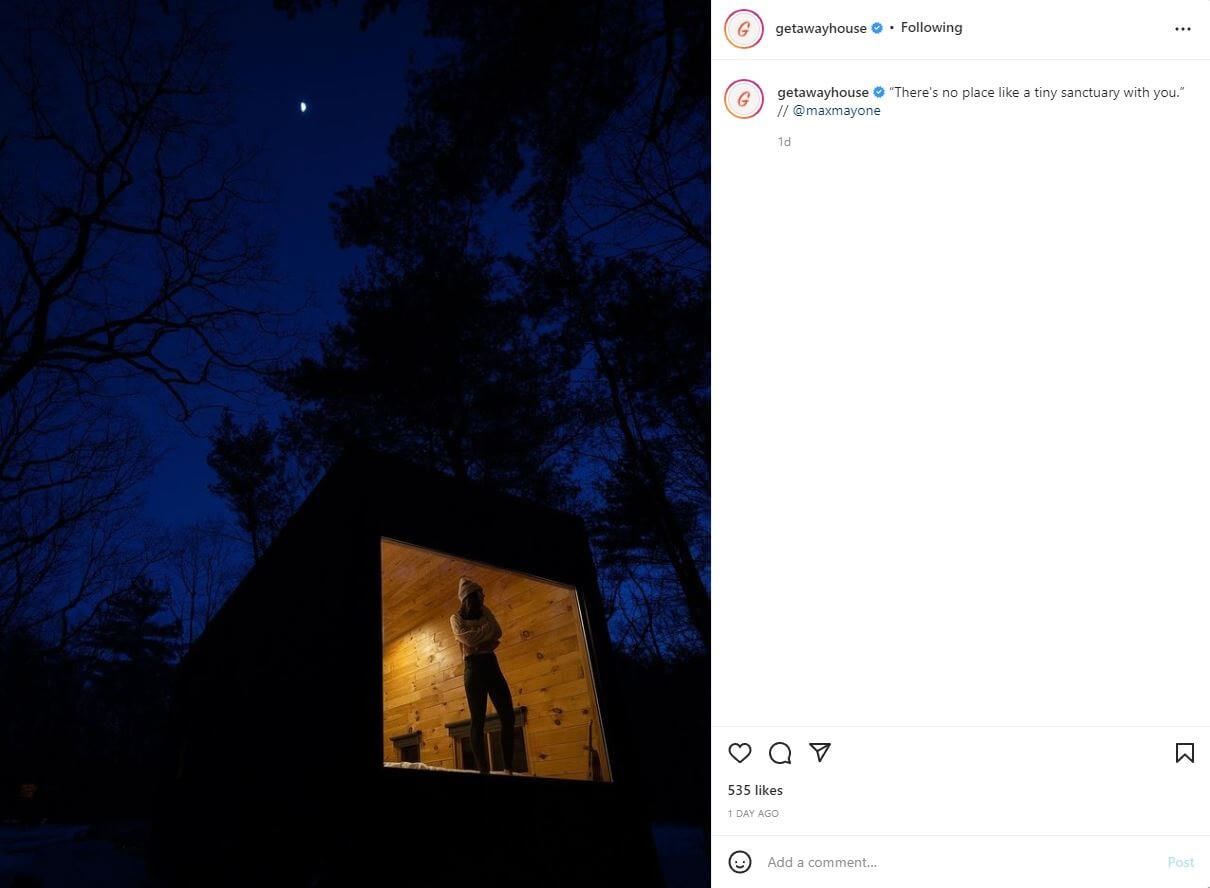 This fan image of a Getaway House rental cabin is a striking example of the rule of thirds at work.

When it comes to sharing images from other Instagram accounts, think about your brand's style of composition and whether each image fits in here. For example, if all of your images feature a solid background, it might not fit in with your visual style to repost an image with a textured background.
Color palette
Many brands use a set color palette or aesthetic on Instagram, and moving away from your brand style may make your reposted content feel a little out of place. For example, Everlane tends to use a soft palette made up mostly of neutrals with the occasional pop of bright color: