We tend to read a lot of content at Buffer. And I mean a lot.
Inside the Buffer product, we aim to solve the problem of "what should I share next?" by providing the content suggestions for you—25 of them, each and every day, hand-picked by Courtney and our suggestions team.
We share 25 stories per day. We read even more that don't make the cut.
Where do we turn to find so much shareable content?
I'll be happy to let you in on our not-so-secret sources—some of our favorite newsletters, tools, and apps for finding and sharing our favorite stories. If you've got a source that didn't make our list, feel free to add it in the comments! We're always on the lookout for new places to hunt.
First off, let's start with one of the places where our suggestions end up: our new iOS app, Daily by Buffer. You can think of the Daily app as Tinder for content. We'll show you a pile of suggestions, and you swipe each story left or right to discard it or to share it via your Buffer queue. The app has built-in abilities to read the stories you want and to sort suggestions via topic.
SmartBrief boasts more than 225 unique newsletters, broken down into 40+ topics. Whatever your specific industry or niche, chances are that SmartBrief will have a newsletter for you—chock full of curated news and information. If you're into marketing and social media (like we are), I'd suggest browsing their marketing newsletters to begin with.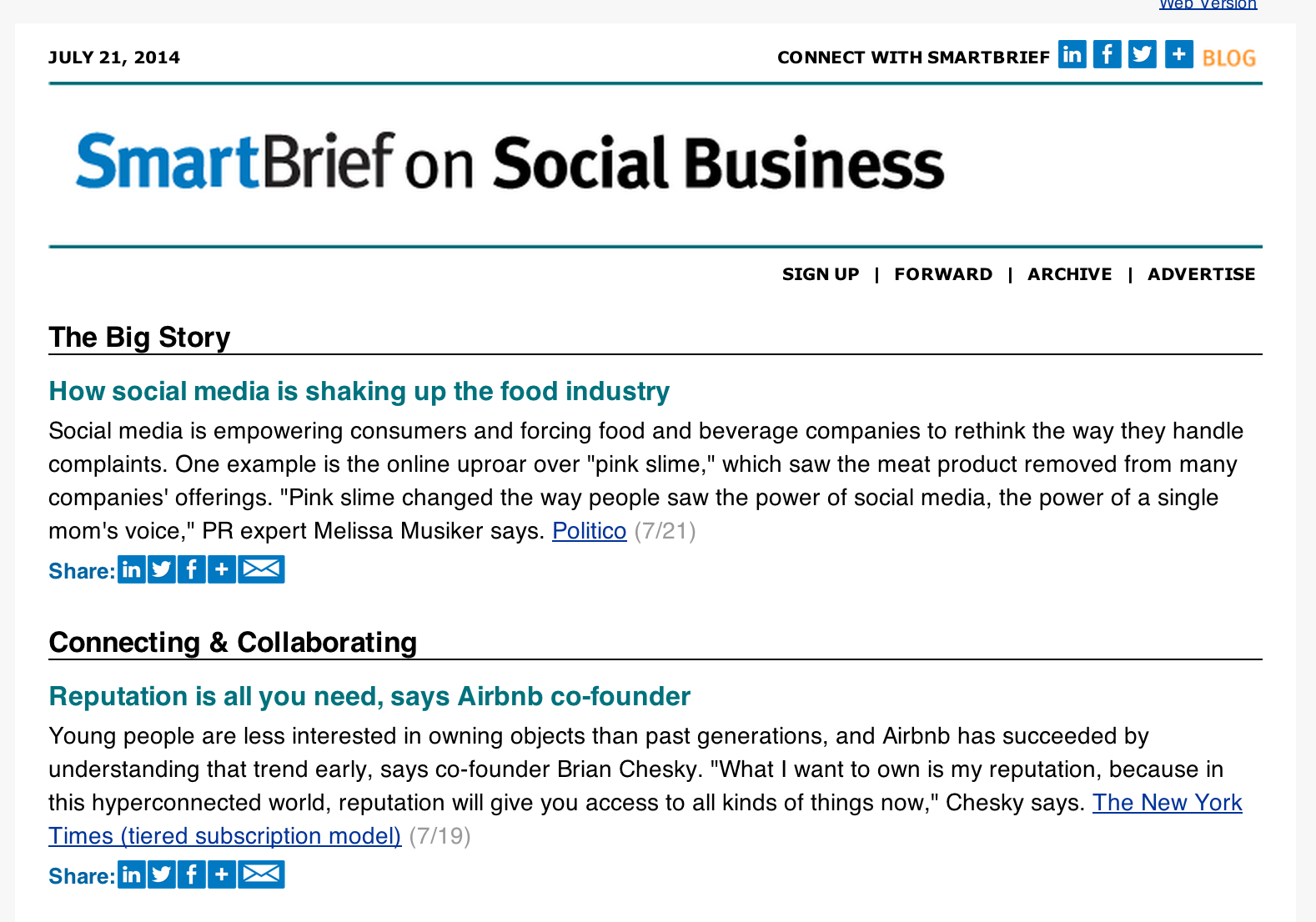 LinkedIn has expanded rapidly as a content platform, encouraging its influencers and members to share and publish content directly on the network. As such, there are enough good stories on LinkedIn to make their Pulse page a fantastic source of solid content.
Pulse includes customized stories according to those whom you follow on LinkedIn (following is different than connecting; you can follow folks to see their stories without having them in your LinkedIn network.) You can also receive Pulse via email: weekly, daily, or as soon as new content is posted. To turn on the LinkedIn Pulse email, visit your Email Frequency settings, and change the settings for Updates and News.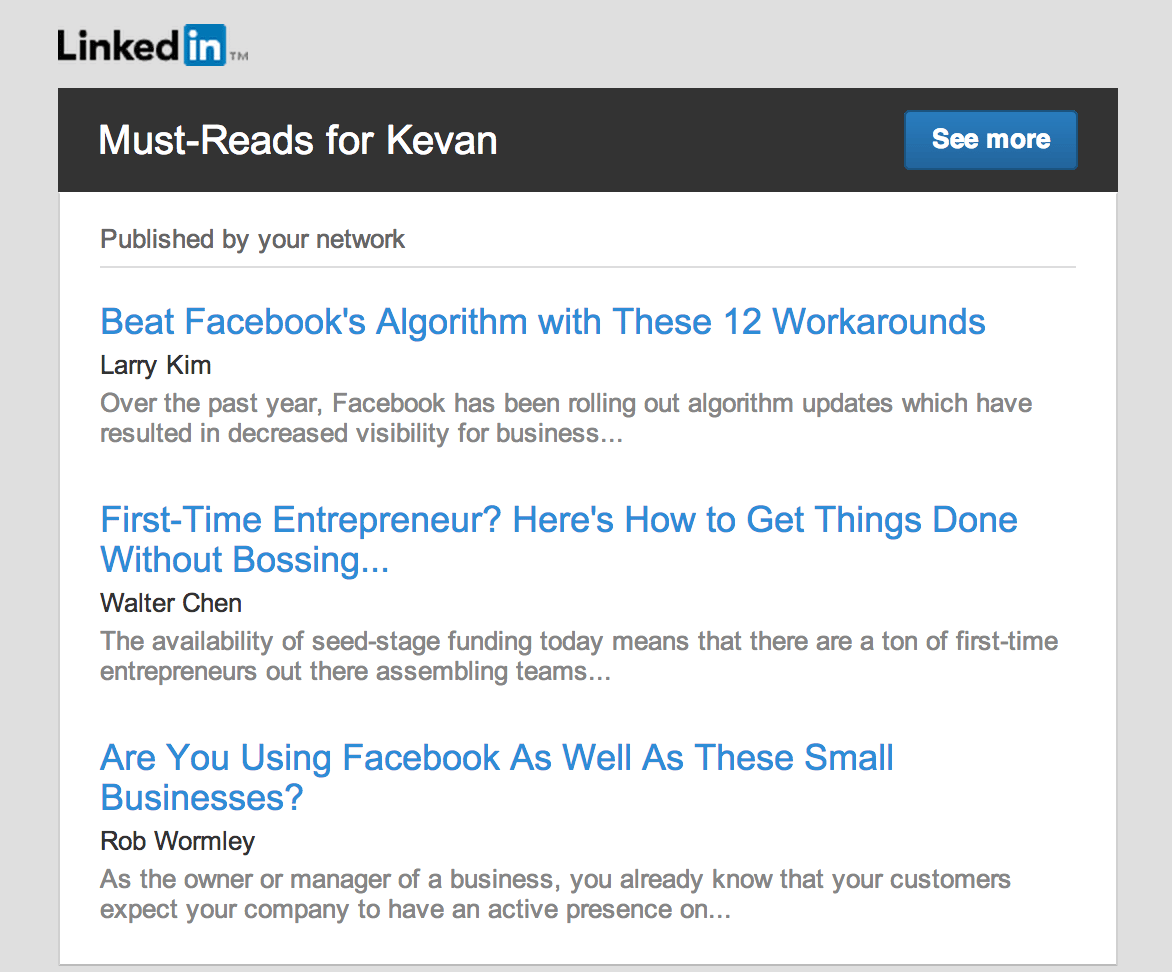 This daily newsletter collects the stories that have been shared most often by those you follow on Facebook and Twitter. Your digest then becomes a reflection of the content that is most important to your audience—a pretty good indicator that you're onto something good to share. You can edit the News.me settings to receive five, 10, or 15 stories each day.
Another content source that taps into your audience, Swayy connects to Twitter, Facebook, and LinkedIn to discover the topics and stories that are trending among your circles or being shared by your community. You can access this content directly from the Swayy dashboard (as well as view analytics on what you've shared via Swayy), or you can see stories via the Swayy daily email.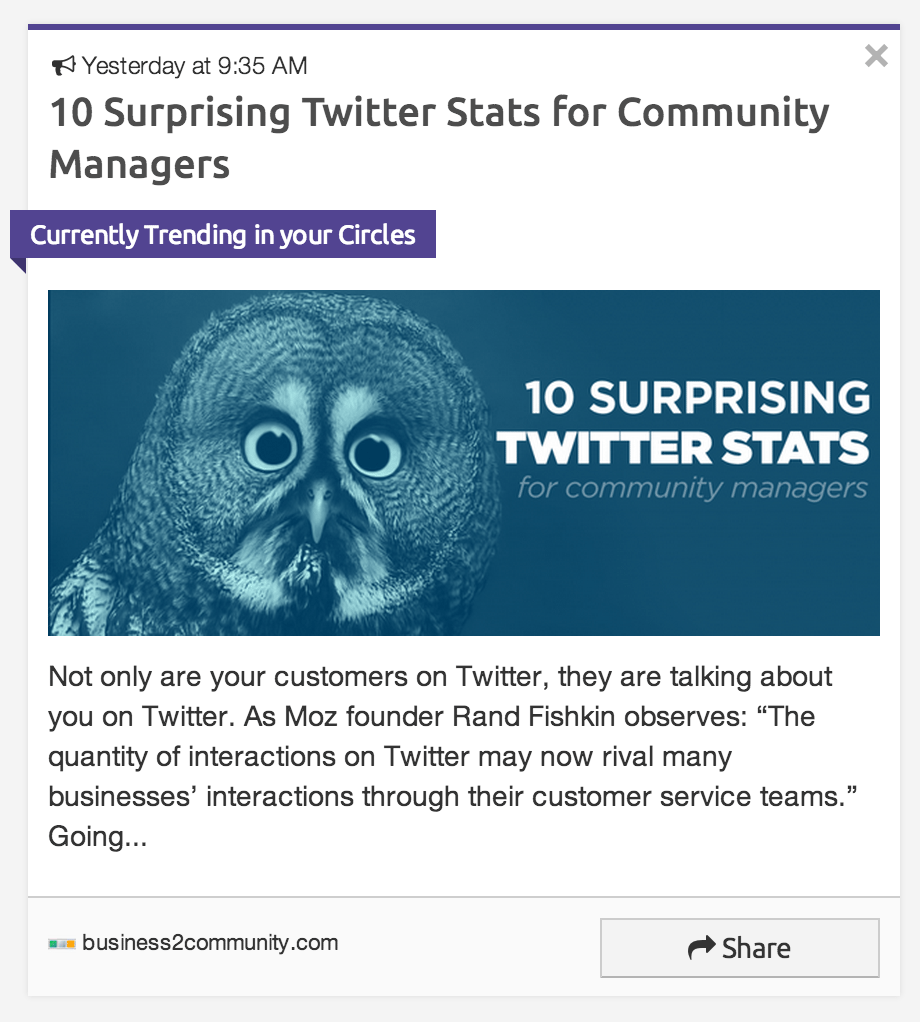 You can follow topics and influencers on Sharebloc to receive a customized flow of stories, which you can then vote up or share directly from Sharebloc. If you're feeling particularly helpful, you can submit articles, too.
New York Times editors and reporters would probably have good taste in content, right? It's likely so, which is why their twice weekly email, What We're Reading, has such value. The email is available for home delivery and digital subscribers. If you aren't a subscriber, you can find some of this same NYT-curated content via the free NYT Now app. The app highlights the best content from the New York Times and around the web, delivered in easy-to-read briefings.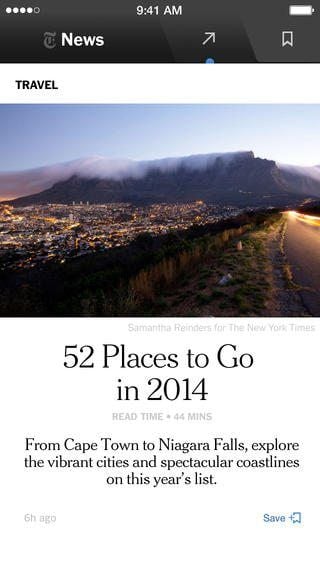 Jason Hirschhorn of MediaREDEF curates a daily newsletter described as "a mix of media + tech + pop content." The interesting mix leads to some interesting discoveries, and Jason's tastes (as a former executive at MTV and MySpace) make for some unique content that you're not likely to get in other newsletters.
A collaboration between the heads of Hubspot and Moz, Inbound.org is a type of Hacker News for inbound marketing. Stories on SEO, social media, case studies, strategies, and more are submitted and voted upon by users. Five of the best stories get emailed out every day (or weekly, if you so choose) via the Inbound Digest email.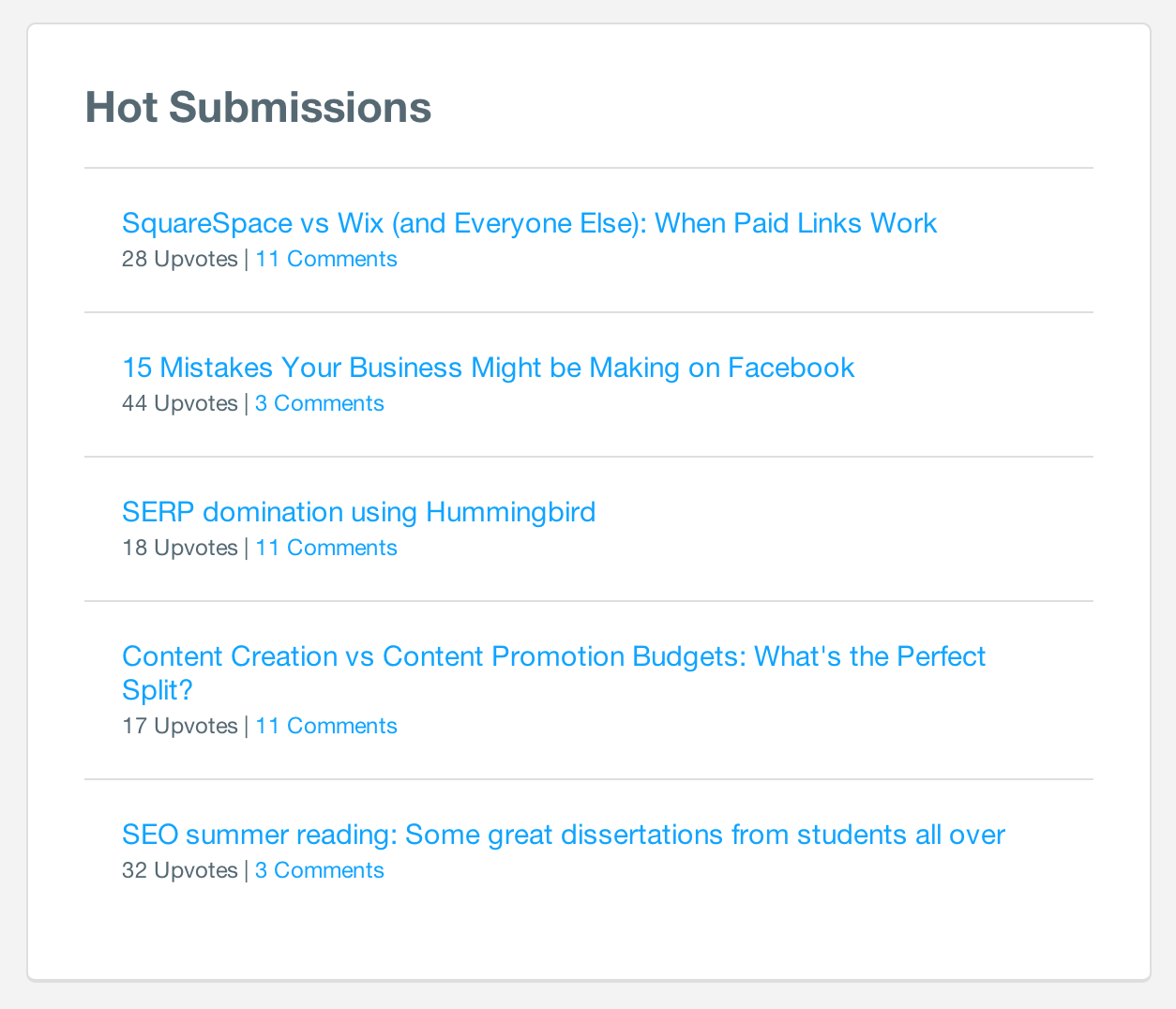 Since its relaunch, Digg seems to be doing everything right in terms of content. They've built an incredibly useful and entertaining main page of noteworthy stories. They provide an RSS reader for those of us who still like to surf our content that way. And their most recent addition, Digg Deeper, places the top stories from those you follow on social right onto your Digg homepage (the guts behind this service is none other than the News.me app mentioned above).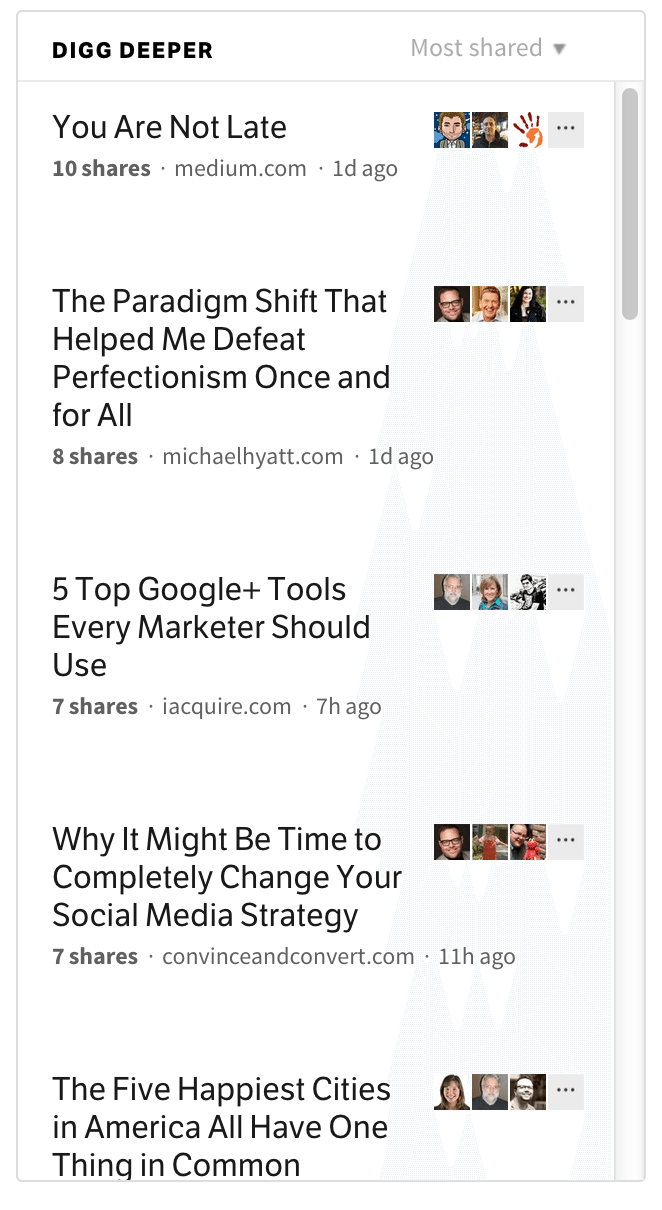 Stories on Medium pop up at least weekly inside our Buffer content suggestions. How do we find them? Browsing the collections and the trending lists straight from Medium is one way. Following our favorite writers is another. Based on whom you follow, Medium sends emails with content it thinks you might like.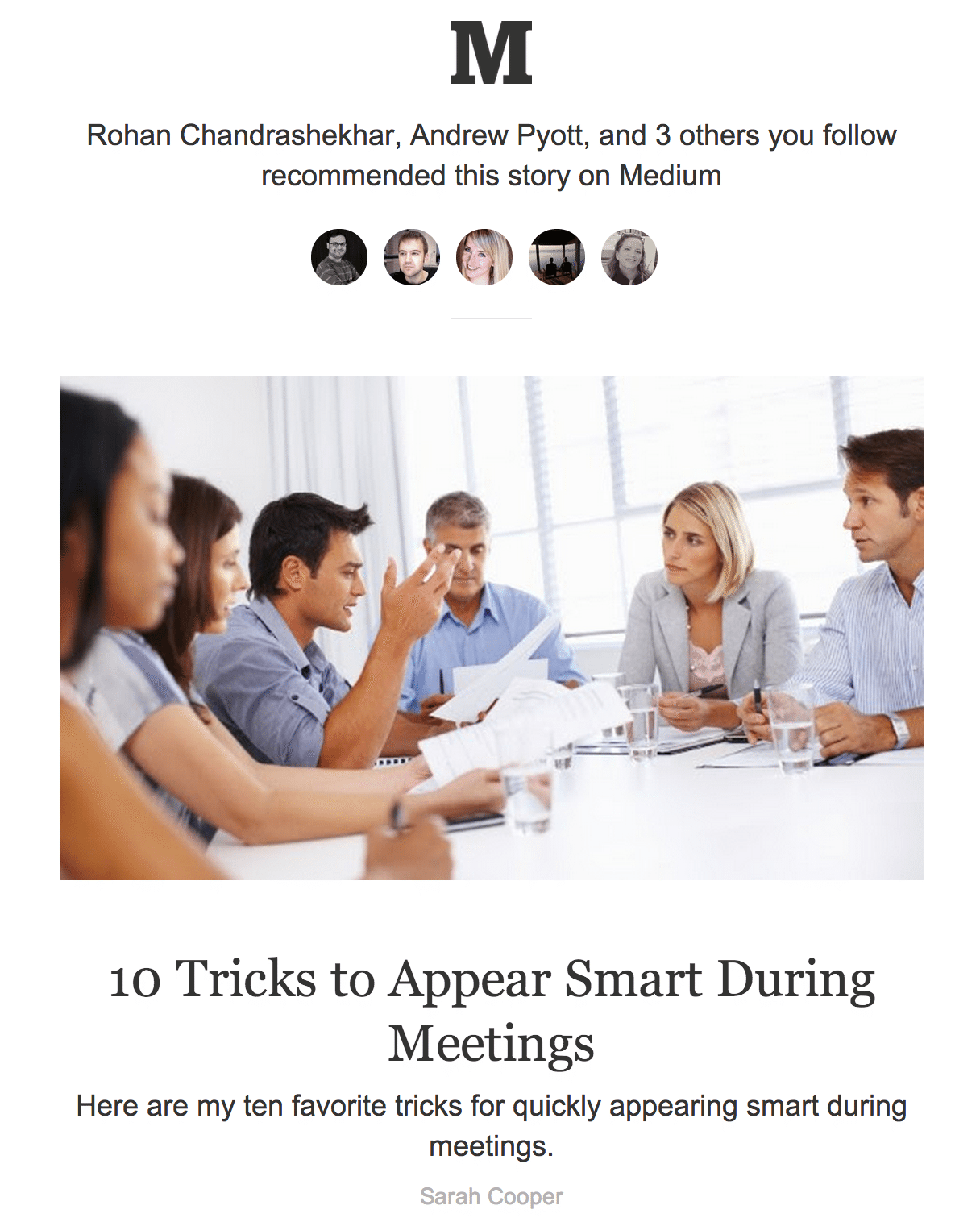 For something a little different—yet still entirely fascinating and shareable—try Ed Yong's blog and email list. His blog, Not Exactly Rocket Science, covers all things science in an approachable, understandable way. His weekly newsletter, The Ed's Up, covers science and more—journalism, writing, "heh/wow/huh," and a list of top picks spanning a wide variety of topics.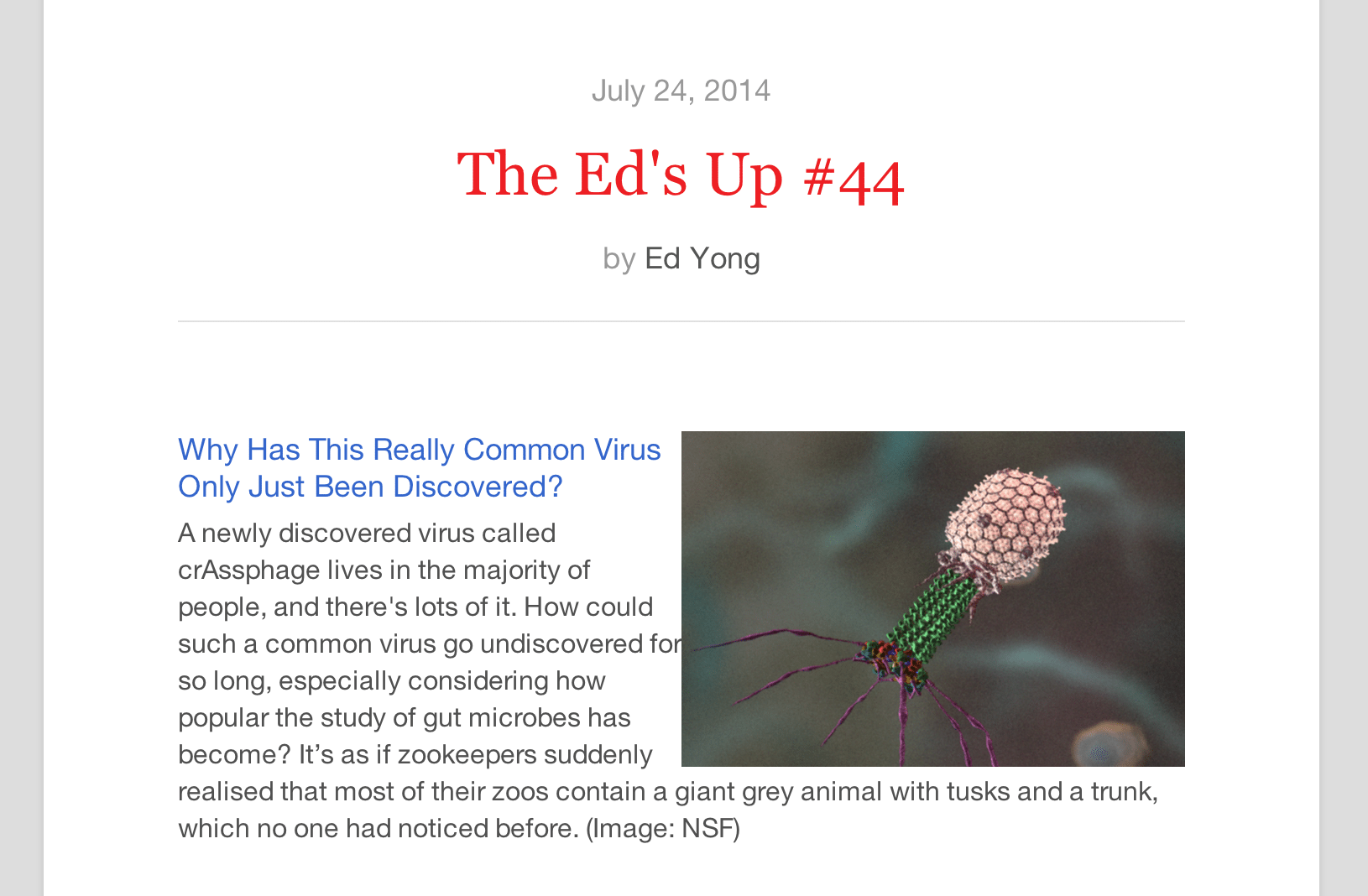 One of our five content suggestion categories is design, and we're grateful for tools like Sidebar.io that focus directly on the topic. Their daily list of top links is created by a handful of human editors who upvote submitted links to determine what reaches the Sidebar homepage on any given day. The results (up to five links) are posted on the site and sent out via email.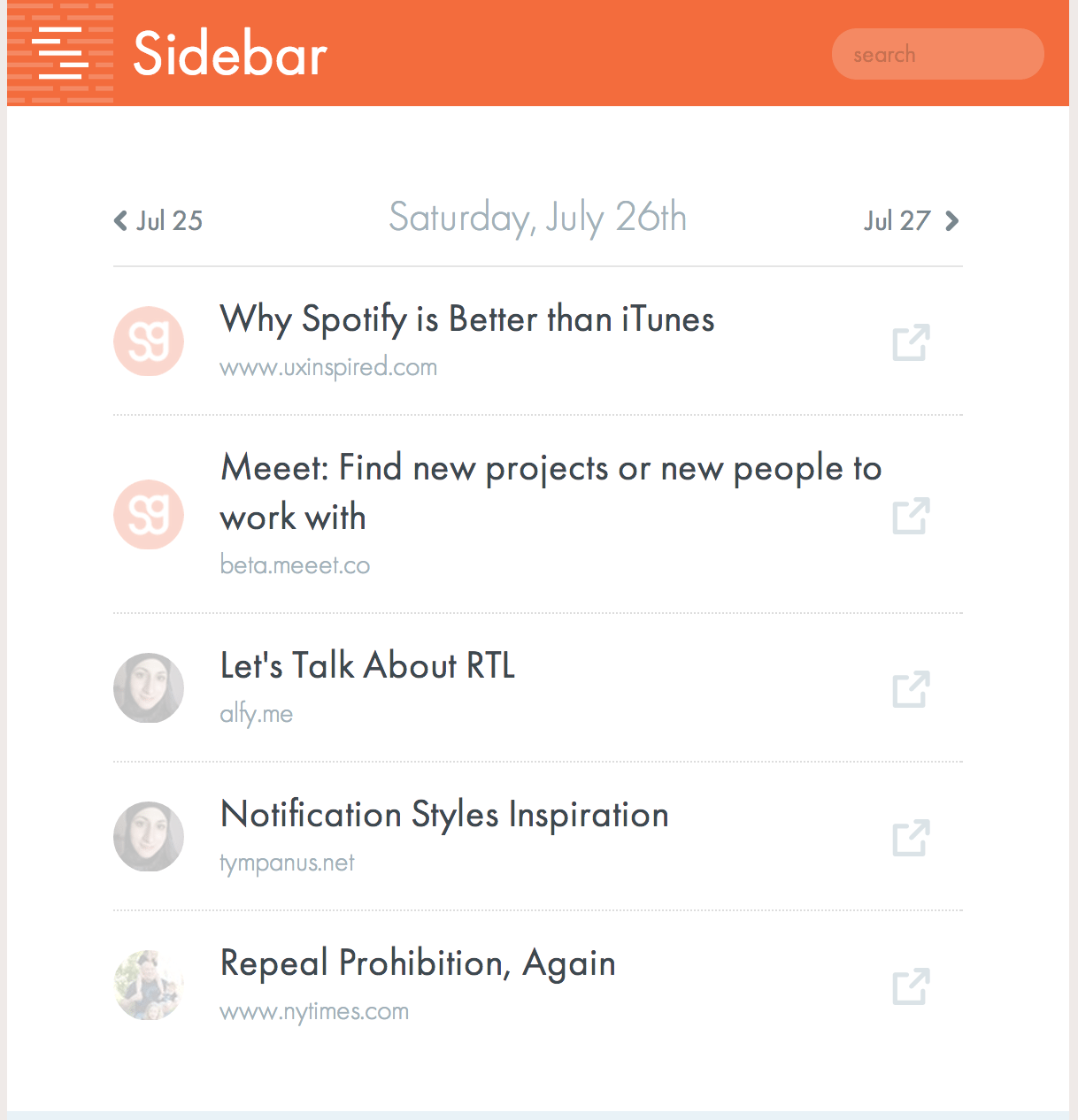 One of the most beautiful sites we've found for discovering new content is the collection at Panda. The site collects the top stories and top visuals from some of the best communities on the web and delivers the content in an easy-to-browse layout (or via email, if you'd prefer). You can cycle among a handful of different sites without ever leaving the Panda homepage.
Hacker News
Growth Hackers
Designer News
Sidebar.io
Product Hunt
Lobsters
Dribbble
Behance
Awwwards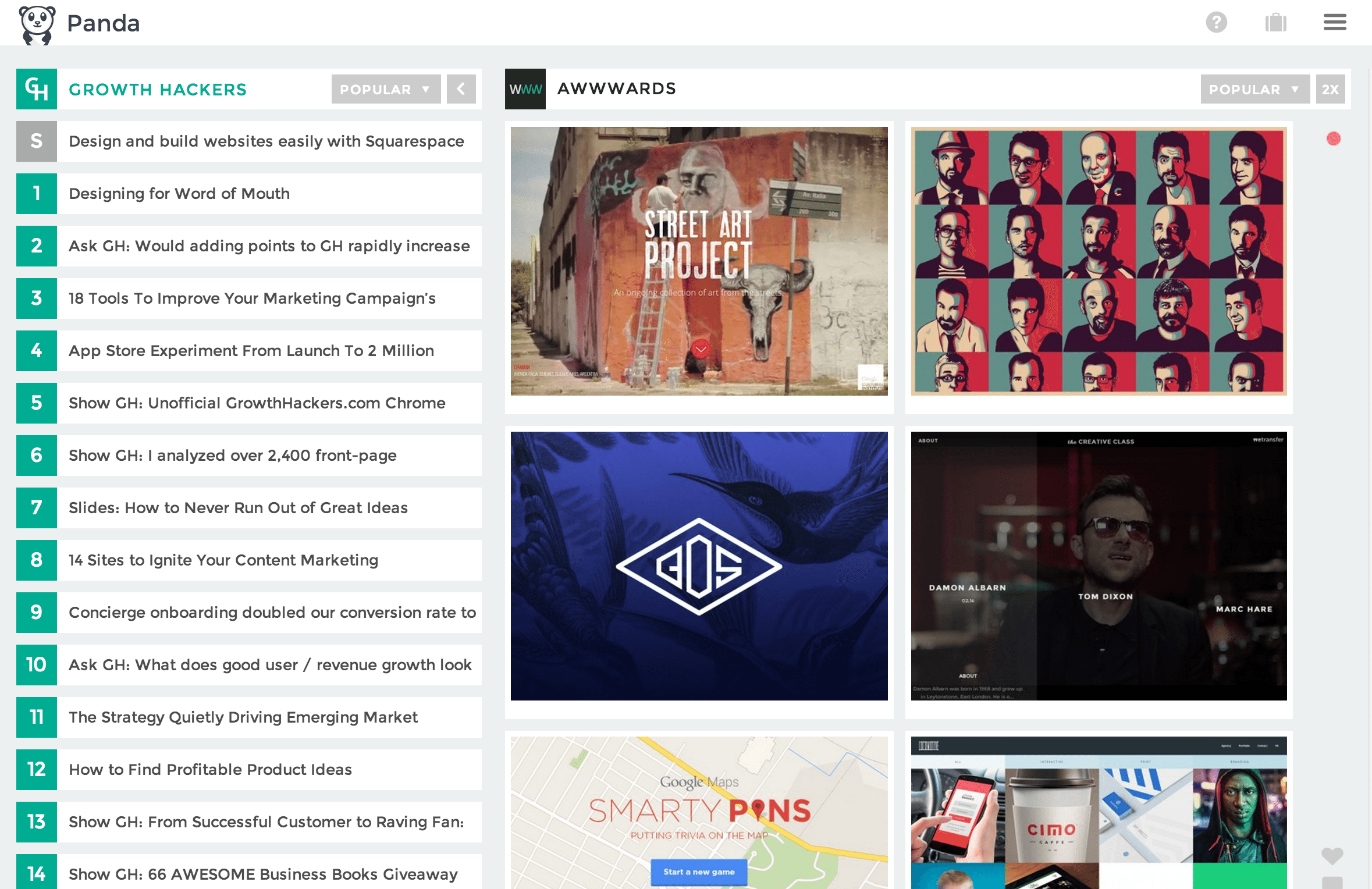 15. Prismatic
One of the top reviews on the Prismatic iOS app calls it "a killer app for curious people." Certainly, Prismatic helps sate a bit of curiosity by delivering a personalized, social news stream of interesting links based on those you follow on your favorite social networks and on your chosen categories and topics of interest. The content discovery carries over to the web, too, where you can browse stories and edit your interests and followers.
Update: Prismatic shut its news app down on December 20, 2015.
The content-focused team at Contently runs a couple of unique online magazines focused on the stories, resources, tips, and strategies for online creators. Our favorite is the Content Strategist, a collection of articles about storytelling and the future of content. You can browse directly from the main page or sign up for a daily email.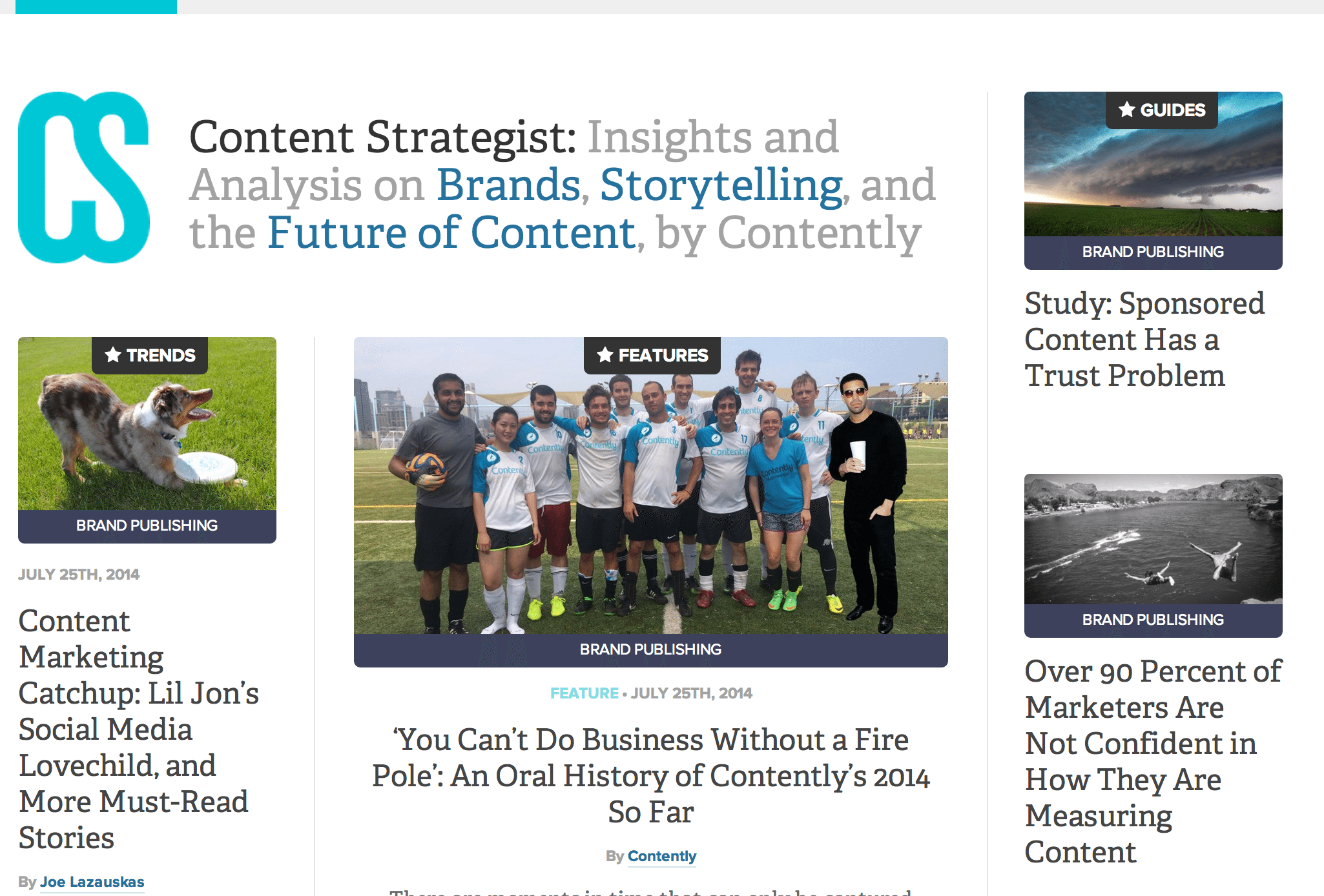 Nuzzel is another one of the "news from your friends" apps, letting you connect your social profiles in order to surface the stories that your circles are sharing. A few neat features of Nuzzel include:
Not only news from friends but also news from friends of friends
A list of replies and tweets referring to the top content shared by friends
A boomerang feature: stories that might have slipped your attention
Unique among these free and open content sources, Quibb is invite-only—and it's a tough invite at that. Once you apply for membership, your application gets manually reviewed by the Quibb team; the current acceptance rate sits at 38 percent. Once you're in, you can enjoy a platform that lets you share industry news and analysis and see what others are reading. The select nature of the service ensures that the content that gets shared and talked about is of the utmost quality.
Where can you find the most shared content on the web? Try BuzzSumo. Simply input a topic, keyword, or competitor, and BuzzSumo shows a list of posts ranked by the amount of social shares each receives. We've found this to be an ideal tool to not only evaluate blog post ideas but also to find new content. If you've got a particular topic in mind, BuzzSumo can be a handy resource to discover which articles might be most shareable.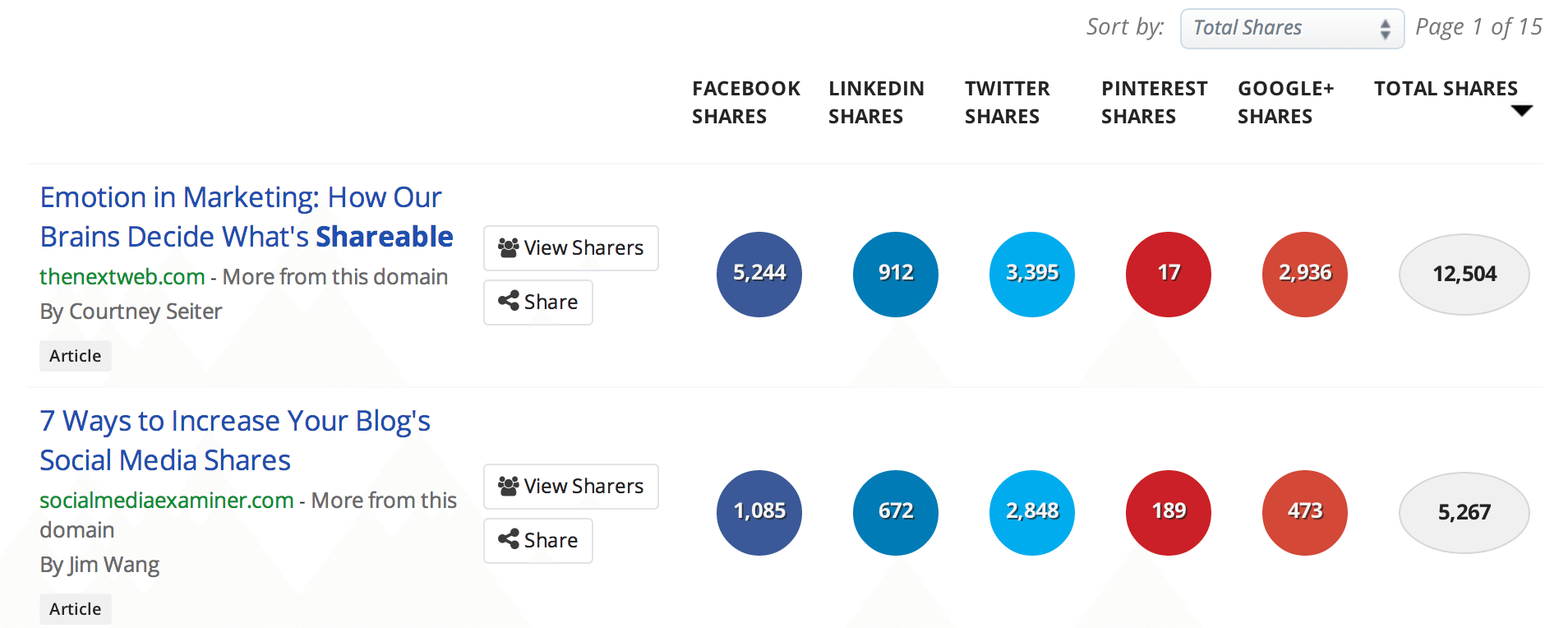 The semi-monthly email newsletter from Moz covers the best stories on inbound marketing, SEO, and social, as chosen by the Moz editorial team.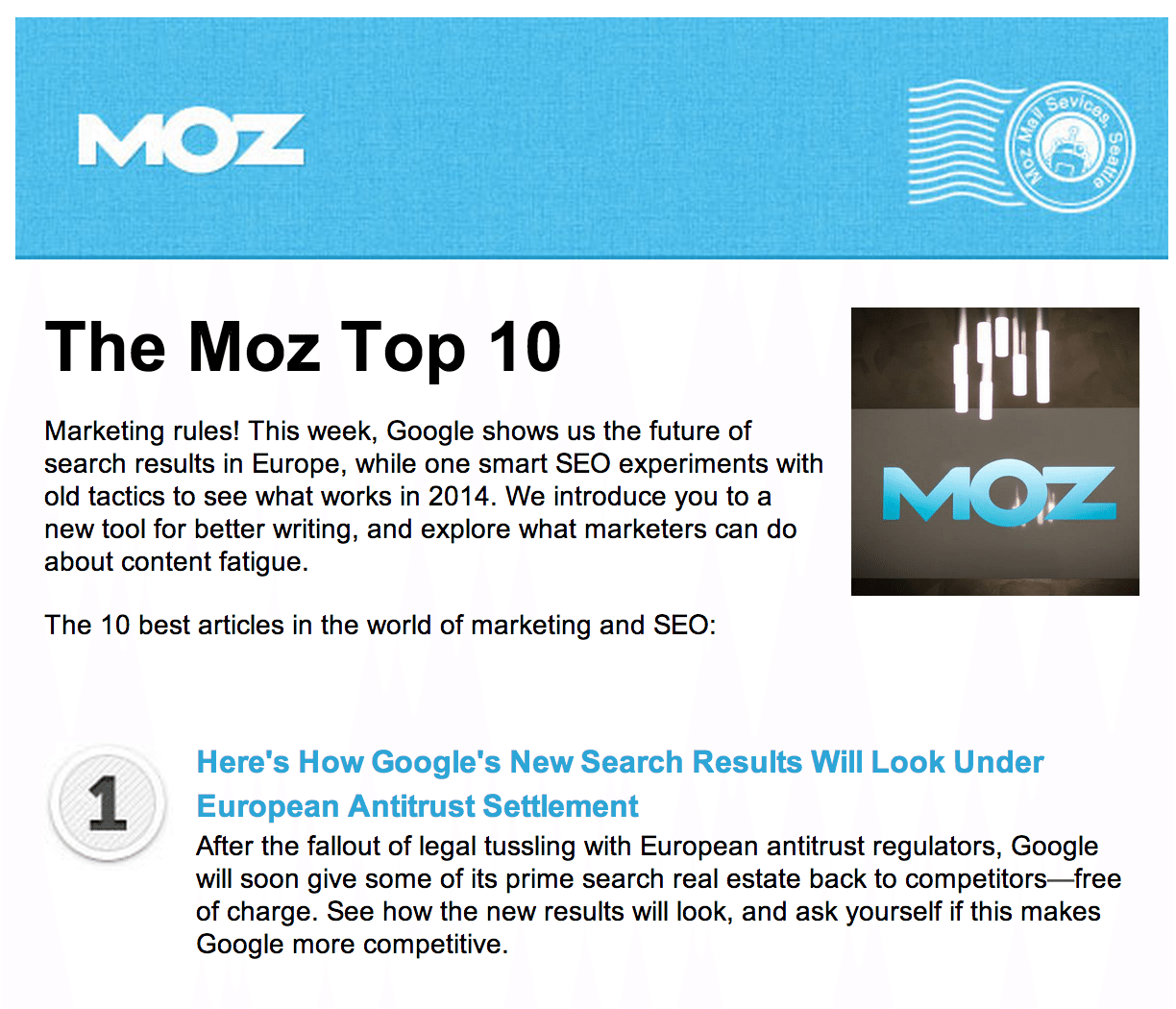 The weekly email from the 99U blog includes the top stories published on 99U over the past week as well as a handful of chosen links from outside the friendly confines of 99U. You can subscribe via any article page on the 99u website.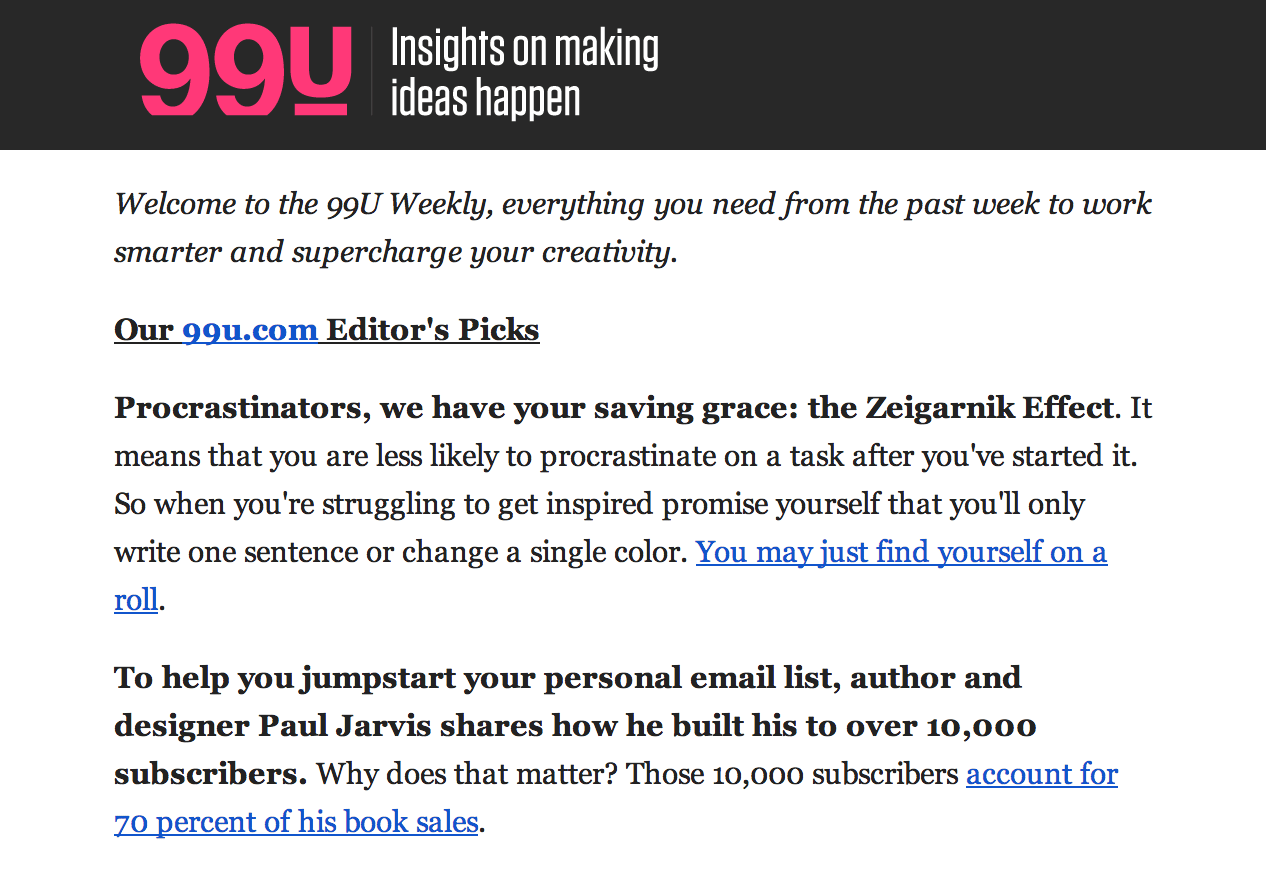 22. Brain Food – Farnam Street Weekly
The Farnam Street blog covers topics like personal improvement, discipline, learning, and growth, and the weekly newsletter is no different. Blogger Shane Parrish shares the best links from his blog over the past seven days as well as a lengthy section on the most interesting stories he's read across the Internet.
Creators of content marketing sotware, NewsCred also runs a highly entertaining, informative blog made up of original content and syndicated stories from across the web (full disclosure: some Buffer articles have appeared there before). Their daily newsletter contains three or more of the best pieces of content that appear on the blog each day.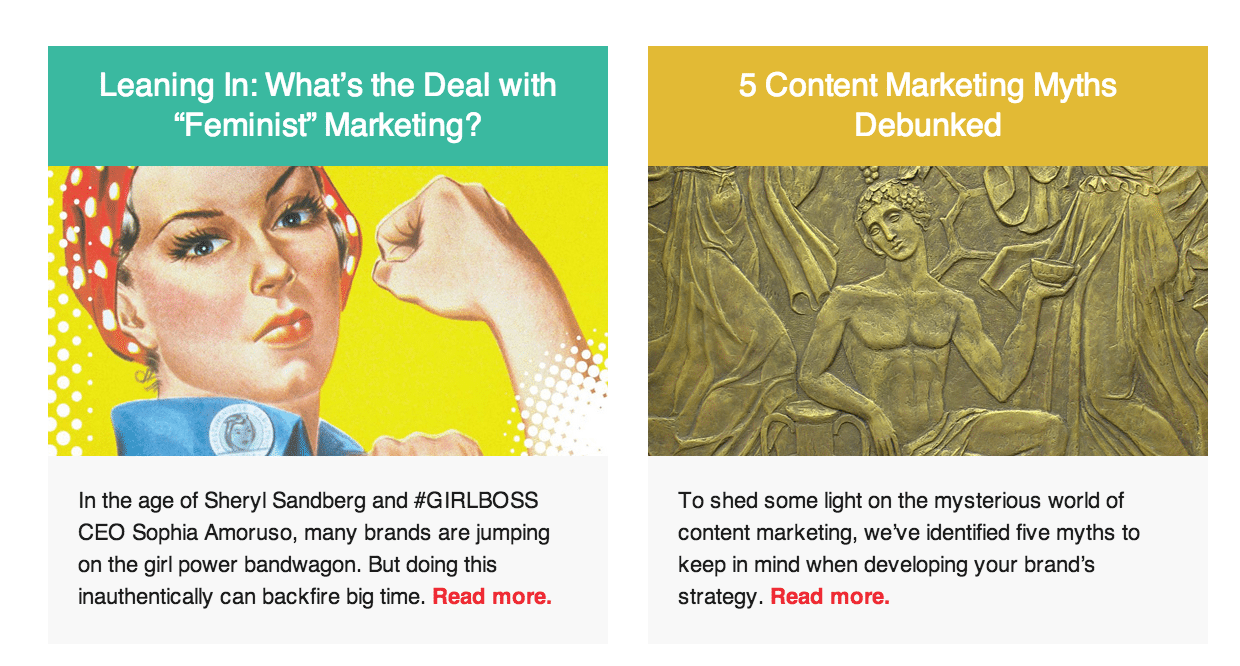 Digiday's daily newsletter is chock full of thought leadership and the latest trends on digital media, advertising, and marketing. With multiple new stories every day (and fun visuals to go alongside the stories), Digiday offers a little something different to share beyond the typical listicles and how-to posts.
The daily newsletter from The Verge includes their latest stories on technology, science, art, and culture. The Verge likely gained its notoriety for its in-depth product reviews, but the site covers so much more than that: the latest from Apple and Google, experiments with new creations like Soylent, and unique takes on trending stories across social media.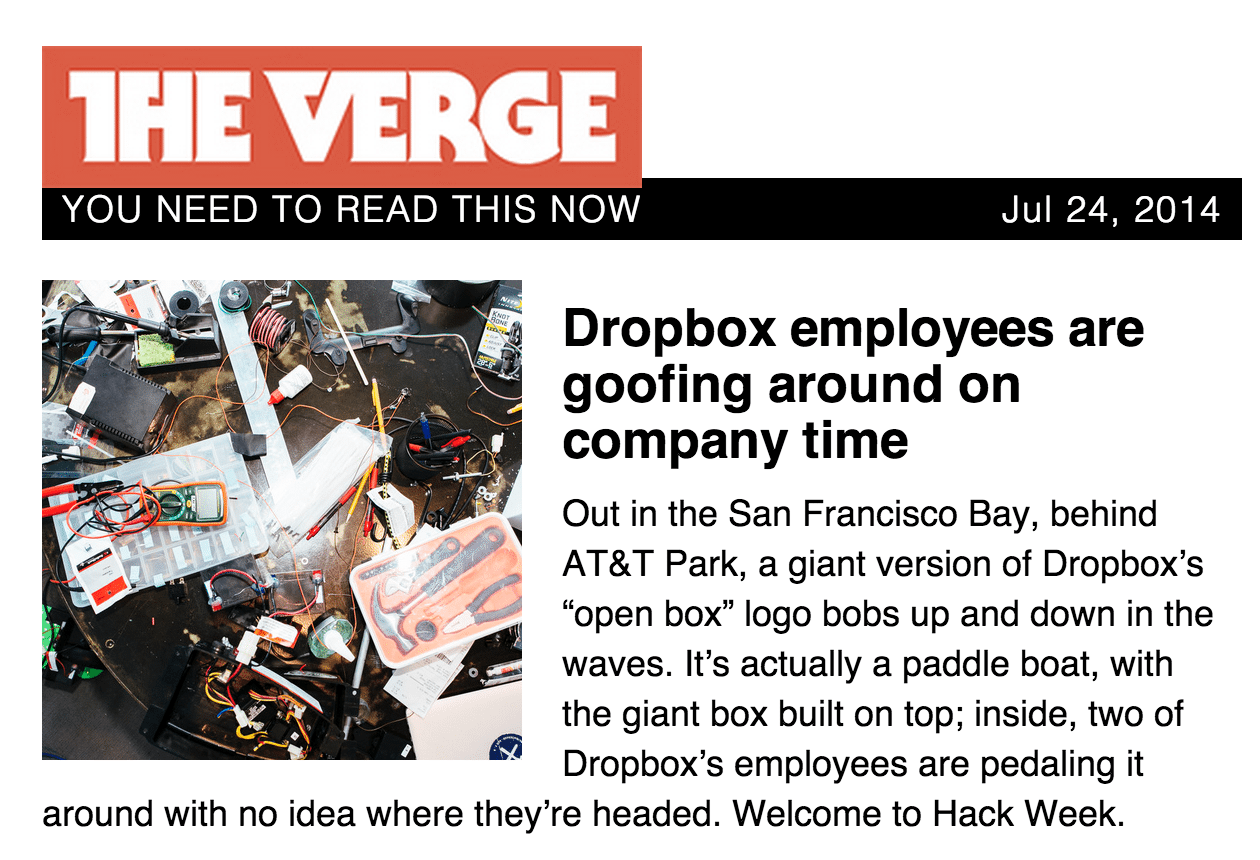 Final thoughts
Where do you turn to find shareable content?
We've found a fun groove of newsletters and tools that help us discover great stories to share and that save us big amounts of time. Finding and sharing great content on social media can be an enjoyable, simple process, once you've found the right places to look.
(Pro tip: If you choose to go the newsletter route, it might be helpful to sign up for a service like Unroll.me that puts all your subscriptions into one tidy email per day, saving your inbox from getting unmanageable.)
What are some of your favorite content sources? I'd love to hear you share your top spots in the comments.
Image credits: Death to the Stock Photo