Important update: We're retiring the Daily app and Suggestions feature – beginning August 1, we'll start turning off Suggestions in phases. Read more…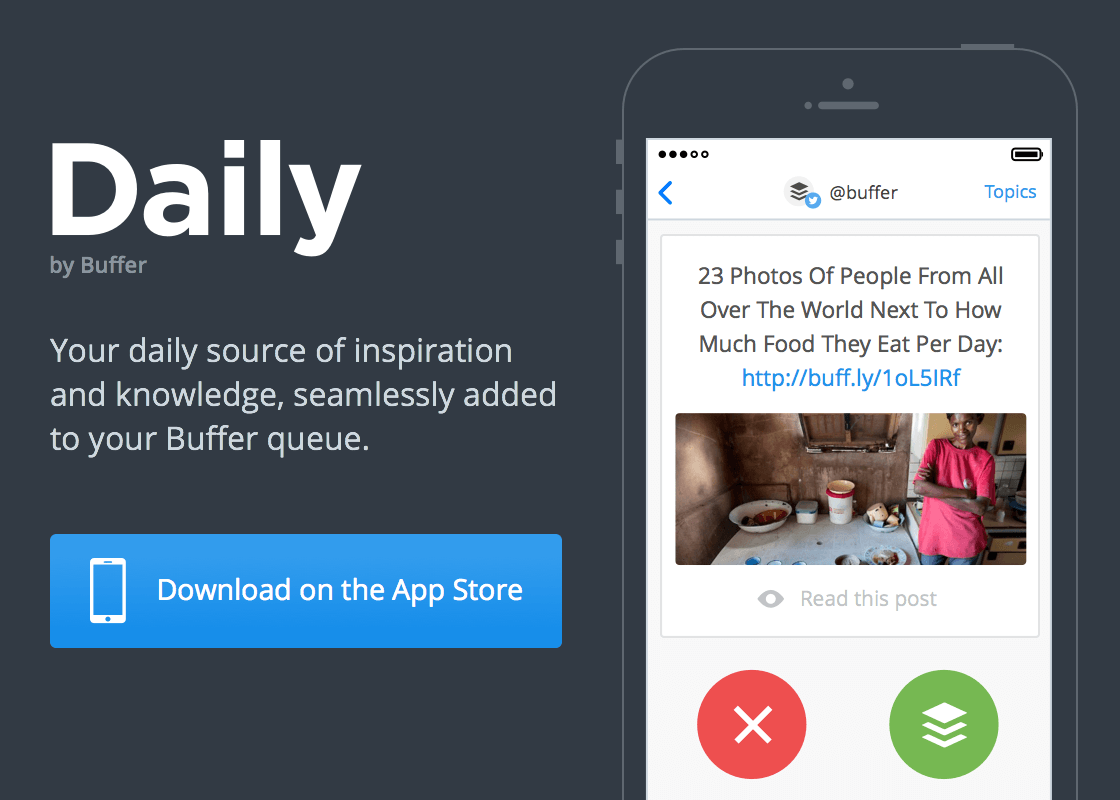 Buffer's mission has always been to do one thing really well: make it super easy to share great content.
We think our web app and mobile app make it pretty easy to share, so what about the second part of our mission? How can you stock up on great articles and photos to share?
Finding great content—the kind that moves you, makes you think, or starts a conversation—can be a challenge.
We wanted to make it easier.
Our new iOS app Daily by Buffer offers an endless amount of amazing stories, each just a swipe away.

Here's how it works: You browse our hand-picked (really! a human reads each one!) content suggestions one-by-one and swipe right for content you like, left for what you don't. We'll share your picks with your followers on Twitter, Facebook, Google+, and LinkedIn through Buffer and keep refreshing your content opportunities…well, daily.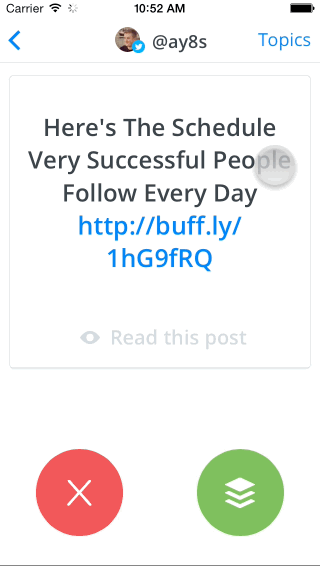 Great content, easy to share, just a swipe away.
The Daily app for iOS is now available for free from the iTunes store. Download now and start swiping!


Want more details first? Let's explore!
Think Tinder for content sharing
If you're not familiar with Tinder, here's how the dating app works in a nutshell: The app shows you a profile, you swipe right for yes and left for no.
Replace dating profiles with content suggestions, and you've got the basic premise of Daily!
We've found that the card-swiping, one-decision-at-a-time method is a fun (and slightly addictive!) way to consume content. You decide quickly and intuitively to save or skip. And you can do all this with only your thumb! Janel Torkington of AppsZoom has a neat way of summing up the card-swiping benefits:
Instead of infinite content rendered useless by its very vastness, cards connect with users via offering only the best possible content, one piece at a time. It's the ideal UI for making a decision about
now.
The best possible content, one piece at a time. That's what we're aiming for with Daily.
What our content curation process looks like
Did I mention we hand select each and every piece of content you'll see? That's 25 new stories each day, as chosen by the Buffer team—and hundreds of previous selections, if you really want to get on a roll. Here's a quick introduction of who's choosing your next favorite story.
Courtney, Head of Content Marketing
Leo, Chief Operating Officer
Kevan (me), Content Crafter
And our army of content helpers, composed of anyone and everyone who works at Buffer. Everyone's encouraged to share the best content they find online.
We pull from a wide variety of sources to come up with our curated content. Newsletters, sharing communities, RSS, and a whole lot more make up our workflow. We read everything we suggest—and tons more that don't quite make the cut.
Suggested stories can't be bought, and we don't share based on obligation, contract, or affiliation. We simply locate the stories that we find most fascinating and drop them into the app for you to enjoy.
If we find an article worth sharing with others, we happily share it with you.
Content suggestions across five topics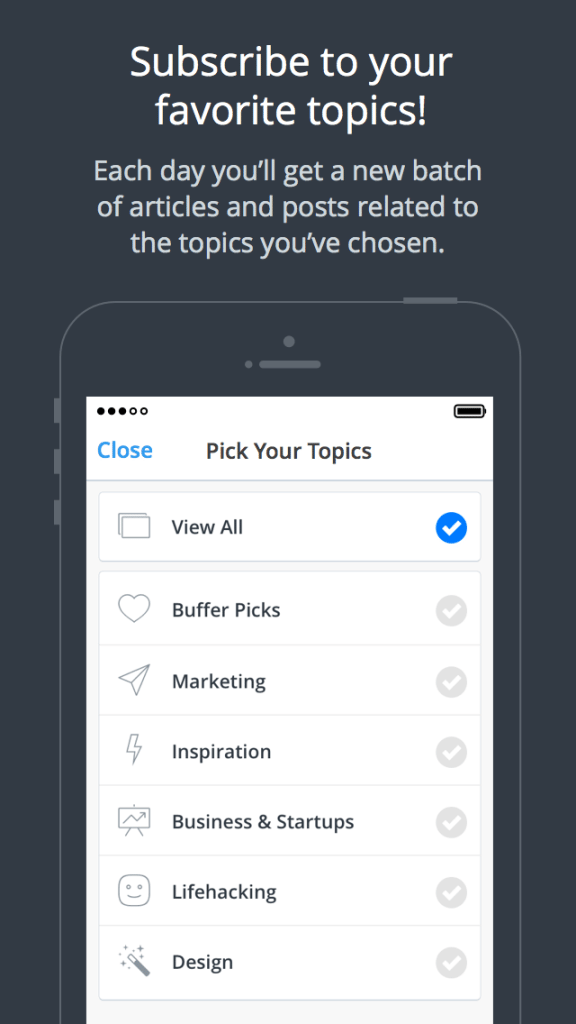 We've been suggesting great content for several months now, and we've recently expanded suggestions to cover five different topics—meaning five times the suggestions for you!
Here are the topics we cover on a daily basis, seven days a week:
Marketing
Lifehacking
Inspiration
Design
Entrepreneurship
Plus a "Best Of" that pulls in the top five suggestions of the day across all topics
(If you've got a suggestion for another topic to add, we'd love to hear it! Just pop us a note from the suggestions panel inside your Buffer dashboard, or leave a comment here on this post.)
From inside the Daily app, you can select which topics you'd like to view, or you can view all topics at once. It's as easy as tapping and choosing how you want to view your content.
Fast, fun sharing with Daily – download now!
Our goal with Daily is to provide content that's easy to find, easy to share—wherever you are.
We'll give you 25 of our new favorite stories, hand-picked each day. You get to decide what stays and what goes. The stories you love go instantly to your social media queues.
It's as simple—and as fun!—as that.
Download the new Daily by Buffer app from the app store today, and let us know what you think! We're excited to make it even better with your feedback.