Say you want to get started on a new marketing strategy—collecting customer research, or creating cool images, or measuring ROI.
Where do you go first to find the tools that'll make your job as smooth as can be?
I often turn to listicles and roundups that bundle together a big handful of helpful tools. And this is maybe why I love Product Hunt's collections so much. Their collections are user-generated tools lists that are easy to browse and simple to find just the tools that I need.
I'm happy to share with you some of my favorite collections, and I went ahead and turned many of the most popular Buffer tools posts into collections also. Hopefully for any social media marketing strategy you're keen to try next, there'll be some useful ideas here in these collections!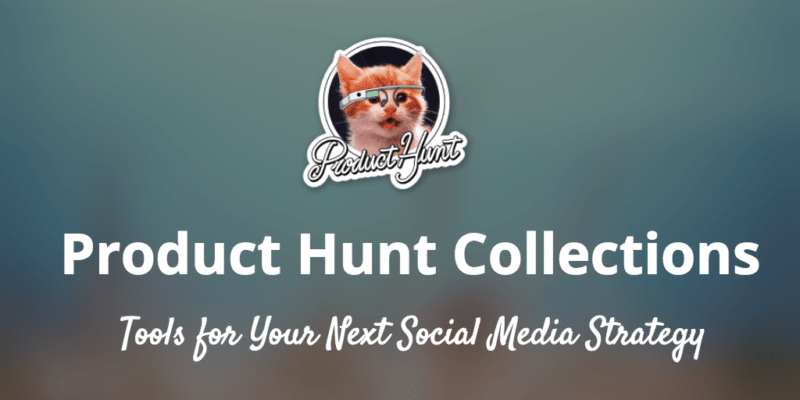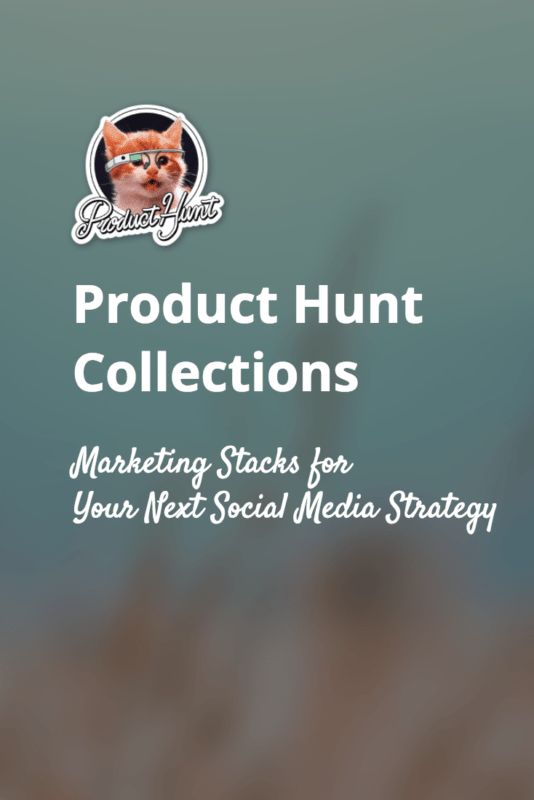 What is Product Hunt?
Product Hunt is a website where new digital products and tools are discovered and upvoted by a community of folks like me and you.
What is a Product Hunt collection?
A Product Hunt collection is a bundle of tools that have been mentioned on Product Hunt, bundled by a common theme.
12 Helpful Buffer Tools Collections
1. Create Beautiful Images for Social Media (collection)
Visuals have been a key part to our marketing strategy both on the Buffer blog and on social media. We've seen great engagement with our image tweets and updates, and we're grateful for some really cool tools that make image creation easy and seamless. Our favorites are included here in this collection.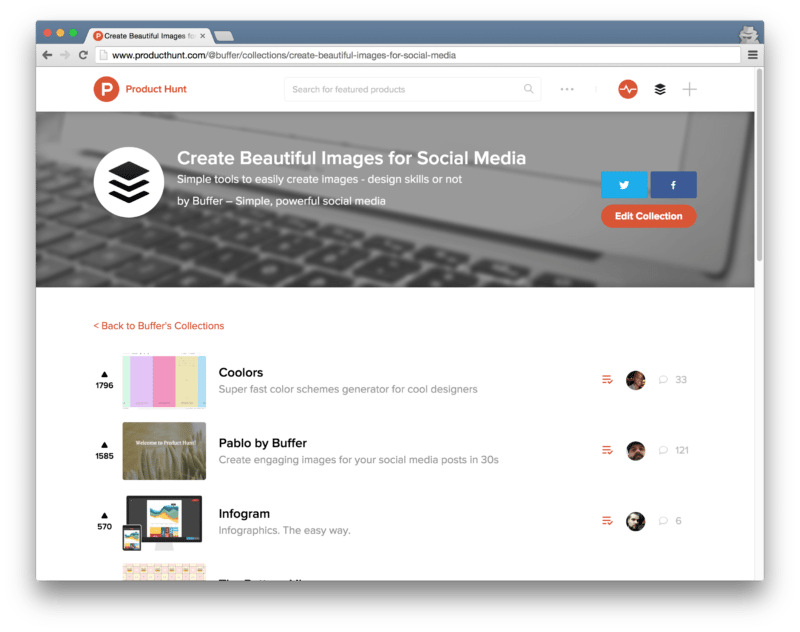 Tools featured here:
Coolors
Pablo
Infogram
The Pattern Library
The Noun Project
Placeit
UnSplash
Icon Finder
Aviary
Canva
Subtle Patterns
Over
CloudApp
Recite
Skitch
For even more image creation tools, see our original post on the Buffer blog: 23 Tools and Resources to Create Images for Social Media
2. The $0 marketing stack (collection)
Free marketing tools get me quite excited. I love the chance to explore and experiment with a free tool to see how it can help me save time or supercharge my marketing efforts. The list of tools in this collection all represent free alternatives to popular paid tools.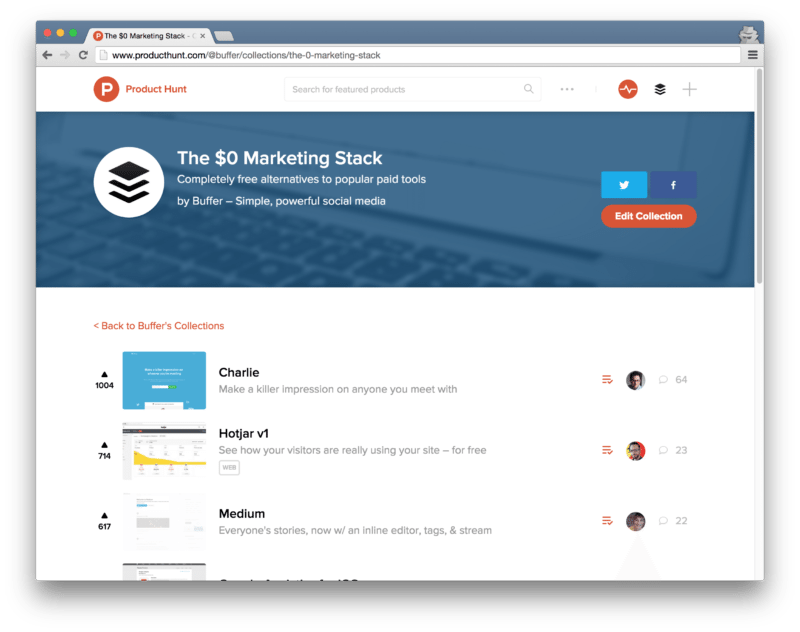 Tools featured here:
Charlie
Hotjar
Medium
Google Analytics
Buffer
Sidekick
Peek
Segment
SumoMe
Canva
Wistia
Simply Measured
For even more Twitter tools, see the original post on the Buffer blog: The $0 Marketing Stack: Free Options to Popular Paid Services and Tools
3. Where to Find Great Content to Share (collection)
Finding great content can be key to a social media strategy if you're into sharing articles and videos relevant to your brand. We've found a few great ways to discover these shareable bits of content, many of which we've listed here in this collection.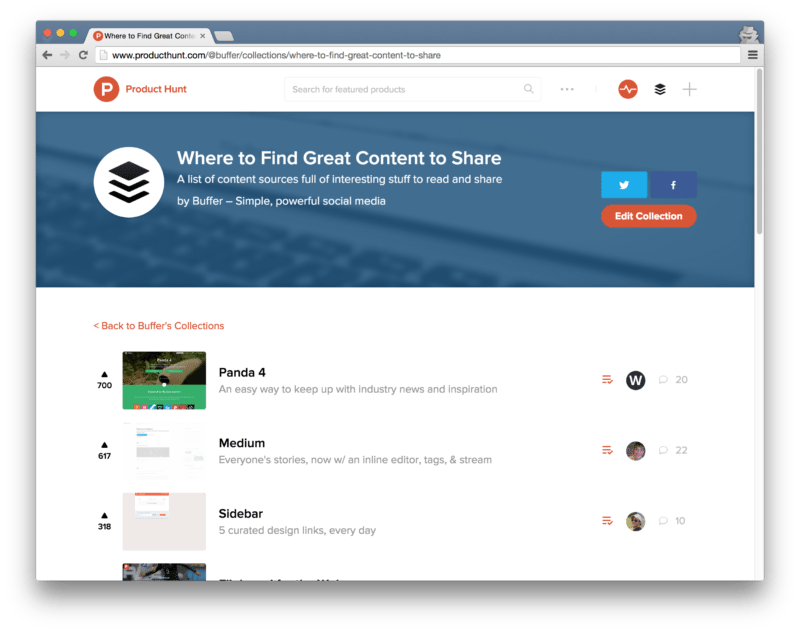 Tools featured here:
Panda
Medium
Sidebar
Flipboard
Growth Hackers
Daily
NYT Now
Inbound.org
Nuzzel
MediaREDEF
BuzzSumo
Quibb
Prismatic
Contently
The Latest
NextDraft
LinkedIn Pulse
News.me
For even more Twitter tools, see the original post on the Buffer blog: Always Have an Amazing Link to Share: 25 Newsletters and Tools to Discover Shareable Content and 17 Unique Places to Find Great Content to Share
We recently refreshed the Twitter tools post on the Buffer blog to include the new tools that have come up since we first published, nearly two years ago. The article mentions 90 tools now (90!), and I've added many of the top ones to the Product Hunt collection here.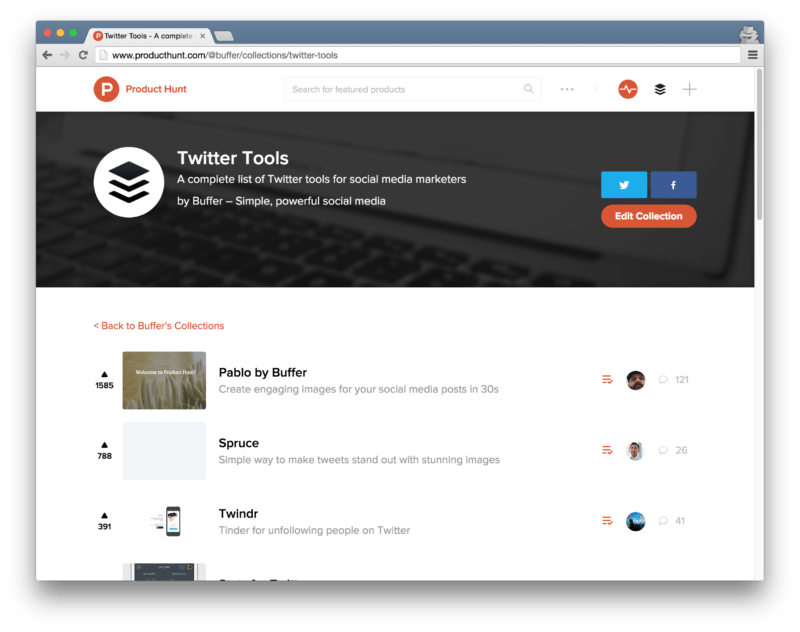 Tools featured here:
Pablo
Spruce
Twindr
Stats for Twitter
Buffer
SocialRank
Mention
TUNS
Daily 140
Rite Tag
Hash
Riffle
Share as Image
Nuzzel
SocialCount
TweetDeck
BuzzSumo
Twitshot
Filta
Twitteriffic
Followerwonk
Beatstrap
The Latest
SumAll
Klout
Keyhole
Twilert
Tagboard
Seen
SocialBro
Tweriod
Twurly
Warble
For even more Twitter tools, see the original post on the Buffer blog: The Big List of Twitter Tools: 91 Free Twitter Tools and Apps to Fit Any Need
We've enjoyed coming across useful Facebook tools here and there—tools that show you benchmark stats for your page, tools that reveal info into your follower demographics, and more. It seems that Twitter tools are a bit more ubiquitous than Facebook, yet there're still a number of great ones here that can help boost your Facebook marketing.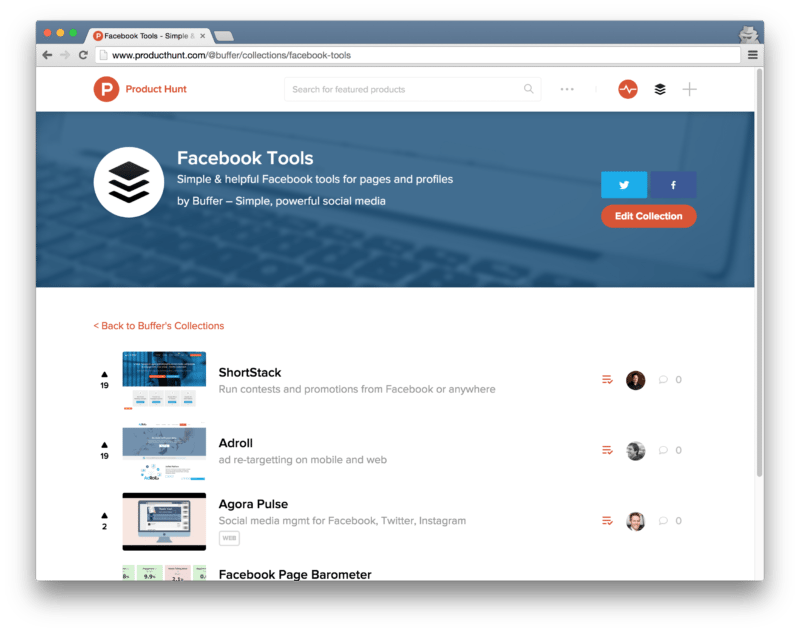 Tools featured here:
ShortStack
AdRoll
Agora Pulse
Facebook Page Barometer
EdgeRank Checker
Tools featured here:
For even more Twitter tools, see the original post on the Buffer blog: How to Run a Facebook Contest, Analyze Your Page, and More: 11 Ideal Facebook Tools for Marketers
6. Social media analytics tools (collection)
Measuring the performance of your social media posts is a strategy that can look any number of different ways. Whether strictly ROI focused or more loosely into engagement and sentiment, you can find a tool to track just about any analytics taste. Here are a few that we've found to be quite useful.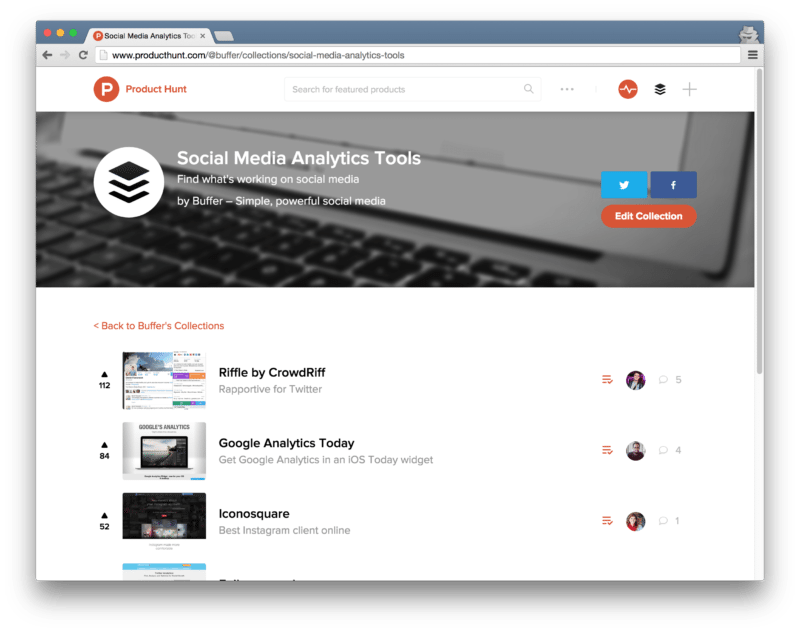 Tools featured here:
Riffle
Google Analytics
Iconosquare
Followerwonk
Cyfe
SumAll
Klout
Keyhole
For even more Twitter tools, see the original post on the Buffer blog: Know What's Working on Social Media: 19 Free Social Media Analytics Tools
7. Customer research tools (collection)
This collection of tools is one near and dear to my heart, as I really enjoy the chance to reach out directly to your audience and get their feedback. The tools mentioned here include survey tools, heat maps, user testing, and more.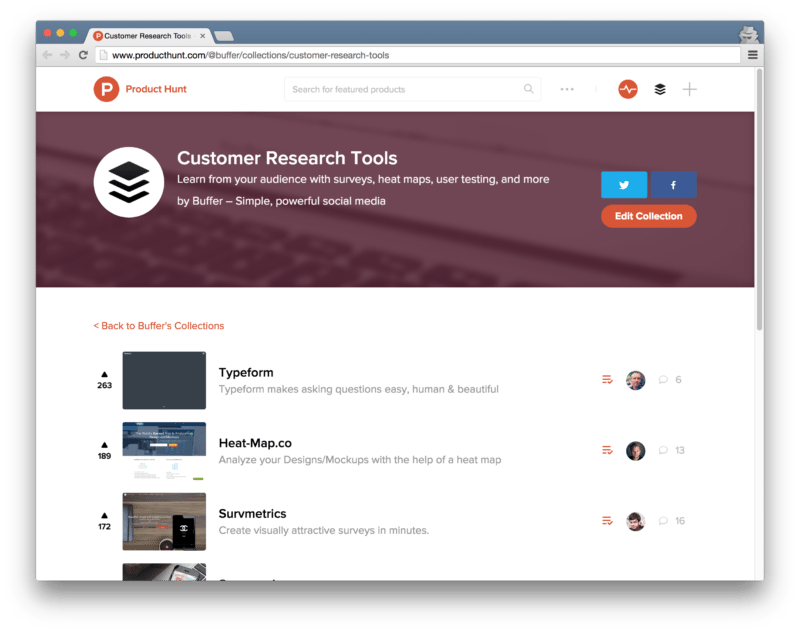 Tools featured here:
Typeform
Heat-Map
Survmetrics
SurveyPal
User Testing
Click Insights
Qualaroo
Survata
Usability Tools
Temper
For even more Twitter tools, see the original post on the Buffer blog: Get to Know Your Audience: 18 Incredibly Useful Market Research Tools
8. Best Free Tools for Small Businesses (collection)
What makes for a small business tools? It's likely that a lot of the small business tools mentioned here are also used by big businesses as well. What makes these particular useful for the small biz is that these tools are free and easy-to-use. You can get up and running with these tools in little time and for little money.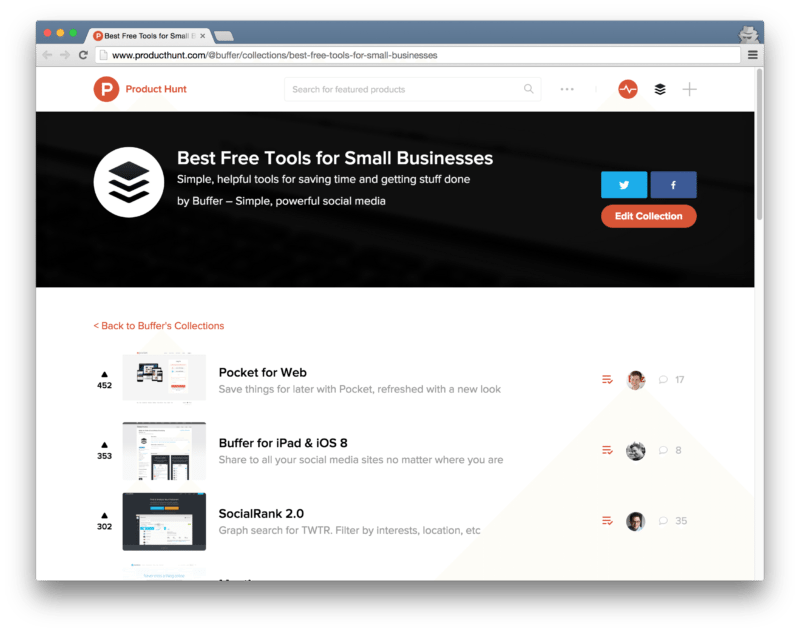 Tools featured here:
Pocket
Buffer
SocialRank
Mention
Flare
Twtrland
IFTTT
Nutshell
Rapportive
Canva
Tweetdeck
BuzzSumo
Followerwonk
Shared Count
Keyhole
News.me
Rival IQ
Tweet4me
Social Bro
Tweriod
For even more Twitter tools, see the original post on the Buffer blog: The Big List of The 61 Best Social Media Tools for Small Business
9. Browser extensions (collection)
Saving time online is a key focus for us here on the Buffer marketing team. And one way we go about doing that is with some high-powered browser extensions. These are a few that we find particularly useful.
Tools featured here:
Giphy
Rite Tag
Riffle
Social Analytics
Pocket
Feedly Mini
Bit.ly
Evernote Web Clipper
Instagram for Chrome
For even more Twitter tools, see the original post on the Buffer blog: The 15 Best Browser Extensions to Improve Your Social Media Marketing
10. Mobile apps and tools (collection)
It's amazing the work you can get done from your phone. This collection of mobile apps offers a little bit of everything for the on-the-go digital marketer.
Tools featured here:
Trello
Flipboard
Overcast
Buffer for iOS and Android
Evernote
MailChimp Snap
Mention
Asana
IFTTT
Daily
Aviary
Facebook Paper
Hipchat
Over
Nimble
Prismatic
Flow
For even more Twitter tools, see the original post on the Buffer blog: 45 Best Mobile Apps and Tools for Marketers: How to Manage Social Media From Anywhere
11. Blogging tools (collection)
We're grateful for the chance to experiment with a lot of different types of tools here on the Buffer blog. Several tools are included in our daily workflows of brainstorming, researching, note-taking, writing, editing, publishing, and sharing. Here's a collection of our favorites.
Tools featured here:
Trello
Hemingway
Wunderlist
Evernote
KeywordTool.io
Quora
Todoist
Grammarly
Canva
Share As Image
Death to the Stock Photo
Blog Topic Generator
Desk App
BuzzSumo
Toggl
Digg Digg
Filament
Egg Timer
Meme Generator
For even more Twitter tools, see the original post on the Buffer blog: 39 Blogging Tools to Help You Work Faster, Write Better, and Land More Readers
How much time do you spend on SEO for your website or blog? We spend a few minutes per blog post, and this time is well spent thanks to the SEO tools on hand. This collection mentions some real time savers, and they can be used whether you're an SEO expert or not.
Tools featured here:
Nibbler
Keywordtool.io
SimilarWeb
MozBar
Google Trends Visualizer
ahrefs
Check My Links
For even more Twitter tools, see the original post on the Buffer blog: 21 Simple and Free SEO Tools to Instantly Improve Your Marketing
---
10 Useful Product Hunt Collections for Marketers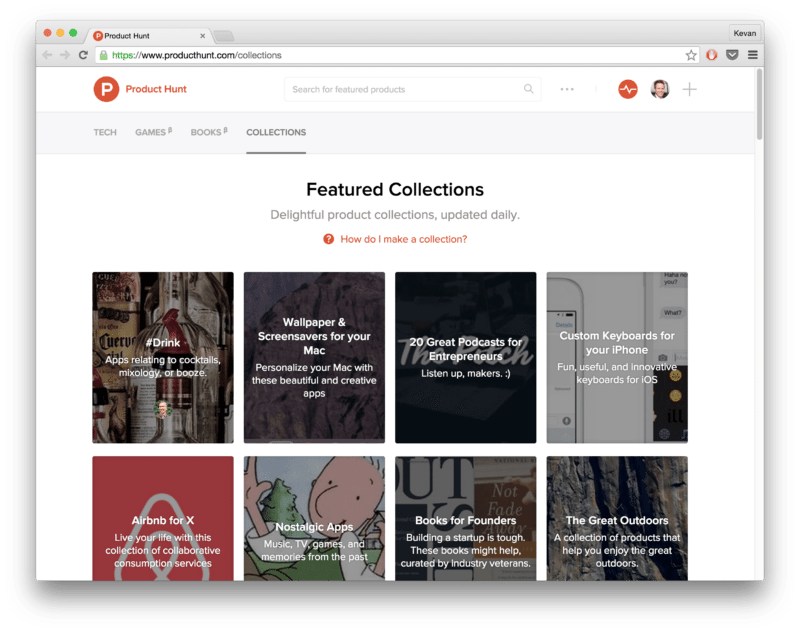 1. Free stuff for startups (collection)
A fun collection by Hiten Shah that covers 55+ free tools. It's an incredibly exhaustive list, full of some of our favorite tools that we use every day here at Buffer, too.
2. 20 great podcasts for entrepreneurs (collection)
Not only a great list of podcasts for founders, but also a really useful list for anyone into learning about growing a business.
3. Personal assistant apps (collection)
Looking to offload some of your to-do list? These tools can help with a huge variety of items like research, scheduling, errands, and more.
4. Startup tool kit #4 (collection)
Each of Product Hunt's Startup Tool Kit offerings has been really great (here's a link to #1, #2, and #3), and for some reason #4 just really caught my eye. I've felt a yearning to try most every tool listed here, so maybe it's a tug of wanderlust. You'll note that these tool kits originally were intended as discounts or giveaways, and that some of the savings may have since expired.
5. Tools for marketers and growth hackers (collection)
This list of 34 tools covers a great range of marketing tasks, things like image creation, email newsletters, Twitter content, and more.
6. The 1,000 upvote club (collection)
Looking for the most popular Product Hunt products? They're on this list, which collects only those products with 1,000 votes or more. Startup Stash holds the top spot with 3,000+ votes.
7. Newsletters you'll love (collection)
Featuring 25 popular newsletters in the business and marketing scene, this collection makes it easy to find and discover a favorite new newsletter (or two).
For those looking to stay organized and on top of things, this collection has 27 ideas for new tools to try.
9. Tools for writers (collection)
This list of tools covers some really useful products that help with the writing process: word processors, ebook creators, dictionaries, and more.
If you use Slack to communicate with your team at work, there are some really neat integrations that can tie into your Slack rooms—things like brand monitoring, scheduling, live chat, and even Product Hunt notifications.
Bonus: Just for fun
Things for your desk (collection)
I don't own anything from this list, but I'd love to! There's stuff here like whiteboard laptop covers, mod notebooks, standing desks, and busy indicator lights.
Become a GIF master (collection)
Talk about an irresistible headline! I'd love to become a GIF master! There're some really cool tools here like the Giphy Chrome extension and YouTube GIF Creator.
Over to you: What are your favorite products?
I'd be so excited to hear which products you most enjoy.
Which ones save you time?
Which ones do you use every day?
Feel free to leave any thoughts or tips here in the comments, and I'll get right back to you!
Image sources: Pablo, Unsplash, IconFinder