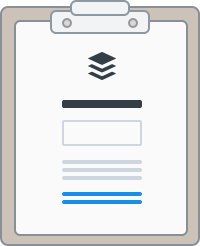 Buffer Happiness Report
January 2017
Responses within 1 hour
35% 0%
Customer satisfaction score
93 +2%
Email conversations
10,429 +17%
Twitter conversations
6,801 +33%
Avg. Twitter response time
8 hr 58 min -20%
Webinars hosted
6
Hello to live chat!
At Buffer, we are committed to quality and speedy customer service — and over the past six years, this has taken on many forms, with a primary focus on email and Twitter support.
In mid-January, we re-launched a platform that we haven't used in quite some time: live chat!
We have been wanting to re-introduce this support channel for quite some time now although we haven't felt like we've had the bandwidth. With the new Happiness team structure we brought in during December, it felt like the right timing. Live chat is awesome in so many ways!
We can offer immediate support to our customers
Availability builds trust
We gain valuable customer insight in real time
Our Happiness Heroes can chat to each other with helpful tips at the same time they are serving our customers live
Here's what one of our leads, Todd, has said about the live chat experience so far:
Overall chatting with our customers has been a blast. There's something thrilling about being able to work with customers in real-time to help them get their task finished. Just earlier I was able to help a customer understand how team members work 15 minutes before they needed to train a new employee, was awesome to be there right at the moment we were needed.

I'd say speed is the biggest value we're bringing to our customers in this channel. We're aiming to respond to each customer that reaches out within 10 seconds ( this week we're right at 12 seconds to initial response).

Our Hero, Juliet's, thoughts on live chat:
Being my first time doing live chat, it has been quite an adventure! One thing that's really unique is how directly the customers' emotions come through. That means that it's so fulfilling when I'm able to solve a tricky issue for the customer on the spot so that they can achieve what they set out to do. I can feel the stress being relieved from their shoulder immediately, and we would often share a laugh or two!

This also means that whenever we've dropped the ball which is causing a lot of hassle for the customers, I can also feel their frustration first hand, especially when I sometimes cannot resolve the issue for them straight away. It can be quite a bit of an emotional roller-coaster throughout the day, and that's something I'd love to better manage so that I can have the best energy for every customer who needs our help.

There are so many nuances about live chat that feel quite different to replying to an email or a tweet. I'm very excited to learning more and finding the "Buffery" way to help our customers via this channel!
After a bit slower volume during the holiday season, we're seeing things pick up a bit and as a team we're settling into our new team structure by time zones (rather than support tools). It's been a bit too early to tell if our live support availability has impacted our business support inbox, but we'll continue to track and report back on all these numbers!
Easier access to FAQ for Awesome and Individual customers
Our Knowledge Base is a growing and evolving resource. To make it more accessible for our customers, we've added a shortcut from each customer's dashboard.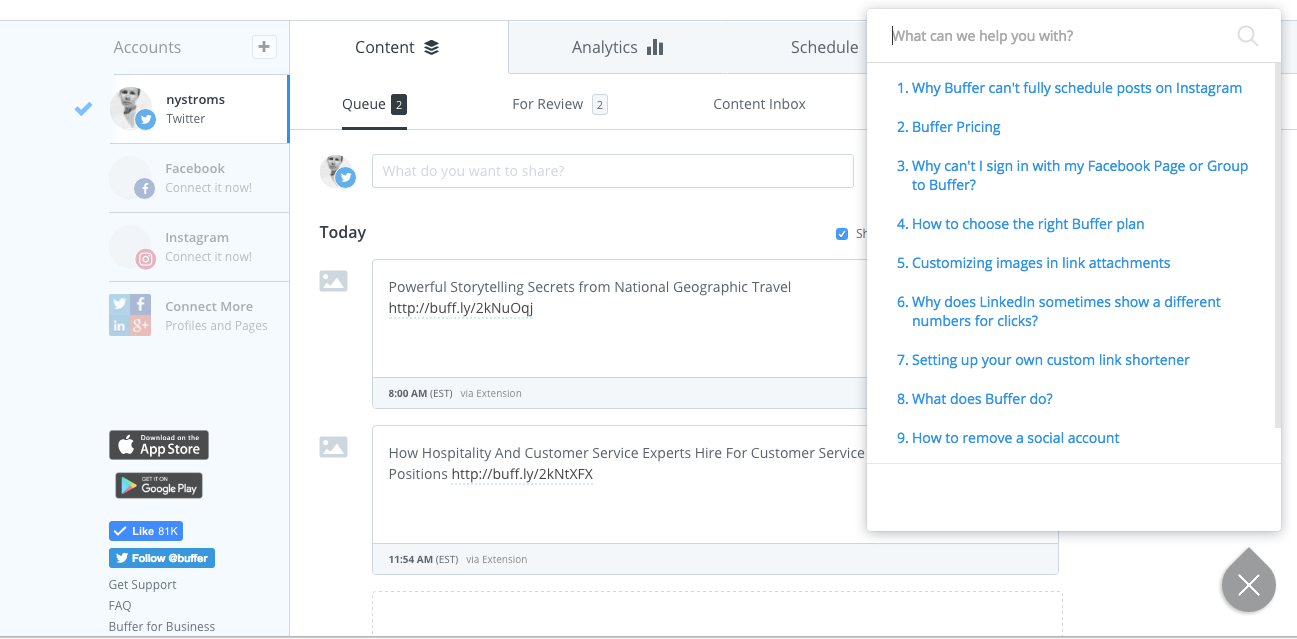 While we enjoy the chance to chat with customers and help them resolve any hiccups as quickly as possible, we recognize that providing frequently asked questions in a searchable format might be the most streamlined way to resolve any troubles.
Hellos and farewells! Happiness team updates
We are so excited to welcome Jess as a full-time Buffer teammate!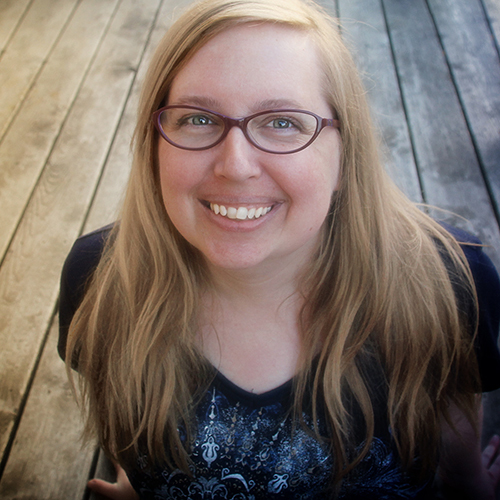 Jess lives in Montana with her family and loves helping people, growing communities and building loyalty. She's spent the last couple of decades working at companies that rapidly grew from the start-up stage to acquisition. Jess says that she feels incredibly lucky to have worked remotely all this time, which she loves as it allows her to meet so many amazing people from around the world.
In the farewells department, our dear friend, Amy (who started our book club here at Buffer) has moved on to new things. We are so grateful for all she has contributed to Buffer and all she has given customers through her incredible support. We're so excited to see all that she (and her sidekick, Henry) accomplish going forward!
Over to you
What are your preferred methods for customer support? Live chat? Email? Social media? We'd love to hear from you in the comments!
Check out other reports from January: