When was the last time you watched a video on social media?
Videos are becoming increasingly popular on social media, especially on mobile. Over the past year, the time people spent watching Facebook Live every day has increased by four times and Instagram videos by 80 percent3
.
To create engaging social media videos, Facebook recommends creating videos as short as 15 seconds2
. Sounds easier? But where do you start?
In this guide, you'll learn step-by-step how to create short social media videos — anything from a few seconds to a few minutes. We've also included many tools and examples to help you get started.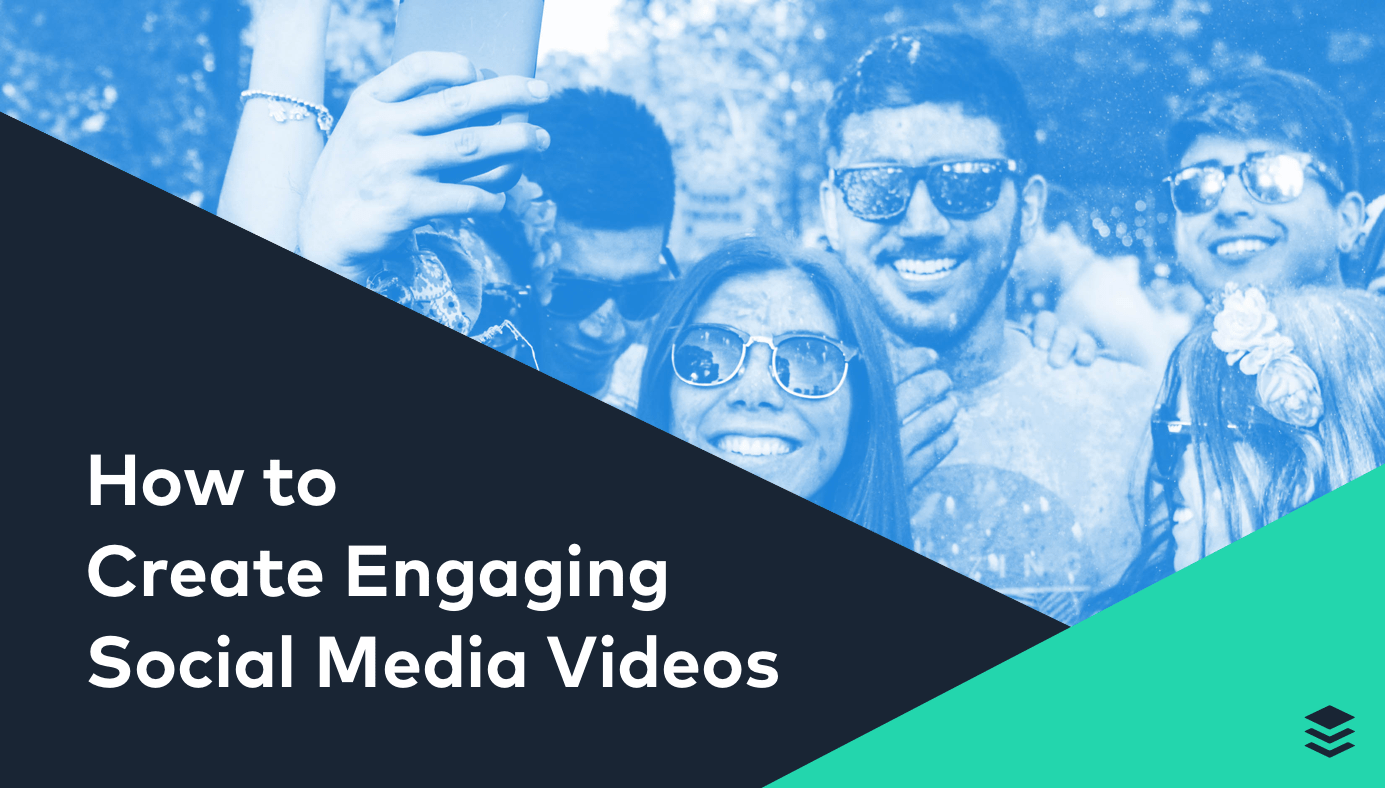 How to create engaging social media videos
Creating videos can be more challenging than writing a blog post or designing an image. But it isn't as difficult as you might have imagined. Here's how you can create effective short social media videos easily: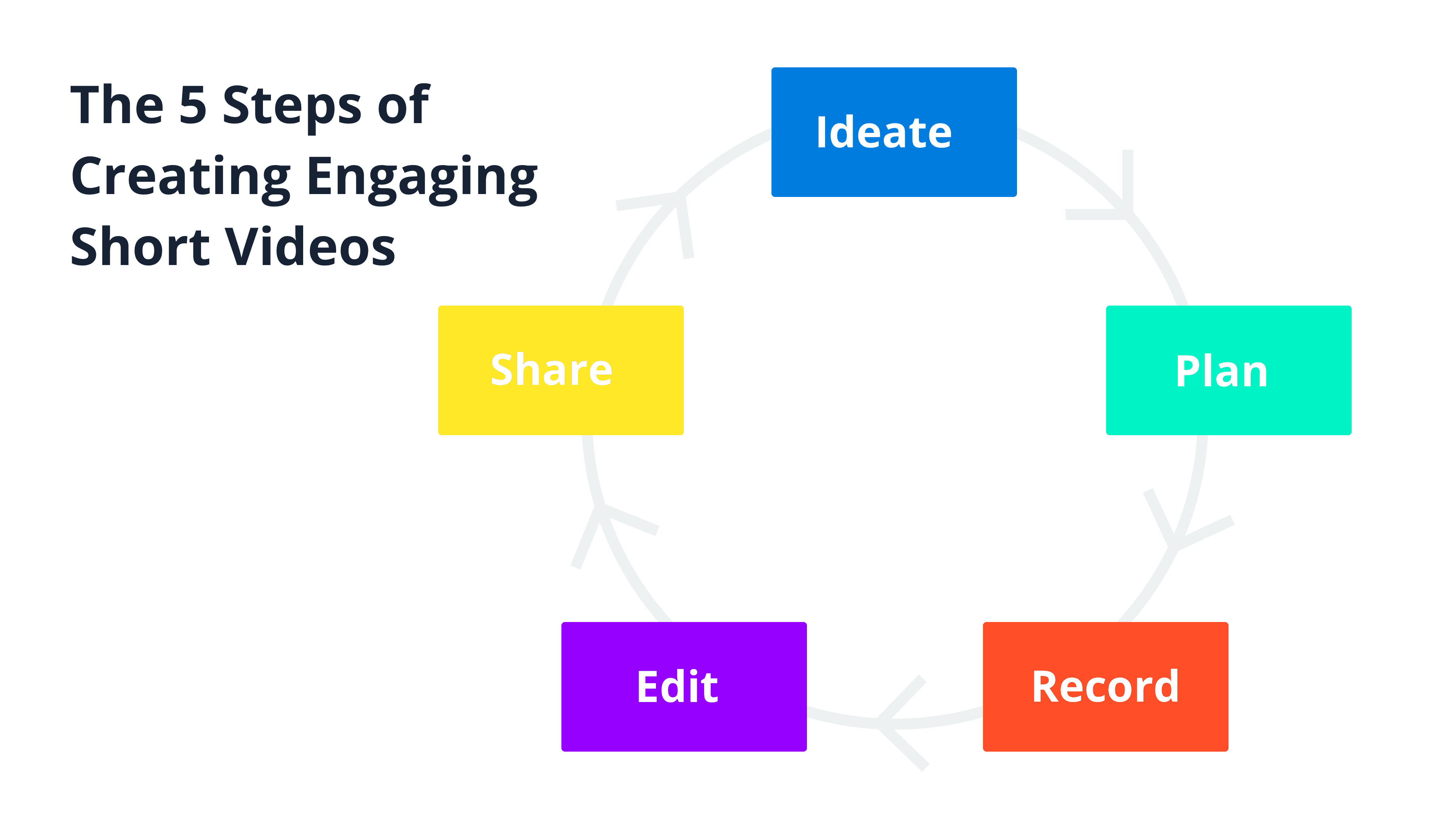 1. Ideate
The first step is to brainstorm ideas for your videos. Here are three quick ways to generate a ton of ideas:
Look at your top blog posts
If you write a blog, like us, you'll likely have a treasure trove of content ideas on your blog. The blog posts that resonate with your audience is probably great content for your videos. This strategy has helped us create well-liked videos such as this and this.
You can use your Google Analytics to find your top posts. Go to Behavior > Site Content > All Pages. You should see something like this: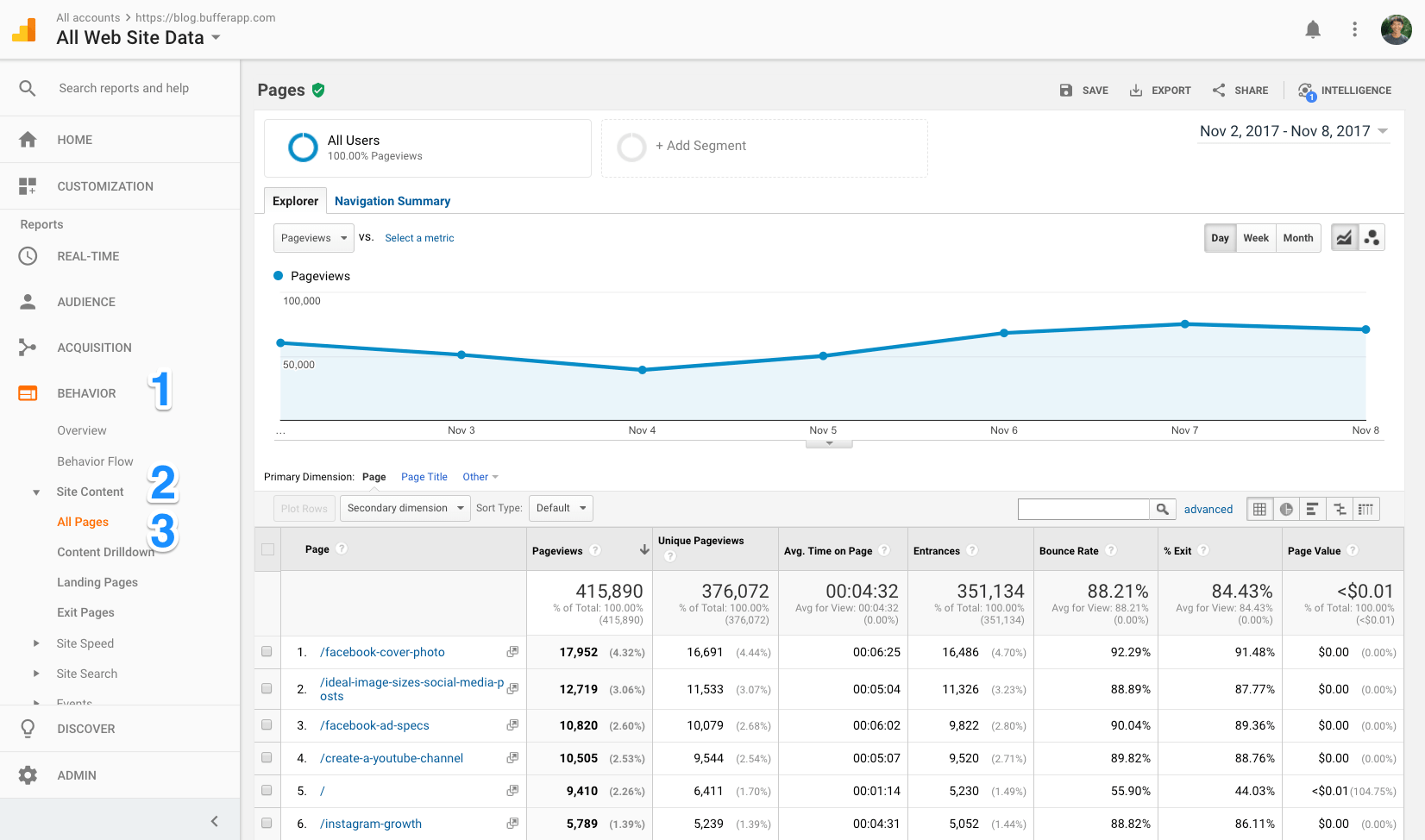 In the upper-right corner, increase the date range to a month. A quarter or a year is fine, too.

Scroll to the bottom of the page and change the number of rows shown to 100.

Voilà! Now you have your top 100 blog posts for the past month (quarter or year) — and tons of content ideas for your video.
Study the most shared content
Sometimes, your top blog posts are also your most shared. But sometimes, they aren't. Using a tool like Buzzsumo, you can find your most shared content. You can also find the most shared content for any topic!
To find your most shared blog posts, enter your blog URL on Buzzsumo.

You'll get a list of your most shared blog posts, ordered in terms of the number of shares.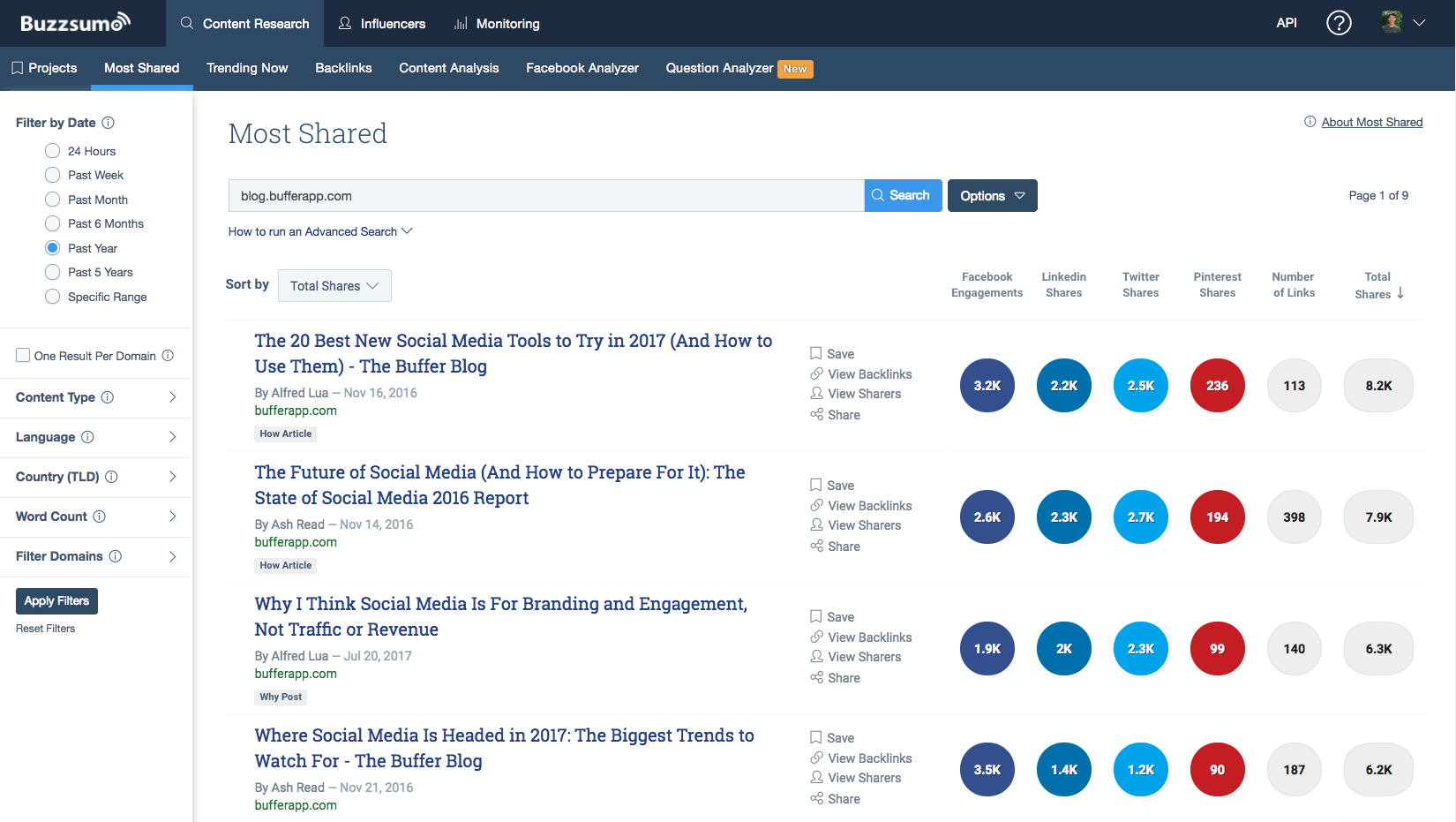 You could also sort the results by the various social media platforms. For example, if you plan to create a Facebook video, you can sort the list by Facebook engagements. Now, you'll have a list of blog posts that generated the most shares, likes, and comments on Facebook.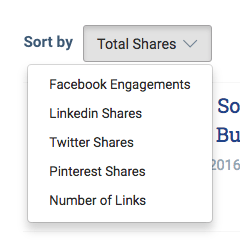 Check out popular videos from similar brands
Finally, you can also look around on social media to see what topics are popular at the moment. With Facebook's Pages to Watch, you can easily check out the top posts from your favorite or similar Facebook Pages.
To access Pages to Watch, go to your Facebook Page > Insights. You'll find the section at the bottom of the Overview tab.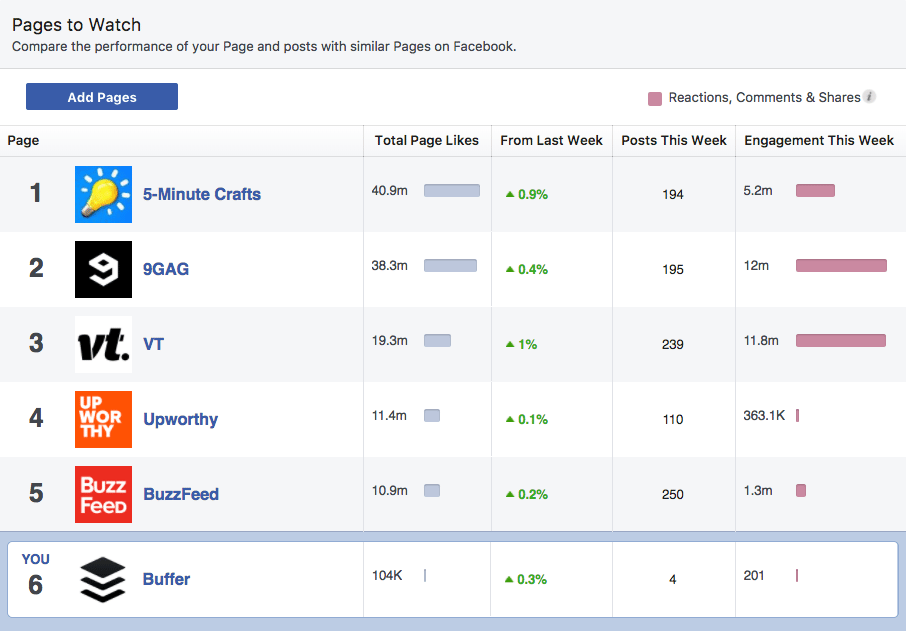 When you click on any of the Pages, you'll see its top posts for the week. The posts should give you some video content ideas. It'll be great to keep an eye out for video posts specifically.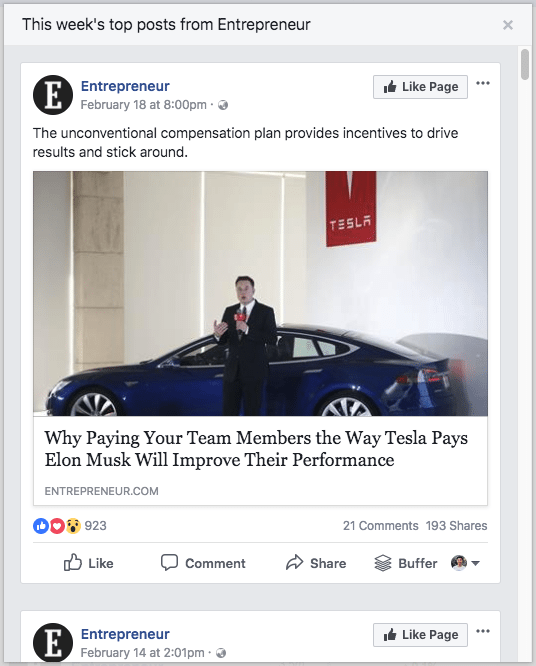 For Twitter, Social Bearing is a great tool for finding any Twitter account's top tweets. For Instagram, you could try using 2. Plan
Once you have brainstormed your content ideas and picked one to work on, you can start planning for it.
The two ways I like to plan for a video is to either write a script or create a storyboard. Both encourage me to think through the entire flow and important aspects of the video. A storyboard also helps me visualize how a shot would look like, which will be handy for the next step — recording.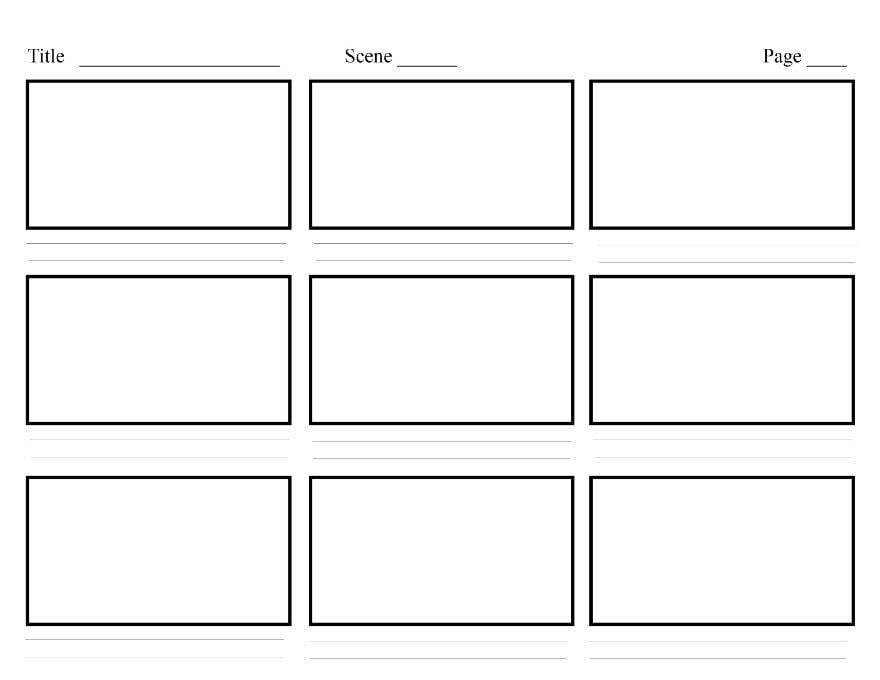 If you are not familiar with storyboarding, here's a quick guide to get you started.
To help you with your planning, here are some tips from Facebook for creating effective videos:
Capture attention early: Videos auto-play on most social media platforms. By capturing attention with the first few seconds of your video, you have a higher chance of stopping a viewer while she scrolls through her feed. Facebook recommends starting with your most captivating elements, incorporating your brand message and identity early, and using engaging post copy.
Keep your message simple: Facebook encourages you to ask yourself, "What is the most important message I need to deliver in this video?"
Design for sound off: Facebook found that people watch mobile videos everywhere — home, at work, during their commute, etc.3Facebook, 2017 Oftentimes, they wouldn't want the sound (and perhaps that's why mobile videos are designed to play without sound). According to Digiday, 85 percent of Facebook videos are played without sound4Digiday, 2016. Add captions or text to tell your story visually.
Experiment with size: More than 50 percent of videos are played on mobile now5Ooyala, 2017. And square and vertical videos take up more screen space than landscape videos when the phone is held vertically. In our own experiments, we found that square videos outperformed landscape videos on Facebook, Instagram, and Twitter in terms of average engagement and views.
If you're looking for information about video specs of all the major social media platforms such as the maximum length and default audio state, we hope we've gotten you covered with this blog post.
3. Record
Now, the fun part — recording!
Thanks to the advancement of technology (yay to smartphones!), you can create engaging, high-quality videos with just a few simple tools and tricks. Here are some of our suggestions:
Use your smartphone
You don't need expensive video equipment to get started. One of the most powerful video tools is right in your pocket — your smartphone. Most smartphones today can record videos of high visual and audio quality.
There are also many video-editing mobile apps available, which you'll learn about later in this post.
Stabilize your phone with a tripod
A stable video helps it look more professional. You can easily get affordable tripods from Amazon. For example, a mini tripod for phones costs about $11 while a 50-inch lightweight tripod costs $13.
Speak into a microphone
It's best to find a quiet location to record your video. To improve the sound quality further, you can get a lavalier microphone for just $20. Just plug it into your phone and hit record.
Find good lighting
Natural light is one of the best light sources for your videos. If you can't get that, lamps work great, too. When recording your video, be sure to face the light source so that the light spreads evenly across your face.
If you prefer a more advanced light setup, you'll love this "Lighting on the Fly" guide by Wistia.
Find or create your video background
Finally, find a nice background for your video. A simple colored background is a great option as it encourages viewers to focus on you and prevents them from being distracted by things going on in the background.
If you can't find a suitable background, you could create one yourself. You could buy a large foam board from Amazon or a stationery store and place it behind you. Or you could build your own lightbox if you are filming a small physical product.
4. Edit
Great work on recording your video clips! Now, let's put them together.
Here are a few of our favorite video-editing tools:
Animoto
For creating video slideshows, we love to use Animoto. It allows us to easily combine video clips, stock videos, photos, and text together to create short engaging videos. Music can also be added to the video in just a few clicks.
If you're looking for more music choices, Brian Peters found 13 fantastic places for background music.
Other tools like Animoto: Adobe Spark Video, Promo, and Wave
Quik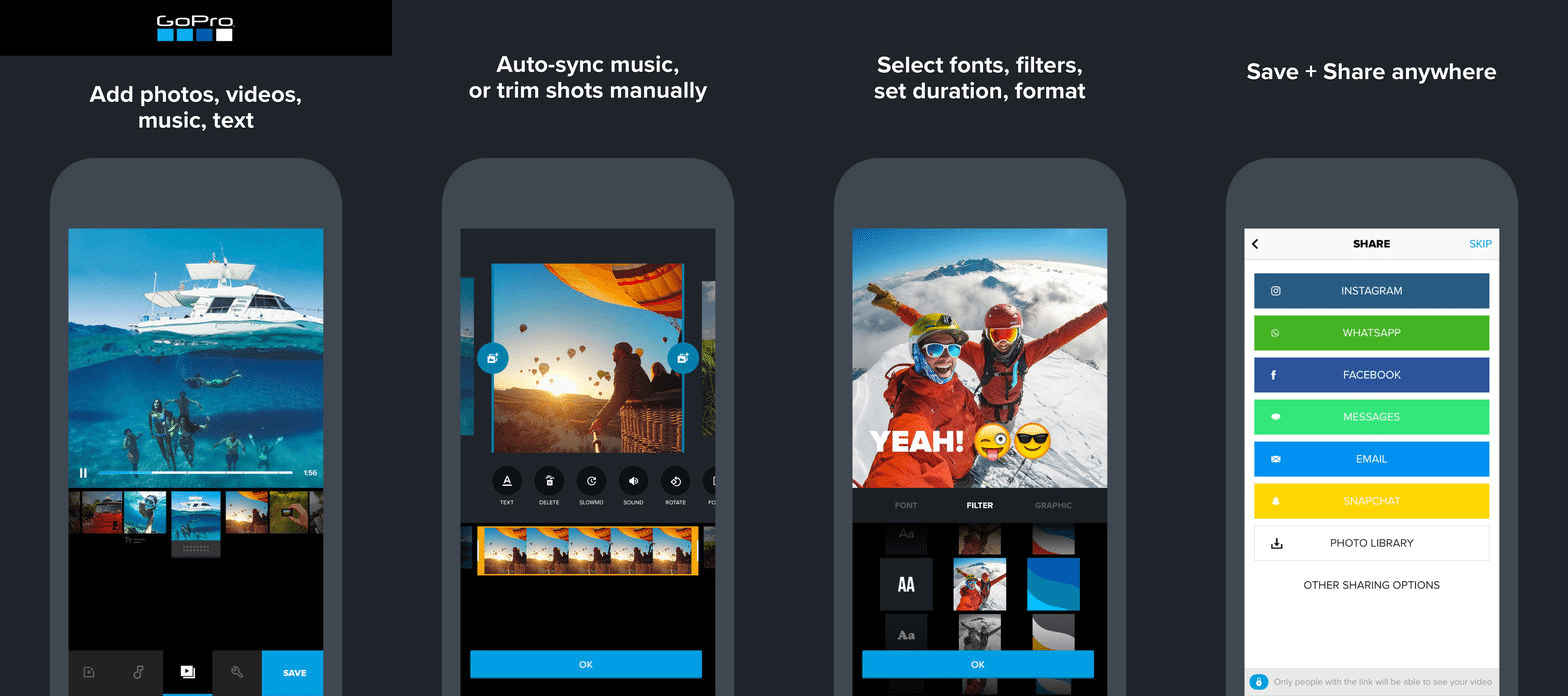 If you like to edit on-the-go, Facebook recommends Quik by GoPro (Android, iOS). You can just pick your videos and photos, and Quik will automatically find highlights, add effects, and sync transitions with the music. You can then customize the video to your liking.
Other tools like Quik: Videoshop (Android, iOS), Stop Motion Studio (Android, iOS), Vidlab (iOS)
Legend

With Legend (Android, iOS), you can turn simple text into impressive animations. These animations can be a great addition to your videos as a transition between two video clips.
Other tools like Legend: Crello, Adobe Spark Post (iOS)
Note: You'll want to be mindful of the copyrights and royalties of the videos, images, and music you use for your videos. Here's a quick rundown of a few rules and licenses.
5. Share
Finally, you're ready to share your video!
While there are many ways to share your videos on your social media profiles, we hope the best way for you is to use Buffer's Tailored Posts.
With Tailored Posts, you can easily schedule or post different videos to each of your social media profiles. All at once, from a single place. And videos will be uploaded directly to the social media platforms.
To use Tailored Posts, click on the Buffer browser extension on any website. (Tailored Posts is coming to the desktop and mobile dashboards soon!)
Then, select the social profiles you want to share the video with, update the copy, and upload the video.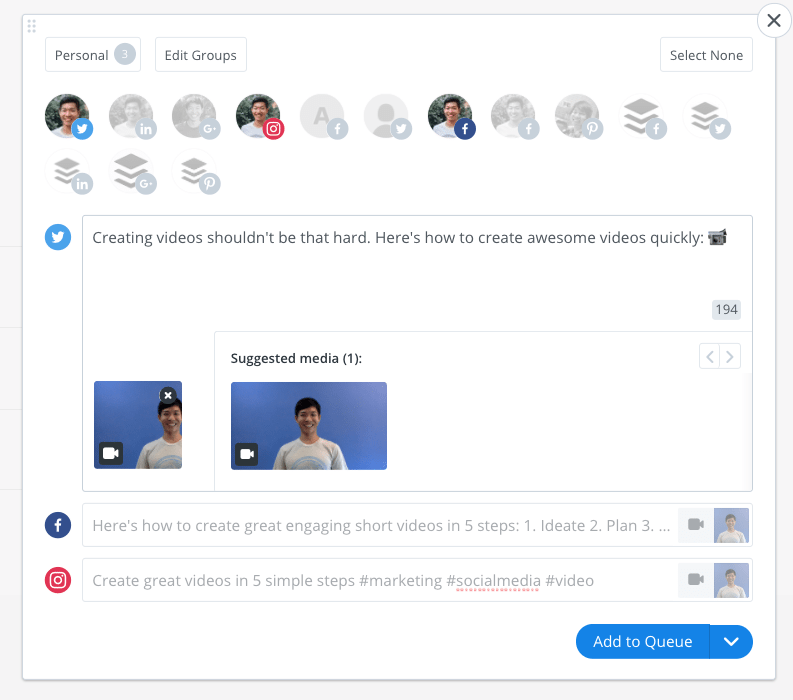 Then, hit "Add to Queue". Your video will be added to your respective social profile queues and shared at the selected times.

7 video ideas and examples to help you get started
I know creating videos can feel a little intimidating at first. I had many questions myself. What should I include in the video? How long should it be? What type of music should I use?
I hope from these ideas and examples of short social media videos, you'll find some inspiration and the answers to your questions.
How-to, tips, or tutorial
HubSpot created a short video on how to convince your boss to let you work from home, with stock footages and text.
Customer testimonial
GoPro interviewed three customers to promote its drone, GoPro Karma, and to introduce its new features.
Events
Wistia did a recap video of their time at Inbound 2017.
Behind-the-scenes
Patagonia shared a quick behind-the-scenes look at their factory.
Product launch
Ben & Jerry's created a simple looping video to promote a new flavor of ice cream.
List
We made a short video slideshow sharing five tips that increased our Facebook video views and engagement.
User-generated content
Starbucks compiled photos of its iconic holiday cups from its customers into a simple video slideshow.
For more ideas, check out Facebook's Creative Hub, where they have listed close to 100 Facebook videos for your inspiration.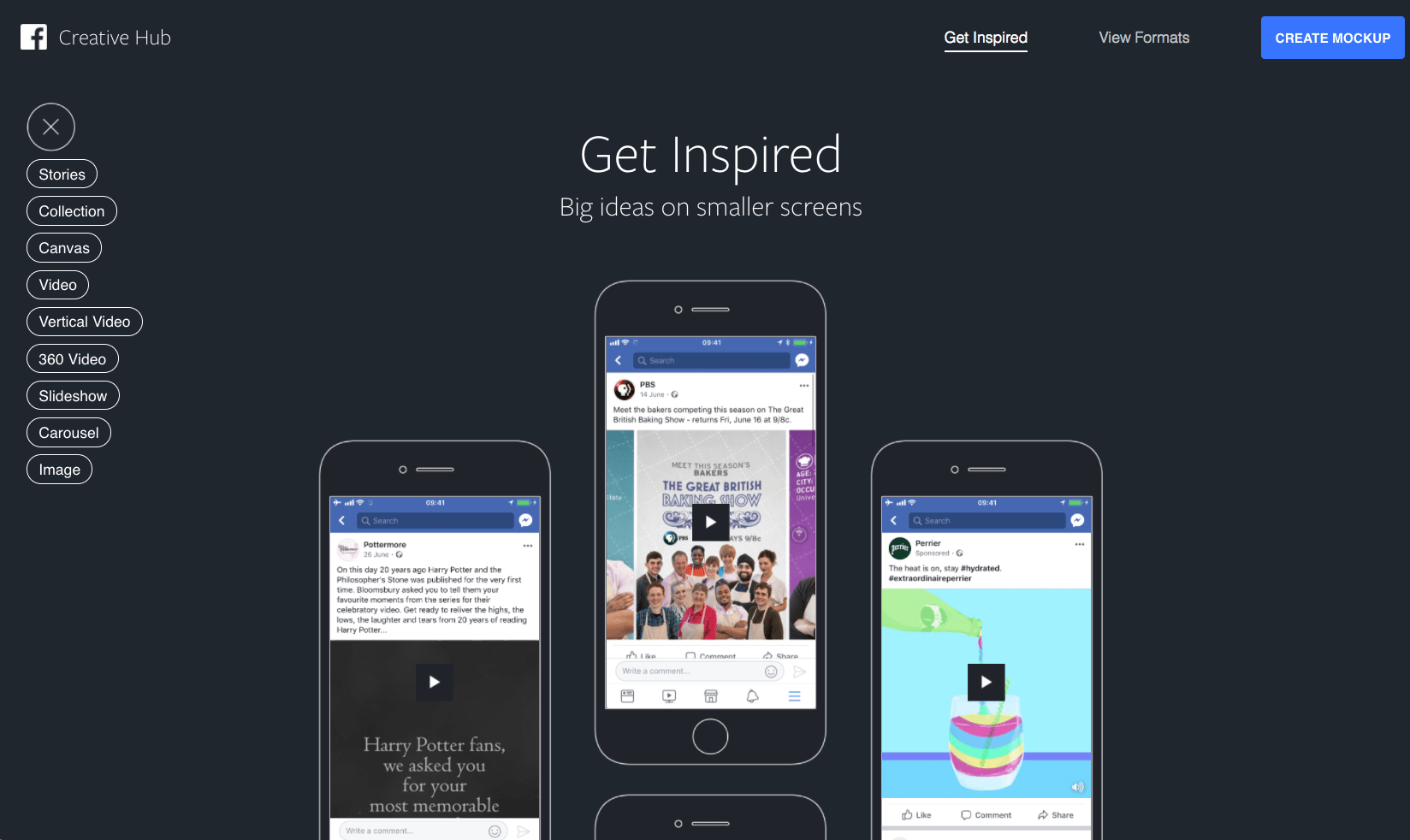 How do you create your social media videos?
With videos being the third most-wanted content type in the future (after social media posts and news), it'll be great to get started now6
. Here's a simple framework you can use (and adapt):
Ideate
Plan
Record
Edit
Share
If you have already been creating videos, I would love to learn from you. Do you have any tips for creating engaging social media videos? How does your video creation process look like?
—
Topic: Video marketing
Image credit: Unsplash, UX Planet
Brought to you by
Did you find this article helpful? You might also like our all-you-need social media toolkit.
Get started for free now