Whether you're starting a social media marketing plan from scratch or redefining an existing social media strategy, we've found that taking a moment to reflect on some key questions can be a really valuable exercise.
These Big Important questions—capital "B," capital "I"—can help point you down the best path with your social media efforts and ensure that the time you spend is aimed at the right places and toward your top goals.
I've listed here 25 of the questions that I've found most helpful when coming up with social media strategies for my personal brand and for sharing with Buffer. Plus, I'm happy to share how I think about answering these questions as well. It'd be great to hear your thoughts and experience on the topic, too!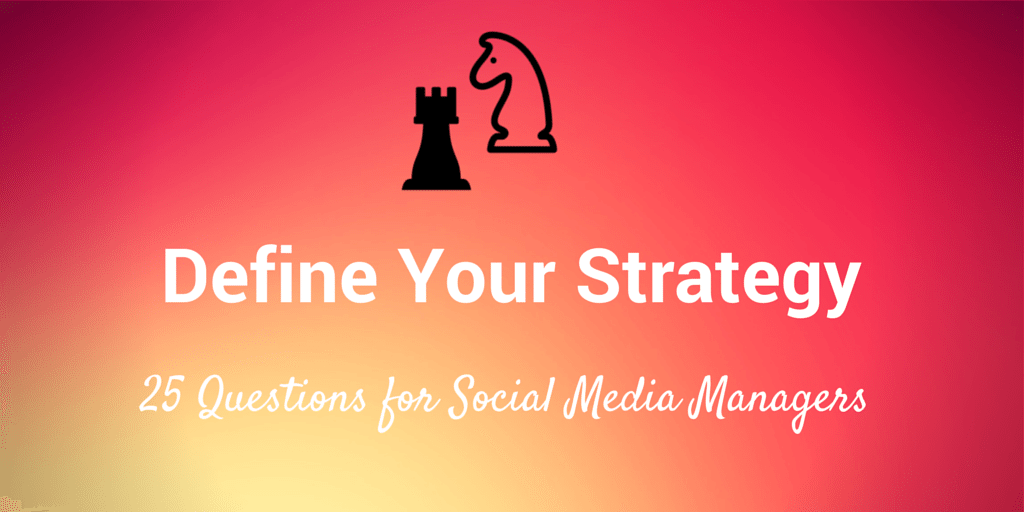 25 questions to help define your social media strategy
Michael Brenner shared a helpful post on the 21 questions he's found useful in defining a content strategy. It kick started the same thought process for me with our social media sharing.
Which questions have I found most helpful in defining my social media strategy?
Here are the 21 that I came up with.
On Setting Goals
1. Why have you joined social media?
2. What is your brand's overall purpose?
3. What do you or your company aim to achieve with social media?
I've found that these questions often take you down a couple of parallel paths.
The first is thinking big-picture with the goals you set, planning out a mission for why you're on social media. The second is setting specific goals to support the mission and purpose that you've defined.
In this sense it becomes a macro-micro approach: The macro, big ideas tie directly to the micro, smaller implementations.
There's a great image from Samuel Hulick at User Onboarding that shows how to frame the big-picture questions like brand purpose. Think about not only what your product or service is, but also the ultimate effect it has on your customer. Think benefits, not features.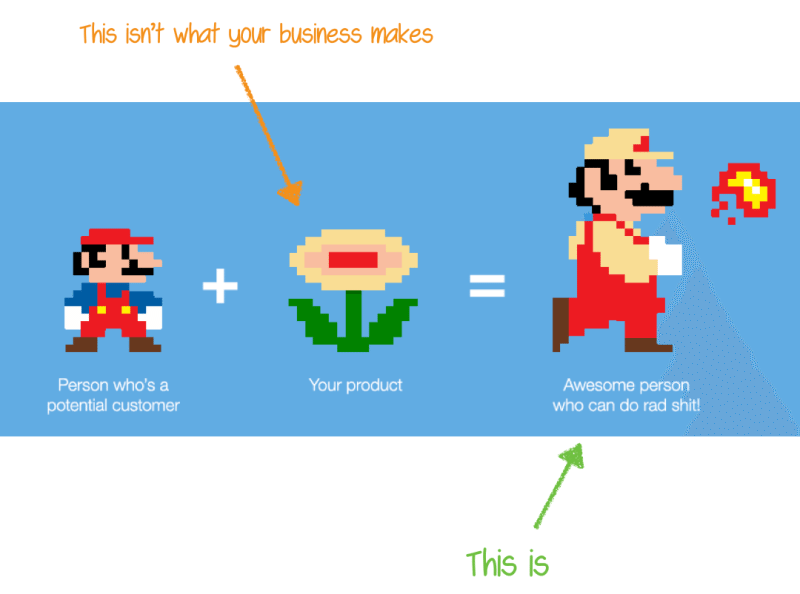 And when it comes to implementing these ideas into specific goals, there are many great frameworks  to choose from. One way to approach the micro goal-setting is a method called SMART, which seeks to create goals that are
Specific
Measurable
Attainable
Relevant
Time-bound
Helpful resources: "People Don't Buy Products, They Buy Better Versions of Themselves"
On Knowing Your Audience
4. Who is your target audience?
5. Which social channels do they use?
6. What topics and sources of information are most important to them?
7. What events matter to them and their lives?
8. What problems can you help them solve?
9. What jobs can you help them complete?
Step one with this section is to think deeply about your audience. Some companies and products can pull from their customer data or market research, building personas for their customers. Other social profiles—for personal brands, for instance—might go off of an intuition about the makeup of their audience.
There're also several helpful market research tools that can help with audience insights. Typeform surveys and Followerwonk analyses are a couple of my favorites.
Once you've got a good grasp on your audience's make-up, you can then find which social networks these segments hang out on, and you can think about how your product or service fits with your audience's needs.
One way to consider the fit is with the Jobs-To-Be-Done concept. A JTBD is not a product, service, or a specific solution; it's the higher purpose for which customers buy products, services, and solutions.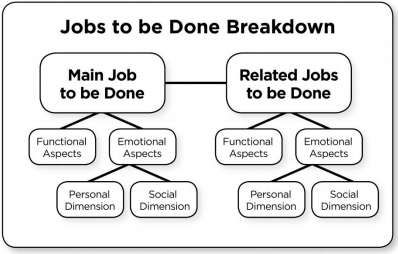 Main jobs to be done, which describe the task that customers want to achieve.
Related jobs to be done, which customers want to accomplish in conjunction with the main jobs to be done.
For instance, can a milkshake be more than a milkshake?
Sometimes jobs to be done are not as straightforward as one might think. For instance, a fast-food provider found that its customers were buying flavored milkshakes when faced with a long, boring commute in traffic; they were not only looking for convenient, non-messy nourishment in the morning, but they also wanted to make their commute more interesting by entertaining themselves with a breakfast that took a while to consume.
Helpful resources: How to choose your social networks, Market research tools
On Defining Your Brand
10. What is your brand voice?
11. What is the tone of your social media updates?
12. What emotions do you hope to convey through your brand's visuals and messaging?
One of my favorite underrated factors of a good social media strategy is voice and tone. The words you use and the emotions you convey have a huge impact on your audience and the way your brand is perceived.
Distilled put together a great guide on coming up with the voice and tone for your brand. Here's one exercise that they recommend.
A few great examples are the tone guides for MailChimp and Mozilla. We've also created one for our Buffer voice and tone as well.
Helpful resources: How to find a voice and tone for social media sharing
On Planning Content
13. What types of content should I post on which social platforms?
14. What type of content best supports your content marketing mission?
15. What are the main topics, categories or messages that support your brand?
16. Should you use social media to provide customer service?
Social Media Explorer calls this section "Choosing your Hot Buttons." I like that! Here you'll find which types of content resonate best with your brand and your audience (discovered in the above sections).
These questions can help you determine what topics you cover on social media as well as what type of media you end up posting (text updates, links, quotes, photos, videos, etc.).
For the types of media, Jason DeMers at Search Engine Land shared a useful break down of ways to look at the emphases of different social networks, including images, video, etc.
Kitchen-sink networks: Twitter and Facebook
Image-based networks: Pinterest, Instagram, Tumblr
Video networks: YouTube, Vimeo, Vine
Business-focused networks: LinkedIn
SEO and authorship networks: Google+
Location-based networks: Foursquare, Yelp
Niche networks: reddit
Helpful resources: How to plan content for the week/month ahead
On Content Creation
17. What realistic resources do we have?
18. Who should set up and maintain my company's social media accounts?
19. What is the workflow from content creation to publication?
20. How often should I post new content on my social networks?
21. How does social media fit with our other campaigns?
When you're considering the resources you have available, it's good to think about not only the time, energy, and manpower that you'll need to commit to sharing on social media but also to think about the expertise that you or others might have. It's possible that there may be a learning curve to get going with social and that this could impact the time it takes to get started and the time it takes to continue.
For the specific content itself, one way that we've found useful to come up with answers here is looking at the accounts that inspire us.
For instance, Brain Pickings on Facebook is doing amazing things with its fan growth and post engagement. What I've learned from the page is that it's great to repackage and repost articles multiple times and that engaging images have a huge effect!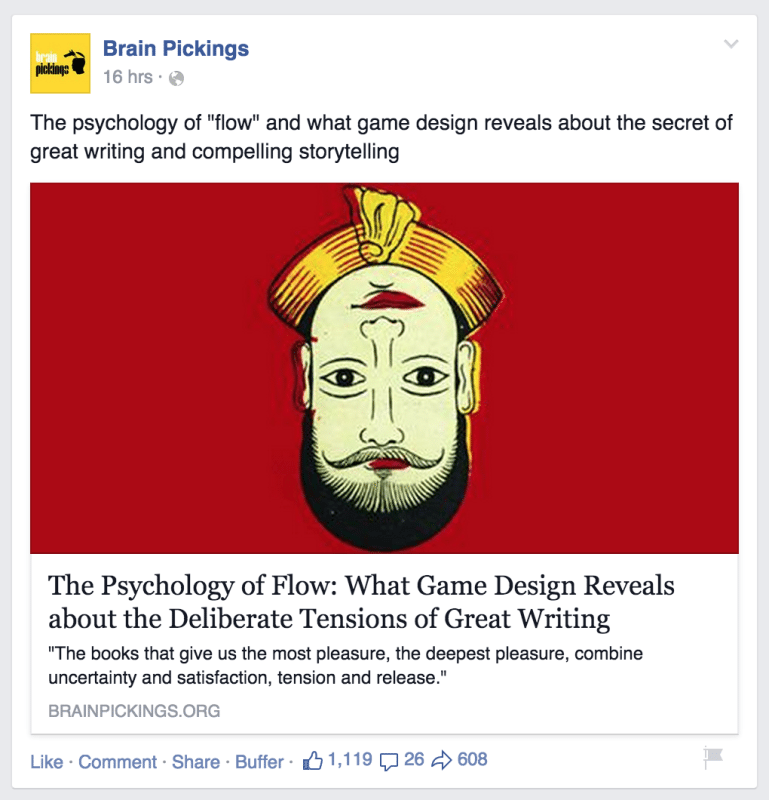 Helpful resources: The Ideal Frequency for Social Media Updates, A Day in the Life of a Social Media Manager
On Analyzing and Measuring
22. How will you measure ROI and define success with your social media strategy?
23. What is working with your social media marketing efforts?
24. What is the customer journey from search to purchase?
25. Where does social media fit within your funnel?
The measurement stage is a big one, and no less important than the others even though it often comes last. Having answers to these questions ahead of time will help you follow up with your strategy and see what works.
Measuring ROI is a much-debated topic. We've found a lot of value in benchmarking our social media stats so we can compare the performance of our posts. For ROI itself, there are many great ways to consider how engagement on social media relates directly to sales, and often, these conversations refer to where social media fits in in the funnel, your customer's journey. Here's a great funnel diagram from the Moz blog.
Helpful resources: The Complete Beginner's Guide to Benchmarking, Which Stats Matter on Social Media
Which questions would you add?
These 25 questions are some of the ones that have helped me define social media strategies in the past.
I'd love to hear from you which questions have been helpful along your journey!
Feel free to leave any thoughts in the comments. I'd love to chat more there.
Image sources: The Noun Project, Blurgrounds, Unsplash, User Onboarding, Innovators Toolkit, Moz
Brought to you by
Did you find this article helpful? You might also like our all-you-need social media toolkit.
Get started for free now