If you're a social media manager, chances are, you're juggling multiple accounts—maybe for different clients, probably across multiple platforms. And so you also know that social media managers take multitasking to a whole different level because you have to create unique posts, remember your target market, use the right tone, and so much more per client, per platform (possibly all by yourself).

In a Twitter survey by Social Media Today, one social media manager said they manage approximately 40 different accounts. When asked what their biggest social media management challenge was, one respondent said, "I think content creation is the answer for me, but not the ideas or strategies, but the TIME needed to plan content for various accounts and brands."

In addition to multitasking and time management, social media marketers also have to deal with the ever-changing world of social media, where trends sprout like weeds and vanish like smoke.

Social media management (SMM) tools make your job easier by giving you a single, unified dashboard for all your social media accounts. They reduce context switching and distractions to increase productivity, stay on top of trends, and help you get more out of your social media accounts.

The 6 best tools to manage social media accounts
Social media management tools have features that range from unified dashboards to customer monitoring and listening. We picked out six of our favorite tools based on features, supported networks, and pricing.

1. Buffer — complete social media dashboard for small business owners and social media marketers
Buffer's social media management dashboard helps you save time and stay focused by giving you access to all your social media accounts in one place.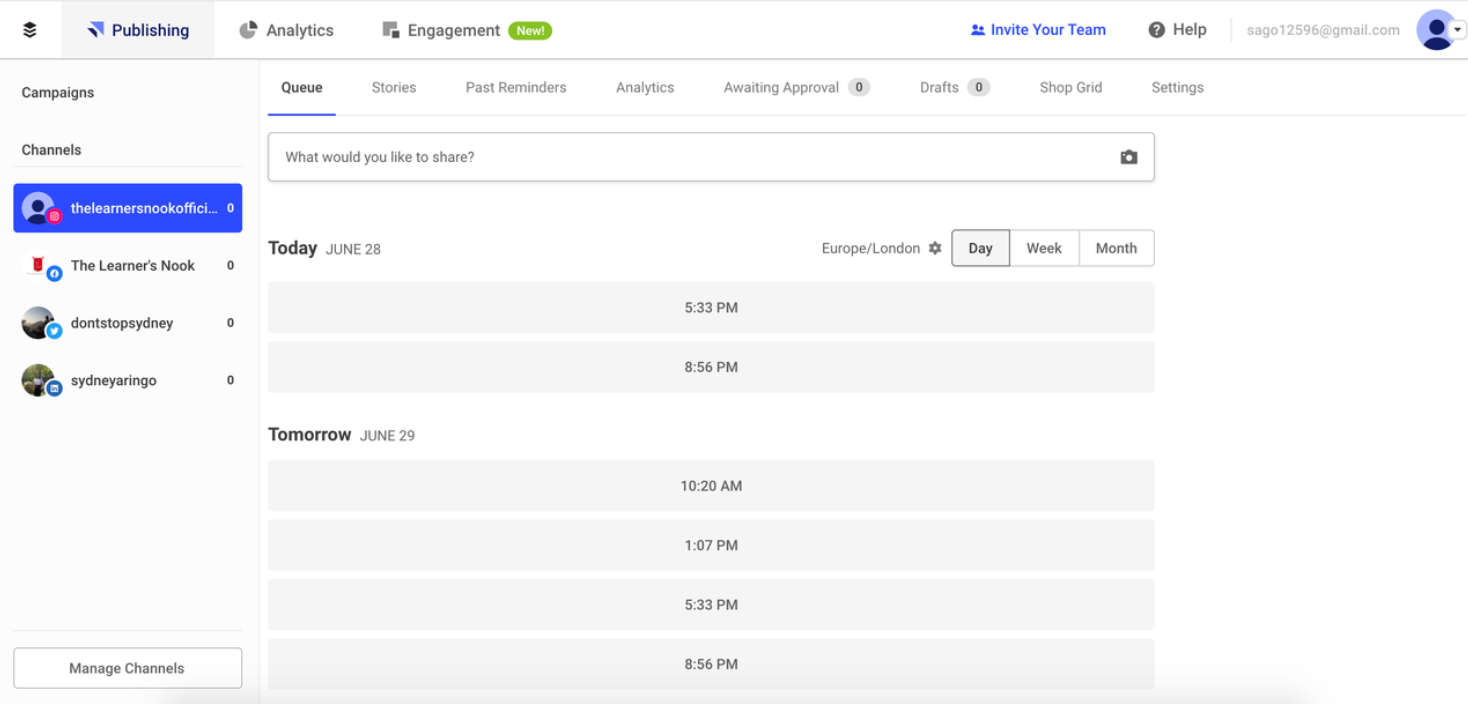 Features and Benefits
Get a bird's-eye view of all your social media accounts and how they're performing
Automate posting so that your posts live at ideal times per channel—Buffer suggests some best times to post based on your analytics
See and respond to unread messages, comments, and questions within Buffer's Engagement dashboard
Get in-depth analytics and automated reports on campaigns, boosted posts, and hashtag performance across different accounts
Collaborate with your team on post drafts
Supported networks

Instagram Business, Facebook Page, Facebook Group, Twitter, LinkedIn Page, LinkedIn Profile, and Pinterest for Business

Pricing

Buffer is one of the more affordable social media management tools and offers two plans: Free and Essentials. It has a 14-day free trial for its Essentials plan (no credit card needed), and it costs $6 per month after that. It also has a Team Add-On that costs $6 per month for collaboration features.
2. BuzzSumo — social media monitor and content curator
BuzzSumo shows you what pieces of content are working well across the different social media platforms to help you plan out a winning content strategy.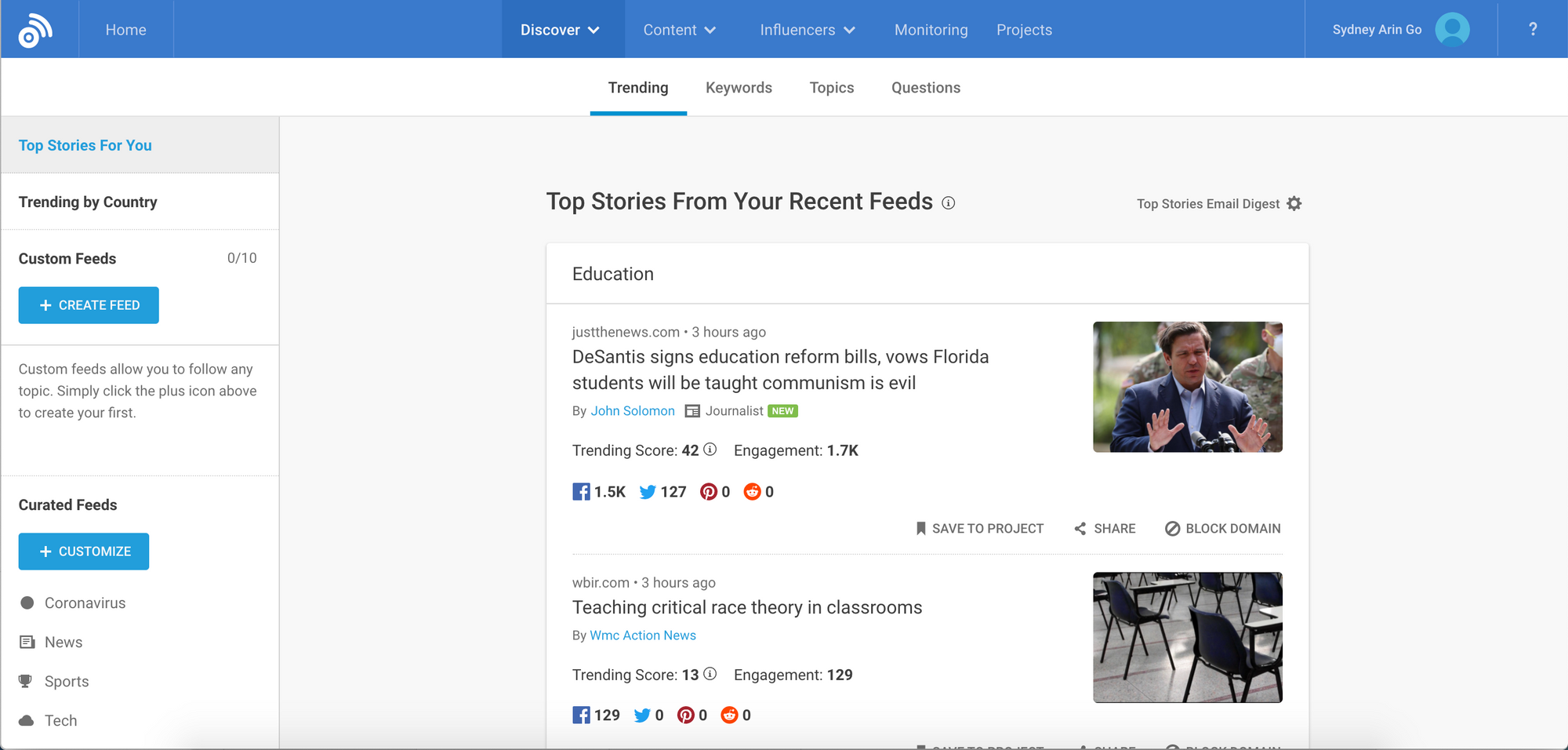 Features and Benefits
Discover interesting pieces of content that are going viral in your space (e.g., if you're in the education industry, you can monitor posts about education) that you can reshare
Find social media influencers who are performing well
Get content inspiration from recent posts across Twitter, YouTube, and Facebook
Supported networks

Twitter, YouTube, and Facebook

Pricing

BuzzSumo has four plans: Free, Pro ($99/month), Plus ($179/month), and Large ($299/month), and it offers a 20% discount for those who pay annually. It also offers a 30-day free trial (no credit card required).

3. Ripl — photo and video content creation made easy
Ripl makes the journey from content creation to posting and scheduling a lot faster. Instead of using multiple tools to create, monitor, and schedule content, Ripl lets you do all that and more through its social tool.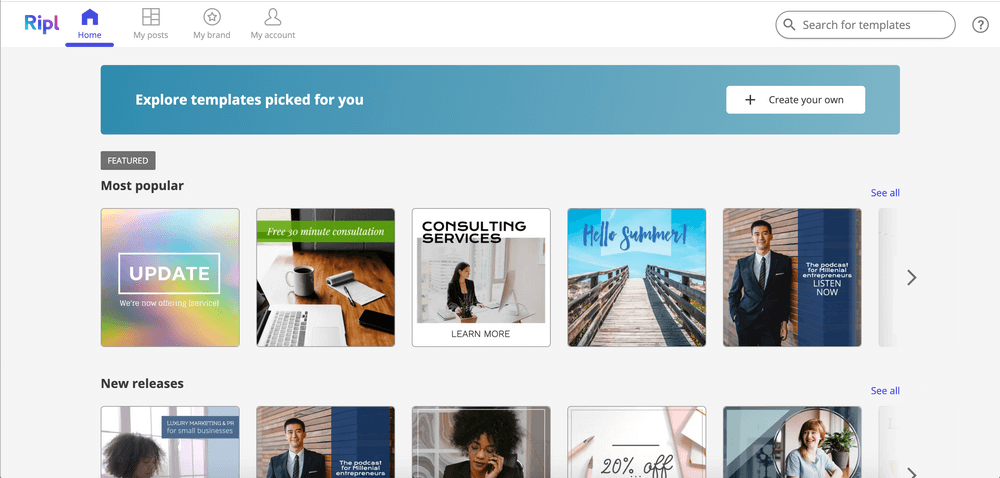 Features and Benefits
Create beautiful photo and video posts within seconds with Ripl's templates
Schedule posts immediately after you create your post
View engagement statistics across accounts within the Ripl dashboard
Supported networks

Facebook Group, Facebook Page, Instagram Business, LinkedIn Page, LinkedIn Profile, Twitter, and YouTube

Pricing

Ripl has one plan that costs $14.99 per month, with a 33% discount for customers who pay annually. It also offers a 7-day free trial.

4. Agorapulse — easy-to-use all-in-one social media scheduling, management, and monitoring platform
Agorapulse lets you automate posting, monitor interactions with your account, and gauge your performance—all in one dashboard.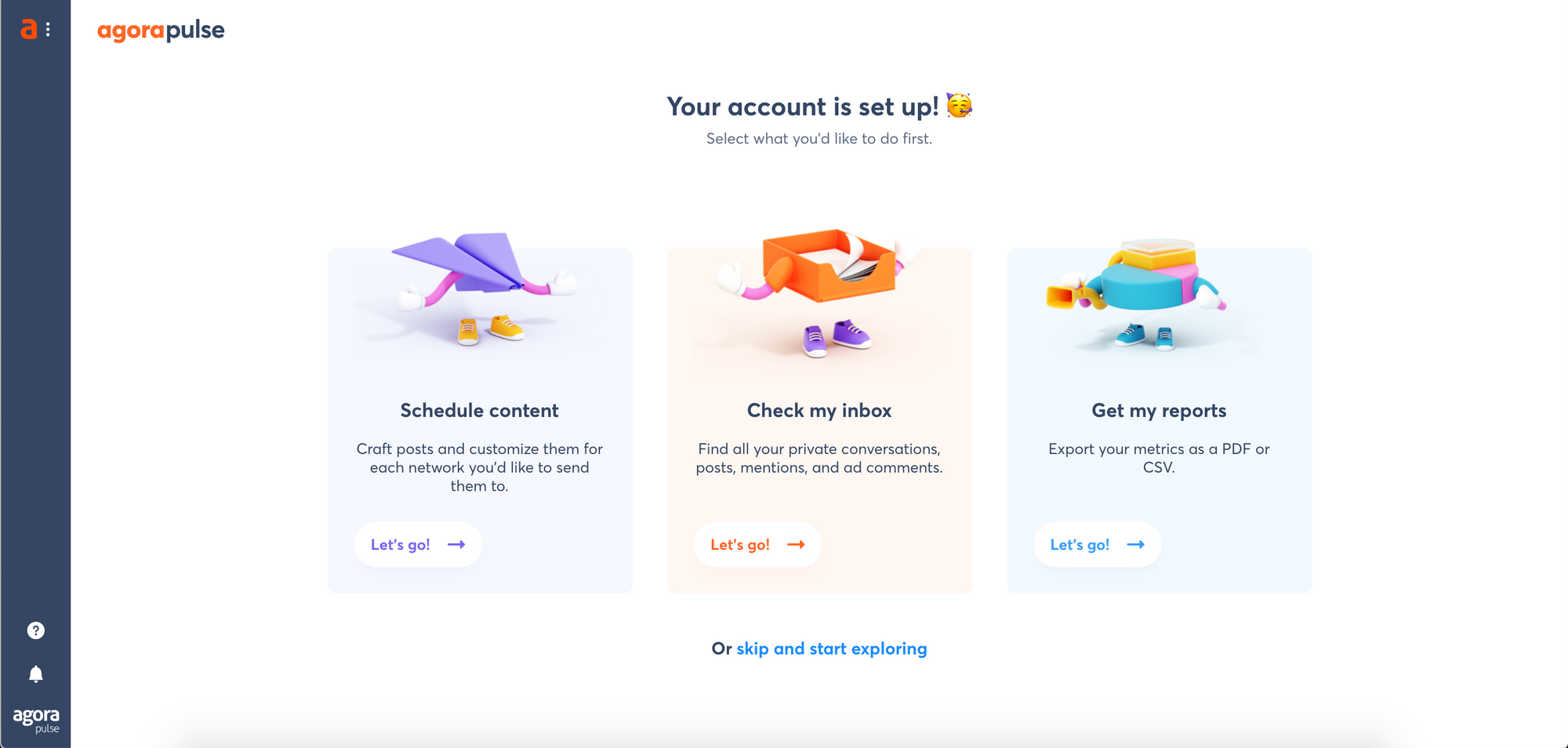 Features and Benefits
Schedule and post to multiple social media accounts
Monitor and respond to messages and comments across all your accounts in a single dashboard
Know when your brand has been mentioned in social media posts
Identify who your most active and engaged followers are
Generate in-depth performance reports
Supported networks

Facebook Page, Facebook Group, Instagram Business, Twitter, LinkedIn Profile, LinkedIn Page, YouTube

Pricing

Agorapulse has three paid accounts: Pro ($79/month), Premium ($159/month), and Enterprise (custom pricing). Its 30-day free trial gives you access to premium features (no credit card required). It also offers three add-ons—Power Reports, Shared Calendars, and Facebook Competitor Reports—and some free tools.

5. SocialPilot - Budget-friendly scheduling, reporting, and curating
SocialPilot lets SMMs and teams organize the accounts they manage into groups, curate content for those accounts, and automate posting. It's built to help teams that don't have a lot of time to create and post content still achieve results (whether that's sales, engagement, or branding) through social media.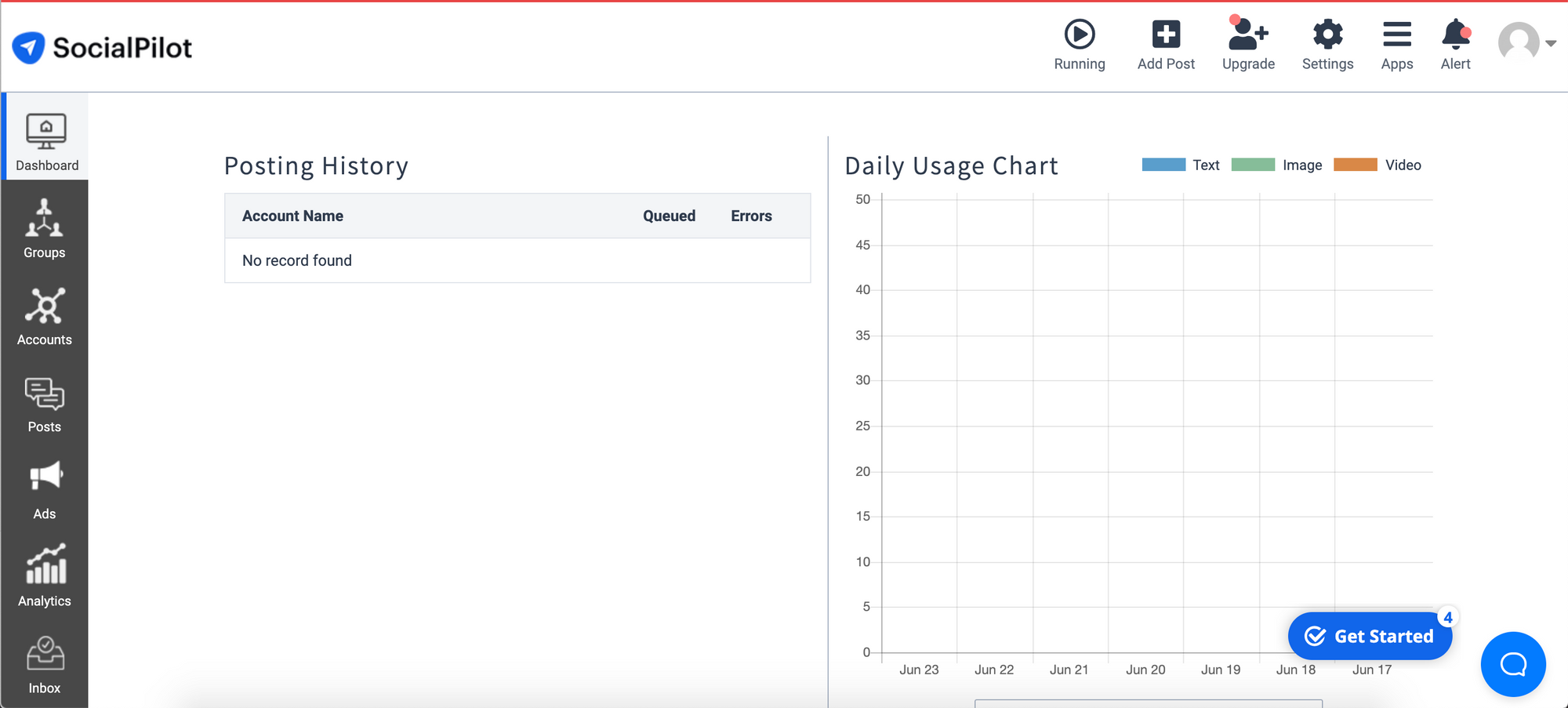 Features and Benefits

Organize the accounts you handle into different groups
Automate organic posts and paid ads through the platform
Access a unified inbox for all your social media accounts
Curate content using customizable feeds
Supported networks

Facebook Page, Facebook Groups, Twitter, LinkedIn Profile, LinkedIn Page, Pinterest, Google My Business, Instagram Personal, Instagram Business, TikTok, Tumblr

Pricing

SocialPilot has four paid plans: Professional ($30/month), Small Team ($50/month), Studio ($100/month), and Agency ($150/month), and it provides a 14-day free trial with no credit card required. You get a 15% discount if you pay annually.

6. ContentCal - social media content planning made easy
ContentCal lets you visualize your content plan and get more ideas for your social content.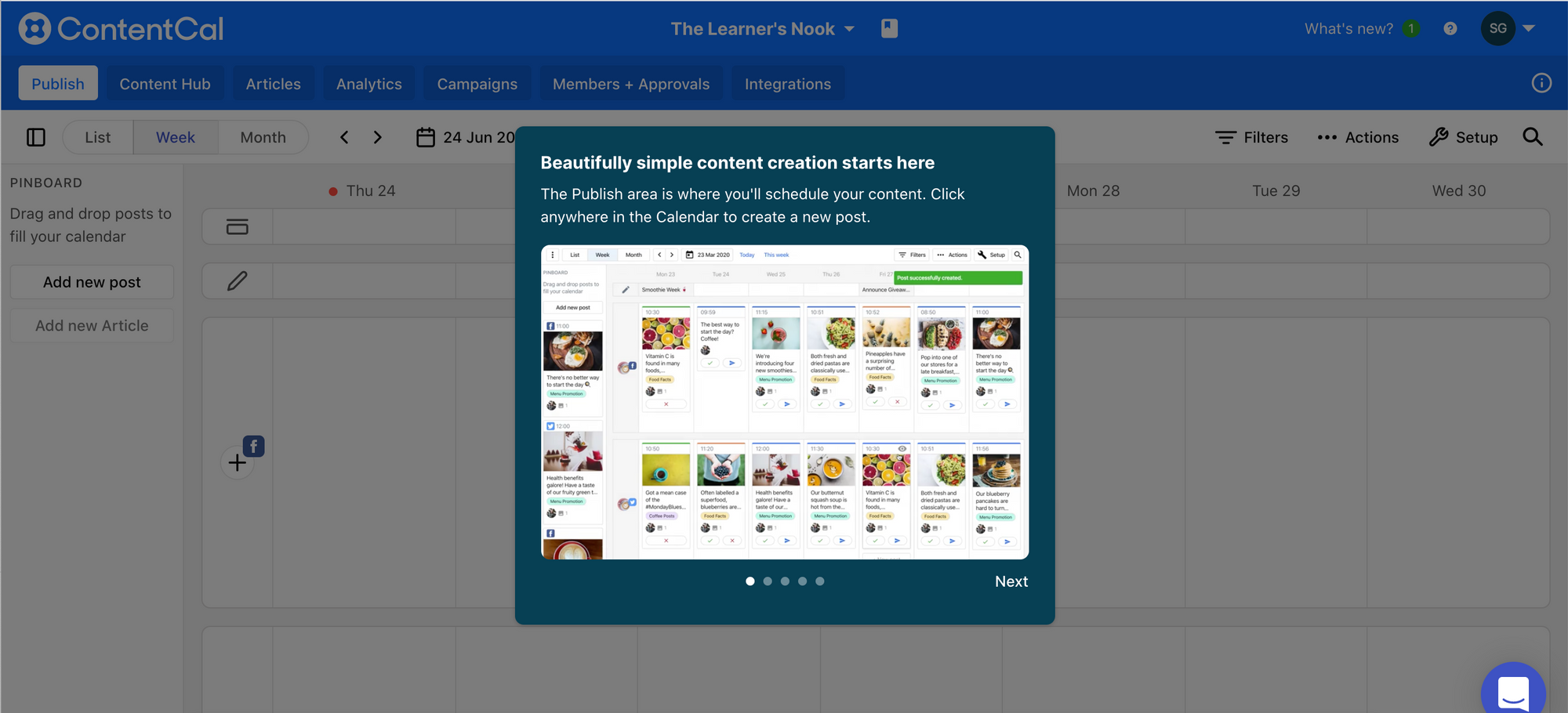 Features and Benefits
Curate content across the web by saving links and photos within the ContentCal dashboard
Automate photo and video posting across multiple platforms
Plan out your social media content (individually or in bulk) with ContentCal's visual calendar

Supported networks

Facebook Page, Facebook Group, Instagram Business, Instagram Personal and Creator (limited features), Twitter, LinkedIn Profile, LinkedIn Page

Pricing

ContentCal has four paid plans: Pro ($204/year), Company ($59/month), Premium (Custom Pricing), and Enterprise (Custom Pricing). It also offers a 14-day free trial (no credit card required) and a couple of add-on features for paying customers.

The 7 best social media management strategies
Your social media marketing strategy and tools work together to help you achieve the results you want. Here are some top tips to help you get started.

1. Add your social media profiles to a dashboard
Managing multiple social media accounts from one location makes it easier for you to monitor all the accounts you're handling, increases your focus, and reduces context switching between the different social media platforms, multiple accounts, and multiple functions (e.g., messages, in-feed posts, etc.).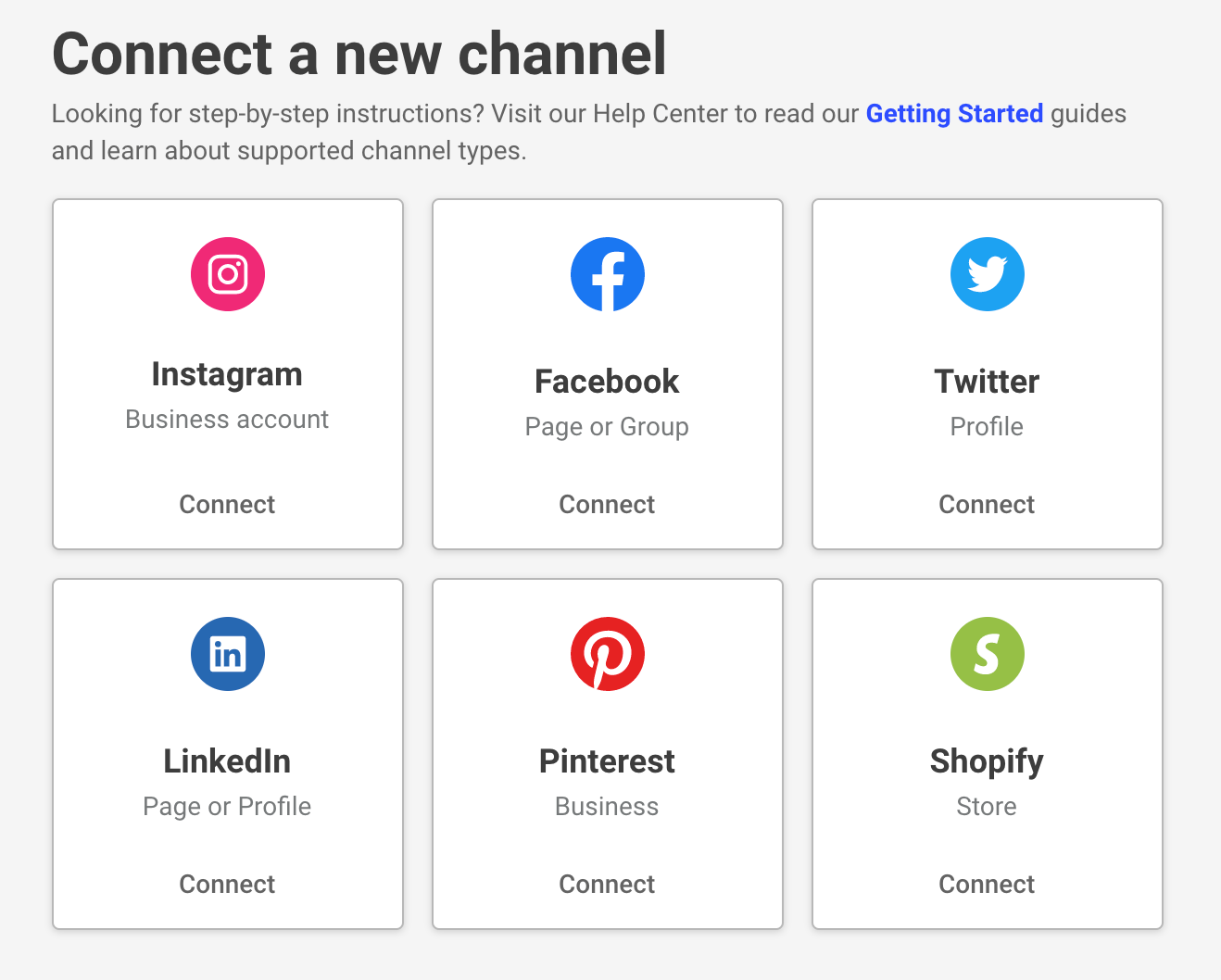 Think of social media management like grocery shopping: Your social media accounts are the items on your grocery list, social media platforms are the different grocery stores you visit, and your travel time between grocery stores is context switching. If you need to buy each item on your list at different shops, you're going to be wasting a lot of time traveling and getting nothing done.

When you switch from one task to another—i.e., context switch—you're actually wasting time and lowering your productivity. Psychologist Gerald Weinberg found that context switching can reduce productivity by up to 80%.

Social media dashboards (like Buffer and others, mentioned above) are ideal for this. It's one of the most popular time-saving social media tips out there.

2. Create unique posts for each social media platform's target audience
Every social media platform is different.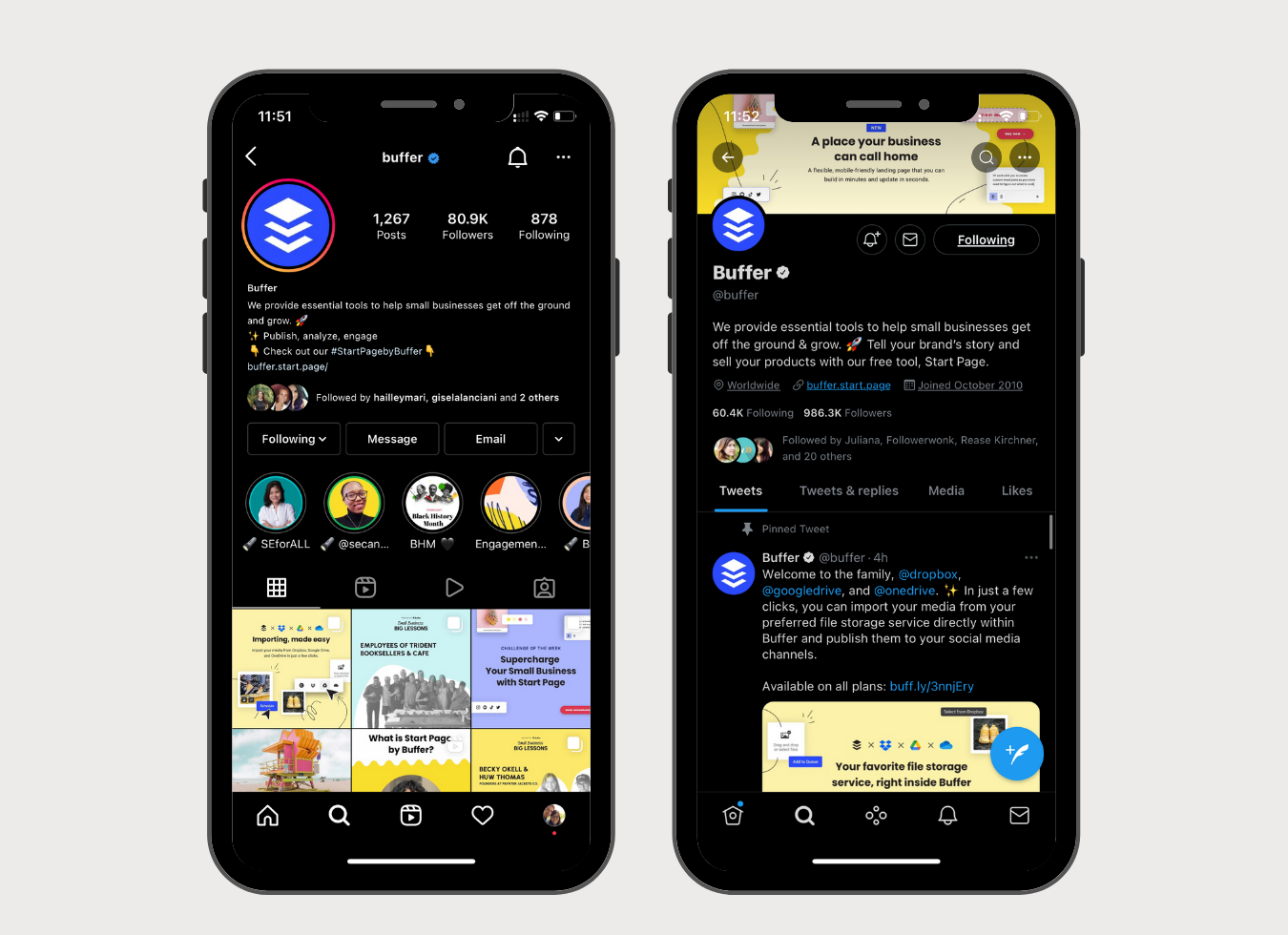 Your audience on each platform expects different types of content, about different topics (e.g., Twitter users like political content in short text format). Not to mention, social media algorithms vary per platform as well. Therefore, you need to meet your audience's expectations and align with each platform's algorithm to get results.

The strategies for crafting the perfect caption are also different across the platforms. For example, hashtags work better on Instagram than on Facebook; you can only use 140 characters for a tweet but 700 for a LinkedIn post.

With Buffer, you can craft the perfect post for every social platform in one seamless experience.

3. Curate, repost, and repurpose content when you can
Content creation and filling up your content calendar are some of the most challenging parts of the job. So you need to know when to create and when you can curate, repost, or repurpose content instead.

As Mary Cusick of Critical Mass shared with Forbes: "Instead of posting your own content, inspire your followers by listening to and engaging with theirs. This is something they will appreciate, and it will help build a stronger foundation for your relationship."

Curate inspirational content like quotes, tips, and stories. Repost relevant user-generated content (UGC), like customer testimonials and brand appreciation posts. And Repurpose content that has performed well in the past (e.g., turn your long-form IGTV videos into shorter, bite-sized skits).

After all, 73% of social media users say that UGC increases their confidence in a brand, and your followers probably don't see all of your posts because of the algorithm. So a piece of content that has performed well in the past will probably perform well again because it aligns with the social media algorithm.

Tools like SocialPilot and Agorapulse, mentioned above, have content curation and social listening features that can help you get started.

4. Schedule posts ahead of time
Having a posting schedule has three benefits:
It helps save you time by letting you batch your social media updates
It helps make sure that you maintain a consistent publishing schedule and always have good content coming up next
It helps make sure that your posts are going live at optimal times
The social media management tools listed above (Buffer, Ripl, ContentCal, etc.) are all scheduling tools that tell you when you should schedule posts for maximum engagement, based on your analytics.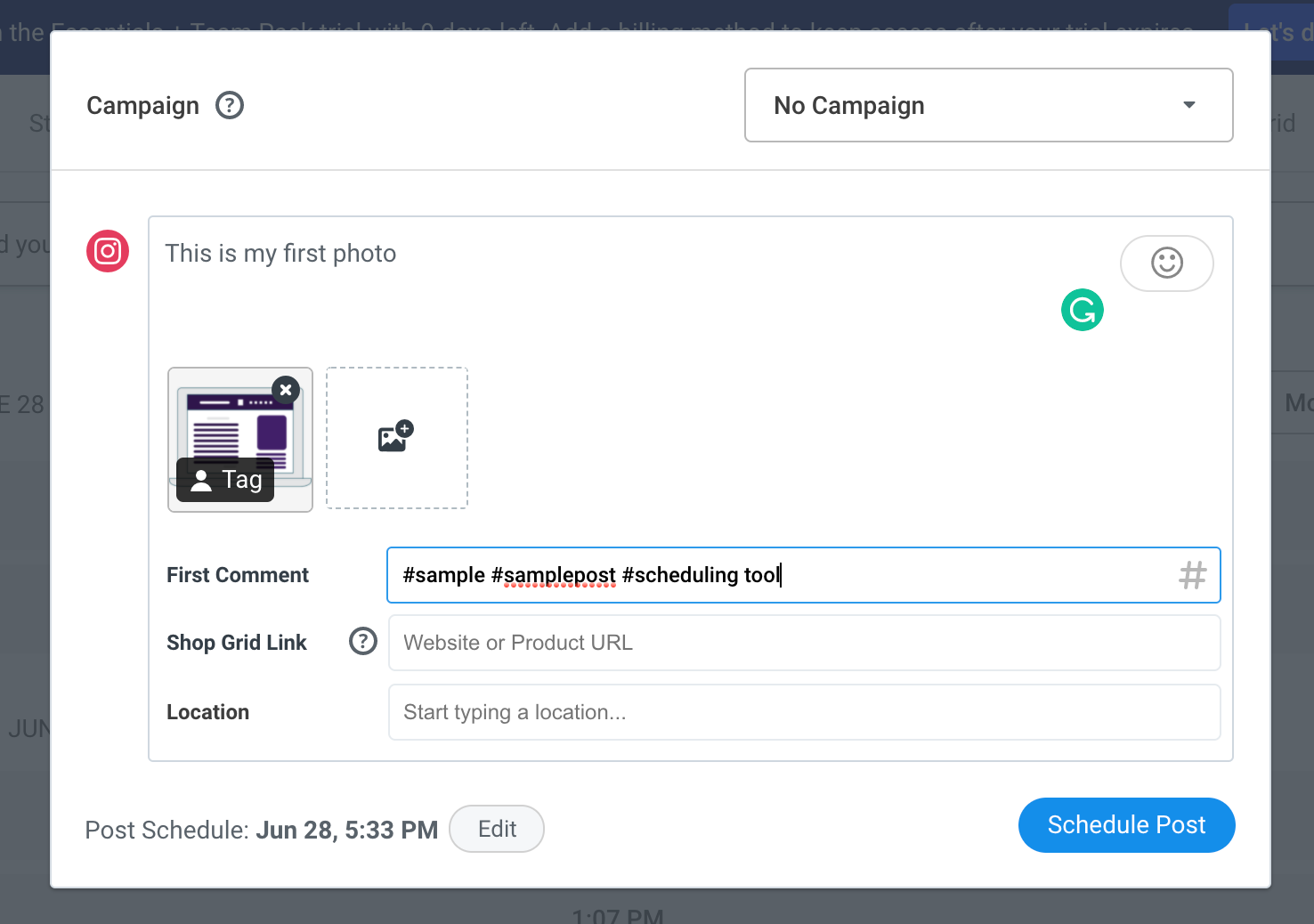 Buffer's queue system allows you to set up a series of optimal times in advance and publish one piece of content from your queue at each scheduled slot, or you can schedule at specific times regardless of the queue.

5. Engage with those who are engaging with your posts
Fifty-seven percent of consumers say that they are more loyal to brands that bring a genuine human connection, and 58% said that the human aspect of a brand influences them to buy. Reply to people who engage with your posts and respond to their messages to show that you care.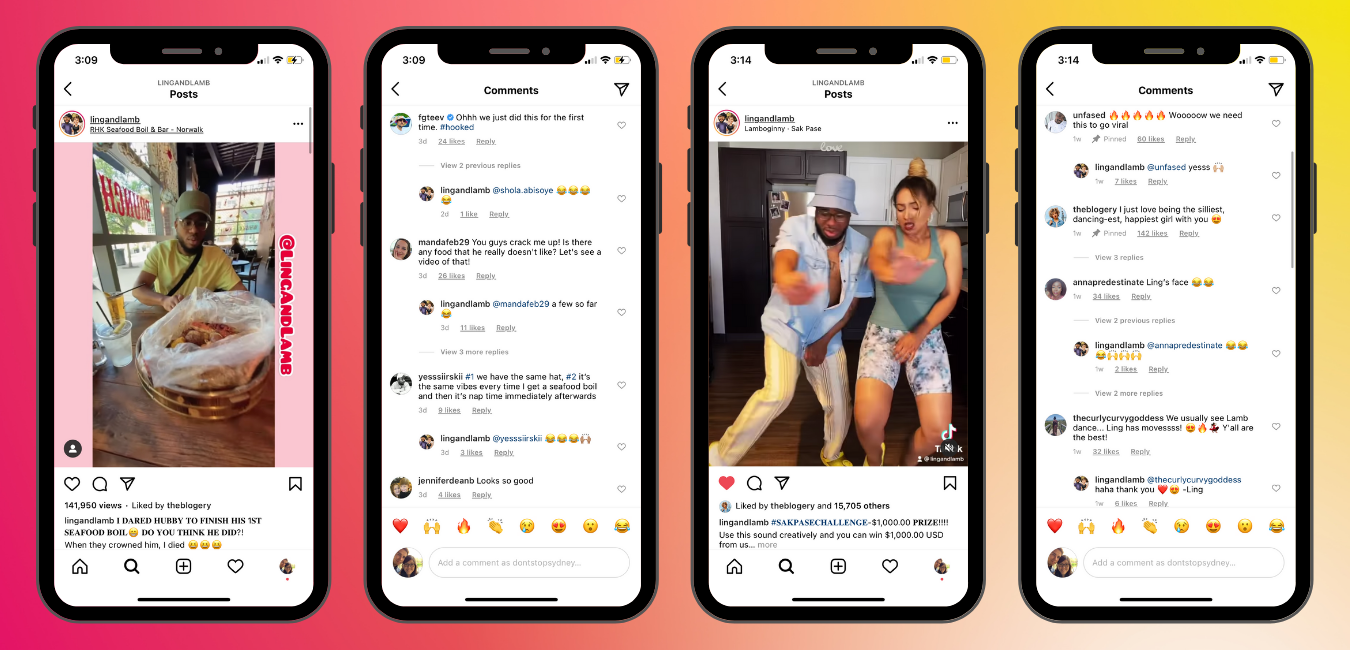 Social media monitoring and engagement tools will show you all your engagements on a single dashboard. You can then jump into a conversation and quickly reply to your followers.

6. Track metrics that are relevant to your marketing campaign goals
Social media stats are easy to find and track, but validating or invalidating your social media strategy by proving return on investment (ROI) is difficult. Chris Morris, co-founder of Shoo Social Media, said: "There are loads of different metrics across the plethora of social media platforms you could choose to engage with. The key, I find, is to identify which metrics are key to your campaign's goal."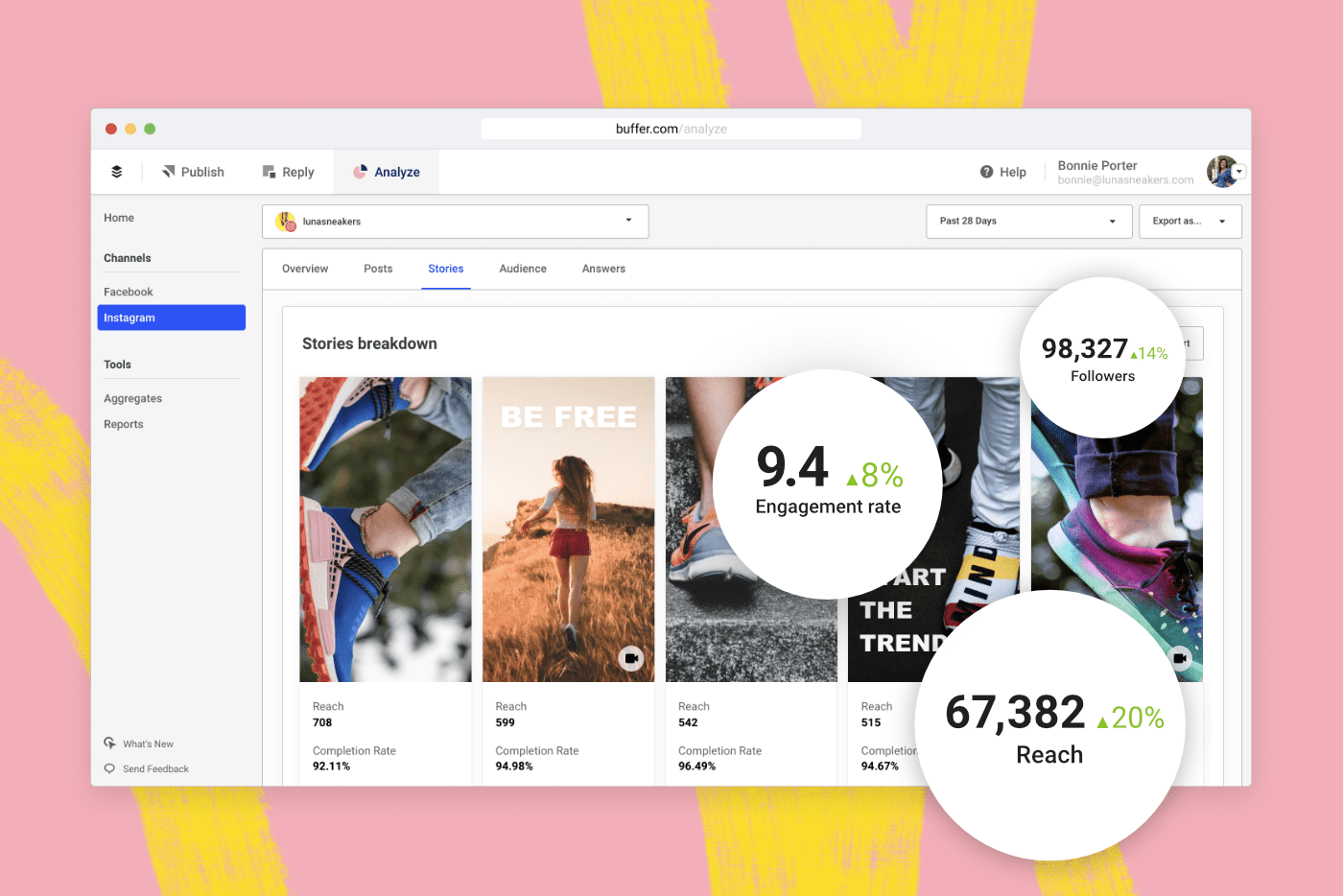 First, determine your social media goal—increase brand awareness, get more conversions, or build a community building. After that, determine what metrics you need to track that are directly related to those goals. For example, if you want to increase brand awareness, you need to track post reach and the number of shares. For conversions, you need to track click-through rates (CTRs) and compare post reach to the number of sales.

You can also create a benchmark to track post-over-post and week-over-week (WOW) performance using tools like Agorapulse. For instance, on Twitter, we identify popular tweets as those that gain 200 or more clicks. So when it comes time to check the stats, we can see which ones met those standards (and reshare them accordingly).

7. Automate as many tasks as you're comfortable with
Automation—the process of setting up systems to work whether you're around or not—is how you can post to multiple social media sites at once. Tools like Zapier and If This Then That (IFTTT) allow you to sync multiple apps with each other so that when a certain activity happens on one platform, it kicks off a separate activity in another app.

For example, Zapier can link social media accounts like Twitter and LinkedIn so that when you post a tweet, the same content gets posted to your LinkedIn account. It can also sync your website with your social media accounts so that you can automate updates, you social accounts with Slack so that you can get auto-generated reports in Slack, and social accounts with Google sheets so you can automatically track mentions.

We've shared some fun social media IFTTT recipes before, too—things like saving tweeted links to Pocket and welcoming new members to Facebook groups.

Use a social media dashboard so I can log in at one place
Schedule posts ahead of time to save time and keep the content coming
Use a social monitoring tool to keep track of mentions and engage followers
Find simple stats that are meaningful and can be analyzed at a glance

Automation helps you make the most out of your marketing efforts without lifting a finger.

Manage multiple social media accounts with ease with a unified dashboard and a validated strategy
As a social media manager, it's your job to build a content strategy, create and curate content, schedule all your posts, engage with your followers, and then monitor performance to figure out what's working and what's not. If you have 40 different tabs open within the first hour of your workday, you're probably not performing efficiently.

A unified dashboard will let you manage all your accounts in one place, saving you time and effort by reducing context switching. It also lets you monitor your posts and accounts in one place so that you can validate your strategy across platforms.

See how a social media management platform can increase efficiency and help you achieve better results by trying out Buffer's publishing, analytics and engagement tools.

This post was originally written in 2014 and was updated in October 2017 and November 2021.
Brought to you by
Did you find this article helpful? You might also like our all-you-need social media toolkit.
Get started for free now