Question: I'm finding it hard to keep up with all of my small business's various social media channels. Is it okay if I repost the same content on each platform? Is there some kind of method or strategy I should be following?
Posting on social media is a key part of marketing your small business, but creating unique content for each of your various channels isn't always necessary. This is where cross-posting comes in handy.
Cross-posting is a tactical way to re-use the same content across platforms and can especially help smaller businesses who don't have the bandwidth to invest in producing more content. But, as with all marketing strategies, cross-posting should be done strategically to get the most out of it. In this article, we'll cover the best practices when cross-posting for your brand's social media accounts.
What is cross-posting?
Cross-posting is when you share the same content onto multiple platforms. This can be done on a spectrum, for example, you might post identical content to all of your accounts, or you could change it up a bit – whether it be updating the caption, image, or video slightly – but either way, the idea is that you reuse each post more than once.
Cross-posting is something that we absolutely recommend brands take advantage of, but as with all things, it's important to be strategic You put in a lot of work to make sure your social media posts are top-notch, so it makes sense to get the most out of each post by maximizing its use. Although there are many different ways to cross-post, here are some things to consider before implementing the strategy into your marketing plan.
Why should you cross-post?
When you're creating new media – whether it be composing the perfect tweet, shooting a funny TikTok, or snapping the perfect shot – you're probably doing so with the hopes that it will excite and resonate with your audience. Cross-posting allows you to share this very content across all your main marketing channels. Here are some of the benefits you can reap by doing this.
Reach more of your audience

There are different groups of people across different social networks. A 2020 report from AudienceProject found that 36 and 35 percent of people use Instagram and Twitter, respectively, to follow brands, while 24 percent of people use Pinterest for the same purpose, and 18 percent claimed they used Facebook to keep up with businesses.
While some platforms may be more popular than others, your customers are likely to follow your brand on a variety of channels although that doesn't mean they are seeing the post. By cross-posting content onto all of your active social platforms, you can ensure you're covering your bases and truly reaching your audience. This careful repetition can help your message stick out to your customers.
Save time
The biggest benefit of cross-posting is that you can save time by posting to multiple channels, rather than creating unique content for every channel. There are downsides to that of course (which we'll get into) but for the busy people managing multiple social media accounts the value of saving time can't be emphasized enough.
What to watch out for when cross-posting
While cross-posting is a strategy we would add  to every brand's toolkit, there can be some natural downsides when using the method.
Each platform is unique
Sometimes, reposting content onto all of your social media channels won't be the most effective route. Each platform has its own respective style which means some content may not perform as well on it. For example, although Instagram and TikTok are both video platforms, TikTok tends to have an off-the-cuff feel to them and is generally more authentic than Reels. Similarly, TikToks can certainly be cross-posted on Linkedin as video posts, but they may not perform as well since the site is dedicated to networking and company updates.
The details are key
When cross-posting onto different channels, be sure to adjust the posts to fit each platform. For example, you may reference your "link in bio" when posting a photo on Instagram but not other platforms. These small details help to customize posts to each platform and help cross-posting ultimately be a more successful strategy.
Your audience may become fatigued with repeated content
If someone refreshes their feed on social media, they do it with the specific goal of seeing something new on their timeline. The problem with cross-posting, then, is that your audience may get bored of seeing the same content that they've already seen elsewhere. Although repetition is an important tool in marketing, too much of it can frustrate your community. There's a delicate balance to cross-posting, which we'll get into next.
When is it okay to cross-post on social media?
There will be a ton of times when cross-posting will be the best option for your brand's social media pages. Whether you have an important update to share quickly, or are running short on time, cross-posting can be a solid addition to your social strategy. Here's how these small businesses are cross-posting content onto their accounts for inspiration on what works best with this method.
When the format works across social networks
Janet Gwen Designs sells a variety of products, including tech accessories, candles, and home goods. When introducing their latest design – the mermaid tumbler – on their Instagram, the small business first posted an Instagram Reel and then cross-posted the video onto their Facebook account.
The two videos are quite similar, but the Instagram Reel includes a poll asking users which glassware they preferred, has captions, and is longer than the Facebook video, which only runs for 30 seconds.
By sharing a part of this Reel on Facebook, Janet Gwen Designs effectively used one video for two platforms, saving time and resources.
When the messaging will stay the same
Kola Goodies is a small business with South-Asian roots that sells healthy tea blends inspired directly from Sri Lanka. Keeping in line with their values, the brand established a relief fund for the country which is currently in an economic crisis. Recently, Kola Goodies updated followers by announcing how much money they raised, how many stickers they sold, and how many meals they provide and cross-posted this information onto both their Facebook and Instagram accounts.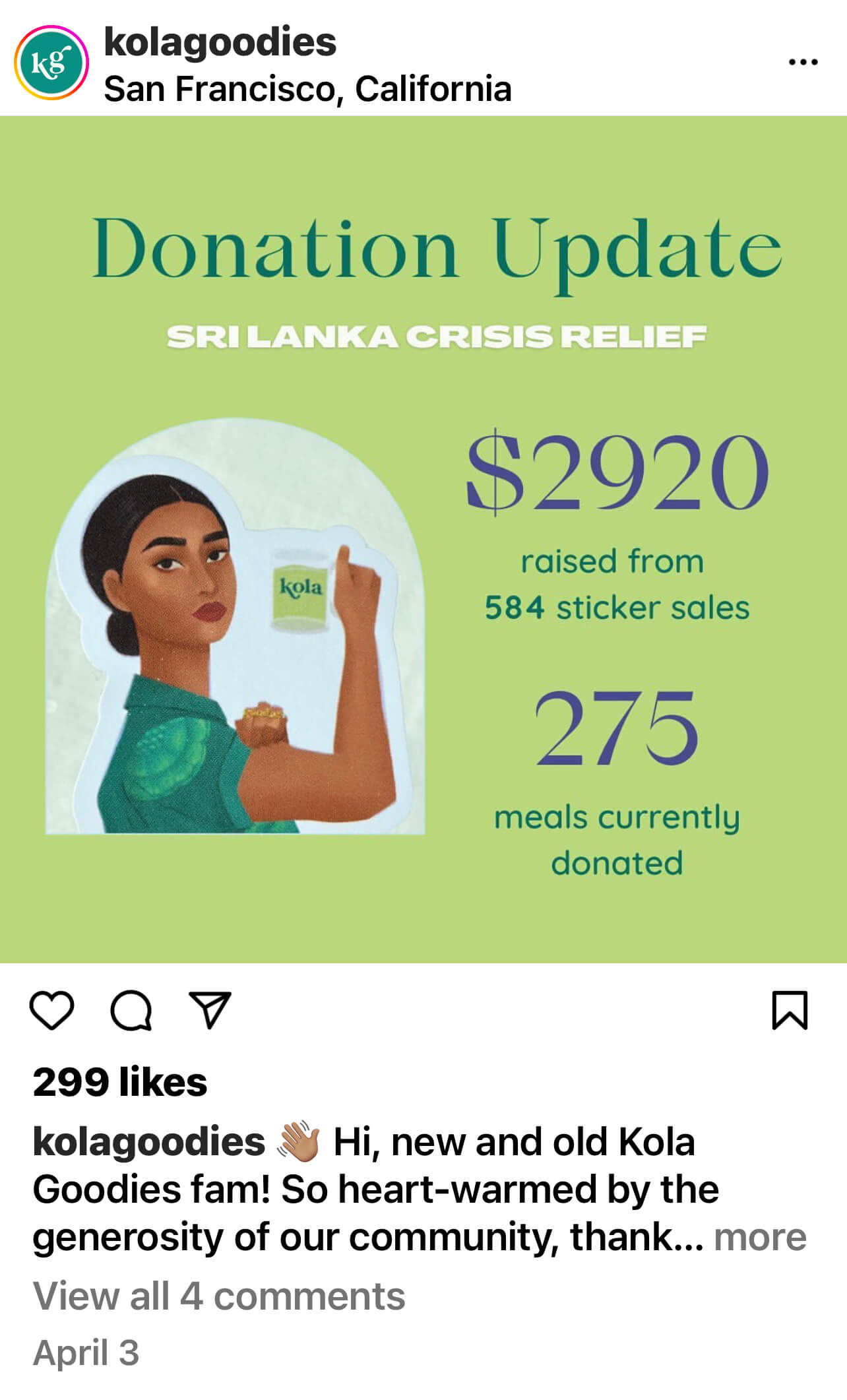 Because this cause is so important to the brand as a whole, it makes sense that they'd share the exact same posts to both platforms to ensure all of their followers are aware of the developments and because the messaging will be consistent regardless of the platform.
When the content is relevant across networks
We recently posted a video about our transparent salaries on our TikTok page.
We then cross-posted the video onto our Instagram and used it as a Reel. Later, we went ahead and shared it on Twitter as well.
Our transparent salaries page is quite popular, and we knew this content would be interesting for all of our followers, which is why we wanted to share the video on multiple platforms.
And we're not the only ones cross posting content that is relevant to a broad audience.
Bite, a dental brand known for their plastic-free toothpaste bites, is constantly educating consumers about sustainable practices. Recently, they shared information about the circular economy – a type of economy that puts reducing waste at the forefront - and cross-posted this content onto Instagram, Facebook, and Twitter.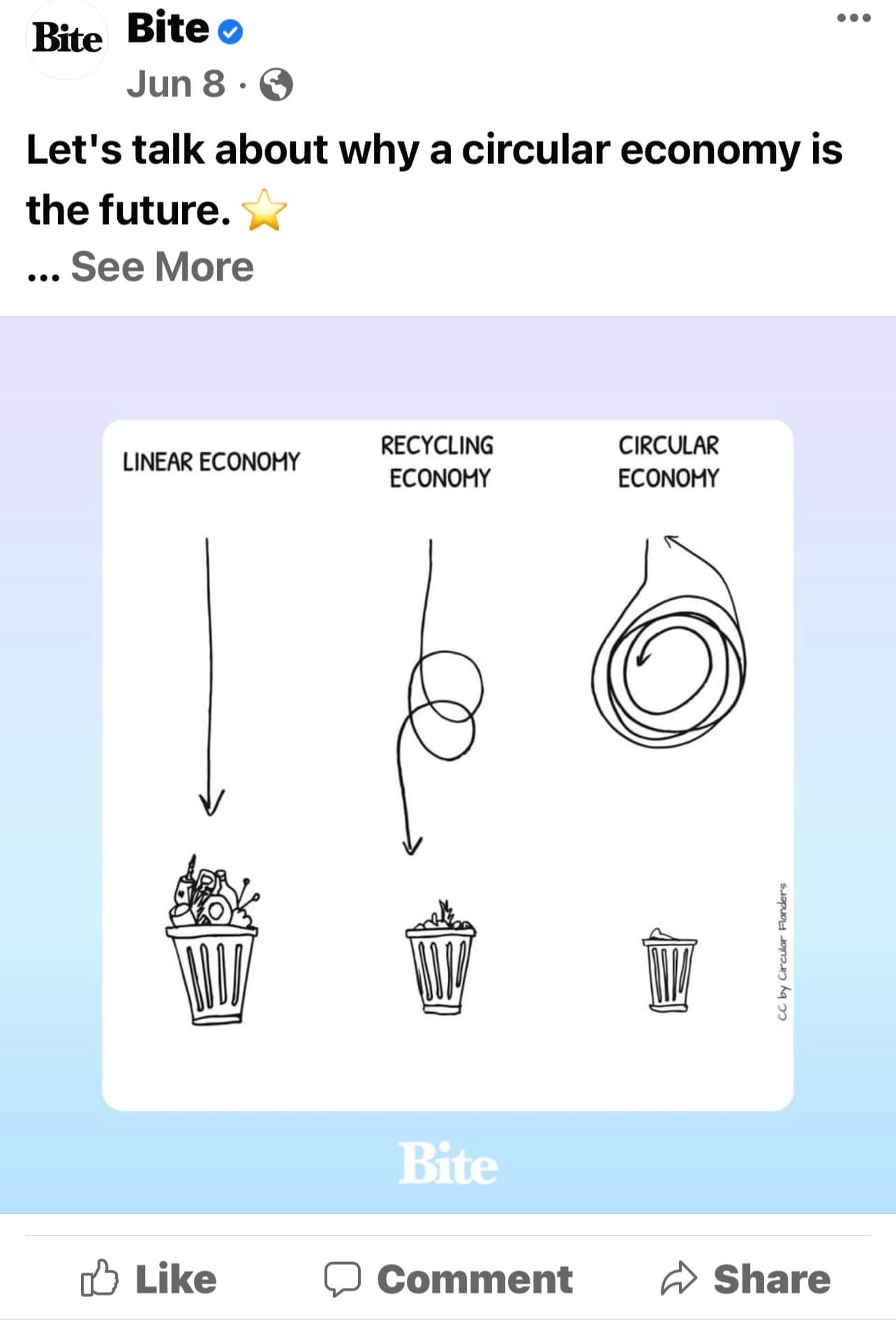 On Twitter, Bite tailored the post a bit to better match the platform by condensing the caption. Whereas Facebook and Instagram are known for longer captions, Tweets are generally meant to be short and sweet. While the brand could've opted for a Twitter thread, it wasn't necessary since they had already shared the long-form captions earlier on two of their channels.  
As this section has shown, there will be plenty of times cross-posting will be your best option for posting content onto your social media.
When is it better to create original content for each platform?
Cross-posting will most likely be a strategy you rely on often for your small business, but there are times when it may be better to make new and original content for each social media platform.
When the message is especially important
Whenever you're announcing big news around your business it's best to create customized content that is tailored to each platform. This way your message will especially resonate with each of your audiences, and you don't have to worry about this information getting lost in the shuffle.
If you were to cross-post this news onto your feeds without remixing the posts, there is a chance that this content won't stand out on each platform, meaning some viewers may miss out on the update. If you created new and special content for each platform, however, it's more likely to perform well on those platforms and ultimately reach more people.
If you're trying to grow your following on a specific platform
A downside to cross-posting we've already mentioned is that you may be sharing posts that won't perform well on certain platforms if they haven't been customized enough. If you're trying to expand your social media reach on a certain site, it's best to create content that will thrive on that specific channel.
At Buffer, we're currently working on growing our TikTok presence so our social media manager, Mitra, has been creating a ton of great videos specifically for the platform. Focusing on TikTok means these videos are more likely to perform well there and help us grow our account.
If you're hoping to to expand your reach on a certain channel, it's a good idea to create original content that you know will especially resonate with that specific audience.
How to successfully customize while cross-posting
Creating original content for each platform may seem daunting at first, but it doesn't have to be. Ambitious Kitchen – a cooking and food blog – tailors the way they cross-posts their recipe on all four of their social media channels: Pinterest, Facebook, Instagram, and TikTok.
The great thing is while the brand does switch things up for each platform, they reused the same photos and videos, meaning they didn't have to start from scratch for each post.
The original reel was posted on Instagram.

They then posted a short TikTok video that features a new voiceover crafted specifically for the platform.
On Facebook, the brand simply uploaded a photo of the recipe.
They then uploaded several story pins and included short captions on Pinterest to walk followers through the recipe.
So they have successfully customized the post for every platform while still promoting the same recipe.
It's good to note on each platform besides TikTok, Monique, the creator behind the brand, shared the link to her blog post for the full recipe, further directing traffic to her website.
How to cross-post
You can easily cross-post your content with Buffer.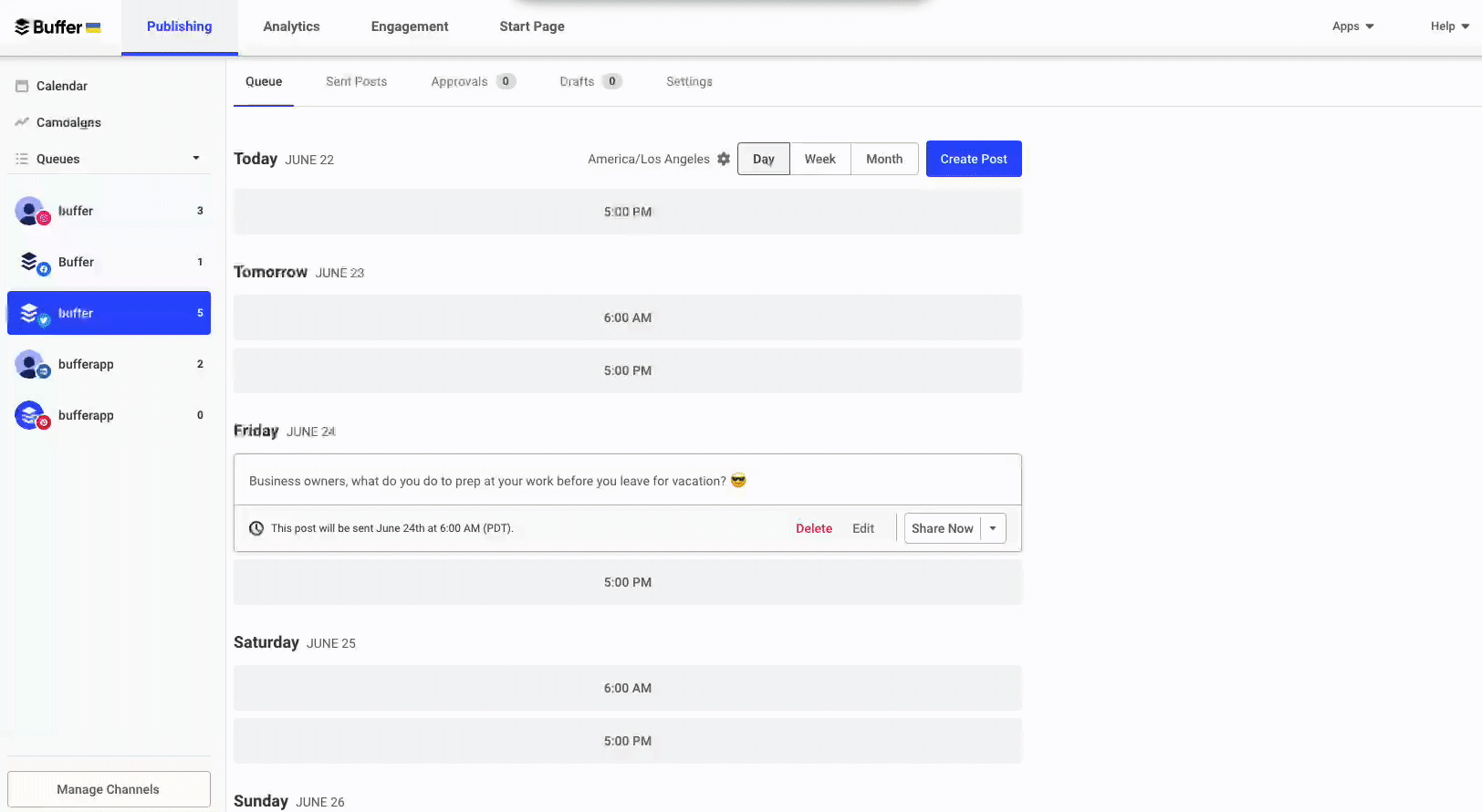 Once you click "Create Post" you can write in your copy and then select the other social networks you'd like to cross-post that same post to. You'll be given the option to customize each post depending on the social network.
A quick note – cross-posted content doesn't need to be scheduled at the exact same time across platforms. It's best to research the ideal posting times for each social channel and schedule content accordingly. You can also use our analytics tool, which recommends the most opportune times to share posts for your brand.
Hopefully, this blog post has answered all of your cross-posting questions! This strategy is great to implement in your social media planning as it saves time, ensures more visibility, and can keep all your social channels consistent. At the same time, for special announcements or specific strategies it's always a good idea to go the extra mile and create unique content for each channel.
Get started scheduling and cross-posting your content with Buffer ➡️
Brought to you by
Did you find this article helpful? You might also like our all-you-need social media toolkit.
Get started for free now