Hashtag
Hashtags are words preceded by the"#" symbol, used to categorize content by topic on all the major social media paltforms.
What is a hashtag?
Hashtags are words or phrases preceded by the "#" symbol and are used to categorize content on all the major social media platforms, but they are primarily used on Instagram, TikTok, and Twitter. 
When a user adds a hashtag to their social media post, it makes the word or phrase searchable by other users under that specific topic. 
When searching for a hashtag, users are presented with a feed of all the posts tagged with that hashtag, allowing them to find and engage with content relevant to their interests.
What does the '#' mean?
The "#" (also known as the pound or hash sign) is a symbol that users can put in front of words or phrases to make those searchable, clickable, and categorizable. Once the "#" is added, it then becomes a hashtag. 
How do hashtags work?
Discovery is a big part of what helps creators and small businesses grow on social media, and one of the oldest ways to discover content is through hashtags. Hashtags allow users to easily find and engage with content related to specific topics and categorize different messages and posts. Looking for outfit inspiration? Check the #OOTD hashtag. Need some home decor ideas? The #interiordesign hashtag has what you need. 
How to create a hashtag?
Creating a hashtag on social media is easy; all you have to do is add a hashtag before any word or phrase. The most important thing is that there are no spaces between any of the words following the hashtag. For example, instead of typing # interior design, you would type #interiordesign with no spaces between the words. 
Why use hashtags in your social media strategy?
Hashtags are a powerful tool for personal and business accounts, and understanding how to use them effectively can significantly enhance your social media marketing strategy. Here are some of the key reasons why you should use hashtags in your social media strategy:
Improve the visibility of your content: Hashtags help your content to be more visible on social media. Users searching for a specific hashtag can find your content easily, even if they don't follow your account. Hashtags are a gateway to reaching new audiences, especially for a smaller creator.
Boost audience engagement: Hashtags are a great way to reach an audience that's already interested in what you have to say. But it's essential that you use hashtags relevant to what you're posting, not just generic or broad terms (no #like4like, yes #planttips). The more specific you go, the more likely you'll yield better engagement from your target audience.
Connect with your audience: Hashtags provide a powerful way to signal that you are part of your audience's community. By adopting the most relevant hashtags to your audience, you can start conversations and create authentic connections with your followers. This can also go a long way to helping establish your brand as an authority in your industry and increase customer loyalty.
How do I use hashtags on different social media platforms? And how many hashtags should I use on each?
Although you can use hashtags on any of the major social media platforms, each platform has its own set of best practices:
Take advantage of Buffer's hashtag manager
Coming up with new hashtags for each post can be very time-consuming – but not if you use Buffer. With Buffer's hashtag manager, people can create and save groups of hashtags directly within the post. And if you prefer to keep your captions tidy and place hashtags in your first comment, the hashtag manager offers that option.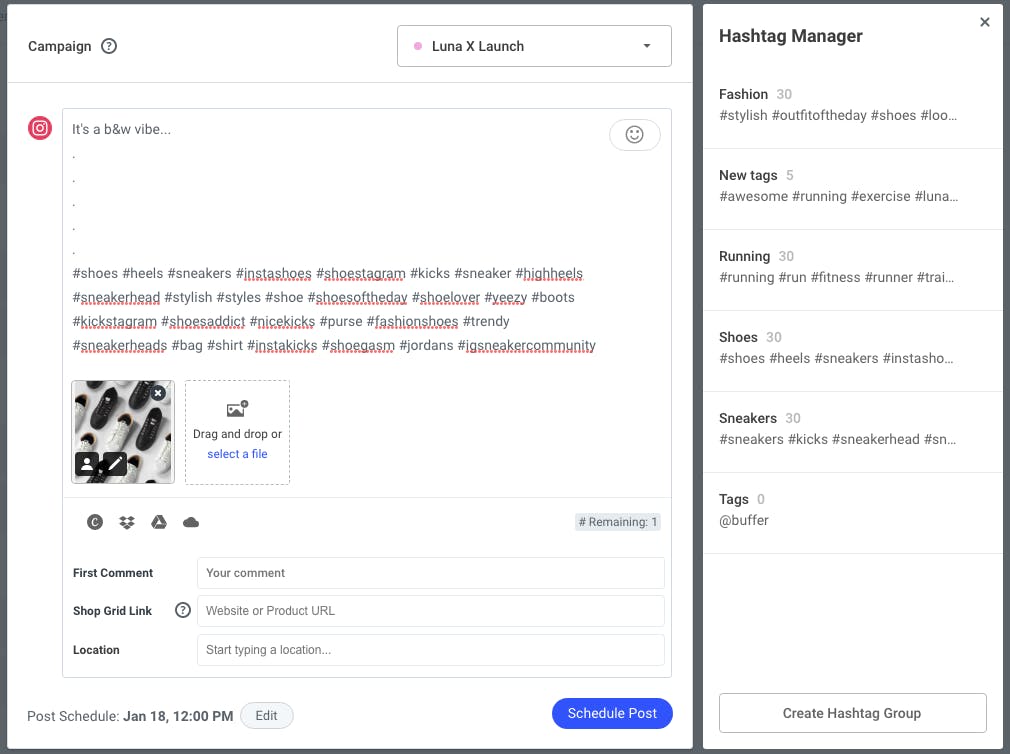 Need a hand growing followers?
Kickstart your social media growth with Buffer!
Get started now
140,000+ people like you use Buffer to build their brand on social media every month