There are few greater joys in a marketer's life than experimenting with a new technique—and having it work like a charm.
You feel like a cross between a scientist, an artist, and a magician, am I right?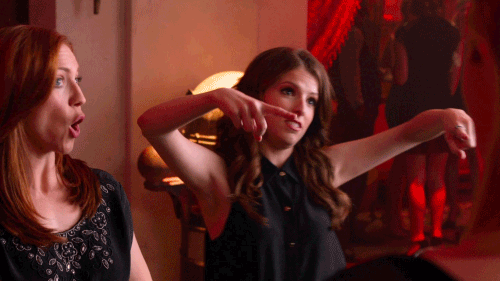 After doing a little celebrating, you officially add the tactic to your repertoire, update your dashboards, and then probably start searching for the next thing to try.
And because you're always looking forward, you might not notice that technique that worked so well when you first used it? Well, it's become pretty old-fashioned. Even, dare I say, obsolete.
With this in mind, we wanted to take a look back and tactics that may have worked in 2012 or 2013, but aren't quite so effective nowadays.
Let's get started…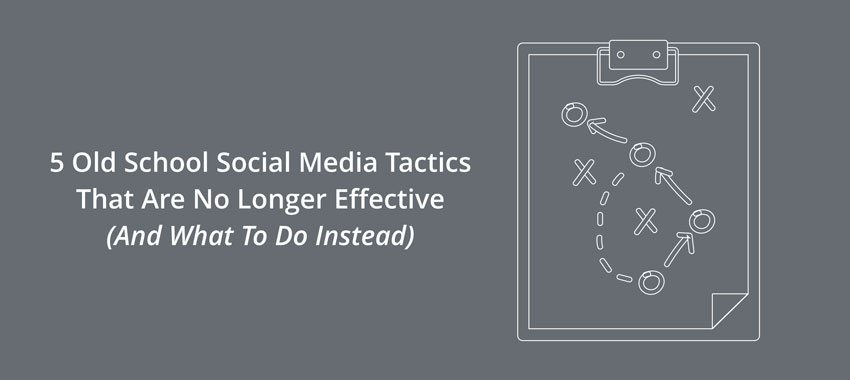 We've rounded up five social media tactics that are ready to retire. (The good news: Once you've cut these loose, you'll have more time for the tactics of the future!)

1. Linking to influencers just so they'll share your content
There's no one set way to do influencer marketing, but there are a few techniques that don't quite feel right. In the second camp? Linking to an influencer or quoting that person as an expert solely in the hope they'll share their content.
This technique usually backfires. First, it's pretty obvious to the influencer what you're doing—so rather than adding value to their life, there's a good chance you'll go unnoticed and pass under their radar.
But worse, it makes your content less useful to your audience. Keri Morgret, a content manager for Inbound.org, says she's read multiple lists of "top experts for X" that include names of people who haven't worked in the relevant industry for years.
What to do instead:
Think quality, not quantity. Before you link to someone else's post or cite them as an expert in a round-up, ask yourself, "Will this benefit my readers?"
If the answer is yes, you're in good shape. That means their content or expertise is an optimal fit for your audience—so you'll benefit whether or not the influencer promotes it. However, there's a strong probability they will promote it; after all, when you're genuinely enthusiastic about what someone has to say, it's pretty flattering. And if the post is high-quality, sharing it will benefit the influencer's brand as well.
You should also consider limiting the number of people you link to per post. It's hard to feel special when you're one of 20 influencers mentioned; being one of two influencers, on the other hand, is much more flattering.
Finally, use the love people have for their own names to your advantage. You could link to someone's content like so:
Meditate before a job interview to calm your nerves.
Or, you could write:
Daenerys Targaryen, a career coach (and meditation enthusiast!), recommends meditating before an interview to calm your nerves.
If you were Daenerys, which version would you be more eager to share? My hunch is the second one.

2. Making a strict employee social media policy
Some companies have social media policies so lengthy they get their own binders. Zappos, on the other hand, has a policy so short it could fit on a Post-It: "Just be real, and use your best judgment."
If you've got an incredibly strict, detailed employee social media policy, it might be time to drop all the clauses and provisions and follow Zappos's lead. After all, if you give your team members more freedom, they could turn into your most passionate brand advocates— encouraging your employees to share makes them 31% more likely to publicly make positive comments about you and 24% more likely to recommend your products. The average employee has 10 times the number of followers as your corporate network, and 90% of those followers don't know your brand.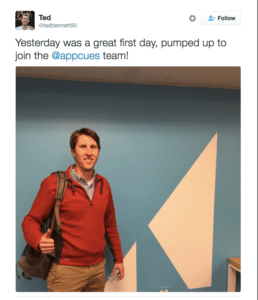 What's more, 92% of people trust recommendations from their friends and family more than any other advertising. That means the way to your future customers' hearts? It's through your employees!
What to do instead
There's nothing inherently wrong with having a policy (in fact, the majority of companies do.) But rather than laying down the law, try creating your policy with your employees.
15Five, for example, held an all-hands meeting to figure out their target persona. With a unified vision, team members could post their own content with confidence.
You can also work together to figure out best practices. Your employees will probably have a ton of ideas you haven't thought of; plus, being part of this process means they're far likelier to buy in.
Finally, instead of stifling your employees' voices, encourage them to be themselves. A genuine post goes much further than a forced, buzzword-y one.

3. Only sharing  text and image updates
Images and text can still drive engagement, but social video is becoming too important to ignore.
Not only will video swallow up 69% of consumer internet traffic by next year, but watching videos about products is four times more popular than reading about them. And here's the doozy: 25% of consumers will lose interest in your brand if it doesn't have video.
So, safe to say video is important. Unfortunately, many brands are letting this screen revolution play on without them—as we found, less than 1% of their Facebook posts feature videos.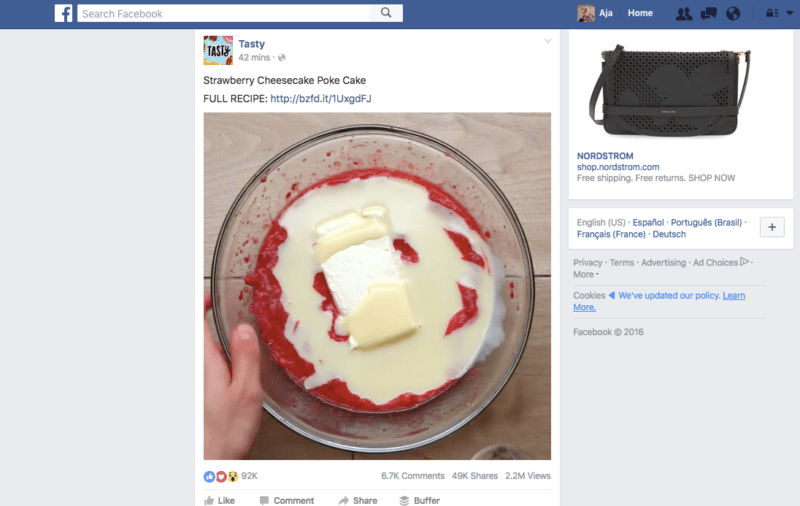 What to do instead
If you haven't already integrated video into your content marketing strategy, now's the time!
Need some guidance? Wistia's Alyce Currier has put together an incredibly handy video guide for brands. She says repurposing the same videos across your platforms is fine to start, but to maximize video's potential, create customized content for each network.
Take Facebook. Since the vast majority of video views are silent, creating content that can stand without sound is crucial. When you make YouTube videos, on the other hand, incorporating audio is necessary for engagement.

4. Sending automated messages when someone follows you
Imagine a stranger smiles at you. You smile back—and then, they walk over and say, "Hey, could I have 10 bucks?"
I don't know about you, but that interaction would feel pretty manipulative to me. But sending an automated messages to new followers is essentially the same thing—not only does the lack of personalization show that you don't care about them as an individual, it also says you care way more about what they can do for you than the other way around.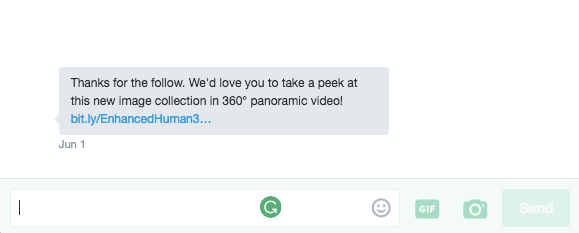 What to Do Instead:
Have real, meaningful interactions with your followers. Like and retweet their content. If they mention your brand, send a reply (and give it a personal touch!).
As Ash explains, "It feels amazing to know that our favorite brands and personalities value our custom and support. And sometimes all it takes to show that is a personal response."
This strategy definitely requires more time, energy, and resources than setting up a trigger so every new follower gets the same message. But remember that stranger from the example? What if, instead of asking for money, they'd asked you to dinner—and then spent the next couple months slowly getting to know you. You could develop a permanent friendship. Similarly, if you take it slow with your customers, they may stick around for life.

5. Asking people to share your content
You've worked hard to create an awesome piece of content—and naturally, you want as many people to see it as possible. So, along with sharing the link on social media, you ask your contacts to post it on their own networks.
The problem? This request puts your connections in a really awkward spot. Saying no feels pretty uncomfortable (after all, you're asking for a share, not a kidney), but they might want to for any number of reasons: the content doesn't work with their brand, audience, or social strategy; they don't agree with everything it says; or they simply resent being asked.
In the end, this strategy might help you get more views on, say, a blog post or Slideshare—but your professional relationships will take a hit. (Want to brush up on social media etiquette? Check out the 29 most common rules and which ones you should actually follow.)
What to do instead:
You want people to link to your content because, well, they want to. With that in mind, focus on making it as shareable as possible.
A recent analysis of 65,000 articles found that a piece's virality comes down to two main factors: arousal and dominance. In plain English, arousal means "riled up." Both anger and excitement are high-arousal emotions. Dominance, on the other hand, is the feeling of being in control. When you're inspired or joyful, you're experiencing high dominance; when you're scared, you're experiencing low dominance.
Articles that perform the best on social use a high-arousal, high-dominance combo. What would that look like? Well, a photo of Vin Diesel with his daughter racked up 8.1 million interactions (making it the fifth most popular Facebook post of 2015), thanks to the strong, positive emotions it generated. But strong, negative emotions can be powerful too—take the Dove "Choose Beautiful" campaign, which put a spotlight on low self-esteem.

Over to you
I'd love to hear how your social media strategy has evolved.
Which tactics have you stopped using?
Which techniques have you recently added to your roster?
Is there anything you've been doing since the beginning that's still working really well?
Can't wait to read everybody's responses!