Back in 1894 to 1929, before sound could be synchronized with video, silent movies were in their heyday.
In silent films, the dialogue is transmitted through muted gestures, mime and title cards which contain a written indication of the plot or key dialogue. And if you scroll through your Facebook News Feed, you may notice that in some ways, we're moving back to those days.
Here's a clip from a recent Tech Insider video: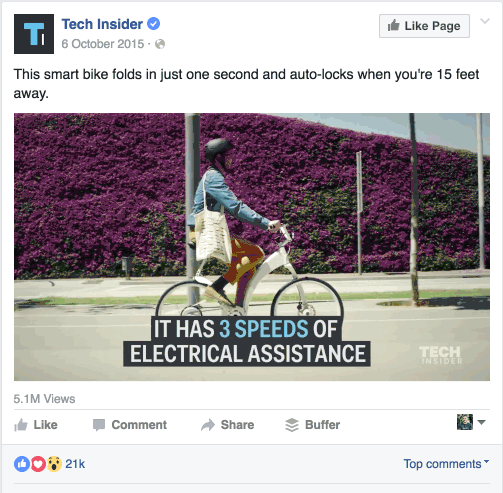 And a clip from Gary Vaynerchuk: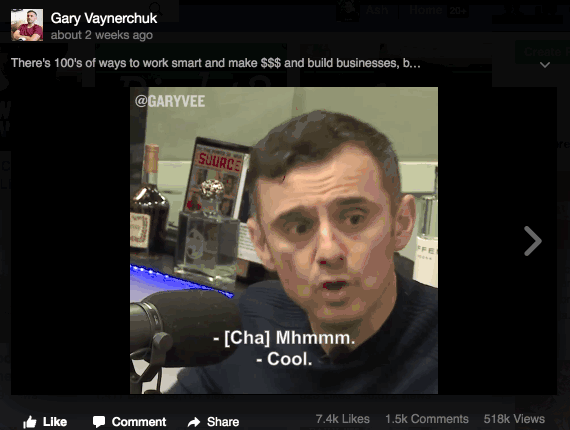 You'll notice that both these clips are optimized to be viewed without sound. And this is likely because according to multiple publishers, as much as 85% percent of video views on Facebook happen with the sound off.

The silent revolution
Facebook has built a system where users don't have to turn the volume up to enjoy videos, and this has driven many brands and content creators to embrace silence and find ways to captivate viewers without the need for sound.
When it comes to social networks, marketers, and advertisers have to work within the constraints of each platform – this is nothing new; on Twitter we only have 140 characters to play with, on Snapchat we have under 10 seconds, and on Facebook, we have to deal with the reality that ads and videos auto-play silently in the News Feed.
How to optimize for silent views
If you analyze some of the best performing silent videos, you start to notice a few key elements that make videos stand out in the News Feed:
Striking visuals
Text-heavy descriptions
The below video from Copa 90 is a great example and uses large, bold borders to show the video topic and includes subtitles indicating the conversation between the two presenters.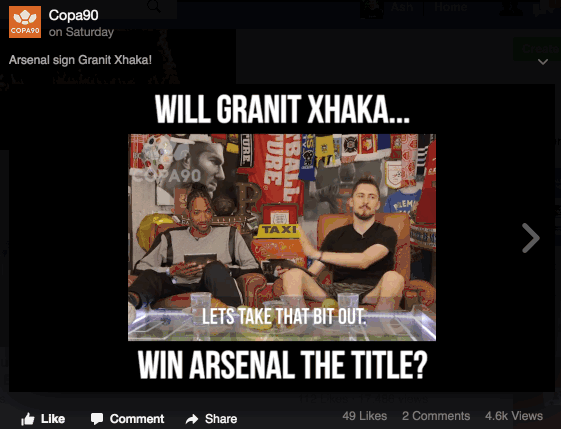 How to add text to video
Editing video used to be a time-consuming task and one that involved using expensive, professional software. But now there are a ton of free (or cheap) ways to create and edit video. I'd love to share you with you quick tips on adding text to video using iMovie and also share a few mobile apps to help you edit video on the go.
How to add text to video using iMovie
Once you have the video you would like to add titles to imported into iMovie, click on the "Titles" option in the left side menus: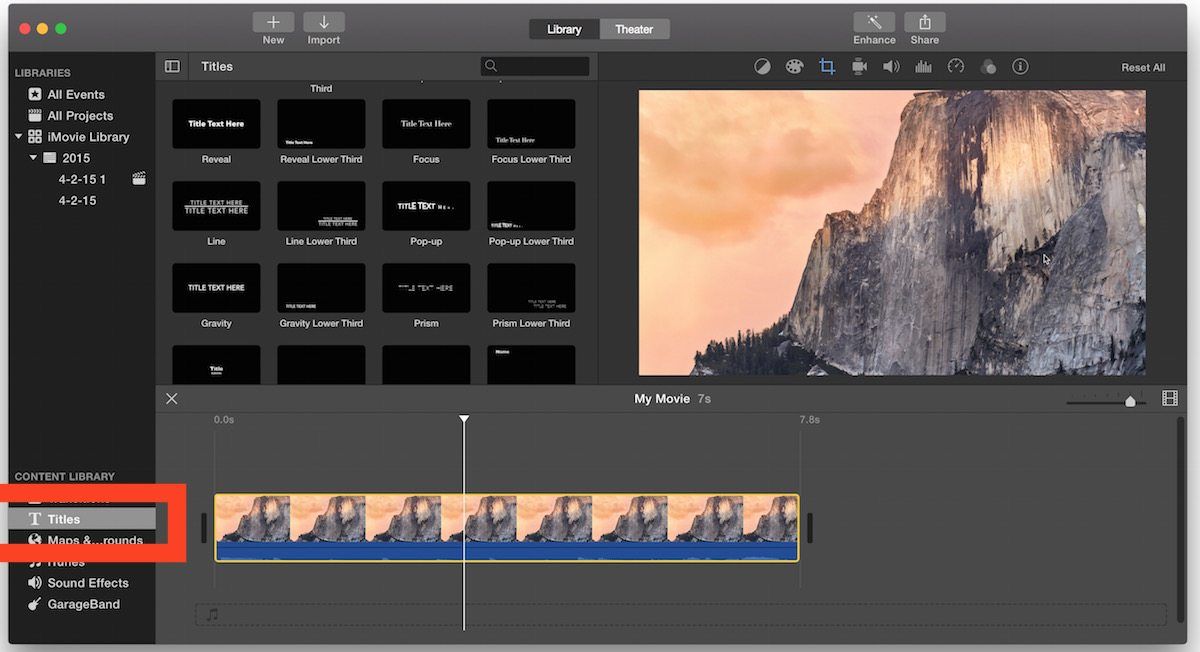 Next, you can choose experiment with the style of your text, change the font size, font family face, font weight, and other text elements. When choosing text, it can be good to think about the overall goal of standing out in the Facebook News Feed and pick a font that will help you achieve that.
5 mobile apps to help you add text and visuals to video
Vont (iOS): Vont is a super-simple app that lets you add text to video and includes over 400 fonts to choose from (free)
Overvideo+ (iOS): Overviedeo enables you to add text overlays to video and also has a ton of great video editing options ($2.99)
Gravie (iOS): Gravie allows you to trim and edit video as well as add text and graphic overlays ($1.99)
VideoShow (Android): VideoShow has a great set of editing features including text overlays and filters to enhance your video
AndroVid (Android): With AndroVid you can trim your clips and merge multiple videos together as well as adding neat text overlays

The rise of video engagement
Video is an important medium on Facebook and is now the leading the way when it comes to engagement as we discovered in a recent study of posts shared through Buffer:
For this study, we looked at how many engagements (clicks, likes, shares) each post a brand shares gets on average across Facebook and Twitter and as you can see from the above graph, video appears to be driving the most engagement on Facebook (by a long way).
Another study focused on publishers found similar results. Posts with video got an average of 4,036 shares per post, whereas links received an average of just 571 shares per post (Images were also popular, averaging 3,364 shares per post).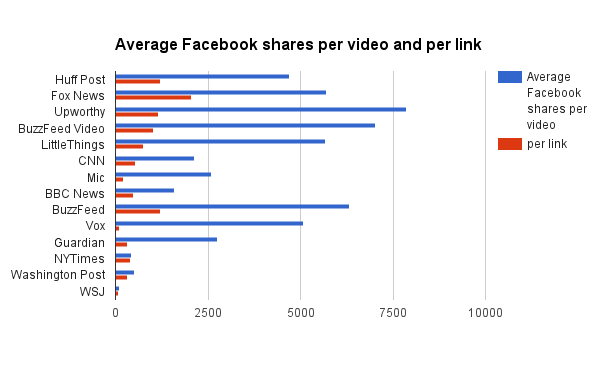 The power of silence
Tailoring content to Facebook's algorithms and user trends is an essential part of any social media strategy. And with video playing automatically, if users can pick up a story without the need for sound then you can certainly boost the effectiveness of your content.
Rye Clifton, director of experience at GSD&M, explains: "Sound is still an option [on Facebook], but it's not required. If you can make something compelling without needing people to turn the audio on, you're ahead of people who are not thinking that way."
If you can make something compelling without needing people to turn the audio on, you're ahead of people who are not thinking that way.Rye Clifton, director of experience at GSD&M
A great example of making something compelling to watch without sound is this ad from Hotels.com (I'd recommend watching with the sound off for full effect):
By embracing the fact that we are watching videos on silent, Hotels.com were able to make a truly engaging and unique campaign that stood out on the News Feed. The 'Silent Ads' campaign gained more than 5 million views in its first 3 weeks and thousands of shares and comments (generating consumer engagement 5X the average for Hotels.com).

The key takeaway from this
On the surface, this is a post about optimizing video for silent views on Facebook – and I'd love to dive into creating an optimizing social video a bit more in a future post. But I feel the real takeaway here is much bigger.
As marketers, it's essential to pay attention to consumer behavior and to be creative within the constraints of each marketing channel we use.
Consumer behavior drives marketing. Wherever the consumer attention goes, marketers follow: from newspapers to radio, to email and social networking – when attention shifts, so does marketing.
We've seen Facebook, and it's user's behavior, evolve a great deal since it launched in 2004. From plain text updates to images dominating engagement and now video is riding the crest of a wave. What's next? Only time will tell, but if you can keep a close eye on how consumers are using each platform then you can get ahead of the game.
How to get ahead
I'd love to share a few useful tips for keeping on top of the latest trends:
Pay close attention to your data: Analytics are essential for every marketer. Back when I worked at a marketing agency, when Facebook organic reach started to decline and our analytics told us this before any news broke about algorithm changes. If you want to keep on top of what's working, paying close attention to your social data is key.
Keep an eye on industry experts: In the ages of social media, we're incredibly lucky to be able to see the tools and techniques industry leaders and experts are using in real time to drive value from social media. People like Gary Vaynerchuk, Everette Taylor, and Morgan Brown are all worth watching out for.
Experiment: This is probably the most important of all. In the marketing world, you need to continuously experiment with new platforms, new types of content and keep pushing the boundaries to discover what works for you and your business.

Over to you
Thanks for reading! I hope you found this post useful, and I'd love to hear your thoughts:
Have you noticed many silent optimized videos showing up on your Facebook News feed?
Have you noticed any other new trends on Facebook or other platforms?
Feel free to share in the comments below and I'd be excited to join the conversation.