Social media evolves every day.
We're constantly learning more about how to connect better, empathize more deeply and create more lasting relationships.
At Buffer, we're so grateful to be part of social media's rapid evolution, and we're so inspired by all the tactics and strategies we hear from you, our audience, on your social media journey.
As a result, we're able to grow Buffer's product and make it even more useful for you. Here are 10 new elements you can find in your Buffer account right now that we hope will move your social media marketing forward.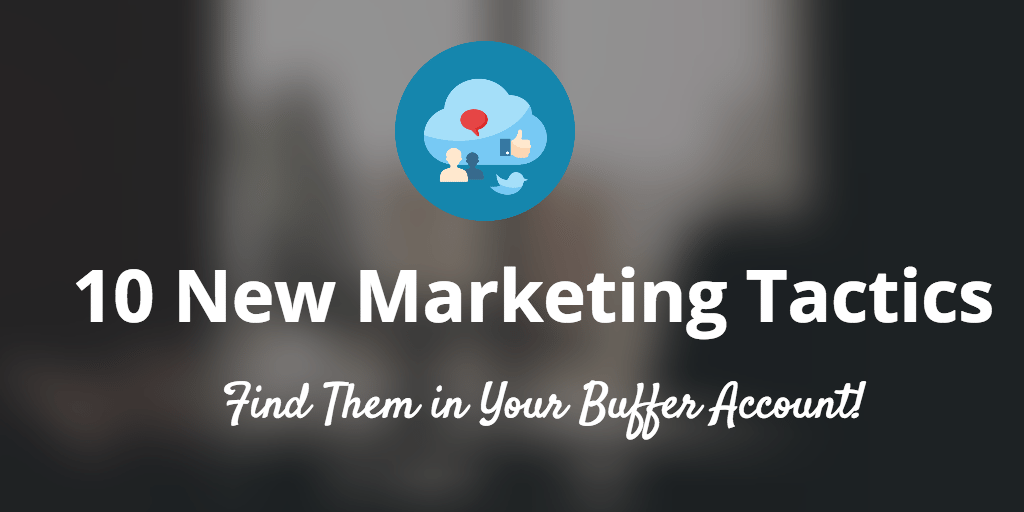 Note: If you've got a change—big or small—that would improve your Buffer experience, we'd love to hear about it. See what other customers are sharing and add your vote or new idea. You can also email us or reach us on Twitter anytime at all!
1. Perfect timing: Try our Optimal Scheduling tool
Have you ever wondered what the perfect time to schedule your updates is? The Buffer Optimal Scheduling tool can help you find out!

What it does: Just choose the profile you'd like to optimize, and submit!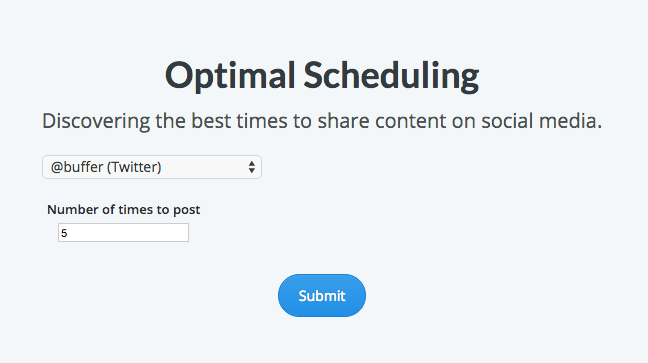 We look at the past 5,000 interactions (e.g. likes, favorites, clicks, etc.) you've had on your profile as well as similar profiles in the same timezone. We then plot these according to your timezone in a 24-hour period, to see when most interactions have happened.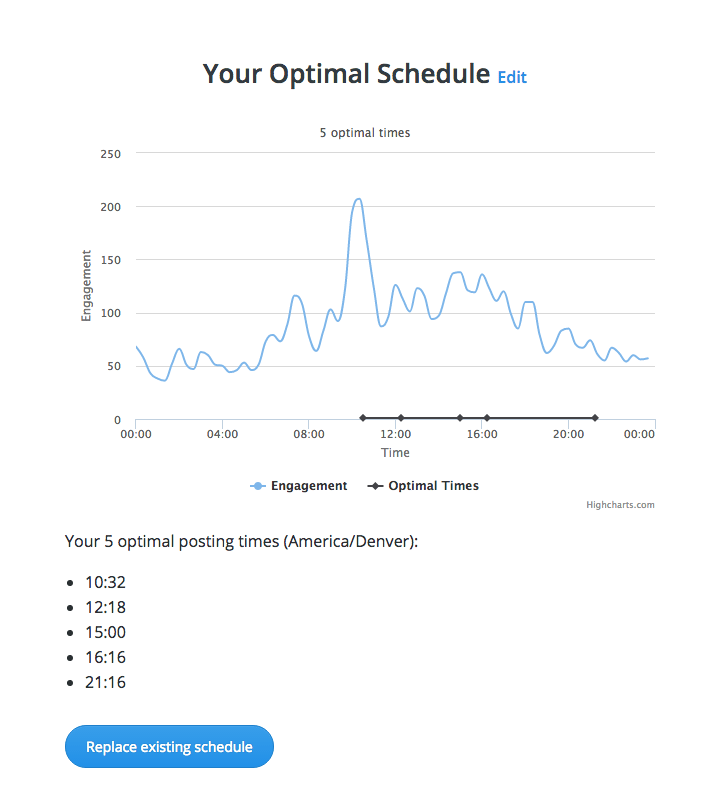 Then you can choose to replace your existing schedule in one click, or use these times to make manual changes to your Buffer schedule.
Why you might use it: We're constantly learning more about the methods and research to find the best times to post, but your own, individual data is likely to give your content its best chance for success.
Where to find it in Buffer: Anyone can find their optimal posting times using this tool, whether or not you have a Buffer account! Find this Buffer feature right here.

***
2. Get more from your content: Share multiple times with the Power Scheduler
So you've got an awesome new piece of content. I bet you might want to share it to all your different social networks, maybe with different messaging and timing for each? Possibly even a few different times on the same network? Buffer's Power Scheduler has got you covered!
What it does: The Power Scheduler allows you to take one piece of content and create your own custom schedule for it. Choose your networks, create your ideal schedule and optimize each post exactly the way you want it—all on one page. All your updates will go right into your Buffer queue!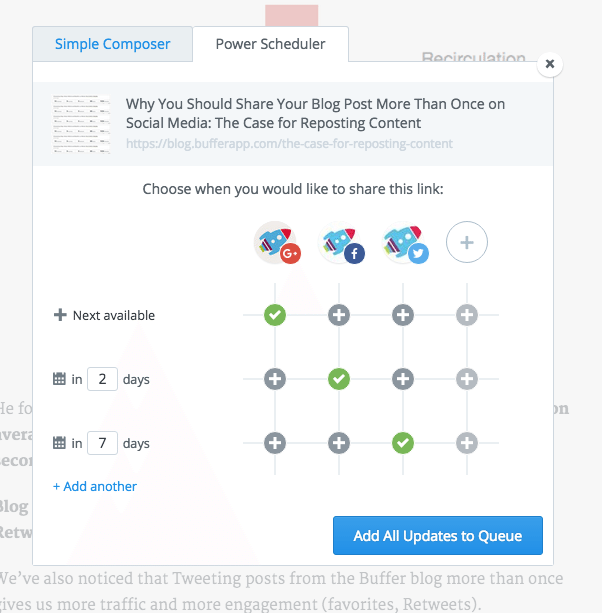 Why you might use it: We've shared a lot of research about the power of sharing content more than once—it can help you hit multiple time zones and drastically increase your traffic. We hope the Power Scheduler makes it easy and fun!
Where to find it in Buffer: You can find the Power Scheduler through the Buffer extension—just locate a piece of content that you'd like to share and navigate over to the "Power Scheduler" tab. Here's a video that explains more:

***
3. Picture-perfect Facebook posts: Upload a custom thumbnail
We're excited to add a feature that can make your Facebook posts even more customized: the ability to upload custom thumbnails when sharing links!
What it does: Now, whenever you're sharing a link on Buffer (through the web dashboard or the extensions), in addition to selecting a thumbnail from the images found on the page, you'll also be able to upload a custom one.
Why you might use it: Putting your best foot forward on Facebook can be a delicate process—especially with everything we know about the Facebook algorithm and what makes an ideal Facebook post. We've had a lot of success experimenting with custom thumbnails that help your audience understand what to expect when they click!
Where to find it in Buffer: When you choose a link to share on Facebook, you'll see a preview of your post. Hover over the center of the thumbnail preview, and click the upload button that appears!
Here's how your custom thumbnail post will show up on Facebook:
Cool bonus: This feature works for LinkedIn, too!
***
4. Share your commentary: Retweet with comment
Ever since Twitter announced the ability to say more in your retweets with "Retweet with comment," we knew it would be a great feature to have in Buffer.
What it does: This feature allows you to add an up to 140-character comment in your retweet while still referencing the original tweet—no more character count frustration trying to squeeze your thoughts in before the retweet.
Why you might use it: Retweets are a great way to engage with your following, build community, and catch the eye of influencers in your field. And since retweet with comment gives you more room to share your thoughts, there's even more opportunity with them now!
Where to find it in Buffer: First, make sure you have the Buffer extension installed on your browser—it's the easiest way to share from anywhere. It will also a little Buffer button into every post in your Twitter feed. Use it to retweet or add your comment for a modified retweet: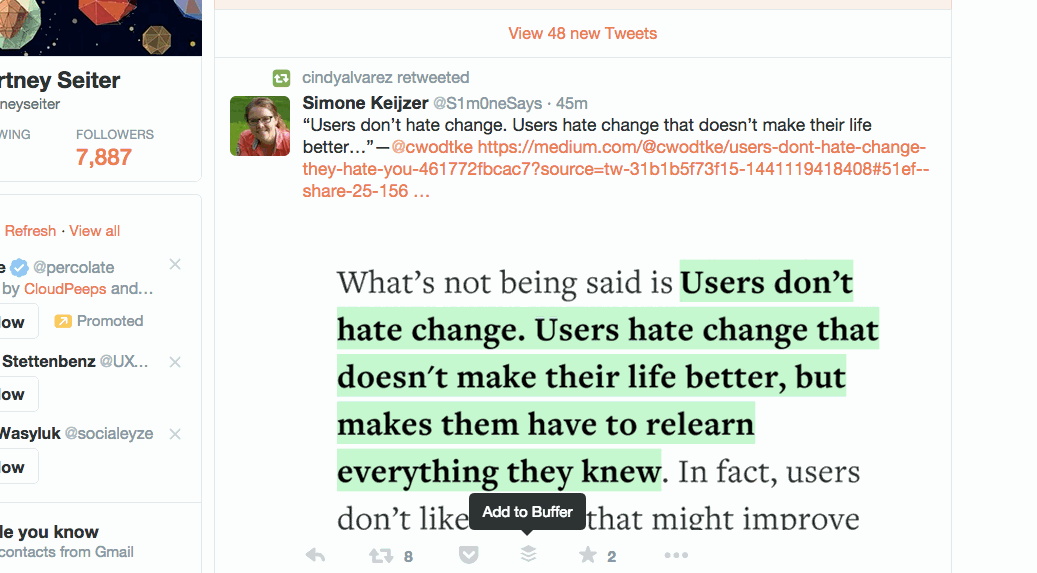 Your retweet with comment will show up in the Twitter feed like this:
***
5. Find the perfect GIF with the Buffer GIF Mood Board
One of my very favorite new projects is the Buffer GIF Mood Board. Who doesn't love a good GIF?
What it does: This very animated project collects upbeat, safe-for-work GIFs in one spot that makes it easy to share them to social media through Buffer.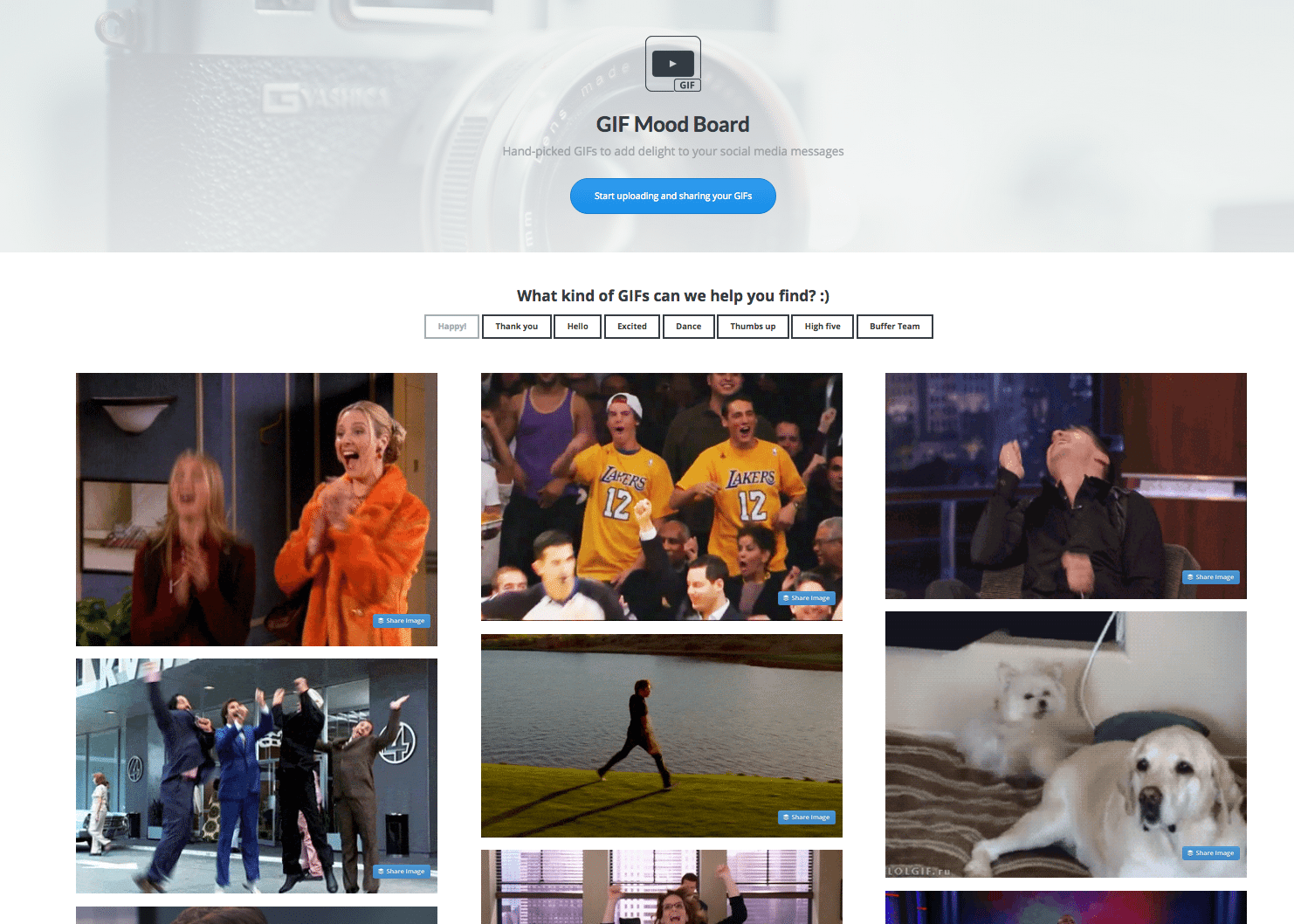 Why you might use it: GIFs are a dynamic, fun way to engage with your audience, thank your fans, tell a story and more! They also look pretty compelling in a crowded social media feed.
Where to find it in Buffer: Find all the GIFs right here!

***
6. Customize your content stream: Dismiss button for Feeds
Great content comes from many places, and the Buffer Awesome plan helps you organize it all in one place with Buffer Feeds—the ability to add RSS feeds to your Buffer social profiles and share directly from the dashboard.
What it does: Our most recent change adds a dismiss button to Feeds, so you can share great links directly from your favorite sites and dismiss the links that don't fit your strategy. We wrote a lot more about the process of making this change here.
Why you might use it: Content curation is a perfect way to establish thought leadership, show appreciation to content creators, and well, share great stuff! The dismiss button is a simple change that we hope will keep your Feeds area clean and uncluttered, plus give you a nice sense of completion when you've gone through all your posts for the day or week!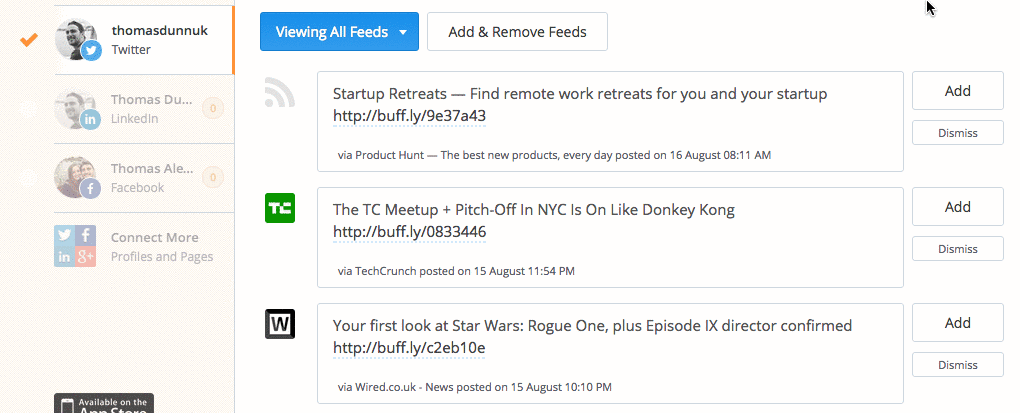 Where to find it in Buffer: Buffer Awesome plan and Business plan customers can find Feeds in the Content section. Add up to 15 feeds for a customized daily news source: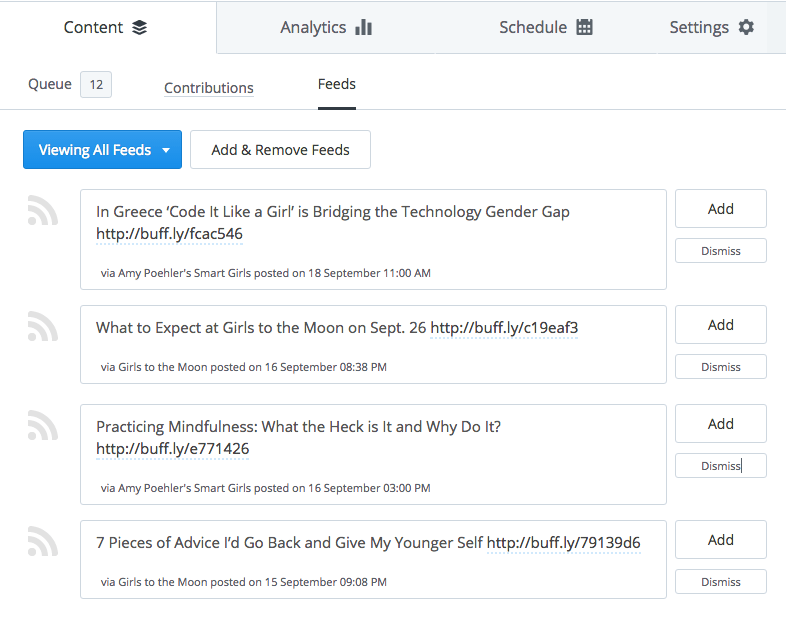 ***
7. Stand out on social media with videos and GIFs
Did you know you can  upload, share, and schedule videos and GIFs from Buffer to all your social media networks?
What it does: With Buffer for Video, you can upload a video once, on your schedule, and share it to multiple social media networks at the time that's right for you and your audience.
Why you might use it: In 2015 we've seen the addition of video on Twitter and a giant push by Facebook to make video a major component of the News Feed. Check out some staggering social media video stats:
The number of videos in Facebook feeds has grown by 360%
82% of Twitter users watch video content on Twitter
Globally, people are posting 75% more videos to Facebook
50% of Americans who use Facebook on a daily basis watch at least 1 video every day
Where to find it in Buffer: Buffer for Video is in all Buffer accounts! To get started, select a video file from your computer and drop it into the Buffer composer window. Follow along with this quick video to get all the details:
***
8. Create lightning-fast social media images with Pablo
Ever since we launched Pablo, our friendly social media image-maker, we've gotten tons of great feedback from many of you on how we can make this tool even more useful for you.
And we're happy to oblige! Now you can make 3 different types of images in Pablo—perfect for all social media networks.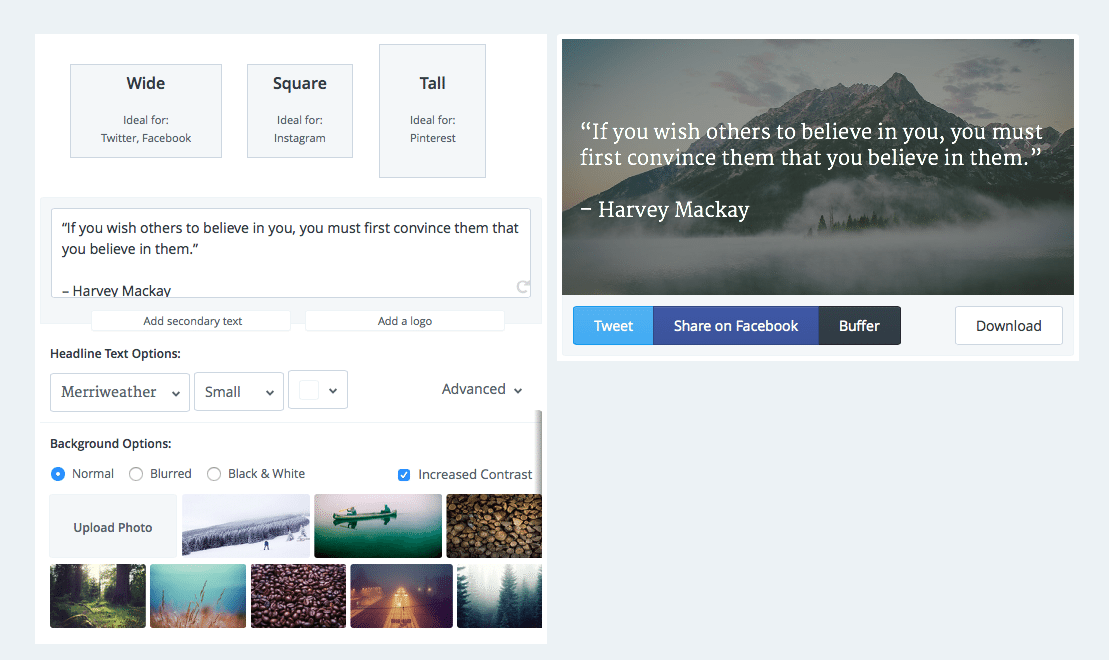 You can also right-click an image or quote to quickly work with it in Pablo.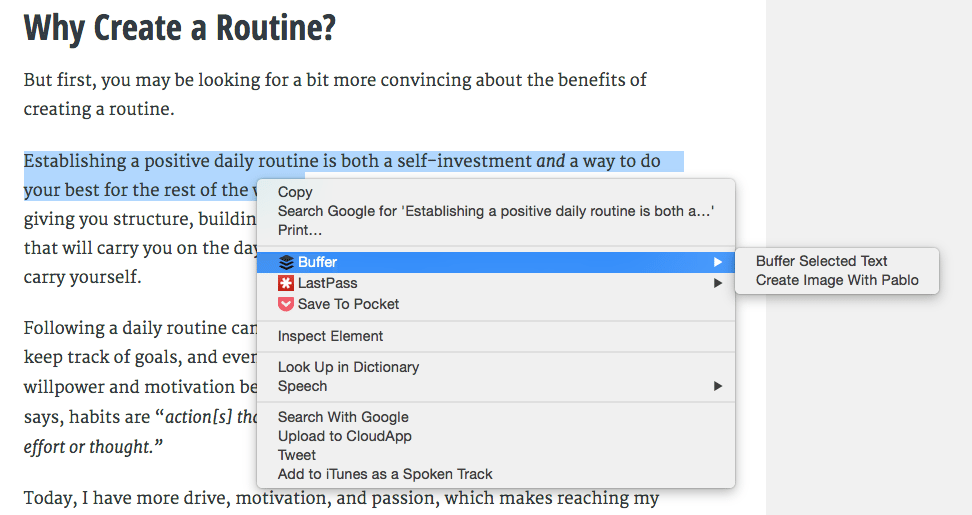 What it does: With Pablo, anyone can create engaging images. No sign-in, no design experience and no money needed. Type any text you'd like into the text box and choose an image as a background.
Pablo comes equipped with a ton of beautiful photos via our friends at UnSplash, or you can upload your own image to use. (Need a great source for images? We've got ya covered!)
You can make the text larger or smaller, change your font type or color, switch the photo to blurred or black-and-white, move things around, and add a secondary line of text or even an icon!
When you get your image looking the way you want it, you're done! With one click, you can share to Twitter, Facebook, or add your creation to your Buffer queue. You can also download the image to use in a blog post, social media post or anywhere you like.
Why you might use it: We've found that oftentimes images are the hook that draws more clicks, shares, and favorites on social media. And a number of marketing studies report the same:
Where to find it in Buffer: Pablo is a standalone tool free for anyone to use—find it right here.

***
9. Make analytics-driven decisions with Buffer for Business
If you're working with a team, we believe Buffer for Business is the best way to drive traffic, increase fan engagement and save time on social media. And now we're giving new users a month to explore all that it has to offer!
What it does: Buffer for Business builds on our simple sharing system with lots more power, including team management, deep analytics and more.
Detailed analytics: With comparison features, sorting and aggregated stats
Team collaboration: With approval features, admin rights and more team members
Team collaboration: Add a new team member as either a Manager or a Contributor, with different privileges for each role
Insights: See at a glance how you're doing and where you're headed
Exporting: Grab all your data anytime and add them to your reports with the click of a button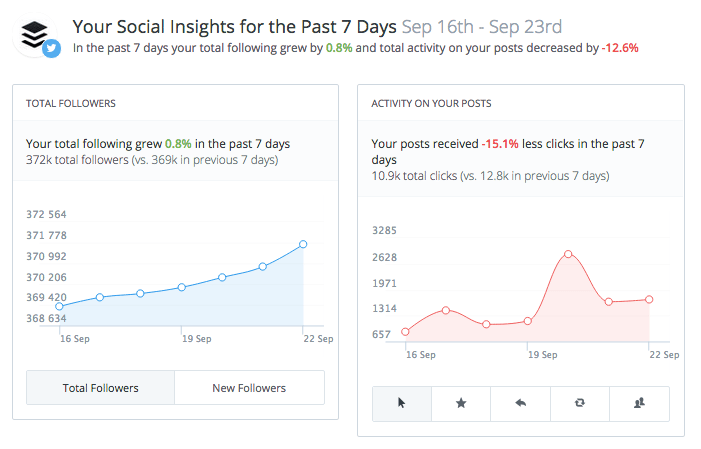 Why you might use it: We all want success—and that means gauging our performance. Whether you're benchmarking for yourself or creating a report for a client or boss, it's vital to know which stats matter—and how to measure them so you can achieve your goals.
Where to find it in Buffer: If you're new to Buffer, adding to your team, or interested in getting more insight into your performance, we'd love for you to give Buffer for Business a try!

***
10. Optimize your Pinterest sharing with ideal images
This year, we were lucky enough to be able to add Pinterest sharing to our network offerings at Buffer. Since then we've gotten lots of great feedback and been able to make our Pinterest posting even more seamless for you.
What it does: Our most recent change pulls all Pin-able images from a page into a easy-to-choose gallery the moment you choose Pinterest as your network of choice for sharing. Now you can see exactly what your image will look like on Pinterest and choose the image mostly likely to resonate with your audience.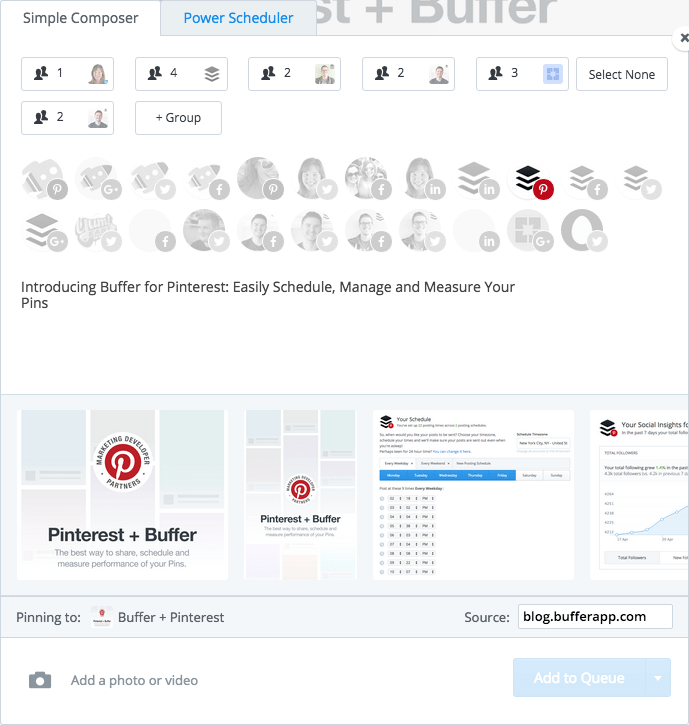 Why you might use it: There's a specific art and science to the creation of a viral Pin. Everything from color to size to subject matter factors in to how far your Pin might spread. We'd love to help you increase the odds of success!
Where to find it in Buffer: Buffer Awesome and Buffer for Business customers can post and schedule to Pinterest, in addition to Facebook, Twitter, LinkedIn and Google+. Hooray for one-stop social media publishing!
Over to you!
Have you noticed any of these new elements in your Buffer account? We'd be keen to hear how your experience has been with them.
And if you've got a change—big or small—that would improve your Buffer experience, we'd love to hear about it. See what other customers are sharing and add your vote or new idea. You can also email us or reach us on Twitter anytime at all!