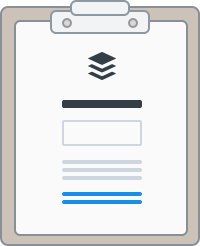 Buffer Marketing Report
October 2016
Key Stats
Buffer signups
17,106
+37%
Buffer for Business trials
1,394 +34%
Social blog sessions
1,225,754 -.1%
Email subscribers
96,613 -.6%
NPS for Buffer for Business
43 -1.7%
As we've thought of ways to grow our Buffer Social blog traffic, we've enjoyed thinking outside the box with growth. It's fun to go big with ideas, and to a certain extent, content marketing in 2016 requires this type of outside-the-box thinking!
From historical optimization to trending news topics, we've hit on a few strategies that have worked. And I'd love to let you in on one of the newest ones we're trying, one that's already shown some great success: native un-advertising.
Sounds a bit confusing, right? Perhaps mysterious? (I could probably find a better name for it.) I'll be happy to shed some light on what this strategy looks like in practice and how you can get this to work for you and your content marketing. Plus, we've been up to some fun stuff with events and podcasts that I'm keen to share. Hope you enjoy! Feel free to AMA (ask me anything) in the comments.
The future of native advertising is … native un-advertising?
We've been exploring a particular content strategy at Buffer where we aim to partner with fellow companies to co-promote an article that we've written on the Buffer blog.
And the more I thought about, the more I realized: Huh, I guess this could be a form of native advertising 2.0.
Native advertising (1.0) is a type of stealth advertising where the advertising content fits with the form and function of the website it appears on. Think promoted posts in a social feed or paid search results on a Google page or "sponsored posts" on BuzzFeed, for instance.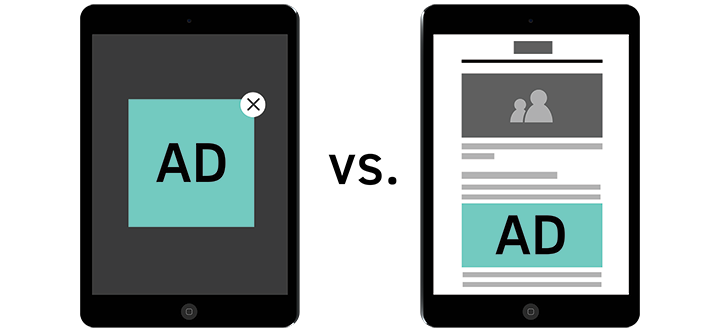 Our form of native advertising — native un-advertising would probably be a better description — is very close to a simple content partnership. We take this idea of native ads and flip it on its head, inviting other companies onto our blog in exchange for added reach to the content. Here's how it works:
We think up some articles we want to write — some big, amazing, wonderful long-form pieces of content.
We write 90% of the content ourselves.
We identify a brand or brands that might have an expertise on the topic or who might feel an affinity for the audience we're hoping to reach.
We send the brand an email to gauge their interest.
If they're up for it, we have them check over the content and make any changes, and we coordinate how each of us will promote the content.
What's in it for our potential partner?
Our hope is that they gain from the partnership in a lot of ways: getting their brand name in front of a new "earned" audience, getting signup CTAs on someone else's website, and building brand affinity as a thought leader on a topic. Plus there's the added benefit of free content that they don't have to write and a backlink from the Buffer blog (it might be a bit haughty of me to weigh this with much significance, but I know every link counts).
And what's in it for us?
In theory we'll have a new promotion channel for an existing piece of content that we've already written, with the hard-line goals of more traffic and more conversions. We may get the story mentioned in our partner's emails and social channels. We get to grow the relationship with a great company. We get to share a really useful piece of content that takes in multiple perspectives and can help a huge amount of people.
And truly, it is fundamentally different from advertising in several ways:
There is no money exchanged. We don't pay our partners, and they don't pay us.
The partner doesn't initiate anything. It's not their idea to put their brand name on our website. It's ours! (Weird, right?)
(Hopefully) It doesn't feel disingenuous to our audience to see content from another company.
We've been lucky to already try this out with a really great partner: Pocket.
How to Curate Content: The Secret Sauce to Getting Noticed, Becoming an Influencer, and Having Fun Online
We joined with Pocket on a 5,000-word post about content curation. We (Buffer) wrote the foundation for the content; Pocket had some great additions. We each sent it to our email lists: Buffer blog subscribers and Pocket's weekly hits newsletter. We each promoted it on social. We (Buffer) were so excited about the content that we went a bit extra with a webinar and podcast on the topic.
And here were the results:
50,445 visits
4,000 social shares
64 comments
currently ranking on page one of Google for "content curation"
115 Buffer signups
I can't be sure how many Pocket signups their team received, though I do have this bit of qualitative feedback:
Next up for us with this strategy is to work with the team at Product Hunt on a story about social media tools in 2017, to partner with Inbound.org on some social media survey data we're excited to announce, and to find a partner for a data/analytics post and one for coding skills.
We'll  let you know how those go!
October's highlights from Buffer marketing
1. Events in three cities (and we're coming to Chicago)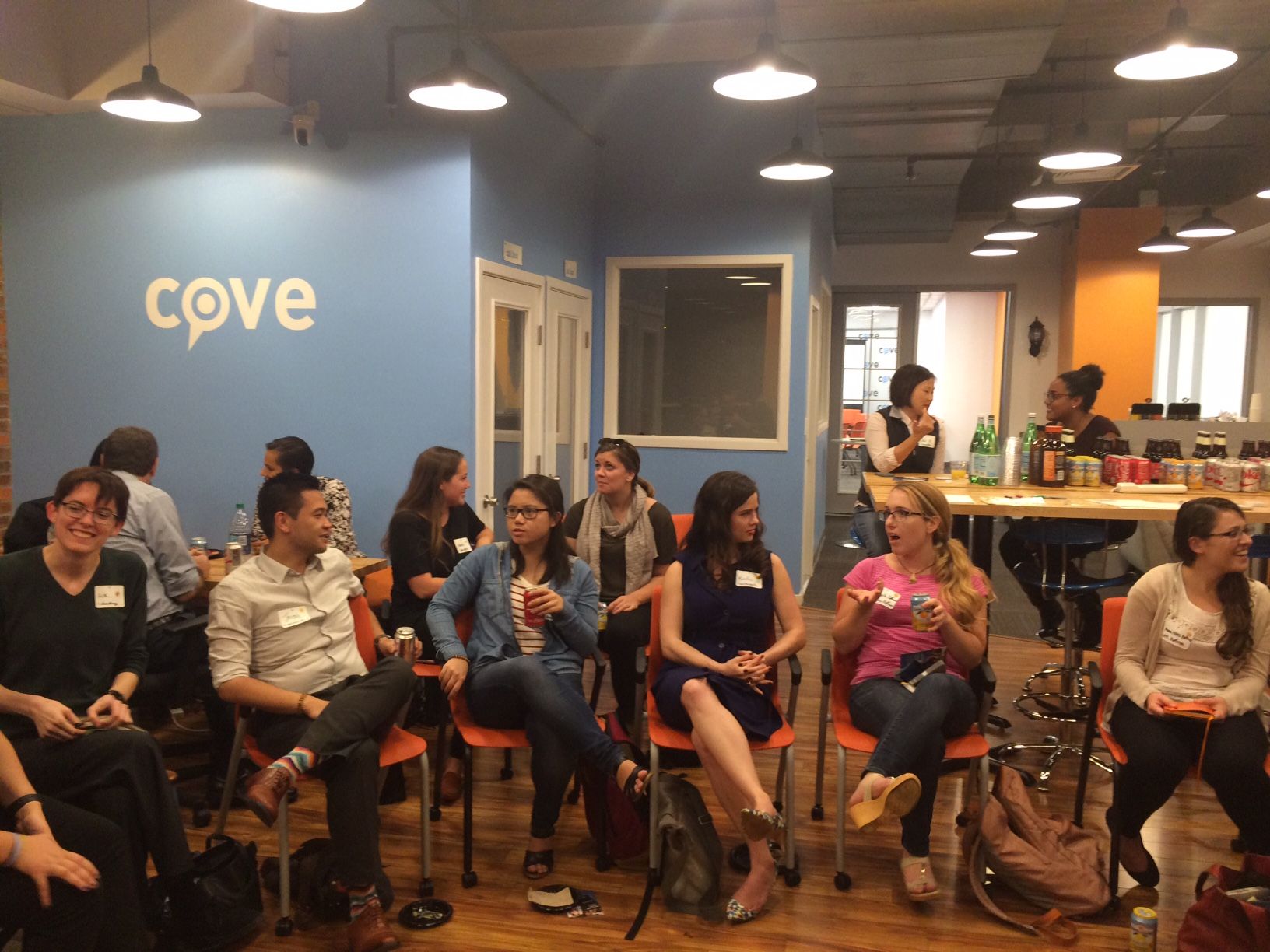 This month, we had the chance to meet many Buffer community members in person as we hosted a series of three events in 10 days on the East Coast of the U.S.
Our takeaway: We want to do more events!
Specifically what we learned was:
We'd love to iterate on events toward a workshop format where we can deliver some really solid social media coaching
We're lucky to have such a great community of support, and we want to build events that encourage networking and connection among attendees
Each of our events had a fellow startup partner or a community member who served as a host for us in each of these cities. Here's a quick rundown of what the events looked like:
Monday, Oct 17: New York City
Location: Wix Lounge
Speakers: Leo Widrich (Buffer's co-founder), Erica Moss (Trello), and Adam Wozney (Wix)
Topic: Creative social engagement strategies
Attendees: 80
Thursday, Oct 20: Washington, D.C.
Location: Cove (K Street)
Facilitators: Arielle Tannenbaum (Buffer) and Rachel Wynn
Topic: Creative ideas for creating content
Attendees: 21
Tuesday, Oct 25: Boston
Location: Wistia
Speakers: Arielle Tannenbaum (Buffer), Thad Peterson (Wistia), and Chelsea Hunersen (HubSpot)
Topic: Telling Stories through Video on Social Media
Attendees: 28
Also at each event, we were able to stream some of the activity via Periscope, and to follow up with attendees afterward, we sent everyone an email and a link to an NPS-type survey to gauge their enjoyment of the event.
And now we're excited to spin all these learnings forward into a new event experiment: workshops. Our teammate Brian, who is currently living in Chicago, is set to host our first workshop, teaching on the topic of one-person social media marketing teams. If you happen to be in the area, you can RSVP to attend here. We'd love to see you!
And I'm hoping in future monthly blog post updates to be able to share more of the data we get for some of our unanswered event questions like:
Will people pay to attend an event?
If so, how much?
Is it possible to have a community-focused networking event and an educational workshop event in the same event?
2. Podcast nears 100,000 listens (before episode 15)
We feel really fortunate to have the engaged audience and strong promotion channels that we have at Buffer. This has been such a key part of growing our new podcast from scratch. Thank you!
It's been really neat to see the numbers continue build from launch until now. If I were to pinpoint a few big areas of impact, it'd likely be these:
Getting to tell all of our Buffer customers about the podcast
Having the privilege of making iTunes New and Noteworthy section
Publishing at a good pace and a consistent quality
1. If you're able to tell your existing email list or customers about your podcasts, do. Tell everyone you can. I sometimes have the tendency at Buffer to keep our marketing list (those people who sign up for updates from our blog) and our customer list (customers who have opted in to hear from us) separate. Using both lists to promote the podcast has been a very good decision.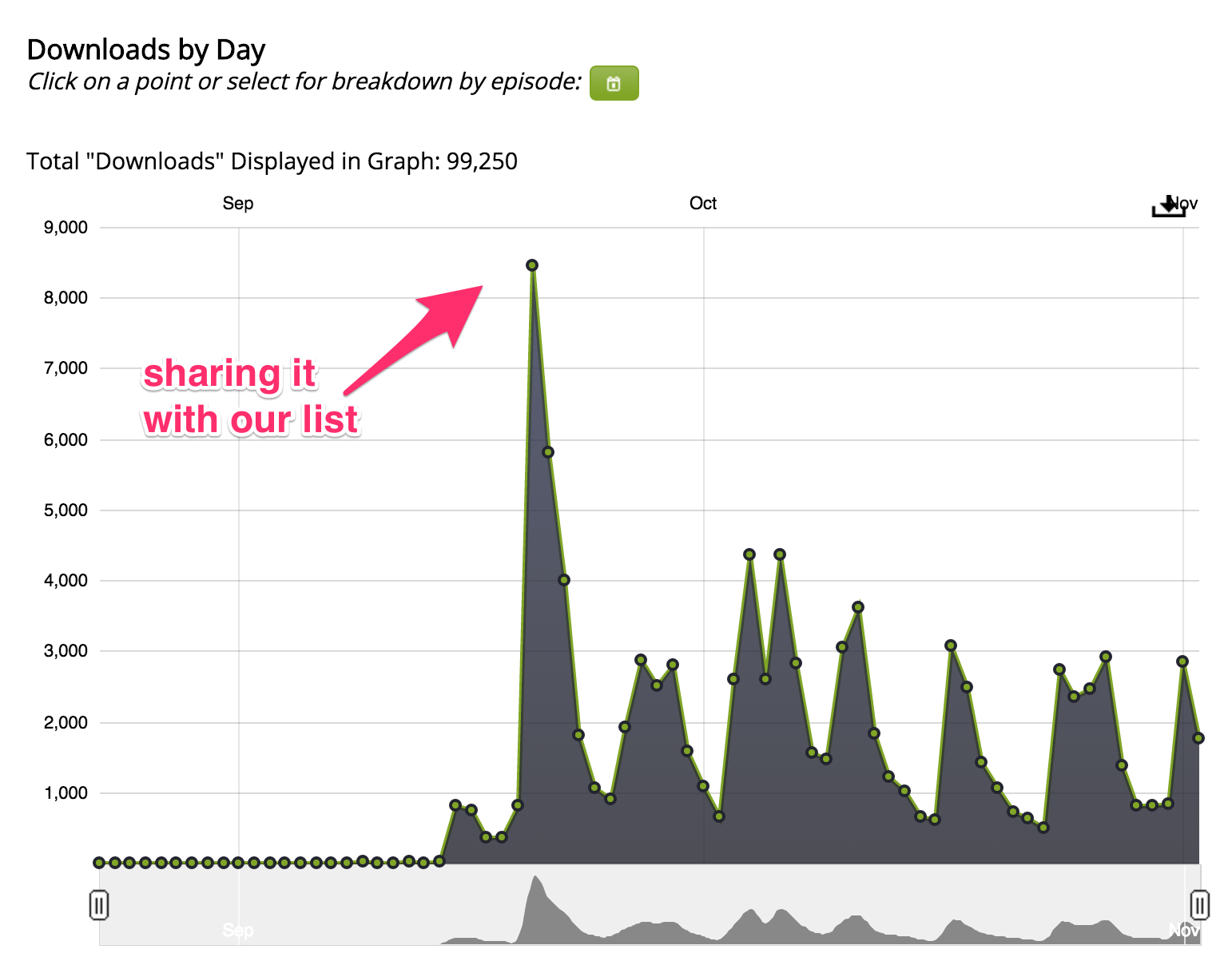 2. We were fortunate to make the New and Noteworthy section of iTunes, which helped considerably with discoverability of the podcast. To get into New and Noteworthy, we mostly just followed the advice we researched for this post. My hindsight analysis: iTunes seems to care most about subscribers and downloads, both of which you can affect by publishing lots in the first eight weeks.
3. Though it might seem like a lot when you're just getting started, having a stable of podcast episodes on hand at launch was really key for us. For the first several weeks, we averaged 2-3 episodes per week. At that pace, we did eventually catch up to our backlog and needed to hustle to refill it. But the fact that we were able to publish at pace, early on, proved quite important. Consistent quality helps, too! You want people not only to discover you but also to keep listening long-term.
What can we share that would be helpful for you?
If you have any questions at all about our marketing plans or projects, I'd be so happy to chat with you here in the comments. Feel free to share any thoughts or questions, and I'll jump right in!
Image sources: MindSea, Unsplash
Check out other reports from October: