Hello friends! I'm Deborah, Culture Scout for the Buffer team. I've been very lucky to join the Buffer team in October and finish my bootcamp a couple of weeks ago.
What is a Culture Scout, you might ask? I'm part of the People team and my role is to bring on new folks to the Buffer journey, with a focus on finding people that are as passionate about our values as we are, and those who we believe can contribute to the Buffer culture. I split my time between a few different things:
Reviewing the fantastic notes from candidates and the ideas they would want to achieve as part of Buffer.
Exchanging with candidates and getting a feel for how happy they would be if they were to join us.
Working closely with the rest of the team to keep a finger on the pulse of our needs so we can accomplish the many goals we've got going on.
Experimenting and exploring different areas to improve the candidates' experiences.
I'm extremely grateful for this opportunity and also for the chance to get to know and exchange with so many wonderful candidates every day!
Rodolphe has done an incredible job with the hiring reports, and has offered me the chance to take the baton to tell you a bit about how things have gone in the busy month of November.
November's new teammates!
In November, 10 teammates have graduated from Bootcamp and joined the Buffer team.
Here's me and some of the Buffer UK team having some GIF fun at a recent meetup.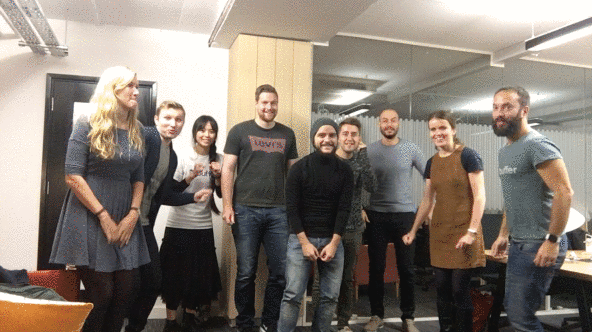 November hiring conversations
We had 2,734 conversations with a total of 1,551 new applicants in November.
In the image below, you can see that "Total Conversations" are the number of hiring email conversations we had ongoing this month (we sometime have duplicates), "Customers" are our applicants and "New Conversations" are the new applications we've had through the month.

Taking a look at those stats compared to October, where we had 1,989 conversations with a total of 1,666 new applicants, it would seem like a few things stand out:

We had fewer new conversations in November than we had in October.
We caught up with a large number of conversations from October, which increased the number of total conversations quite significantly.
We had two major spikes with the number of new conversations, one on November 12th and one on November 24th.
This last observation particularly caught my attention, so I tried to dig a little deeper and looked for clues for increased applications on those two days—twice as much as our average new applications per day number of 50.
I'll admit that the first spike is a little bit of a mystery to me, aside from a really great article on hiring by Sunil that directed to our 'Join us' page that could very well explain the increase.
The second spike is a bit easier to understand, being straight after our announcement of the new Salary Calculator.
Have you checked out our new Salary Calculator?
On November 24, we introduced our new salary formula and calculator. Two years after the kick-off of our first transparent salary formula, Joel and Leo launched a new iteration, taking into account 'The Good Life Curve" and other components, with the goal to keep our salaries fair and increase our job market competitiveness in some areas of the world by taking better into account the market rates of each location.
Similar to the reaction to the previous iteration of the formula, we've been fortunate to have some great media outlets share the news, like TechCrunch, TNW and The Atlantic, which also drove an increase in applications.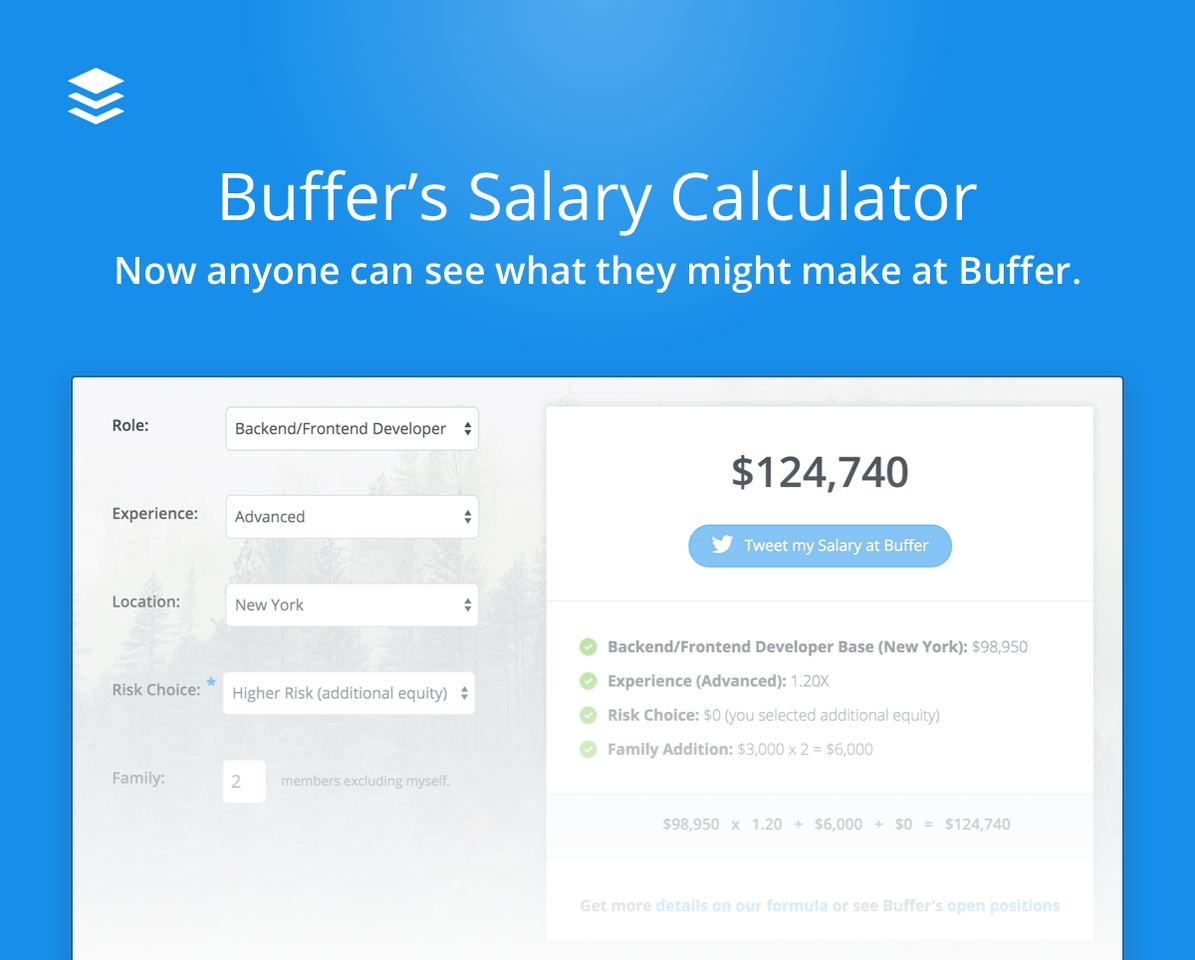 Back with that first iteration of the formula and initial revealing of the team's salaries, overall applications doubled in the following month for a total of 3,864 applications received.
A couple of weeks after the announcement, we have yet to reach a similar number, but we're really excited about the increasing number of people who share similar values to ours!
New conversations per position
We currently have 14 total open roles on our Journey page, and at the moment we're looking for 19 new team members to join us on the Buffer journey. Here's the breakdown:
8 in Product/Engineering (for 7 roles)
2 in Marketing
1 in People
8 in Happiness/Customer Success (for 4 roles)
Some positions were closed in November and re-opened recently, which explains some of the temporary decrease in applications (for example, for the Customer Development role).
We've also had 7 people join us for their bootcamp in November, some of whom have already joined us full-time. You'll hear more about it in our December report! ?
In the table below, you can see the positions that were open in November (the ones in bold are still open) and how the numbers compare to October.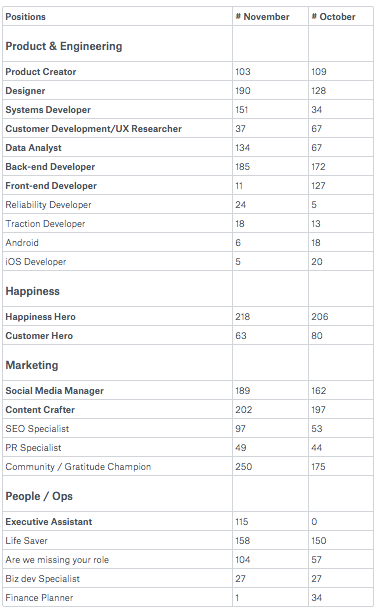 Outlook and thoughts
Higher bootcamp success rate?
Historically, Buffer's 45-day bootcamp has been a fantastic opportunity to confirm whether it feels like a perfect fit from both the Buffer team and the new team member. Hiring reports in the recent months have shown that on average, 6 out of 9 people complete their bootcamp every month and officially join the team.
In November, we had a 100% completion rate, which has sparked a few questions amongst the team.
It could mean that we've  gotten better at selecting candidates, and accompanying them on their Buffer journey, through our Buddy System.
At the same time, it might also mean that we're not quite grabbing the opportunity of the bootcamp to really dig deeper into that learning experience, with the slight risk of diluting the culture in the long run.
As our team grows, we want to keep questioning in this area to make sure we create the best possible learning experience for us all—bootcampers and longtime teammates alike.
Improving the Buffer application experience
November has been an incredible learning curve for me personally, as I've gone through the process of learning the roles, reading through quite a few applications and started the interview process with 17 new candidates.
We've also continued the process with 7 candidates who had already started chatting with us at Buffer, and made a total of 7 offers.
As mentioned previously, we're currently looking for 19 new team members, and while we have to increase the number of candidates we're talking to in order to achieve that hiring goal, we also want to ensure a smooth experience.
The group of people who check out the jobs page and step forward are very special to us. We're conscious that it is a very vulnerable experience and we're really committed to making it an enjoyable one, whatever the outcome is.
I was very inspired by this article on recruiting scorecards. Admittedly, with our emphasis on culture when hiring for our team and our focus on collaboration when selecting candidates, we're currently far from some companies' goal of maintaining a maximum 30-day latency between first contact and signed offer.
We've also yet to start measuring candidate satisfaction rates, which would be a great indicator of how the experience feels for candidates, and also could help us work towards better inclusivity in our interviewees.
Over to you!
We'd love to hear more about what you want to read in future reports. We're also always open for suggestions, so if there is anything you'd love to hear more about, please let us know! ? Feel free to comment with questions and we'll do our best to respond directly or include your suggestions in our future reports :)