A lot of people have asked us how we hire at Buffer and how to go about getting an interview for one of our open positions. I hope I can shine some light on it here!
The best candidates for us, we've found, have all four of these attributes: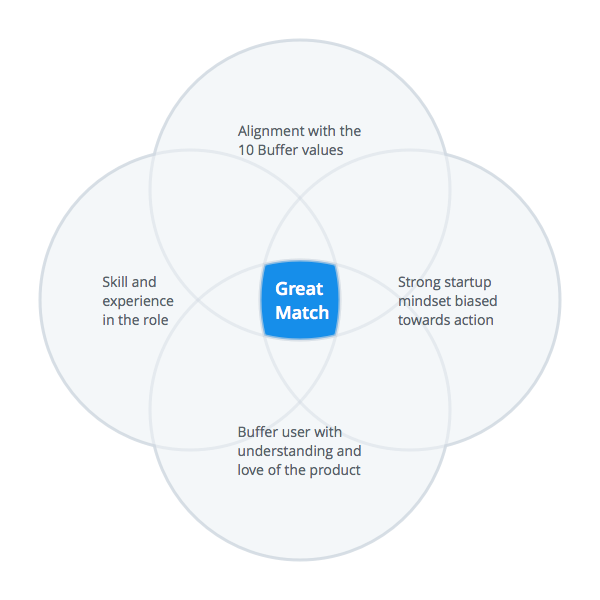 I'd love to share a bit more about each of these 4 attributes.
The 4 qualities that create a match
1. Alignment with the 10 Buffer values
Probably the most important element we look for is alignment with the 1o Buffer values.

The main way we try to gauge this in practice is by looking at the wording of each email and seeing how well it feels in line with our culture. Especially since we're a remote team, written communication gets a lot of weight, and gauging emotions from it is important for us.
Secondly, we heavily rely on a candidate's social media postings. We'll check out their accounts, and whether their postings feel in line with our culture. Is there a lot of positivity or a lot of complaining? Would their posts feel great to see on on our team Twitter list?
These elements help us begin to understand what type of cultural contribution a candidate would bring.
2. Skill and experience in the role
Of course we need to know that you've got the skills and experience for the position in question. And yet, we look at résumés quite little when we work on growing the team.
We look mainly for relevant experience to the particular role someone is applying. We generally provide a list of tools and concepts it'd be great for candidates to be familiar with, and then ask candidates to share any relevant links to projects, personal websites, Github, etc.
We love to ask candidates what they'd be excited to bring to the team at Buffer in their role, and then learn from their answers. Often we'll also walk through real-life workplace scenarios with candidates, too. Although academic achievements are welcome to be mentioned, we look a bit less at those. For example, some of our awesome engineers are completely self-taught.
3. A bias toward action
Then there's entrepreneurial spirit. We've always valued doers and makers at Buffer, as well as moving fast, occasionally breaking things and asking for forgiveness instead of permission.
It all goes back to something our teammate Steven said once that we all really related to:
"Being a part of a startup is like trying to build a bike while riding it."
As a startup, we're moving at a very fast pace that can be hard to keep up with for some. So things like having successful side projects, having worked for another startup before,  or being able to show us in another way that you're comfortable with a fast pace is also a big plus.
4. Buffer use and understanding of the product
A final factor is usage and knowledge of Buffer. We believe that folks who have a good familiarity with the product will be in a much better place to come on board and make positive changes at Buffer.
In the past we have asked folks to use the product for at least 2-3 months consistently before we would consider them for a role. This feels a bit limiting, and discounts the fresh perspective a newcomer to a product can bring.
Today we are a bit more flexible with this requirement, though we would definitely expect that a candidate has spent a good amount of time exploring the product and would be prepared to talk about the positives and challenges of their experience with Buffer's tools.
Over to you!
We know our formula isn't perfect – we've made many adjustments along the way, and we're still learning.
But if you follow along with Buffer, get to know the company and the product and feel that our culture resonates with you, we'd love to hear from you!