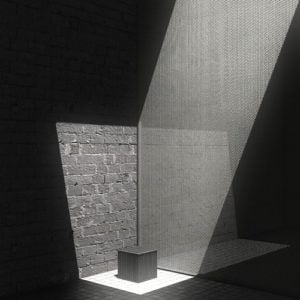 Constraints can seem like the last thing you'd want for a creative project, but they're actually beneficial when it comes to doing good work. If you've ever faced the common writer's hurdle of the blank page, you'll know what it's like to be paralyzed by innumerable opportunities. What restrictions do is take away some of the choices available to us, and with them, the paralysis of choice that stops us from getting started.
We love trying things that seem counterintuitive at Buffer, but we especially love examples of how counterintuitive approaches can produce great results.
Check out a few examples of the amazing work that can come from creative constraints, and then find out how you can begin to use constraints to aid your own creativity and productivity.
1. The short story that will bring a tear to your eye
This is one of those stories that's so old, no one can really prove who was part of it or how it went down. But even without certainty of the facts, it's worth retelling. Supposedly Ernest Hemingway was the story author, who bet some friends that he could write an entire story in just six words. Of course, it seems an impossible feat: how do you introduce characters, explain their relationships and tell a tale about them in just six words? Here's how Hemingway did it:
For sale: baby shoes, never worn
Powerful stuff, right? Like I said, it's a story worth telling, even if we'll never know the exact details. It certainly provides a lesson about working with constraints. With such an extreme brevity limitation, not only did Hemingway have to choose his words carefully, but he also had to craft them in a way that imbued the silence around those words with the rest of his story, since he'd run out of words to tell it.
2. Summing up your life in a sentence: six-word memoirs
Speaking of six-word writing restrictions, here's a fun project based on the same thing. The book Not Quite What I Was Planning is a collection of memoirs written by famous and not-so-famous writers in exactly six words. Summing up your life in just six words sounds hard, but then imagine writing a whole book about your life—suddenly six words doesn't seem so daunting, does it?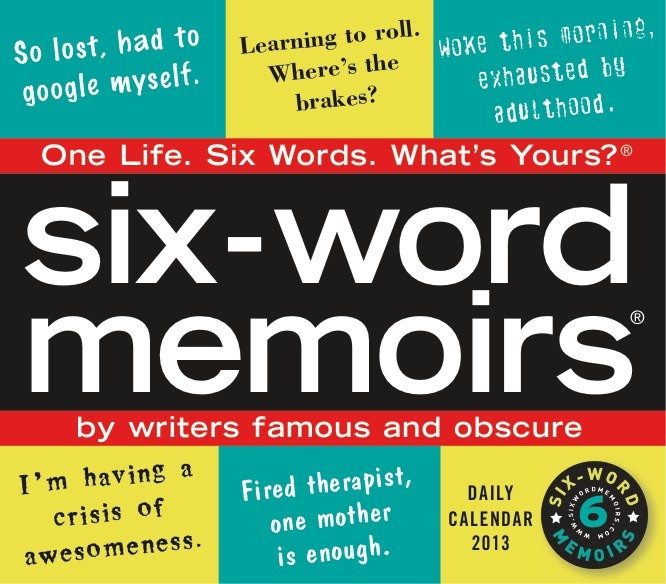 Here are some examples from the book:
Well, I thought it was funny. — Stephen Colbert

Couldn't cope so I wrote songs. — Aimee Mann

Grumpy old soundman needs love, too. — Lennie Rosengard

Painful nerd kid, happy nerd adult. — Linda Williamson

No future, no past. Not lost. — Matt Brensilver
3. A career-ending injury that became a blessing
Phil Hansen's story is nothing short of inspiring. As an art student, Phil relied on a specific pointillist style he'd developed. He was understandably distraught when an injury from creating art this way meant he couldn't do it anymore. After walking away from the art world completely for three years, Phil returned and started using constraints to his advantage.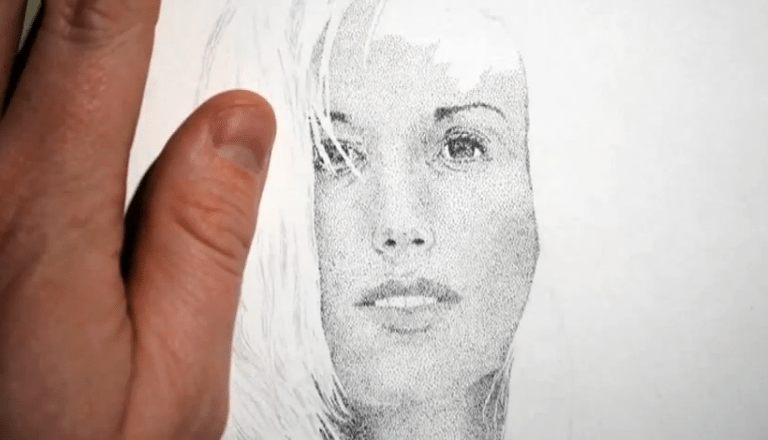 His shaky hand, a result of his art injury, led him to a new style incorporating the shaky lines he couldn't help making.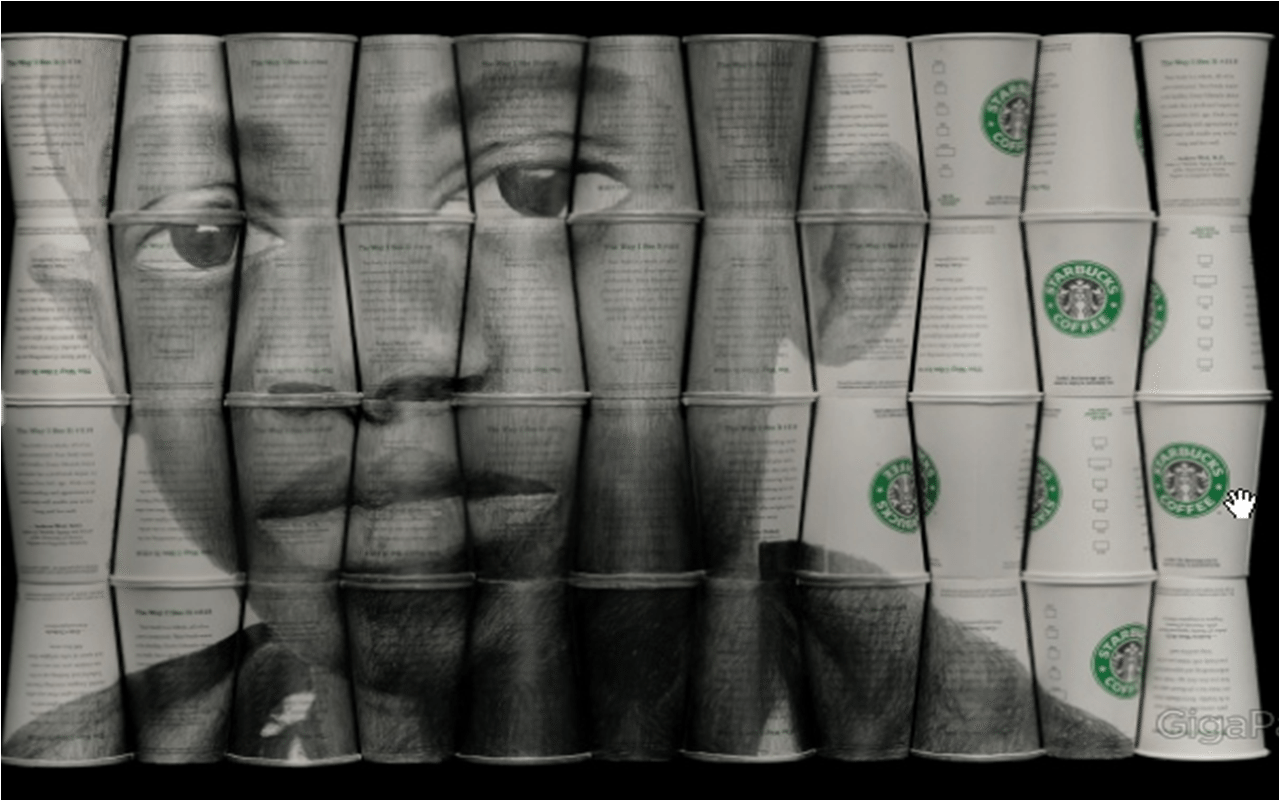 Eventually Phil realised how powerful constraints could be and started creating his own: from drawing on coffee cups to painting with karate moves to creating temporary art with matches, candles and chewed-up food.
I can't do his story justice, so I highly recommend watching his TED talk about what he learned. It includes videos of him making amazing art pieces based on self-imposed constraints:
4. Physical limitations that lead to unique art projects
The last time I explored the use of constraints in creativity I came across this artist who creates amazing work within physical and spacial constraints.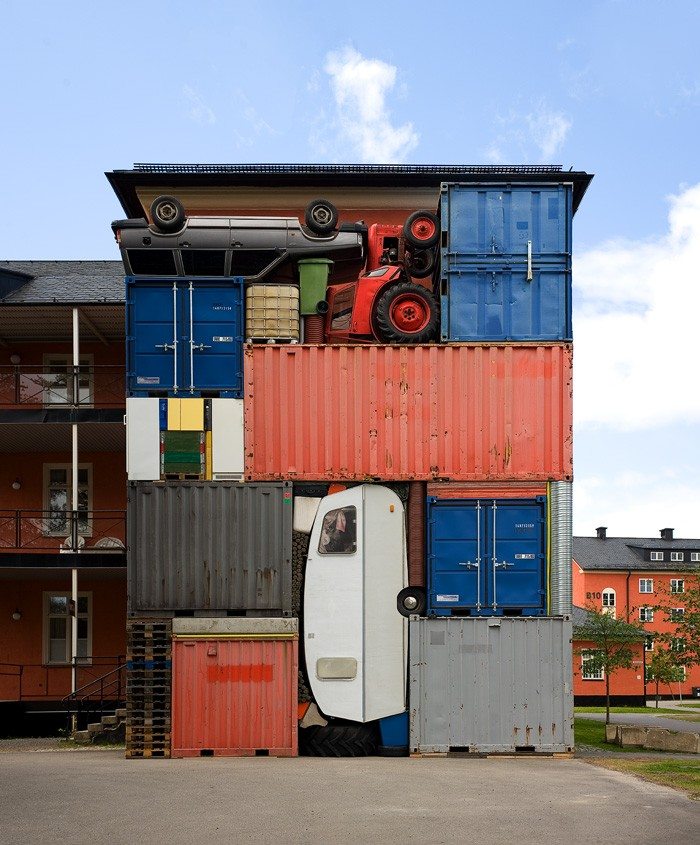 Michael Johansson takes used objects and repurposes them into artistic projects. I'm tempted to call them sculptures but it doesn't seem to fit with the almost 2D look of his work.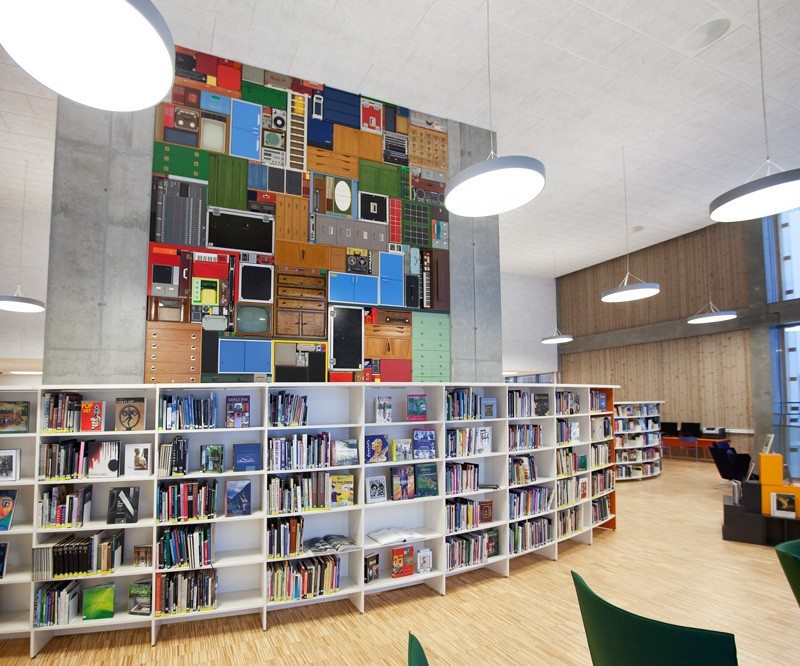 What's so impressive about Michael's work is that he seeks out frames to work within—physical spaces to use as constraints—and makes his used objects fit together inside those areas.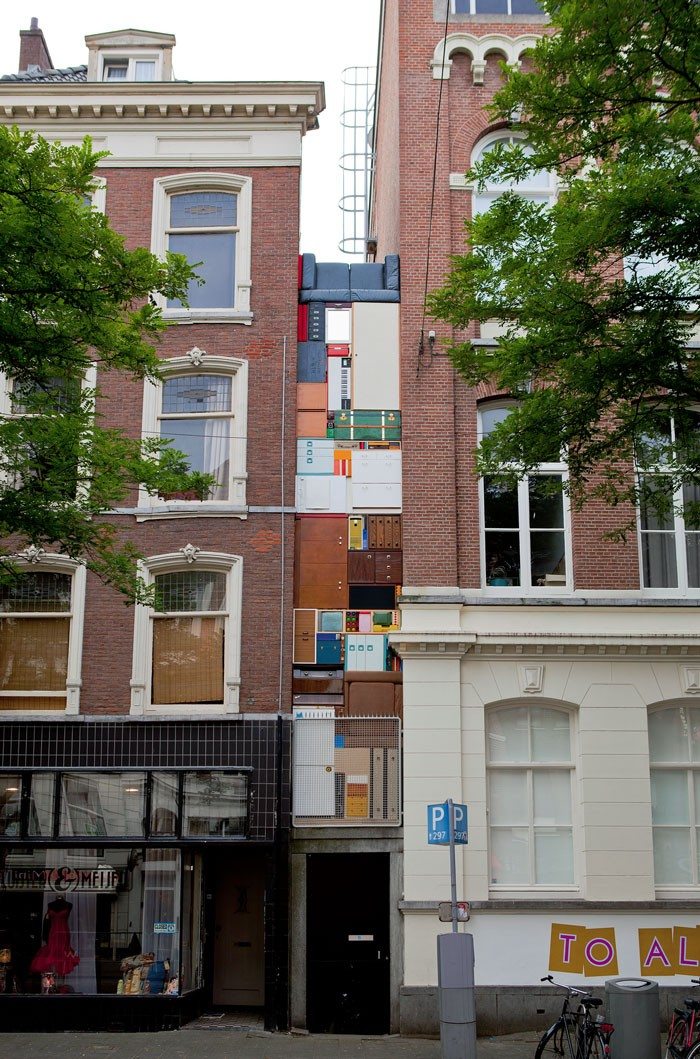 In the video below, Michael describes his work as being almost a game: like real-life Tetris.
Sigurd Larsen & Michael Johansson – Real Life Tetri from The Avant/Garde Diaries on Vimeo.
5. Using copyright restrictions as inspiration
A favorite artist of mine, and somewhat of a regular on the Buffer blog recently, Austin Kleon provides an excellent example of working within constraints. Though he's known for several things, perhaps what first made a name for Austin were his newspaper blackout poems.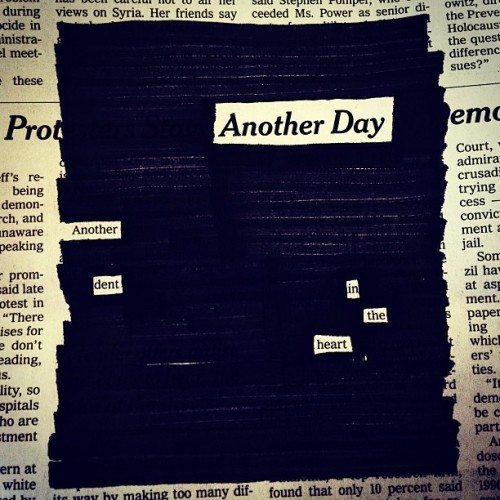 Working from the constraints of the words already presents in a newspaper article or column, Austin uses a marker to black out words, subtracting from the original content until only his own message is left.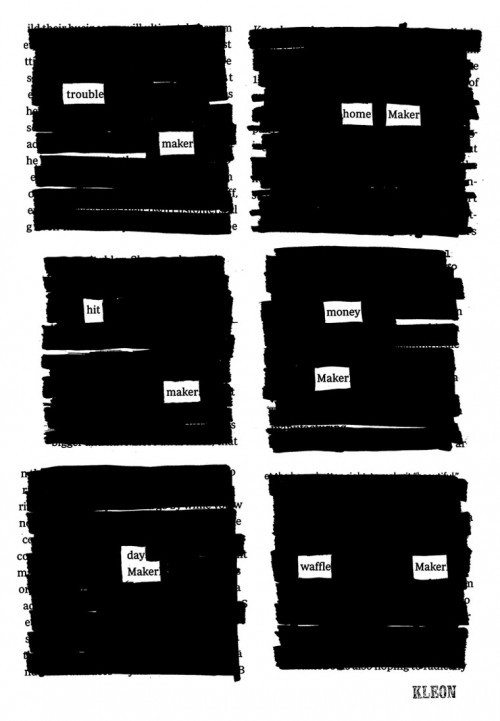 Even more than that, Austin has copyright restrictions to think about, since he's using someone else's work. In a New York Times piece, Austin explained how the various areas of copyright law provide inspiration for his work, as they give him constraints to work within.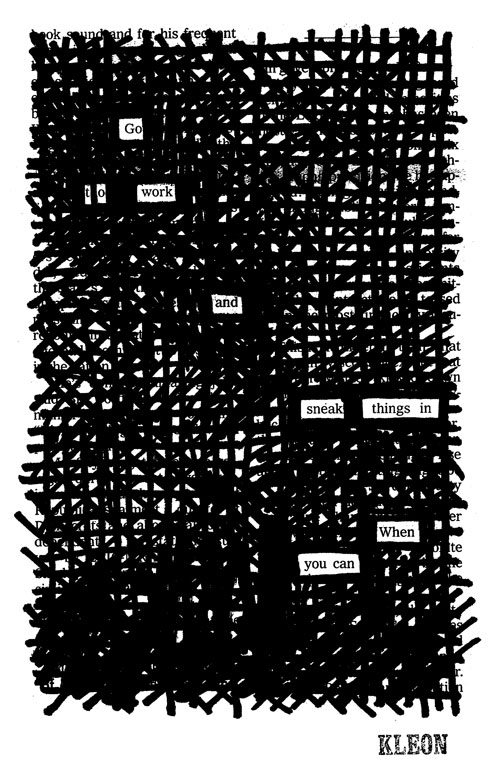 For instance, he needs to ensure that the final message in each of his blackout poems, if not completely different to that of the original, reverses or parodies it. He also notes that the fewer words he uses from the original and the more space between them, the less likely he'll be to face a copyright suit.
How's that for creative restrictions?
6. Self-imposed constraints when you have none can improve your work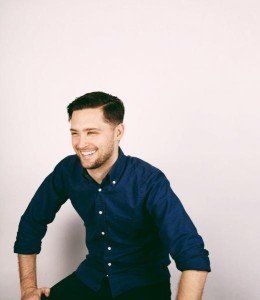 Damien Correll is a highly sought-after designer who's become used to imposing his own constraints on his work. Without any constaints, Damien feels he has too much freedom:
I think if you're given a clean, fresh palette, and you do whatever you want, it's almost too much freedom, at least for me.
Damien has learned over time that imposing restrictions tends to result in better work:
I find [constraints] make the process a little more enjoyable and the final output is usually something I'm more proud of.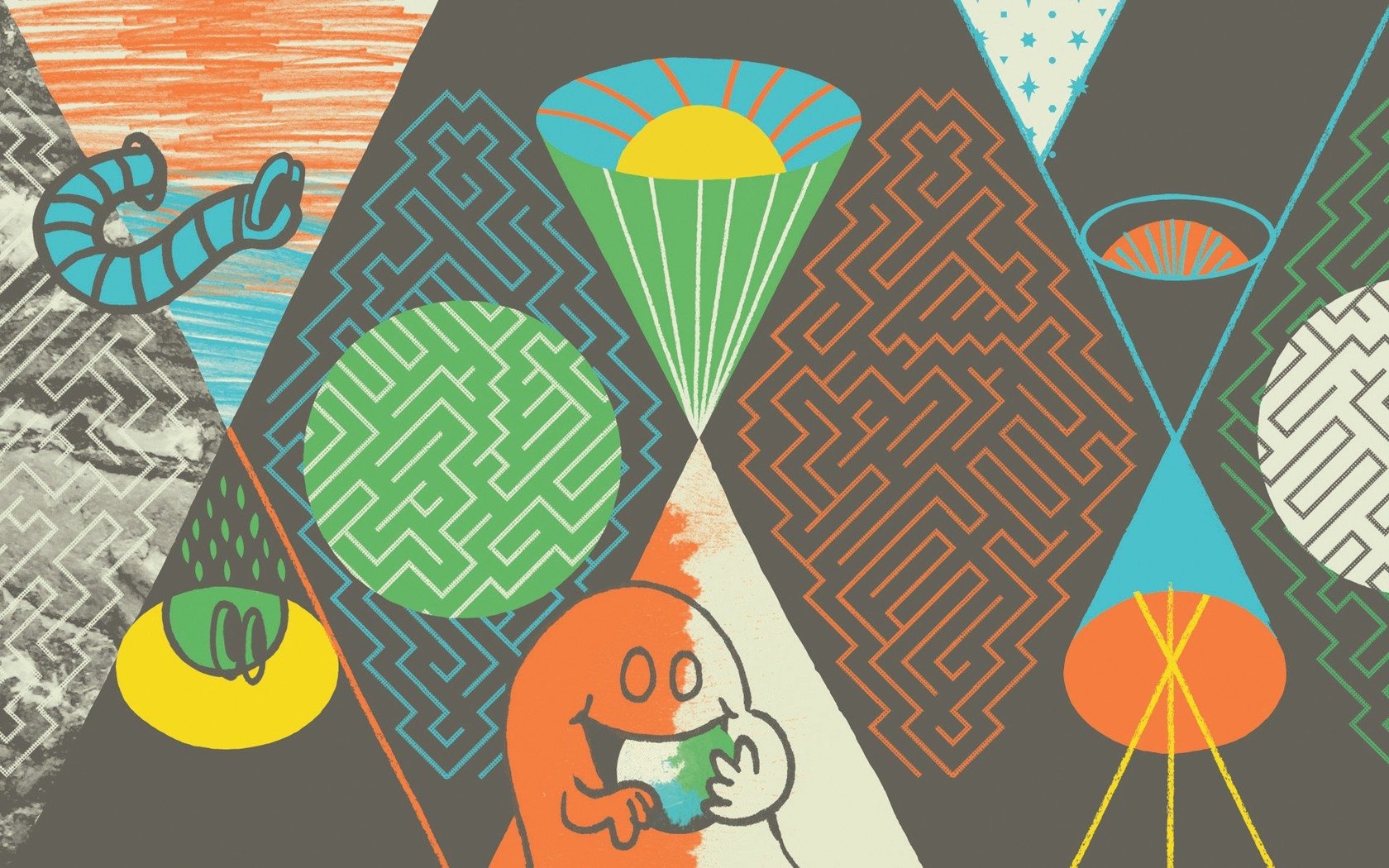 Damien's constraints often come in the form of short deadlines, which help him to put an idea into practice quickly and rely more on his gut feeling without time to second-guess himself.
the idea process and the making process usually come hand in hand or immediately following.
7. Restrictions in business: staying small when you can't go big
We looked at the benefits of starting small recently, and how easy it is to forget that big companies like Google and Facebook were small once.
37signals is another good examples of this. Here's a company that's so big, so successful, they're selling off their products and rebranding so they can once again focus on their initial product, Basecamp.
But back when they were building Basecamp initially, one of the things that helped them along was embracing the constraints they were faced with:
When 37signals was building Basecamp, we had plenty of limitations. We had:

A design firm to run
Existing client work
A 7-hour time difference (David was doing the programming in Denmark, the rest of us were in the States)
A small team
No outside funding
Looking at the success of 37signals today, and their product Basecamp, it's hard to imagine them having to work through constraints like these. But they did, and found them to be benefits in some ways:
Constraints are often advantages in disguise. Forget about venture capital, long release cycles, and quick hires. Instead, work with what you have.
How to harness the power of constraints
Those are some pretty compelling case studies into the benefits of constraints. How can you harness the power of constraints in your own work? Here are some strategies to try:
1. Set a timer
If a project seems too daunting to even know where to start, try setting a timer for 30 minutes or so and forcing yourself to simply dig in wherever you can. This strategy is similar to the Pomodoro Technique, a time management method that breaks down work into intervals (traditionally 25 minutes in length) separated by short breaks. Bursts of focus with frequent breaks can improve your mental agility.
2. Commit to just a small task (that contributes to a larger goal)
Did you know that 88% of all New Year's resolutions end in failure? It's because when we make a large, life-changing goal, we tax our brains too much to be able to achieve it. Apply a constraint here by focusing on smaller changes that can add up to better focus on the overall goal. When you make a goal, break it down as far as you can, to the simplest task possible.
3. Single-task until it hurts
Although multitasking makes us feel productive and seems like a skill worthy of envy, it's really not so great after all. One useful constraint to try for greater productivity is extreme single-tasking. Here's how Buffer's COO Leo Widrich does it online:
"One strategy I put in place is something I call singletab browsing. I would limit myself to only keep one browser tab open whenever I am working. That way I had to really prioritize what the most important task was that I had to work on."
4. Limit your team
Take a cue from Jeff Bezos, the CEO of Amazon, who famously coined the "two pizza teams" rule: if a team can't be fed with two pizzas, it's too big. Bezos employed constraints because he wanted a decentralized company where independent ideas would prevail. You can do the same with this simple constraint – adding more people is one of the most common productivity traps that you can fall into.
5. Give yourself deadlines
When now-Yahoo! CEO Marissa Mayer was at Google, she was a big believer in creative limitations when it came to development, often capping prototyping time for a new feature. "We often can get a sense of just how good a new concept is if we only prototype for a single day or week," she said. "In the case of the Toolbar beta, several key features (custom buttons, shared bookmarks) were tried out in under a week. In fact, during the brainstorming phase, we came up with about five times as many 'key features.' Most were discarded after a week of prototyping. Since only 1 in every 5 to 10 ideas works out, the strategy of limiting the time we have to prove that an idea works allows us to try out more ideas, increasing our odds of success."
6. Focus your content
This is one limitation we've been experimenting with lately at Buffer. With the new Buffer for Business really connecting with customers, we're starting to double down on social media, blogging and other marketing content and focusing a little less on our lifehacking content in order to create what helps our audience the most. (What do you think of that? Let us know!)
7. Brainstorm better
Come up with better ideas by not brainstorming. Instead, try debating ideas, fleshing out an idea before bringing it to a group and other, more specific ideation techniques. Starting from somewhere (even if it's a "bad" idea!) instead of a blank slate gives you a springboard to bounce off, and having a starting point can open up new ideas and expand your creativity in other areas, rather than holding you back.
Have you used constraints to aid your creativity? How did it go? Let me know in the comments.
If you liked this post you might also like How to Optimize Your Environment for Creativity with The Perfect Temperature, Lighting and Noise levels and How our brains work when we are creative: The science of great ideas
Image credits: William Weaver via Compfight cc, So Happy Few, Intent Blog, Michael Johansson 1, 2, 3, Austin Kleon 1, 2, 3, SMITH magazine, ADC Young Guns, The Fox is Black