One of our favorite year-end activities — and one of our favorite everyday cultural values — is to pause and reflect on all that we've seen and done at Buffer over the past twelve months.
(You can check out our reflections on the past two years: 2017 and 2016.)
We've done the same year-in-review again for 2018, and having gathered this data for three years in a row now, we are able to see some fun trends of how things have evolved at Buffer, year over year.
We'd love to invite you to check out the full "2018 in Numbers" page where you can see all of the highlights and celebrations from this year.
Read Buffer's 2018 in Numbers.
And keep reading below to see six of the numbers that we've tracked year over year and how they've trended. We think they tell quite an interesting story!
---
More and more new parents (and growing families)
In the past three years, we have had the joy of celebrating 17 additions to the families of our Buffer teammates. To put that in perspective, we've had 17 new babies to celebrate these past three years, and we had 17 total teammates at Buffer, period, just four years ago!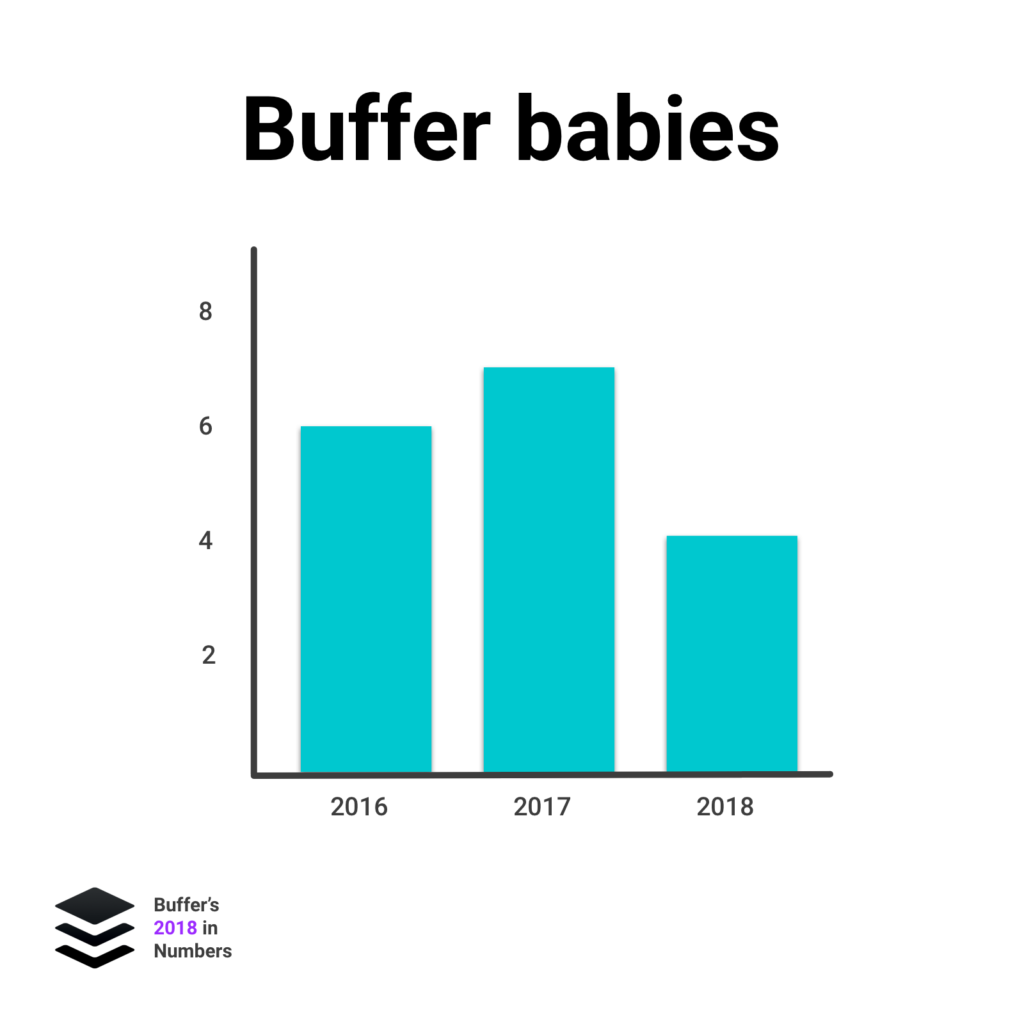 This feels like a really positive sign of how welcoming our Buffer culture is to families and parents. We have a lot of work to do still, but we hope that policies like our family leave for moms and dads and the flexibility of remote work help make Buffer a place where parents feel supported. Our family leave policy encourages six to 12 weeks of paid time off, and of our four new parents in 2018, two of them took eight weeks, one took 11 weeks, and one took 12 weeks. ??
Lots of reading for the Buffer team
One of our most unique (and highly-used) benefits at Buffer is our Kindle perk: We give all teammates and their partners a new Kindle when they join and unlimited Kindle books whenever they'd like.
This year, our reading perk expanded to include physical books as well as Audible subscriptions. So while the overall number of Kindle requests has gone down year-over-year, there are now more ways than ever to request books at Buffer.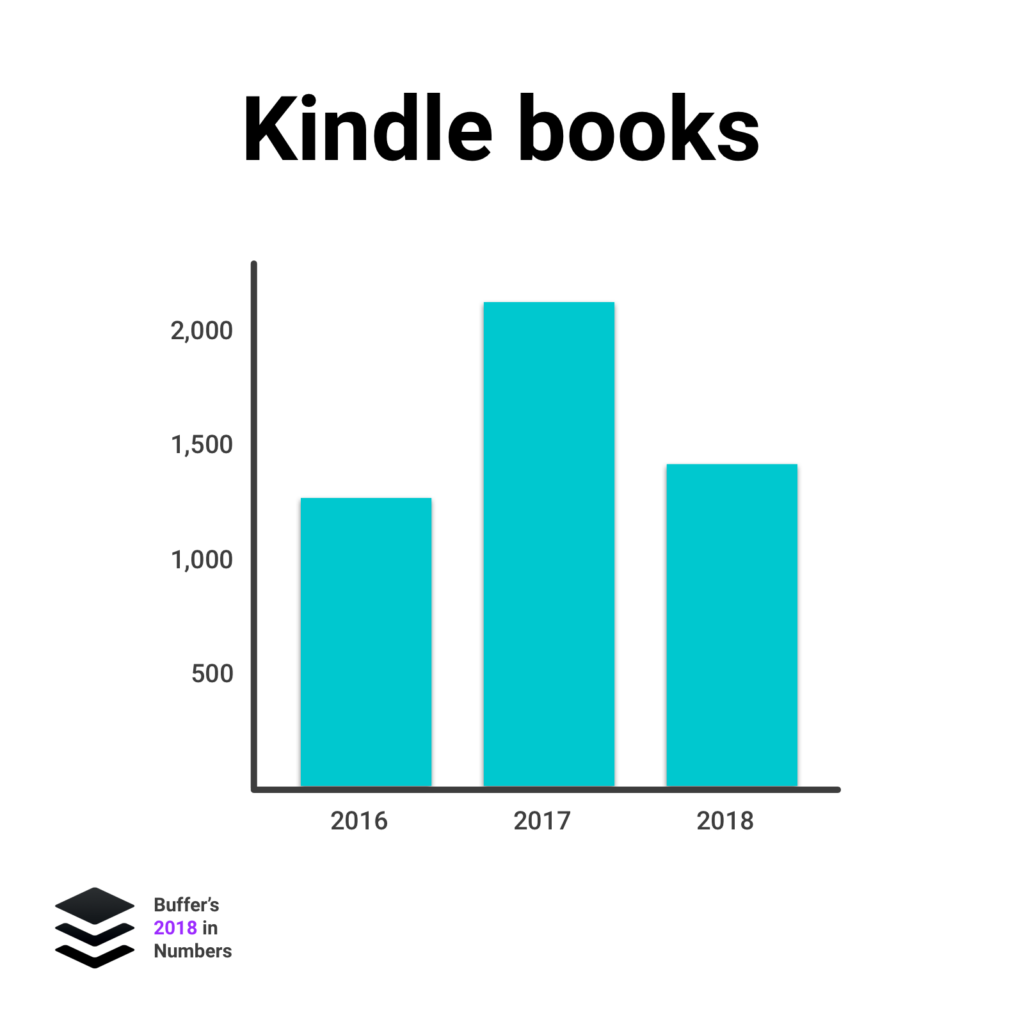 (Also, 2017 just may have been an epic year for reading!)
If you'd like to see what we've read this year, check out this post:
Why We Prioritize Reading at Buffer and the 19 Most-Read Books From Our Team
Issues, pull requests, and new repositories
Engineering is one of our largest teams at Buffer with 32 people out of our total of 85 employees. (We're also hiring for a few engineering positions right now.)
Our engineering team has kept busy these past few years with everything from making huge changes in the code to small tweaks. They are always working hard to make sure Buffer is a high-quality product for our customers. One exciting update is that this year we've been continuing to build Buffer Analyze (social media analytics) and bringing on more beta testers.
Listens on iTunes, SoundCloud, Spotify, and Stitcher
In our Science of Social Media podcast, my co-host Brian and I chat about social media stories, insights, ideas, and strategies. This was our biggest year yet for podcasting, and we're so grateful to have so many people listening and sharing our show!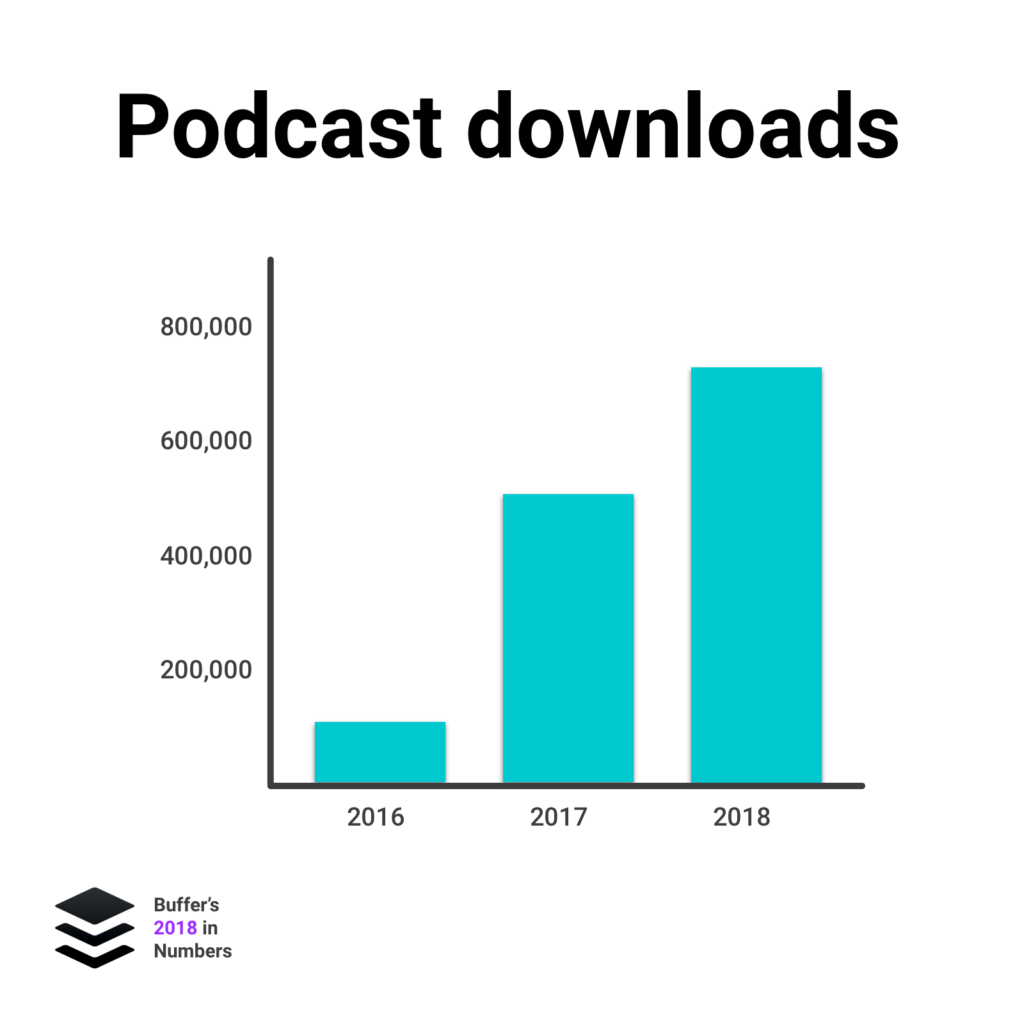 If you're keen to become a listener, the Science of Social Media is available anywhere you listen to podcasts. We put out a new show every Monday.
Revenue from our customers
We're incredibly grateful to our customers and audience for helping Buffer grow. Continuing to increase our revenue means we get to keep building Buffer into a powerful platform for marketers and businesses looking to use it for their social media marketing.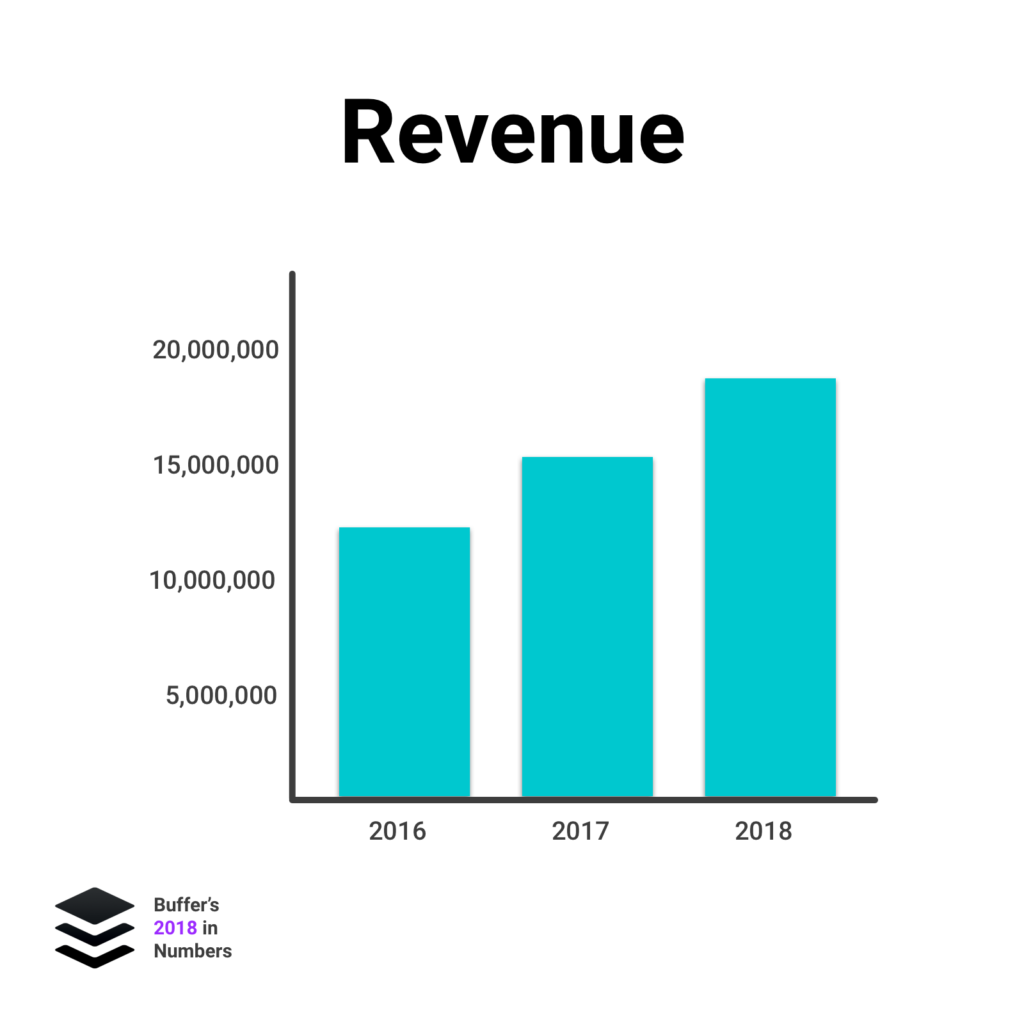 Over to you
Thanks for taking this trip down memory lane with us! Head over to the full 2018 in Numbers page to see many more numbers we're celebrating this year at Buffer.
Read Buffer's 2018 in Numbers.
As always, we'd love to hear from you! Leave a comment with any thoughts, ideas, or anything else that this report and these comparisons have sparked with you. ✨